Mexican Pork Carnitas Tacos
How to make authentic carnitas cooked low and slow in a slow-cooker with citrus juices and Mexican spices. 
Slow Cooked Carnitas make some seriously flavorful tacos! Carnitas are known for being a tender, slow-cooked pork with a crisp coating. This is achieved by cooking the pork low and slow with a Mexican spice rub and simmered in juices.  The key is taking the time to make the pork extra tender.
My brother lived in the heart of Mexican for years so he knows his tacos! You can't walk around Mexico without seeing carnitas sold on every single corner. Now, this carnitas recipe is a staple in our home so basically taco Tuesday is recurring all of the time. It is so flavorful, versatile, and once you have this carnitas recipe down pat, you can use it for any type of Mexican dishes. You can make carnitas burritos, carnitas tacos, carnitas nachos, and so much more.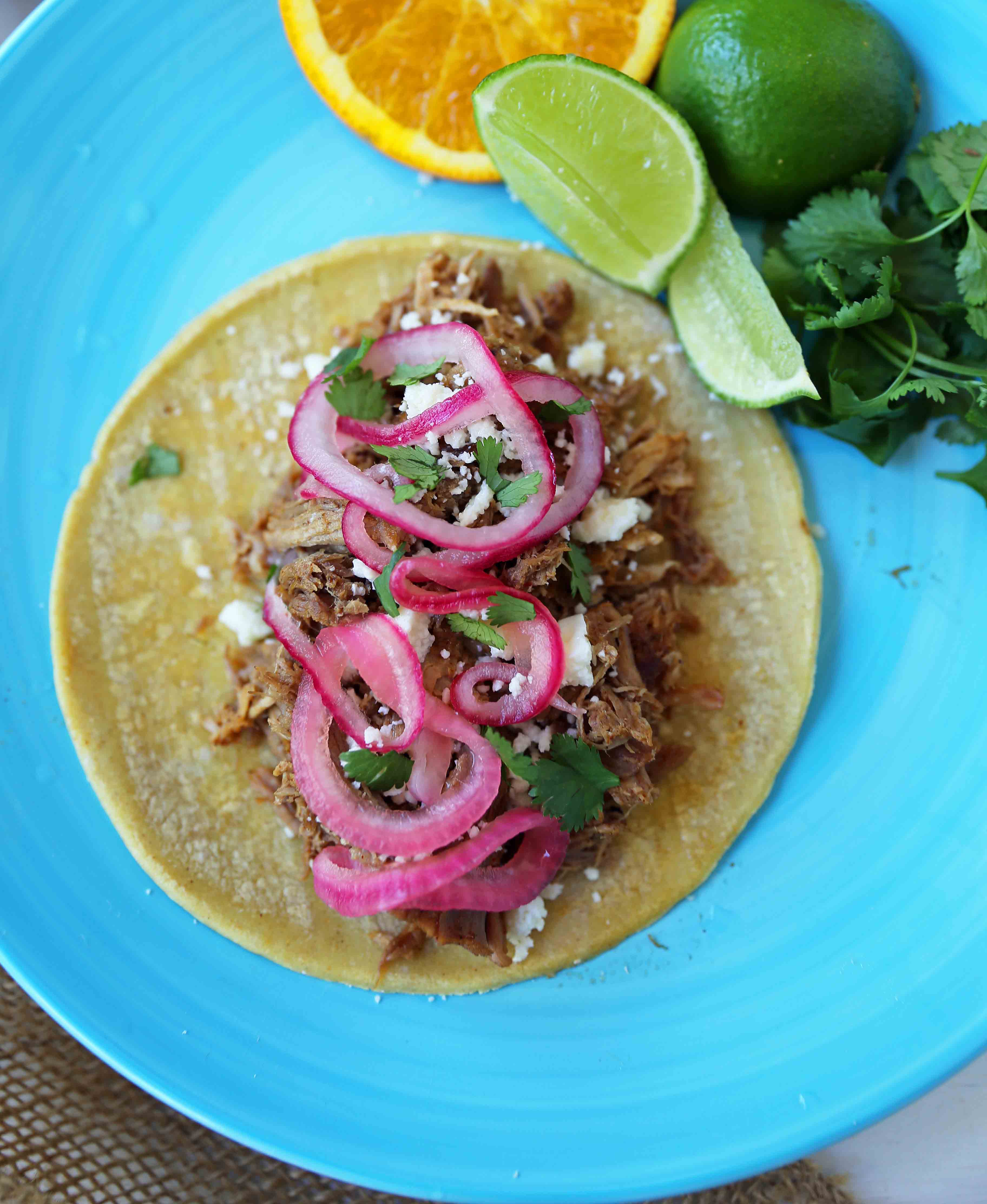 I tried making these pork carnitas two ways -- one way is cooked in a dutch-oven pan for several hours and the other way is cooked in a slow-cooker. Both provided delicious carnitas but the slow cooker won for the most tender, moist, melt-in-your-mouth carnitas.
There are a few secrets for making perfect carnitas. I found that a mix of Coca-Cola and fresh citrus juices make the perfect combination. Once the carnitas are tender, sauteeing them in a little bit of oil helps to create crispy edges and lock in more flavor.  I love serving carnitas tacos with pickled red onions.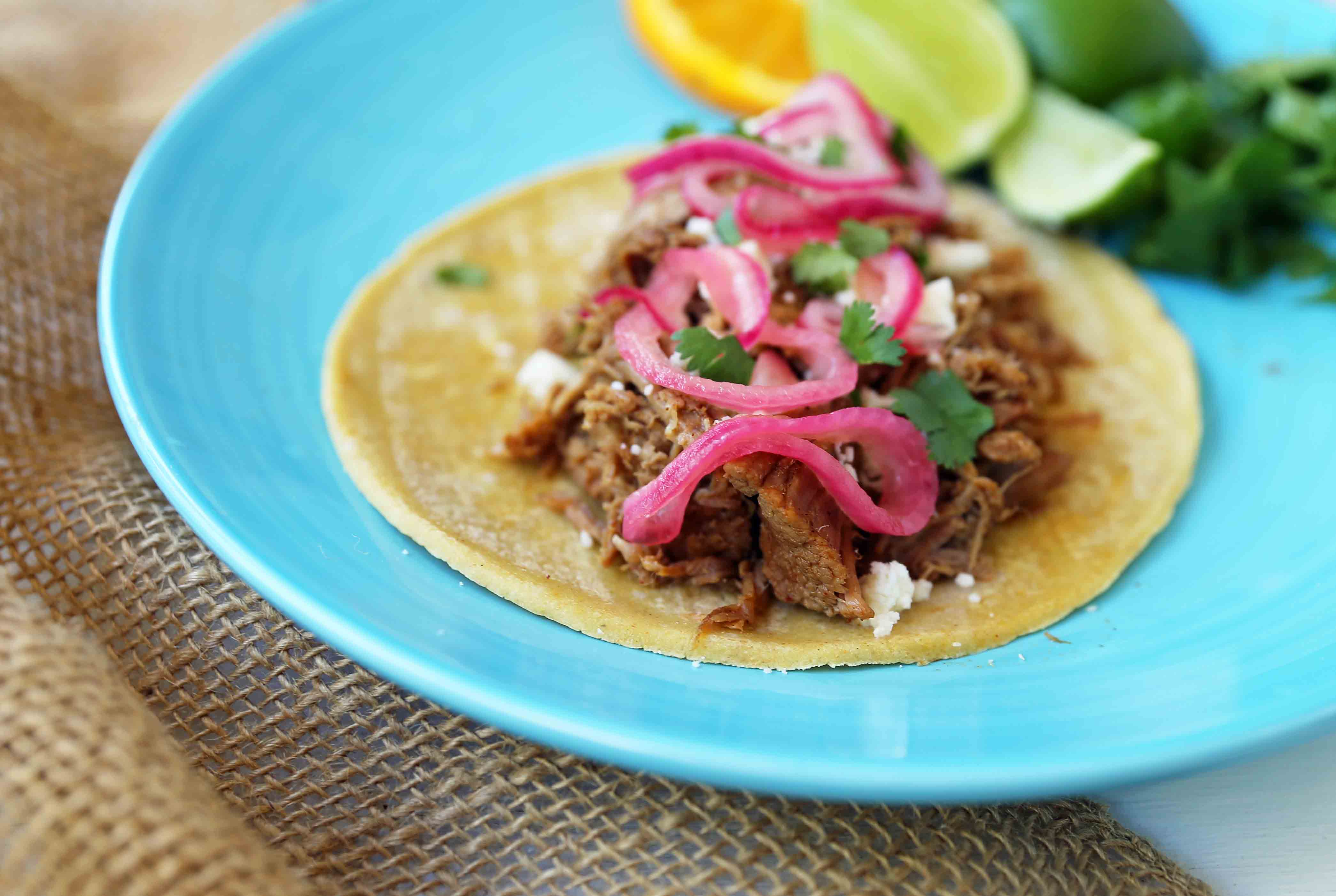 How to make Mexican Pork Carnitas:
 Start with a boneless, skinless pork shoulder. Ask your local butcher to pick out the best one.
Rub with Mexican spices. This is key to bring out the Mexican flavors without being too overpowering.
Simmer it with fresh orange and lime juices.  Add Coca-Cola to make it extra tender.
Cook low and slow for 8-10 hours on low, or 6 hours on high.  Once the pork is tender, shred using two forks.
Place shredded pork in heated skillet with a small amount of oil. Saute the pork until edges are crispy. You don't want to get it too brown as it will dry out the pork. You just want to sear it.
Serve with homemade pickled onions, cotija cheese, cilantro, fresh lime, all on hot corn tortillas.
If you are looking for more Mexican recipes, you will love these Green Chili Pork Tacos, Slow Cooker Beef Barbacoa Tacos with Green Salsa, Grilled Chicken Tacos with Roasted Poblano Crema,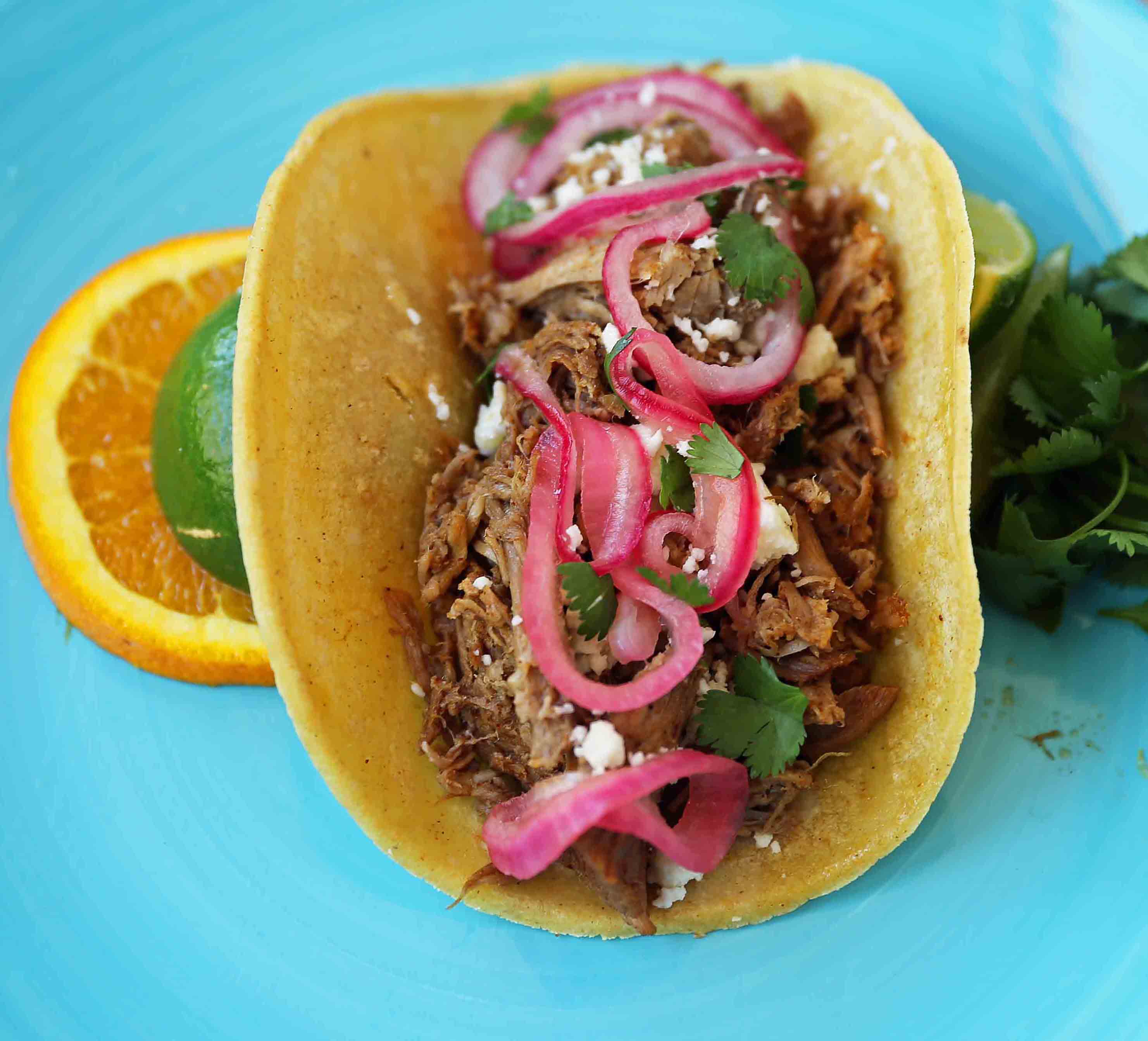 Happy Cooking, my friends!