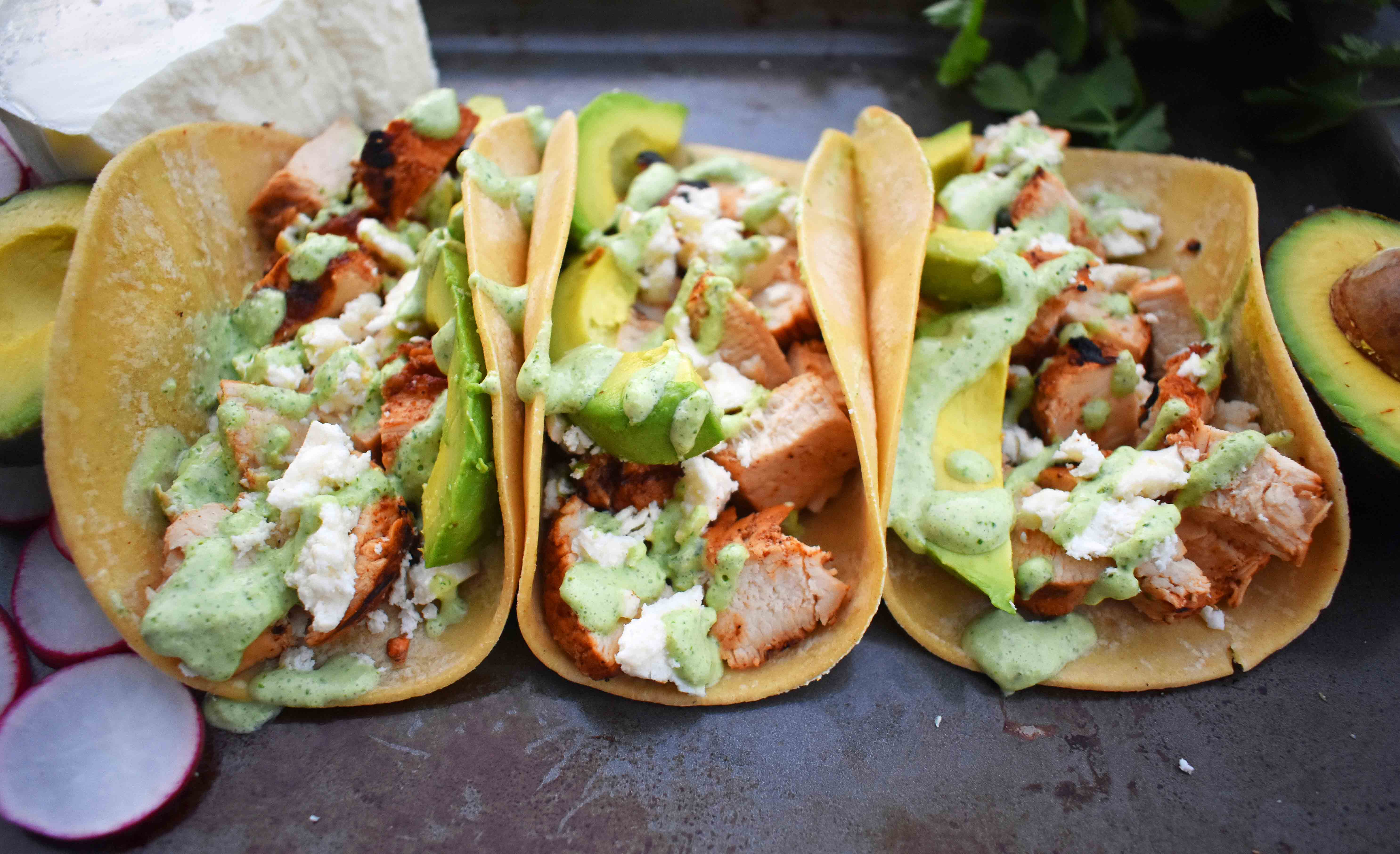 Happy Taco Tuesday! Every day should be taco Tuesday. Tacos need the respect to be honored and celebrated every single day, right? We take tacos very seriously in our home and these Grilled Chicken Tacos with Roasted Poblano Crema are legit.

Grilled Chicken Tacos with Roasted Poblano Crema are made with chili lime marinated grilled chicken topped with a roasted poblano cream, fresh sliced avocado, creamy and salty queso fresco cheese all wrapped inside a warm corn tortilla. Layers and layers of Mexican flavors! This is the perfect summer food since you don't have to heat up your oven. Fire up the grill and you are done!
Let's start with the chicken.  The chili lime marinated chicken begins with chicken breast. It is marinated in freshly squeezed lime juice, oil, chili powder, garlic, salt and a touch of brown sugar.  Let it marinate at least 30 minutes but 2-4 hours is ideal. The chicken is so juicy, tender and moist.  Yummy!
How do you make roasted poblano crema or cream?
It's so simple! Take large poblano chilies (a mild yet flavorful chili) and place on the grill.  The grill softens the inside and chars the outside which gives it a nice roasted flavor. Once it is grilled, take a fork and remove the outer skins.  Place the poblano chili in a blender and mix with sour cream, cilantro, freshly squeezed lime juice, and salt.  This creamy sauce adds a mild kick to the tacos.
Happy Grilling, my friends!