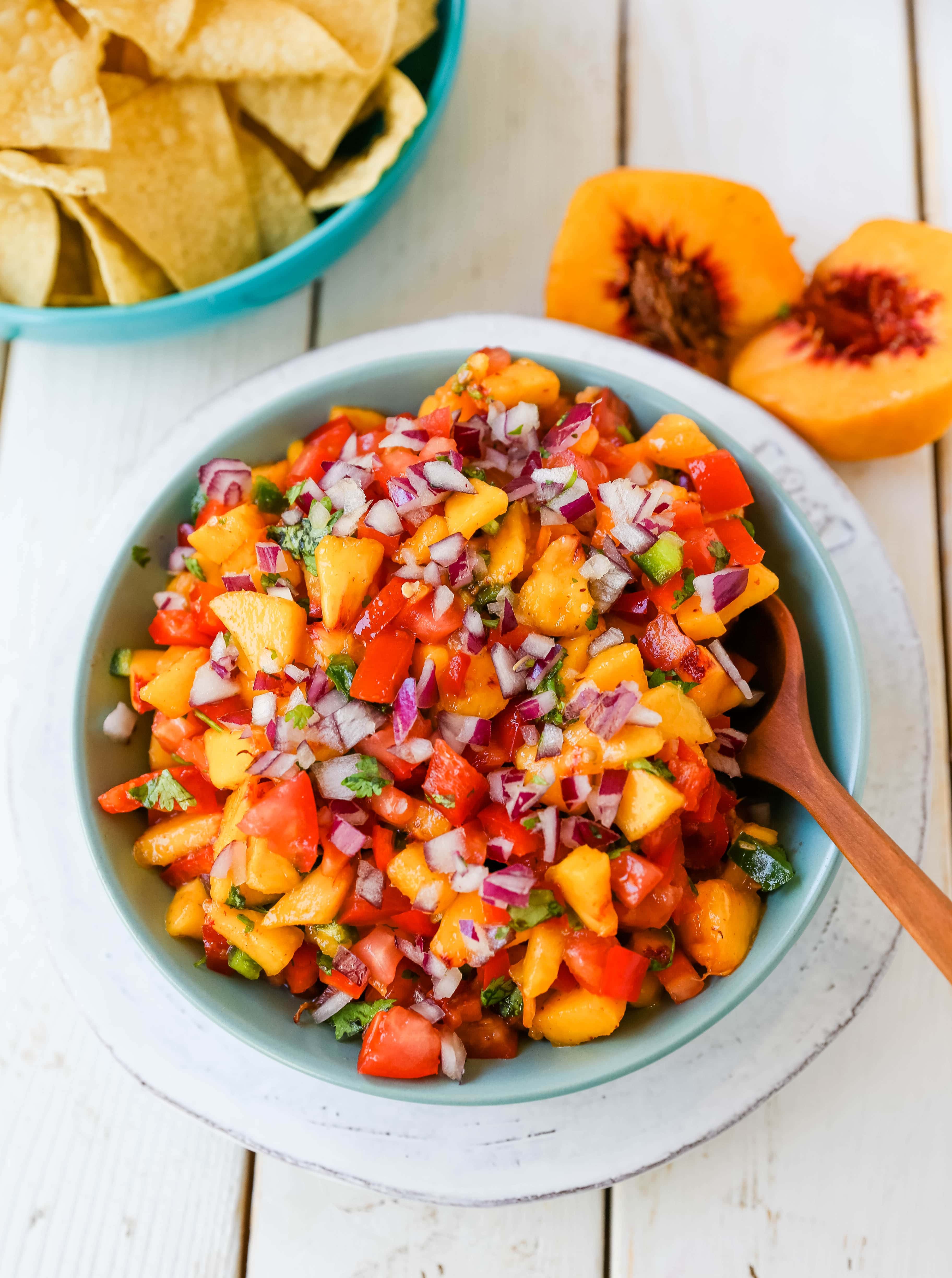 Peach Salsa
Fresh peach salsa with red pepper, jalapeño, red onion, tomatoes, cilantro, and fresh lime juice. A sweet and savory salsa perfect to pair with chips, grilled chicken or pork.
We are smack dab in the middle of peach season and I couldn't be happier about it. This week I am sharing some of my favorite recipes using fresh peaches. Since they are ripe, juicy, and at peak perfection...this is the time to capitalize on showcasing perfectly ripe peaches.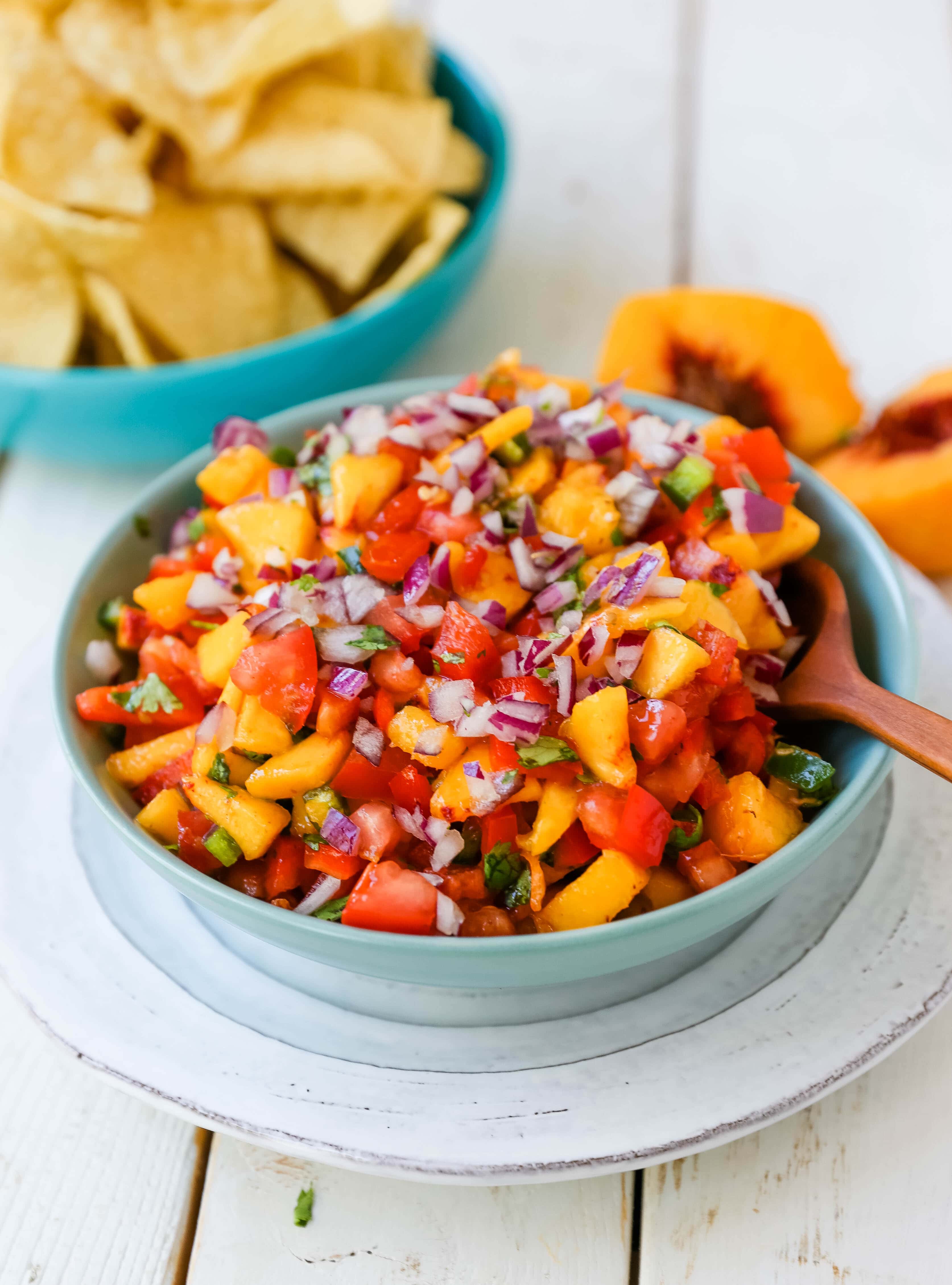 I am a salsa fanatic. I am pretty sure I could eat chips and salsa every single day for the rest of my life. I am also a huge fan of sweet and savory salsa such as peach or mango salsa. They are so versatile and can pair with tortilla chips, on top of tacos, or served atop grilled chicken. If you are looking for a killer chicken marinade recipe to go with this peach salsa, click HERE.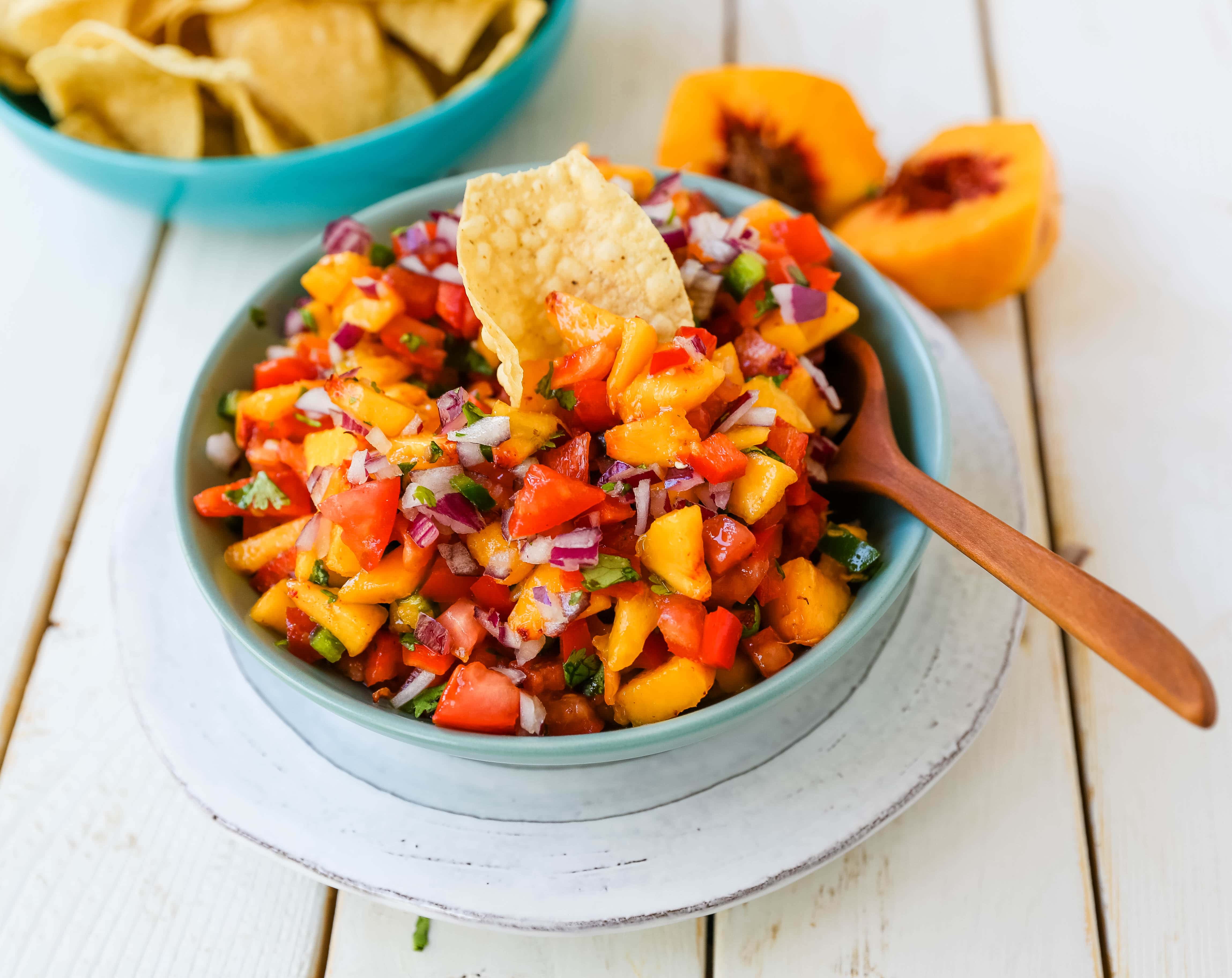 This Fresh Peach Salsa is made with juicy peaches, tomatoes, red onion, jalapeño, red pepper, cilantro, and fresh lime juice. If you want a touch of sweetness, drizzle a bit of honey on this peach salsa. Also, if you are looking for some extra heat, you can always throw in some chopped habanero peppers.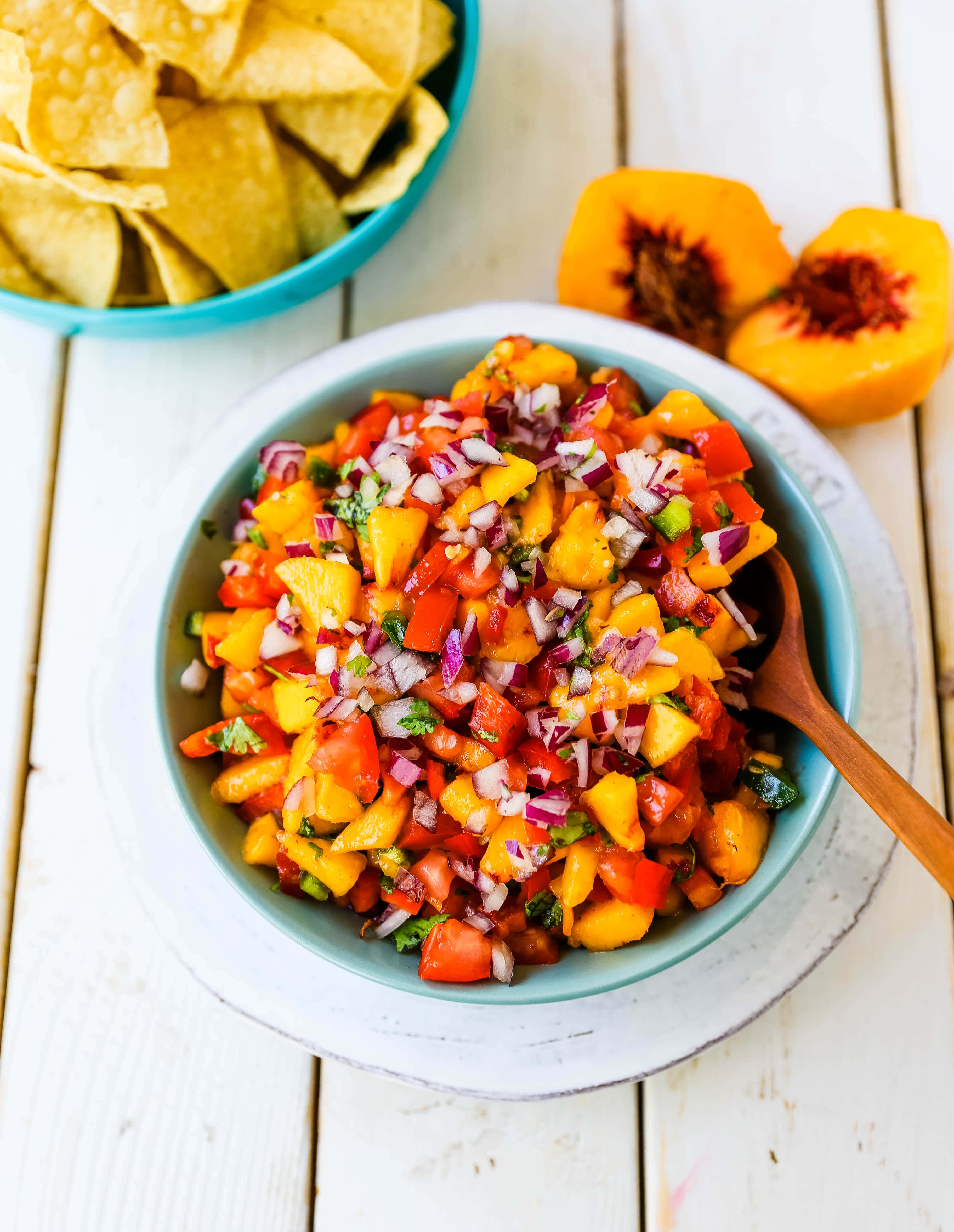 How to make FRESH PEACH SALSA:
Start by peeling and slicing fresh peaches. Choose ripe, juicy peaches. Then cut into small bite-size pieces.
Dice red onion, tomatoes, red pepper, jalapeno, and cilantro into small pieces. I suggest not adding too much red onion to the salsa as it can be overpowering. I prefer to use red onions instead of yellow onions because they tend to be sweeter and milder.
If you want to add more sweetness, drizzle a touch of honey to the salsa.
Refrigerate the salsa until ready to use. Serve with tortilla chips or top grilled chicken or chicken tacos with the fresh peach salsa.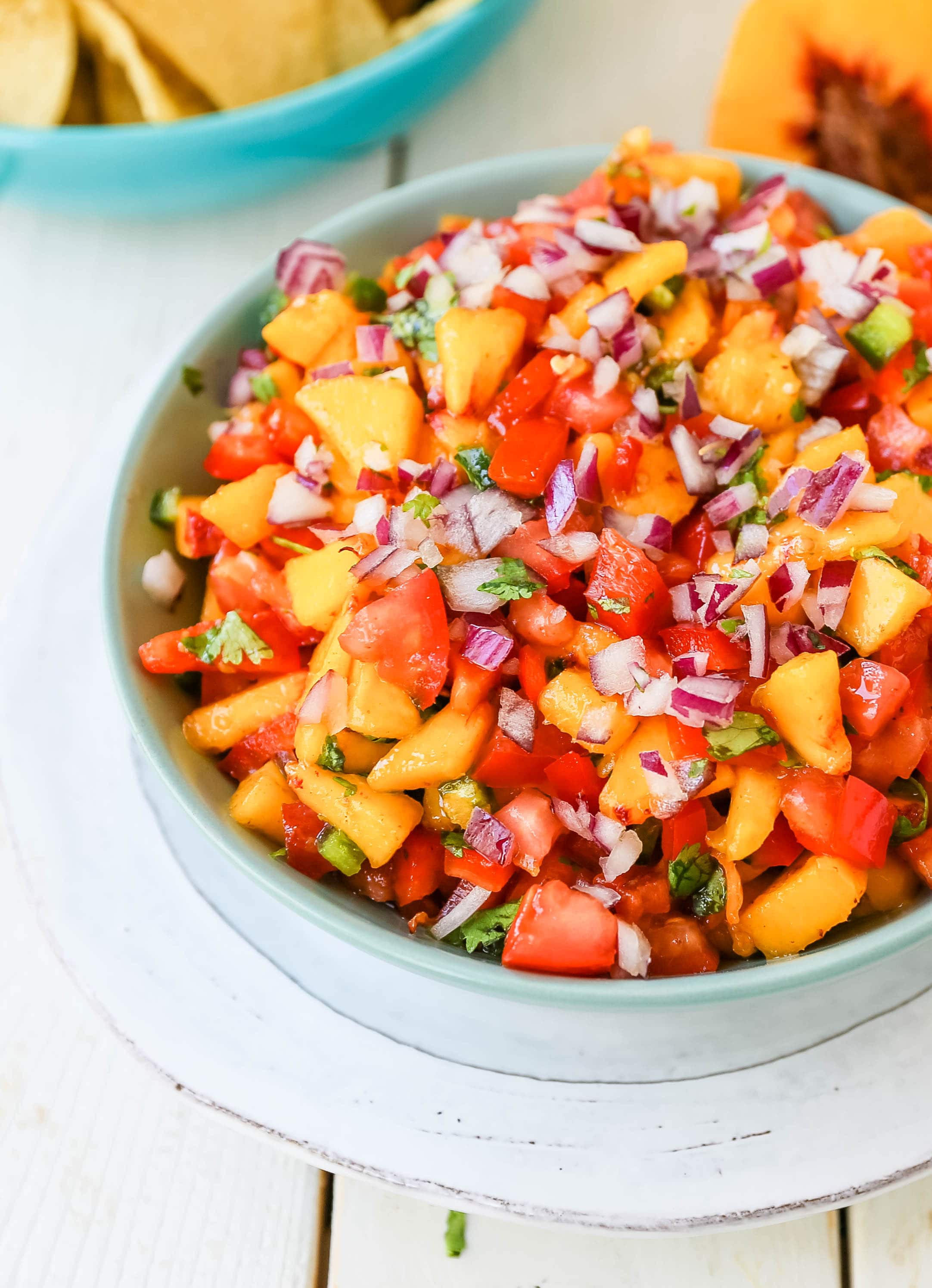 If you love peaches, check out these popular PEACH RECIPES:
Peach Dump Cake
Honey Peach White Cheddar Grilled Cheese Sandwich
Nectarine Brown Sugar Crisp
Brown Sugar Peach Dutch Baby (Puffed Pancake)