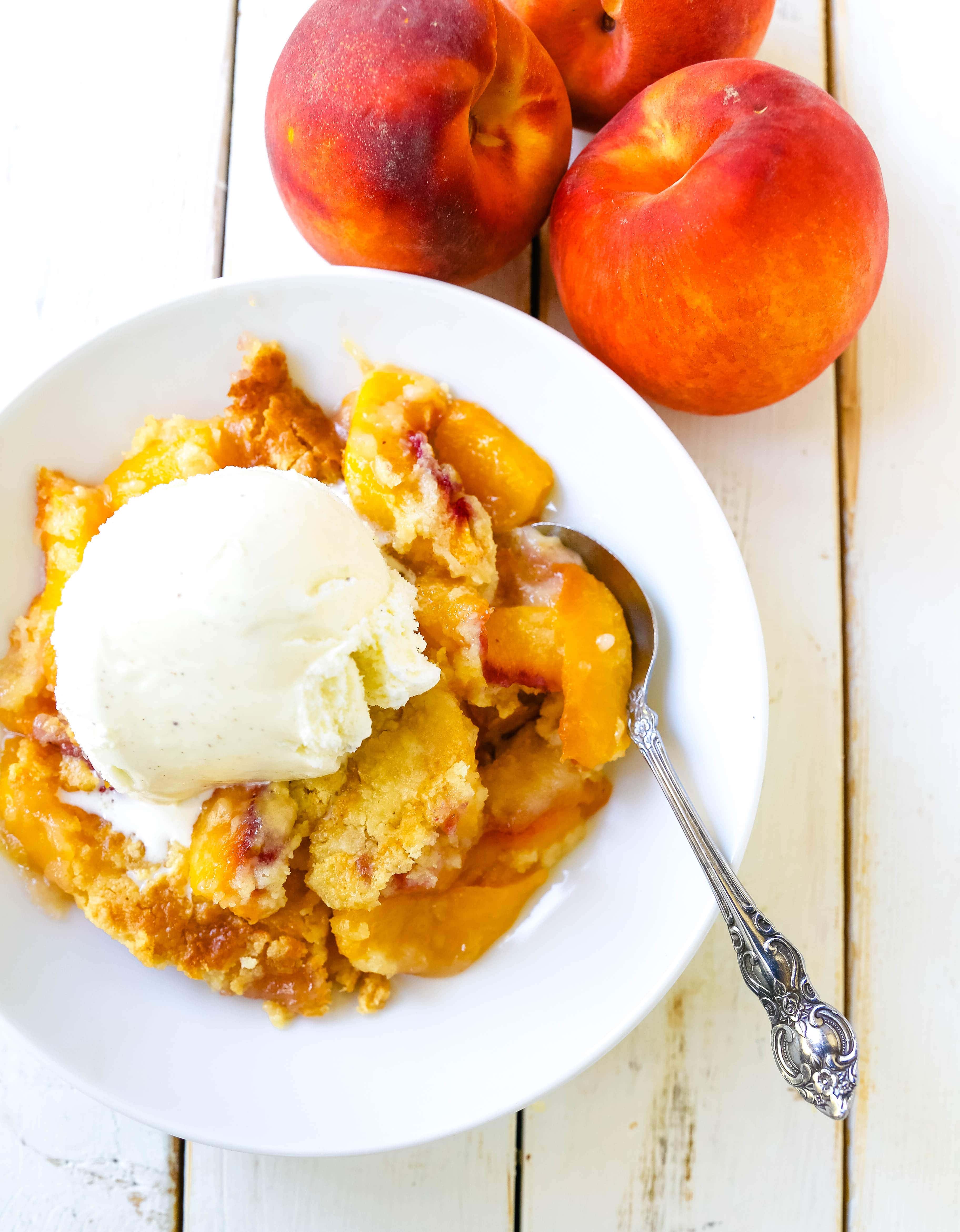 Peach Dump Cake
The easiest 4-ingredient peach dessert. Fresh peaches, a touch of sugar, French vanilla cake mix, and butter all baked until golden and topped with vanilla ice cream. The simplest peach cobbler dessert recipe!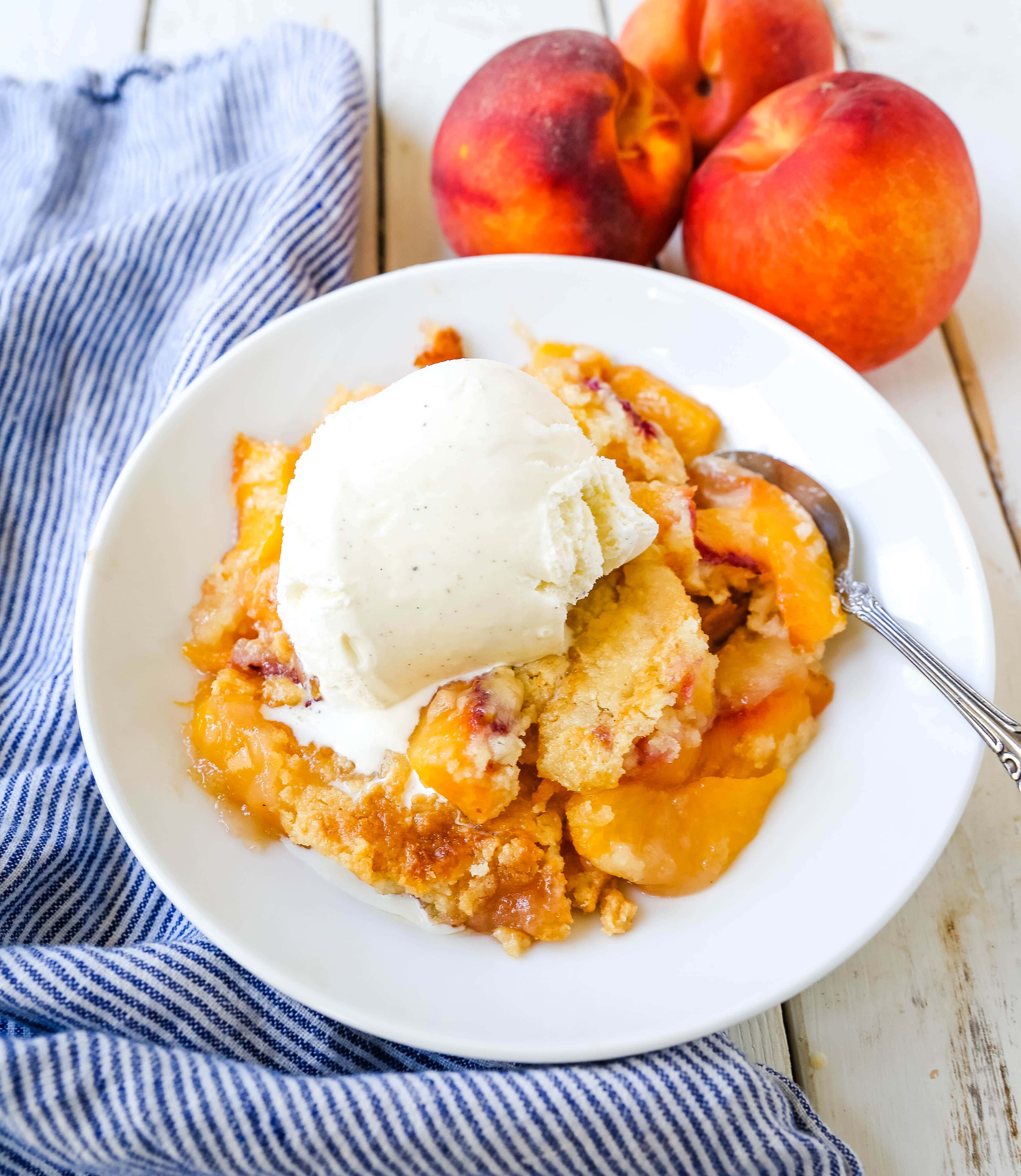 It's peach season y'all and it just makes me super happy. One of my favorite things to do is to go peach picking in the orchards here in Arizona. I love to pick them at their peak ripeness. I am all about that peach juice running down my chin!
Since we have dozens of peaches sitting on our kitchen countertop right now, I declared this peach week on Modern Honey. I am going to be sharing some of my favorite peach dessert recipes. We are starting off with a crazy simple peach dessert -- the FAMOUS PEACH DUMP CAKE RECIPE. You don't get much easier than this and it is always such a hit!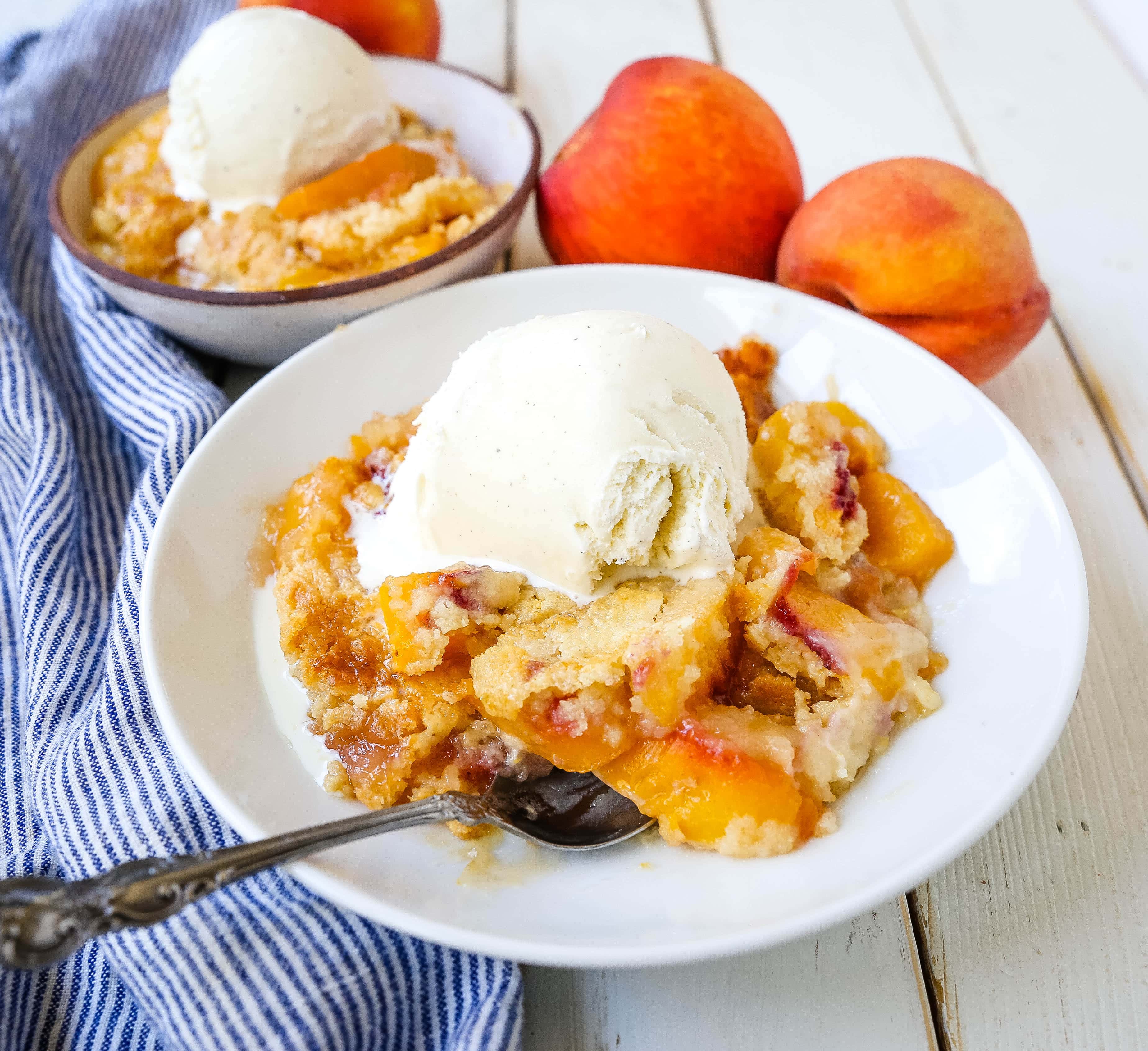 This Peach Dump Cake starts with fresh peaches. You can use canned peaches in heavy syrup but when peaches are in season, I want to capitalize on it. I use fresh yellow peaches and slice them up and place in a 9 x 13 pan. Then I sprinkle on a little sugar to bring out their natural sweetness. Next, I top the peaches with a vanilla cake mix and thinly slices of butter. The butter melts into the vanilla cake mix and creates the most heavenly sweet and buttery crust. It is so heavenly!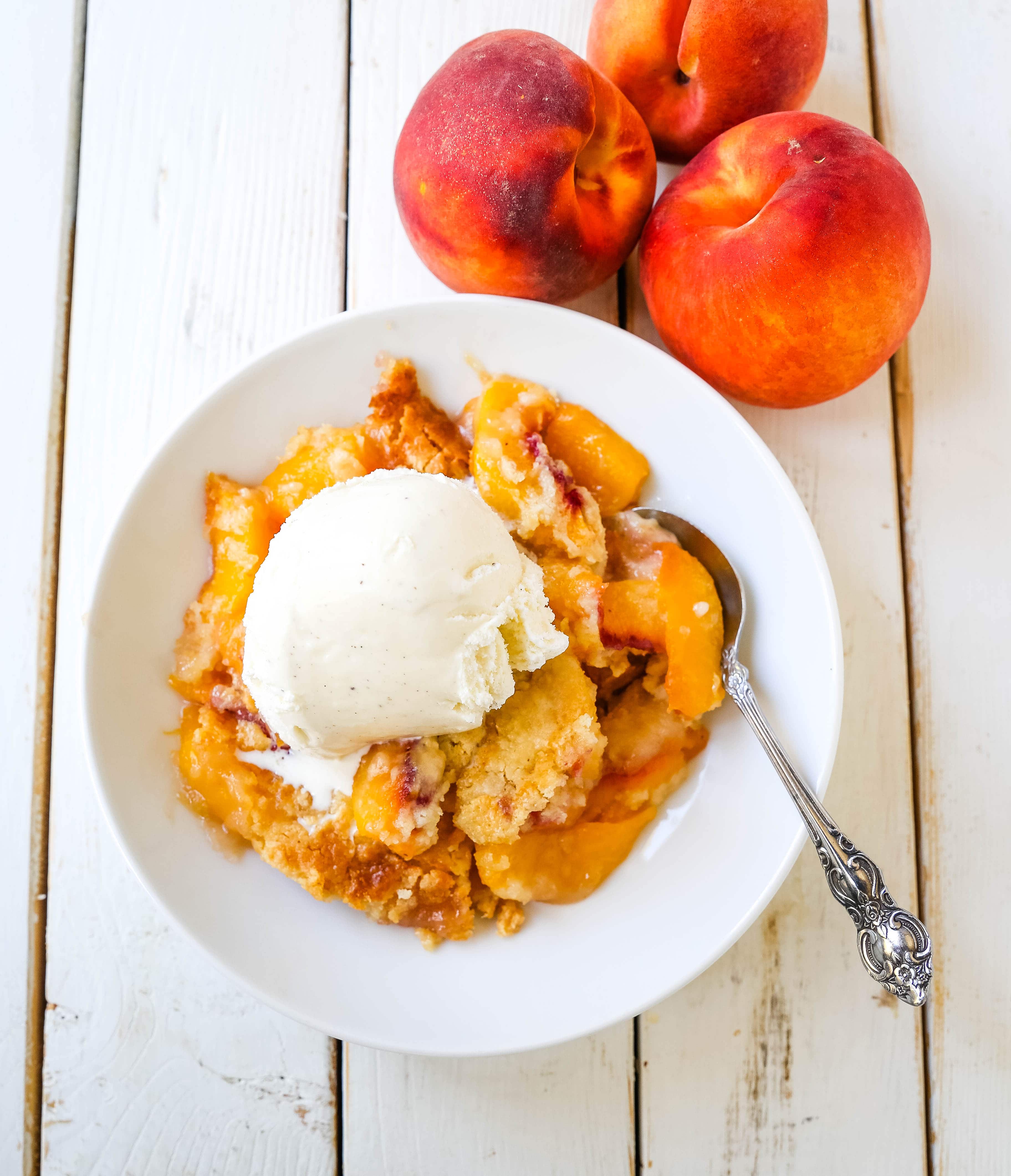 I whipped up this recipe in less than 10 minutes and that included peeling and slicing the fresh peaches. You can put it together in no time at all and you end up with the perfect peach dessert!
This recipe calls for 6 cups of fresh peaches which equates to about 6-7 large peaches. I usually like to peel my peaches beforehand but you are welcome to leave on the skin. After the peaches are peeled, sprinkle them with sugar. You can add anywhere from ¼-1/2 cup of sugar on the peaches depending on how ripe and sweet the peaches are.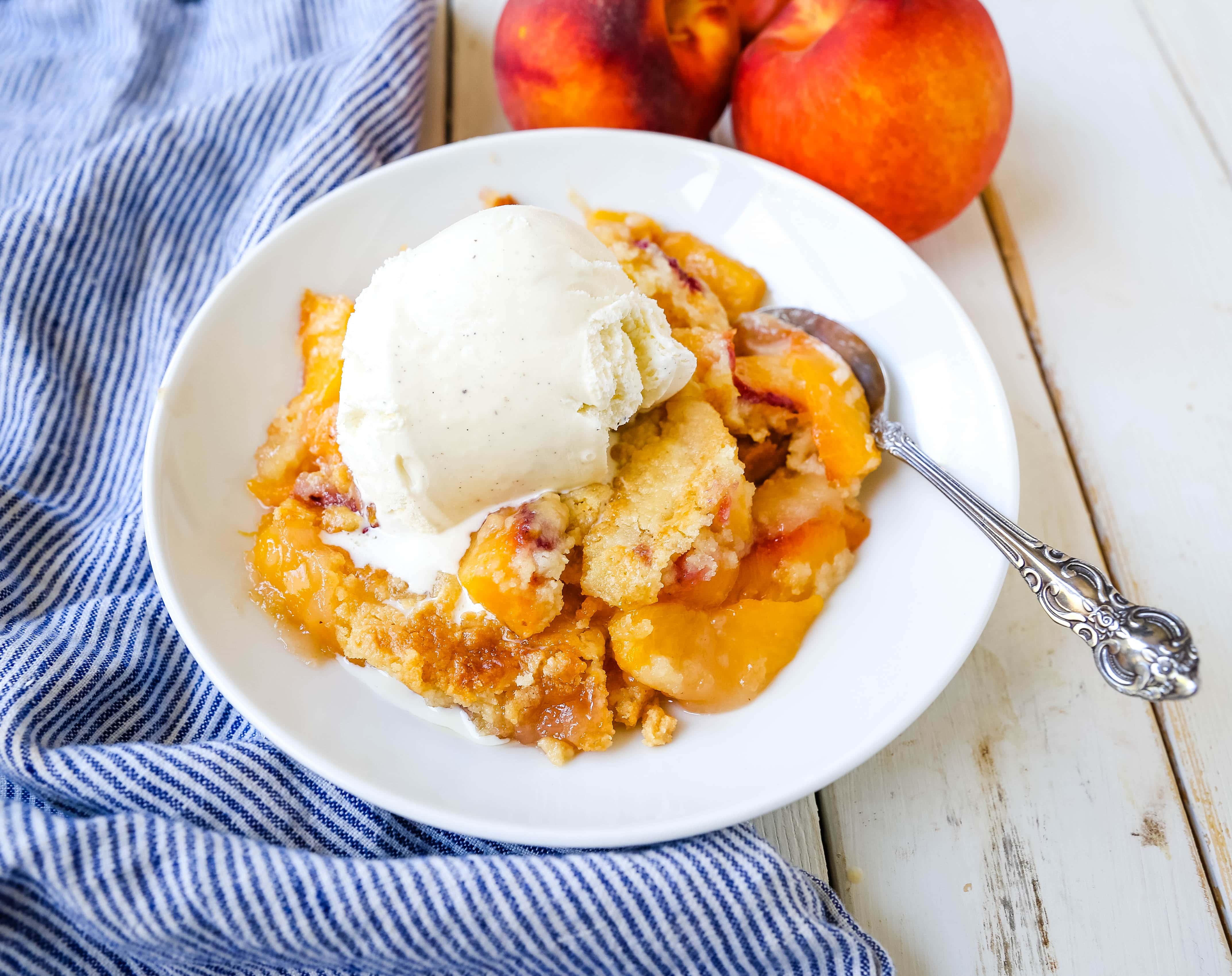 You can also use your favorite vanilla or yellow boxed cake mix. I reached for the Betty Crocker French Vanilla Cake Mix but you can use any boxed cake mix your heart desires.
This Peach Dump Cake is baked until bubbly and golden. It is best to let it cool for at least 10 minutes to allow the filling to set up. Then top it with vanilla bean ice cream and you have the quintessential summer dessert!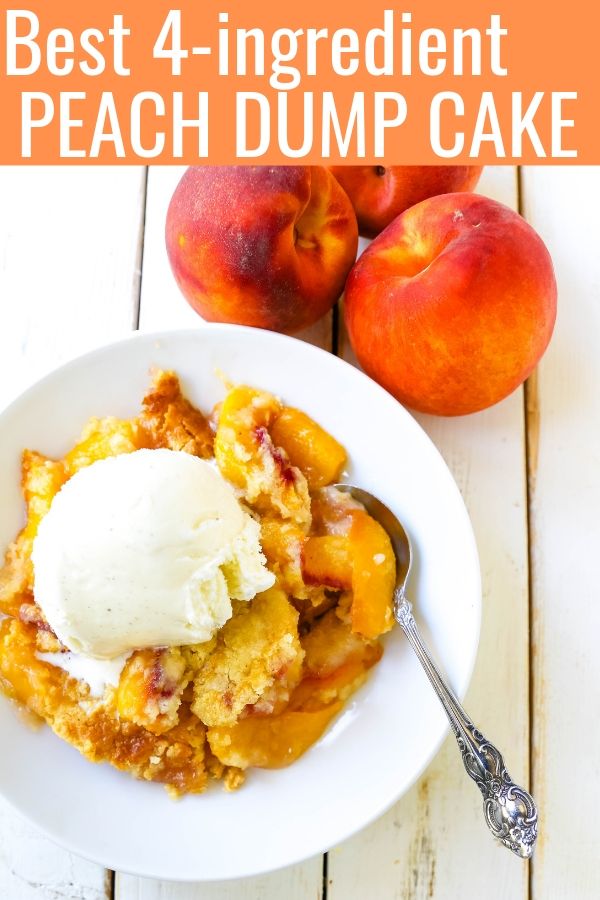 I love to hear from you! If you make this recipe, please be sure to leave a comment and give this recipe a rating. Sign up for my newsletter below so you never miss a recipe. Thank you for following along! I truly do have the greatest readers. FOLLOW ME ON:   INSTAGRAM — FACEBOOK— PINTEREST