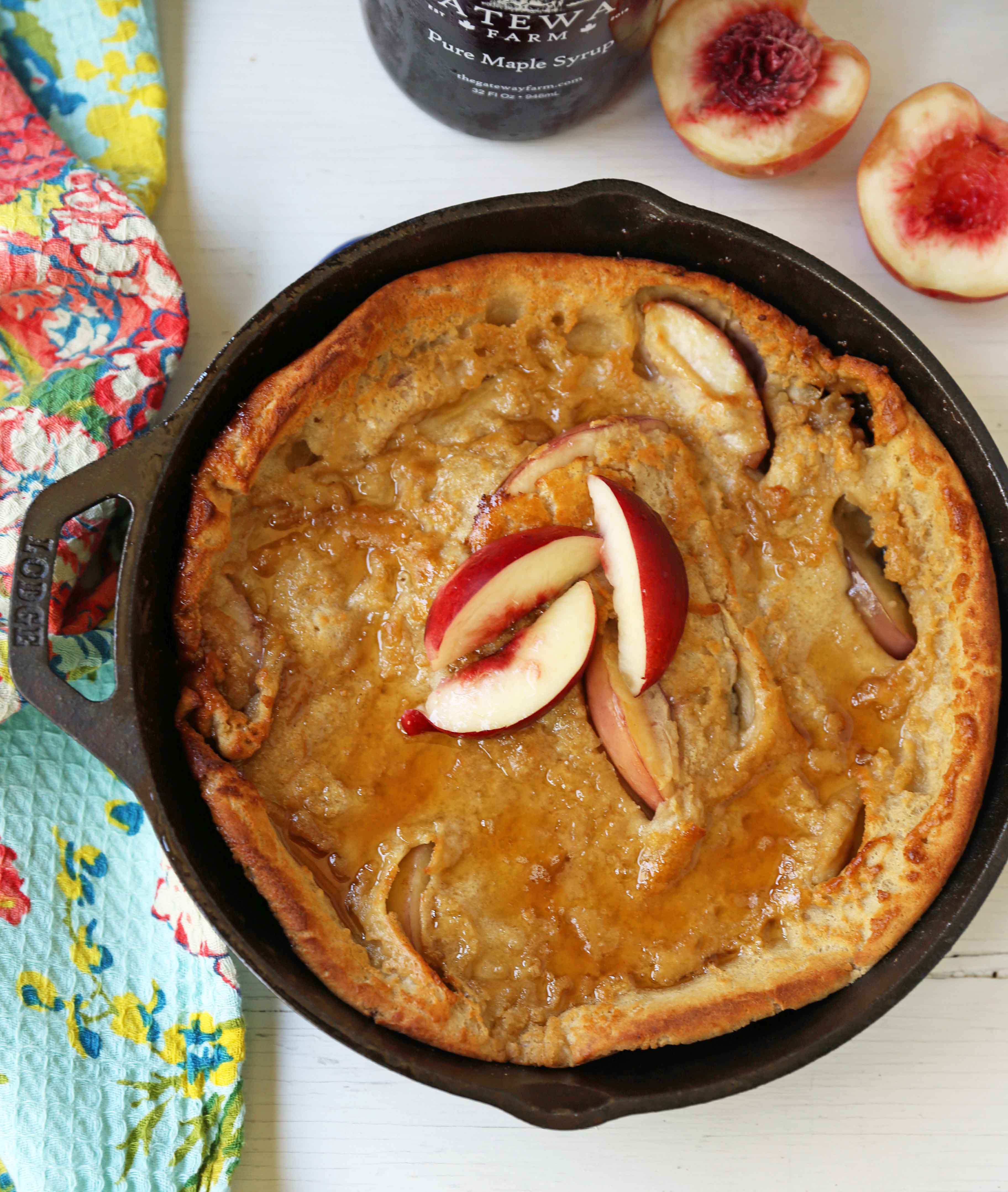 Brown Sugar Peach Dutch Baby
A buttery puffed pancake with sauteed brown sugar peaches all topped with powdered sugar and real maple syrup. The perfect easy lazy weekend summer breakfast. 
Oh, it is peach season in all its glory and I am loving finding ways to use them. We love making Dutch Baby pancakes because they are so easy. Beyond simple.  This Browned Butter Peach Dutch Baby is literally whipped up in a blender...for about 30 seconds. It is poured into a pan and then baked.  It is such an impressive breakfast for minimal effort.
What is in a Peach Dutch Baby Pancake?
It all starts with BUTTER. The butter and fresh peaches are baked in a skillet in the oven over high heat until caramelized.  The butter becomes nice, golden, and lightly browned which brings a toasted warmth to this puffed pancake. The peaches become slightly softened and soak in the browned butter. Then the brown sugar is added to coat the peaches and make a caramel-like sauce.
The Dutch Baby batter is made with whole milk, eggs, flour, vanilla, and salt. It is so simple and can be thrown together in a blender and whipped up. For a traditional classic dutch baby recipe, click here.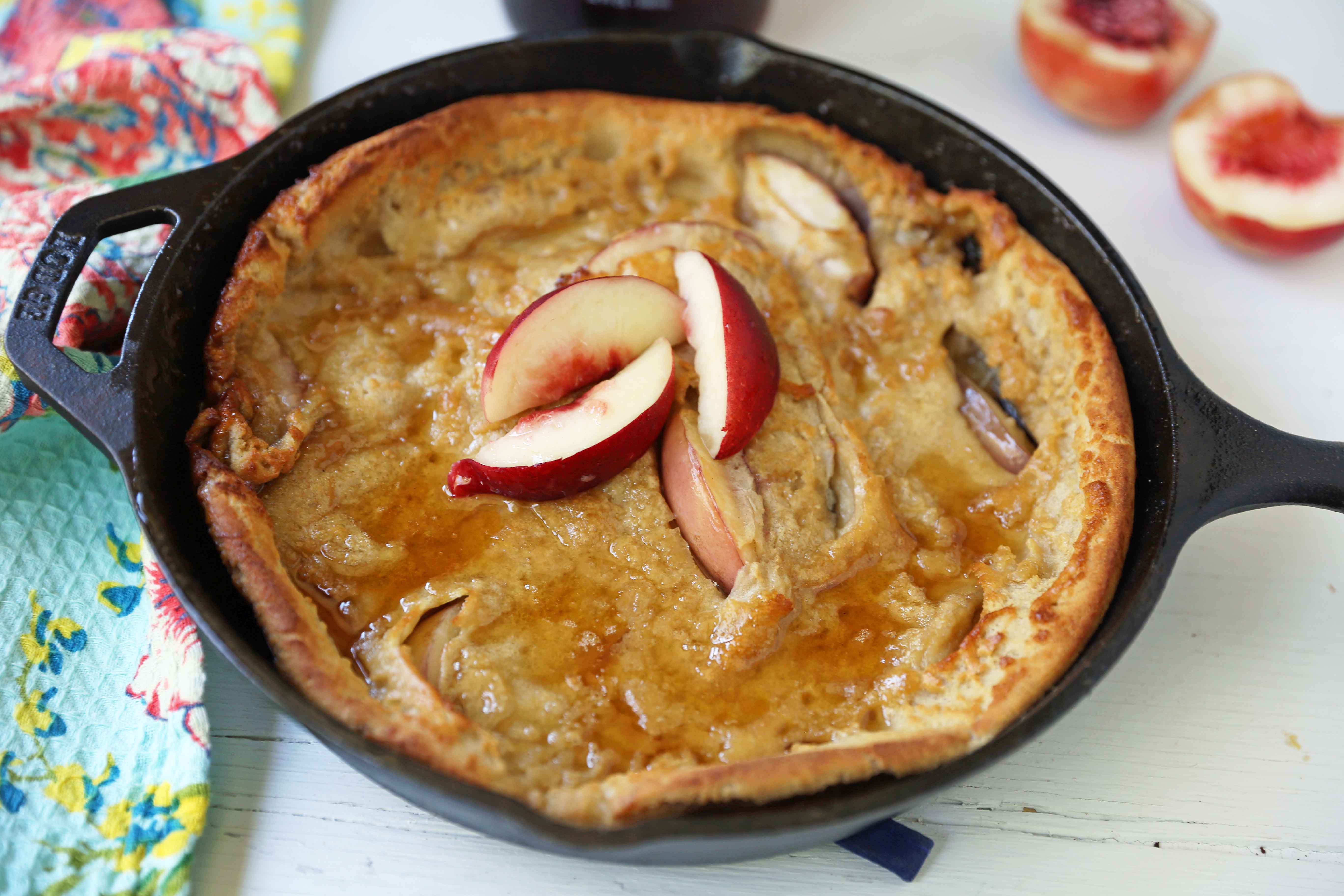 How to make a Peach Dutch Baby:
1. It all starts with a hot oven. The butter and peaches are added to the skillet and placed into the oven until the butter browns and the peaches are slightly softened -- about 5-7 minutes.
2. The homemade Dutch baby batter is so easy since all of the ingredients are whipped together in a blender and poured into the hot skillet over the browned butter and peaches.
3.  The Peach Dutch will puff up and bake for about 20 minutes. Turn on the oven light (but don't open the oven as it will deflate the puffiness) to watch it expand. Kids watch in awe as it puffs up.
4.  Remove from oven and top with fresh whipped cream, real maple syrup, and powdered sugar.
Your family is going to LOVE you for making this Peach Dutch Baby Pancake for them.  When I took the first bite, I literally uttered, "ARE YOU KIDDING ME?" It was that good.
FOLLOW ME ON:   INSTAGRAM --- FACEBOOK --- PINTEREST
Pin on Pinterest: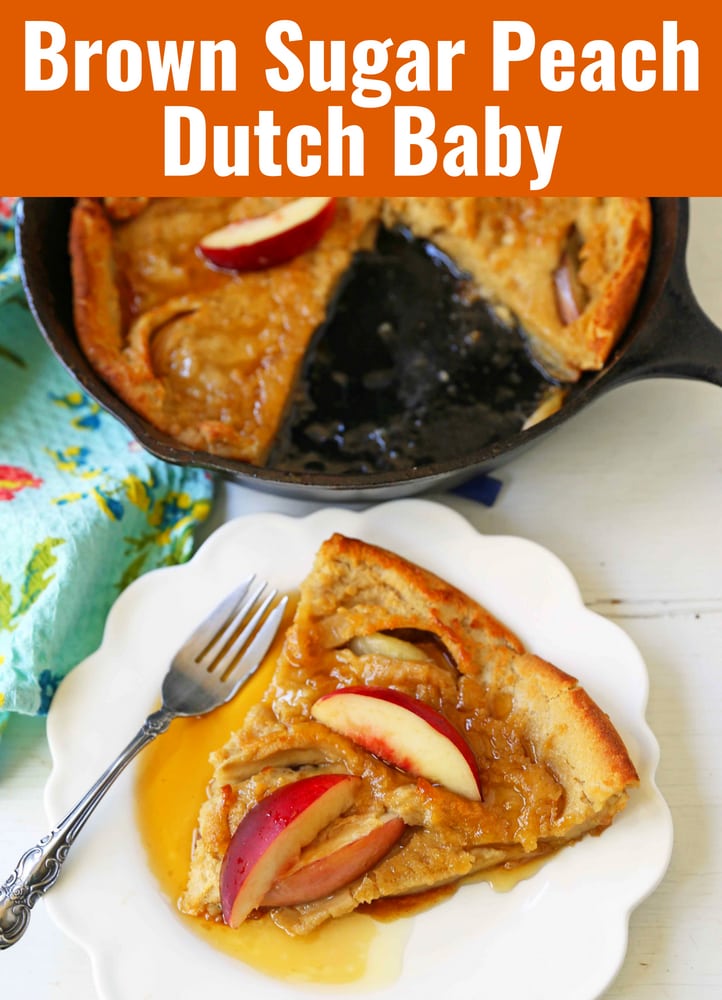 I hope your family goes crazy for this heavenly peach pancake! Thanks for following along!