Dutch Baby Pancake
A baked vanilla custard-like pancake that miraculously puffs up when baked in the oven. It has a creamy souffle texture and makes whipping up breakfast on the weekend so easy!
It's Sunday morning and I hear my kids scrambling around downstairs looking for something to eat.
I know what is coming next.
They run through my bedroom door and ask THE question, "Mom, what's for breakfast?" My eyes are barely open. I am pretty sure I am still half asleep and I really just want to crawl back into bed and hide under the covers.
But I know they aren't looking for cold cereal! They want something warm, comforting, and most importantly homemade.
This is it! Dutch Baby Puff Pancake (also known as German Pancakes) is my go-to breakfast for those lazy Sunday mornings before we rush off to church. It's always number one on their wish list when they want something covered in a massive amount of powdered sugar and syrup.
It's so simple. You literally throw in some milk, eggs, sugar, vanilla, flour, and salt into a blender. You whiz it up and pour it into a skillet or baking dish with lots of melted butter (because EVERYTHING is better with butter). Place the skillet in the oven and watch in wonderment as it rises and puffs. It's like magic…and my kids love magic!
That is it. I told you it was easy. No flipping pancakes. No refilling the waffle maker. It's a pour and go breakfast and a definite crowd-pleaser. It's a cross between a warm, comforting custard and a fluffy pancake.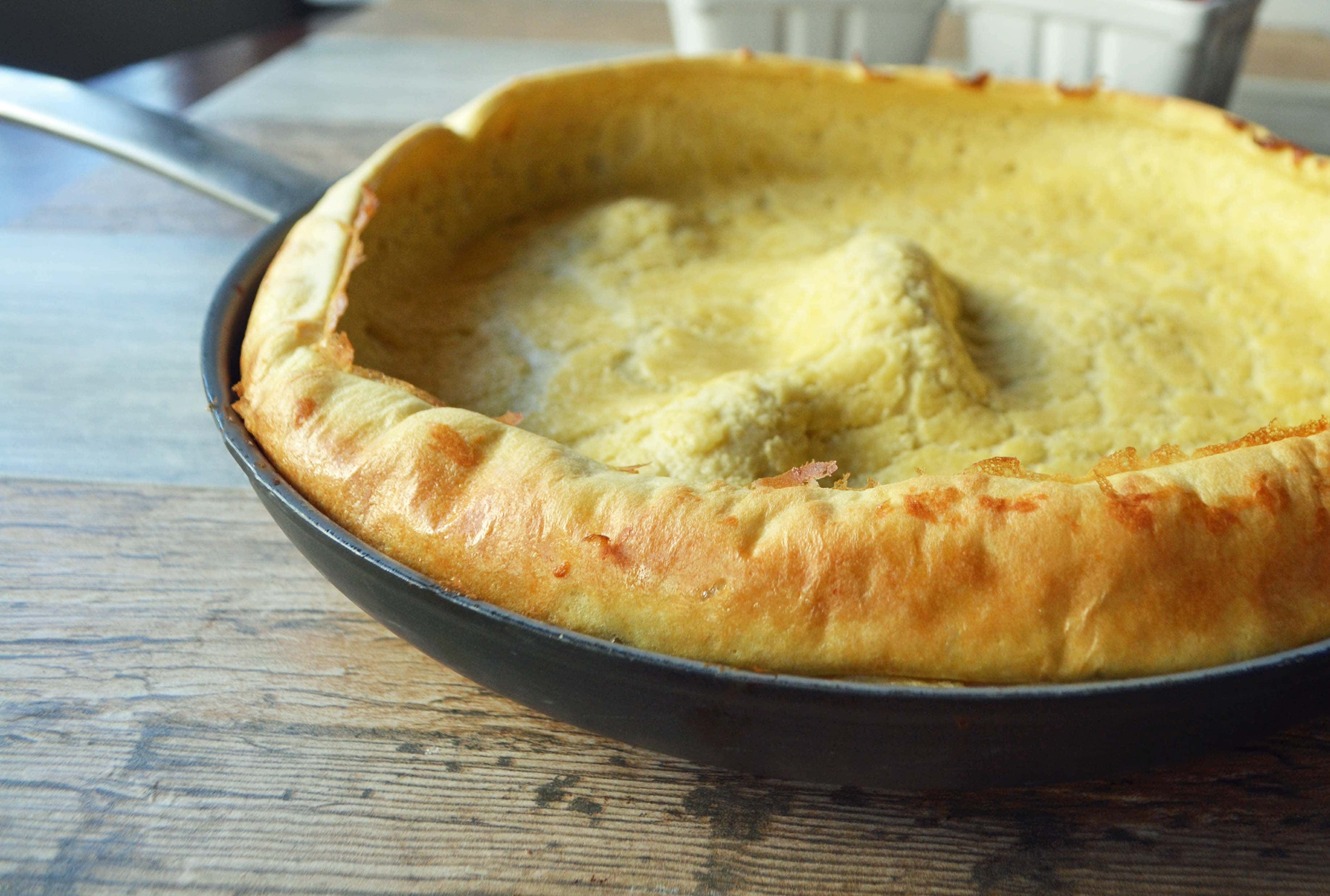 Now the fun part is deciding what to put on this Dutch Baby Puff Pancake. The options are endless. My youngest girl LOVES to dump half of the powdered sugar shaker and a heavy dollop of whipped cream on her piece (she's never met a candy she didn't like). My oldest daughter prefers to keep it light and fresh with hers covered in fresh strawberries and blackberries.
My two boys think that maple syrup rules the universe so they basically let the Dutch Baby Puff Pancake take a swim in syrup. No matter what toppings you choose, this makes an ideal breakfast for a lazy Sunday morning.
How to make the Best Dutch Baby Oven Pancake:
Heat oven to 400 degrees. Place the butter into a skillet or baking dish and place in the hot oven to let the butter melt while you whip up the oven pancake batter. When butter is melted, carefully remove the pan with an oven mitt.
In a blender, whip up the remaining ingredients — eggs, milk, flour, sugar, salt and vanilla. Swirl the batter over the melted butter and place back in the oven.
Bake until the pancake begins to puff up and become fully cooked. Remove from the oven and serve immediately. Sprinkle with powdered sugar and top with your favorite toppings.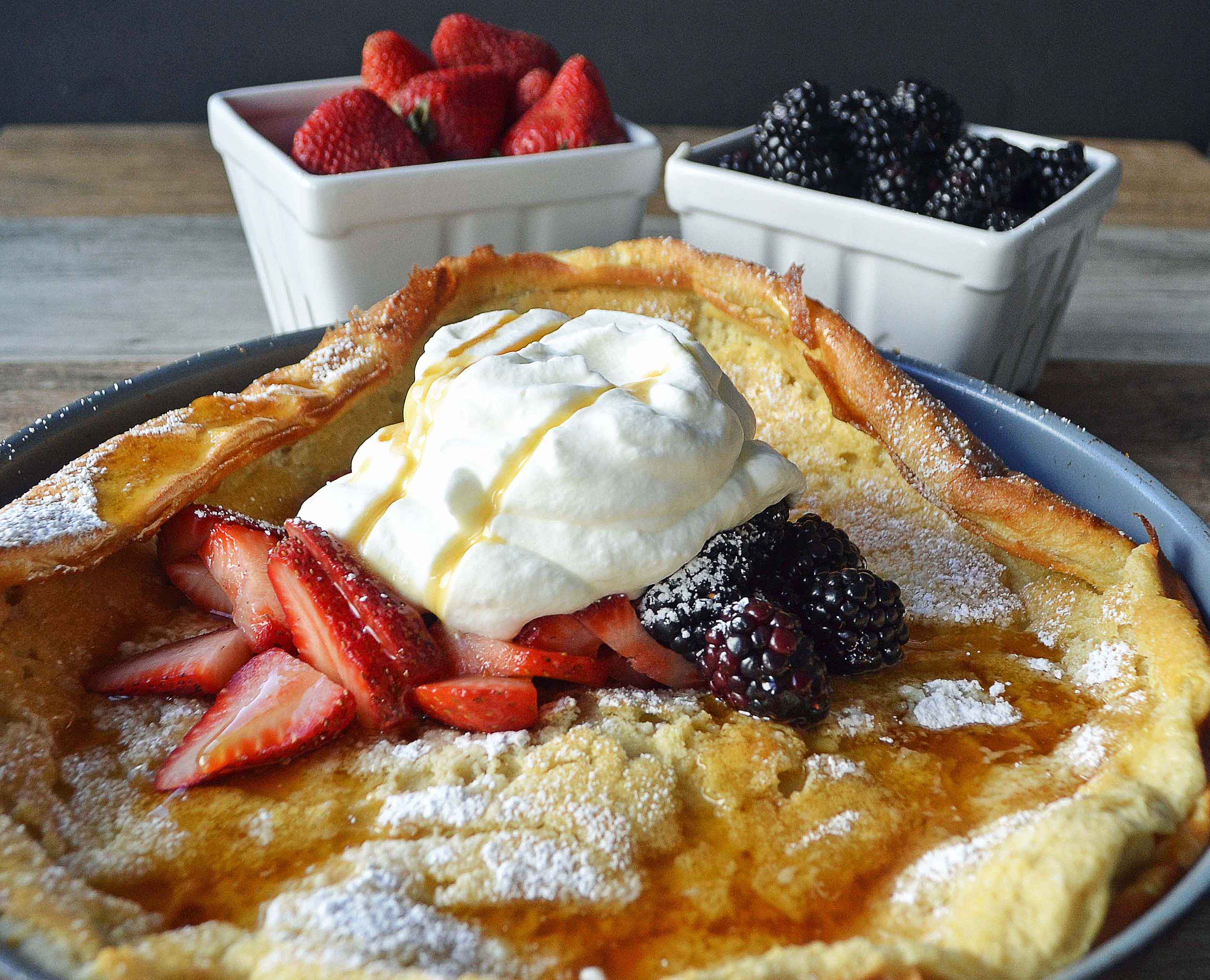 Dutch Baby Puff Pancake
Ingredients
6

Tablespoons

Butter

3

large

Eggs

3

Tablespoons

Sugar

2

teaspoons

Vanilla

1 1/4

cup

Whole Milk

1

cup

Flour

1/2

teaspoon

Salt

Fresh Whipped Cream:

3/4

cup

Heavy Whipping Cream

3

Tablespoons

Powdered Sugar
Instructions
Preheat oven to 400 degrees.

Put butter into large (12 inch) non-stick skillet or baking dish and place in oven.

In a blender, combine eggs, sugar, vanilla, milk, flour and salt and blend until combined.

Carefully remove the hot pan from oven once butter is melted. Swirl the butter around pan to coat completely. Pour the batter into skillet and return to oven.

Bake for 20-22 minutes or until the pancake puffs in the center and is golden brown along the edges.

Remove from oven and sprinkle with powdered sugar.

Top with maple syrup, fresh whipped cream, and berries.

To make fresh whipped cream: Using mixer, whip heavy cream until soft peak form. Stir in powdered sugar.
A sprinkle of powdered sugar, some freshly whipped cream, and tart berries on this Dutch Baby Puff Pancake and you look like you have been working for hours in the kitchen.
Happy Baking, my friends! xoxo