Chipotle Spiced Chicken Tacos with a cheese-filled tortilla and topped with fresh salsa. These easy chicken tacos are made in less than 20 minutes and are so popular!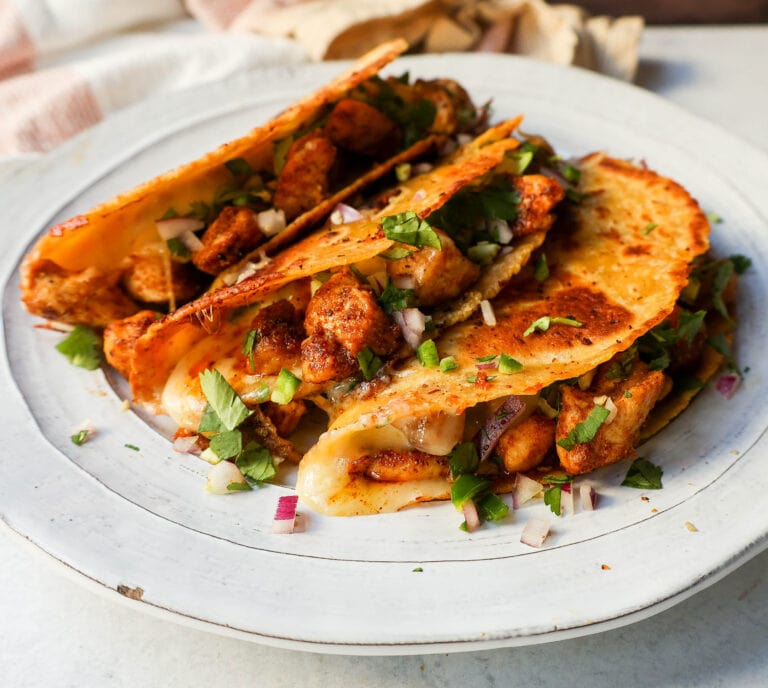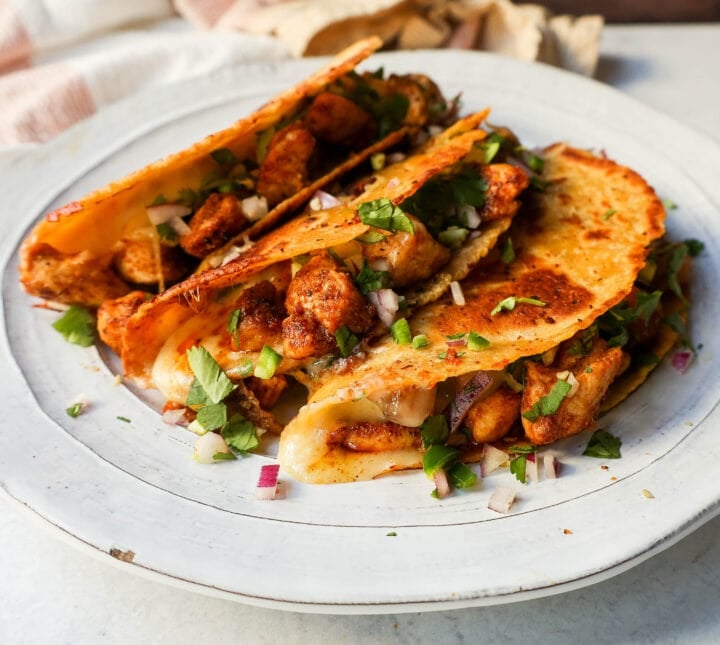 These Easy Chicken Tacos are my new obsession.
My goal for 2023 is to share more easy, flavorful, and crowd-pleasing dinners that we make in our home that are kid, teenager, and adult approved.
These Chipotle Chicken Tacos check all of those boxes. You can whip these up in less than 20 minutes from start to finish. No long list of crazy ingredients is needed.
Why do I love these Easy Chipotle Chicken Tacos?
First of all, they are fast. They are easy. You just toss the chicken in some spices and throw it in the pan to saute in some oil. It takes like 5 minutes because the chicken is cut small.
They are super flavorful! Since you are combining chipotle-seasoned chicken with Mexican cheese and fresh cilantro, onion, and jalapeno...you have layers upon layers of flavor. We love that.
These chicken tacos are super versatile. Want to change up the flavors? Change up the salsa? Pair it with a creamy cilantro jalapeno dressing or a homemade sweet green salsa. Dip it in guac or sour cream. The variations are endless!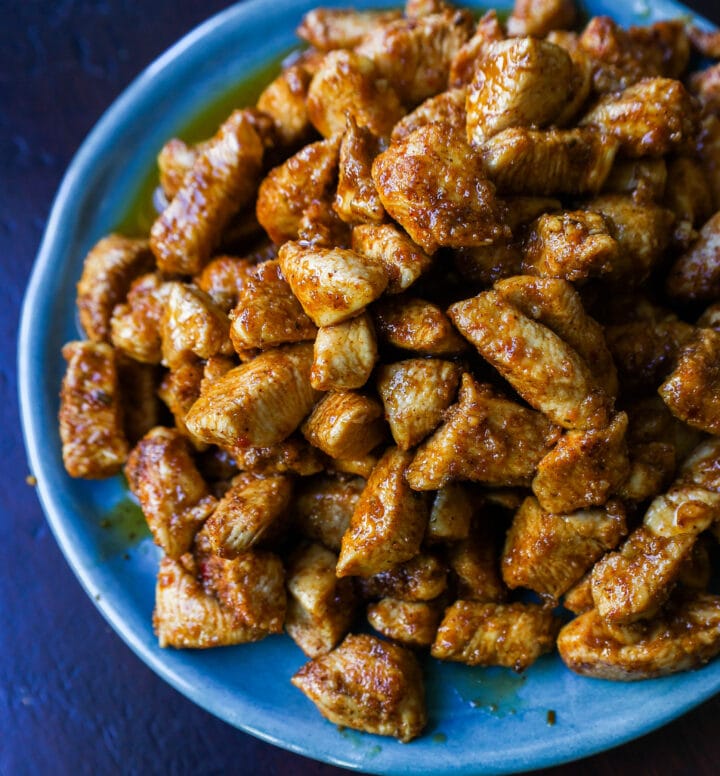 Chipotle Chicken Taco Ingredients:
Chicken -- I suggest using boneless skinless chicken breast or chicken thighs and cutting into small diced pieces.
Chipotle Chile Powder -- this is what gives it that smoky flavor and subtle heat.
Taco Seasoning or Chili Powder -- taco seasoning is a mix of chili powder, cumin, paprika, salt, and other spices and adds a lot of flavor to the chicken.
Oil -- this is an important ingredient as it keeps the chicken moist and helps the spices to coat the chicken.
Tortillas -- use corn tortillas, flour tortillas, or 50/50 corn flour tortillas in this recipe.
Cheese -- use pepper jack, monterey jack cheese, oaxaca cheese, cheddar, or queso asadero.
Cilantro -- adds freshness to the chicken tacos.
Red Onion -- adds crunch, freshness, and flavor to the tacos.
Jalapeno -- adds some heat and freshness.
Optional Toppings: Fresh Homemade Guacamole, Fresh Mango Salsa, easy Restaurant Style Salsa, or Chuy's Creamy Cilantro Jalapeno Dip.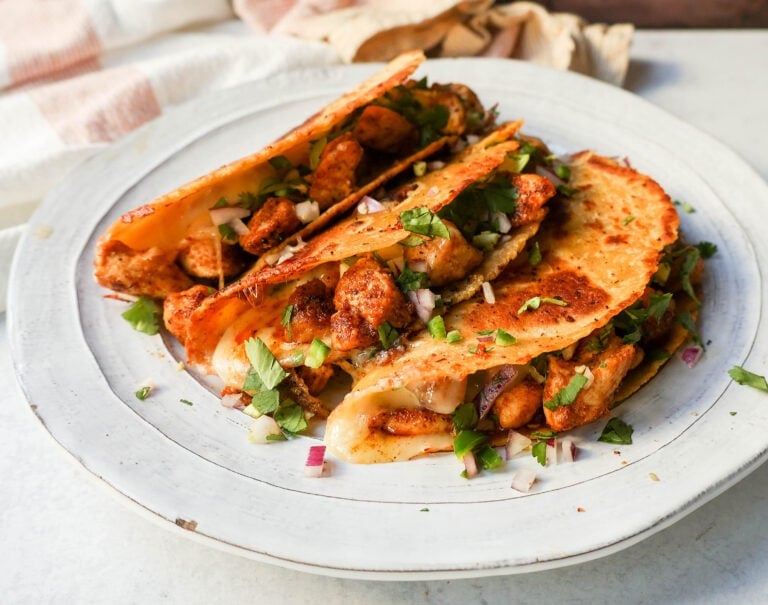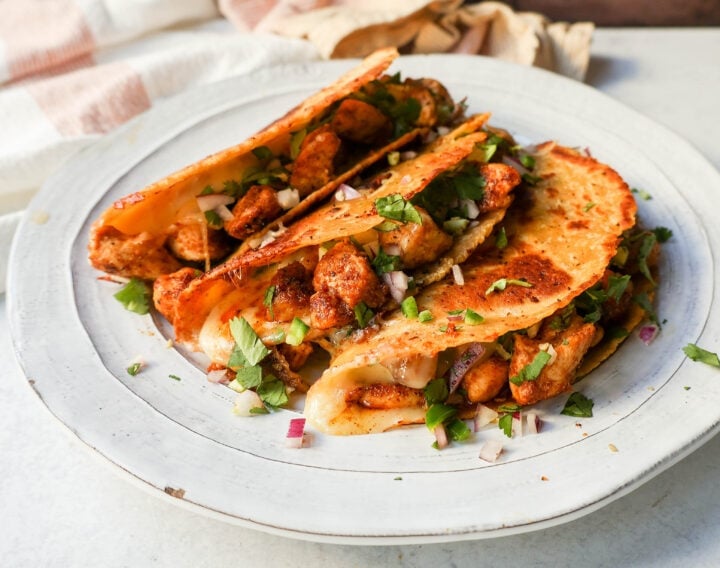 How to make Easy Chicken Tacos:
Start by cutting the chicken into small bite-size pieces. Place in a bowl and toss with spices. If you don't use taco seasoning, I suggest using salt and pepper as well.
Heat a large skillet over medium-high heat. Add oil. Once the oil is heated, add the chicken. Cook for about 5 minutes, or until fully cooked through. Add more oil if needed.
Remove the cooked chicken from the skillet and leave any remaining oil. Place tortillas in the skillet and sprinkle cheese into the center of each tortilla. If you want the tortillas to be slightly crispy, drizzle more oil in the pan. Top with chicken. Heat until cheese is melted and fold over.
For the topping, stir together chopped cilantro, red onion, and jalapeno, or make homemade guacamole, salsa, or cilantro jalapeno dip.
Serve with homemade salsa, guacamole, or sour cream.
If you like unique tacos, check out my original Mexican Street Corn Chicken Tacos with street corn. If you are looking for steak tacos, check out my Grilled Steak Tacos Recipe.
I love to hear from you! If you make this recipe, please be sure to leave a comment and give this recipe a rating. If you make any of my recipes, tag me on Instagram @modern_honey so I can see your creations. It's one of my favorite things to see you make these recipes in your own kitchen. Sign up for my newsletter below so you never miss a recipe. Thank you for following along! I truly do have the greatest readers.
FOLLOW ME ON: INSTAGRAM --- FACEBOOK --- PINTEREST