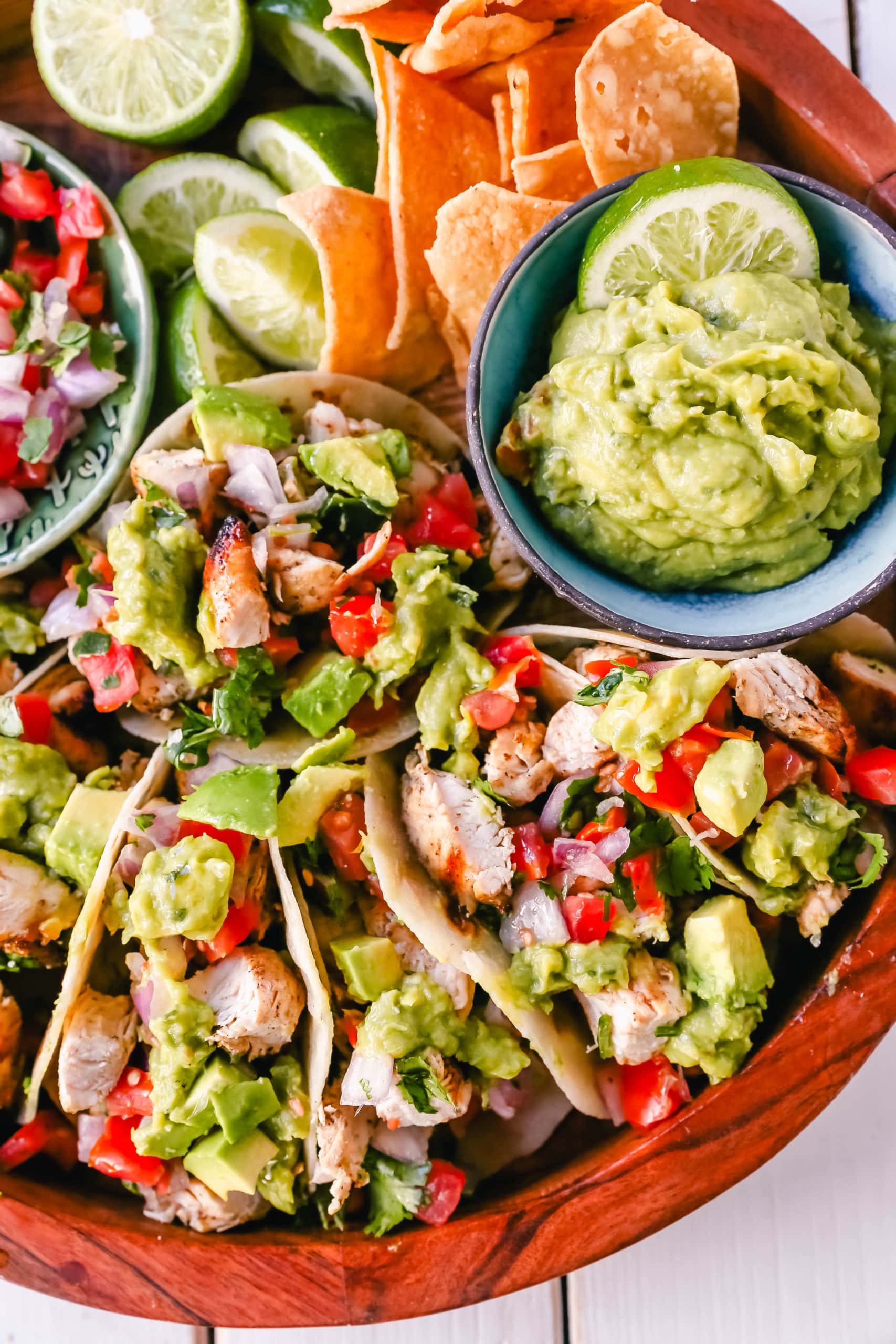 Grilled Chicken Tacos with Guacamole
Marinated grilled chicken with fresh lime and Mexican spices topped with pico de gallo and fresh guacamole 
It is TACO TUESDAY so I am sharing an easy grilled chicken taco recipe that we love in our home. Anytime I tell my kids and husband that I am making tacos, they come running home.
It is all about juicy, marinated chicken topped with fresh lime guacamole and vibrant pico de gallo. It all starts with chicken breast, chicken tenderloins, or chicken thighs. Since we want juicy, flavorful chicken, we want to marinate the chicken for at least 30 minutes but two hours is ideal. The marinade is made with oil, freshly squeezed lime juice, chili powder, cumin, garlic, salt, and pepper.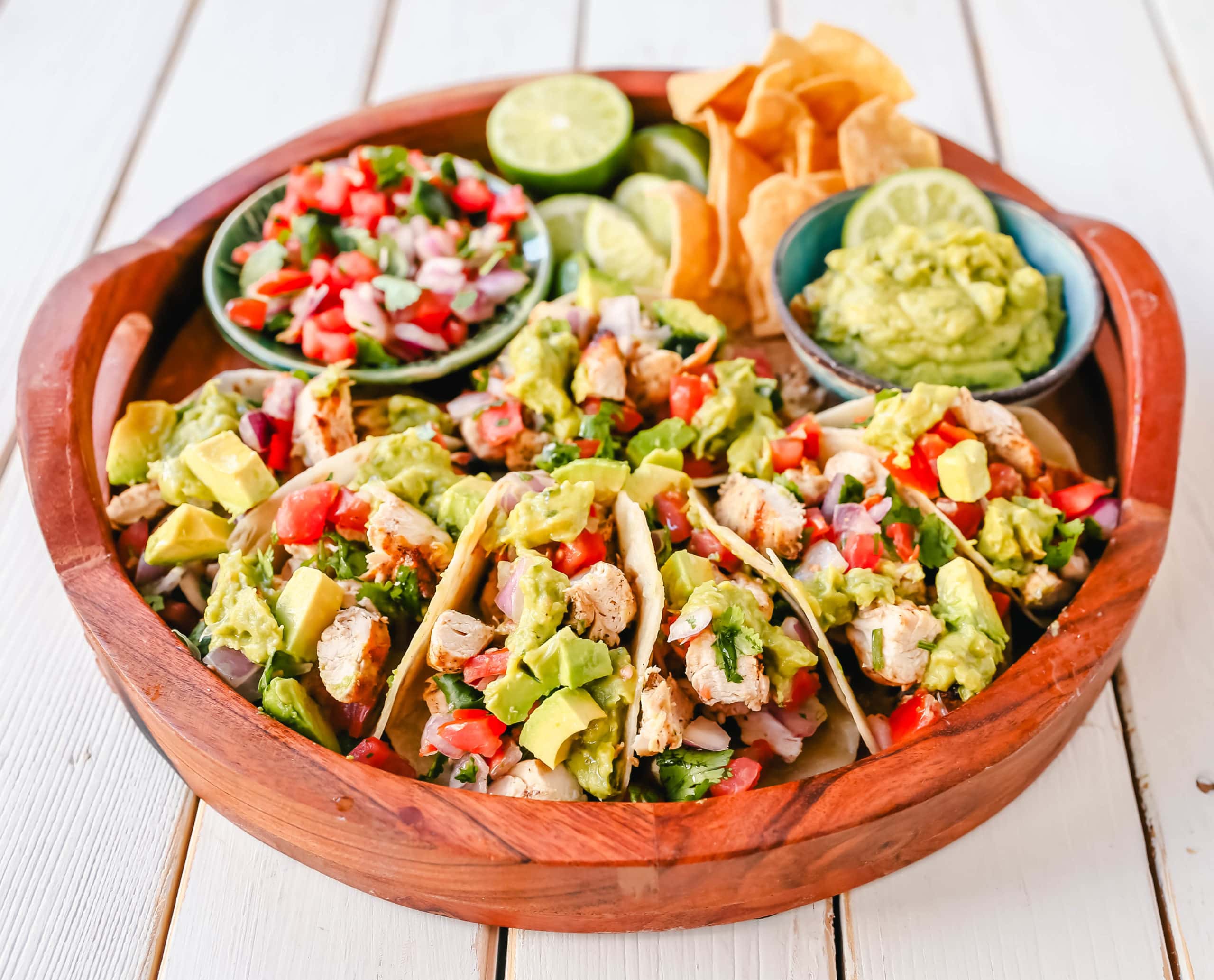 What ingredients are in Pico de Gallo?
Pico de gallo is a super simple salsa made of fresh ingredients. It is made by combining chopped roma tomatoes, white onion, cilantro, jalapeno, and salt. You can even buy fresh pico de gallo in your local grocery store in the produce section.
What ingredients are in Guacamole?
The homemade guacamole is so easy to whip up! My signature guacamole includes avocados, finely diced white onions, cilantro, lime juice, garlic powder, salt, and a touch of jalapeno. 7-ingredient guacamole is all you need. But if time is not on your side or your avocados are as hard as rocks, then you can pick some up at the grocery store and save yourself a step!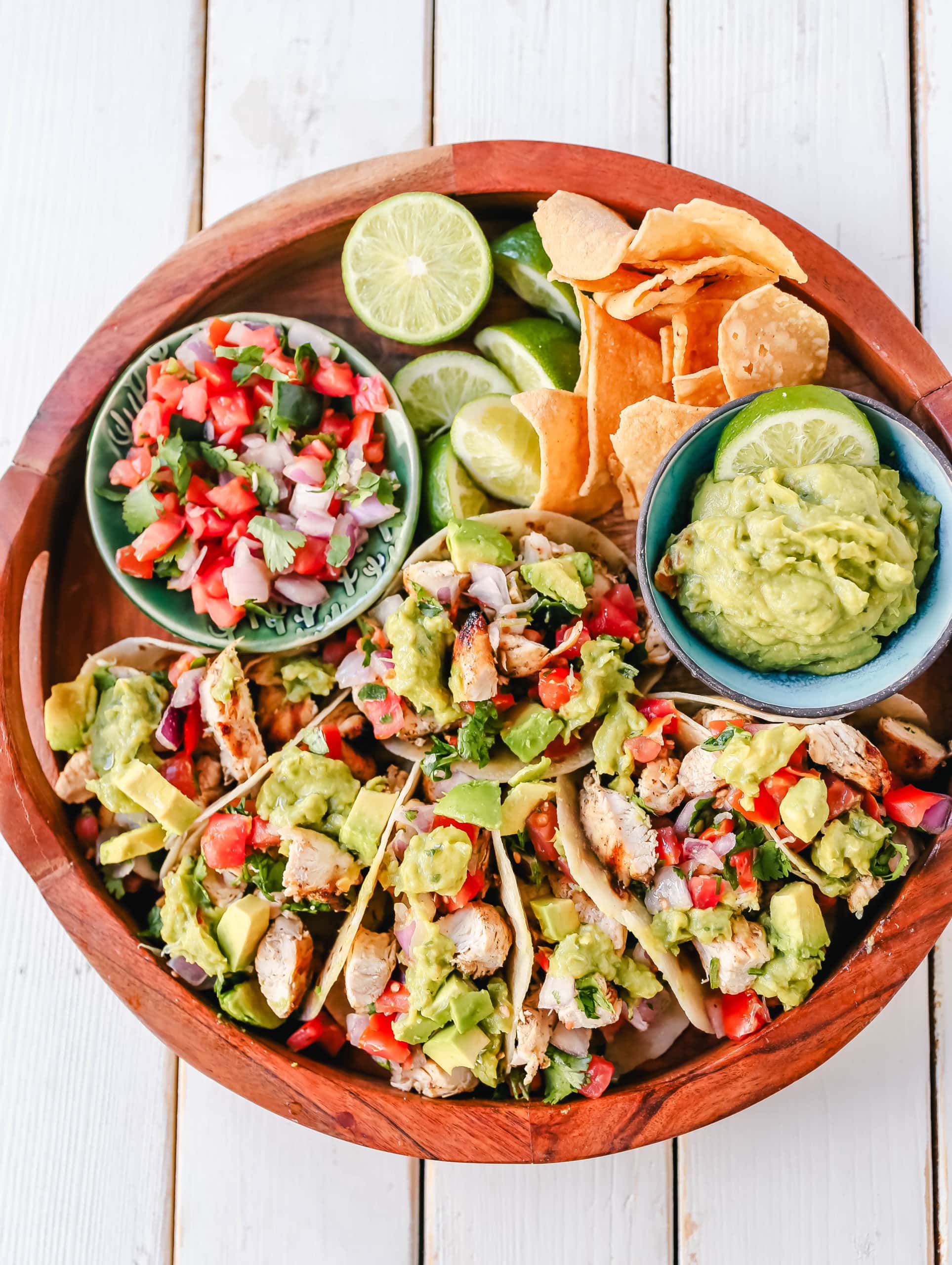 These Grilled Chicken Tacos with Pico de Gallo and Guacamole can be made on flour or corn tortillas, depending on preference. I like to make them small so I usually pick up the street taco-sized tortillas at the store. Whatever you do...make sure to heat up the tortillas ahead of time to make them pliable so they don't split once you fold them.
If you don't have a grill or it is just way too cold to go outside, you can cook these on an indoor skillet as well. I will include the directions in the recipe below.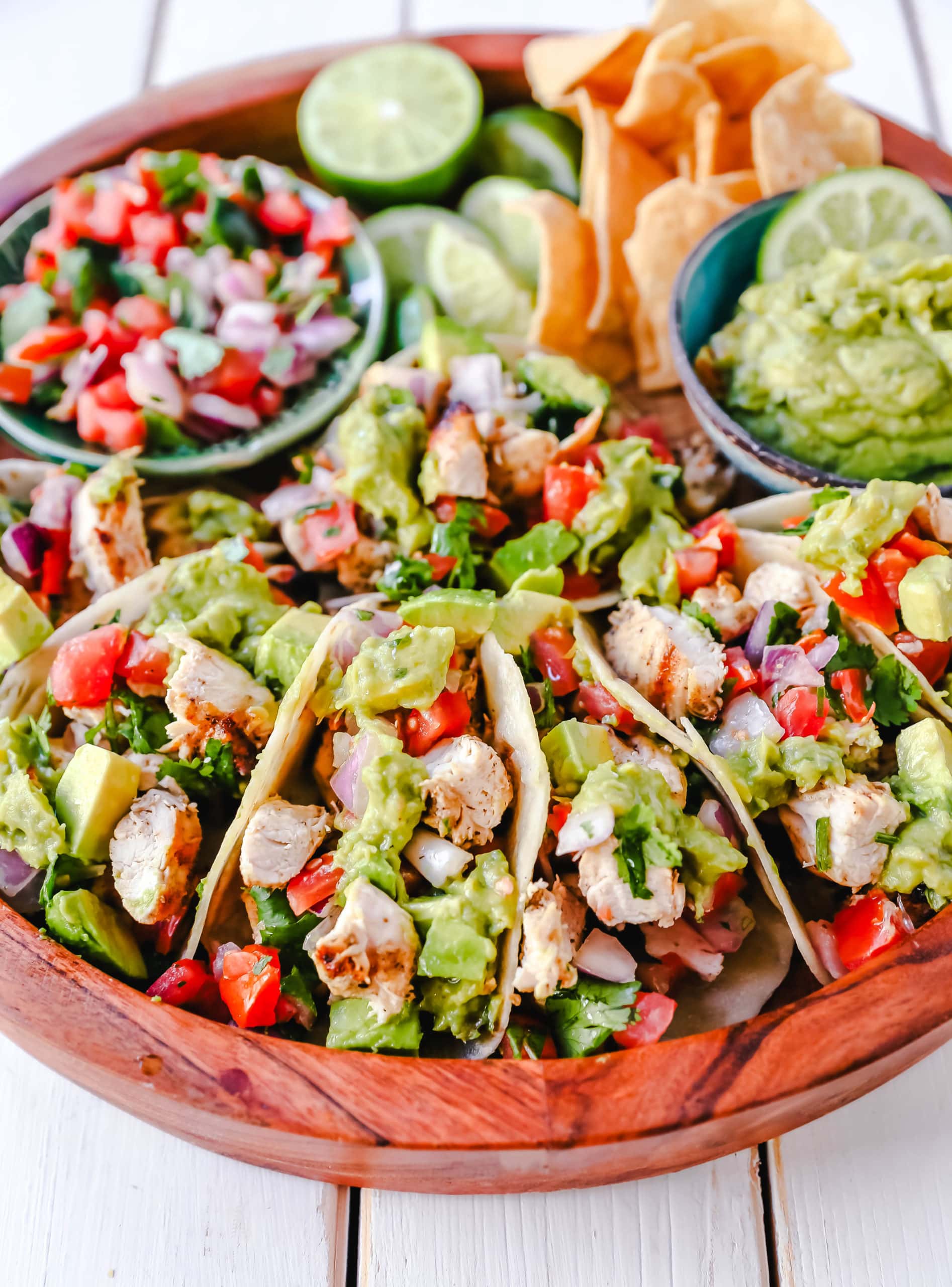 How to make the Best Grilled Chicken Tacos:
Place your chicken in a large gallon-sized Ziploc bag and add the marinade ingredients. Place in the refrigerator and let chill for at least 30 minutes to allow the marinade time to work. I prefer to marinate it for at least 2 hours before grilling the chicken.
You can make the pico de gallo and guacamole ahead of time. A little tip to keep the guacamole from turning brown is to use a good amount of lime juice and to keep the avocado pit in the bowl of guacamole until ready to serve.

Preheat grill to medium heat. Brush grill with oil to prevent sticking. Place chicken on the grill and cook for approximately 5 - 6 minutes per side, depending on the thickness of chicken. The internal temperature of the chicken should reach 165 degrees. Remove chicken from grill and let rest for 5 minutes. Then cut into bite-size pieces.

Heat the tortillas by placing a small amount of oil in a pan and heating the tortillas for about 1 minute per side, or until pliable.
Fill each tortilla with chicken and then top with pico de gallo and guacamole. May use fresh avocado, cilantro, cotija cheese, and Mexican crema as well.
If you love tacos, check out these popular taco recipes:
Mexican Street Corn Chicken Tacos
Slow Cooker Beef Barbacoa Tacos with Tomatillo Salsa