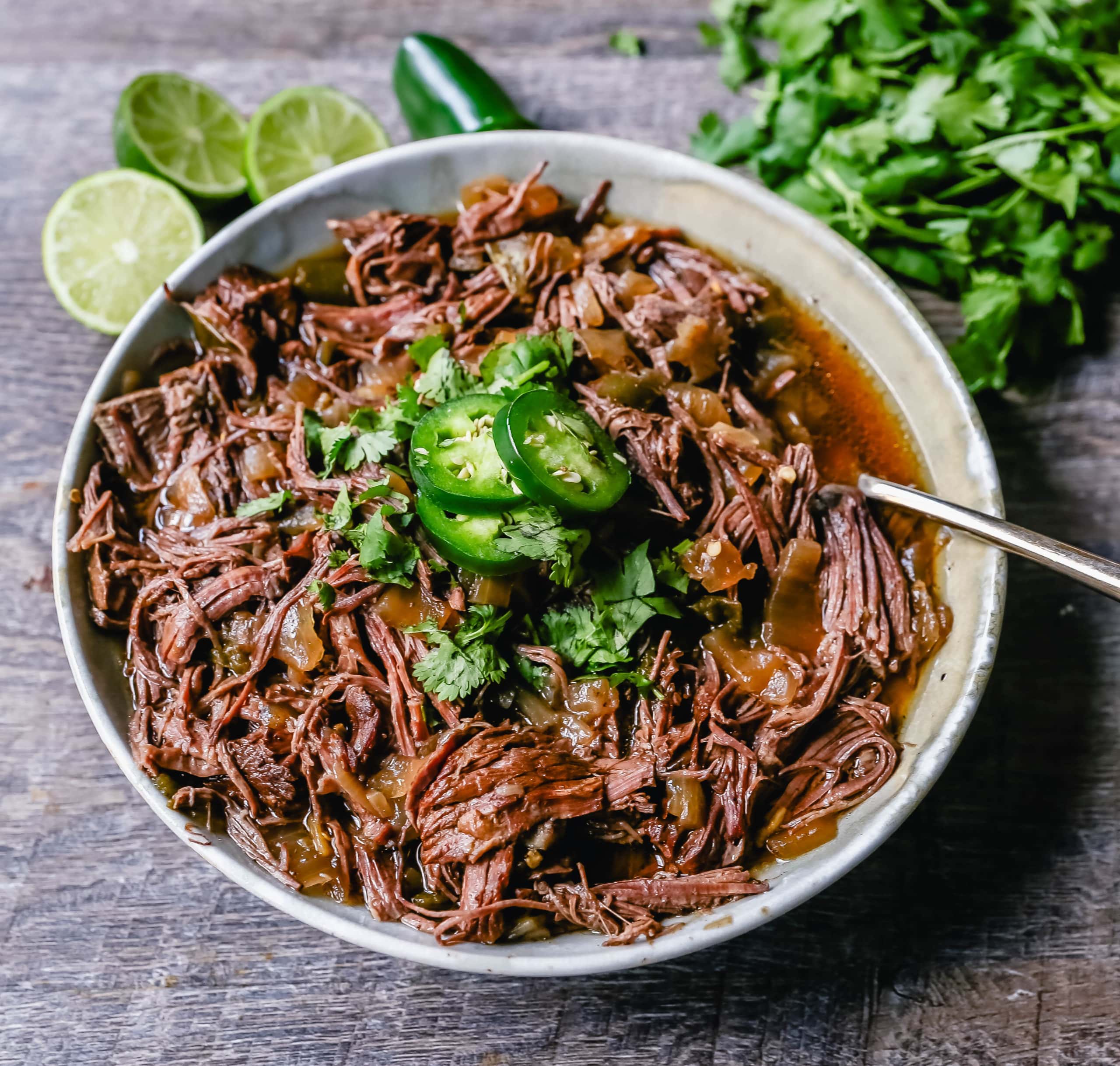 Slow Cooker Barbacoa Beef
Tender, flavorful, slow-cooked beef with onions, jalapenos, and spices make this the perfect barbacoa beef for burritos, tacos, enchiladas, quesadillas, on a salad, or just on its own with a few side dishes.
This is our go-to Mexican Barbacoa Beef recipe. Since I have two boys who are trying to get more protein in their diet, I like to make this ahead of time and keep it in the refrigerator so they can quickly whip up a barbacoa and cheese quesadilla, a burrito, or a few tacos. This only lasts a few days in our home because they eat it up so fast!
If you have teenagers in your home right now or ever have, you know how much food they can eat! They are always saying, "Mom, there is nothing to eat." How in the world with a pantry full of food and a stocked refrigerator (it is my job to basically have a grocery store in our home), can they still not find something to eat? So this is my solution. Since they are always looking for protein, making this ahead of time and having it ready to go is a game-changer in our home.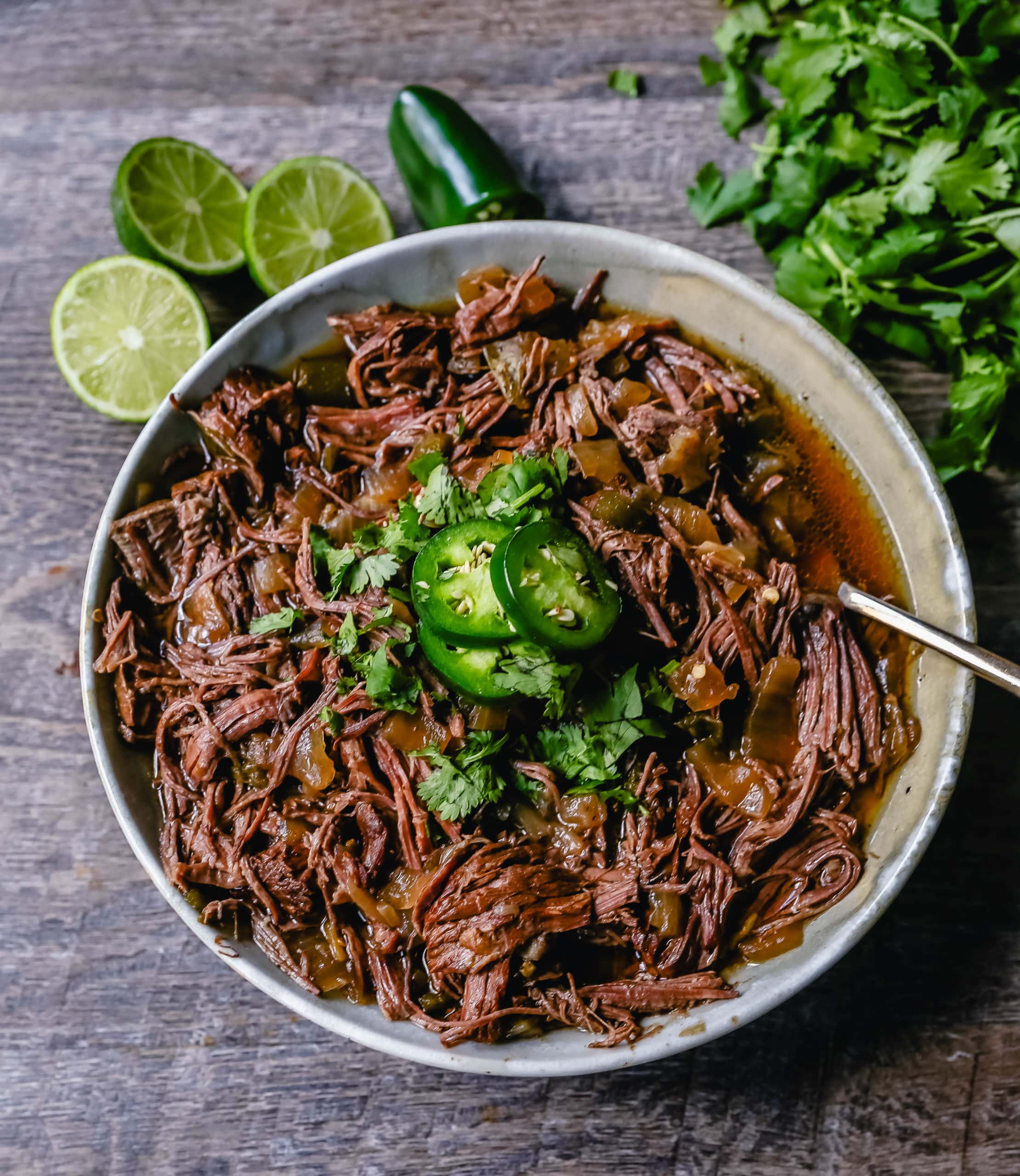 If you have been following me on Modern Honey, you know how much I love my slow cooker crockpot. It is my go-to kitchen appliance for dinner recipes. The amazing thing about this barbacoa beef recipe is that it takes about 5-10 minutes start to finish in preparation. It doesn't get any easier than this! It is a "throw everything in a crockpot and forget about it" kind of meal.
What ingredients are in Barbacoa Beef?
This Barbacoa Beef recipe calls for a beef roast (chuck, rump, sirloin, et.), onion, chipotle or jalapeno chilies, chili powder, cumin, salt, pepper, and some beef broth to slowly braise the beef roast in to keep it super juicy.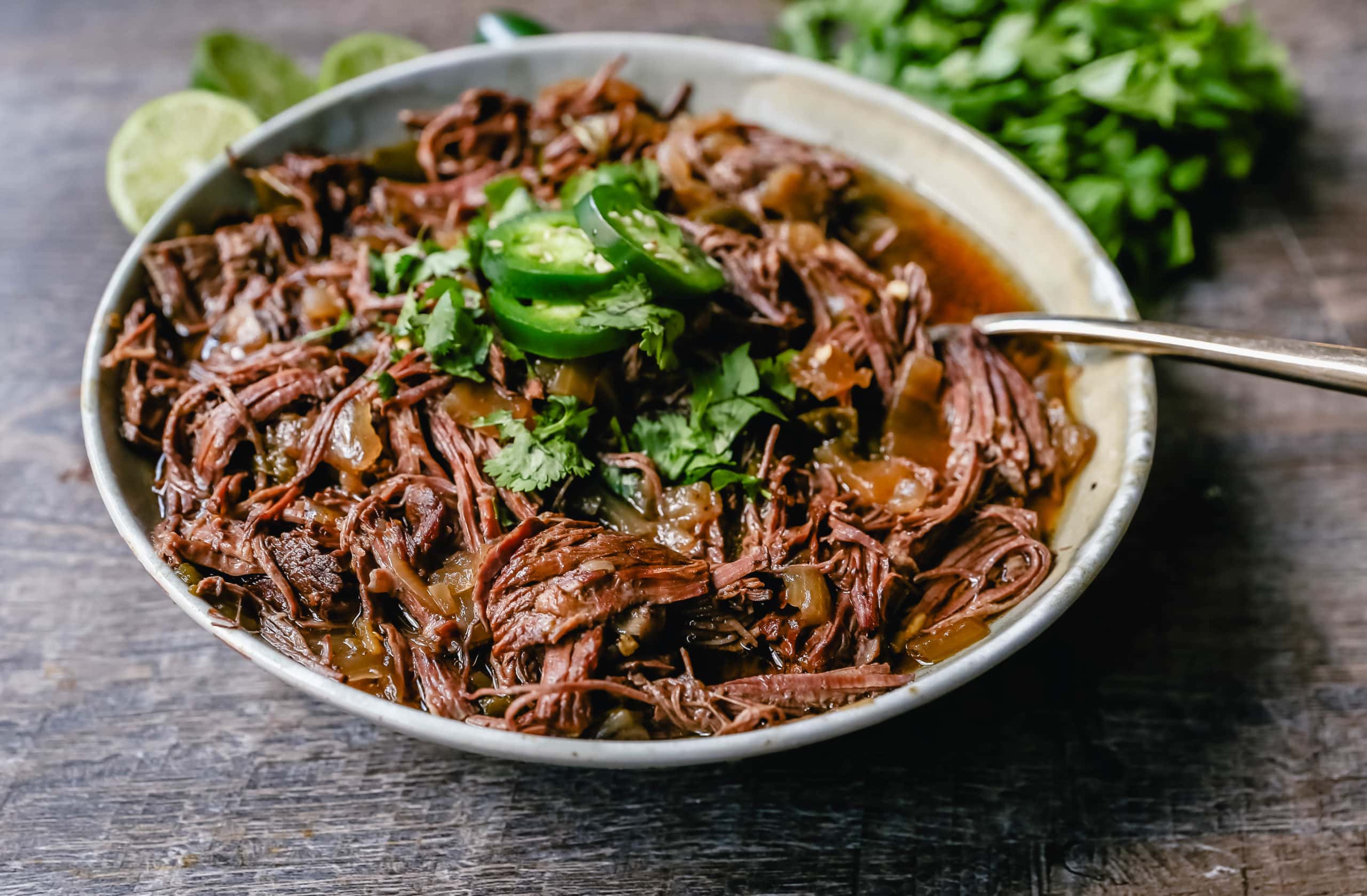 I have used this recipe for years and I do change it up depending on what I have on hand. There are times that I use smoky chipotle chilies in adobe sauce (from a can) and other times I use fresh jalapenos. My husband doesn't love the flavor of chipotle chilies as much as jalapenos so I will switch it up sometimes. You can also add some red, orange, or yellow peppers for a machaca beef flavor.
This Machaca Beef recipe can be cooked in the crockpot on high for about 5 hours or on low for about 8 hours. I cooked it on Sunday to meal prep for the week and cooked it on high for about 5 ½ hours and it came out so tender and was so easy to shred.
We like to put this barbacoa beef in burritos, tacos, enchiladas, quesadillas, tostadas, on top of salads, or served on its own with a few vegetable side dishes.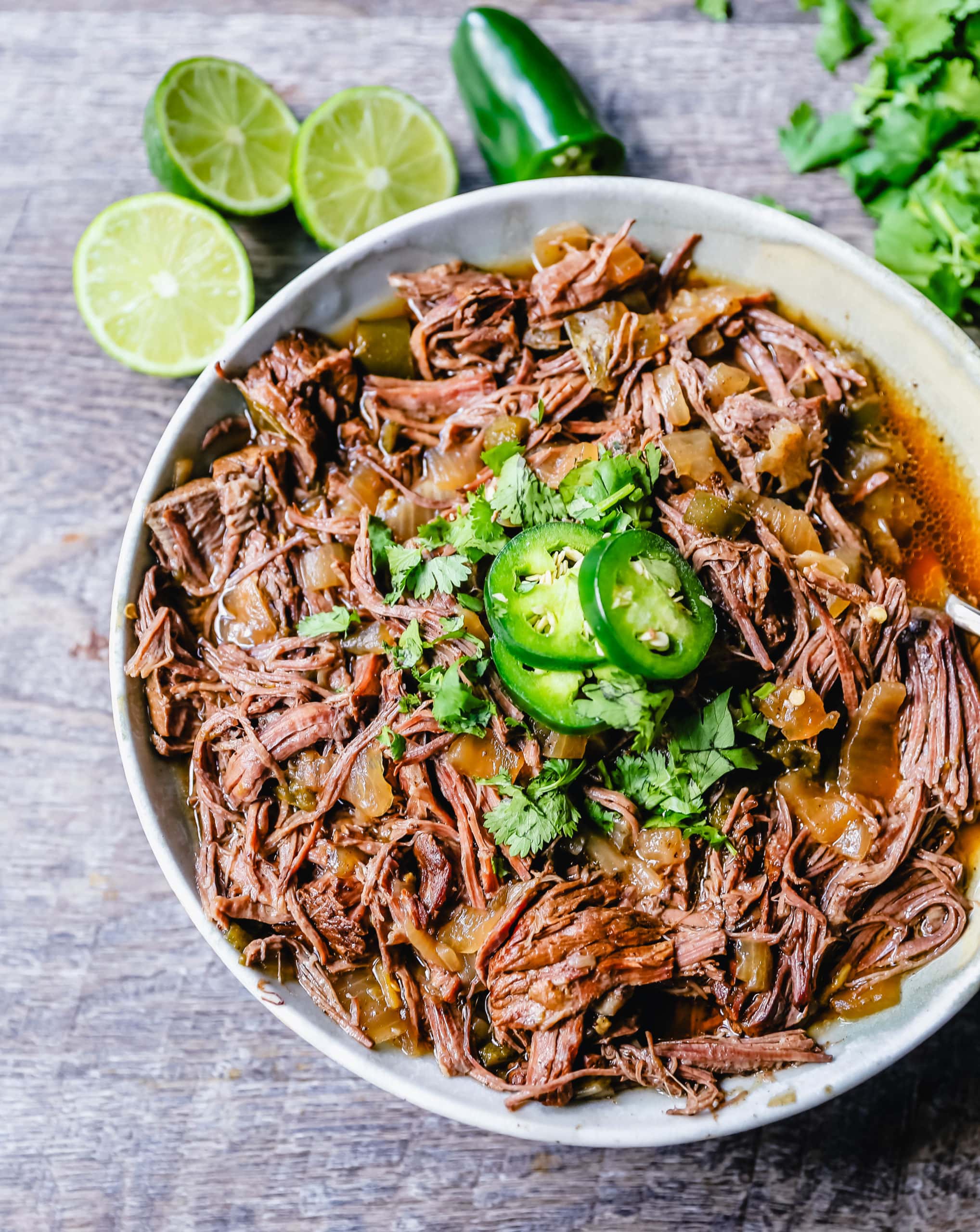 How to make the Best Barbacoa Beef:
Start by picking out your favorite type of beef roast. I look for a roast with minimal fat (but enough to make it juicy). If you want to create a sear on the beef roast before placing it in the crockpot, I suggest heating a skillet over high heat. Add a little bit of oil (do this before it gets too hot). Place the roast in the skillet and sear it for about 2 minutes per side. Be careful of hot oil as it can splatter!
Place the roast in the crockpot and set it on low or high, depending on how much time you have. I suggest a low heat. Add onions, chipotle chilies or jalapeno peppers, chili powder, cumin, salt, and pepper. Pour over a can of beef broth. This helps to braise the beef.
After it is tender and done cooking, use two forks to shred the meat. If it is done cooking, it should shred easily. If it doesn't shred easily, cook a little longer on a low setting. I like to take as much of the fat as possible off of the roast.
Test for seasoning and add more salt or chili powder if needed. To keep the beef moist, keep adding the cooking liquid to it. Store in the refrigerator.
You can find my recipe for Slow Cooker Barbacoa Beef Tacos with a fresh Tomatillo Salsa by clicking HERE.