Greek Chicken Meatballs are moist and flavorful without any fillers...just spices and herbs. These Greek Turkey Meatballs are served with homemade tzatziki sauce, fresh cucumbers, tomatoes, and rice.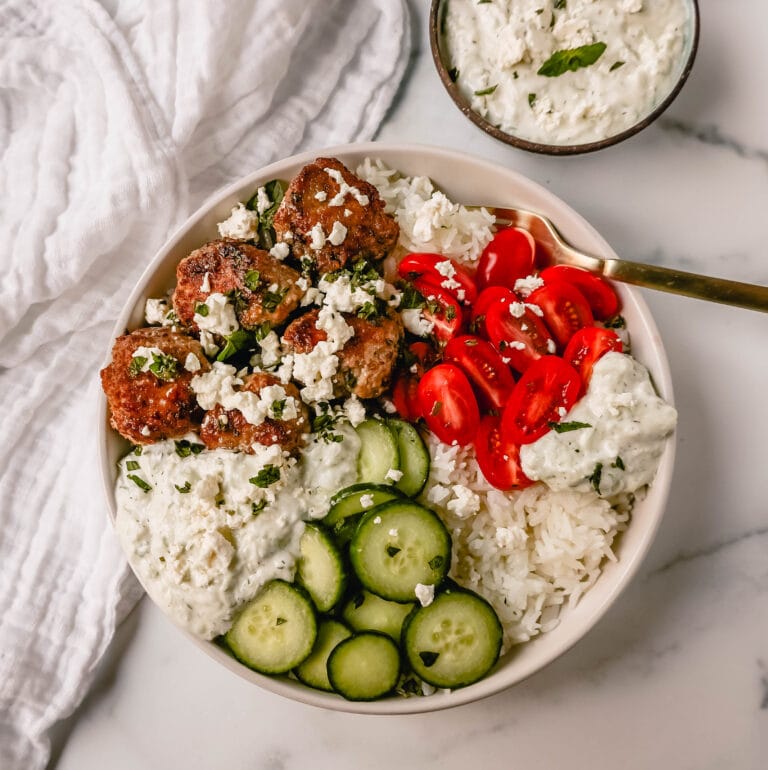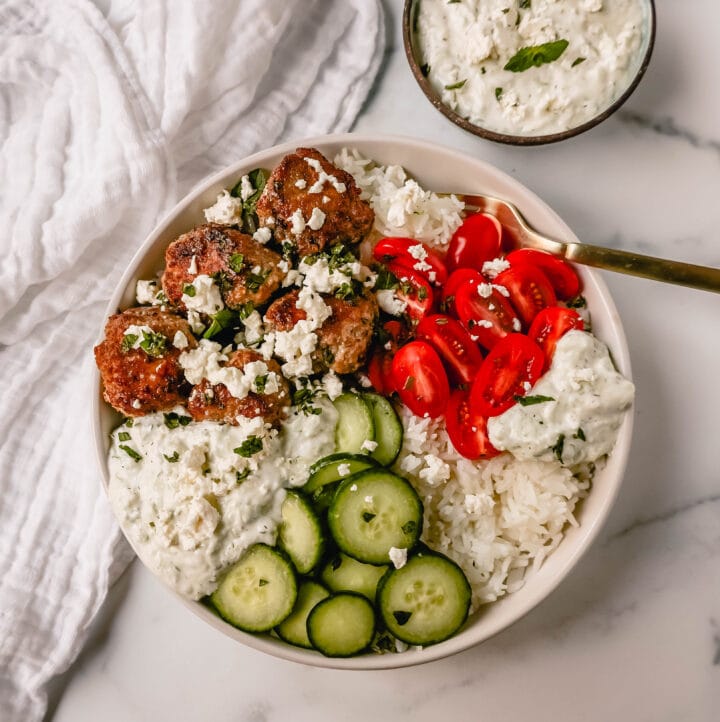 I figured out a way to make moist, juicy, flavorful meatballs without any fillers -- no bread crumbs, no egg -- just herbs and spices. These Greek Chicken Meatballs made with ground chicken or ground turkey are flavorful and without all of the calories. These Greek Meatballs are a great source of protein!
I have experimented making this recipe with both ground chicken and ground turkey. Since they have similar flavor profiles, I wanted to see how they differ as far as juiciness and moistness. I found a winner! The Butterball lean turkey (93% lean) that you find at Costco was the clear winner. It helps its shape and made a delicious Greek turkey meatball! But you can use either ground chicken or ground turkey to make your Greek meatballs.
I paired these Greek Turkey Meatballs with fresh cucumbers, tomatoes, homemade tzatziki sauce, fresh herbs, and rice. You can also add thinly sliced red onion and kalamata olives, if you prefer. I love to serve this with a side of buttery naan bread.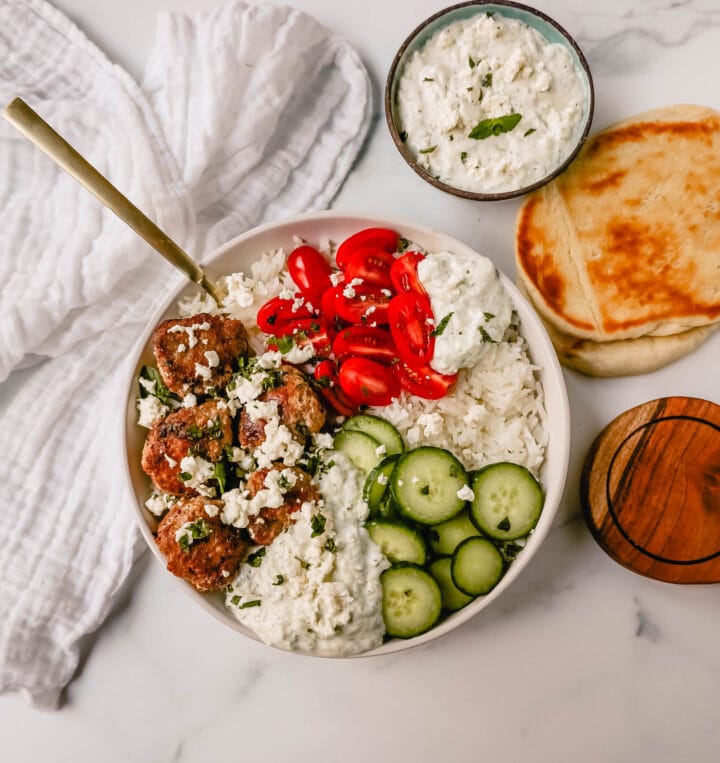 One of my favorite things about this Greek Chicken Meatball Bowl is its protein content. You get protein from not only the lean ground turkey or chicken but the base of the tzatziki sauce is made with greek yogurt. This greek yogurt is a great source of protein. Also, there are no bread crumbs in the meatballs so there are no carbohydrates.
My Greek Chicken Gyros with Tzatziki sauce has always been one of my most popular recipes. The juicy, marinated Greek chicken and homemade tzatziki sauce make all of the difference! I am using the same tzatziki sauce recipe.
Greek Turkey Meatball Ingredients:
Ground Turkey or Chicken -- my favorite ground turkey is the Butterball 93% lean turkey found at Costco. It is the moistest ground turkey I have tried on the market.
Salt and Pepper -- make sure to give the ground turkey or chicken a lot of flavor by adding a generous amount of salt and pepper
Garlic Powder -- also can use finely minced garlic
Red Pepper Flakes -- this gives spice and flavor. If you like spice, add a little extra
Oregano -- can use dried oregano or fresh oregano in this recipe
Feta Cheese (optional) -- this will add some moisture and saltines to the meatballs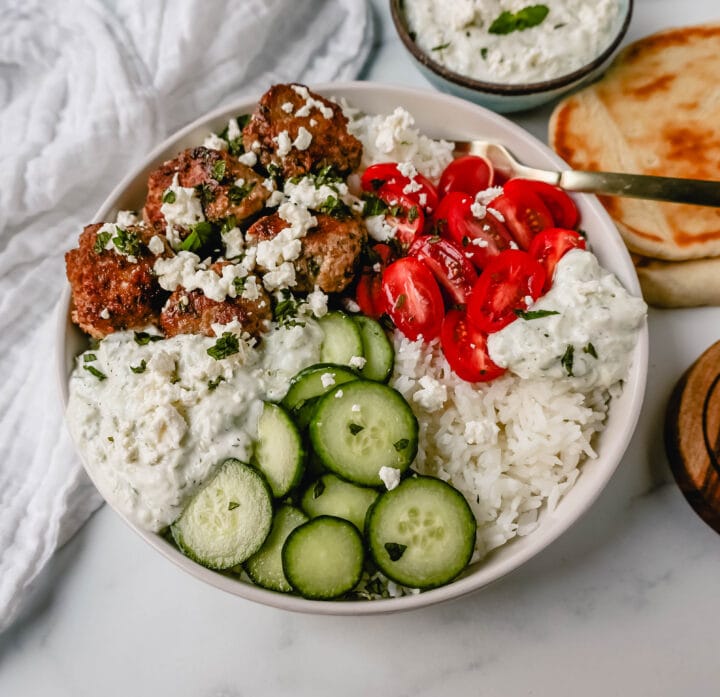 Tzatziki Sauce Ingredients:
Whole Greek Yogurt -- I prefer to use whole milk greek yogurt for its rich, creamy texture but you can use 0% fat greek yogurt as well
Extra Virgin Olive Oil -- this adds warmth to the tzatziki sauce. If you desire a thinner or less tangy sauce, add 1 more Tablespoon of EVOO
Red Wine Vinegar -- this gives the tzatziki sauce extra tang and compliments the creaminess of the yogurt
Lemon Juice -- gives the tzatziki a bright, fresh flavor
Garlic -- minced fresh garlic is a game-changing ingredient
Grated Cucumber -- I prefer to use long Hot House or English cucumbers, with less seeds. Make sure to squeeze out any extra water out of the grated cucumber in a paper towel before adding it to the bowl
Dill -- fresh dill is best but you can use dried dill as well
Salt and Pepper
How to make Greek Turkey or Chicken Meatballs:
Start by mixing together ground turkey or chicken in a bowl with garlic powder, salt, pepper, oregano, red pepper flakes, and optional feta cheese. Mix with hands or with spoon until thoroughly mixed together.
Heat a large skillet over medium heat. Add extra-virgin olive oil and let heat for 1-2 minutes. Roll ground turkey into medium size golf balls and place in the pan.
Let cook for about 6-7 minutes per side. Watch carefully and lower heat if needed to allow the inside to cook before the exterior becomes too browned.
Serve with rice, homemade tzatziki sauce, crisp sliced cucumbers, halved grape tomatoes, and herbs.