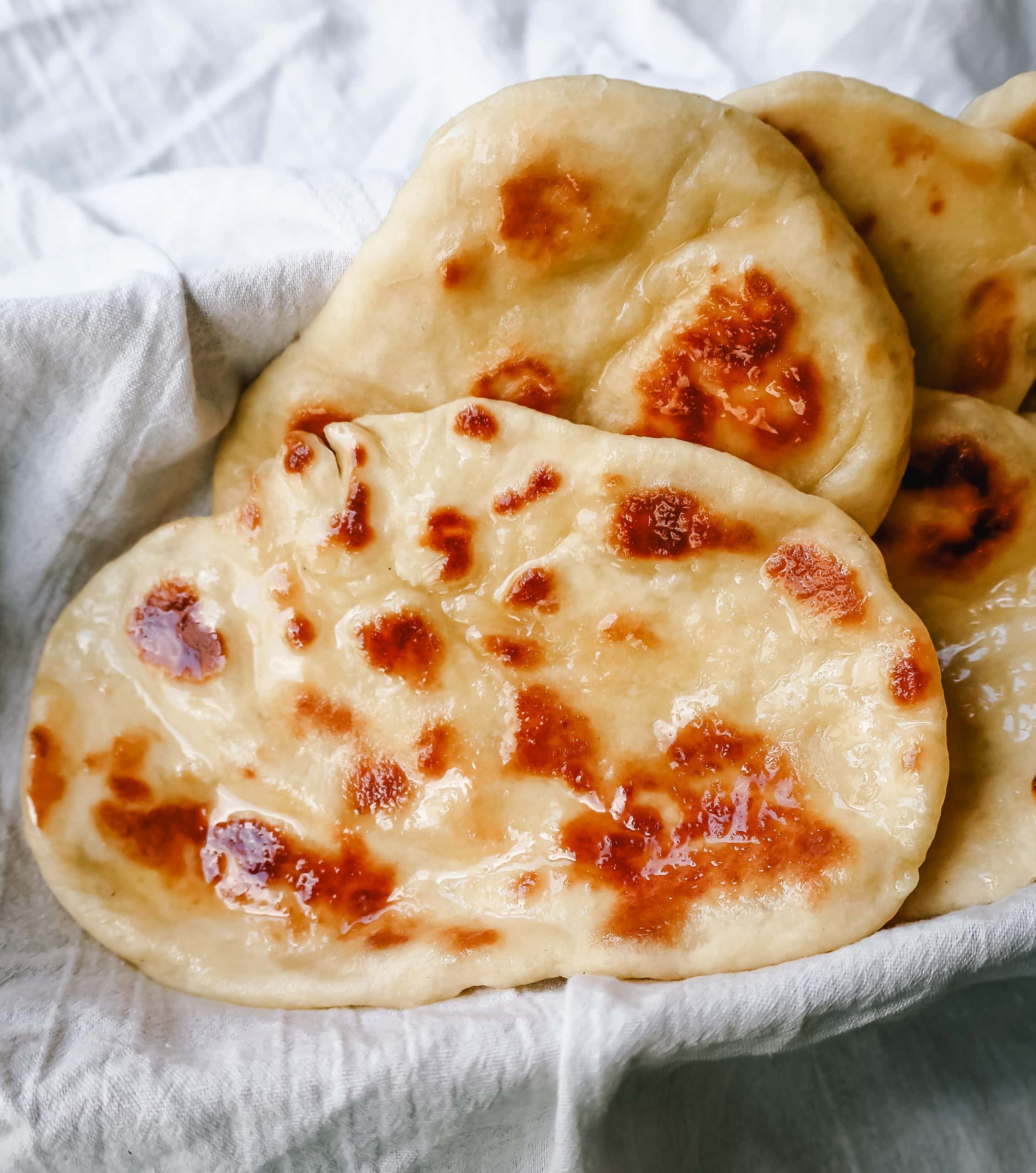 Homemade Naan Bread
Light, fluffy, buttery homemade Naan bread that is even better than what you find in restaurants.
I grew up with a Mom who made homemade bread every single week. She was always making homemade bread, dinner rolls, cinnamon rolls…you name it…she made it. So my comfort food is definitely bread and butter. It is so simple yet so comforting.
We love Indian food in our home. Some of my kids favorite meals are — Chicken Tikka Masala and Indian Butter Chicken. So this Homemade Naan Bread is the perfect thing to dip into a big bowl of Tikka Masala Chicken. My husband loves when I double the sauce so he can just use the naan bread to get every bit of sauce from the bowl.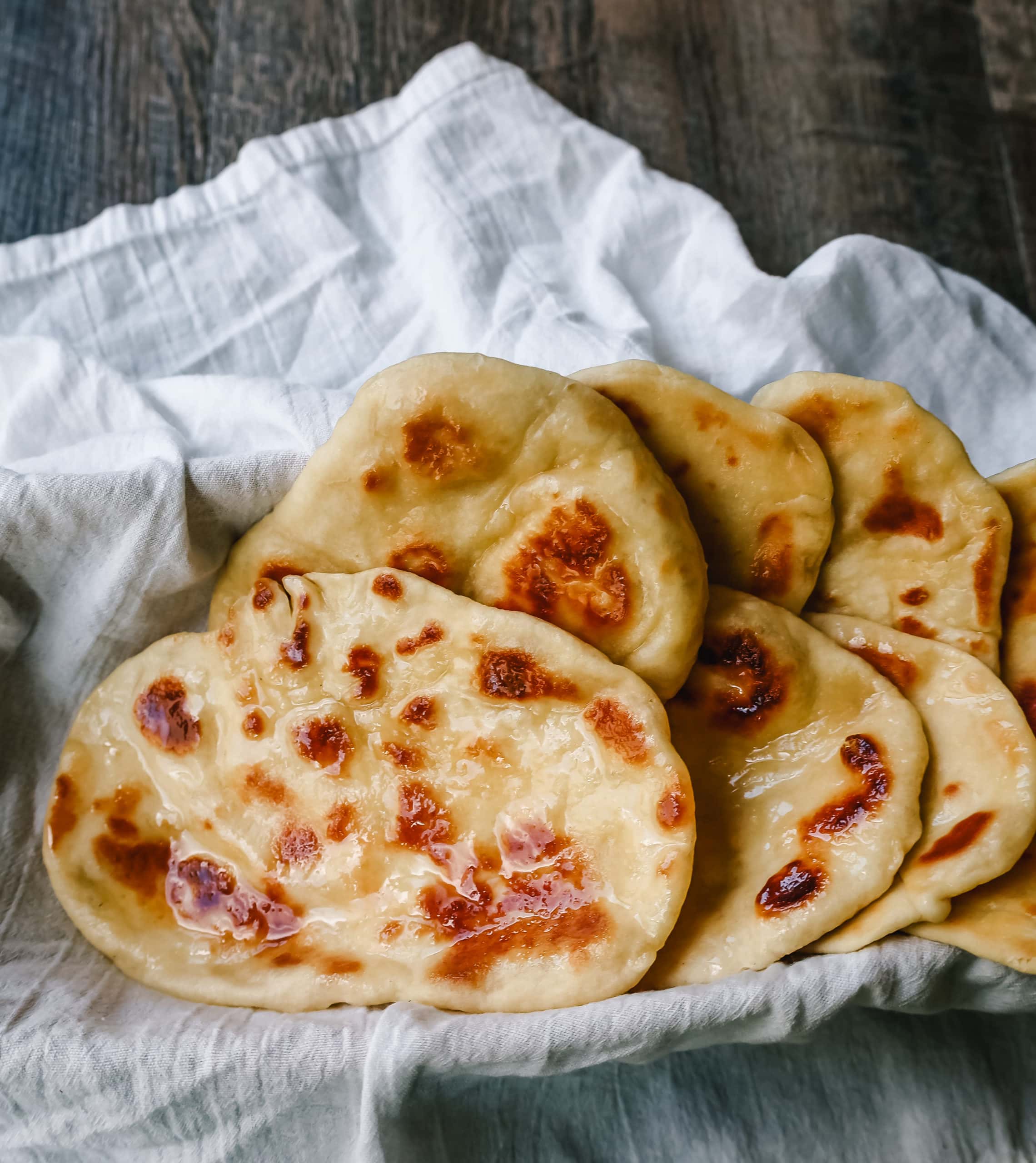 This Homemade Naan bread is so simple and easy! I have tested and re-tested it over and over again to get it just right. Recently, I did an online cooking class with Miele appliances and FeedFeed here in Scottsdale and taught how to make this easy naan bread recipe. So I wanted to make sure to get it just perfect!
I tested the recipe with more water, less water, more flour, less flour, more greek yogurt, less greek yogurt, more oil, less oil, etc. You get the point. I found that the more flour, the denser the naan turned out to be. The less flour and more water, the naan was lighter and bubbled up more. It was a stickier dough but we remedied that with a little flour on the counter.
We even tried cooking this homemade naan bread on gas vs electric stoves. The gas definitely cooked it a little faster. One thing that we found was pretty important was adding oil to the pan before cooking the naan. The oil allowed the naan bread to bubble more and it definitely had more loft to it.
When I order naan bread in restaurants, it is known for its dark, almost blackened, bubbles on the bread. I prefer it to be on the golden brown side rather than too burnt, so I lower the temperature down to medium or medium-low to allow the bread to puff up and cook through without becoming burnt. You are welcome to crank up the heat!
This is the best homemade naan bread recipe out there! It is the lightest, fluffiest, and ultra buttery naan bread.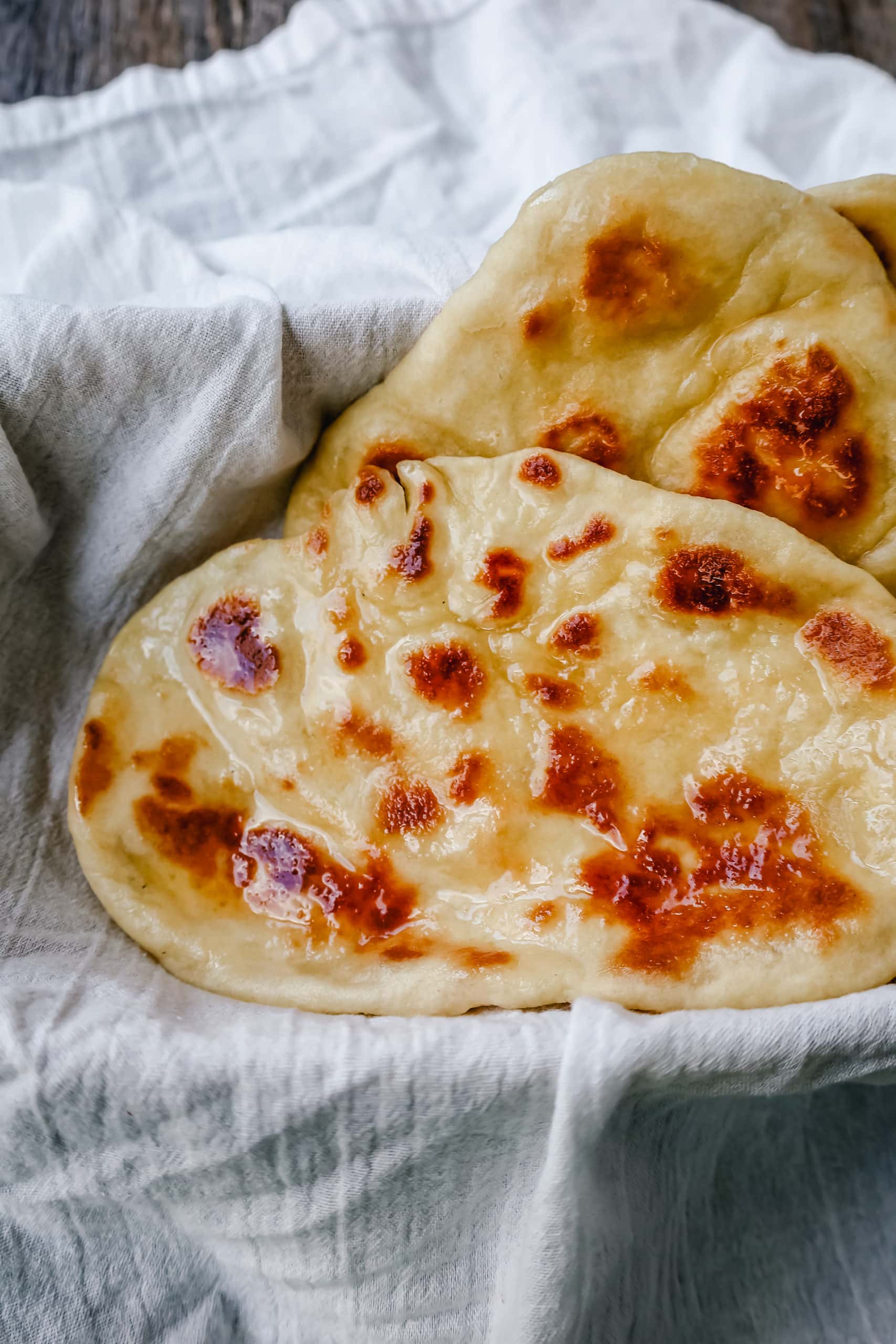 How to make the Best Homemade Naan Bread:
Dissolve yeast in warm water. The water needs to be warm to the touch, about 110 degrees. Sprinkle in sugar as it helps the yeast to proof. Let the yeast proof for about 5-10 minutes. To ensure the yeast is working, check to make sure it is bubbling and growing.
In another mixing bowl, add flour, plain greek yogurt, oil, and salt. Stir in yeast mixture. Use your hands to thoroughly mix together into a ball. Remove from the bowl and knead for about 5 minutes or until it is smooth. If it is still shaggy, knead for longer. If the dough is too sticky to handle, sprinkle the board or counter with flour. Let rise for 1 hour or until double in size.
Once you let the dough rise, remove from the bowl and cut into 8 equal triangular pieces. Roll each piece into a 8-inch circle or rectangle. You want it to be about 1/8″ thick so it will be pretty thin.
Heat a large skillet or cast iron skillet over medium heat for golden brown naan, medium-high for golden naan with blackened spots, or medium-low for a light golden naan bread. Drizzle with oil before cooking before each batch. Cook for about 3 minutes on the first side. Flip it and cook for about 2 minutes. Watch it carefully.
Brush with melted butter and top with chopped fresh herbs or garlic. Serve immediately. I suggest using a cooling rack to place them on after cooking.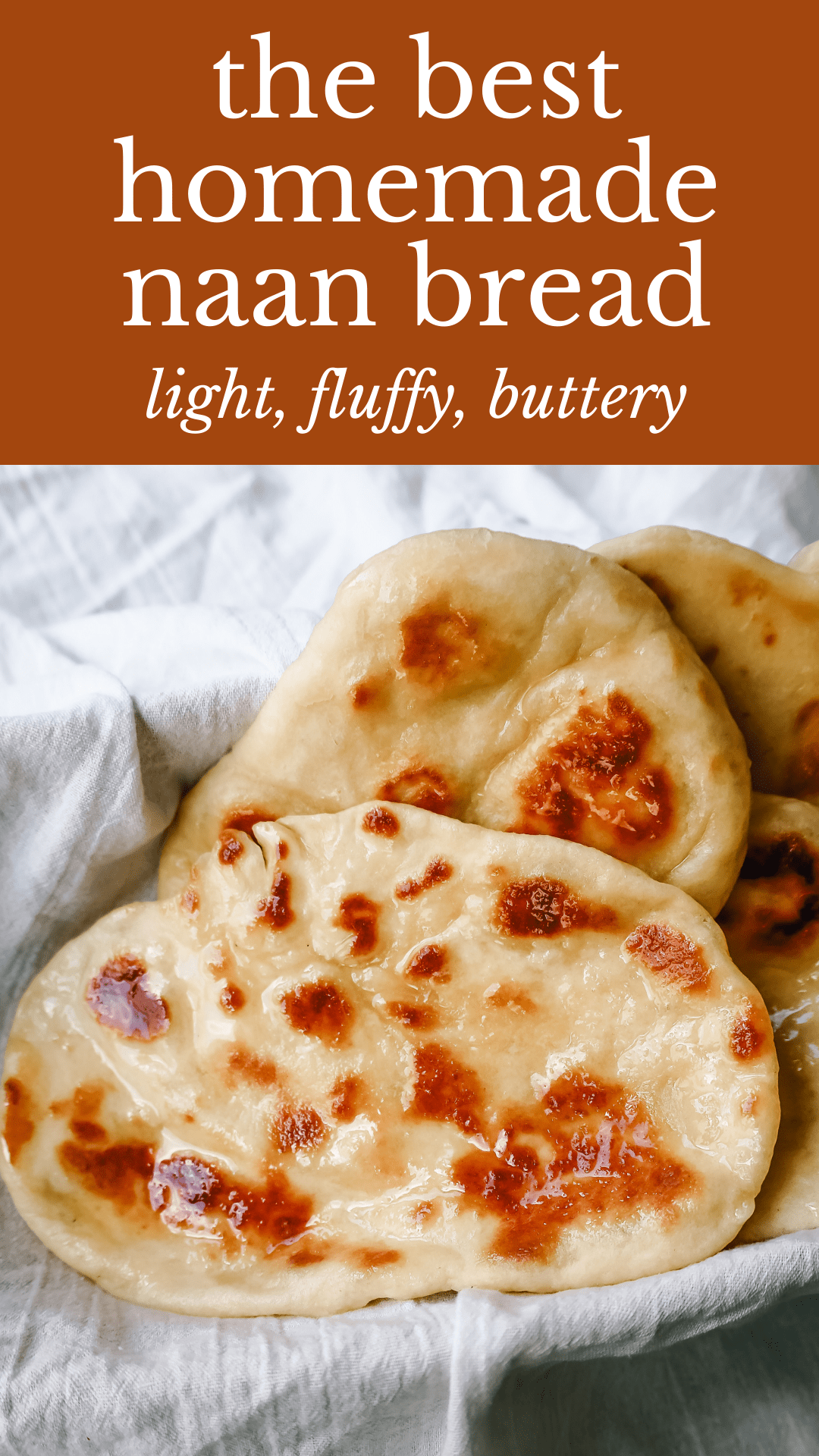 Pin this now to find it later
Pin It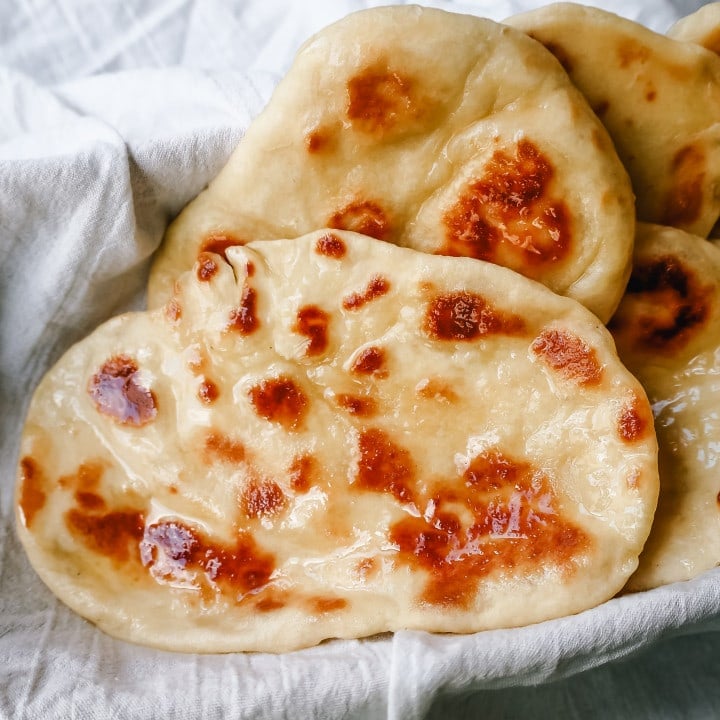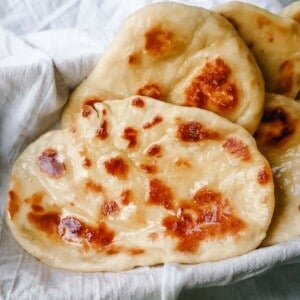 Homemade Naan Bread
Light, fluffy, buttery homemade Naan bread that is even better than what you find in restaurants. 
Equipment
12 inch cast iron skillet

10 inch cast iron skillet

non stick skillets

mixing bowl set

measuring cups and spoons
Ingredients
2/3

cup

Warm Water

(about 110 degrees)

2 1/4

teaspoons

Active Dry Yeast

(1 packet)

2

teaspoons

Sugar

2

cups

Flour

1/3

cup

Plain Greek Yogurt

2

Tablespoons

Extra-Virgin Olive Oil

(plus more for cooking)

1

teaspoon

Salt

4

Tablespoons

Melted Butter

(for brushing on the top)

Oil

(for cooking)
Instructions
In a small bowl, combine warm water, yeast, and sugar. Stir. Let sit for 5-10 minutes and allow the yeast to bubble and proof. *

In a large bowl, add flour, greek yogurt, oil, and salt. Stir in yeast mixture. Combine with hands. The dough may be shaggy but keep mixing until you form a ball. Once you form a ball, knead the dough for about 5-10 minutues or until the dough is smooth.

Cover and set aside in a warm place to rise for at least 1 hour. It should double in size.

Remove from the bowl and place on a counter or board sprinkled with flour. Divide dough into 8 equal portions. Roll into approximately 8" circle or rectangle, about 1/8" thick.

Heat skillet or cast iron skillet over medium-high heat. Drizzle pan with oil. Add each naan and reduce heat to medium. Watch for it to begin to bubble. The oil makes a difference in allowing the naan to puff up and bubble. Cook for about 3 minutes on the first side and then flip and cook for 2 minutes longer.

Watch the naan carefully as you may want to lower the heat if it becomes too brown too fast. Remove from pan and brush with melted butter and serve immediately.
Notes
If the yeast mixture doesn't proof and bubble, start over with a fresh packet of yeast. You want to see it foam, bubble, and show activity.
Nutrition information is automatically calculated, so should only be used as an approximation.