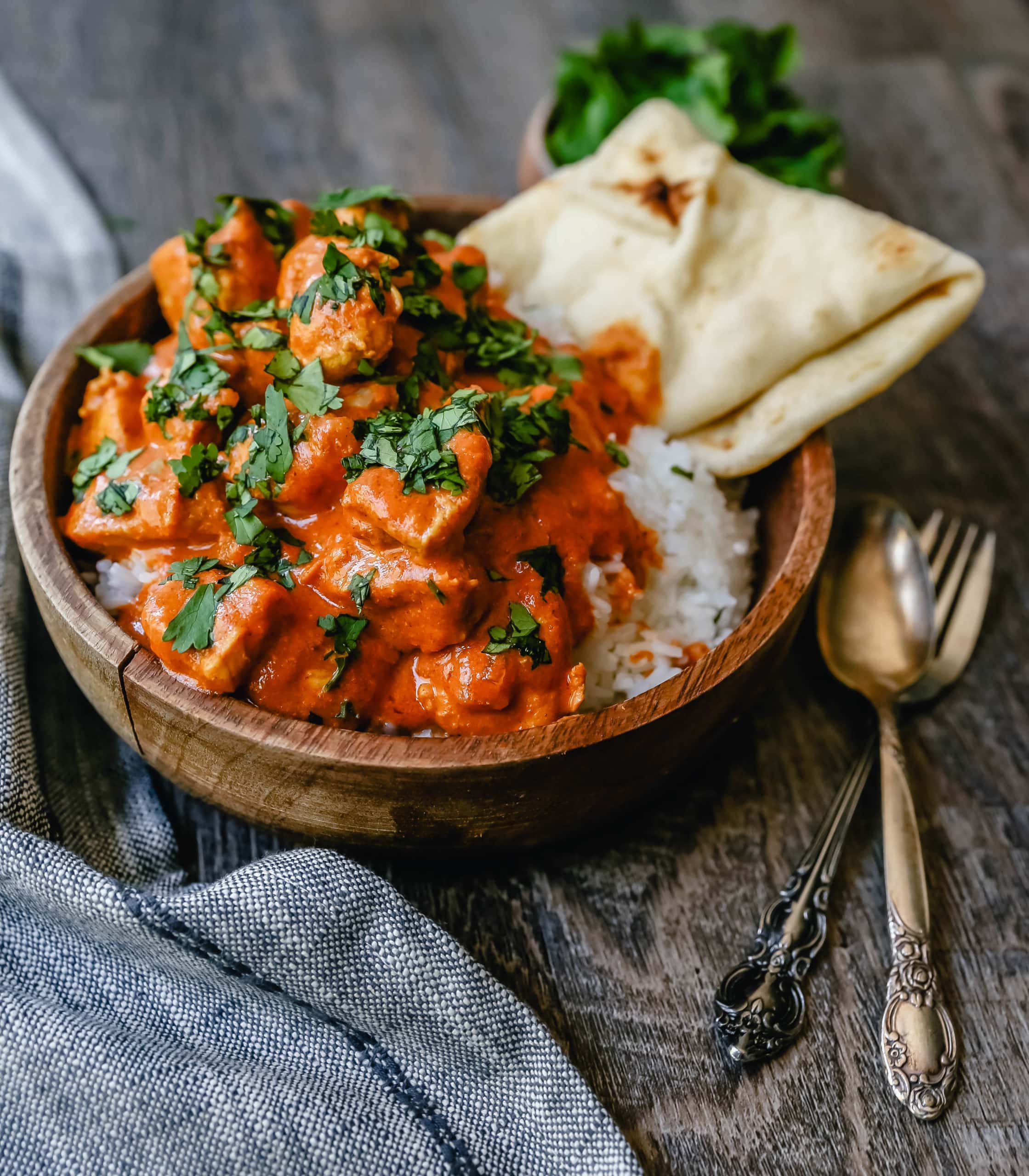 Indian Butter Chicken
A popular Indian dish made with tender chicken simmered in a rich, Indian spiced tomato cream sauce
I love introducing my kids to unique flavor combinations and Indian food is no exception. Butter chicken is one of their most requested dishes! There is good reason why this is one of the most popular Indian food recipes.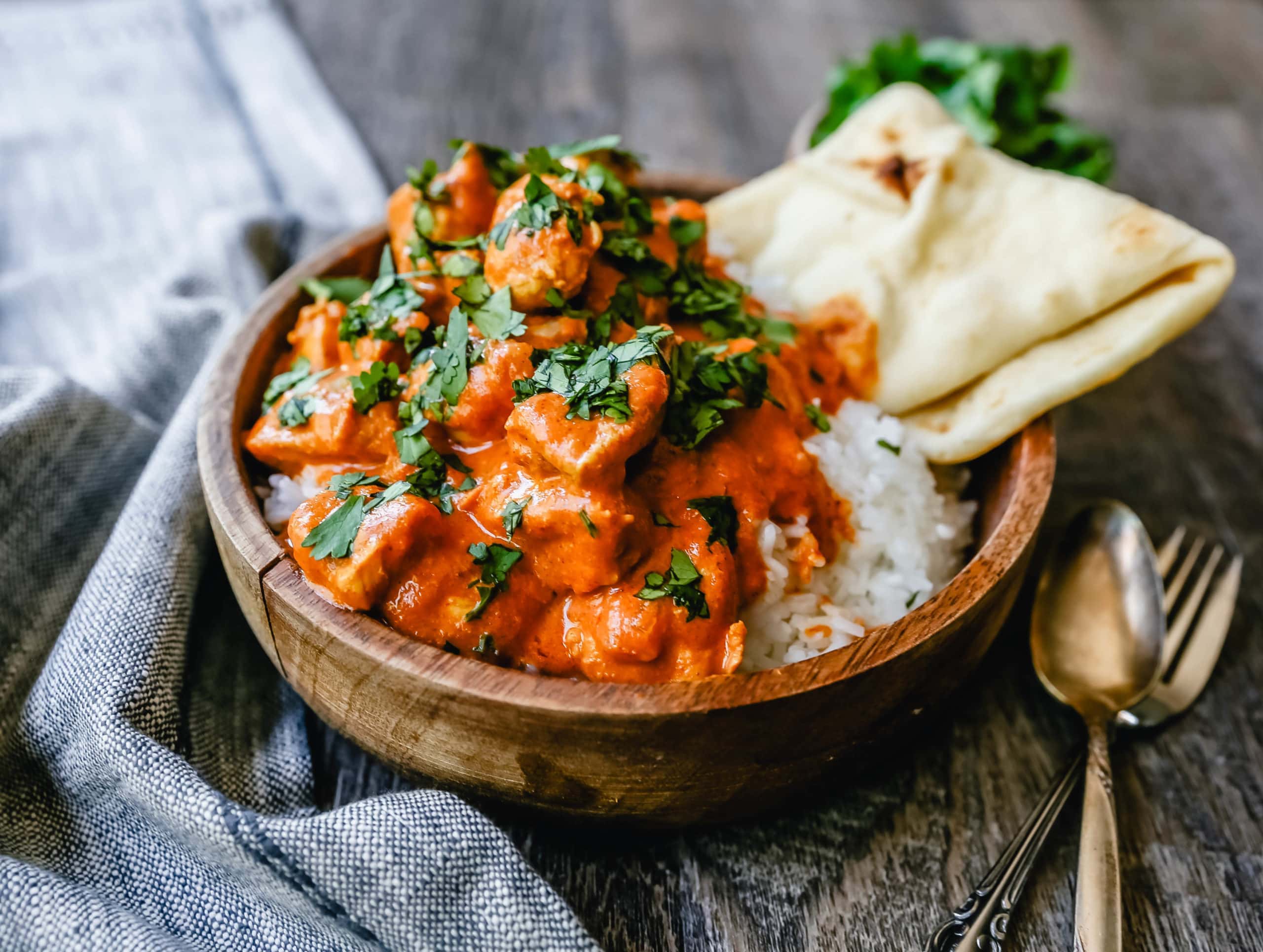 We are huge Indian food fans in our house because it is always full of spice and flavor. When I was following a gluten-free diet, I lived on Indian and Asian foods because rice is such a staple. I fell in love with Indian food!
This Butter Chicken is so tender since it is marinated in whole milk yogurt and spices. This is a key step to allow the chicken to become moist and tender. The chicken breast is marinated in an array of spices which are popular in Indian cuisine -- turmeric, garam masala, chili powder, cumin, ginger, and garlic. You can even add a touch of cinnamon if you want to add some extra warmth to the dish.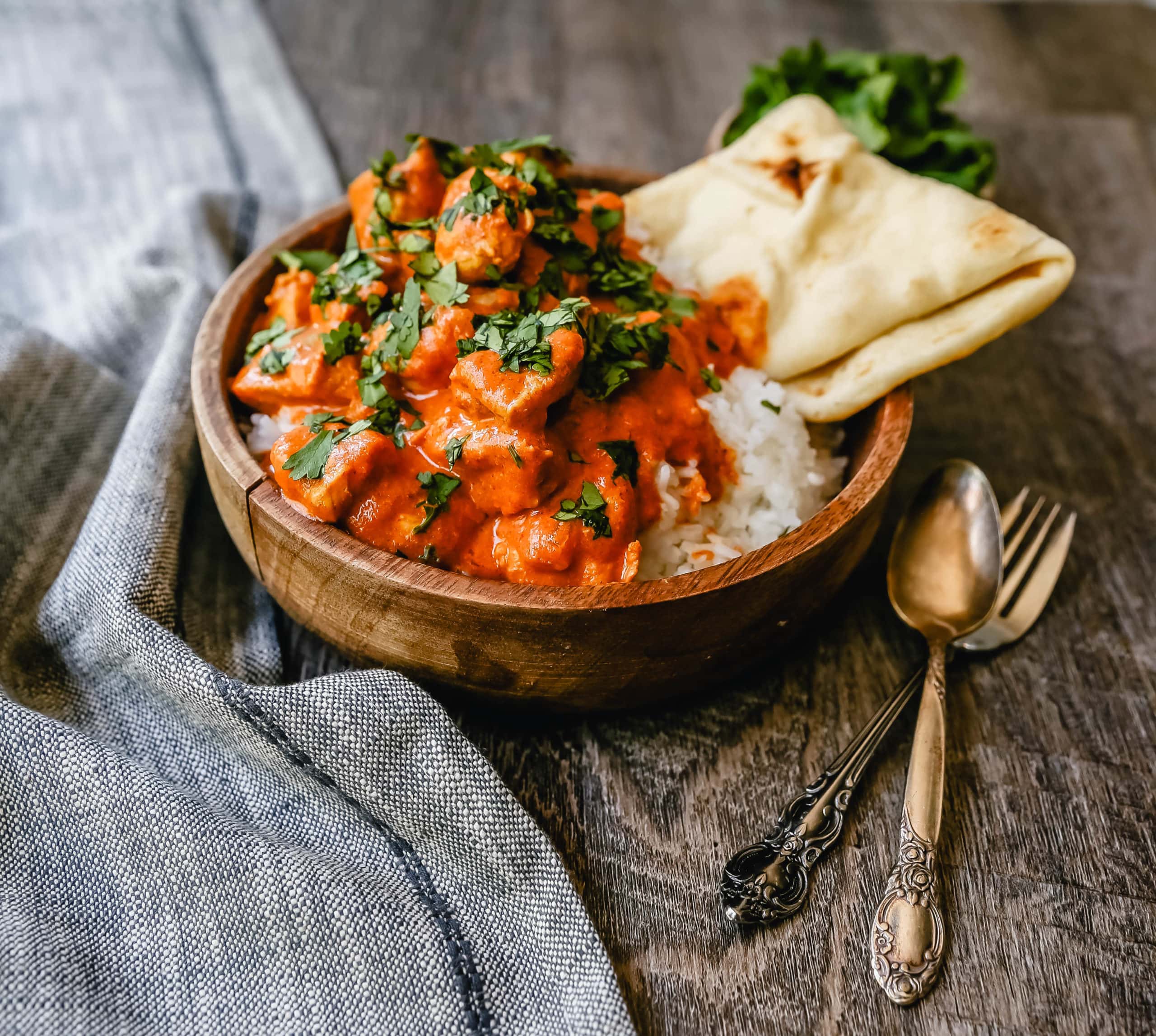 What is Butter Chicken?
A popular Indian dish made with chicken marinated in yogurt and spices. It is sautéed and then simmered in an Indian spiced tomato cream sauce.
The tomato cream sauce is made by sautéing butter and onions together and adding in tomato puree, Indian spices, and cream.  It is velvety smooth and full of rich robust flavor.
Butter Chicken can be served over rice or with a side of Naan bread. We are obsessed with naan bread in our home and have it stockpiled in our freezer at all times. I love to heat it up in a skillet with a touch of butter and dip it into the butter chicken. Trust me...it is heavenly!
How to make Indian Butter Chicken:
Start by marinating bite-size chicken breast pieces with whole-milk yogurt, lemon juice, turmeric, garam masala, chili powder, cumin, ginger, garlic, and salt. Place all of the ingredients in a gallon-size Ziploc bag and let marinate for at least 1 hour. Overnight is ideal.
After marinating, sauté the chicken in a skillet, drizzled with extra-virgin olive oil, and set over medium-high heat, until cooked through. Set aside.
Heat butter in the same skillet and add onion. I suggest finely dicing the onion. Saute until the onion starts to become tender. Stir in tomato puree, spices, sugar, and salt. Cook until onions are completely translucent and soft -- about 10-15 minutes. Stir in heavy cream. Taste and add more salt, if needed.
If you desire a smooth sauce, carefully add the sauce to a blender and puree until smooth. Always be careful when using a blender with hot sauces. It can explode so make sure to slightly vent the top.
Add chicken to the sauce and heat for 5-10 minutes.
Garnish with cilantro and serve on top of rice or with Naan bread.