Rich decadent flourless chocolate cake recipe with chocolate ganache. This chocolate cake is a chocolate lover's dream! This naturally gluten-free chocolate cake is flour free and is so decadent!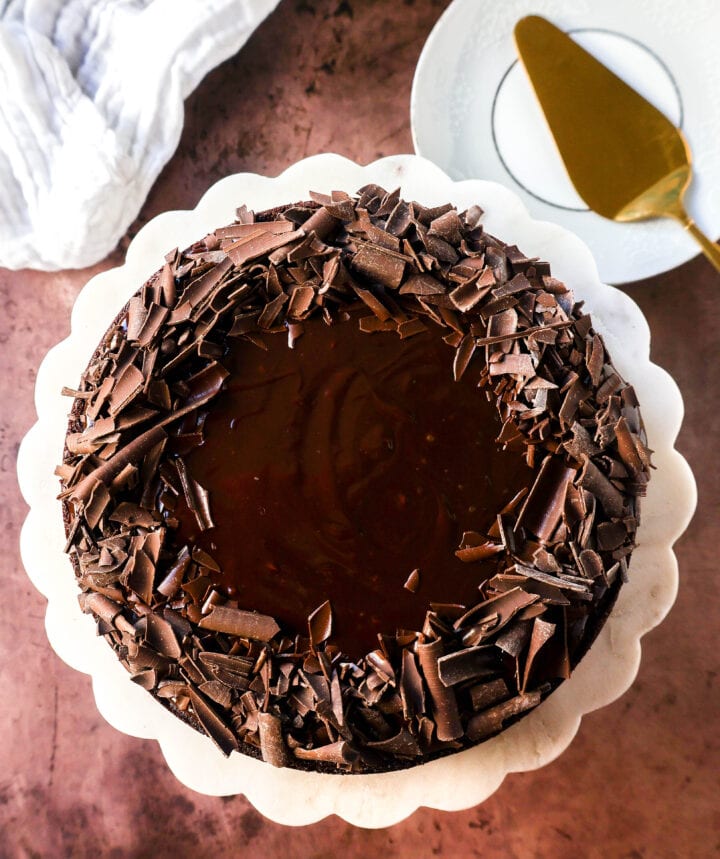 I am obsessed with flourless chocolate cake. When I was eating a gluten-free diet, this was my go-to chocolate dessert. It is the richest and most delicious chocolate cake and you won't even miss the flour.
This flourless cake features both chocolate and cocoa powder which makes it extra rich. The chocolate ganache layered on top makes it even better.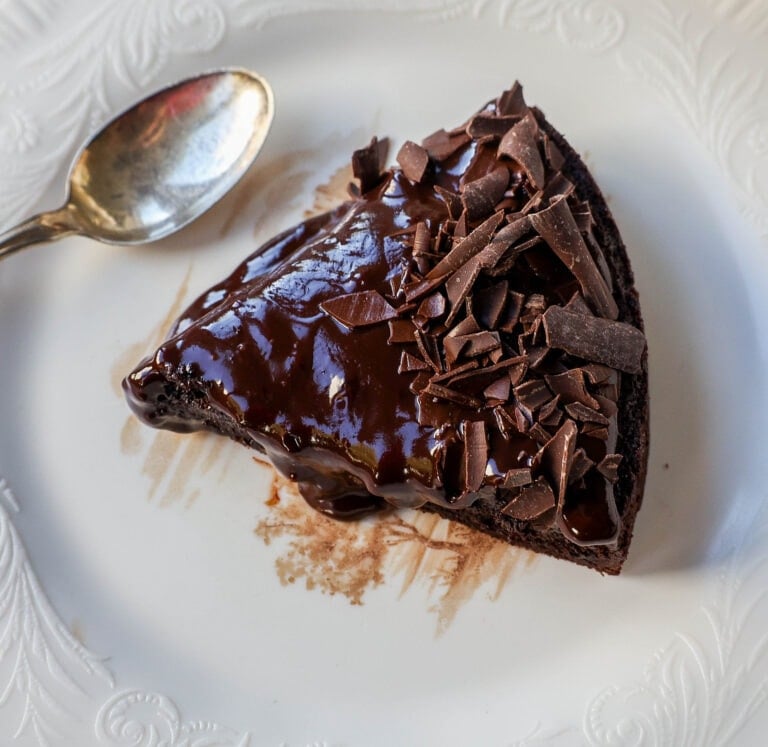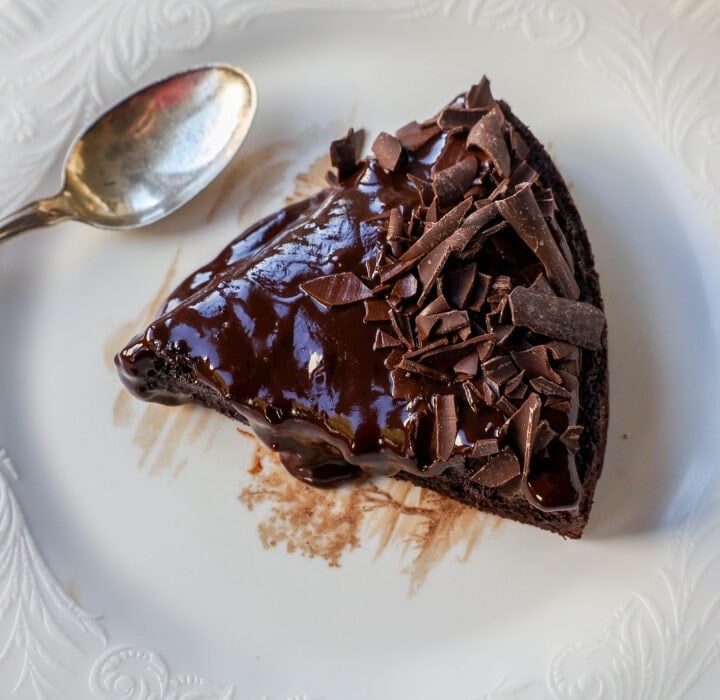 Flourless Chocolate Cake Ingredients:
Semisweet Chocolate -- use high-quality chocolate for the best-tasting chocolate cake. See below for chocolate suggestions.
Butter -- use unsalted butter to control the amount of salt in this chocolate cake recipe.
Sugar -- use granulated sugar.
Vanilla -- use high-quality vanilla extract like Nielsen-Massey.
Eggs -- use large eggs in all baking recipes.
Cocoa Powder -- I suggest using unsweetened Dutch-process cocoa powder.
Salt -- a flavor enhancer in baked goods.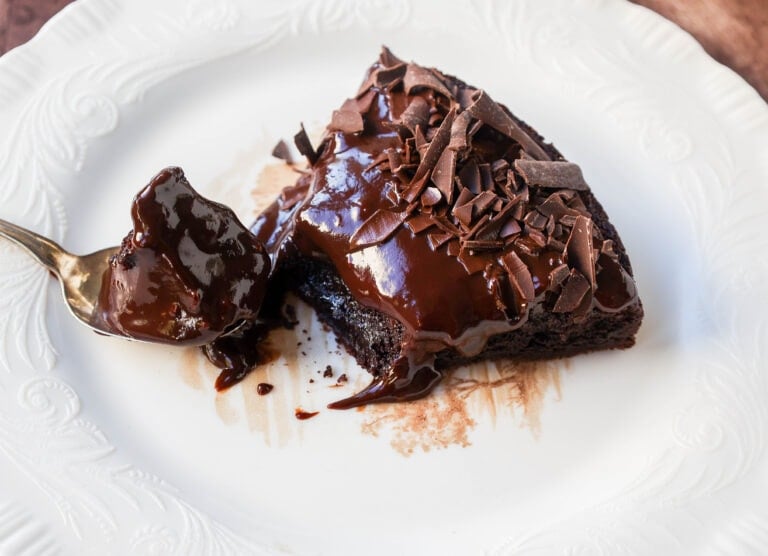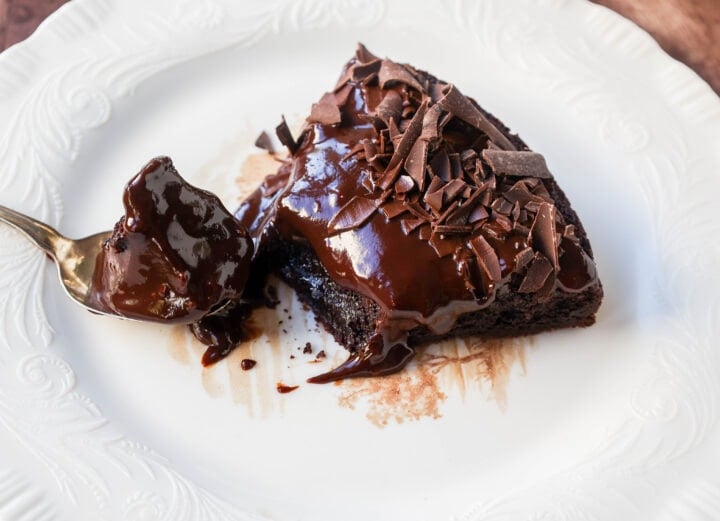 What type of chocolate to use in flourless chocolate cake?
I suggest using high-quality semi-sweet chocolate in this cake recipe. You can use semi-sweet chocolate bars, chocolate chips, or chocolate wafers. If you use chocolate chips, I suggest using Ghirardelli, Guittard, Valrhona or Callebaut chocolate.
What type of cocoa powder should I use in flourless chocolate cake recipe?
Cocoa Powder comes in natural and Dutch versions. Dutching raises the cocoa powder's pH levels, which neutralizes its acids and rounds out its flavor. Both natural and Dutch cocoa will work in recipes. Dutch-processed cocoa will produce baked goods with a darker color and moister texture.
My favorite cocoa powder to use is Dutch-process cocoa powder. I love to use Callebaut Dutched Cocoa Powder. It has a warmer color with reddish-brown notes. It is slightly sweeter than the dark dutch cocoa powder. I find this unsweetened cocoa powder in the bulk section at Winco. It is much less expensive at Winco than you can find online.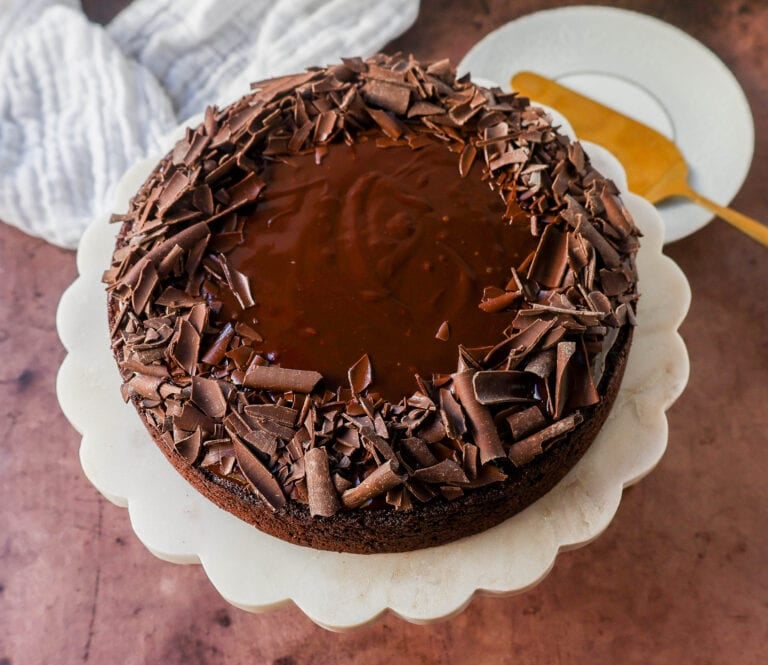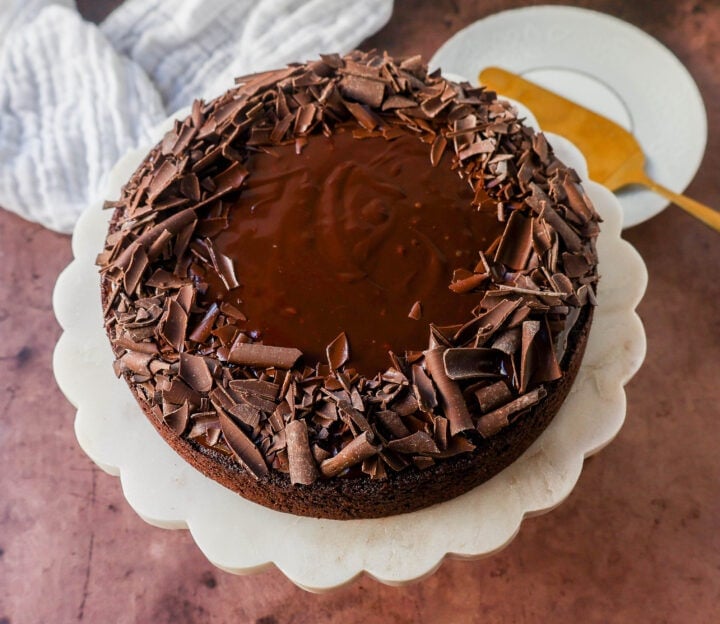 How to make Flourless Chocolate Cake:
Step #1: Start by lightly greasing an 8" round cake pan or springform pan. Cut a piece of parchment paper to fit inside the pan and grease it.
Step #2: In a microwave-safe bowl, melt chocolate and butter in the microwave in 30-second intervals until melted and smooth. See above for suggestions on the types of chocolate and cocoa powder to use. Transfer to a mixing bowl.
Step #3: Stir in sugar, vanilla, and salt. Add the eggs and cocoa powder. Spread the batter into the cake pan. Bake for about 25 minutes. Let it cool in pan for 5 minutes before removing.
Step #4: Take a knife along the edges of the pan to loosen the cake. Flip it onto a serving plate. Allow the cake to cool before topping it with chocolate ganache.
Step #5: Make the ganache by heating the heavy cream and pouring over the chocolate and whisking until perfectly smooth. Drizzle over the cake and allow the ganache to set for several hours before serving. Decorate with chocolate curls or shavings.
What type of pan should I use for flourless chocolate cake?
I suggest using an 8-inch cake pan or springform pan. To make it easier to remove from a cake pan, line the pan with a round piece of parchment paper, cut into a circle.
Popular Chocolate Dessert Recipes:
Love at First Sight Chocolate Cake -- classic, moist chocolate cake with homemade chocolate buttercream frosting. The best chocolate cake recipe!
Chocolate Bundt Cake -- moist, decadent, rich chocolate bundt cake with a silky chocolate glaze.
Levain Bakery Dark Chocolate Chocolate Chip Cookies -- the popular dark double chocolate cookies from Levain Bakery.