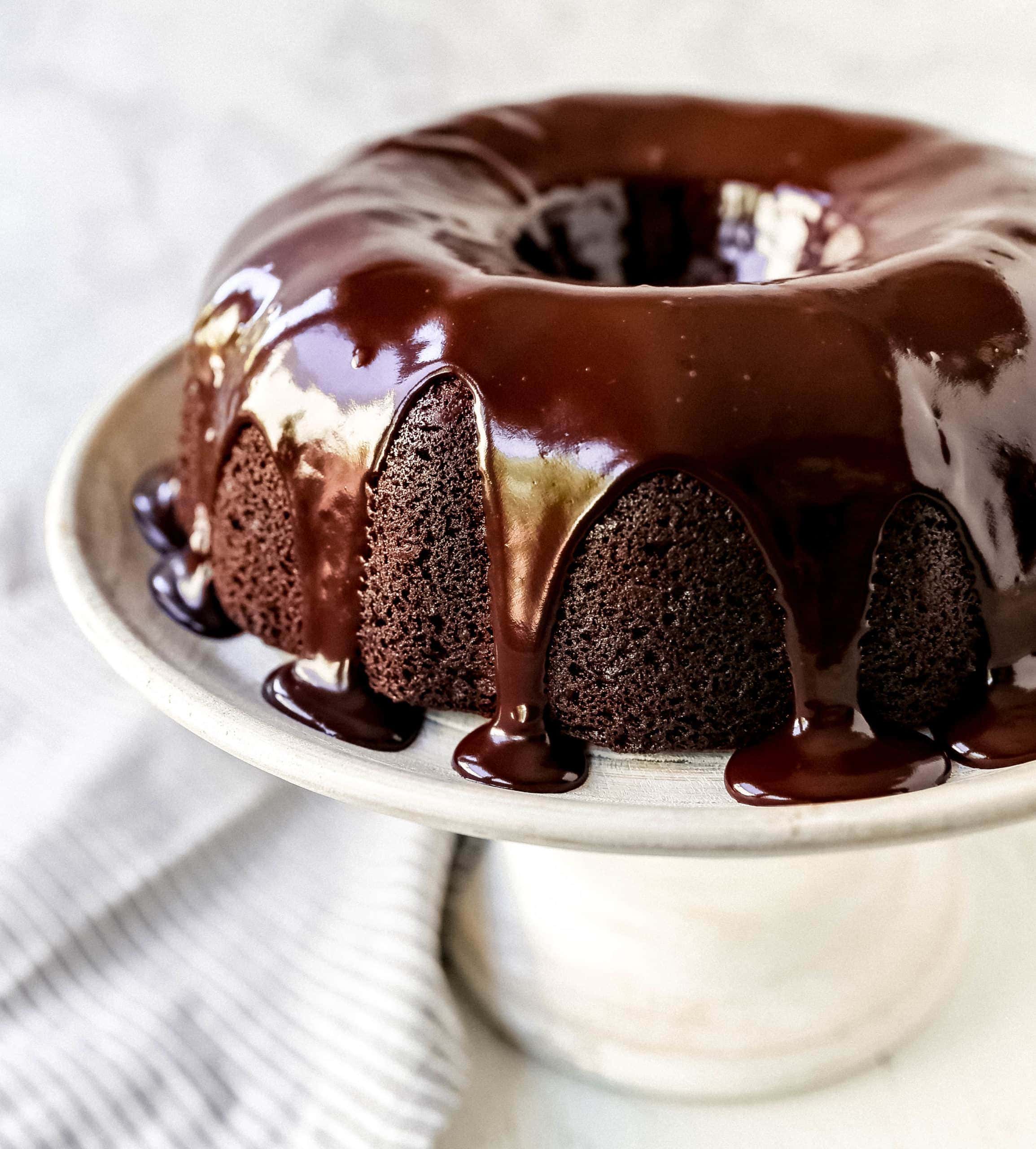 The Best Chocolate Bundt Cake
Moist, decadent, rich chocolate bundt cake with a silky chocolate glaze. How to make the perfect chocolate bundt cake recipe!
This is one of those recipes you want to have in your back pocket. This is the easier version of a layered chocolate cake but with all of the chocolate flavor! No worries about trying to stack and frost a layered cake. This is as easy as it gets!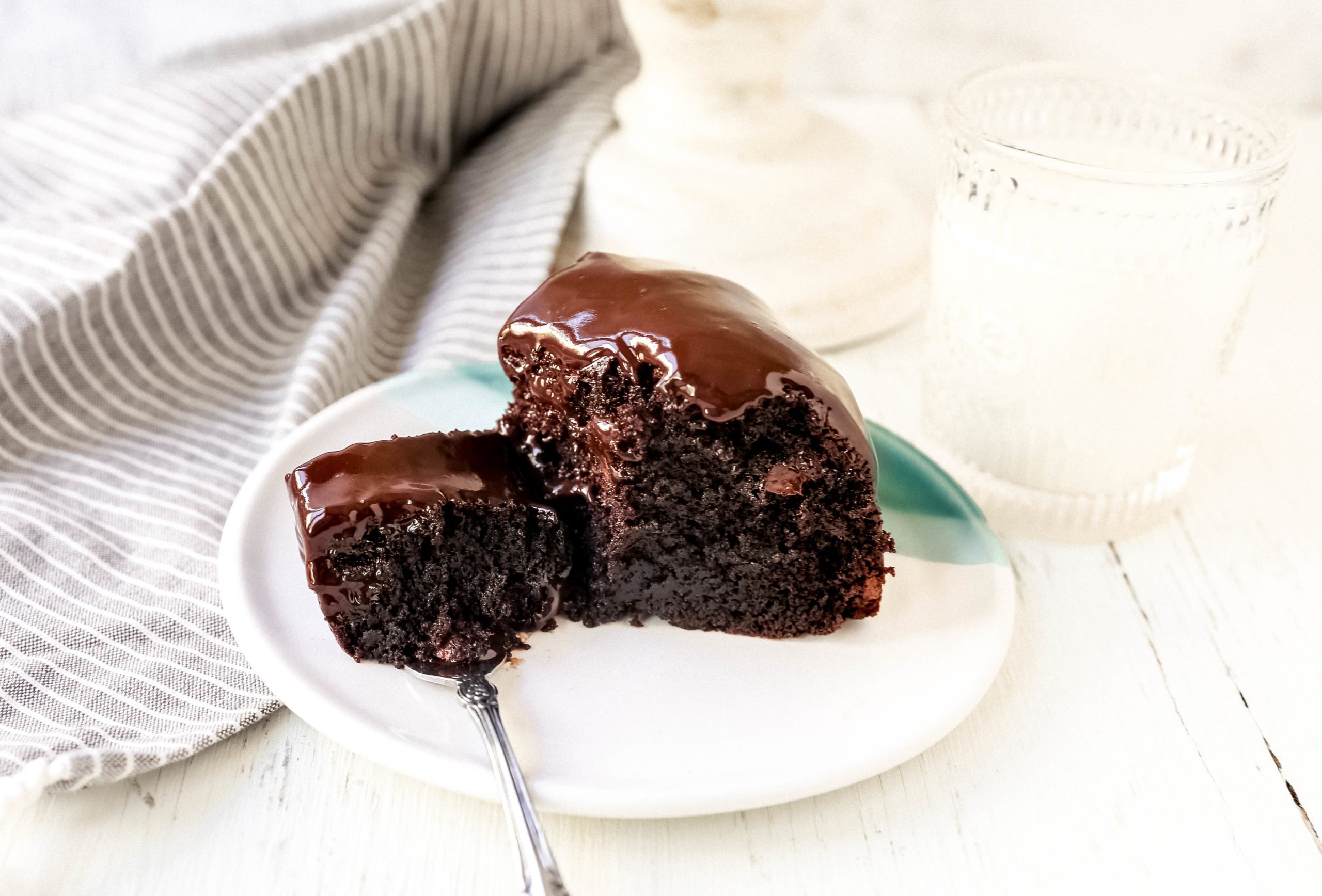 This double chocolate bundt cake is drizzled with a decadent chocolate ganache, which is basically the most simple chocolate glaze. It is a chocolate lover's dream cake! If you want to elevate the chocolate factor in this bundt cake, add chocolate chips. I always add chocolate chips and it ends up being a Chocolate Chocolate Chip Bundt Cake and it is out of this world good!
This Double Chocolate Bundt Cake is extra moist because of the combination of butter, sour cream, and extra egg yolks. I always suggest using buttermilk or sour cream in cakes because they create such a moist and tender texture.
The key with baking bundt cakes is to make sure to spray the pan very well with non-stick cooking spray to ensure to cake comes out smoothly. My favorite Bundt Pan is this Nordicware Classic Anniversary Bundt Pan. Make sure to spray in all of the nooks and crannies of the pan.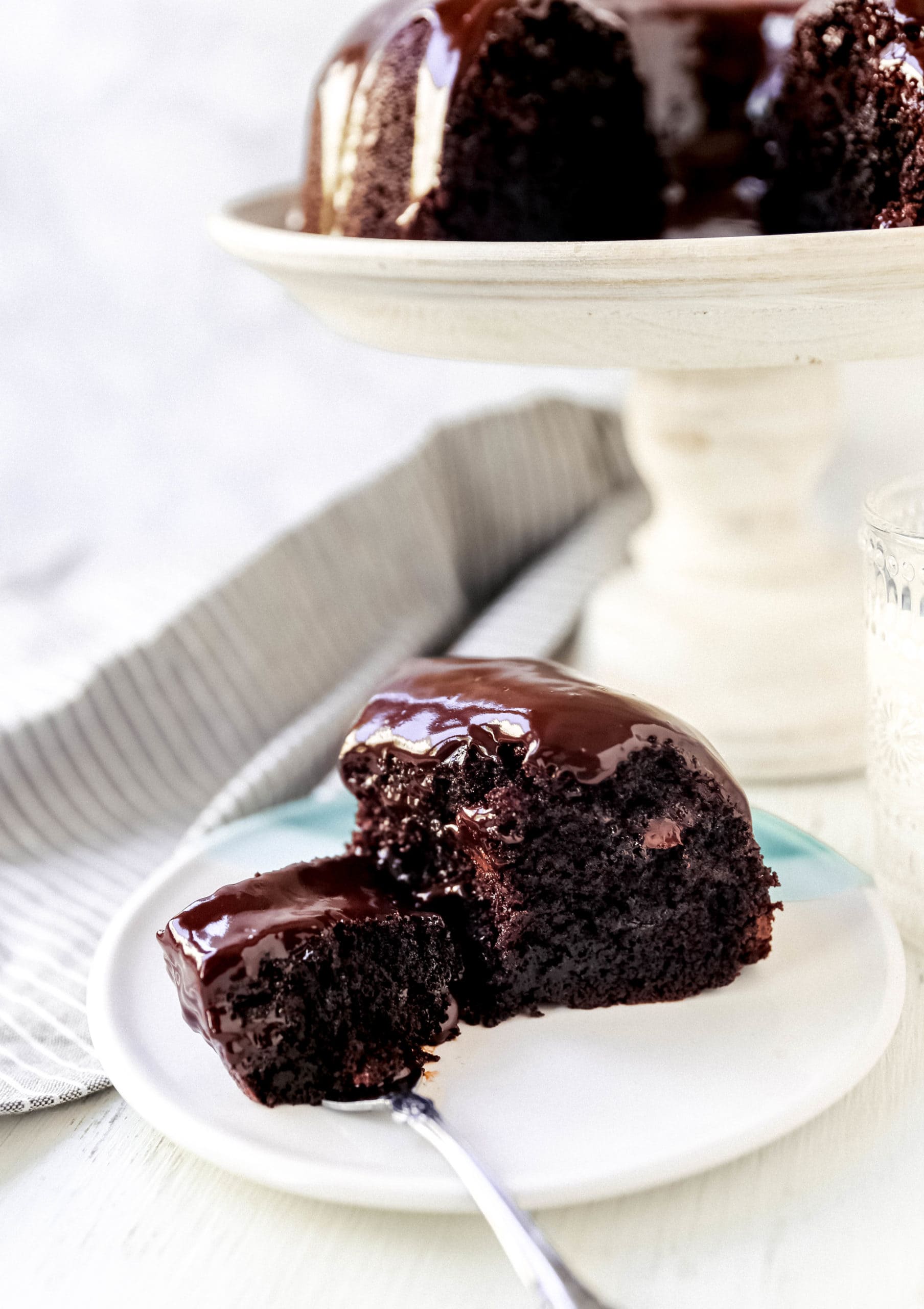 How to make the Best Chocolate Bundt Cake:
Melt the butter. In a bowl, whisk together melted butter, hot water, and cocoa powder. The hot water helps to "bloom" the cocoa powder and bring out the richness and depth of flavor of the chocolate. Make sure to use high-quality unsweetened cocoa powder.
Use full-fat sour cream. You want that thickness and fat content to create the moistest cake possible.
Make sure to thoroughly coat the bundt pan with non-stick cooking spray. Also, make sure your cooking spray is fresh and hasn't gone bad. Sometimes when it has sat around for too long, it tends to go rancid and will create a weird flavor in the cake.
Don't over-bake the cake. Watch it carefully and use a toothpick or cake tester to test for doneness. Let it cool for about 5-10 minutes and then carefully run a knife along the sides and then remove the cake from the pan onto a cooling rack. You don't want to wait too long or the cake may stick to the pan.
Make a chocolate ganache drizzle. This is made with two ingredients -- chocolate and heavy cream. You can make it with your favorite type of chocolate -- semi-sweet, milk chocolate or dark depending on taste preference.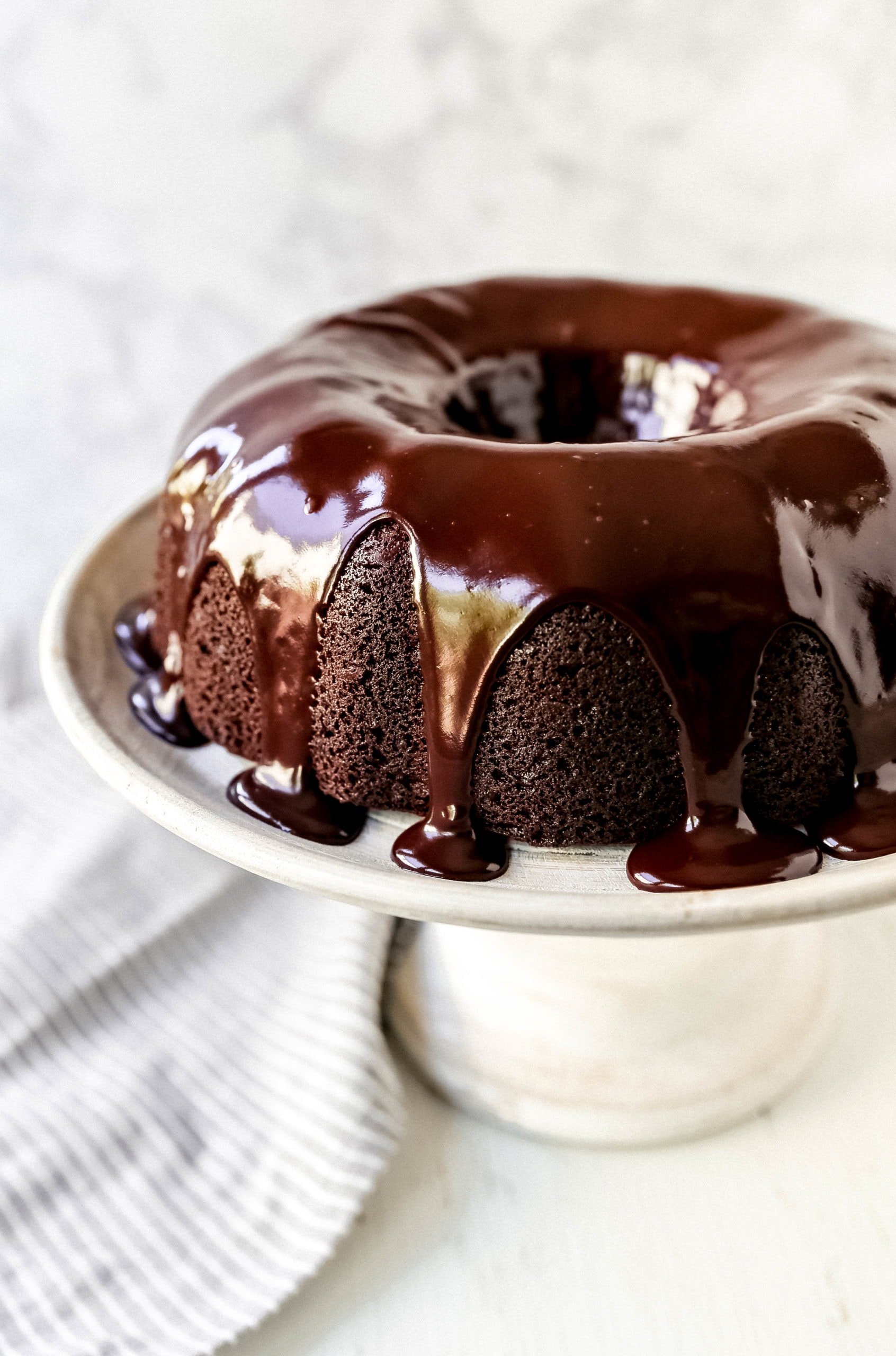 Will this chocolate bundt cake freeze well?
This cake will freeze so well so you can make it ahead of time. If I am going to freeze it, I usually wait to add the chocolate drizzle until I am ready to serve the bundt cake.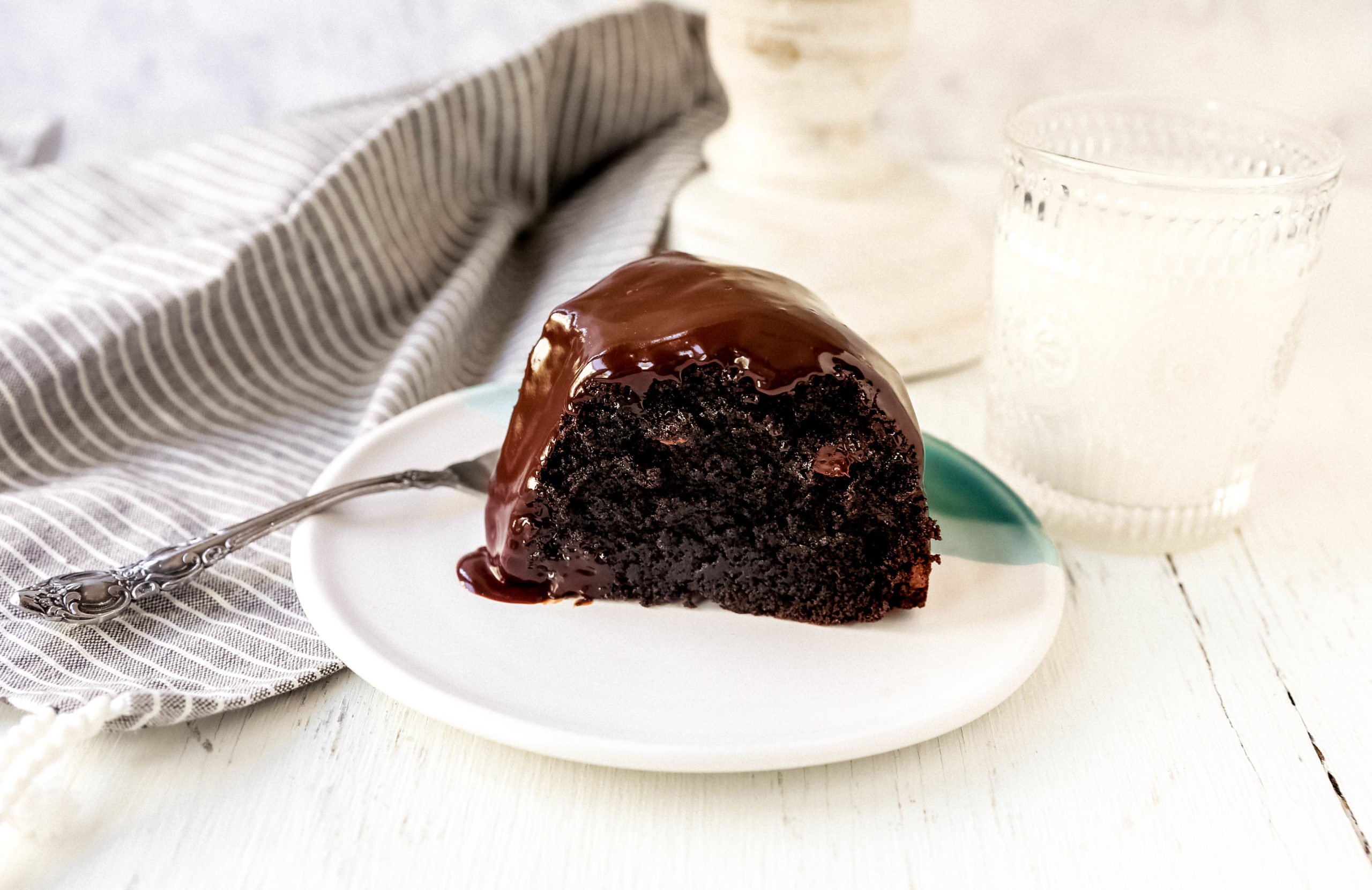 Here are some popular cake recipes:
Follow Modern Honey on Facebook
Follow @modern_honey on Instagram
Follow me @ModernHoney on Pinterest