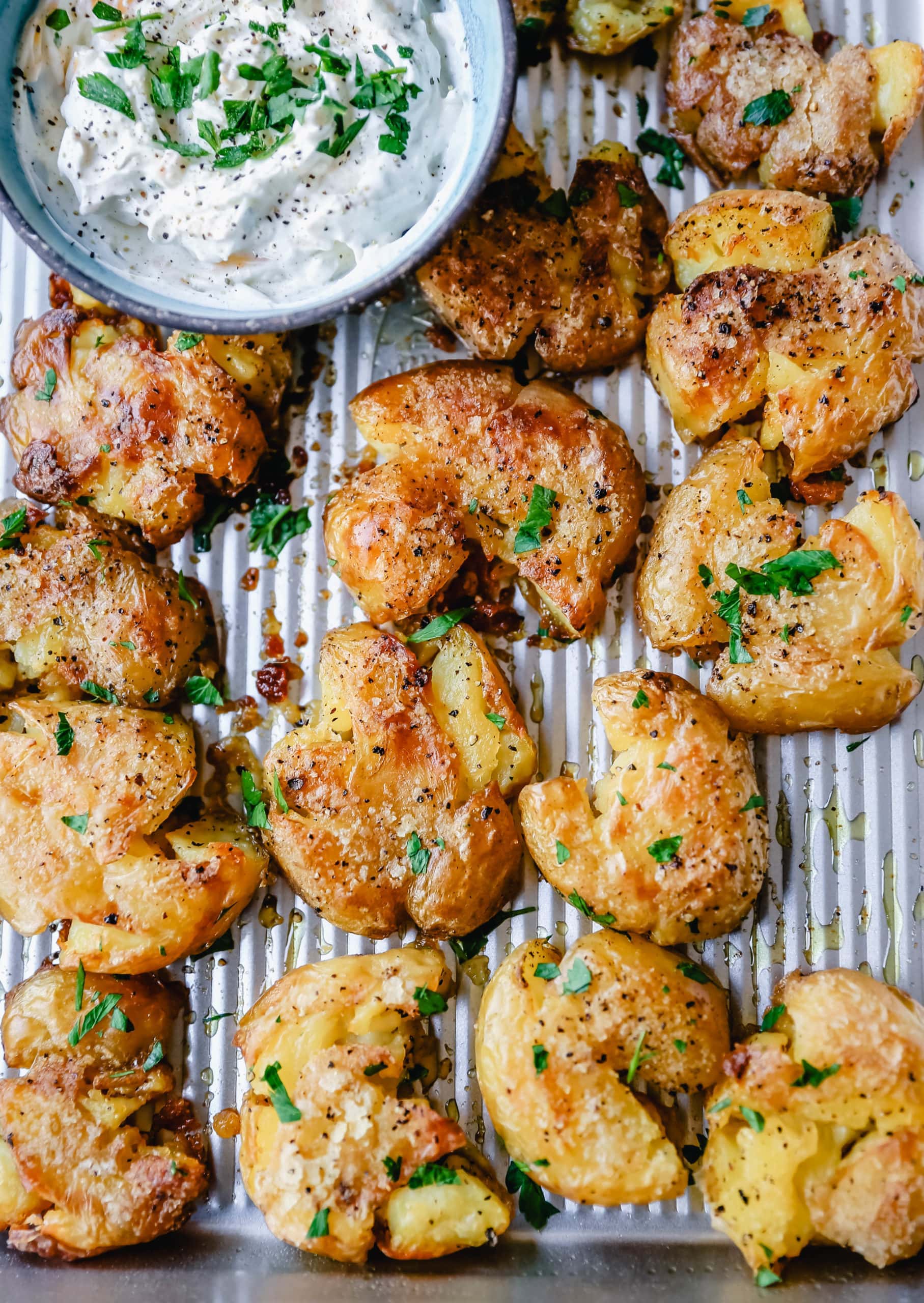 Crispy Smashed Potatoes
Crispy smashed potatoes with creamy, fluffy centers and crispy outsides. Petite potatoes topped with olive oil, salted butter, salt, and pepper and baked until crispy and topped with a garlic cheddar sour cream dip. The best smashed potatoes recipe!
These Smashed Potatoes are my new favorite way to eat potatoes! These Crispy Smashed Potatoes are perfectly crispy on the outside while the inside of the potato just melts in your mouth.
These roasted smashed potatoes are so flavorful because they are cooked in both salted butter and extra virgin olive oil. The butter brings the rich flavor while the oil helps to get them nice and crispy!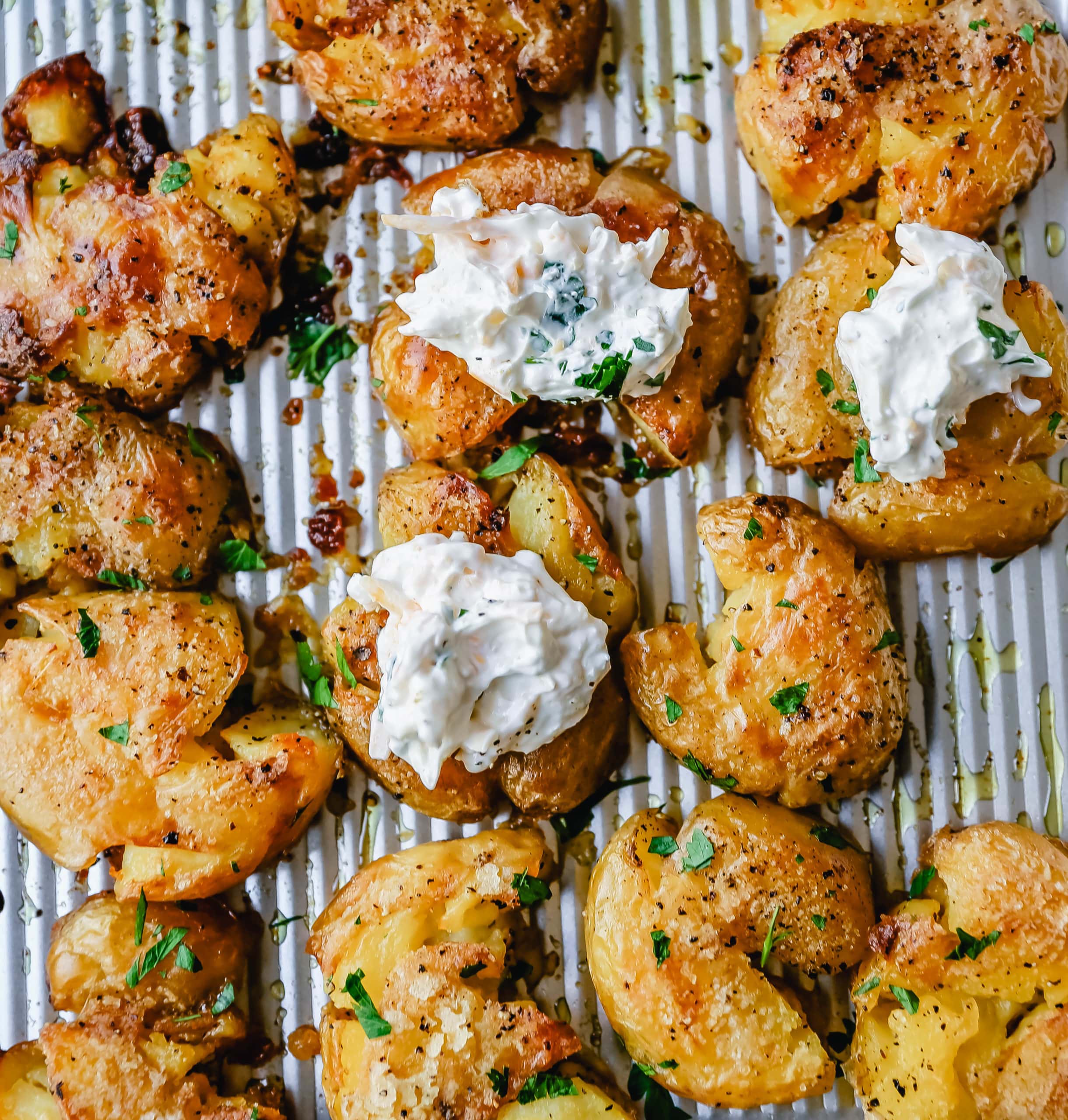 Then you take these crispy smashed potatoes up a notch by dipping them in a garlic cheddar sour cream dip. It is out of this world! I make this dip to put on everything from baked potatoes to roasted potatoes to smashed potatoes and it always elevates the potatoes.
The key to making creamy smashed potatoes is to cook them twice -- parboil and then roast in the oven. You are basically cooking them in water so they are nice and soft and then you cook them in the oven to get them super crispy.
I serve these potatoes with everything from Tri-Tip Steak to Grilled Chicken to Marry Me Chicken.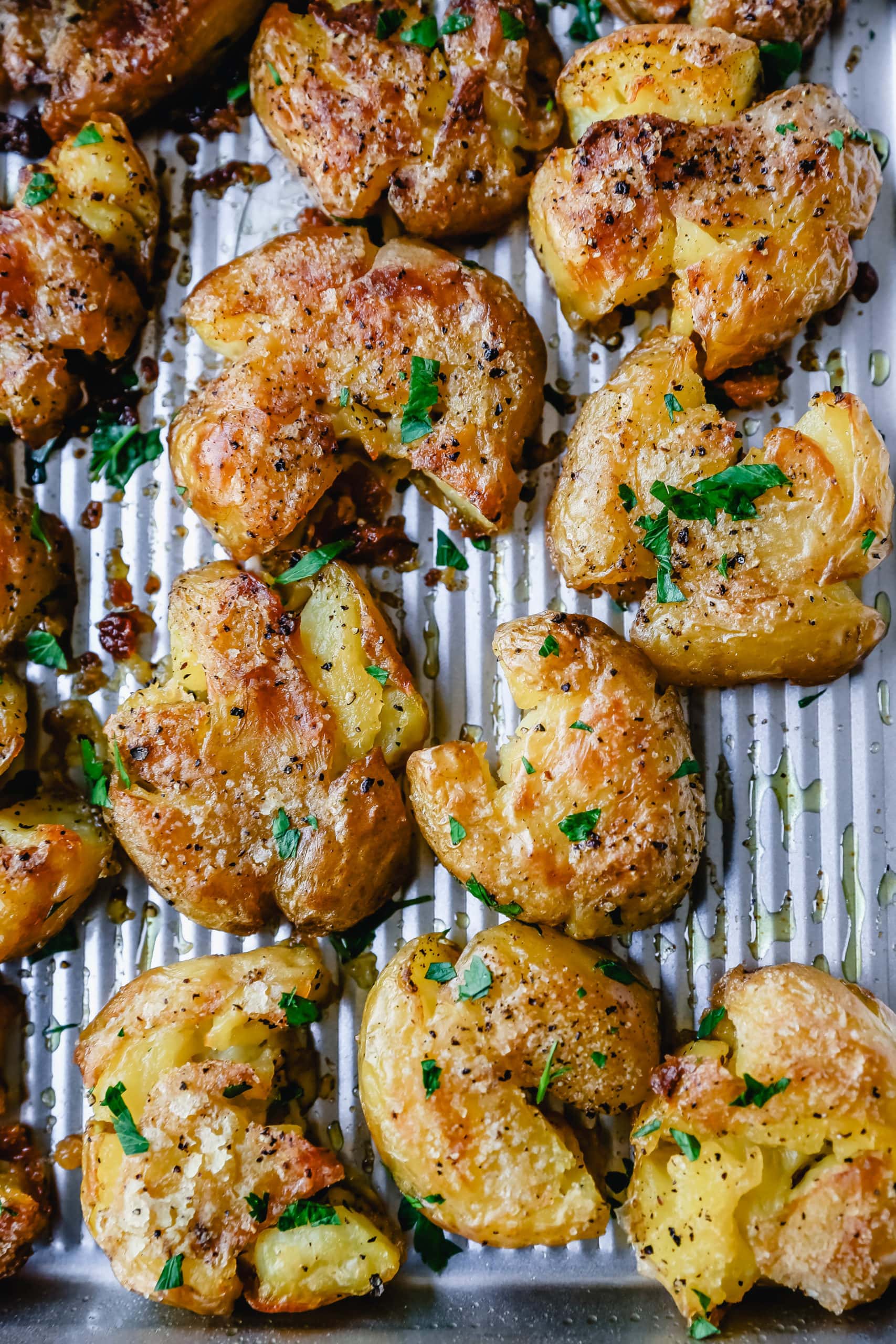 How to make the Best Smashed Potatoes:
Start by using petite gold or fingerling potatoes. You want to use small potatoes to make it easy to smash them with the bottom of a glass. If they are too large, they will just fall apart when you try to smash them. I love using yukon gold potatoes because of their creamy texture and thin skins. They don't have the thick, rough skins that you find with russet potatoes.
Parboil the potatoes. Place the potatoes in a large pot and fill with water. Place on high heat until boiling. Boil for about 20 minutes or until the potatoes are soft and fork-tender. You want them to be soft enough to smash!
Drain the water and place the potatoes in a colander to allow the steam to release for about 5 minutes. Get a large baking sheet ready. Place the potatoes on the baking sheet and press on each one with the bottom of a glass to "smash" them.
Drizzle the potatoes with melted salted butter and extra-virgin olive oil. Sprinkle with salt and pepper.
Bake in a 425-degree oven for about 35-45 minutes, depending on the level of desired crispiness.
Sprinkle with fresh parsley and serve with garlic cheddar sour cream dip.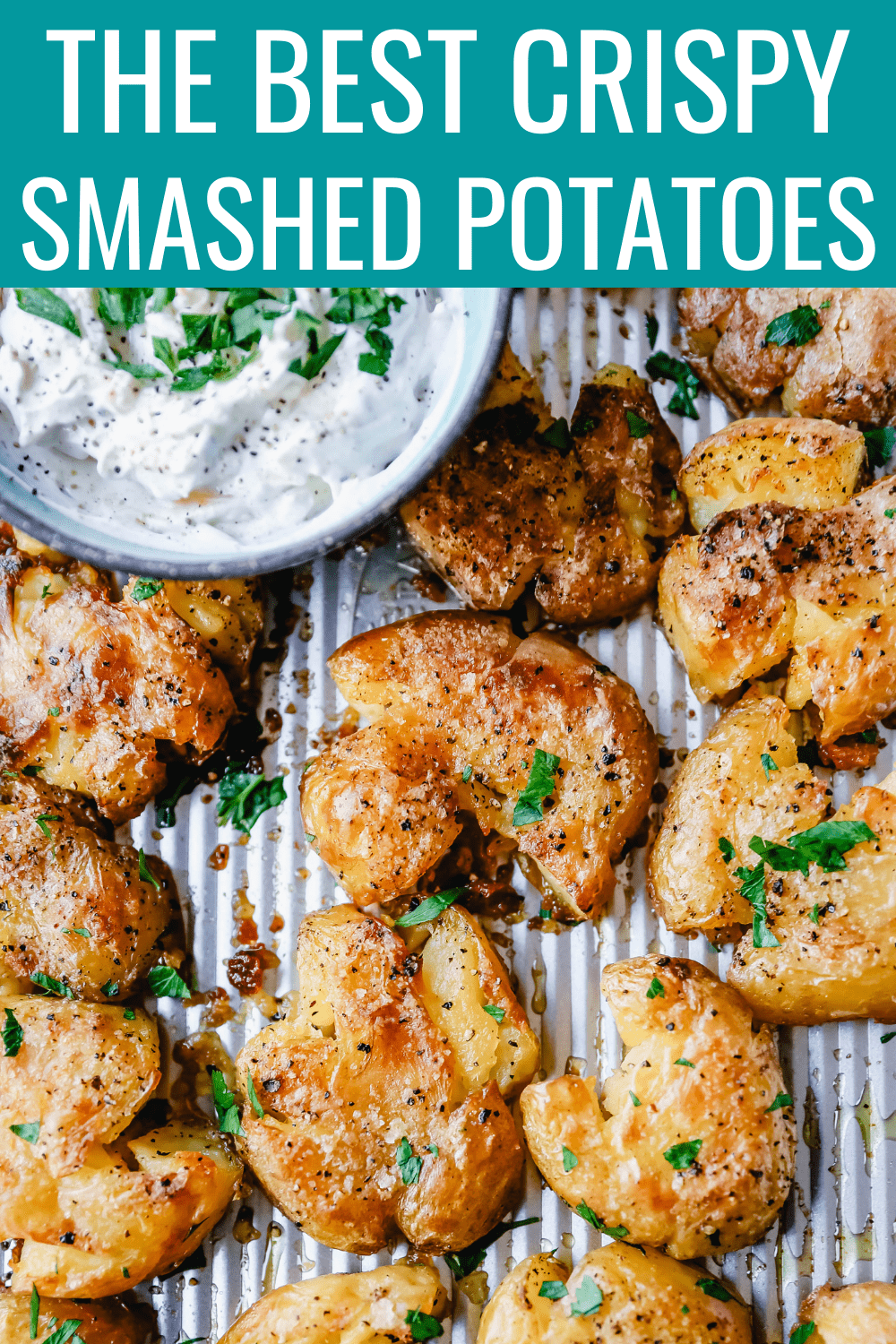 If you are looking for more potato recipes, check out these popular potato recipes:
Perfect Creamy Mashed Potatoes
Loaded Mashed Potatoes with Crispy Bacon and Cheddar
Follow Modern Honey on Facebook
Follow @modern_honey on Instagram
Follow me @ModernHoney on Pinterest