Quick and Easy 30-minute Taco Soup Recipe has all of the flavors of tacos made into a soup!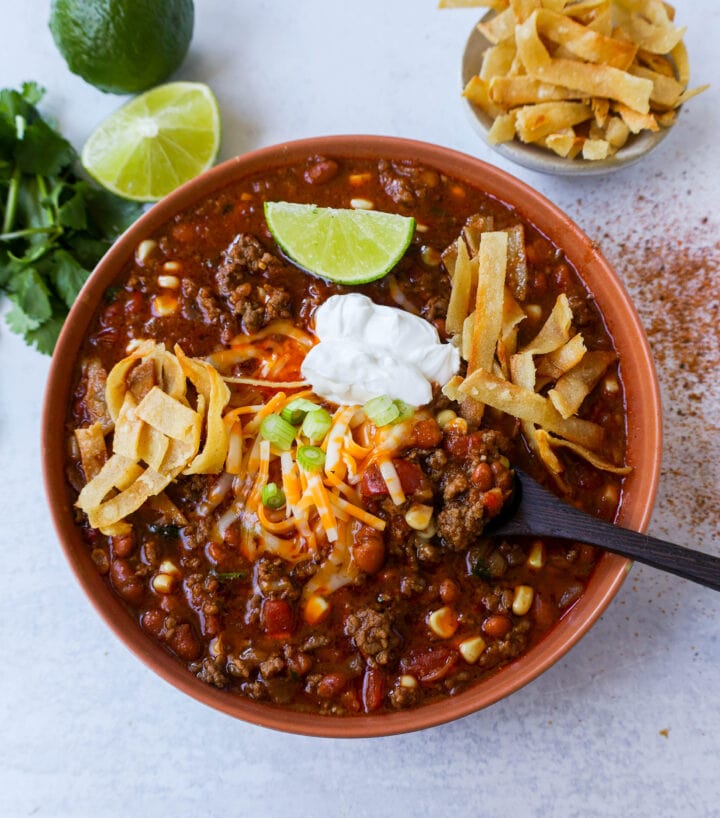 One of my husband's all-time favorite meals is literally simple ground beef tacos. I kid you not. So in the winter, we turn all of those amazing tacos flavors into homemade taco soup.
It is warm, and comforting, with the perfect amount of spice. This taco soup is similar to my award-winning chili recipe but the big difference is the addition of beef broth to make it a more broth-based soup.
This is a popular soup in our home because it is easy to throw it all in and let it simmer. Then you top it with so many yummy ingredients and it just gets better and better!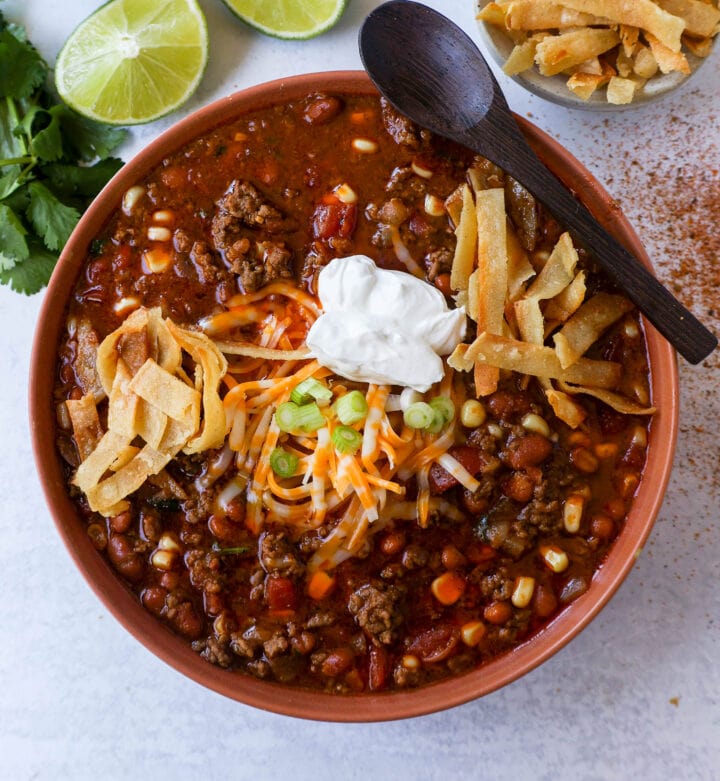 What ingredients are in Taco Soup:
This is an easy taco soup recipe. Just saute the ground beef with onions and then throw all of the ingredients in and let it simmer.
Ground Beef -- I suggest using lean ground beef 85-90%.
Onions -- I suggest finely dicing any type of sweet onion, white, yellow, or red onion.
Jalapeno -- you can tailor make the amount of spice in this taco soup recipe by adjusting how many jalapenos to add. If you want it less spicy, remove the seeds and inner membrane.
Taco Seasoning -- this is a blend of chili powder, paprika, cumin, and other spices.
Salt and Pepper
Garlic Powder
Chili Powder
Tomato Sauce -- use canned, plain tomato sauce with no spices added.
Beef Broth -- if you want a thinner, more brothy soup, add more beef broth.
Canned Tomatoes -- use diced canned tomatoes. I suggest using Rotel tomatoes with green chilies.
Corn -- use frozen white corn, fresh, or canned corn.
Beans -- add your favorite type of canned beans. I would suggest using pinto beans.
Cheese
What Toppings to put on Taco Soup:
The sky is the limit on what toppings to add to your taco soup. If you want to make it extra special, cut corn tortillas into long strips, fry in some oil, lightly salt, and sprinkle on top of the taco soup.
Fresh Cilantro
Sour Cream
Cheese
Tortilla Strips
Avocados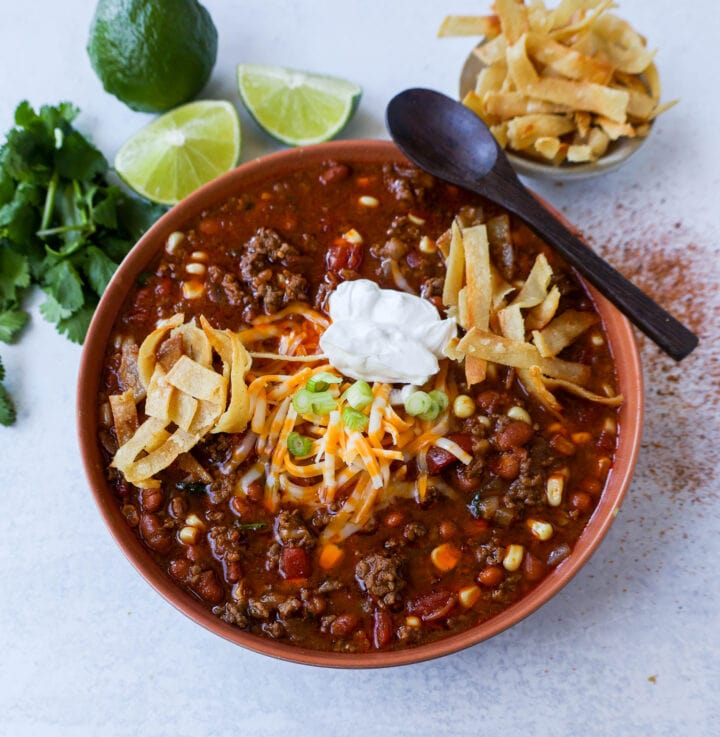 How to make Easy Taco Soup:
Start by browning the ground beef and onion in a skillet until cooked through and browned. Drain any grease from the skillet. If there is just a little grease, you can blot it with a paper towel. Sprinkle with seasonings.
Add in tomato sauce, beef broth, and canned Rotel. Let it simmer until it starts to slightly thicken.
Add in corn and beans and bring to a simmer.
Sprinkle in some cheese for extra flavor. Check for seasonings.
Serve with fresh cilantro, cheese, sour cream, tortilla strips, and avocado.
Popular Soup Recipes:
Lemon Chicken Orzo Soup made with tender chicken with fresh veggies in a lemon cream broth with parmesan cheese
Chicken Tortilla Soup Tender chicken in a spicy tomato broth-based soup topped with homemade tortilla strips, fresh avocado, and cilantro.
Broccoli Cheddar Soup The creamiest and cheesiest soup! One of the most popular on the blog for good reason.
Creamy Spinach Artichoke Soup One of my favorite comfort meals, plus it's super easy to make!
Texas Beef Chili This is an award winning recipe that's perfect for cook-offs or just any weeknight!
Creamy White Chicken Chili Everybody loves white chicken chili! You can't go wrong, this is the perfect recipe!
Chicken Pho This is my version of the popular Vietnamese Chicken Pho soup. The most requested healthy soup recipe in my house!
My favorite pots to make soup in are my Staub Dutch Ovens.