This is the best Lemon Chicken Orzo Soup recipe! This Chicken Orzo Soup is made with tender chicken with onions, carrots, celery, and garlic in a fresh lemon cream broth with fresh parmesan cheese. You will love this lemon chicken soup recipe!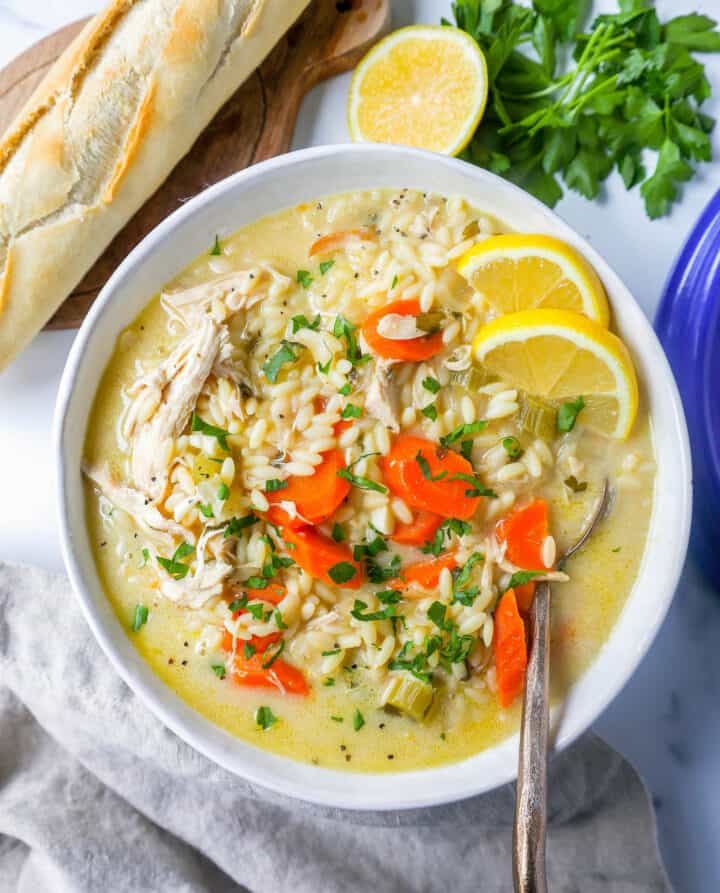 I am full-on obsessed with this Lemon Chicken Orzo Soup recipe. The first time I tried it, my jaw dropped. It was creamy with bright lemon notes, tender chicken, orzo pasta, and the perfect amount of saltiness from the parmesan cheese. Then my husband tried it and this is now his favorite chicken soup recipe.
Why do I love this Chicken Orzo Soup Recipe?
This Lemon Orzo Soup is comfort food in a bowl and is a fun twist on traditional chicken soup.
This Lemon Chicken Soup has it all -- freshness, creaminess, heartiness, and is so full of flavor.
It is easy to make...especially if you use shredded rotisserie chicken.
Everyone loves this Lemon Chicken Orzo Soup recipe!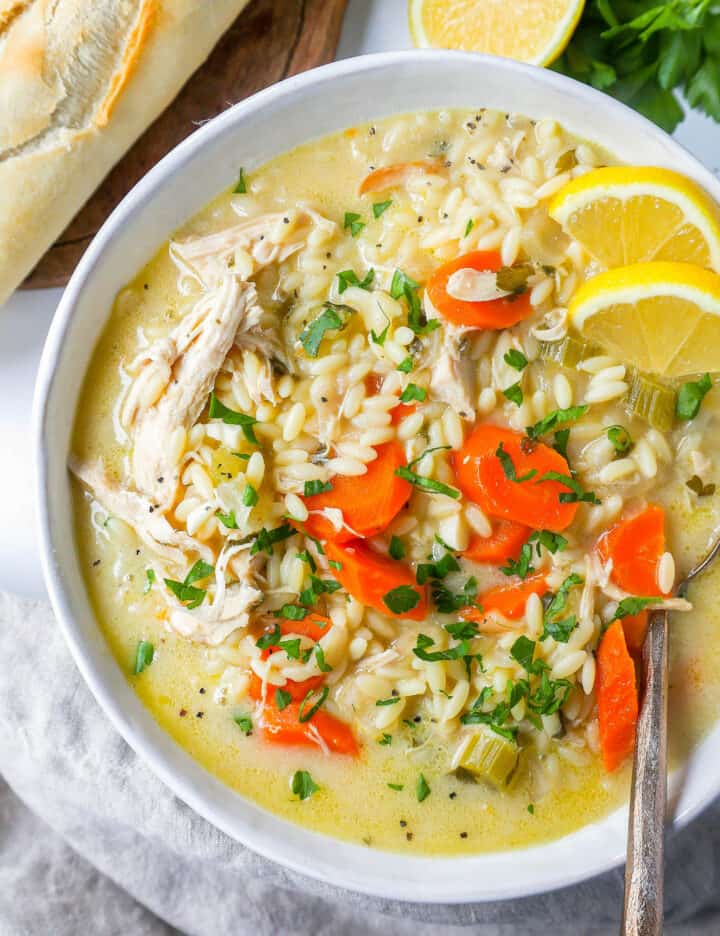 Lemon Chicken Orzo Soup Ingredients:
Chicken -- I suggest using rotisserie chicken because it is super tender, flavorful and a huge time saver. You can also use poached chicken in this recipe -- just make sure to season it well with salt and pepper!
Orzo Pasta -- is a thin, oval, rice-shaped pasta. It is a popular small pasta in Italy.
Butter -- use salted butter to saute the vegetables in the orzo soup.
Onion -- use a sweet onion or red onion in this chicken orzo soup.
Fresh Lemon Juice -- for the most vibrant, fresh flavor, use freshly squeezed lemon juice from fresh lemons. For extra lemon flavor, add some lemon zest.
Chicken Broth -- this is what gives the soup depth of flavor. The orzo will soak up the chicken broth so be prepared to add more chicken broth for a thinner soup.
Heavy cream -- this adds rich, creaminess to the soup. May use half-n-half instead of heavy cream.
Parmesan Cheese -- use freshly grated parmesan cheese for easier melting and better flavor.
Carrots
Celery
Garlic
Salt and Pepper
Fresh Parsley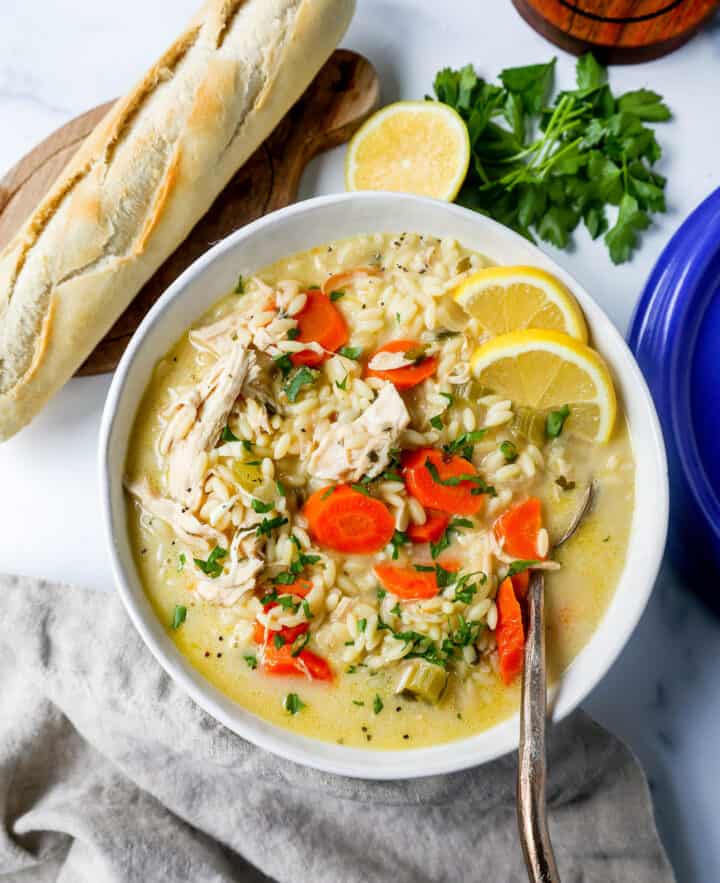 Storage:
Store this chicken orzo soup in an air-tight container in the refrigerator. The orzo pasta will soak up the chicken broth so you may need to add more once it is refrigerated and reheated.
Popular Soup Recipes:
I love to hear from you! If you make this recipe, please be sure to leave a comment and give this recipe a rating. If you make any of my recipes, tag me on Instagram @modern_honey so I can see your creations. It's one of my favorite things seeing you make these recipes in your own kitchen. Sign up for my newsletter below so you never miss a recipe. Thank you for following along! I truly do have the greatest readers. FOLLOW ME ON: INSTAGRAM --- FACEBOOK --- PINTEREST