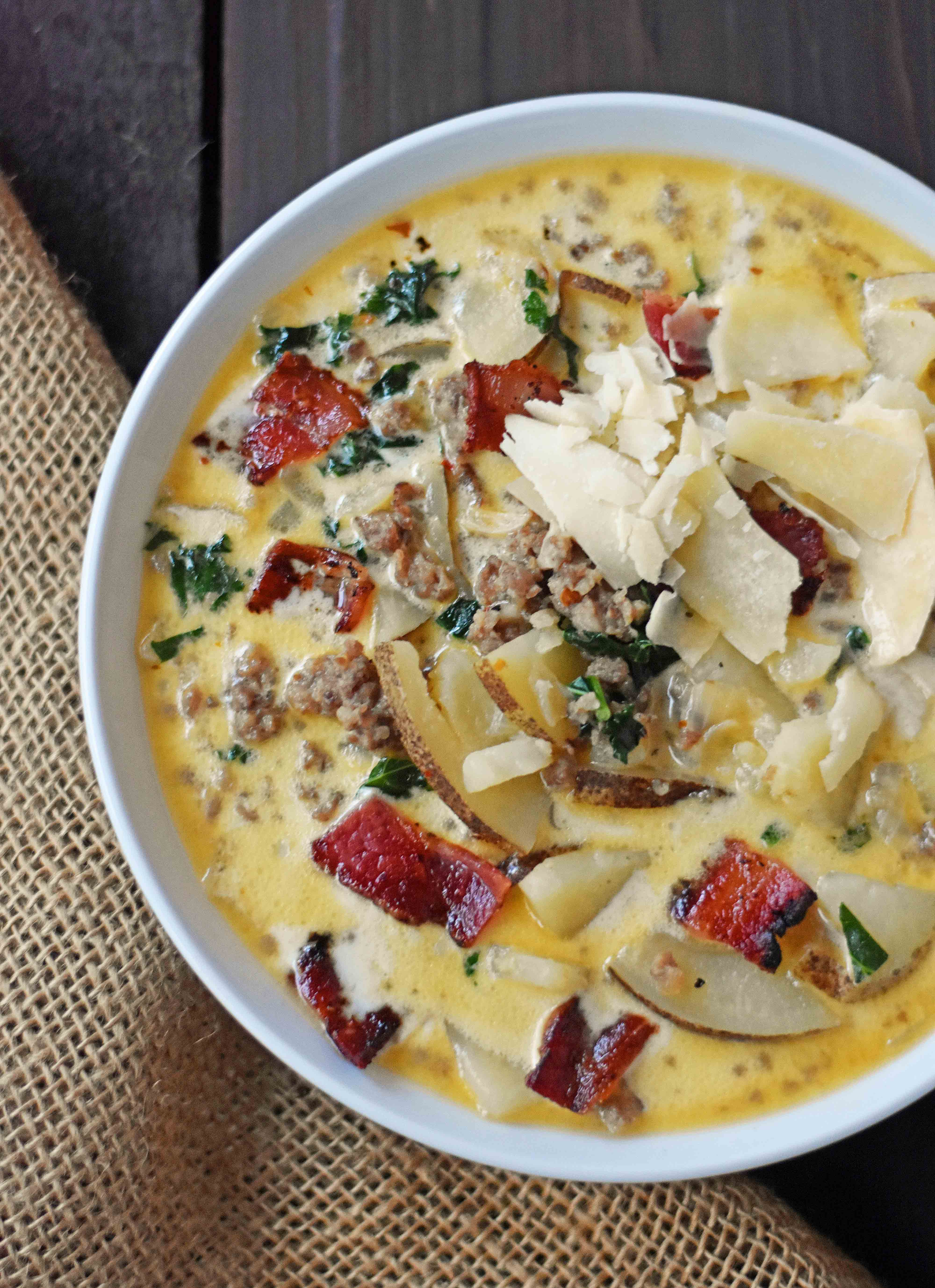 Zuppa Toscana Soup
A favorite Italian hearty soup made with sausage, potatoes, and bacon in a rich flavorful cream broth. This is one of the most popular soup recipes! This copycat Olive Garden Zuppa Toscana recipe will be sure to please!
If you have ever eaten at Olive Garden and tried their Zuppa Toscana Soup, you may have become hooked on it really, really fast. It is such a hearty, comforting, and flavorful soup that is insanely popular. It has such a following that many people go to Olive Garden just for this soup.
When I was in high school and college, every single friend's birthday was spent at the Olive Garden. It was tradition and we weren't budging. We always ordered the same thing — salad, Zuppa Toscana Soup, breadsticks, and a raspberry lemonade. It was a place where we could get full without spending a lot of money (we were all on our college budgets back then)!
I fell in love with the Olive Garden Zuppa Toscana Soup and had to figure out a copycat recipe for it.
Fast forward years later, I was living on the same street as my friend, Heidi, who can COOK big time. I loved to go over to her house, chat about our life with kids, and eat all of her homemade food. One of my favorite things she would make is this Zuppa Toscana Soup in the winter. It was always so comforting and helped us get through raising our crazy toddler boys. 🙂 Now, it is time to share the recipe with you!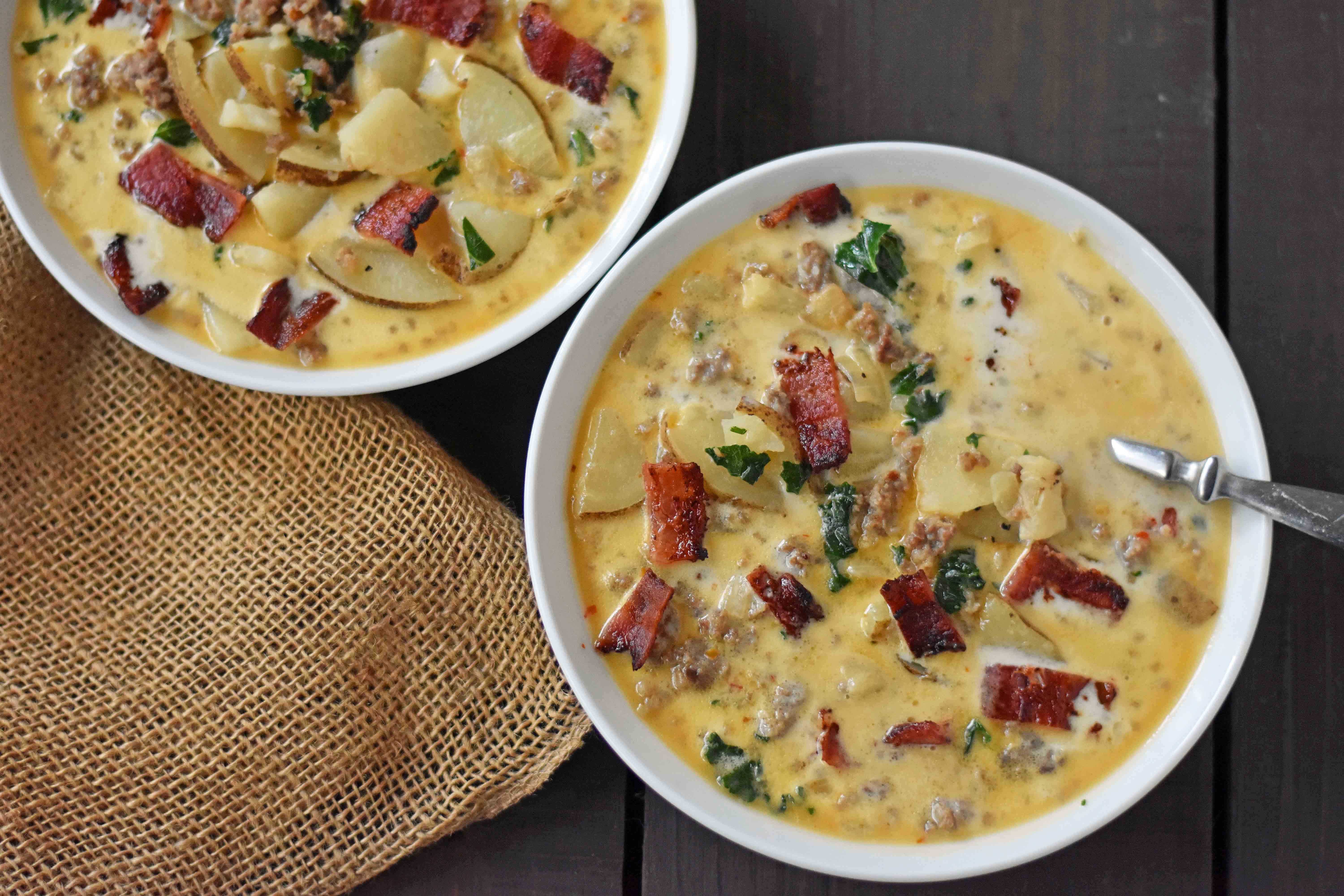 Zuppa Toscana Soup is made with sausage, potatoes, bacon (did someone say bacon?!), onion, chicken broth, kale, heavy cream, and parmesan cheese. It is so creamy and delicious and you won't want to stop at one bowl.
This Zuppa Toscana Soup is absolutely perfect for a cozy weeknight dinner at home as the temperatures start to plummet. I mean, we are still 87 degrees and in flip-flops at the end of November but we are pretending that it is actually cold here. The Christmas tree is up, the carols are playing, and we are officially in Christmas mode in our home.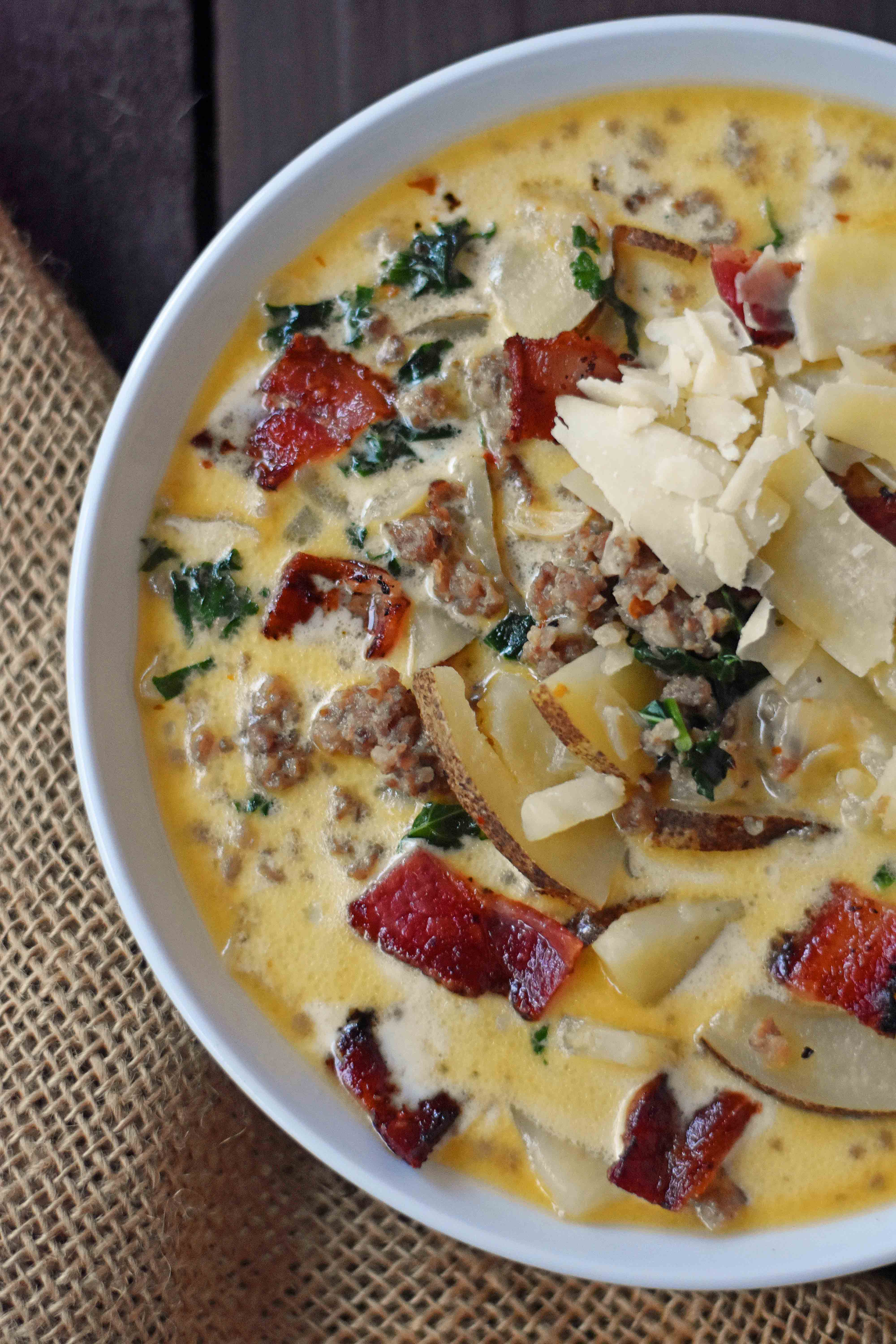 Tips on how to make Olive Garden's Zuppa Toscana Soup at home:
Start by sauteeing onion, garlic, and sausage. Browning not only cooks the sausage but also brings out the flavor. When making homemade soup, it is important to develop flavors along the way.
Use a hearty potato. I tend to use russet potatoes because they stand up against the heat and won't become soggy. No soggy potatoes! We are going for soft, melt-in-your-mouth potatoes. I leave the skin on the potatoes, cut the potato lengthwise, then cut into thin slices.
Add the cooked, crispy bacon at the end. I have seen many recipes where the bacon is added at the beginning. I prefer to add it at the end so it stays a little more crispy. I also reserve some bacon for garnish. It just looks pretty and everyone gets excited to see bacon front and center. Feel free to add a few more slices of bacon if you love it.
Cut the kale into small pieces. Kids (and sometimes adults) may be afraid of green things, such as kale. I found that if I cut it into very small bite-size pieces, kids hardly even noticed it. I tell them to focus on the bacon, people!
Add heavy cream and parmesan cheese at the end and cook just until simmered. This is what brings it all together and gives the soup and rich, creamy texture.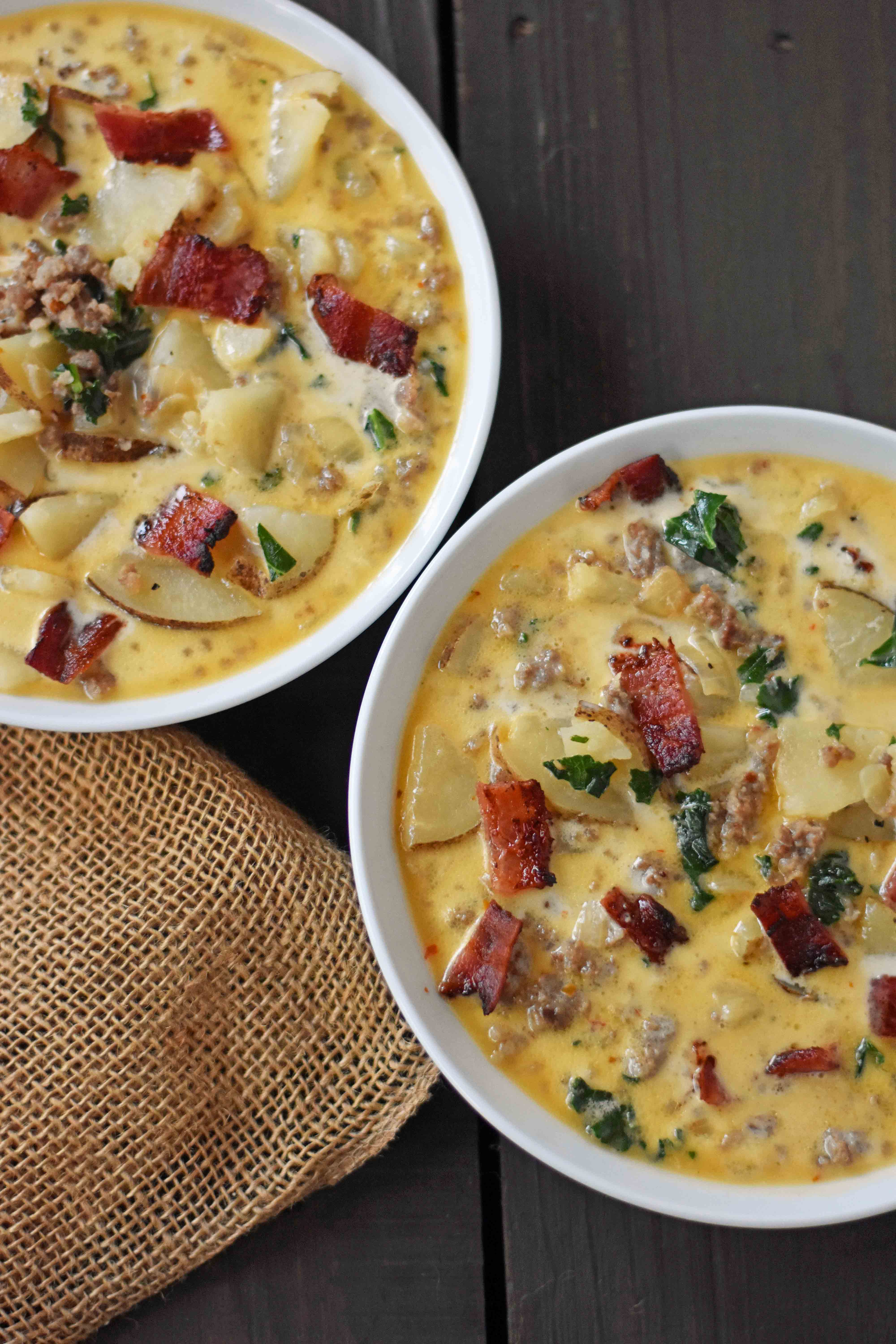 Pin this now to find it later
Pin It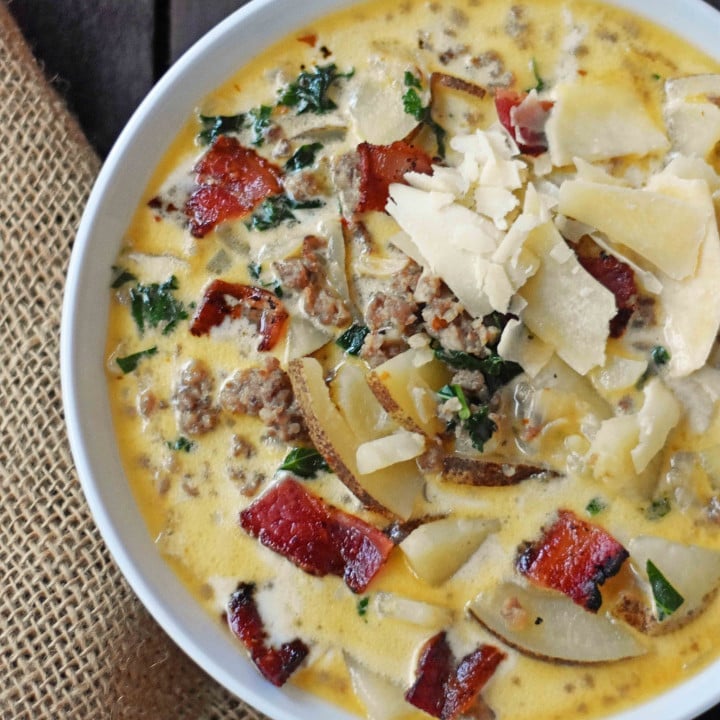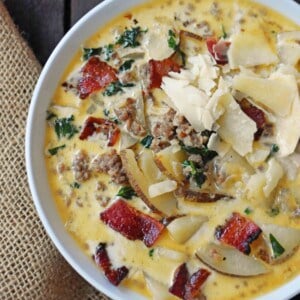 Zuppa Toscana Soup (Olive Garden Copycat Recipe)
A hearty, comforting bowl of Olive Garden's famous Zuppa Toscana Soup.
Ingredients
1-2

Tablespoons

Oil

1

Large Onion

(diced)

2

Garlic Cloves

(finely diced)

1

teaspoon

Red Chili Flakes

1

lb.

Italian Sausage

6

Bacon Slices

(cooked until crispy)

2

Large

(or 3 medium Russet Potatoes, scrubbed and cut in half lengthwise, then cut into thin slices)

32

ounces

4 cups Chicken Broth

1

teaspoon

Pepper

2

cups

Kale

(finely chopped)

1

cup

Heavy Cream

3/4

cup

Parmesan Cheese

(for garnish or place half in soup)

Salt

to taste)
Instructions
Heat a large pot over medium-high heat and add oil, onion, garlic, and red chili flakes. Let cook for 1 minute. Add sausage and cook until browned and cooked through. Remove sausage and onions and place on a paper towel-lined plate.

Add bacon and cook until crispy --according to package instructions. Remove from pan and set aside. Once bacon is cool enough to touch, crumble or cut into bite-size pieces.

Add potatoes, chicken broth, and pepper to the pot and bring to a boil. Once it comes to a boil, reduce to medium-low heat. Stir in sausage mixture. Cook for 15 minutes or until potatoes are tender. Add finely diced kale and continue to cook for 5-10 more minutes.

Stir in heavy cream and half of parmesan cheese, if so desired. Heat for 5 minutes.

Stir in crumbled bacon, reserving some for garnish.Serve warm topped with parmesan cheese.
Nutrition information is automatically calculated, so should only be used as an approximation.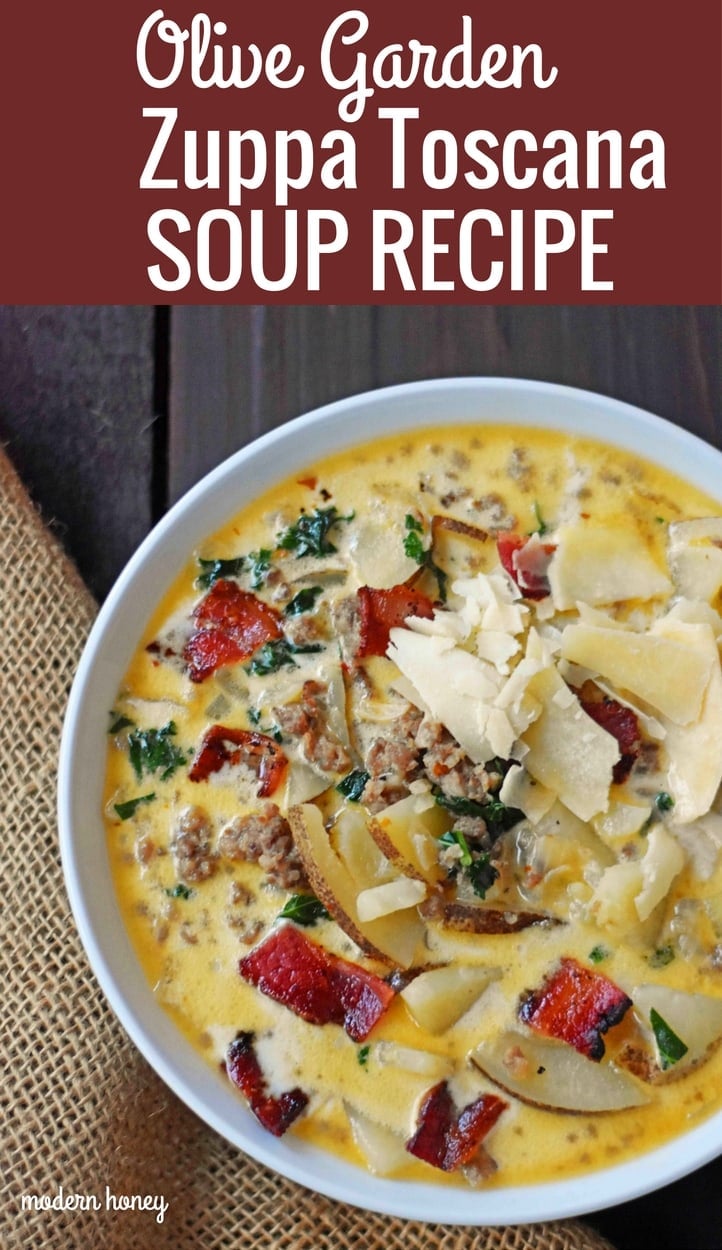 This is the start of COMFORT FOODS week. Can't wait to share all of our favorite comfort food dishes starting with this Zuppa Toscana Soup Olive Garden Copycat Recipe. Happy Cooking, my friends!