This Homemade Chicken Soup is made with tender chicken, carrots, onion, potatoes, fresh herbs, and seasonings all in a warm chicken broth. This is the perfect chicken soup on a cold winter's day.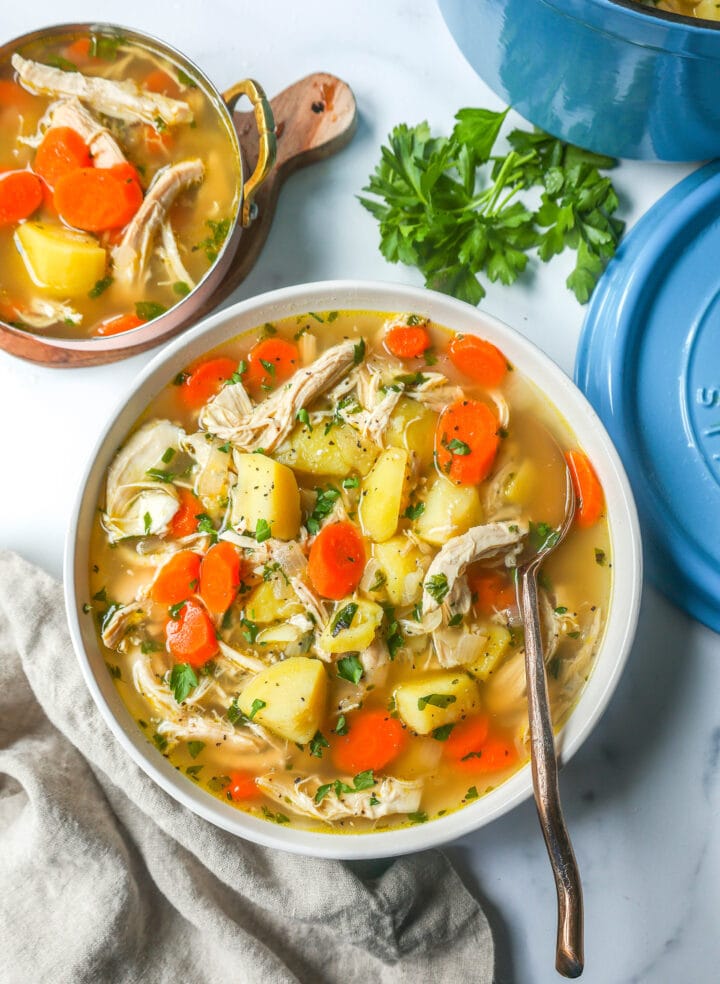 There's nothing better on a cold winter's day or when you are sick than a big bowl of homemade chicken soup.
My Mom was the "Soup Master" and whenever someone in the family got sick or it was just a cold rainy day, she would whip up a big pot of delicious chicken soup.
My Mom's chicken soup recipe rarely had noodles but was full of tender chicken, healthy vegetables, and nourishing broth. She focused on the basics...lean protein, vegetables, and broth. This chicken soup is both gluten-free and dairy-free and so good for you!
My son called me from school last week, coughing up a storm and sounding downright terrible. He had obviously come down with a bad cold and his first request as soon as he got home was a big bowl of Mama's Best Chicken Soup.
This soup is not only ridiculously good but is guaranteed to cure what ails you. This homemade chicken soup is hearty and full of Vitamin C, and after eating many bowls of this chicken soup, I'm happy to report, my son was back to school in no time at all.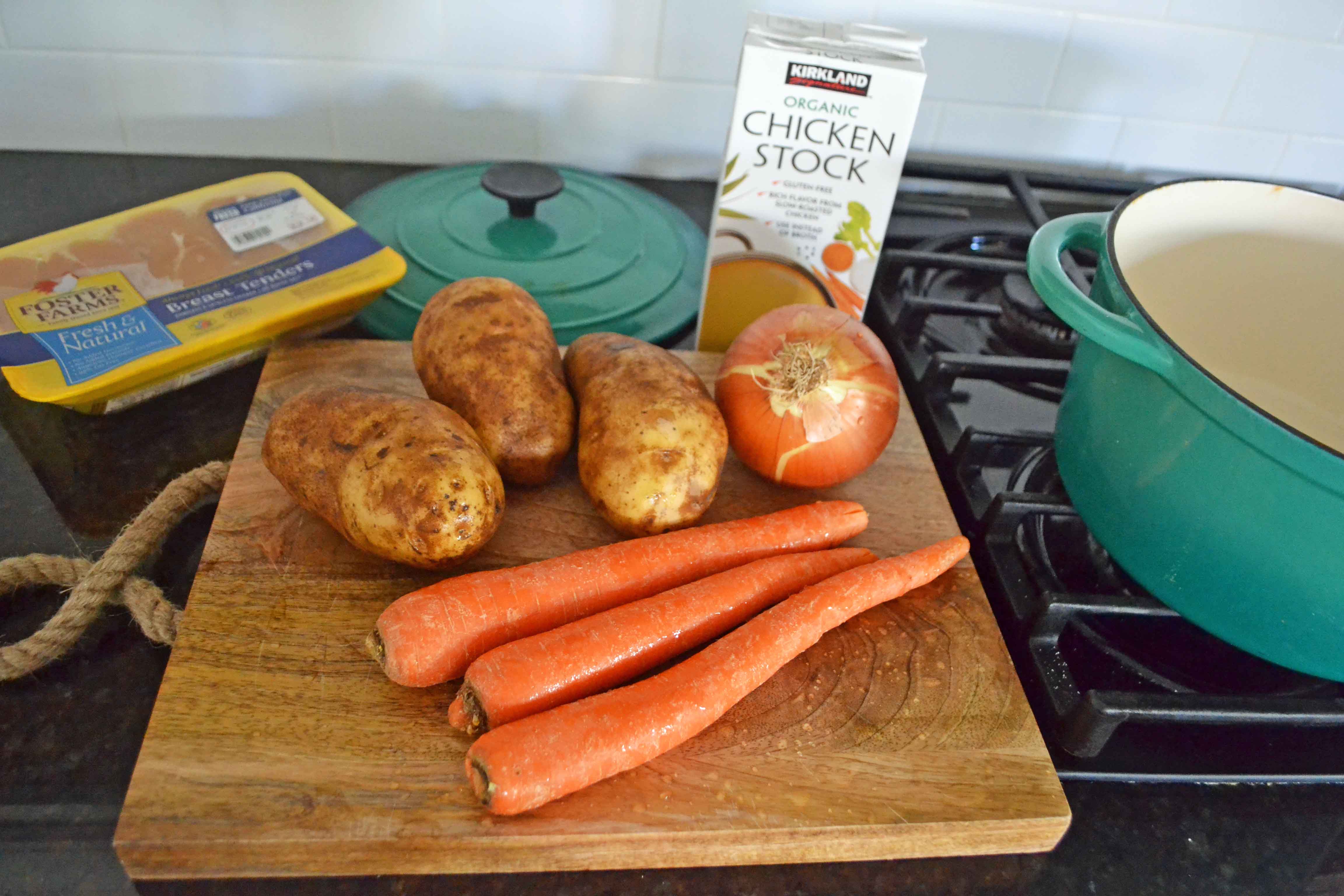 Homemade Chicken Soup Ingredients:
Onion -- this is an integral ingredient and gives the chicken soup a base of flavor. It also helps to boost the immune system.
Garlic -- the flavor enhancer and immune booster all in one! Add more garlic if you are feeling under the weather.
Carrots -- known for their vitamin A benefits and add earthy flavor to chicken soup.
Potatoes -- I suggest using yukon gold or yellow potatoes for the creamiest texture.
Chicken -- see below for chicken suggestions but if you want a quicker shortcut, use rotisserie chicken.
Chicken Stock or Broth -- if you want the soup to be extra brothy, add more chicken broth. It is so nourishing!
Italian Parsley
Fresh Basil
Thyme
Salt and Pepper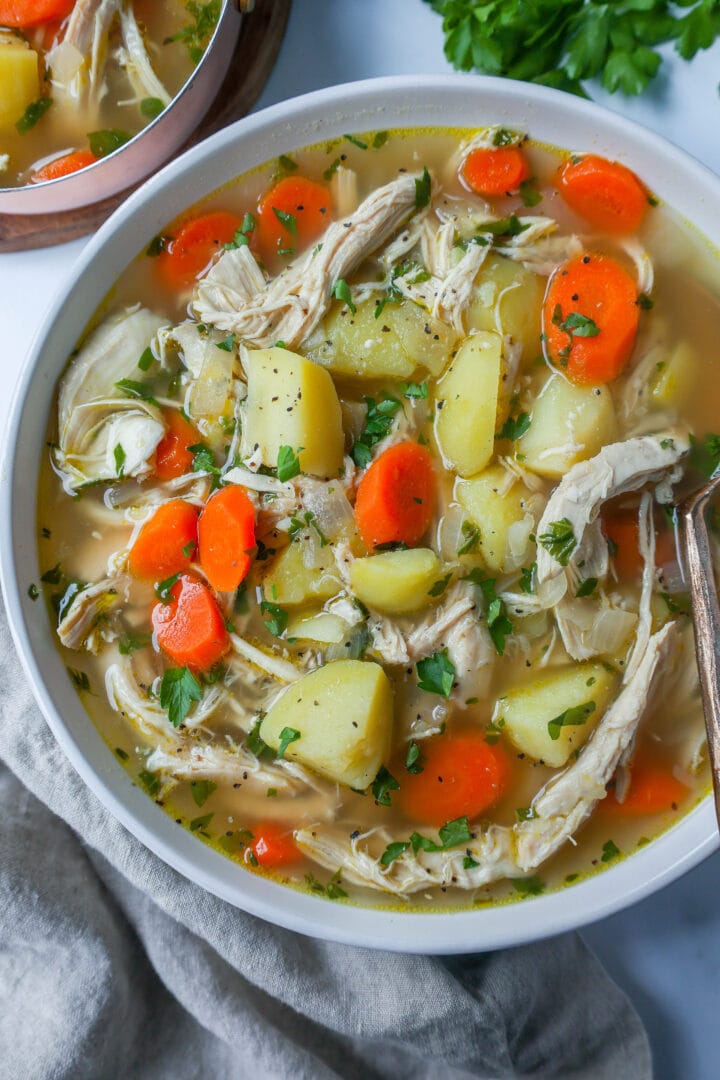 What chicken should I use in homemade chicken soup?
There are many types of chicken you can use in this homemade chicken vegetable soup recipe. If you want the quickest and easiest version, pick up a rotisserie chicken from Costco.
For chicken that cooks the fastest and is always tender, use chicken tenders or chicken tenderloins. They are smaller in size than chicken breast so they cook faster and are more tender.
You can also use boneless skinless chicken breasts and cook it on low and slow.
What types of herbs to add to chicken soup?
Using fresh herbs not only gives this soup a good flavor, but adds many health benefits. You can add fresh basil, fresh Italian parsley, fresh thyme, fresh rosemary, and other French herbs that pair perfectly with poultry.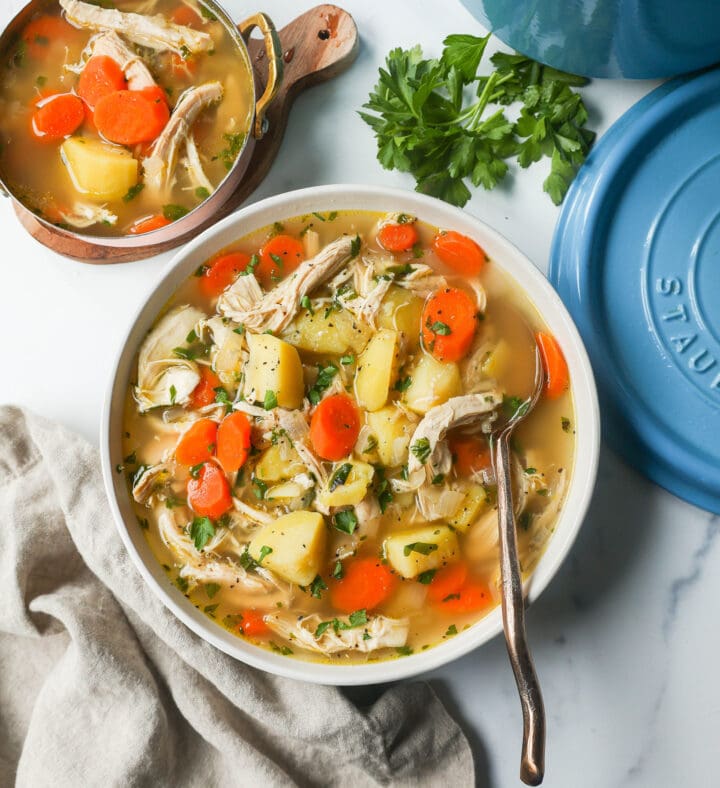 Popular Chicken Soup Recipes:
I love to hear from you! If you make this recipe, please be sure to leave a comment and give this recipe a rating. If you make any of my recipes, tag me on Instagram @modern_honey so I can see your creations. It's one of my favorite things to see you make these recipes in your own kitchen. Sign up for my newsletter below so you never miss a recipe. Thank you for following along! I truly do have the greatest readers. FOLLOW ME ON: INSTAGRAM --- FACEBOOK --- PINTEREST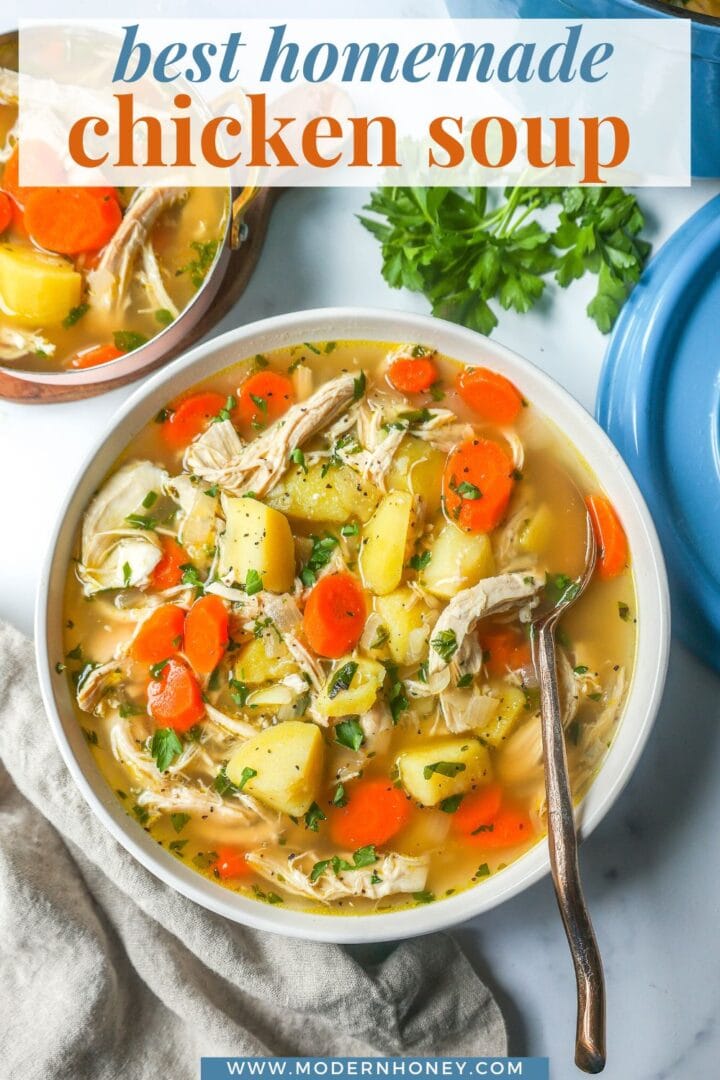 Grab a warm blanket, a big bowl of this nourishing soup, and serve it with my quick and easy Homemade Bakery French Bread https://www.modernhoney.com/homemade-bakery-french-bread/. Your kids will declare you the best Mom in the entire world, no doubt!
Happy Cooking!