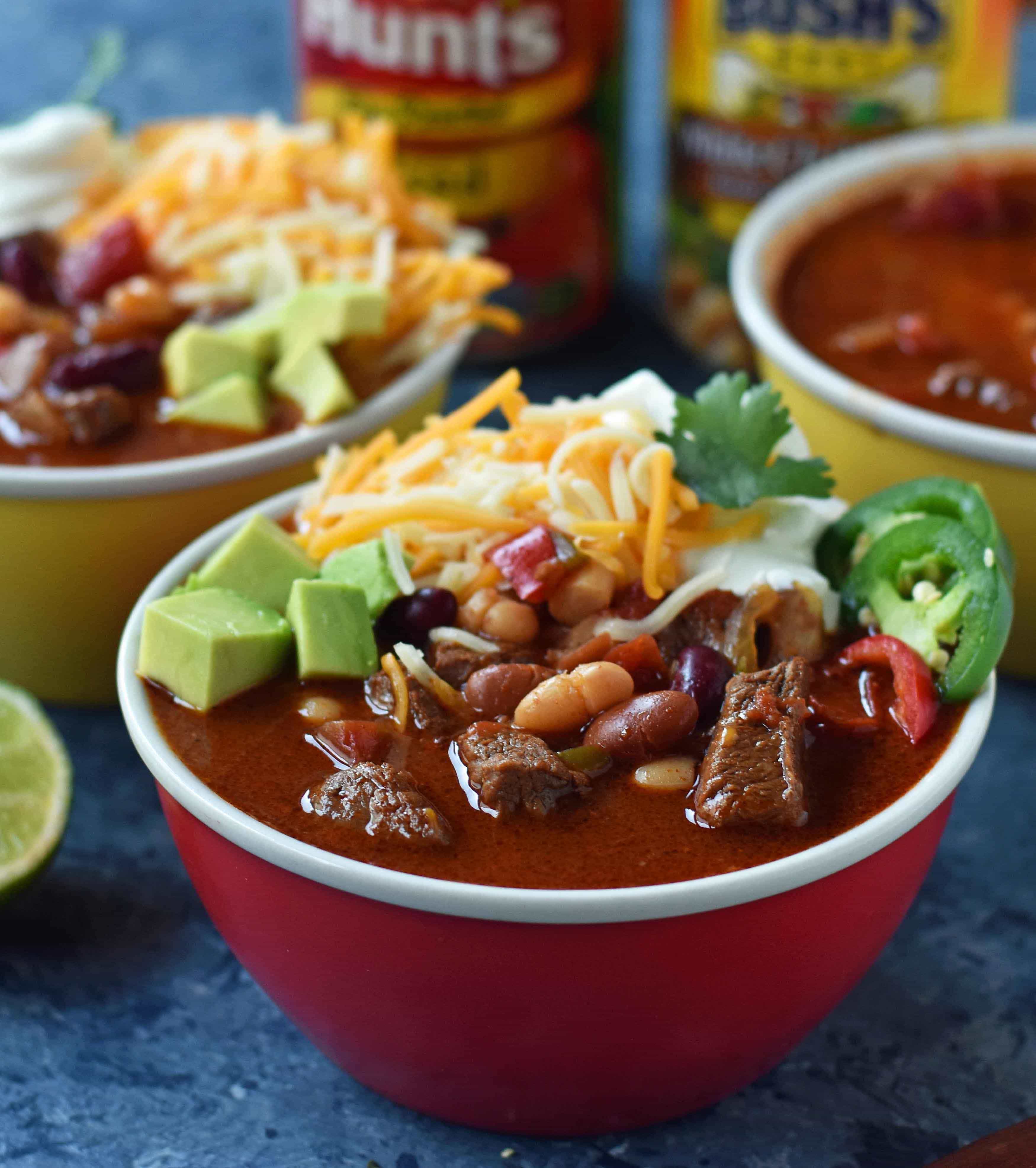 Making a mean chili is serious business. There are chili contests to be won! This is the time of year where chili contests abound and everyone wants to claim the coveted prize. If you want a prize-winning chili, I have a winner for you! This MJ's Award-Winning Beef Chili is no joke. I can't guarantee you will take home the big prize but I can guarantee that you will LOVE this chili. Thank you BUSH's slow-simmered chili beans and Hunt's vine-ripened tomatoes for sponsoring this post.
There are all kinds of theories out there as to what kind of chili reigns supreme. Beans or no beans? I always go with beans. It makes the chili hearty and filling. Ground beef or chuck roast beef? I love both of them and use them both in my chili recipes (Texas Sized Chili Bar). This MJ's Award-Winning Chili uses chuck roast because it becomes so tender when braised slowly. It's downright heavenly!
The key to making a perfect chili is the combination of flavors from the tender beef, seasoned BUSH's chili beans, Hunt's fire-roasted diced tomatoes, broth, and warm spices. It is all about layers upon layers of flavors. I like to cook my chili low and slow — either in a dutch oven pot or in a slow cooker. This ensures that the flavors come together in the ultimate pot of chili.
I have a little secret ingredient up my sleeve in my chili recipes and that is Dr. Pepper! You can use Coke as well but it is a match made in heaven with beef and helps to tenderize it so it just melts in your mouth.
So what spices do you use to make this killer MJ's Award-Winning Beef Chili? The numero uno spice to use is chili powder. This is what gives it that earthy depth of flavor and mild spice. You can use a traditional chili powder, an ancho chili powder, or even a New Mexico chili powder. There are many choices! I love to use half traditional chili powder and half ancho chili powder. Cumin is another powerhouse spice as it gives a lot of bang for the buck…a little bit goes a long way. A touch of cayenne pepper gives it a little kick. A pinch of cinnamon brings in some warmth.
This MJ's Award-Winning Chili calls for chuck roast, cut into bite-size pieces. I am a huge fan of chuck roast as it has enough fat on it to make it tender without it being too much. It has such amazing texture. The key is to brown the beef. Why is it important to do this extra step? Well, it brings out the flavor in the meat. I sauté it in a little bit of oil to give it a nice brown crust. I sauté the beef with some chopped onion to elevate the flavors.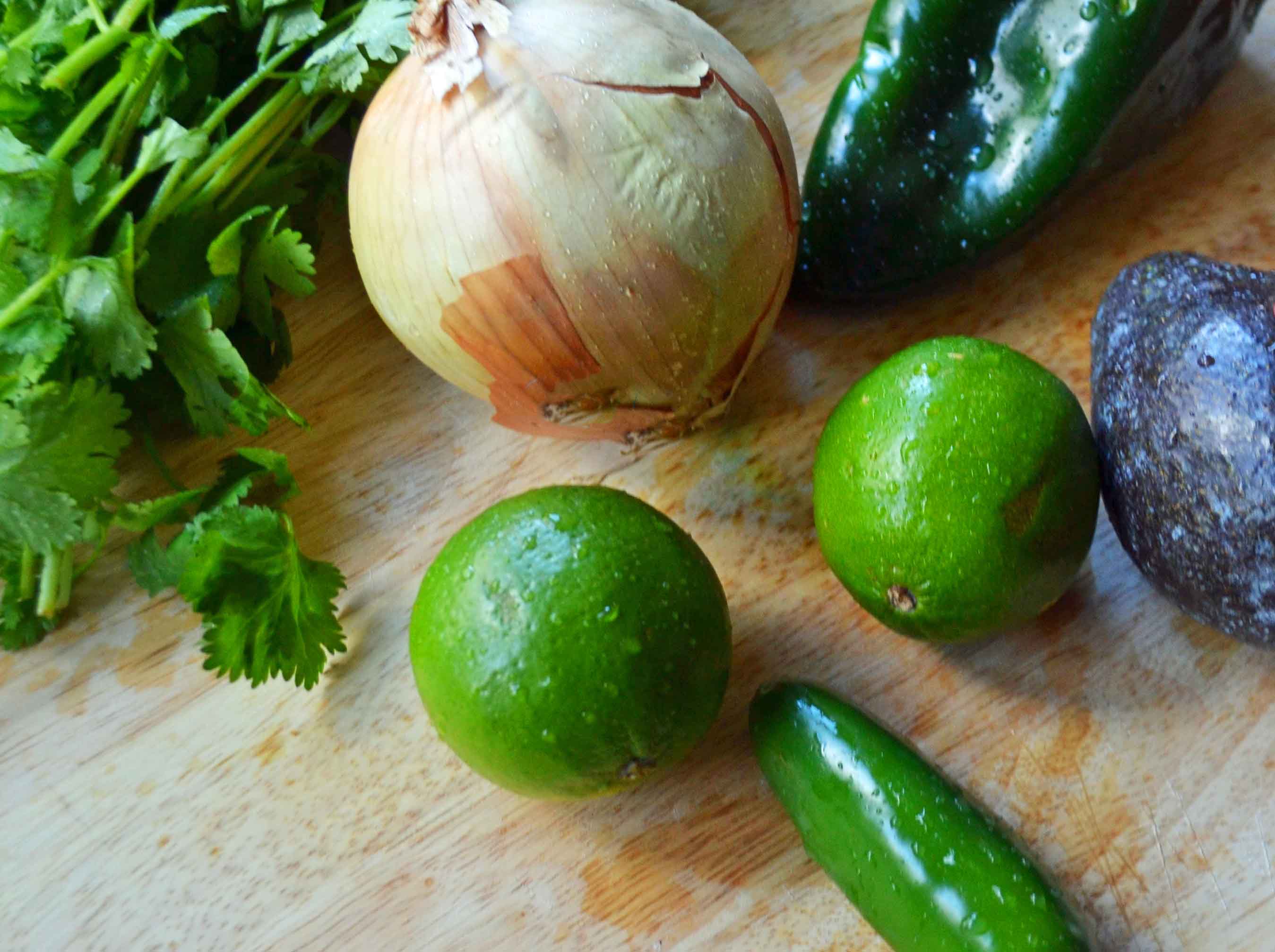 A combination of sautéed onions and peppers is vital to developing flavors in the chili. I love using diced onions, jalapenos, and a red pepper. You can even throw in a poblano pepper for a mild heat.
Beans are one important component in chili, in my opinion. I always reach for BUSH's chili beans because they make it so easy for me. Their chili beans are covered in a mild chili sauce, which makes the beans taste even better. I like to use a combination of chili beans — pinto, kidney, and white. It keeps people on their toes and makes things interesting!
I am throwing in an option for you. Many people swear by adding masa, which is corn flour, into their chili. It acts as a thickening agent and adds richness to the chili. If you don't have masa, you can use 1 cup of cheddar or pepper jack cheese to give the chili a little creaminess.
The toppings are essential! Some of my favorite chili toppings are shredded Mexican cheese, sour cream, cilantro, avocado, green onions, tortilla strips, and even jalapeno if you like to keep things spicy. I love to put out a toppings bar like this one — Texas Sized Chili Bar. This is so fun for parties!
This MJ's Award-Winning Beef Chili can be made on the stovetop or in a slow cooker/crockpot. The key is low and slow with the beef so a slow cooker works like a charm. Always add your beans more at the end of cooking time though. They just need some time to heat up.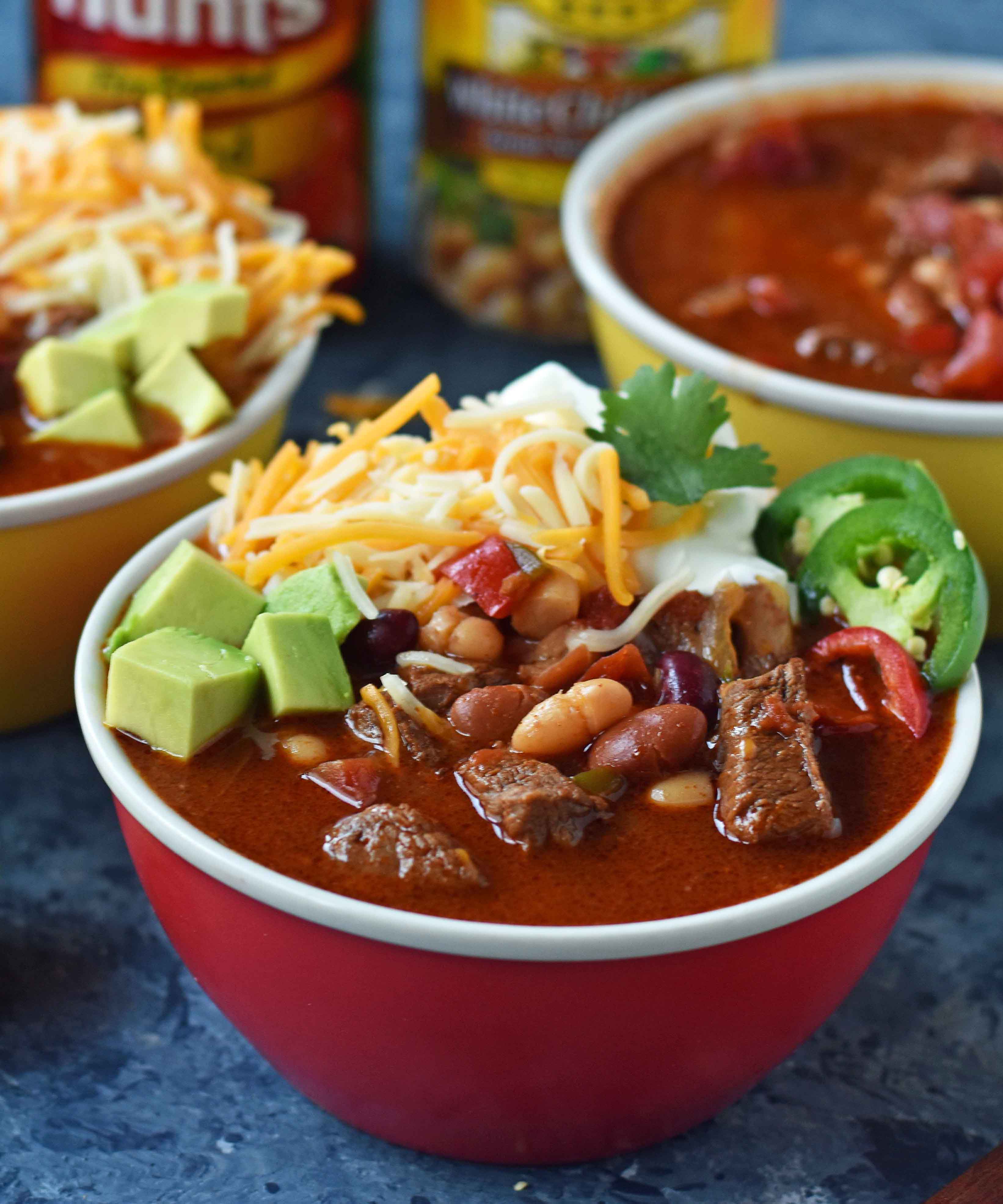 Pin this now to find it later
Pin It
MJ's Award-Winning Beef Chili
This MJ's Award-Winning Chili is going to be a hit with your family!
Ingredients
2

lb.

approx Chuck Roast, cut into bite-sized cubes

2-3

Tablespoons

Oil

2

teaspoons

Salt

2

teaspoons

Pepper

1

Onion

finely diced

1

Red Pepper

finely diced

1

Jalapeno

finely diced

(1)

12-ounce

can Dr. Pepper or Coke

3

Tablespoons

Chili Powder

2

teaspoons

Cumin Powder

1/2 - 1

teaspoon

Cayenne Pepper

1/2

teaspoon

Garlic Powder

1/8

teaspoon

Cinnamon

(OPTIONAL)

(1)

14-ounce

can Beef Broth

(2)

14.5-ounce

cans Hunt's Fire-Roasted Diced Tomatoes

drained

1

can Bush's Chili Pinto Beans

1

can Bush's Chili Kidney Beans

1

can Bush's Chili White Great Northern Beans
Optional:
1/4

cup

Masa Flour

plus enough water to make a paste

1

cup

Mexican shredded cheese

added to the chili to add creaminess
Garnishes:
Mexican Shredded Cheese

Sour Cream or Mexican Crema

Cilantro

Avocado

Tortilla Strips

Jalapeno Slices
Instructions
Heat dutch oven or pot over medium-high heat. Add oil and heat for 2 minutes. Add chunks of beef, trying to avoid overcrowding the pot. Sprinkle with salt and pepper.

Stir in onions.

Cook for about 5 minutes or until beef begins to brown.

If making the chili in the pot, keep beef in pot. If making chili in a slow cooker, remove beef and place in slow cooker.

Reduce heat to medium-low and stir in red pepper, jalapenos, Dr. Pepper, chili powder, cumin, cayenne pepper, garlic powder, cinnamon, beef broth, and fire-roasted tomatoes.

Reduce heat to low and cover.

Cook for 1-2 hours on low or until beef is tender. If making in a slow cooker, cook for 7-8 hours on low or 4-5 hours on high.

With about 30 minutes left of cooking time, add beans. If using masa, stir in the masa paste (mix masa with enough water to form a thick paste) now. Let simmer for 30 minutes.

If adding cheese, add in about 10 minutes before serving to give it time to melt.

Season to taste. Add more salt and pepper, if desired.

Top with Mexican cheeses, sour cream, cilantro, avocado, and tortilla strips.
Nutrition information is automatically calculated, so should only be used as an approximation.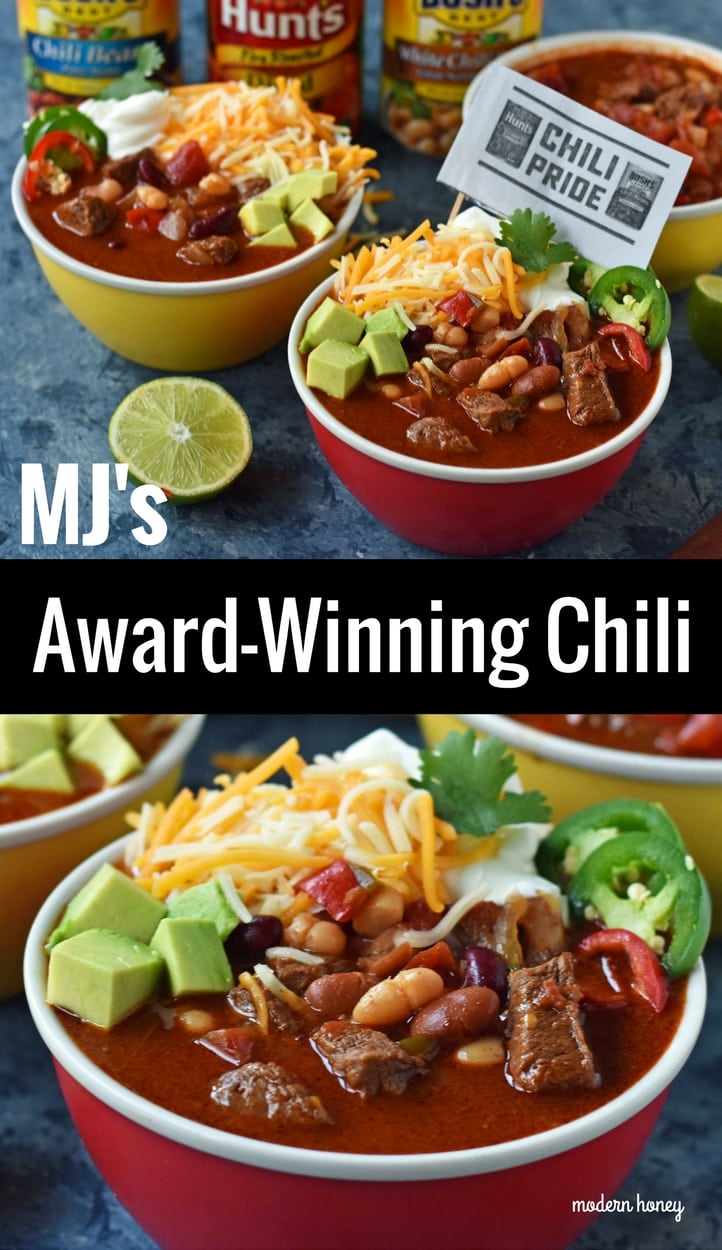 I can't wait to hear about your success with making this award-winning chili recipe! Come say "hi" on Instagram @modern_honey. I would love to hear from you!
This is a sponsored post written by me on behalf of BUSH's slow-simmered chili beans and Hunt's vine ripened tomatoes.