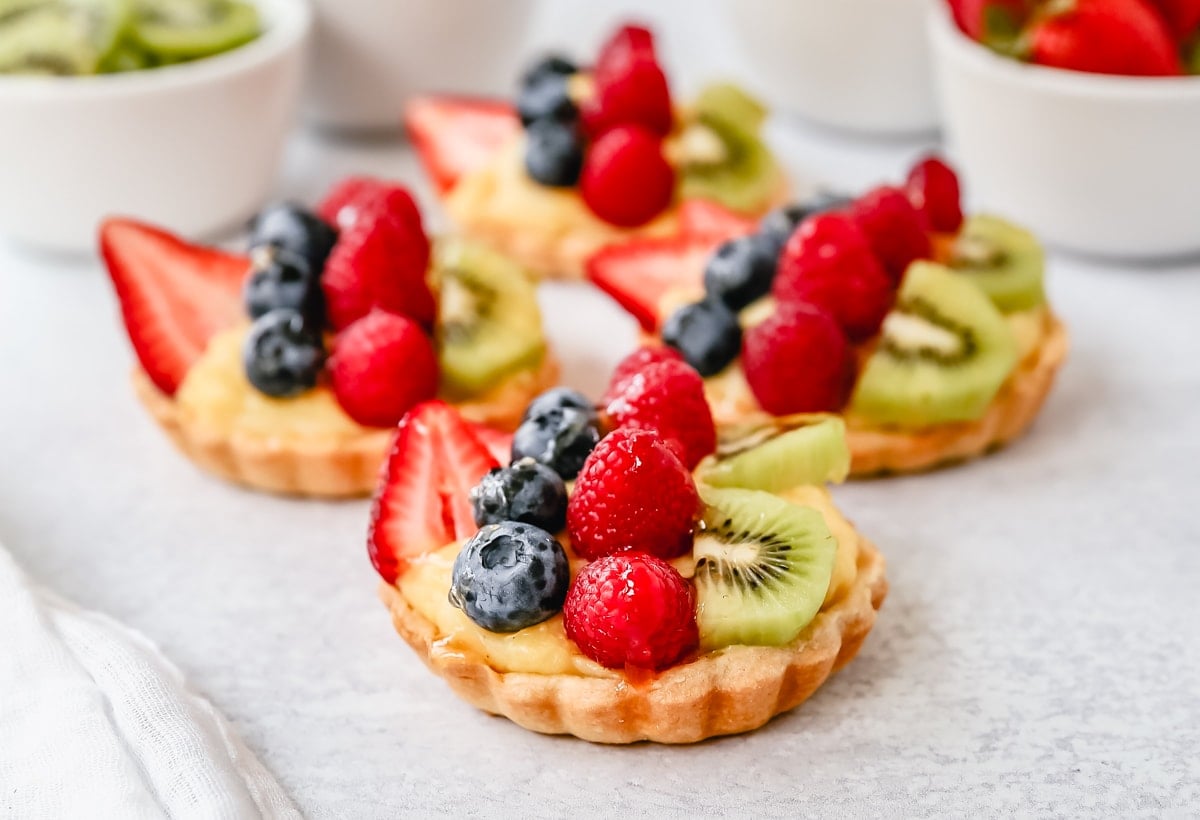 Fruit Tart with Pastry Cream
This French fruit tart is made with a flaky, buttery pie crust, filled with homemade vanilla bean pastry cream, and topped with fresh fruit.
It's officially SPRING which means it's all about bright, fresh desserts. A fruit tart is the quintessential classic French dessert. A fresh fruit tart is such a crowd pleaser and I have yet to meet anyone who doesn't love this dessert.
This Fresh Fruit Tart with Vanilla Pastry Cream is made using a flaky, buttery pie crust and baked into a tart pan. Tart pans come in round, rectangular, and mini sizes and you can choose your favorite.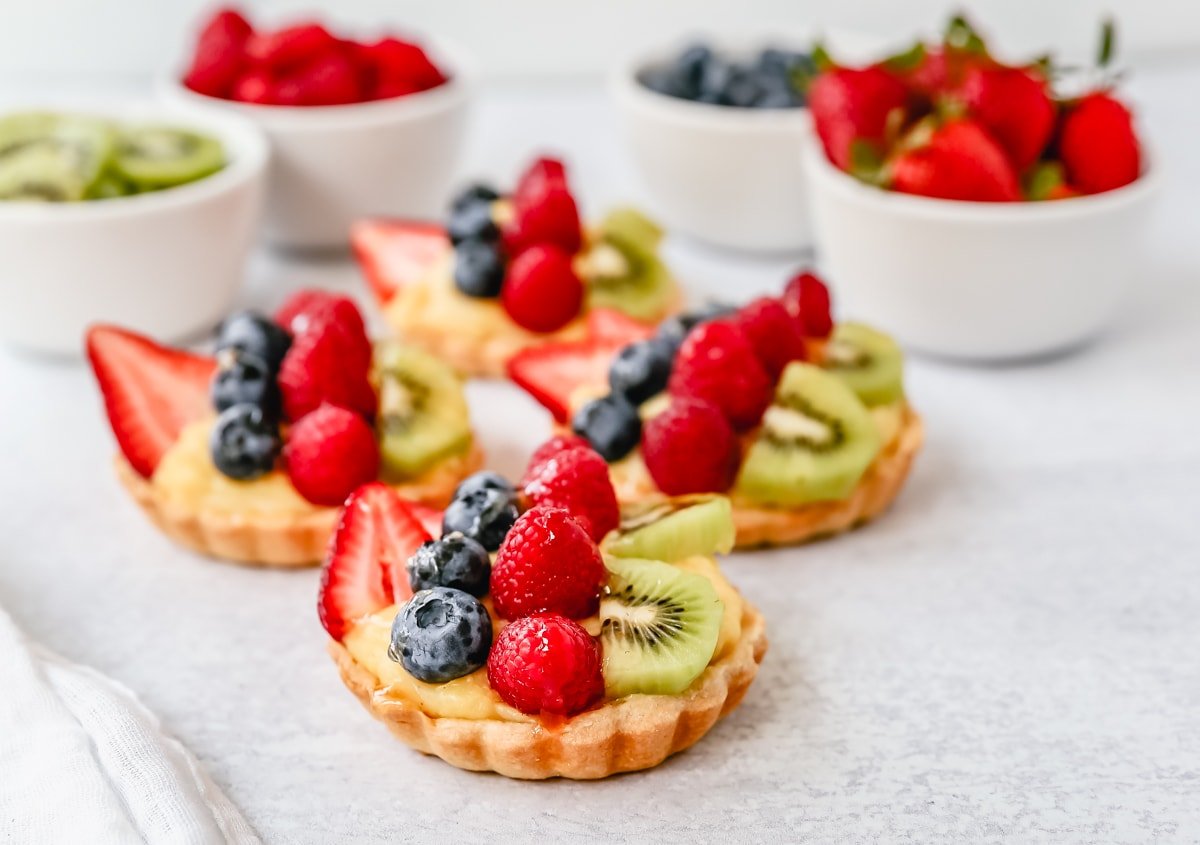 The fruit tart is filled with a simple vanilla pastry cream, which is also known as custard. I could eat an entire bowl of this stuff every single day! It's so warm and comforting.
Homemade Pastry cream is the base of so many desserts from cream pies to cream puffs to fruit tarts so once you have the technique down, it's as easy as pie.
What ingredients are in a Fruit Tart?
A fruit tart is made with four elements -- the crust, the filling, the fruits, and the glaze.
The tart pie crust is made with ingredients in a typical pie crust -- butter, flour, salt, water or milk, and vinegar. You can even substitute with buttermilk.
The fruit tart filling is a homemade custard pastry cream. It is made with whole milk, sugar, egg yolks, cornstarch, and vanilla beans. It is the most perfect pastry cream filling for this fresh fruit tart.
For this fresh fruit tart, you want to use perfectly ripe, fresh fruit. I suggest using raspberries, strawberries, kiwis, blackberries, blueberries, peaches, and mango.
To make the fruit shiny, you can make the most simple glaze using some type of jelly or jam. Melt the jelly or jam in the microwave for 20 -30 seconds and brush it over the fruit. It makes them pop!
You can also use a simple syrup made with sugar and water. Simple syrup is a 1:1 ratio of sugar to water. Just melt the water and sugar together in a pot over medium-high heat until the sugar is completely dissolved and the syrup starts to slightly thicken. Let it cool and brush over the fruit for extra sweetness and shine.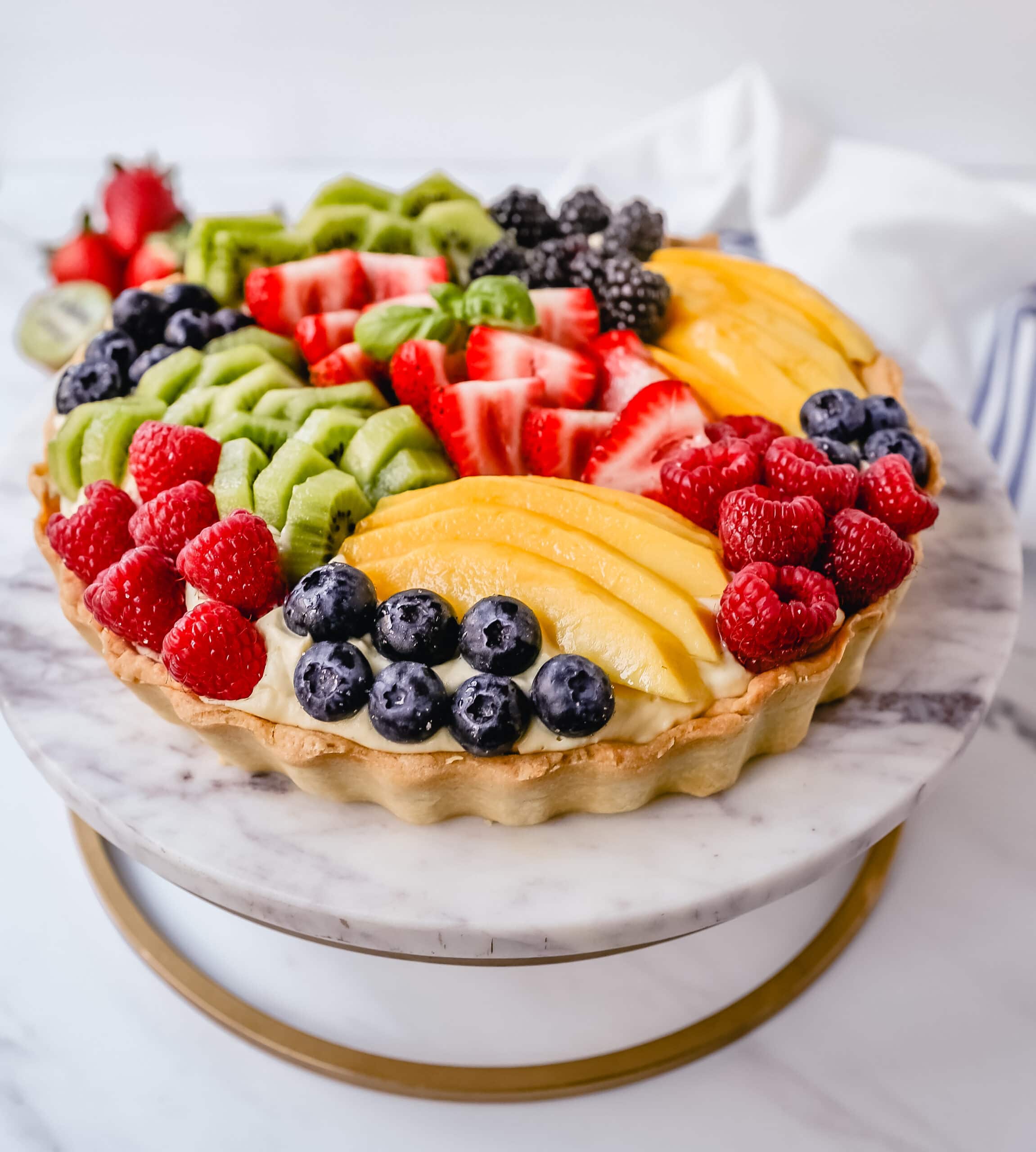 What Fruits should I use in a Fruit Tart?
Strawberries
Kiwis
Raspberries
Blackberries
Blueberries
Mango
Peaches or Nectarines
Green Apples
Plums
Pomegranate Seeds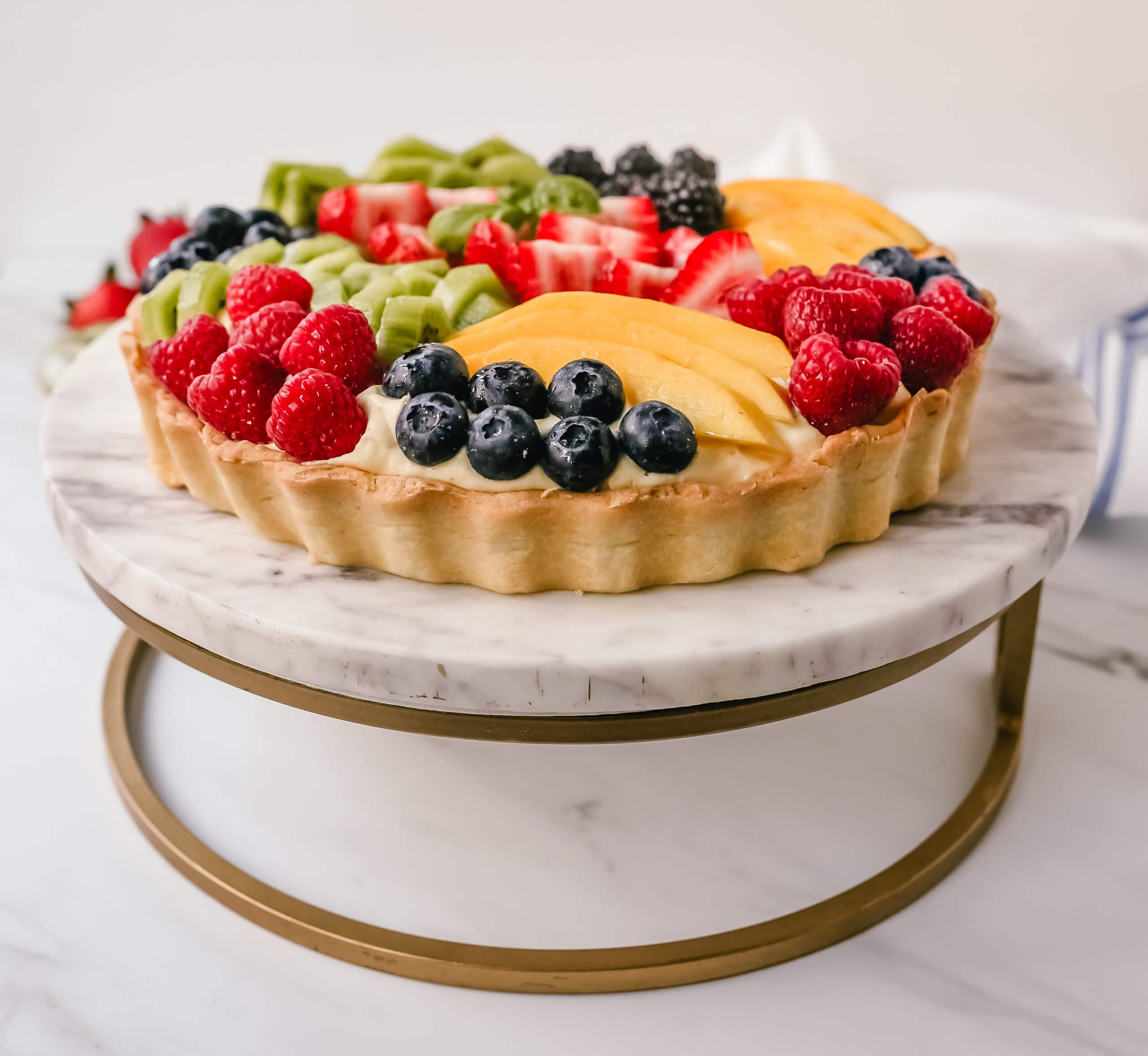 How to make Pastry Cream:
Once you master how to make the perfect pastry cream, you can use it in so many desserts. Here are the tips and tricks for making the best pastry cream.
Start by scalding the milk in a saucepan. This is heating the milk but not letting it come to a boil.
In a medium bowl, add sugar, cornstarch, and salt. You may use flour instead of cornstarch if you would prefer. Tossing the sugar and cornstarch/flour together in a bowl beforehand prevents the cornstarch from clumping when you add the egg yolks.
Whisk in the egg yolks. The mixture will be thick and pasty.
Remove the milk from heat and add the milk, a little at a time, to the egg cornstarch mixture. You want to add the warmed milk, in small batches, as to temper the egg yolks, so they won't cook and curdle. This is an important step!
Return the mixture to the saucepan and heat over medium heat. Whisk vigoursly for 3-4 minutes as the mixture begins to thicken. A whisk helps to keep the clumps from forming and to create a smooth pastry cream.
Watch for the mixture to start to bubble. You want to allow it to boil for a short time to get rid of the cornstarch/flour flavor but you don't want it to boil for more than about 10 seconds, or the mixture will become grainy.
Remove from the heat and if so desired, you can strain the pastry into a fine mesh sieve to remove any lumps. Stir in the vanilla. I love to use vanilla beans or vanilla bean paste to truly highlight the vanilla flavor.
Pour into a bowl and cover with plastic wrap, placing it directly on the surface of the pastry cream to keep a skin from forming on the top. Refrigerate for about 2-4 hours or until chilled.
How to keep my Easy Fruit Tart from getting soggy?
There a few tips and tricks for keeping your homemade fruit tart from getting soggy. First of all, you can make the fruit tarts ahead of time but I suggest not assembling them until the day you are ready to serve them. You can pre-bake the tart crust days ahead of time. You can whip up the homemade pastry cream days before and just keep it chilled in the refrigerator.
When you are ready to assemble the mini fruit tarts, you can brush on a layer of melted white chocolate to make a barrier between the tart crust and the pastry cream custard. Let the chocolate harden and set-up before topping with the pastry cream. Also, you can brush on top of the crust a layer of glaze that you use for the fruit. This will keep the custard from seeping into the crust.
Another tip is to ensure your pastry cream is thick enough. I make these fruit tarts all of the time and they don't get soggy, even after days in the refrigerator, because my pastry cream recipe is thicken enough so it doesn't break down.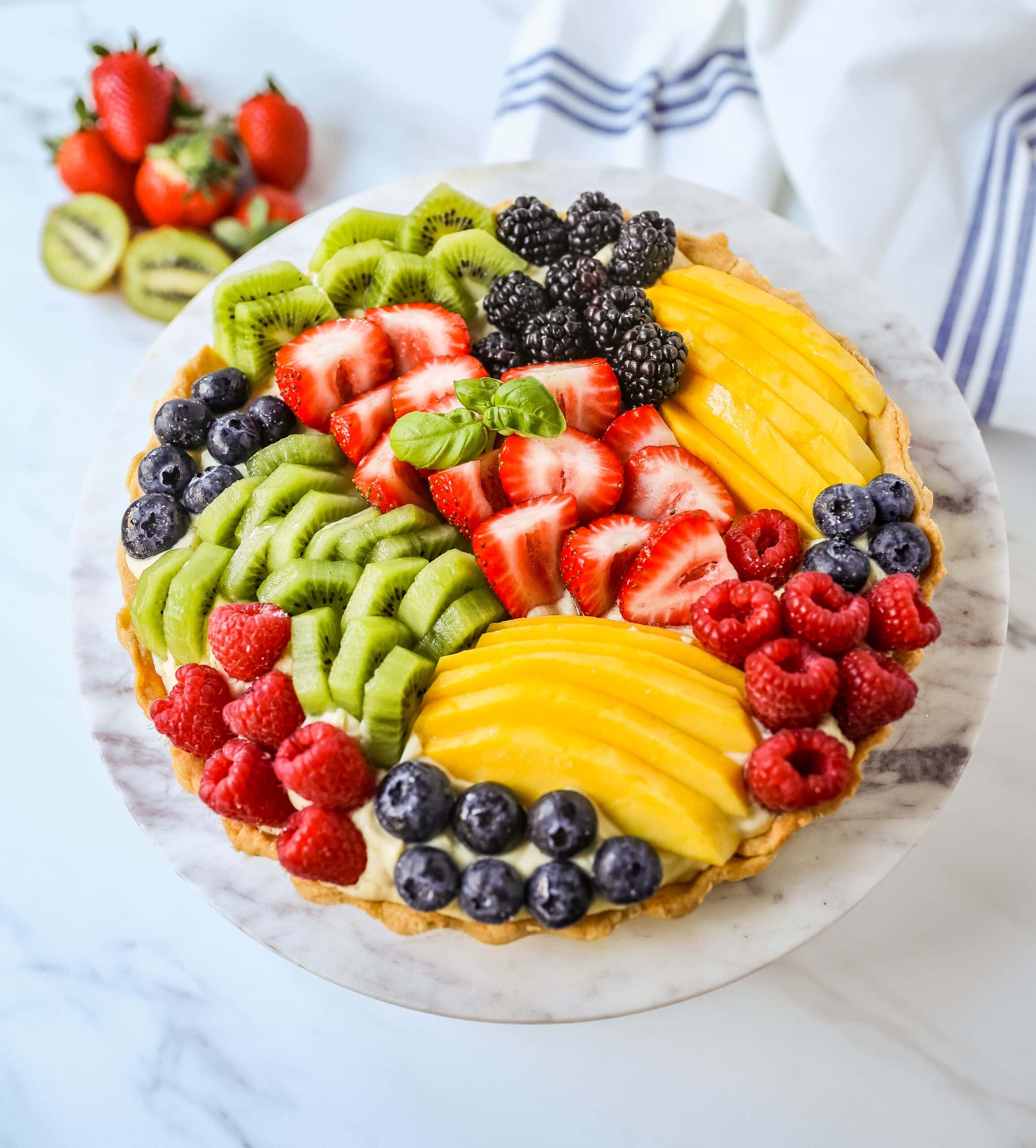 How to assemble this Fruit Custard Tart:
Once you blind-bake the pie crust and let it cool and made the homemade pastry cream and let it chill and set up, you are ready to assemble.
Start by filling the tart crust with vanilla pastry cream. See above if you would like to brush melted chocolate or glaze on top of the crust before adding the pastry cream for an extra layer of protection. Evenly spread the pastry cream in the tart crust.
Top with sliced fresh fruits of your choice. Brush with a fruit glaze for shine and extra sweetness.
Let chill until ready to serve.
You can find detailed instructions on how to make the perfect pie crust -- All Butter Pie Crust
Here are a few of my essential tools for making a perfect fruit tart:
Round Tart Pan
Marble Rolling Pin and Base and
Ceramic Pie Crust Weights
This post was updated on March 24, 2022 and the photos below are from 2017.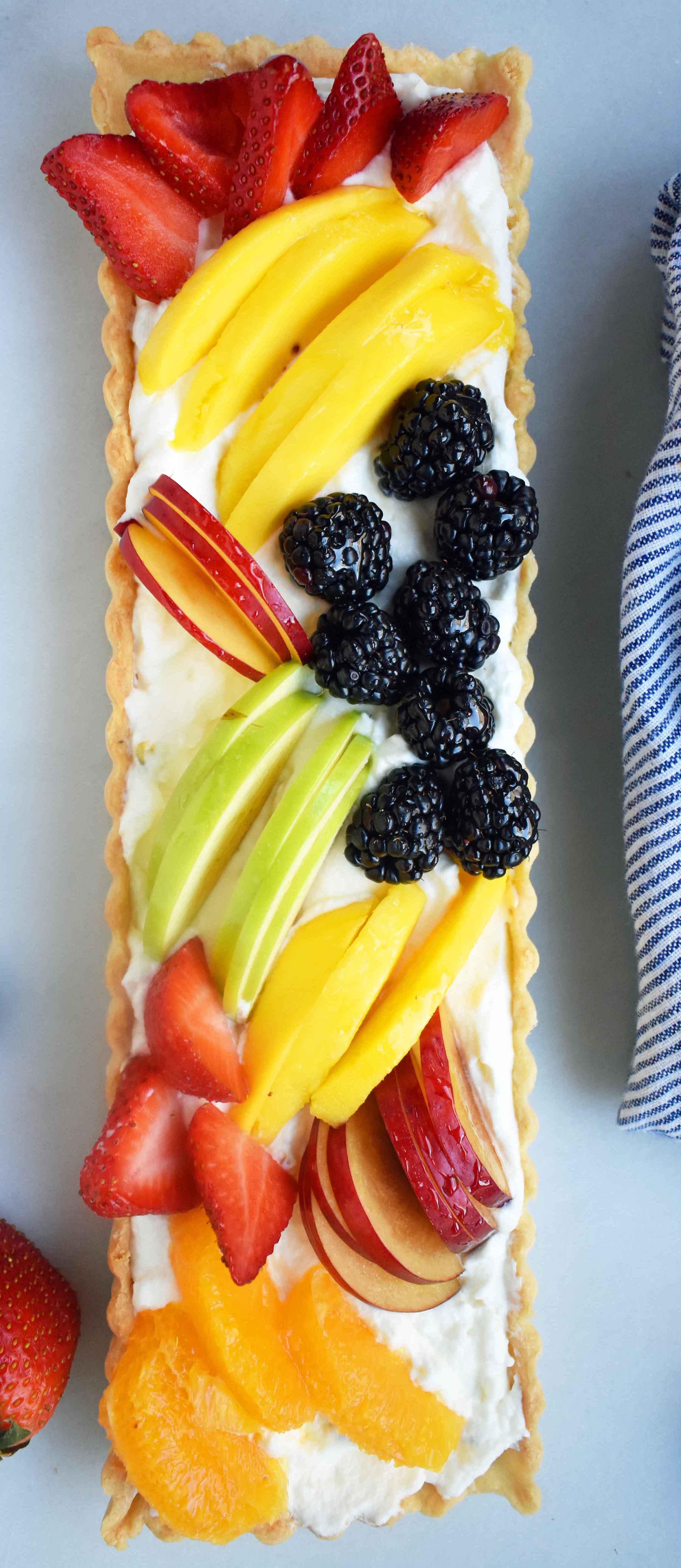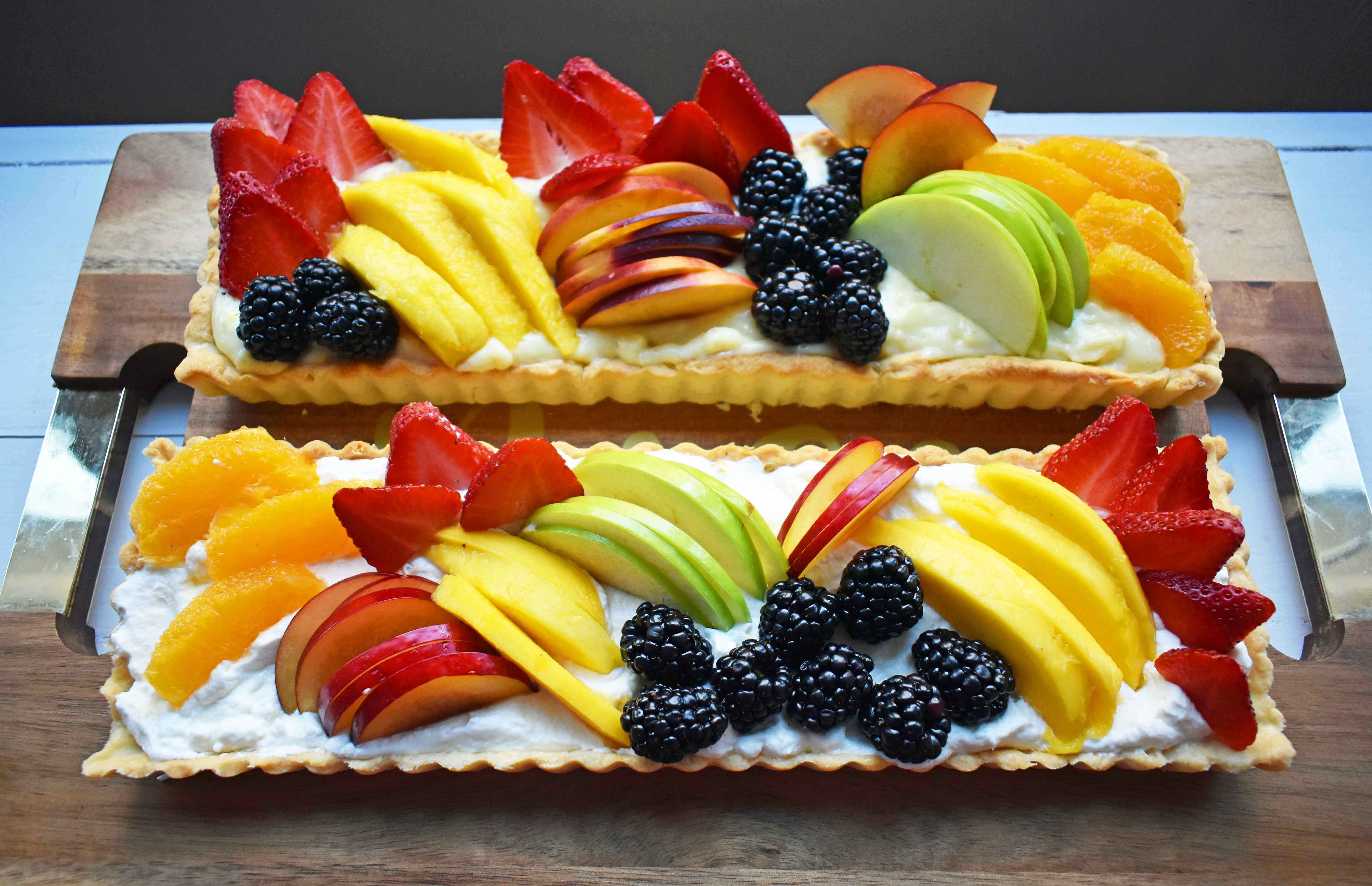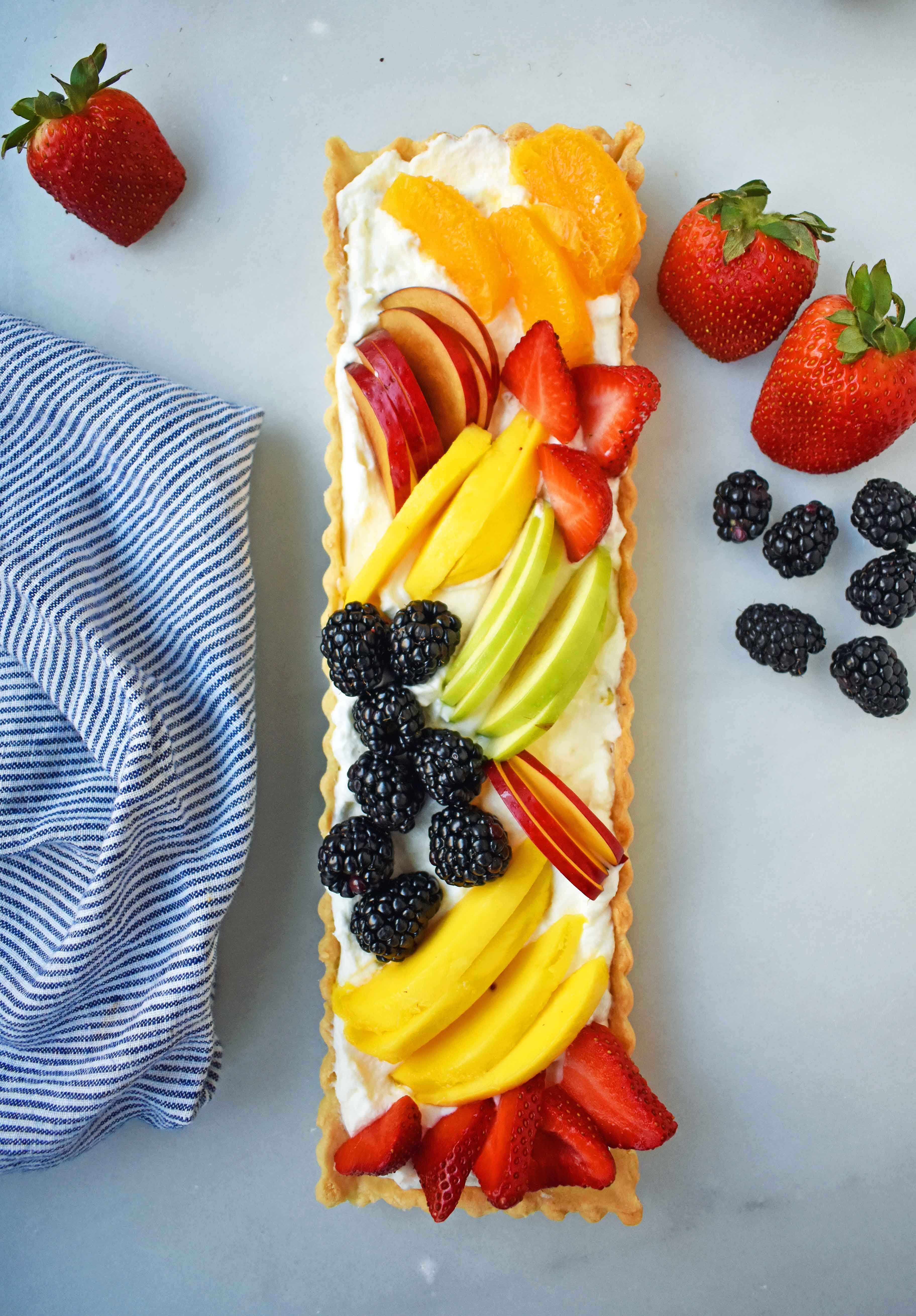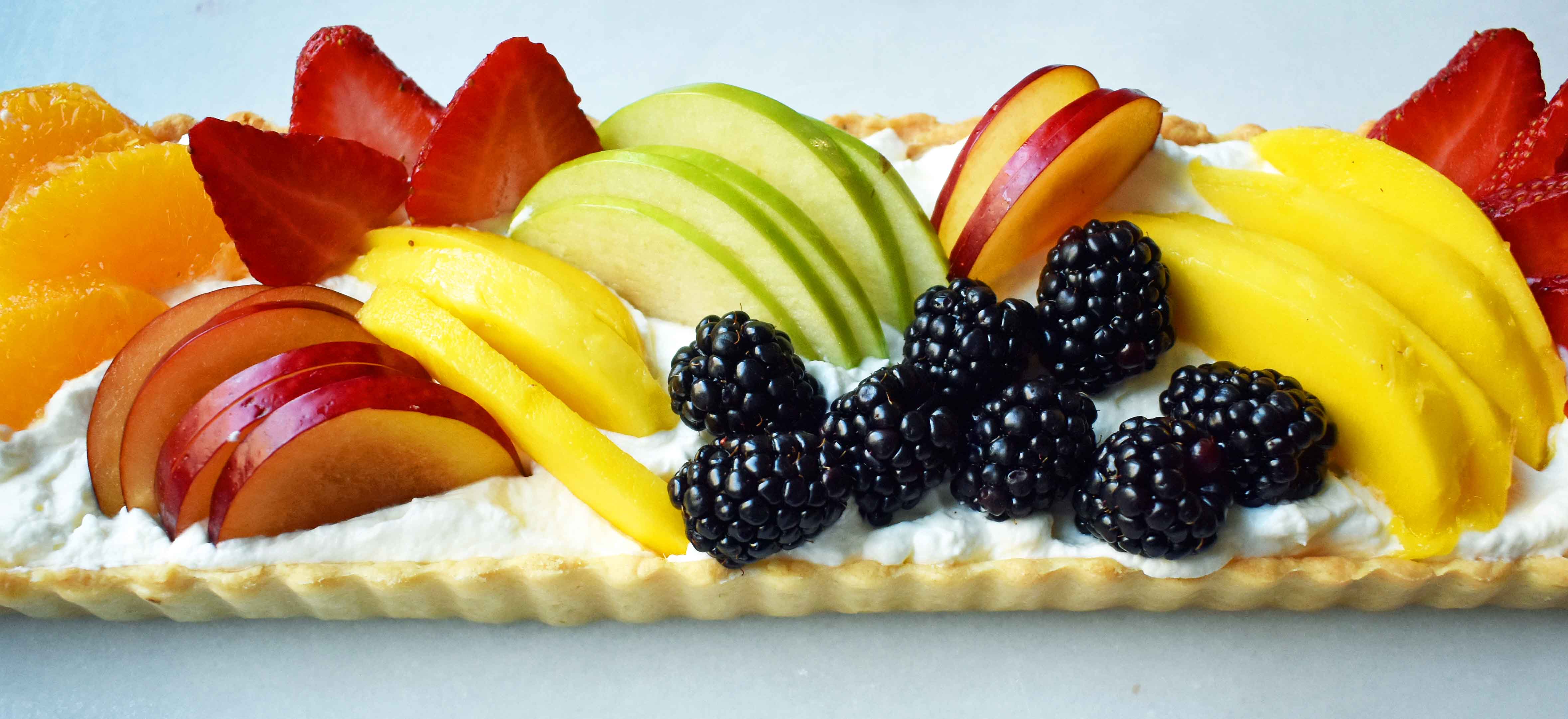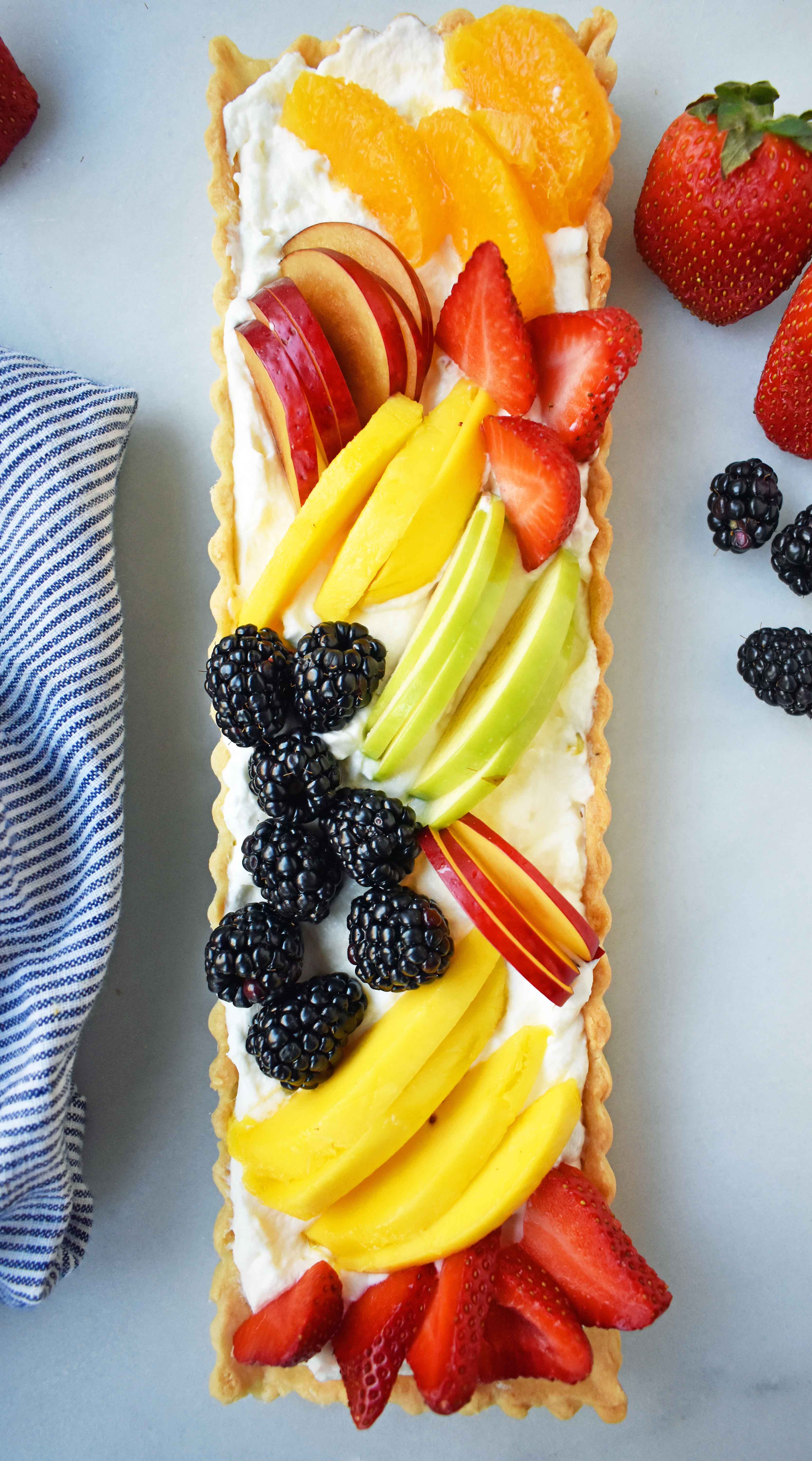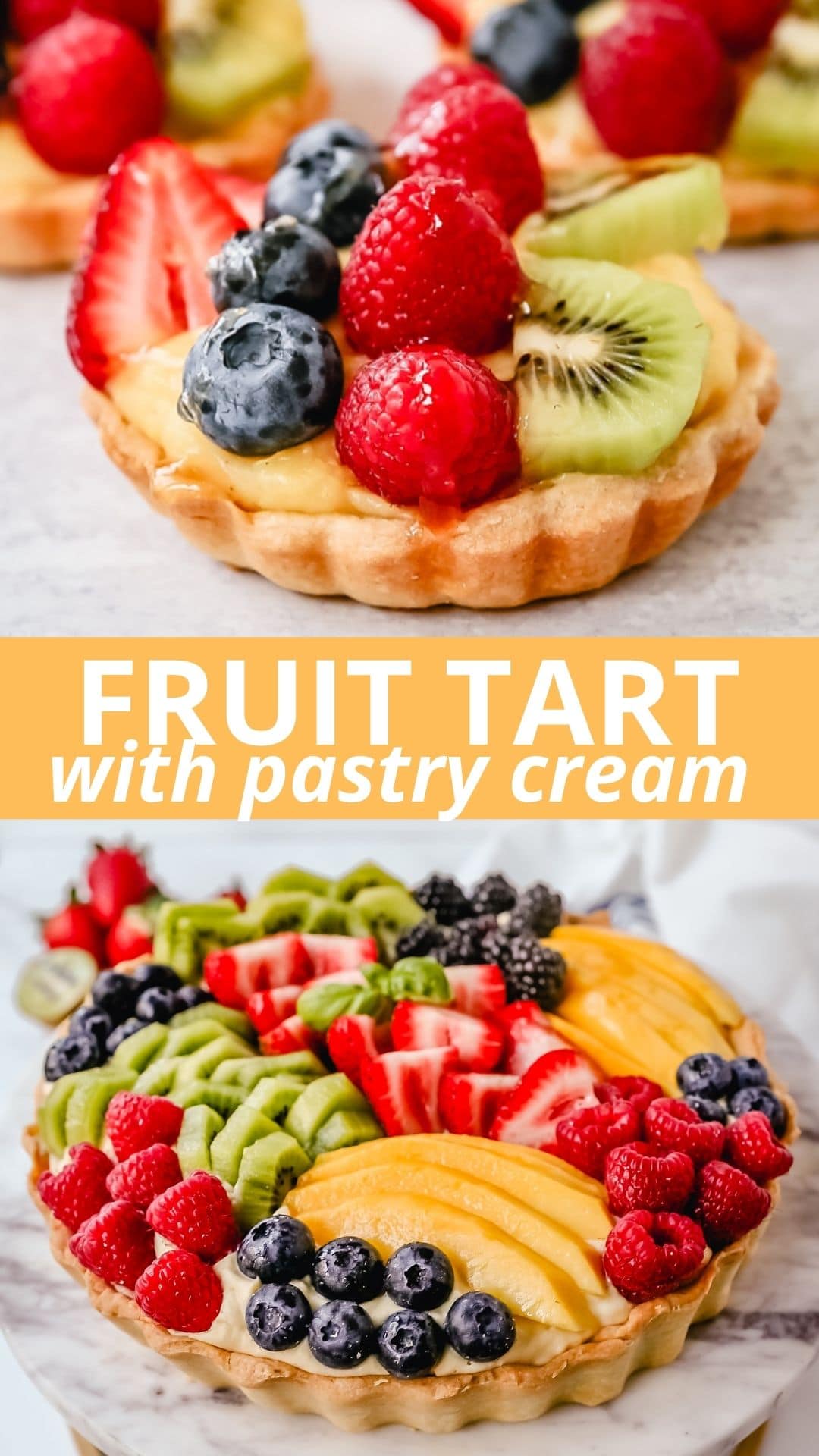 I hope you love this Fresh Fruit Tart with Vanilla Pastry Cream. Let me know what you think on instagram at @modern_honey. Have a wonderful day, my friends! xo
Happy Baking!