A fresh fruit tart made with a flaky, buttery crust, filled with vanilla bean pastry cream, and topped with fresh fruit.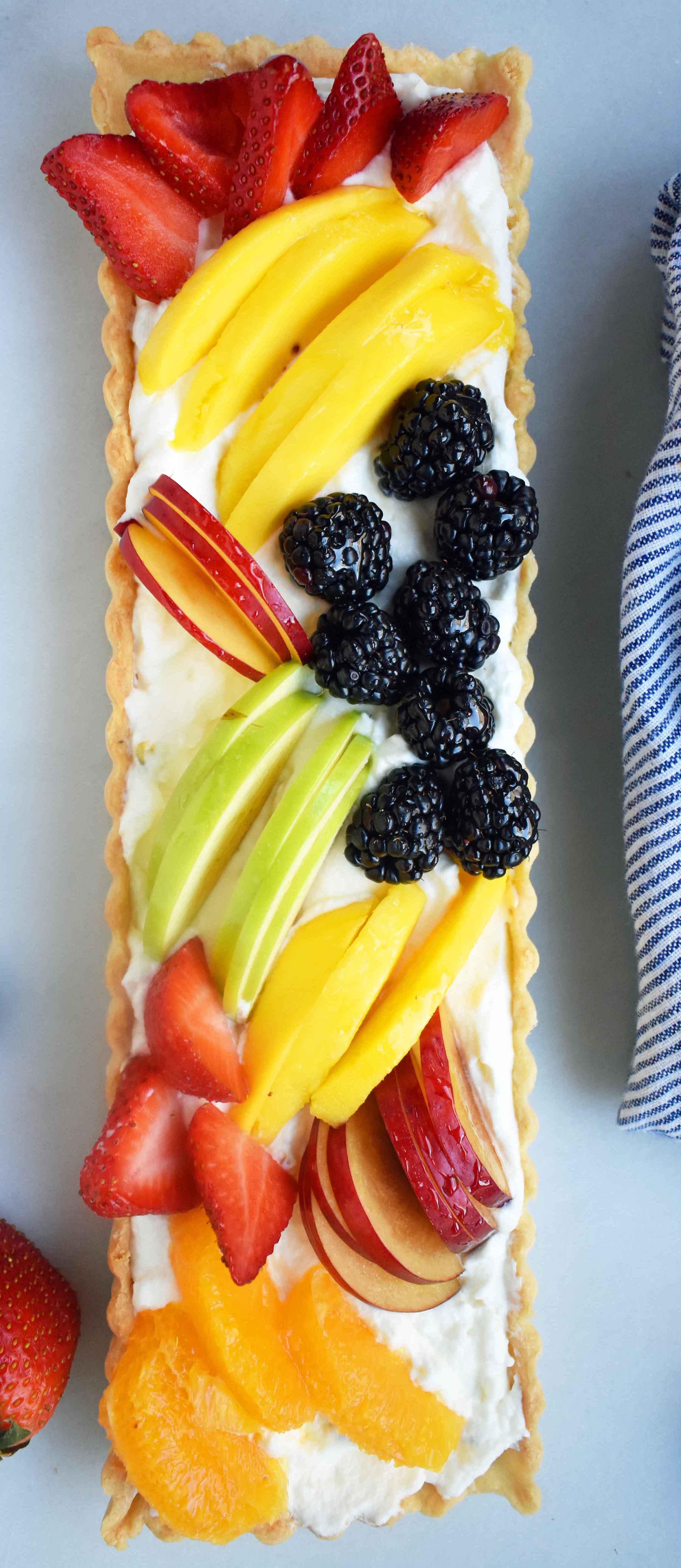 Fresh Fruit Tart with Vanilla Pastry Cream
It's officially SPRING which means it's all about bright, fresh desserts. A fruit tart is the quintessential classic French dessert. A fresh fruit tart is such a crowd pleaser and I have yet to meet anyone who doesn't love this dessert.
This Fresh Fruit Tart with Vanilla Pastry Cream is made using a flaky, buttery pie crust and baked into a tart pan. Tart pans come in round and rectangular and you can choose your favorite. The fruit tart is filled with a simple vanilla pastry cream, which is also known as custard. I could eat an entire bowl of this stuff every single day! It's so warm and comforting.
The ingredients in a vanilla pastry cream are quite simple — eggs, sugar, whole milk, vanilla, a tad bit of butter and cornstarch to thicken. Pastry cream is the base of so many desserts from cream pies to cream puffs to fruit tarts so once you have the technique down, it's as easy as pie.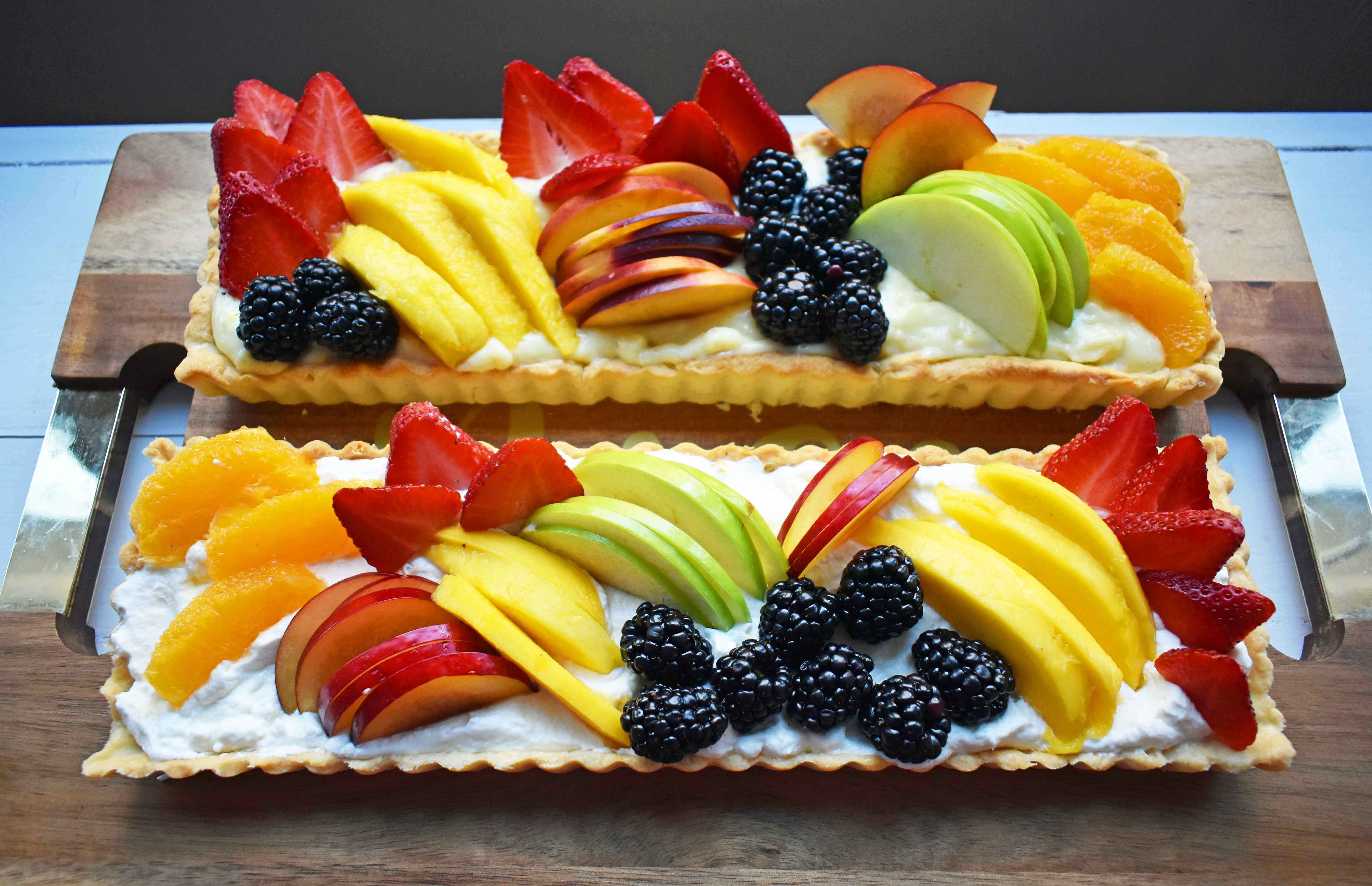 I was recipe testing and fell in love with two tarts, each with different fillings. One fruit tart was filled with the vanilla bean custard and the other a lemon cream. I will be sharing the lemon cream filling later this week. You have to try them both and let me know your favorite one!
This Fresh Fruit Tart with Vanilla Pastry Cream wouldn't be complete with an array of beautifully cut fruit.  It's fun to think outside of the box and use unique fruits — sliced nice and thin.  You can use your favorite fruits such as mangoes, peaches, nectarines, blackberries, raspberries, strawberries, oranges, green apples, red plums, berries, star fruit and kiwi. Basically, the sky is the limit!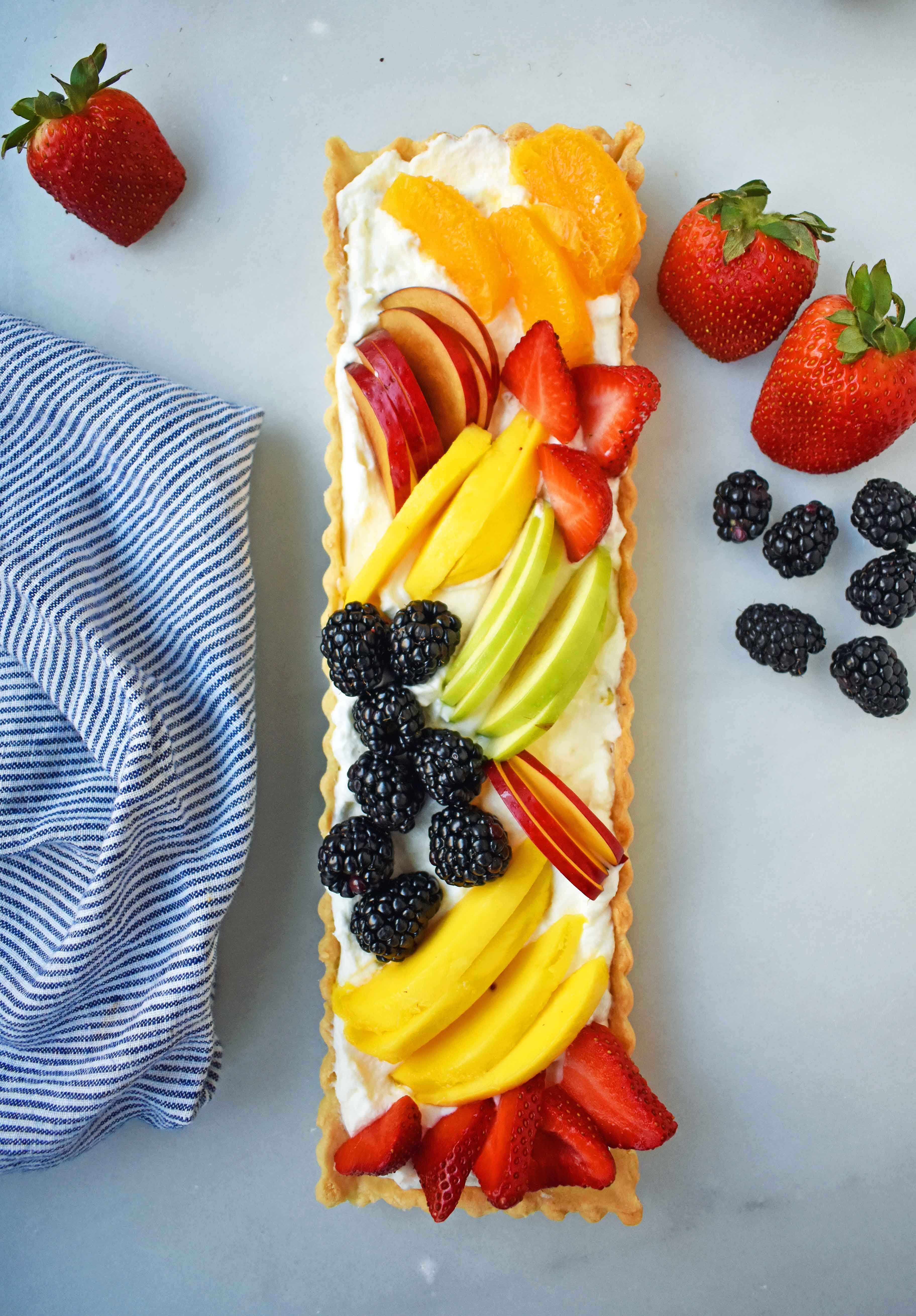 To make the fruit shiny, you can make the most simple glaze using jelly.  Melt the jelly in the microwave for 20 -30 seconds and brush it over the fruit.  It makes them pop!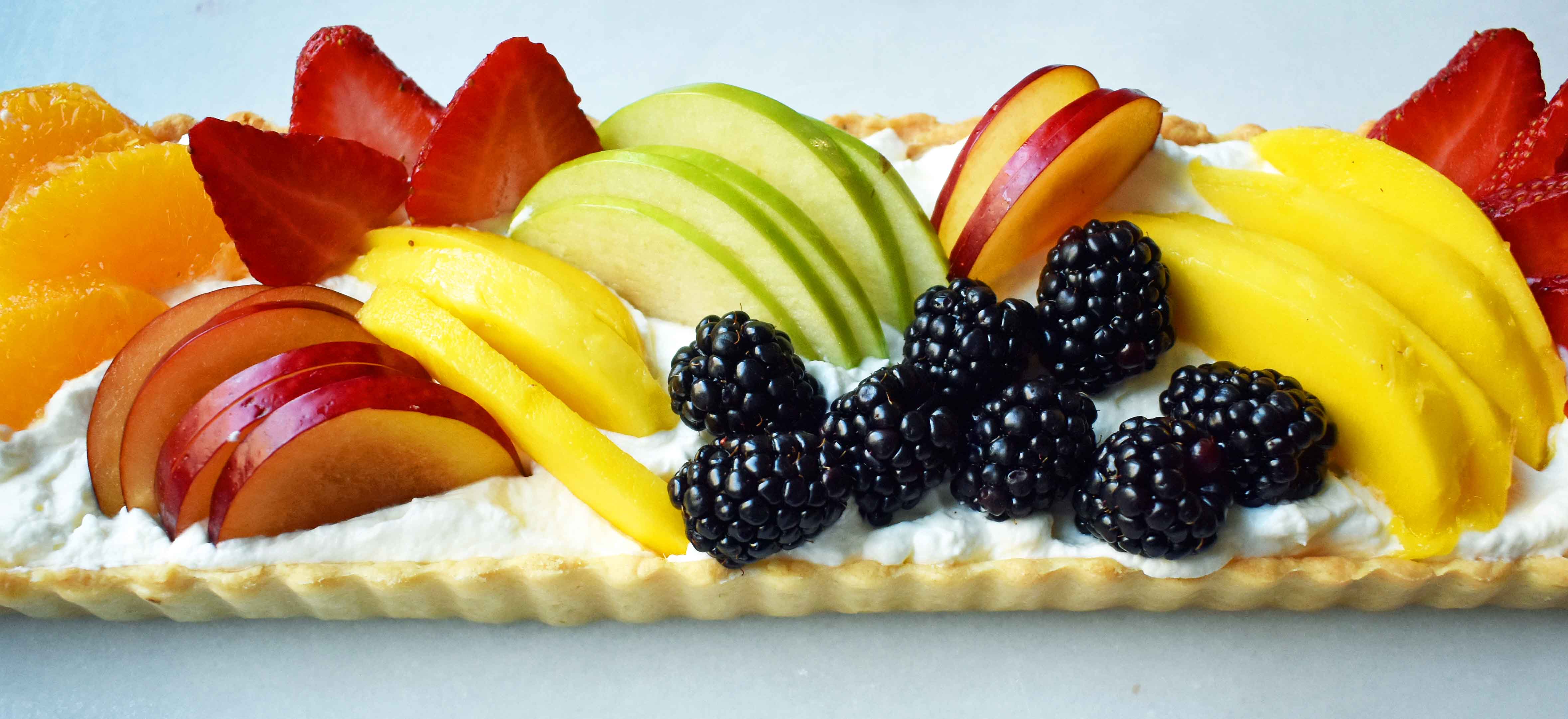 You can find detailed instructions on how to make the perfect pie crust — All Butter Pie Crust
Here are a few of my essential tools for making a perfect fruit tart:
Marble Rolling Pin and Base and
Ceramic Pie Crust Weights
Click HERE to find all of my favorite kitchen essentials in one place.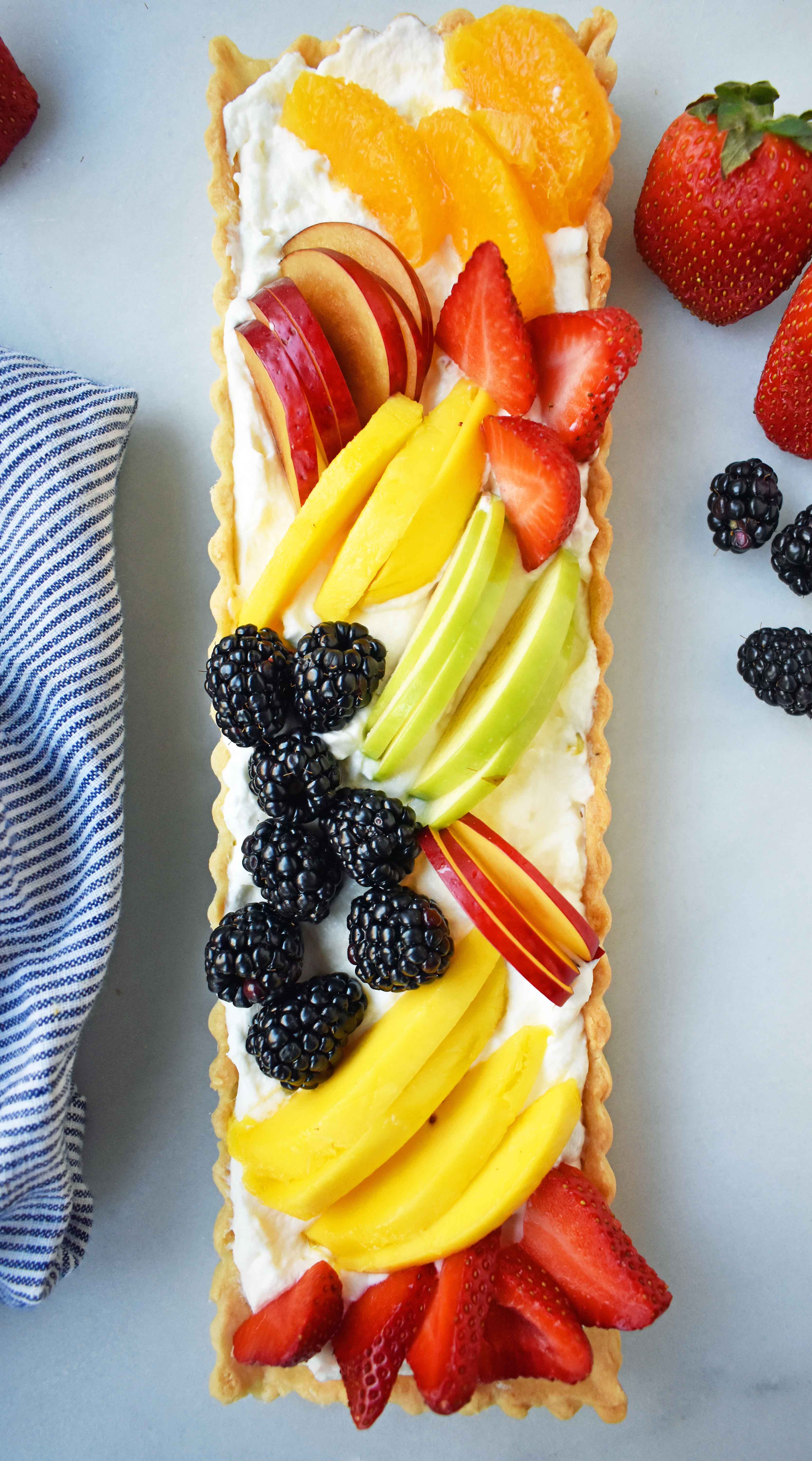 Fresh Fruit Tart with Vanilla Pastry Cream
Flaky, buttery crust filled with homemade vanilla bean pastry cream and topped with an assortment of fresh fruits.
Author:
Melissa Stadler, Modern Honey
Ingredients
Tart Dough:
½ cup Cold Butter (1 stick), sliced into small pieces
1⅓ cups Flour
½ teaspoon Salt
¼ cup Ice Cold Water
½ teaspoon Vinegar


Vanilla Bean Pastry Cream:
¾ cup Sugar
3 Tablespoons Cornstarch
3 Tablespoons Flour
¾ teaspoon Salt
3 cups Whole Milk
3 Egg Yolks
2 Tablespoons Butter
2 teaspoons Vanilla or 1 Vanilla Bean, scraped


Fresh Fruits:
Mangoes
Red Plums
Peaches or Nectarines
Blackberries
Green Apple
Strawberries
Blueberries
Raspberries
Oranges
Grapefruit
Kiwi
Fruit Glaze: (optional)
Strawberry or Apricot Jelly
Instructions
To make pie crust: Stir together flour and salt. Slice cold butter into tiny shreds and add to bowl or food processor. Pulse until coarse meal or small peas form.
Slowly add ice cold water, 1-2 tablespoons at a time to butter-flour mixture. Add vinegar and pulse until it starts to form together.
Press dough into a ball. Pat each ball into a disk, tightly wrap in Saran Wrap and let it chill in the refrigerator for at least 30 minutes. 2 hours is preferred.
Unwrap the dough, turn the dough onto a lightly floured work surface and roll it out, using a rolling pin. Don't overwork the dough. The key is to work quickly to keep the dough as cold as possible. Keep the tart pan nearby so you can check the size.
Fold the dough in half and gently lift and position it over the tart pan. Unfold. Press the dough against the sides and bottom of the pan.
Line the crust with foil or parchment paper. Fill it with pie weights, rice, or beans and press against the sides of the crust. You can double line the crust with parchment paper to ensure that the rice doesn't get stuck in the dough.
Bake at 400 degrees for 10-12 minutes. Remove parchment paper and pie weights and return to oven and cook for an additional 6-8 minutes (for a total of 16-20 minutes cooking time).
In a heavy-bottomed pot, heat sugar, cornstarch, flour, salt, and milk over medium heat. Bring to a slow rolling boil and let thicken. Continue to cook and stir until the mixture coats the back of a spoon.
While the milk mixture is cooking, place egg yolks in small bowl. Temper egg yolks by spooning a small amount of hot milk into a bowl. Keep stirring.
Bring it back to a boil for 1 minute. Remove from heat and add butter and vanilla.
Tightly cover with plastic wrap and let chill in refrigerator and cool completely to thicken about -- about 2 hours. Once thickened, fill the baked tart shell with vanilla bean pastry cream. Top with thinly sliced fruit.
To make fruit glaze, heat jelly in a microwave-safe bowl for 20-30 seconds, or until melted. Brush over fresh fruit to make it shine.
I hope you love this Fresh Fruit Tart with Vanilla Pastry Cream. Let me know what you think on
instagram at @modern_honey
.  Have a wonderful day, my friends! xo
Happy Baking!