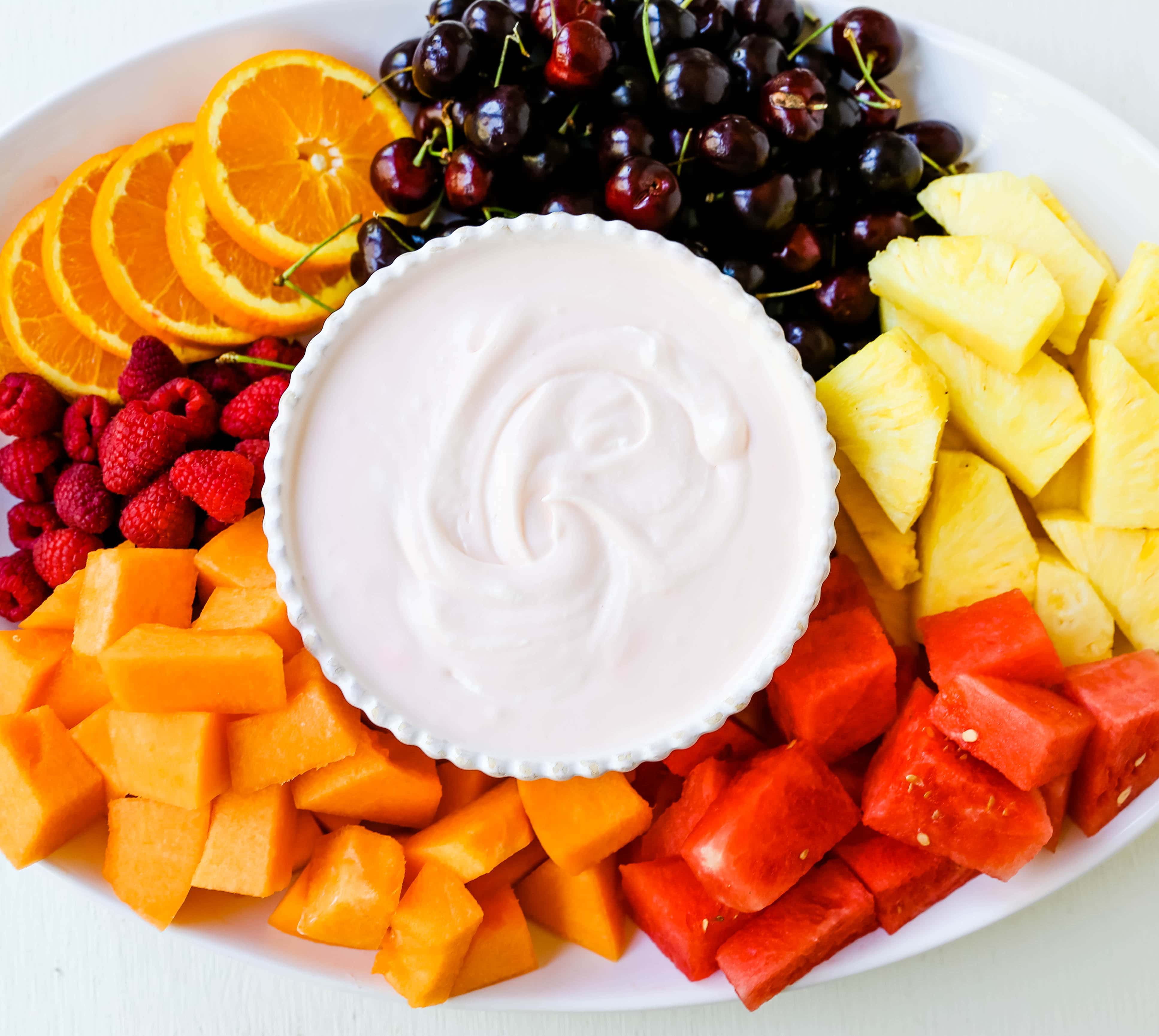 Fruit Dip
Creamy, fluffy fruit dip made with cream cheese, sweetened condensed milk, homemade whipped cream, and a touch of cherry juice. 
There's no better way to eat fruit than dipped into this creamy cherry fruit dip! When I was growing up, I was always my Mom's little sidekick. Since she had five boys and I was the only girl, I tagged along with her to wherever she was going.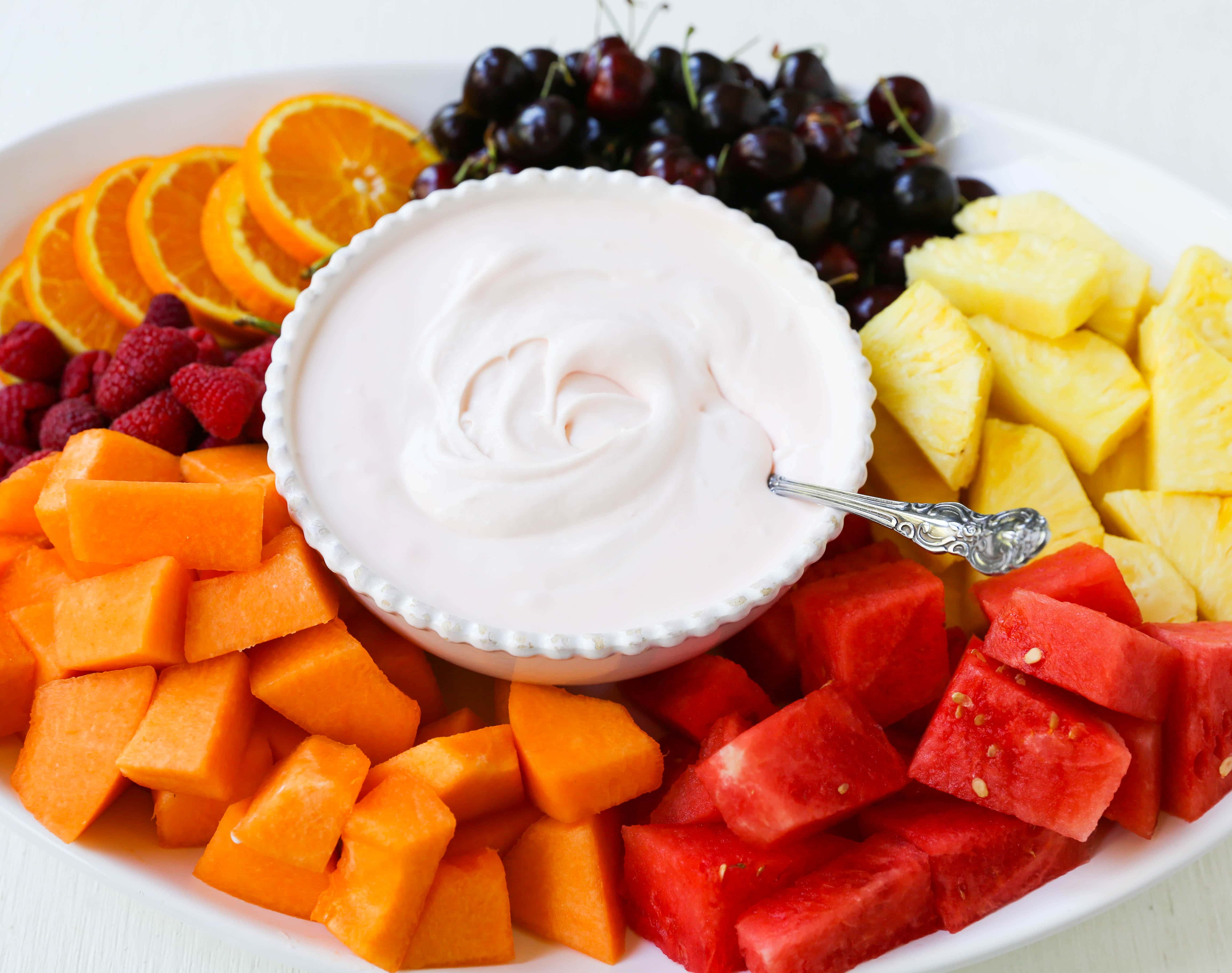 Over the years she got invited to a lot of baby showers, bridal showers, and get togethers.  At these types of events, you could usually find a veggie tray with dip and a fruit tray with a sweet dip.  I would load up my plate with fresh fruit and a hefty helping of this sweet cream cheese fruit dip. I am pretty sure I had more fruit dip than fruit on my plate...but the creamy fruit dip was so good!
Thankfully my friend shared this recipe with me and I have been hooked ever since. I literally could eat this by the spoonful! If there is a bowl of this in the refrigerator, it is all over.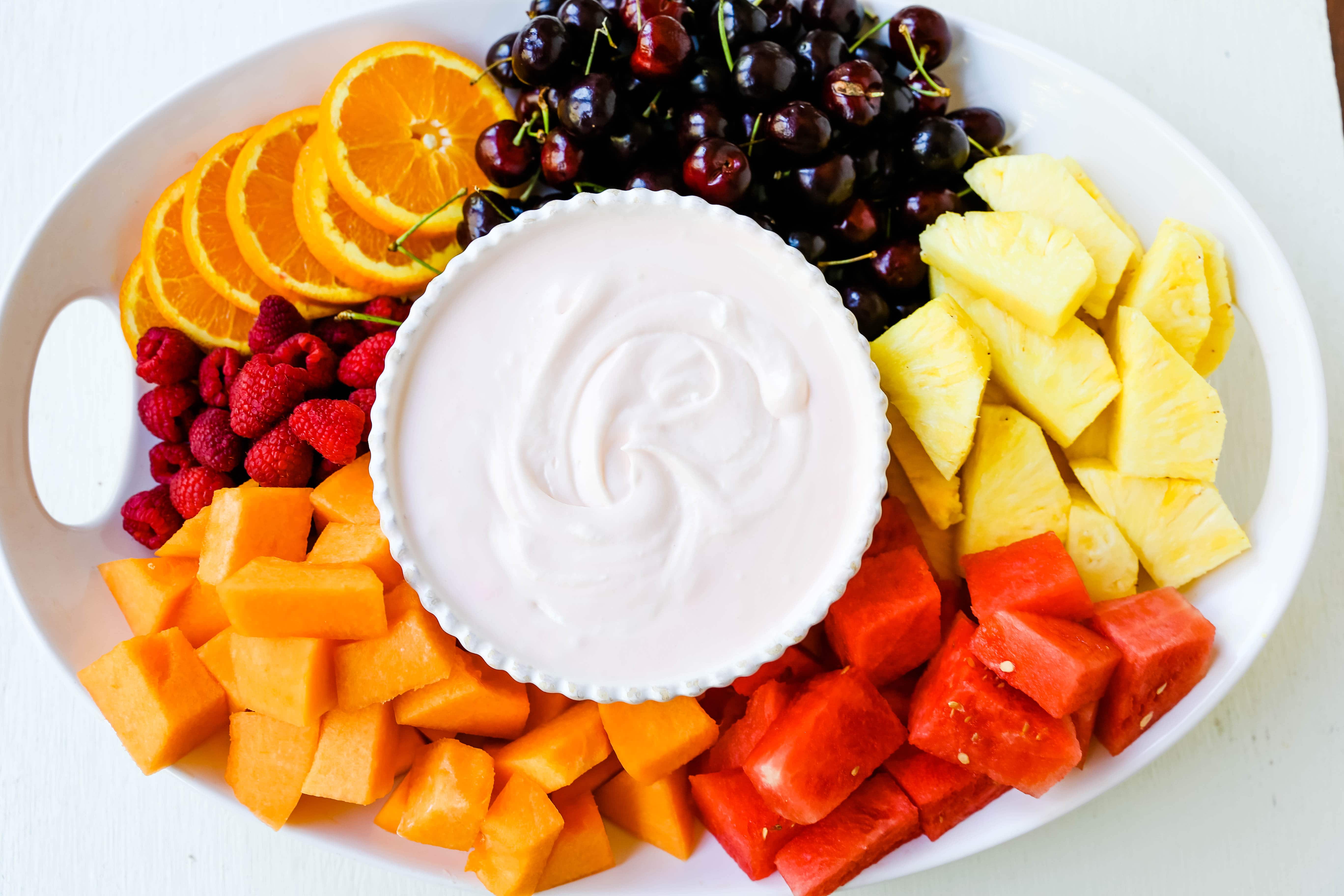 This Fluffy Fruit Dip is made with cream cheese whipped with sweetened condensed milk. Homemade whipped cream and maraschino cherry juice is folded into the dip to make it extra fluffy.
I am such a fan of making my own homemade whipped cream from scratch. It doesn't take much time or effort and it is a huge difference maker. After it is whipped, I fold it into the sweet cream cheese mixture to keep it light and airy.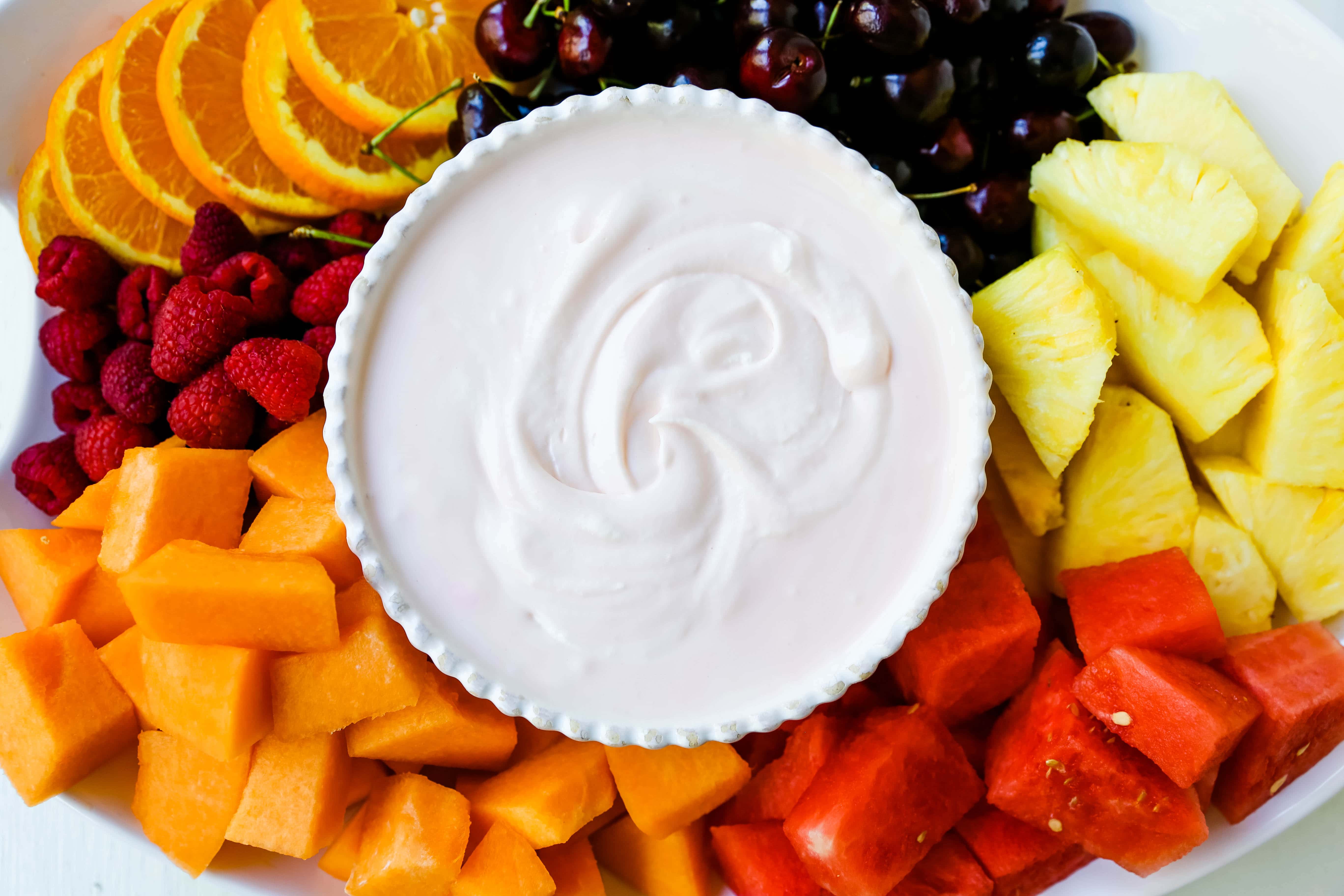 How to make the Best Fruit Dip:
 Whip SOFTENED cream cheese and sweetened condensed milk until light and fluffy -- about 4 minutes. Make sure the cream cheese is softened so it mixes well with the sweetened condensed milk.
In another bowl, whip the heavy cream until soft peaks form.
Fold in the whipped cream and maraschino cherry juice into the cream cheese mixture.  Make sure to carefully fold it in so the whipped cream stays fluffy.
Chill and refrigerate to allow it to set-up. Serve with fresh fruit.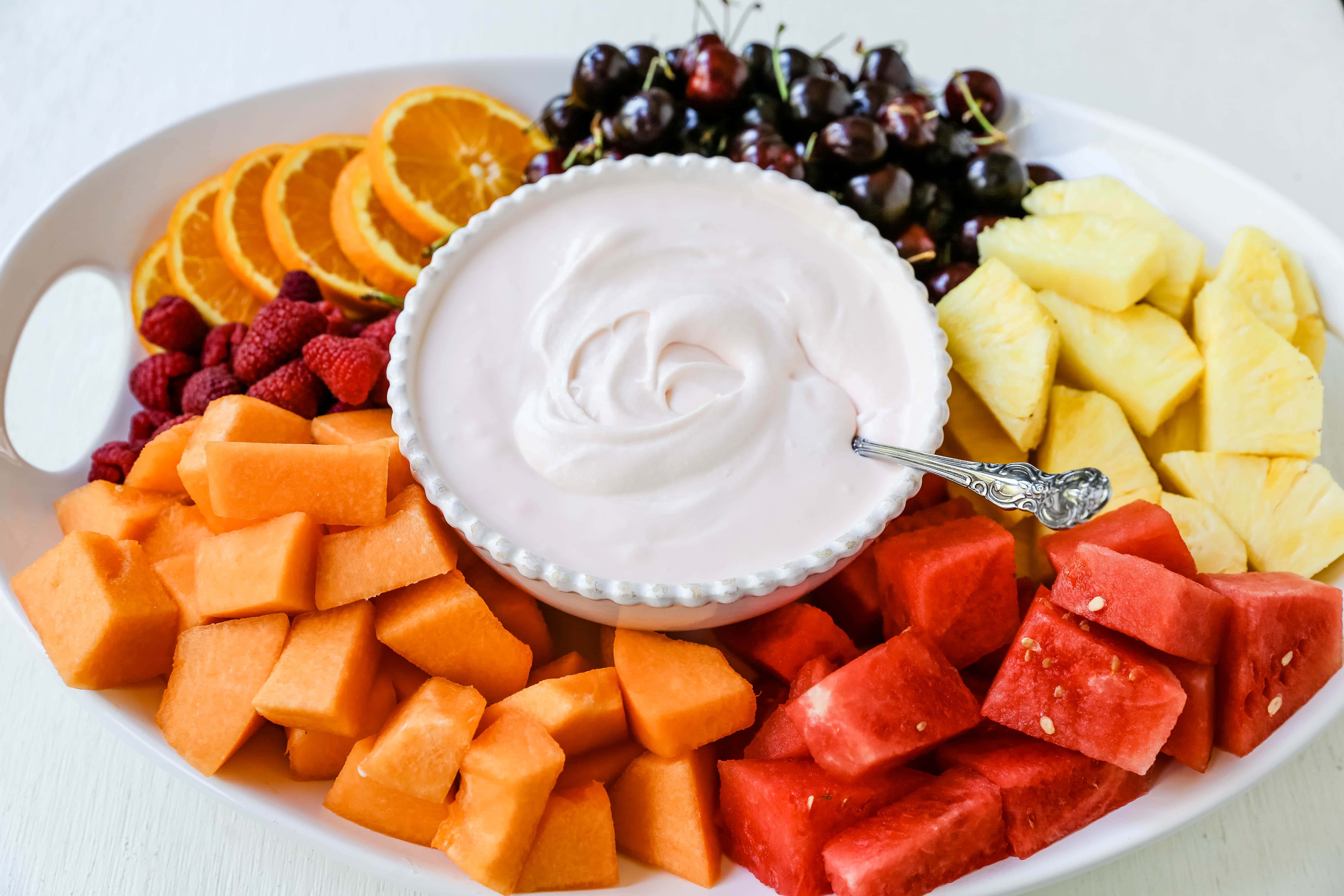 What fruit to serve with the homemade fruit dip?
Fresh strawberries, raspberries, pineapple, cantaloupe, bananas, blackberries, cherries, honeydew, kiwi, mango, nectarines, peaches, oranges, watermelon, and many more!