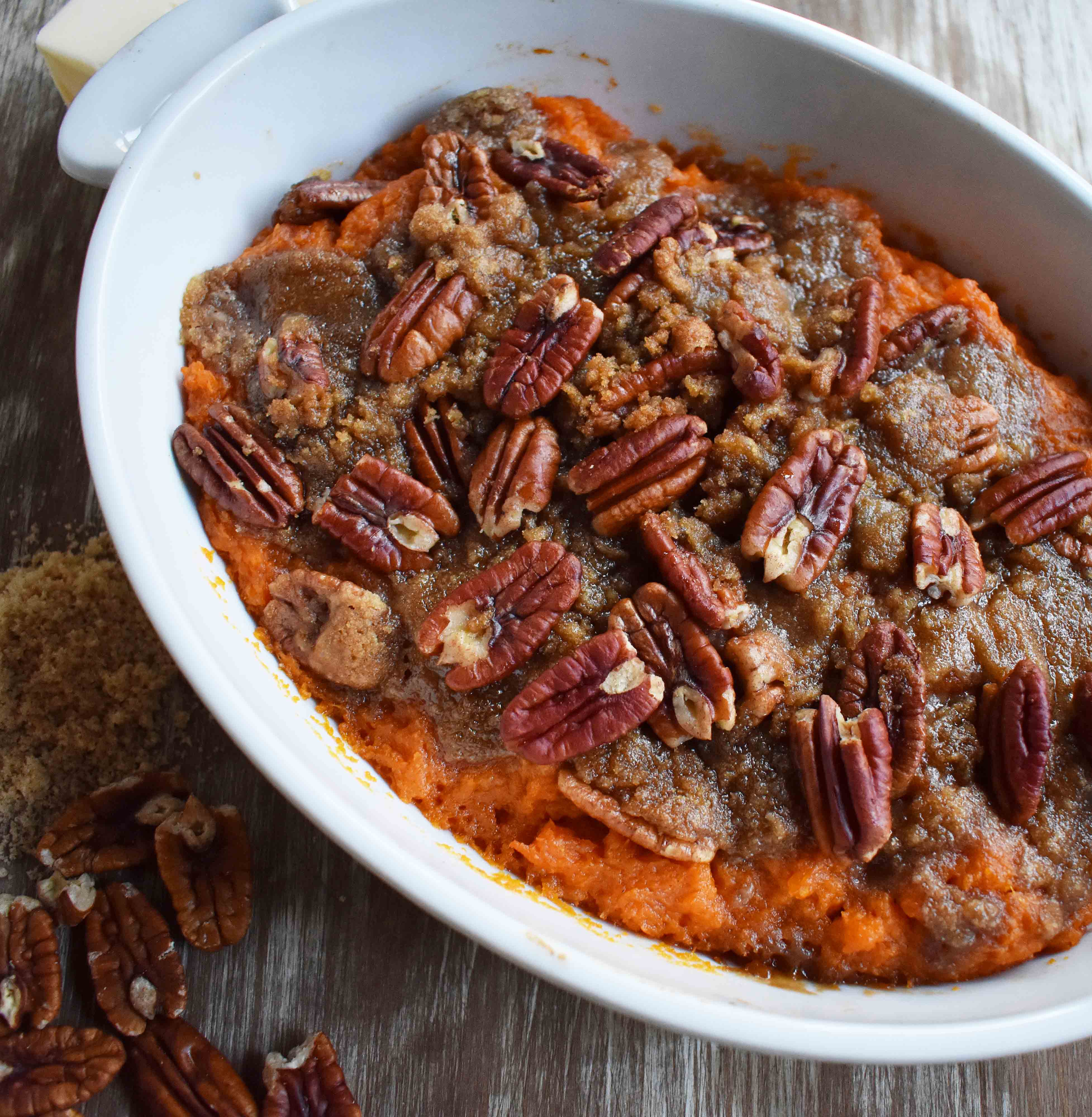 Sweet Potato Brown Sugar Pecan Bake is basically a dessert yet promoted as a "side dish." I love justification for eating delicious food. I tell myself....I am eating sweet potatoes and they are good for me as I savor every single bite.
It starts off with a sweet potato souffle, made with tender sweet potatoes, butter, sugar, vanilla, cinnamon, cream, and eggs. You can't go wrong with those ingredients! The brown sugar pecan praline topping is made with butter, brown sugar, and pecans.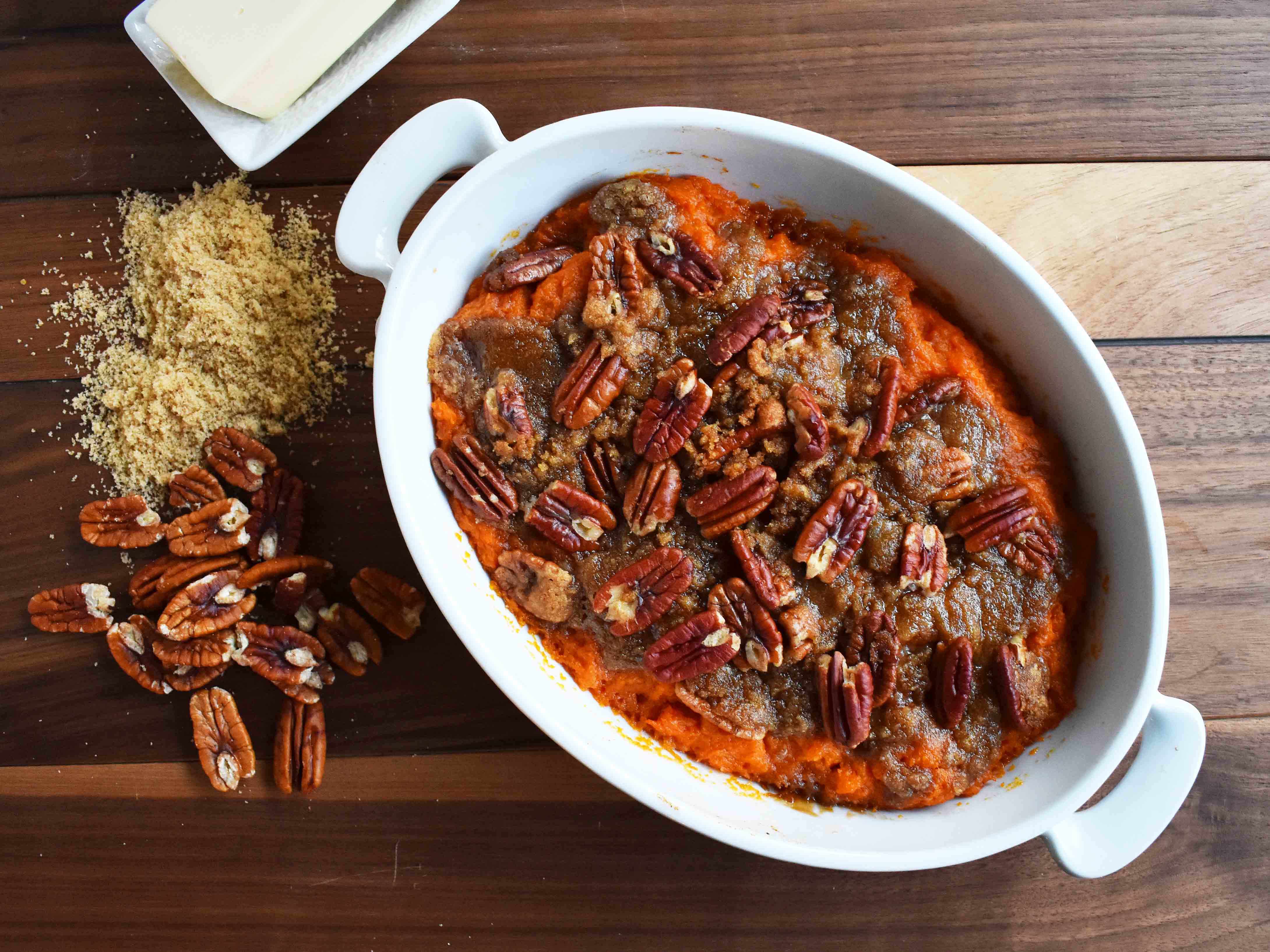 Years ago, we took a 10-day road trip through the South. We lived in Texas at the time and it was always my dream to visit the South -- the home of nice people and Southern hospitality. People seem to cook with a heavy dose of love and I couldn't wait to experience the southern charm.
Oh and it did not disappoint. We traveled up to Georgia and stayed in Savannah, the home of Paula Deen's famous restaurant.  I was like a kid in a candy store, waiting in a long line to get a taste of true Southern food. Everything was served buffet style and I filled my plate with fried chicken and sweet potato pecan casserole. I must have eaten 3 servings of sweet potato casserole because it was so amazing!
I had to recreate it at home and serve it at Thanksgiving dinner!
The key to making an out-of-this-world Sweet Potato Brown Sugar Pecan Bake is to focus on the sweet potatoes. Have you ever eaten a sweet potato casserole, just to be disappointed when underneath all the gooey crunchy topping the sweet potatoes are completely bland?
The solution is to add a heavy dose of vanilla, cinnamon, and sugar to the sweet potatoes. The vanilla notes really come through in this comforting dish.
When preparing the sweet potatoes, you need to cook them until tender before making the sweet potato souffle. Pierce the sweet potatoes with a fork all over and place in the oven at 400 degrees for 45 min - 1 hour. The easiest method is to microwave the sweet potatoes. Once again, pierce them all over with a fork and cook on high for 8-10 minutes, turning halfway.
You can also boil the sweet potatoes by placing in boiling water and cooking until tender -- about 20-25 minutes.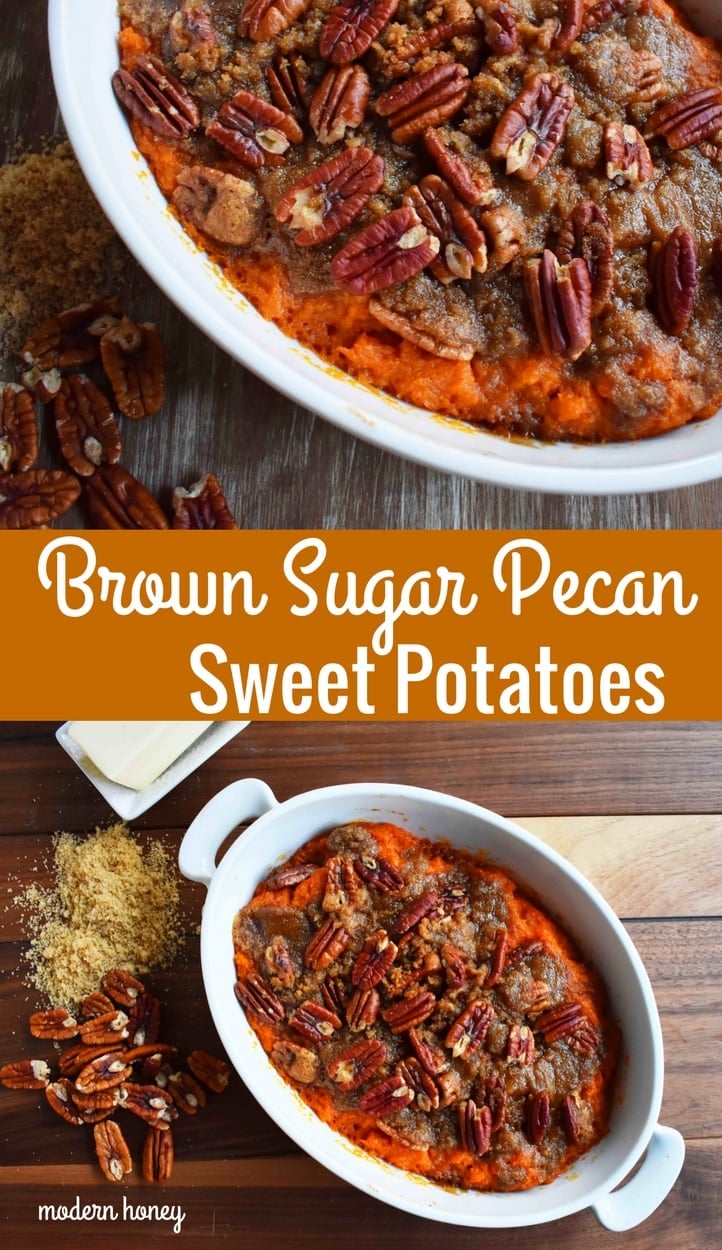 This Sweet Potato Brown Sugar Pecan Bake is going to be a huge hit at your Thanksgiving table. I hope that you have a wonderful weekend!
Happy Cooking! xo