A Butter Board with fresh butter is spread onto a board and topped with an assortment of toppings and served with warm bread. This Butter Board with Toppings is such a fun appetizer for a party!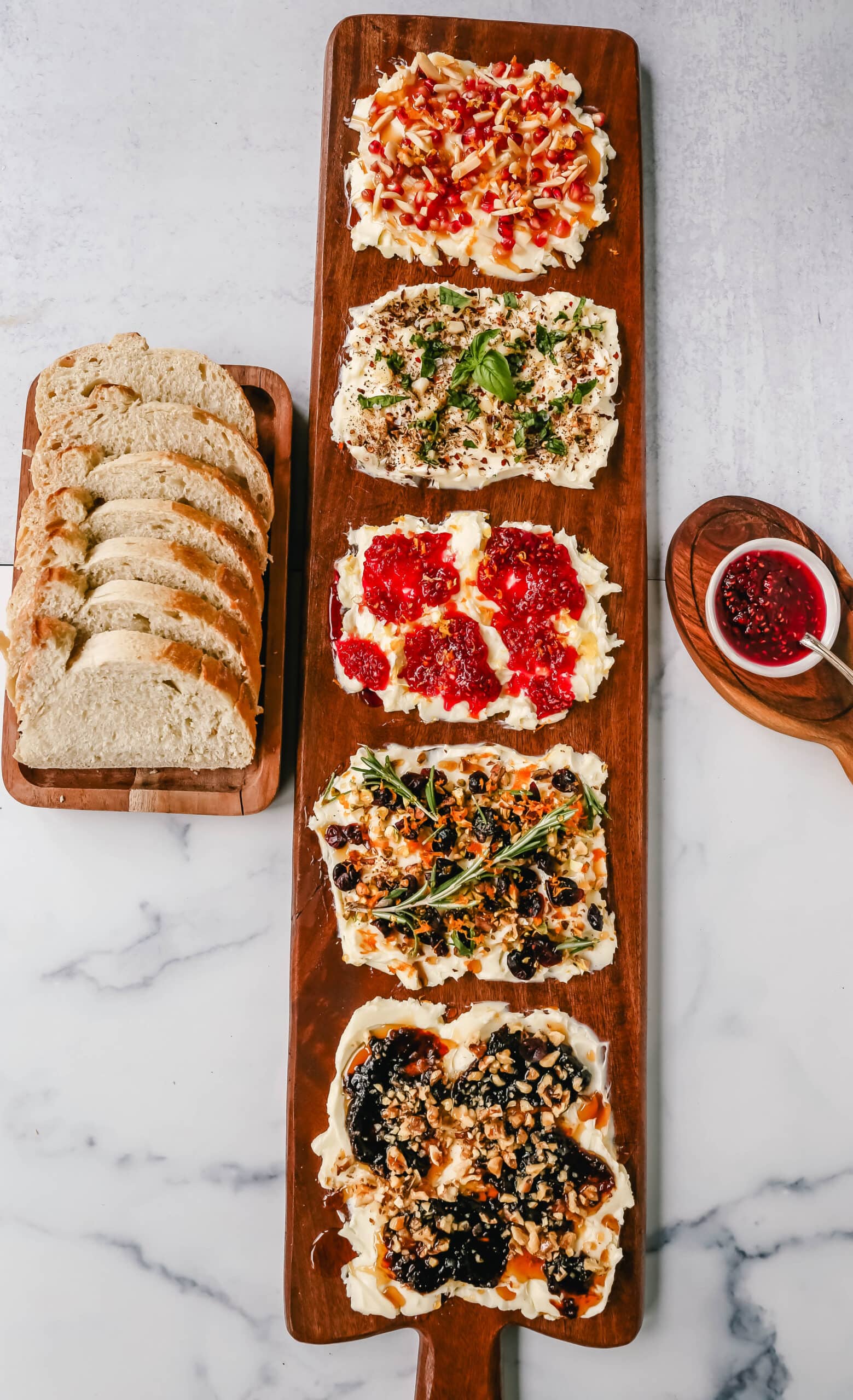 You may have seen a viral sensation called a Butter Board all over TikTok. If you have followed me for a while, you know how much I love making charcuterie boards so this is a fun twist. I always say that "everything is better with butter" so why not make the ultimate appetizer with butter as the star of the show?
I have to give a shout-out to the original creator or the person, Josh McFadden, behind the idea of the ultimate butter board. He's a genius! I just decided to make my own creative twist and spin on what I would put on a TikTok butter board for entertaining guests.
I picked up a long, narrow board from Home Goods and started spreading butter on the board and topping it with both savory and sweet ingredients. We dipped warm French bread into each one and devoured it in no time at all.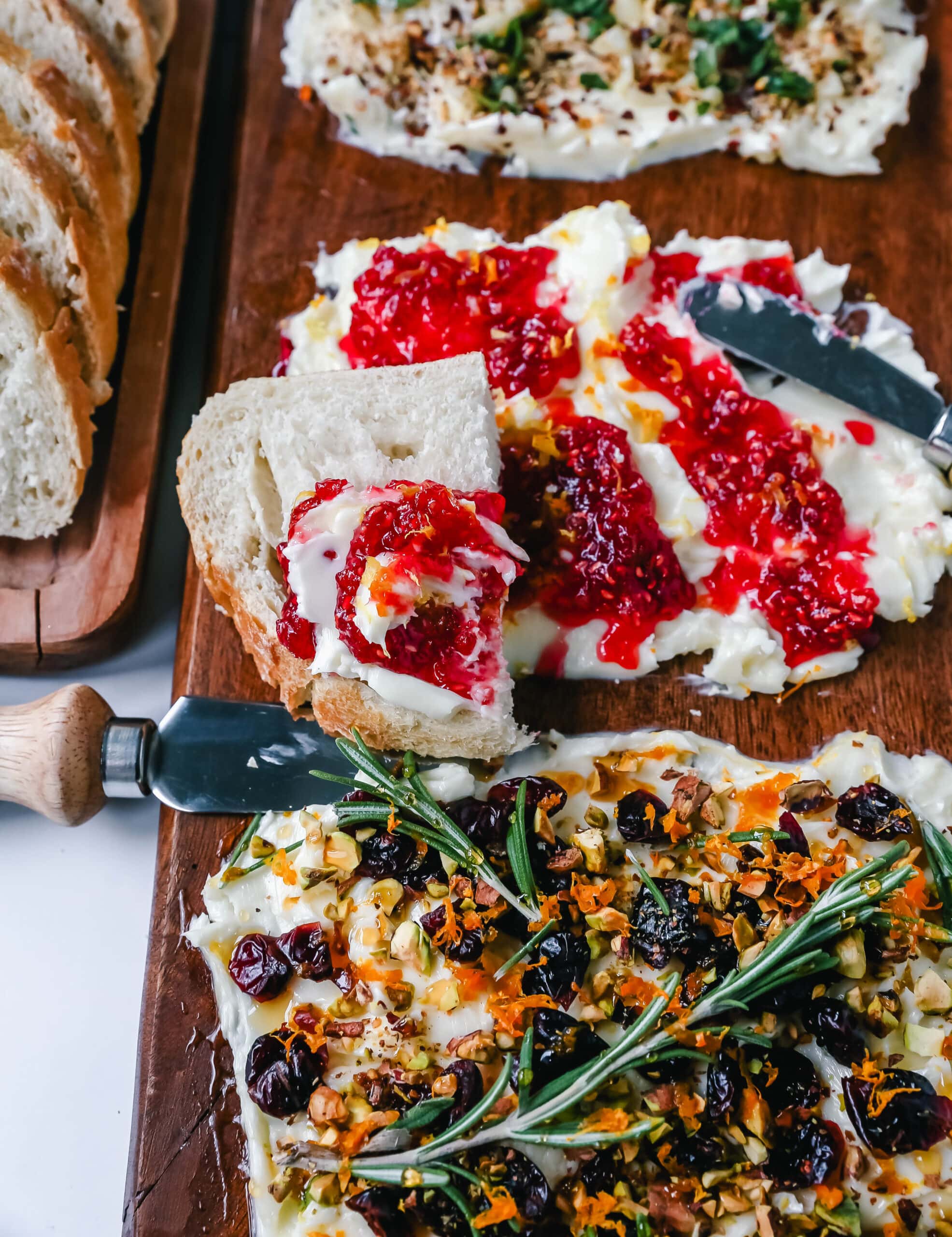 What is a Butter Board?
A Butter Board is made by spreading salted, slightly softened butter onto a board and topping it with your favorite toppings like jam and fresh lemon zest and hot honey, walnuts, and fig jam. A savory butter board can be made with butter, roasted garlic, fresh basil, italian seasoning, and red chili flakes. Warm French bread slices are dipped into each savory or sweet butter combination.
This Butter Board became famous on TikTok and is now a popular appetizer at parties.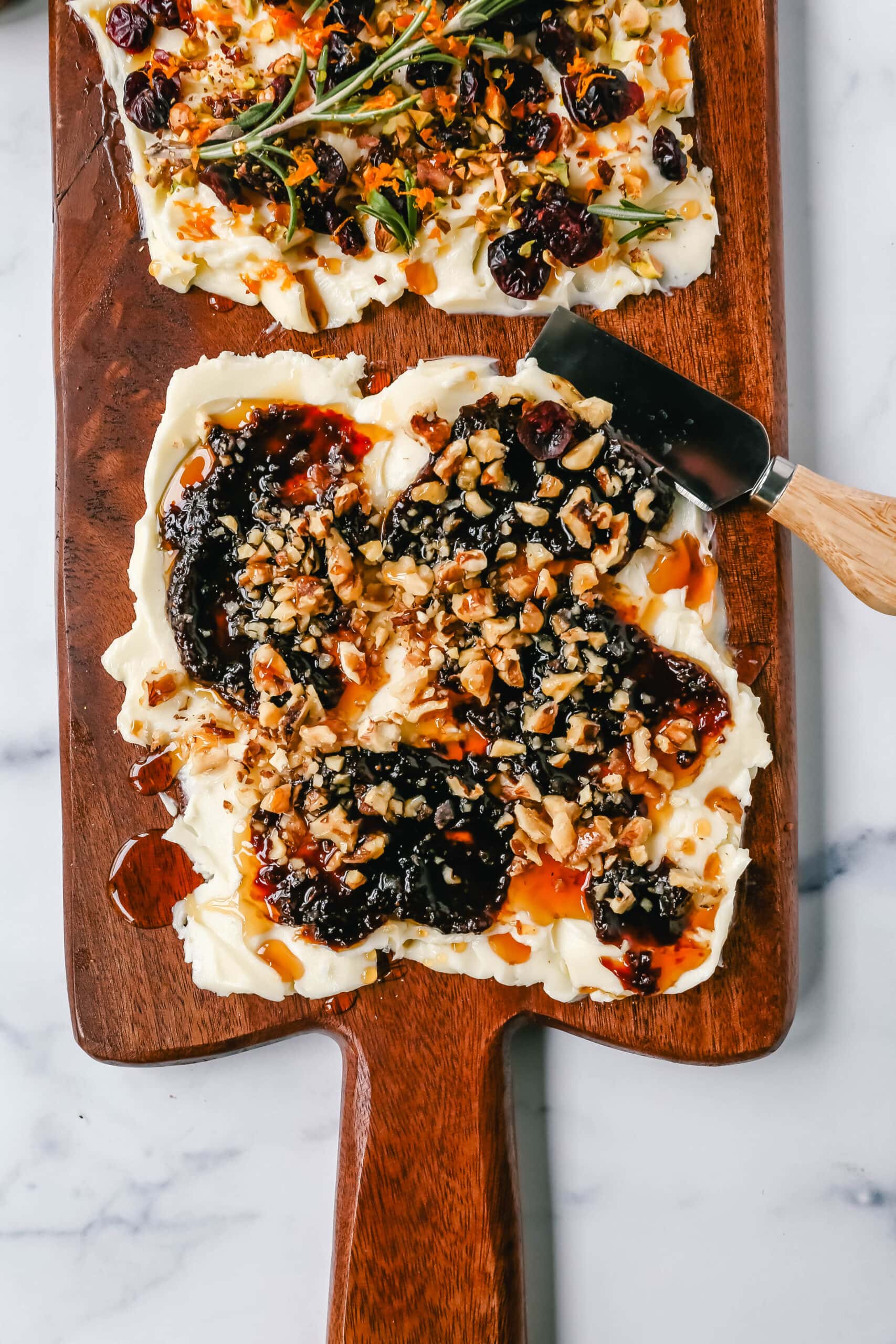 How do you make a Butter Board?
To make a butter board, it starts with barely softening the butter so it is spreadable, but still firm.
Grab your favorite wood board or platter and spread the butter onto the board.
Top with your favorite toppings listed below. I suggest making different savory and sweet combinations.
Cut up a French bread loaf for dipping.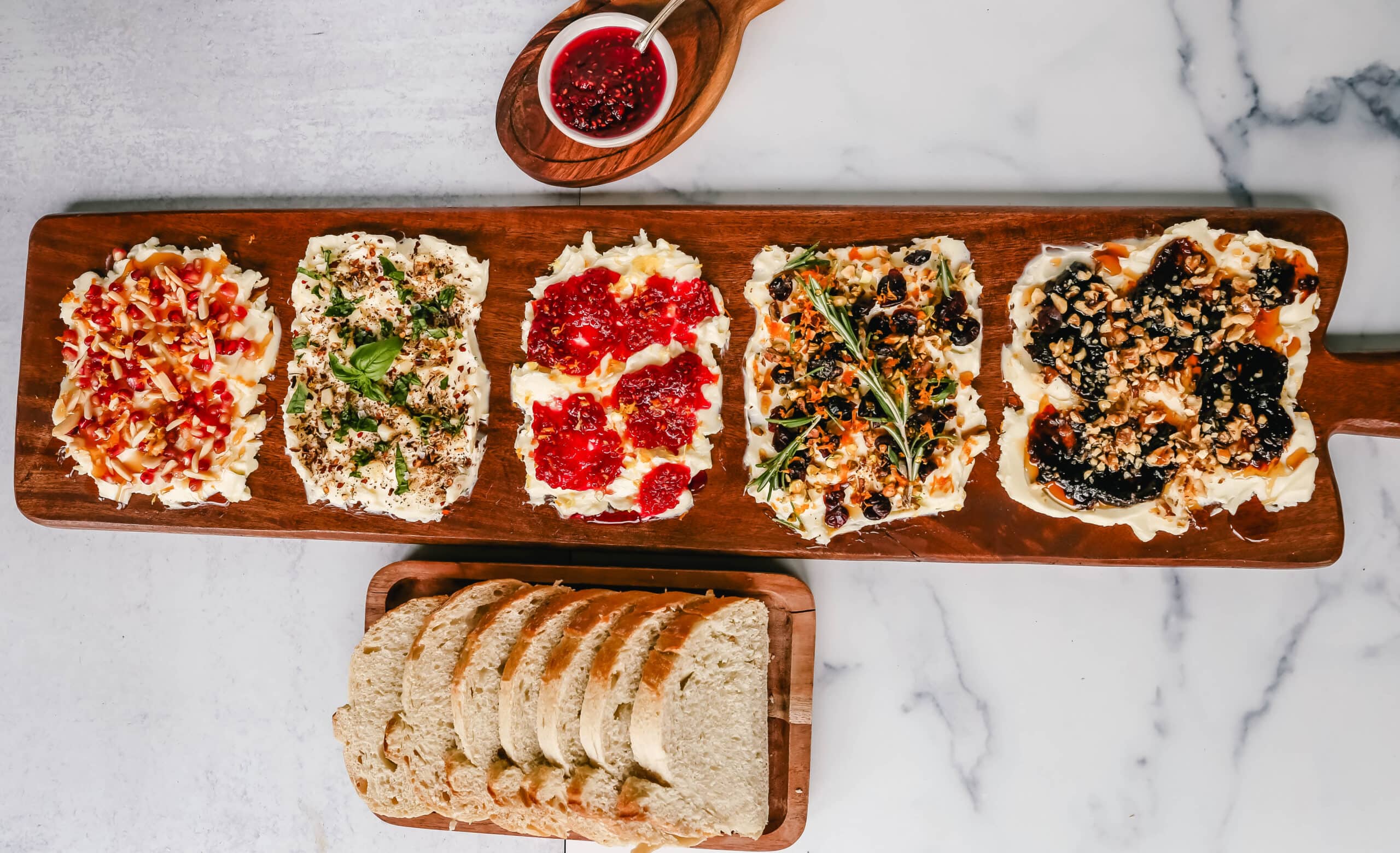 INGREDIENTS:
Salted Butter, barely softened
Toppings
French Bread
BUTTER, FIG JAM, HOT HONEY, WALNUTS
Salted Butter
Fig Jam or Fig Butter
Walnuts, chopped
Hot Honey
Dates (optional)
Balsamic Glaze (optional)
BUTTER, CRANBERRIES, PISTACHIOS, HONEY, ORANGE ZEST
Salted Butter
Soft, dried Cranberries
Pistachios
Honey
Orange Zest
Fresh Rosemary (optional)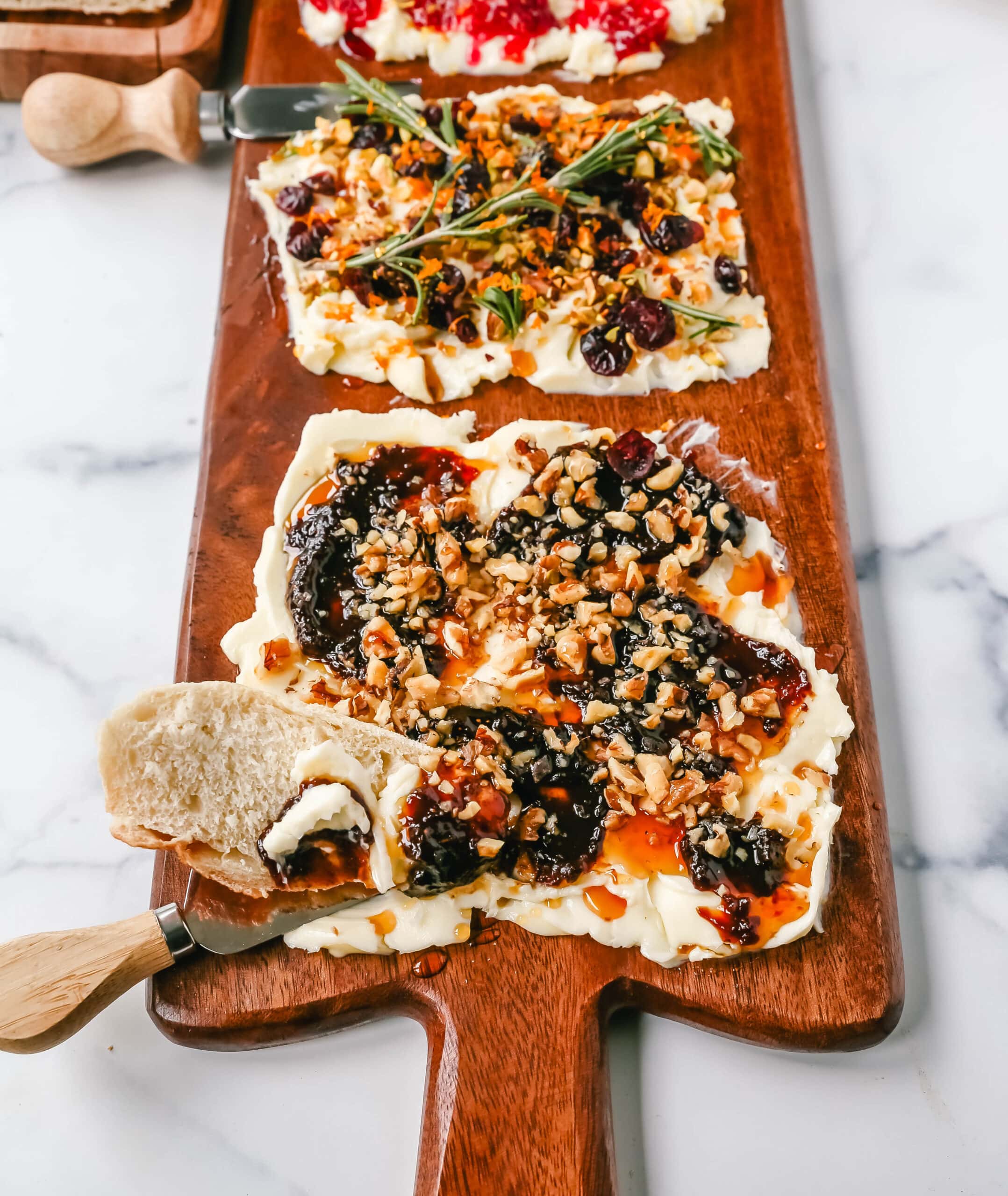 BUTTER, ROASTED GARLIC, ITALIAN SEASONING, FRESH BASIL, RED CHILI FLAKES
Salted Butter
Roasted Garlic
Fresh Basil
Red Chili Flakes
Italian Seasoning
BUTTER, BERRY JAM, FRESH LEMON ZEST
Salted Butter
Berry Jam
Fresh Lemon Zest
BUTTER, HONEY, ALMONDS, POMEGRANATE
Salted Butter
Honey
Almonds, sliced or slivered
Pomegranate Seeds
MORE INGREDIENT IDEAS:
Flaky Sea Salt
Chili Oil
Dates
Chives
Thyme
Maple Syrup
Hot Honey
Chili Jam
Fruit Jam
Balsamic Glaze
I love adding fresh lemon zest or orange zest because it adds brightness and freshness to the butter.
Hot Honey is a fun way to add a sweet and spicy flavor to the butter.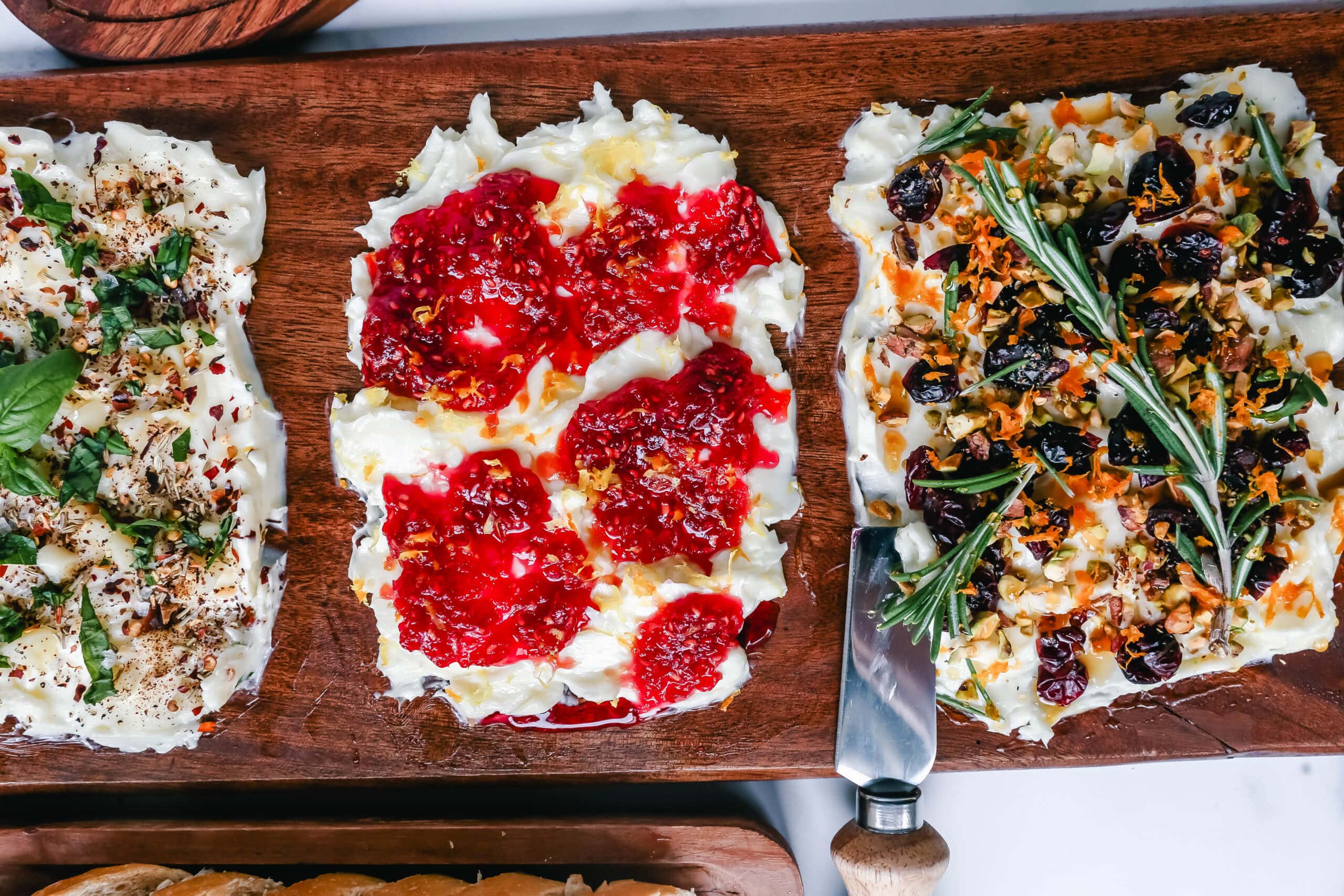 What type of butter should you use on a Tik Tok Butter Board?
I would definitely suggest using salted butter.
There are all types of butter available. If you use a European butter like Kerrygold, you will notice it is a richer, more vibrant yellow color.
If you use Challenge Butter, Land O'Lakes Butter, or Costco brand butter, you will notice it to be a lighter yellow color.
The European has a richer flavor and the color looks beautiful on a wood board.