Fall Harvest Salad made with fresh apples, candied walnuts, dried cranberries, feta or blue cheese, crispy bacon all tossed with arugula or spring mix in a homemade apple cider vinegar dressing. The best Fall salad recipe!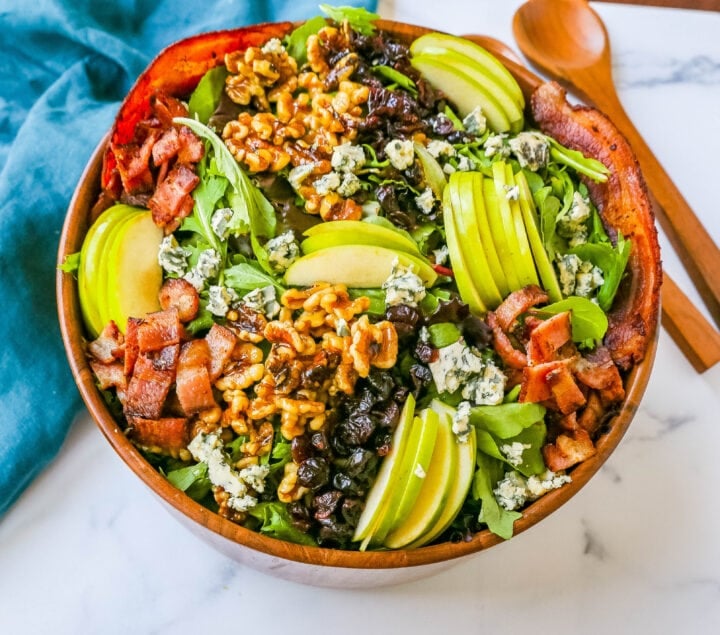 This is my favorite salad to make this time of year and it just reminds me of crisp, cool cozy Fall days. I love it because it highlights fresh, crisp apples in season. I loved apple picking in Vermont last year and bringing home so many crisp apples. I made this salad on repeat!
This Autumn Harvest Salad keeps you on your toes -- it is sweet, it is savory, it is crunchy, it is fresh. It has it all! This Fall Harvest Salad is the perfect Thanksgiving salad to offset all of the mashed potatoes, sweet potatoes, stuffing, and creamed corn.
Another one of my go-to salads is my Chopped Salad with Creamy Basil Dressing.
You are going to love this perfect Fall salad recipe.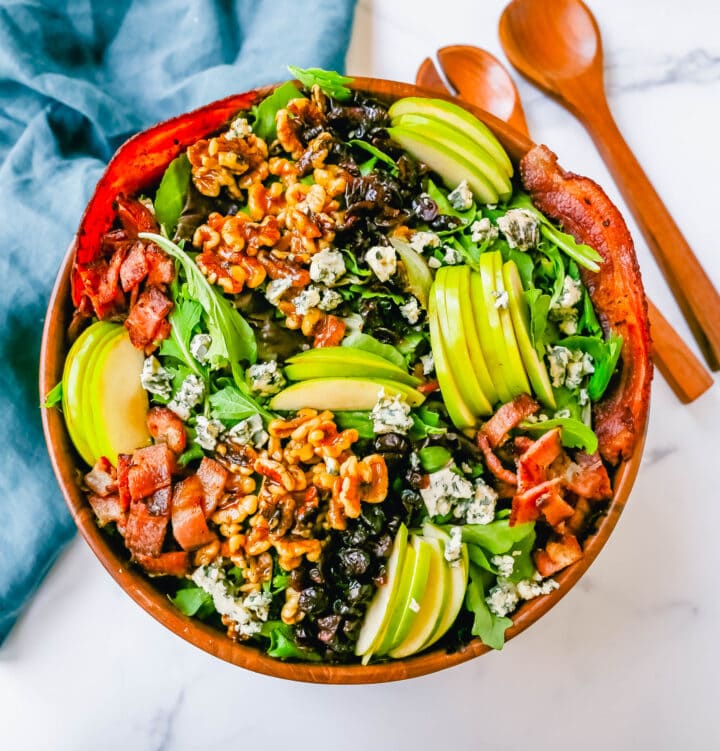 Ingredients:
Fall Salad Ingredients:
Spring Mix or Arugula
Sliced Apples
Candied Walnuts
Crispy Bacon
Dried Cranberries
Feta Cheese or Blue Cheese
Dressing Ingredients:
Apple Cider Vinegar
Extra-Virgin Olive Oil
Fresh Squeezed Orange Juice
Orange Zest
Maple Syrup
Dijon Mustard
Salt and Pepper
See recipe card for quantities.
What type of apples should I use in this Harvest Salad?
I prefer to use two types of apples to give variety and unique tastes. I use a Granny Smith apple for its firm texture and tart flavor. I like to pair a Granny Smith apple with a sweeter apple like Fuji, Gala, or Honeycrisp. These apples are still nice and crisp but are sweeter. It is also beautiful to have both green and red apples in this salad.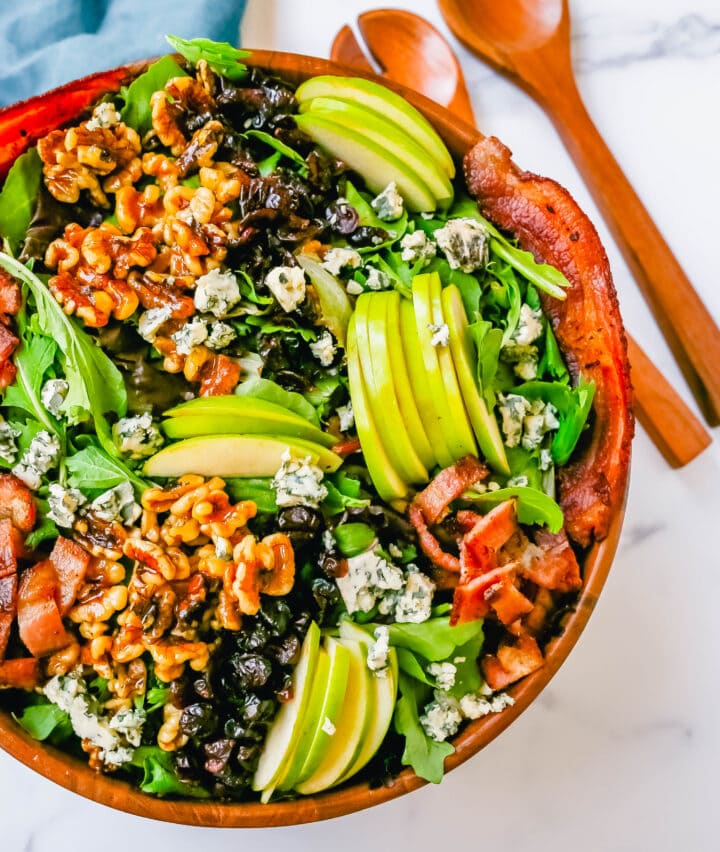 Instructions
Cook the bacon. Preheat the oven to 400 degrees. Place a baking rack on a sheet pan and lay bacon slices on the rack. If you don't have a rack, use aluminum foil instead. Cook the bacon for about 20 minutes, depending on your desired level of crispiness. I prefer to cook my bacon for about 25 minutes. Carefully remove from the oven and place on a paper towel lined plate.
In a small saucepan, heat walnuts, sugar, and water and stir until the sugar and water create a thick coating around the walnuts. Remove from the pan and let cool on a piece of parchment paper or wax paper, sprayed with non-stick cooking spray.
In a large bowl, toss together spring mix, sliced apples, candied walnuts, cranberries, and feta or blue cheese.
Make the dressing. Whisk together vinegar, orange juice, orange zest, mustard, maple syrup, salt, and pepper. Drizzle in the extra-virgin olive oil.
When ready to serve, toss the salad with the dressing and top with the crumbled bacon.
Substitutions
You can use your favorite type of lettuce in this salad. Try romaine, spring mix, green leaf, or arugula.
If you don't have apple cider vinegar, you can use white vinegar instead.
If you don't have dijon mustard, you can use regular yellow mustard instead. I suggest reducing the amount to 1 teaspoon.
Storage
I would suggest tossing the salad with the dressing only when ready to serve.
Store the harvest salad in the refrigerator.
Top tip:
To make this Fall salad, extra gourmet, I suggest adding pomegranate seeds to the top right before serving.
FAQ
Question 1: What type of maple syrup should I use in the dressing?
I suggest using 100% Real Maple Syrup without any sugar or fillers.
Question 2: What kind of cheese can I use in this salad?
I would suggest blue cheese as it pairs so well with apples and walnuts.
Feta is a great choice as well as it is not as strong as blue cheese (for those who aren't fans of blue cheese).