Festive Charcuterie Board is perfect to celebrate Thanksgiving or Friendsgiving with friends and family. How to pick out the perfect meats, cheeses, fruits, jams, crackers, and dips for your Fall charcuterie spread. Tips and tricks for making the best charcuterie board.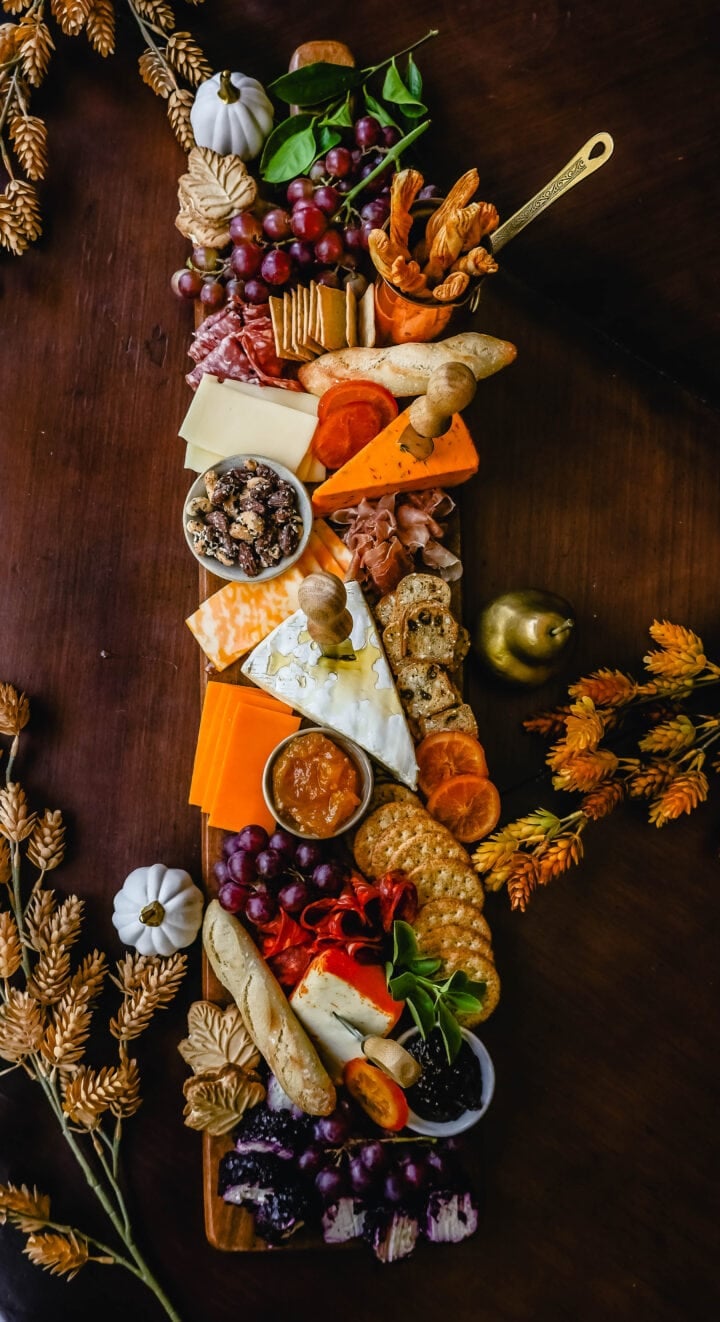 Since we have all things Fall on our minds, I am already thinking about our Thanksgiving menu and what new recipes I want to introduce this year.
I am going to throw my very first Friendsgiving this year and I wanted to create a beautiful Fall charcuterie spread for my friends as they arrive at our home. This Fall charcuterie board is the perfect appetizer for Friendsgiving or Thanksgiving.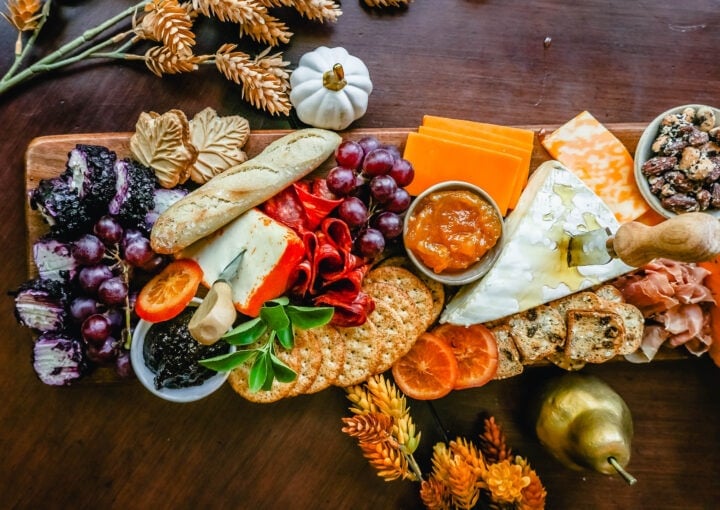 One of my favorite things to do is to create beautiful spreads of food. One day I was at Trader Joe's and I was so inspired by all of their Fall offerings that I wanted to create a gorgeous and delicious board that just screams Fall. I looked for items that had colors of deep oranges, rust, earthy browns, and deep purples. I assembled them on my favorite rectangular wood board and picked some fresh greenery from my trees outside and created a festive spread to celebrate Fall.
I am sharing everything you need to know about how to assemble your own show-stopping Fall charcuterie board. I am also sharing how to save money on the ingredients and where to shop.
You will find cheese and meat descriptions below and so many ideas on what to add to your Fall board.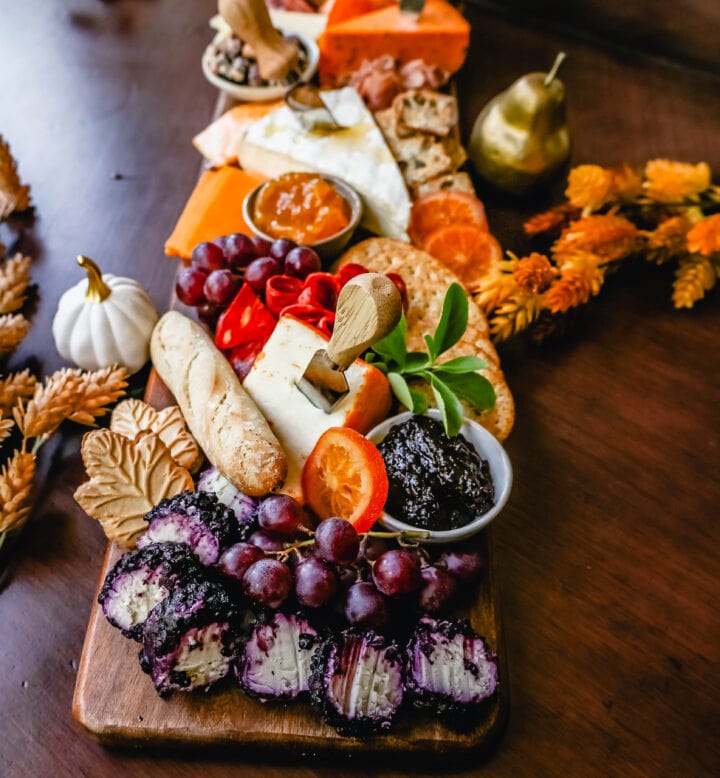 Popular Cheeses for Fall Charcuterie Board:
BRIE or CAMEMBERT. Brie always makes a beautiful statement as the centerpiece of a cheese board. I always like to cut a wedge out of it and top it with fresh blackberries, a drizzle of honey, and a rosemary stem. You can also warm the brie so it is nice and melted which brings out the flavor. Brie pairs well with apples, French bread, cherries, dates, figs, pistachios, and strawberries.
PORT SALUT. A semi-soft pasteurized cow's milk cheese from France, with a distinctive orange rind and a mild flavor. I love to use this cheese on my Fall charcuterie boards because of the vibrant orange rind, which looks so festive and the creaminess of the cheese.

BURRATA or FRESH MOZZARELLA.

Soft, creamy cheese which has a mild flavor is always a popular choice. Mozzarella Cheese pairs well with olive oil, prosciutto, tomatoes, Italian cured meats, and olives.
PARMIGIANO-REGGIANO. The famous Italian cheese is known for its sharp, nutty flavor. Cut it into wedges and pair it with figs, pears, dates, prosciutto, balsamic vinegar, walnuts, stone fruits, grapes, and honey.

WHITE SHARP CHEDDAR.

Creamy white cheddar pairs beautifully with apples, nuts, dates, honey, grapes, French bread, nuts, pears, and walnuts. I like the unexpected cheddar cheese from Trader Joe's or the English Coastal Cheddar from Costco or TJ's.

PEPPER JACK CHEESE.

This is all about flavor. The peppers added to a creamy

Monterey jack cheese add a nice amount of spice. This pairs well with crackers, apples, honey, and pears.

HERBED or BERRY GOAT CHEESE.

A soft cheese full of flavor. I like to use sweet dried cranberry, dried cherry, or dried blueberry goat cheese. Goat cheese pairs well with French Bread, crackers, almonds, apricots, green apples, cherries, pears, figs, honey, grapes, dates, dried cranberries, olives, oranges, strawberries, and walnuts.

MILD CHEDDAR.

A universally appealing and popular cheese as it pairs nicely with green apples, walnuts, pecans, pears, nuts, honey, grapes, and dates.

GRUYERE CHEESE.

It is a traditional semi-soft cheese. It pairs well with dark chocolate, apples, cherries, hazelnuts, and walnuts.

GORGONZOLA.

A creamy Italian Blue Cheese. People either love or despise bleu cheese so it may be the most polarizing cheese on the cheese board. Gorgonzola Blue Cheese pairs well with apples, honey, pears, almonds, figs, hazelnuts, and candied walnuts.

GOUDA CHEESE.

Famous in the Netherlands, it is a semi-hard cheese celebrated for its rich, unique flavor and smooth texture. Gouda pairs nicely with apples, apricots, cherries, peaches, and pears.

ENGLISH FARMHOUSE or IRISH CHEDDAR.

A semi-firm, fresh cheese with rich flavor. Pairs nicely with honey, apricots, dates, apples, grapes, and candied nuts.

MANCHEGO CHEESE.

A firm, buttery cheese from Spain. Manchego pairs well with figs, crusty bread, fig spread, almonds, green olives, and prosciutto.

PROVOLONE CHEESE. A smoked, nutty cheese. Pairs well with Italian meats, olives, figs, and grapes.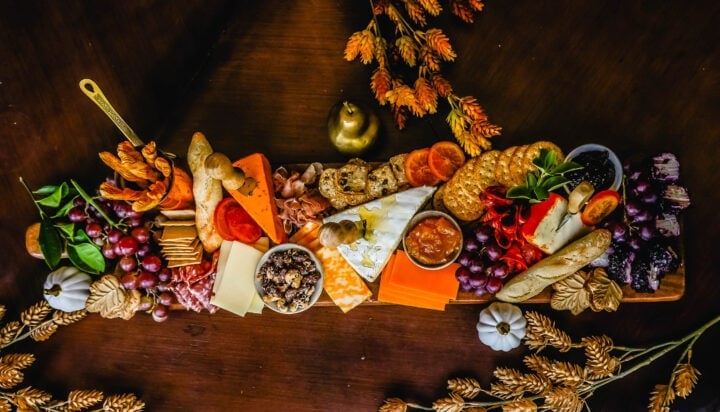 POPULAR MEATS for THANKSGIVING CHARCUTERIE BOARDS:
ITALIAN DRY SALAMI. Made with select cuts of pork, cracked black pepper, a blend of spices, and burgundy wine. A classic salami to use on a charcuterie board.
PROSCUITTO. An Italian dry-cured ham. Prosciutto is usually thinly sliced. Perfect to pair with fig jam. Pairs well with gruyere, fontina, parmesan, and provolone cheeses.
PEPPERED SALAMI. A spicier version of dried salami with coarse pepper all over the outside of the salami.
SOPPRESSATA. A traditional Italian sausage with a distinct flavor of garlic and oregano. It is softer and more compact compared to other types of cured meats.
CALABRESE SALAMI. Made from whole cuts of hand-trimmed pork, crushed red pepper, and red bell peppers makes this an air-dried southern Italian favorite.
COPPA ITALIANA. Sweet and mildly spiced ham with black peppercorn.
I like to provide a variety of different cuts of meats as well as different sizes. I prefer to put both thinly sliced and thick slices of meat on the charcuterie board.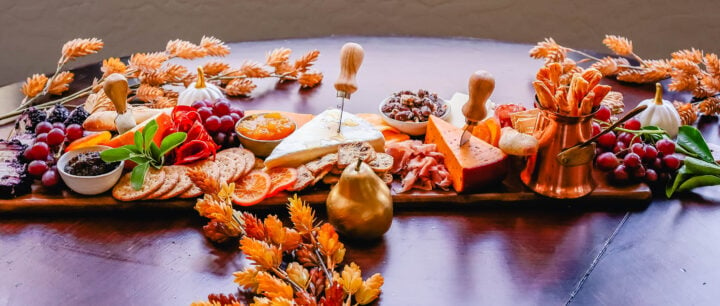 CRACKERS and BREAD for CHARCUTERIE BOARDS:
DRIED FRUIT and NUT or SEED CRACKERS. These are usually brown in color with dried cranberries, cherries, or raisins with seeds or nuts and fresh herbs. They pair well with creamy cheeses like brie or port salut.
BUTTER CRACKERS. A traditional butter cracker pairs well with all meats and cheeses and is usually universally popular.
WATER CRISP CRACKERS. A lighter, crispier cracker to pair with cheddar cheeses.
WHEAT ENTERTAINMENT CRACKERS. Thicker, hearty wheat cracker with a touch of salt.
FRENCH BREAD. I love to add French baguette slices to the board as an alternative to crackers.
CHEESE STRAWS CRACKERS. Parmesan or Sharp Cheddar Baked Cheese Straws are perfect to add height to the charcuterie board and for quick snacks.
MINI FRENCH BAGUETTES. These are small individual-size French baguettes. They can be found in the frozen food section at Trader Joe's and only take 5 minutes to bake.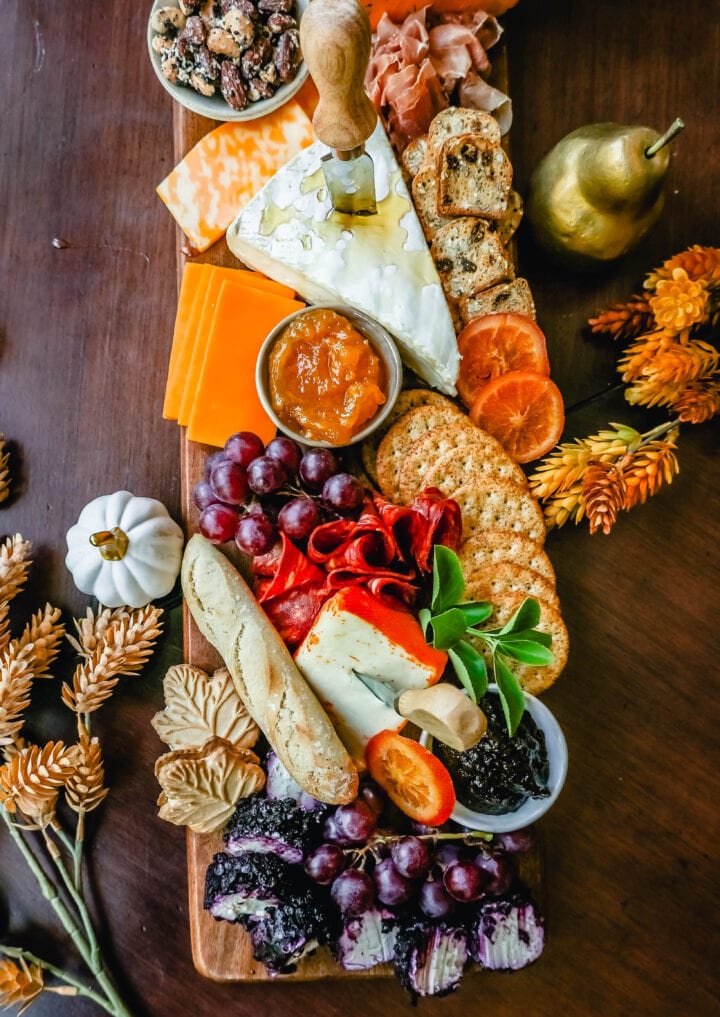 SPREADS and JAMS for CHARCUTERIE BOARDS:
FIG JAM/SPREAD or FIG BUTTER. This adds a nice amount of sweetness and pairs beautifully with fruit, bread, and cheese.
HONEY. Honey is a must on a charcuterie board. A drizzle of honey adds that perfect sweetness to balance out the sharpness of the cheese. Place it in a small jar or bowl. If you want to really impress your guests, place honeycomb on your platter. Our favorite is the honeycomb from Savannah Bee Company. You can find it HERE.
PEACH JAM or ORANGE MARMALADE. Since this is a festive Fall board, I wanted to add some orange-colored jam into the mix. These jams pair beautifully with the cheeses.
SAVORY ARTICHOKE SPREAD. This is a creamy artichoke spread that you can find in a jar. It is perfect to spread on crackers before stacking the meat and cheese on top.
PESTO. This basil parmesan pine nut sauce is perfectly paired with salami and cheese. I suggest buying the refrigerated version or making a homemade pesto sauce.
BOURSIN GARLIC and HERB SPREAD. One of my favorite spreads to slather on warm French baguettes.
RICOTTA CHEESE. Rich, creamy cheese is a perfect way to add creaminess without overtaking the flavors of the meats and cheeses.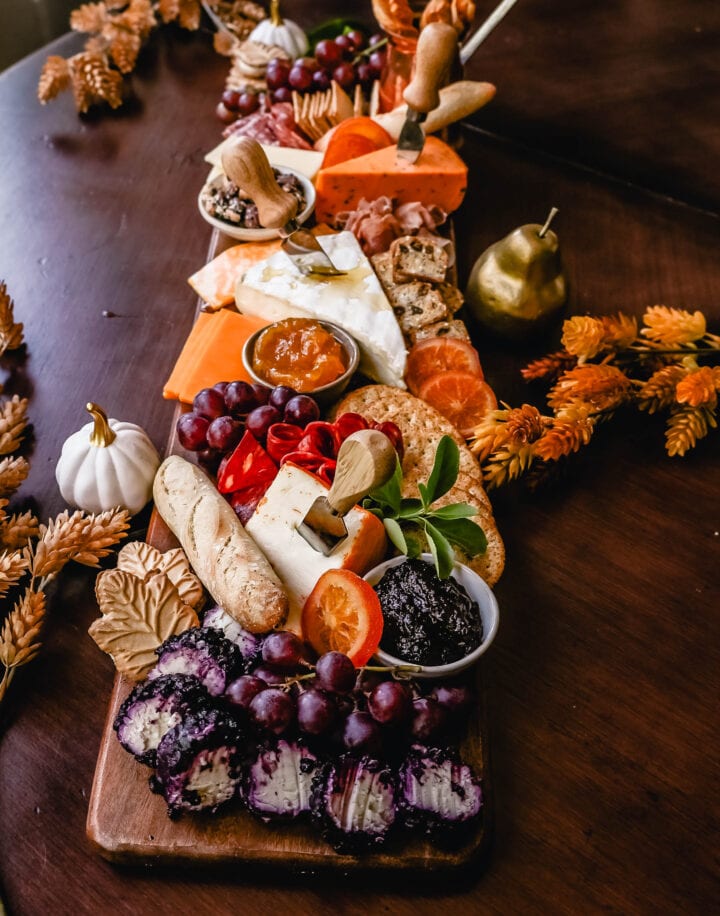 POPULAR FRUITS for MEAT and CHEESE BOARD:
NAVEL ORANGES. This adds a bright vibrant orange color to the fruit board and pairs well with the meat and cheeses.

POMEGRANATES

. When you open up a pomegranate, it is such a stunning display. I use it more as a beautiful showpiece rather than eating it. If you prefer, after the guests come, you can remove the arils from the pomegranate and serve them in a bowl.
FIGS. These not only taste amazing and pair so well with cheese, but they also make a stunning presentation. Look for fresh figs at your local grocery store.

BLOOD ORANGES.

This isn't your typical orange. It has a deep purplish color and is beautiful when sliced.

RED ANJOU or BOSC PEAR.

Known to pair wonderfully with cheese.

DATES

— These are called "nature's candy" for good reason. They are naturally sweet and a perfect accompaniment to meat and cheese.

APPLES — Honeycrisp, Granny Smith, Fuji or Gala. Apples pair with cheese perfectly so use an assortment of apples. The green granny smith is tart and crisp and pairs nicely with white cheddar cheese and a drizzle of honey. A sprinkle of Fruit Fresh or lemon juice helps to keep the apples from turning brown.
BERRIES — Berries always pair well with cheese. I suggest raspberries, strawberries, and blackberries.

GRAPES

—

Grapes give a nice natural sweetness and crunch to pair with the creaminess of the cheese.

DRIED APRICOTS

— Known for their sweetness. Buy them fresh to ensure softness as they can get hard and dry out quickly.

DRIED SWEET ORANGES. These are dried oranges sweetened with sugar. You can find them at Trader Joe's.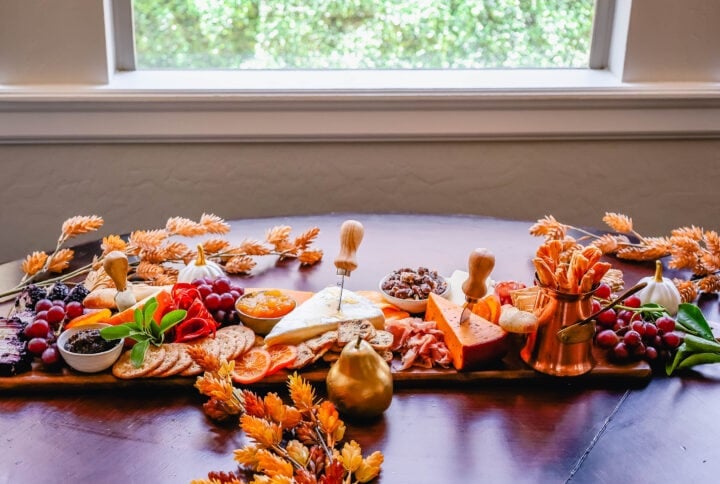 ITEMS TO ADD TO CHARCUTERIE BOARDS THAT AREN'T MEATS AND CHEESES:
OLIVES. I love to buy marinated castelvetrano and kalamata olives from the deli department. You can usually buy them by the pound which helps so you only have to buy what you need.
ROASTED RED PEPPERS.
SUNDRIED TOMATOES.
BRUSHETTA.
DARK CHOCOLATE. A little bit of dark chocolate goes a long way. Chocolate pairs beautifully with berries, apricots, and cheese.
NUTS. Pistachios, Almonds, Cashews, or Walnuts. Nuts add another salty crunchy element that your guests can snack on. I picked up the Everything Bagel Seasoning Nut Mix from Trader Joe's for this Thanksgiving Charcuterie Board.
MAPLE LEAF COOKIES. These are seasonal cookies found at Trader Joe's.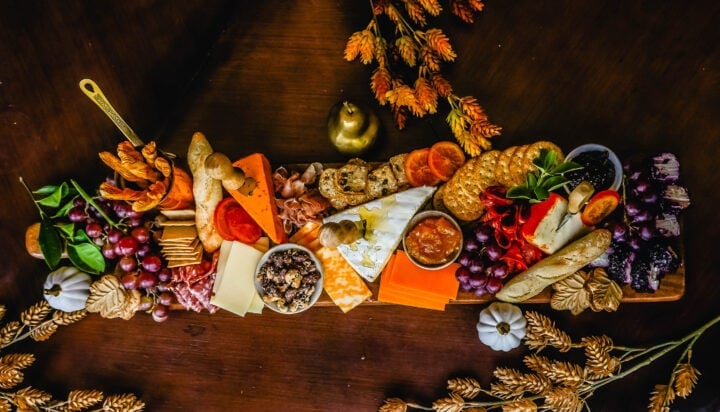 Where to buy meats and cheeses for Charcuterie Boards?
I have made hundreds of charcuterie boards and here are my favorite stores to pick up meats, cheeses, crackers, fruits, nuts, and more —
COSTCO — this is where you get a lot of bang for your buck. Costco has great deals on salami, prosciutto, cheese, and more.
TRADER JOE'S — everything you see on this Fall board, I bought at Trader Joe's. The prices are right and they import a lot of their ingredients so you get legit French cheese from France. I do like that I can get smaller packages of items and it is usually just the amount I need.
ALDI's — they have a good selection of items for charcuterie boards and their prices are low.
WHERE TO BUY WOOD BOARDS TO MAKE CHARCUTERIE BOARDS?
I have collected dozens of wood boards in all shapes and sizes. Here are my favorite places to shop for wood boards —
HOME GOODS, TJ MAXX, or MARSHALLS. This is where you find huge, beautiful boards for less than $20. The prices are right and you may find some unique shapes and sizes. I have found long, rectangular wood boards, large round wood boards, and small marble boards for cheese. Keep looking as they get new selections every single day.
CRATE and BARRELL. They have some of my favorite beautiful black and wood boards. They are a classic design that is perfect to display or hang in your kitchen as well.
AMAZON. You can find every type of board on Amazon from small to large.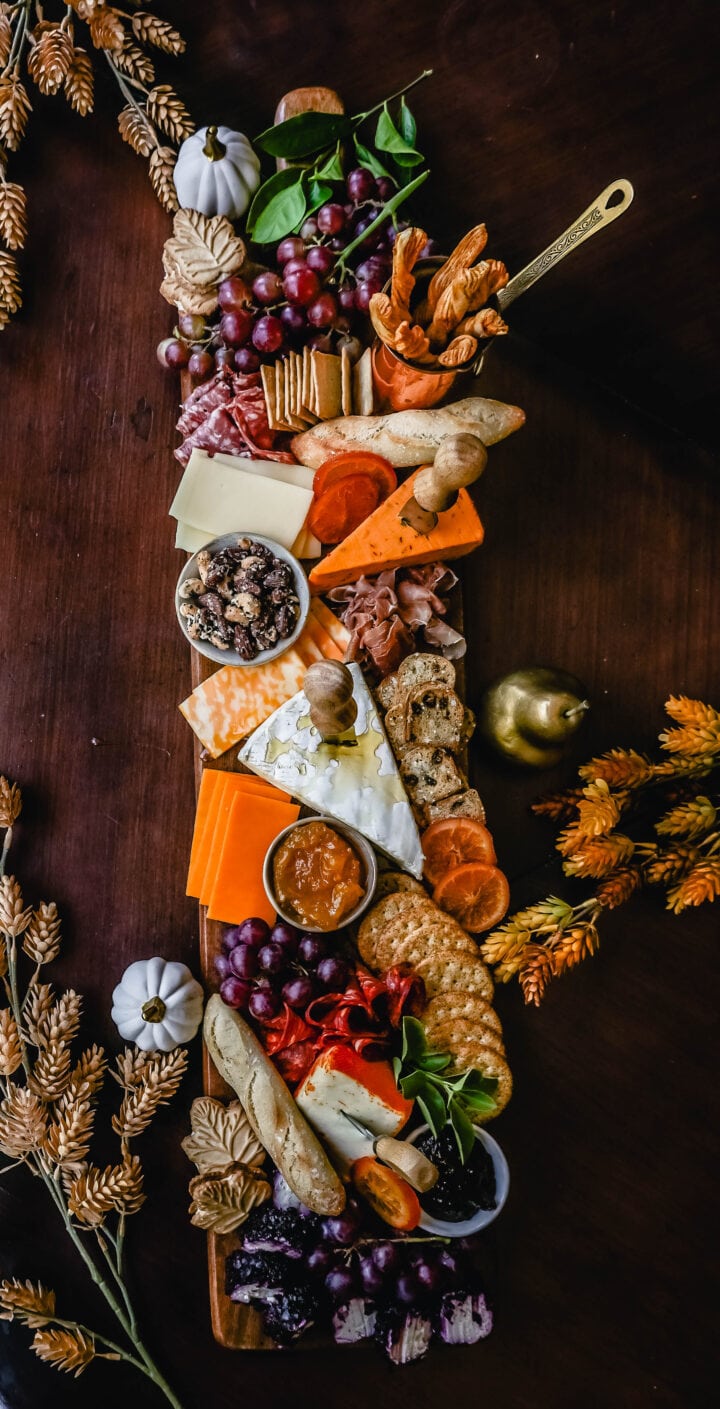 TIPS FOR SERVING A FRIENDSGIVING OR THANKSGIVING CHARCUTERIE BOARD:
Pin this now to find it later
Pin It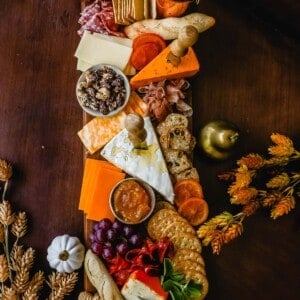 Fall Thanksgiving Charcuterie Board
Festive Charcuterie Board perfect to celebrate Thanksgiving or Friendsgiving with friends and family. How to pick out the perfect meats, cheeses, fruits, jams, crackers, and dips for your Fall charcuterie spread. Tips and tricks for making the best charcuterie board.
Ingredients
Cured Meats

(see post for list and descriptions)

Variety of Cheeses

Crackers and Bread

Fresh Fruits

Dried Fruits and Nuts

Spreads and Jams
Instructions
See recipe post for above for all of the descriptions and recommendations for making the charcuterie board.
Notes
For optimal cheese flavor, bring it to room temperature. The flavors are much more pronounced when cheese is a room temperature.
Determine what board to use. I find all of my cheese boards at stores like Home Goods, TJ Maxx, and Marshall's. They have large ones (20") and are around $20 - $25, which is a steal!
Serve with small cheese knives and spoons. This makes it easy for your guests to spread creamy cheeses on their crackers or bread.
Allow for at least 3 ounces of cheese per person, depending on how hungry your guests are! Serve an assortment of shapes, sizes, and types of cheese to give variety.
Nutrition information is automatically calculated, so should only be used as an approximation.