Homemade Basil Pesto Sauce made with fresh basil, extra-virgin olive oil, pine nuts, garlic, parmesan cheese, and salt and pepper. This pesto sauce is the best recipe and can be used on pasta, pizza, sandwiches, or to be used as a dip with rustic French bread.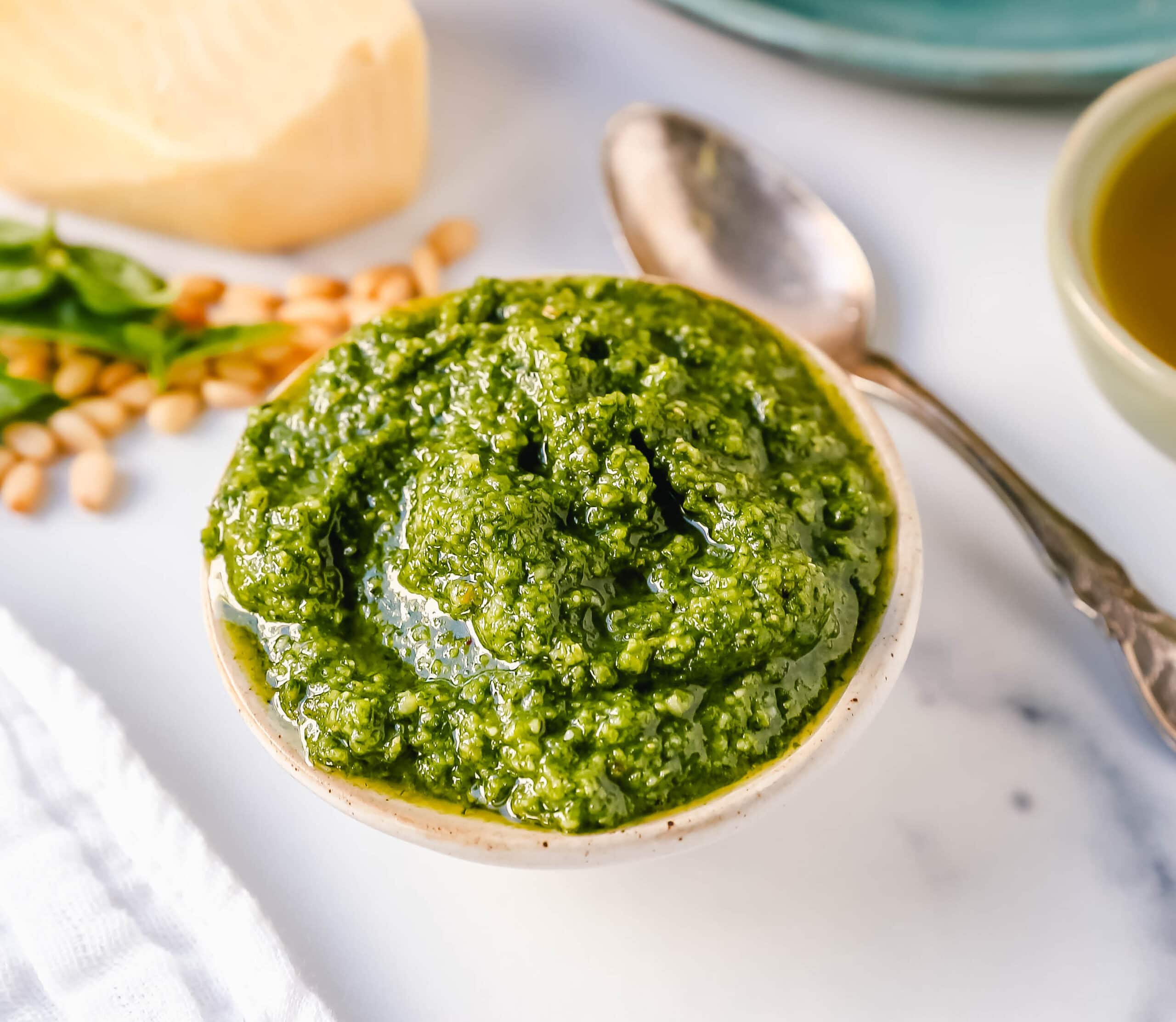 Our summer garden is overflowing with fresh basil. The smell is amazing as we round the corner to our garden and see the abundance of fresh basil. Since it is becoming ridiculously hot in Arizona, we have to harvest the basil as soon as possible.
Since we have so much basil all at once, I always love to make big patches of homemade pesto sauce. Fresh basil pesto tastes amazing tossed with fresh pasta, as a spread on sandwiches like my Tomato, Pesto, Fresh Mozzarella Paninis, on pizzas like my Chicken Pesto Pizza and my Pesto Caprese Tomato Salad.
One of my favorite ways to eat it is to whip up some soft French Bread, cut it into squares, and dip it into the fresh pesto. It is an easy and heavenly summer appetizer!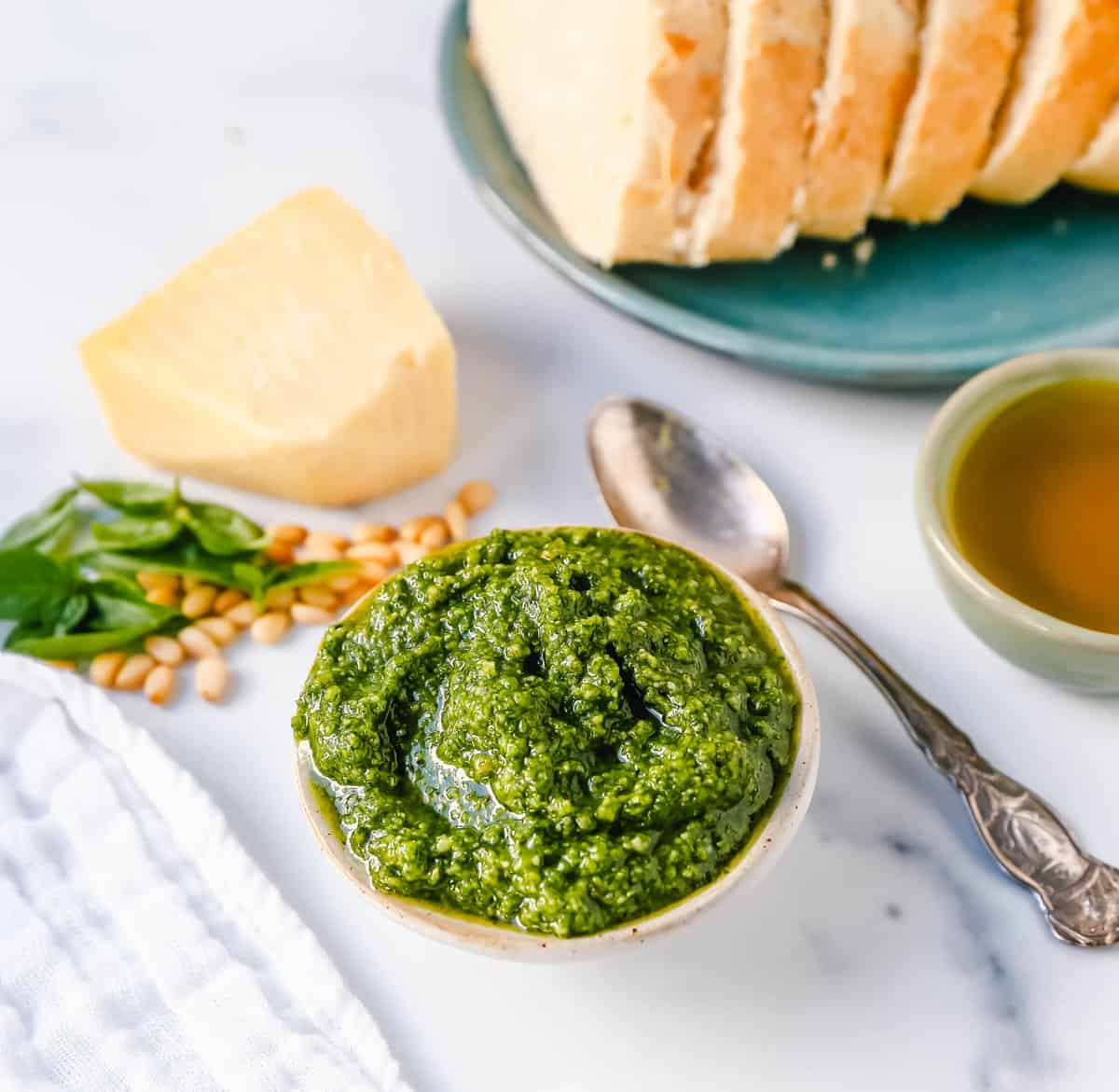 Ingredients for Homemade Pesto Sauce:
Fresh Basil
Extra-Virgin Olive Oil
Pine Nuts (or Walnuts)
Garlic Cloves
Parmesan Cheese or Parmigiano Reggiano
Salt and Pepper
Can I substitute the pine nuts in a Pesto Recipe?
Yes! Even though pine nuts are traditionally used in a homemade pesto sauce, you can substitute the pine nuts in a pesto recipe with walnuts or almonds.
Do I need to use fresh basil in pesto or can I use dried basil?
This is a time when you just can't substitute fresh basil for dried basil. Since fresh basil is the base ingredient for this homemade pesto sauce, you need to use fresh basil leaves.
I grow fresh basil in my garden year-round or you can pick up a generous plant at Trader Joe's or your local grocery store.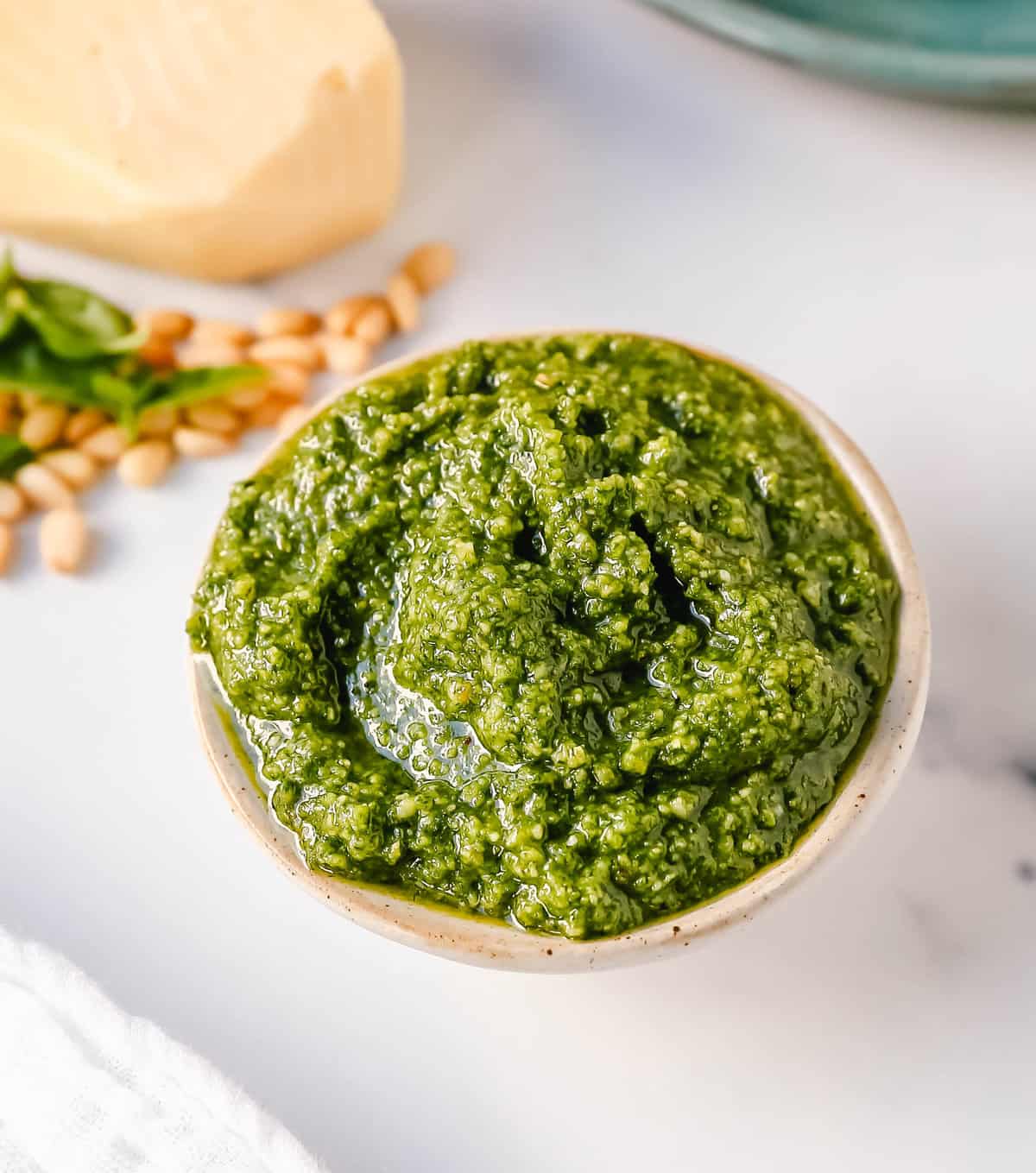 What type of cheese to use in Pesto Sauce?
I suggest using freshly grated Parmesan Cheese or Parmigiano Reggiano Cheese. When you freshly grate parmesan cheese, it is much fresher and isn't coated with an ingredient to keep it from sticking. If you want to really up the flavor of this fresh basil pesto sauce, I suggest using Parmigiano Reggiano cheese.
Can I use Spinach in my Basil Pesto Recipe?
Yes! The baby spinach leaves can mellow out the strong basil flavor. According to the Food Lab, he prefers a balance of spinach and basil and uses 2 parts basil to 1 part baby spinach leaves. If you want to use spinach, I would suggest using 2 cups of fresh basil and ½ cup of baby spinach.
I suggest making your homemade basil pesto in a food processor if you own one. It makes it so easy to make fresh pesto sauce in less than 5 minutes!