These Homemade Crescent Rolls are the most perfect buttery, light, and fluffy homemade roll recipe. Easy homemade rolls made from scratch!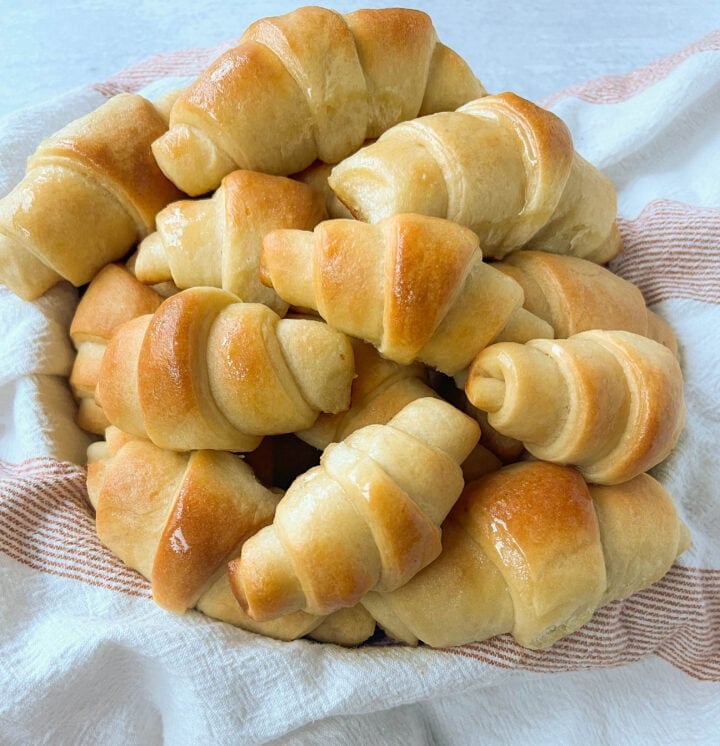 I grew up on a steady stream of baked goods. My Mom's favorite food on the planet is homemade bread and rolls so she made them almost daily. Every Sunday, she would make her special crescent rolls which are basically homemade dinner rolls rolled up into a crescent shape. They just melt in your mouth!
Since Thanksgiving is around the corner, I want to share this special homemade crescent roll recipe with you. My Mom and I made some tweaks to make them extra perfect (butter makes everything better!). I will share all of my tips and tricks for making the best crescent rolls.
Several years ago, I shared my Homemade Dinner Rolls Recipe and those are delicious as well! If you want a more buttery roll, this is the recipe for you. These are the best crescent rolls!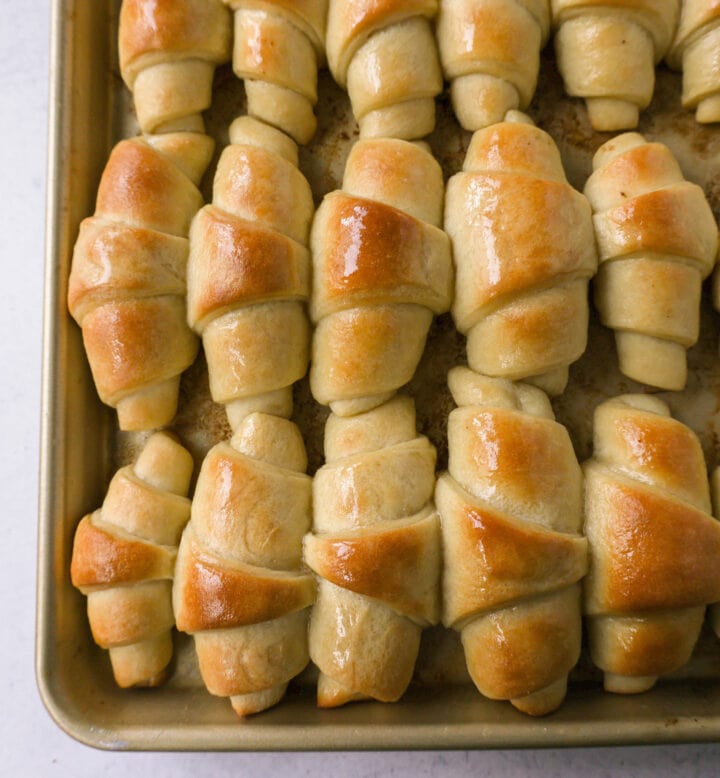 Ingredients:
Warm Water
Active Dry Yeast
Sugar
Salted Butter
Egg
Milk
Flour
Salt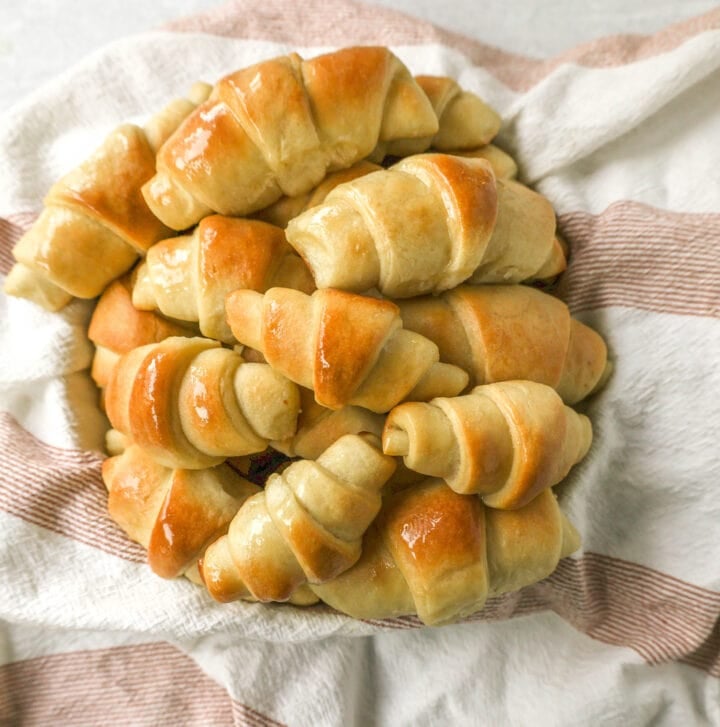 What type of yeast should I use in the crescent rolls recipe?
The most popular types of yeast used in baking are traditional active dry yeast and instant fast-rising yeast. Active dry yeast has been around for ages and is sold in packets and in jars. It is a slower-working yeast. It can be added directly to the dough with the dry ingredients and doesn't need to be proofed or activated with warm water.
HOW TO MAKE SURE THE YEAST IS WORKING?
The key to making any type of homemade rolls recipe is to ensure the yeast is working and activated. I suggest mixing the yeast, warm water (about 110 degrees), and a touch of sugar into a bowl. The sugar will help to "feed" the yeast and help it to activate quicker. Yeast loves sugar! The warm water also helps to activate the yeast. If the water or milk is too hot, it can kill the yeast so make sure it is warm to the touch but not too hot. The yeast should start to become foamy or bubbles will begin to surface. This is a great sign that the yeast is working. Let it work for at least 5-10 minutes.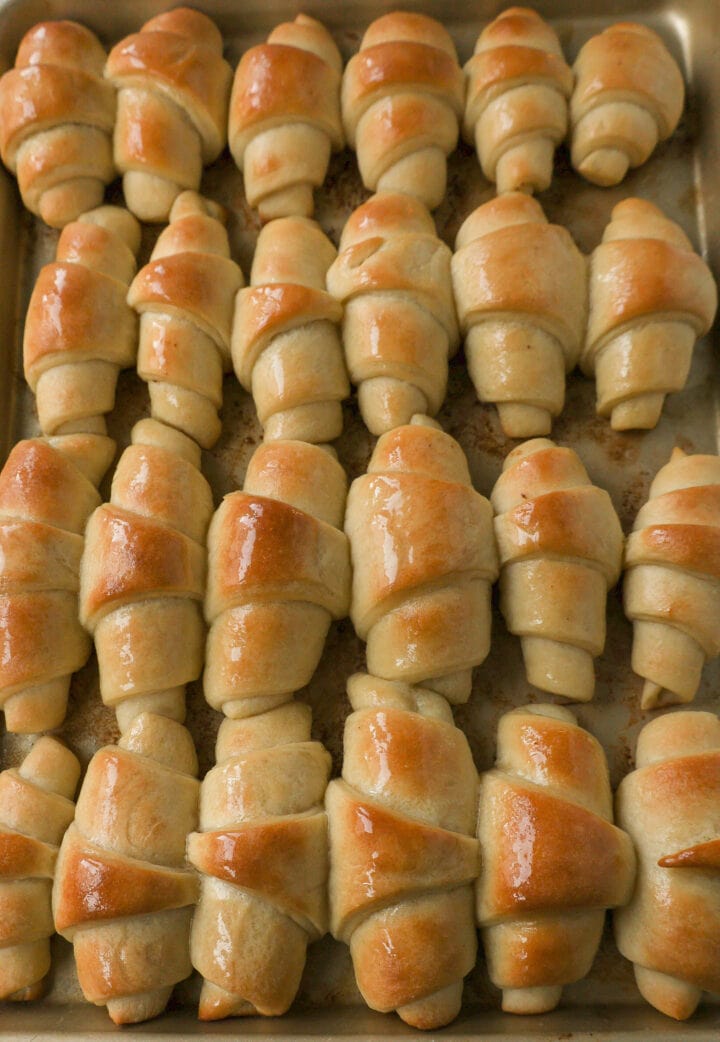 Should I use Salted or Unsalted Butter in this Roll Recipe?
I suggest using salted butter. It has so much more flavor than unsalted butter.
How to make Homemade Crescent Rolls:
Start by proofing the yeast with warm water and sugar. The yeast will start to become foamy and that's how you know it is working!
Add the warmed milk, and melted butter (make sure it isn't too hot!). It helps to use warmed ingredients as they incorporate much easier than if they were cold, straight from the refrigerator. Add egg.
Add flour and salt and mix for several minutes. I prefer to use my Bosch mixer for this recipe because it makes kneading so much easier! You want to watch for the dough to come clean off the sides of the bowl. If you need to add more flour, add 1 Tablespoon at a time. I use all-purpose flour in this recipe but you can also use bread flour.
Place the dough in a bowl that has been lightly sprayed with non-stick cooking spray, softened butter, or oil to prevent sticking. Cover and let it rise until the dough is double in size, about 1-2 hours.
Once the dough has risen, equally divide it into two balls. Roll each ball of dough into a circle, about 14" in diameter. Soften some butter and brush all over the dough.
Using a pizza cutter, cut the dough into quarters. Then slice each quarter into thirds, so you will have 12 total. Roll up each triangle starting with the widest part.
Place the rolls onto a greased baking sheet. Brush with a little more butter to keep the rolls from drying out. Let the crescent rolls rise again until they are double in size.
Bake just until a light golden color. Remove from the oven and brush with the remaining melted butter. Serve warm, straight out of the oven!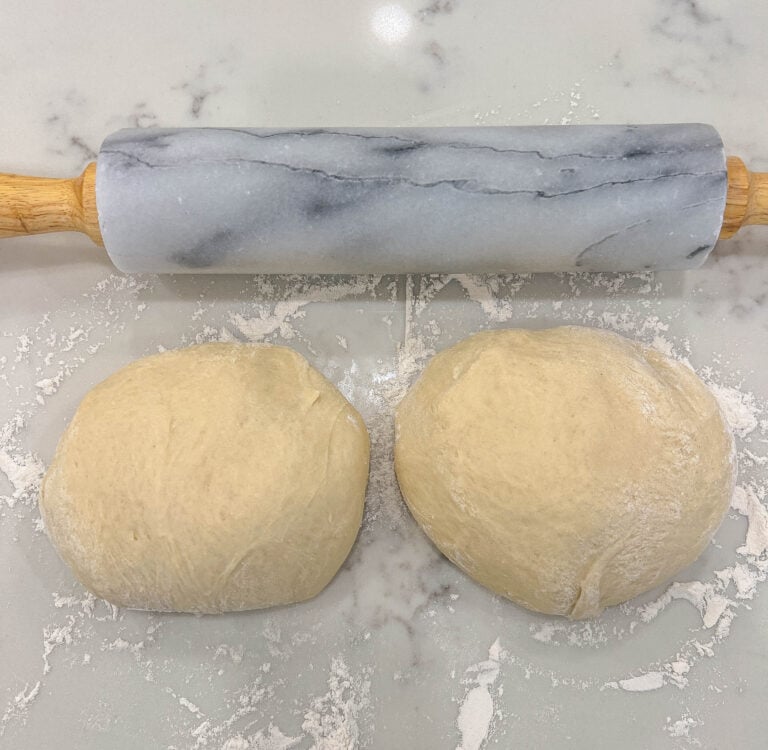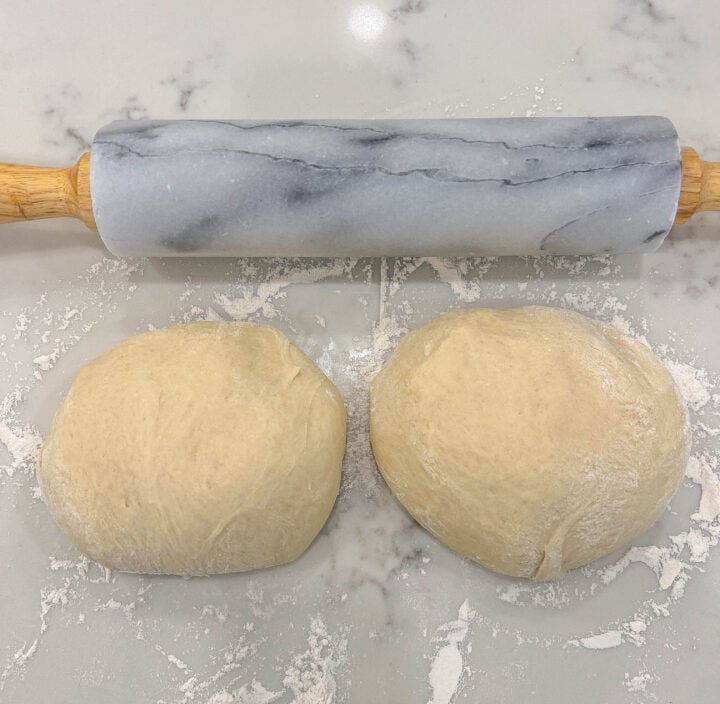 Divide the dough ball into equal halves and then roll it out into a large 14" circle.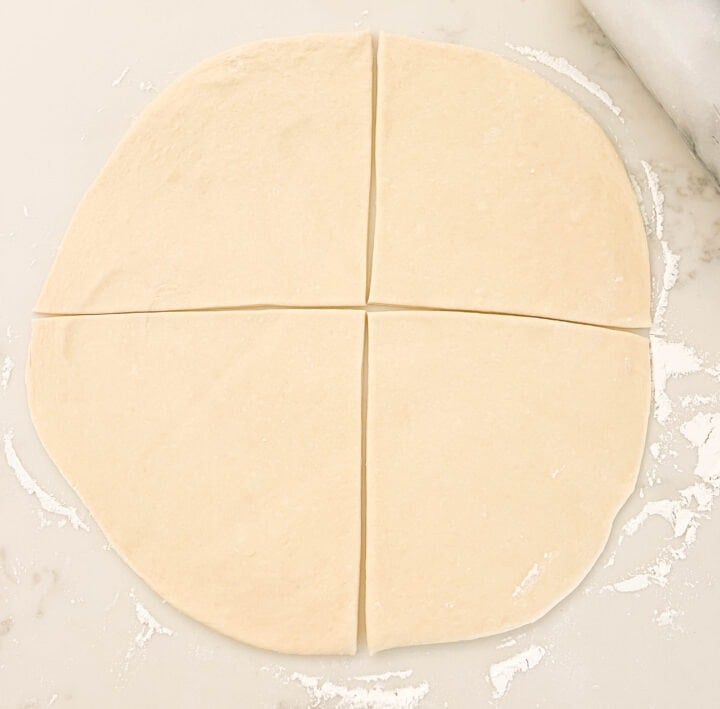 Use a pizza cutter to cut it into 4 equal parts.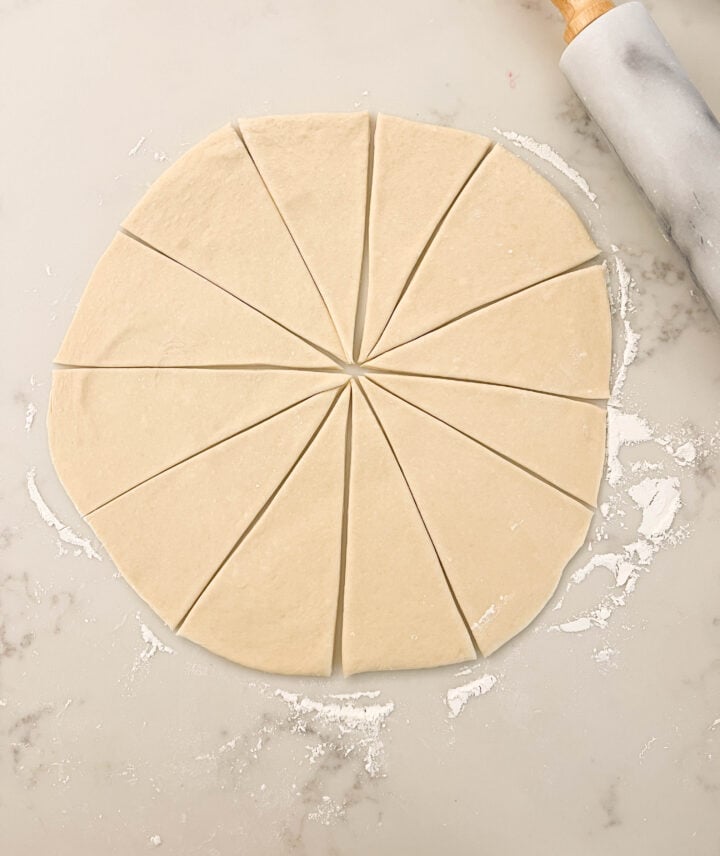 Cut each quarter into 3 pieces so you have 12 pieces total.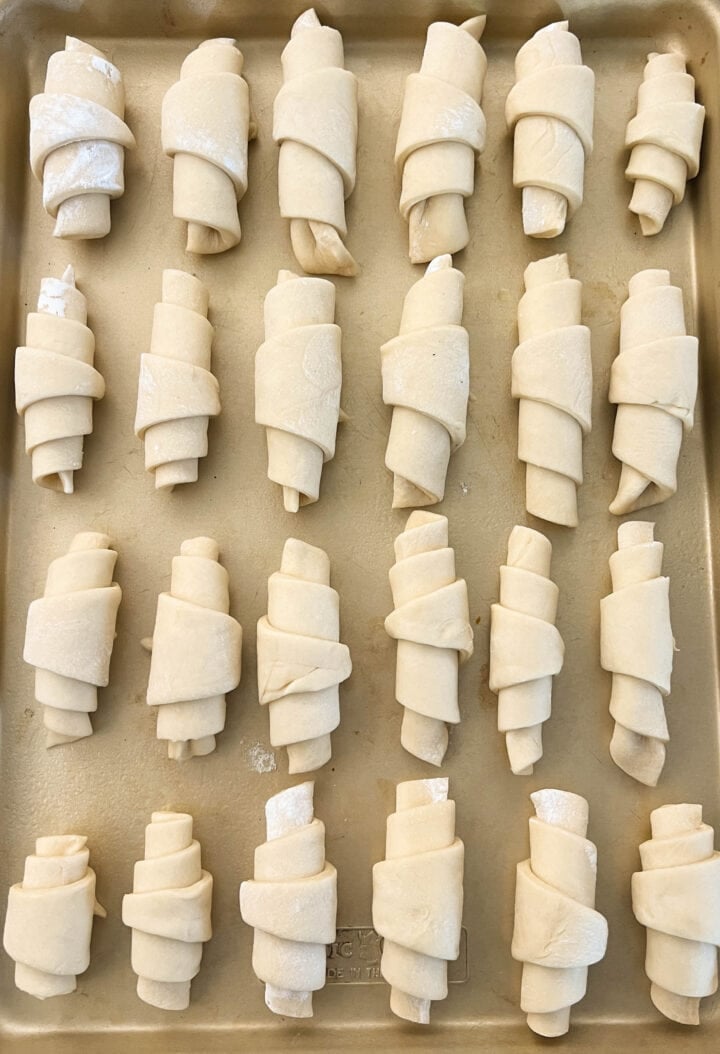 You will have 24 rolls in total and they will all fit on a classic baking sheet.
The crescent dough has been brushed with butter, to keep the rolls from drying out, and has puffed up and doubled in size. The rolls are ready to be baked in the oven!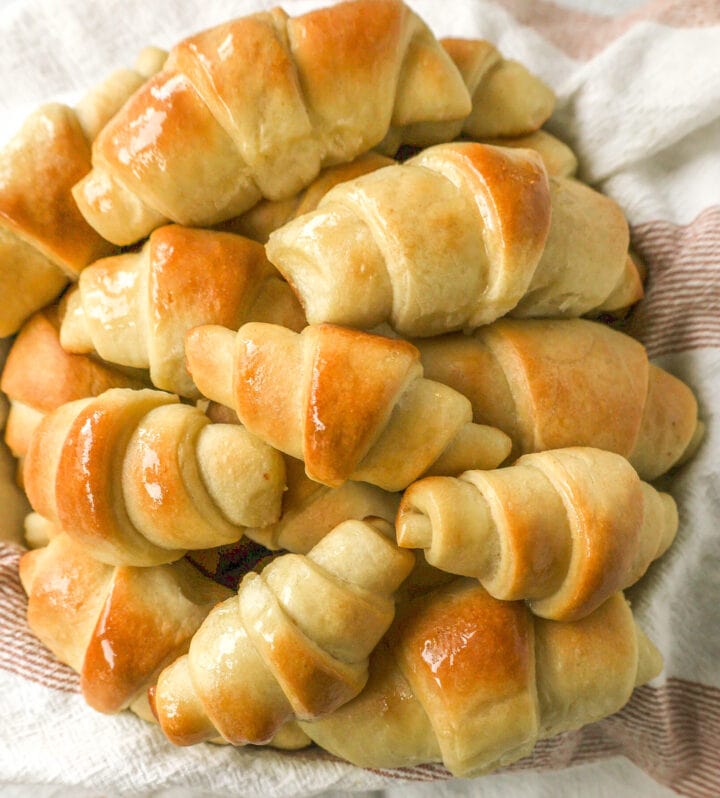 If you are looking for the Best Thanksgiving Recipes, click HERE for all of them in one place.
Here are some popular Bread Recipes: