No-Bake Chocolate Peanut Butter Pie with a graham cracker crust, creamy peanut butter filling with peanut butter cups, chocolate ganache, and topped with fresh whipped cream and peanut butter cups. The best chocolate peanut butter pie recipe!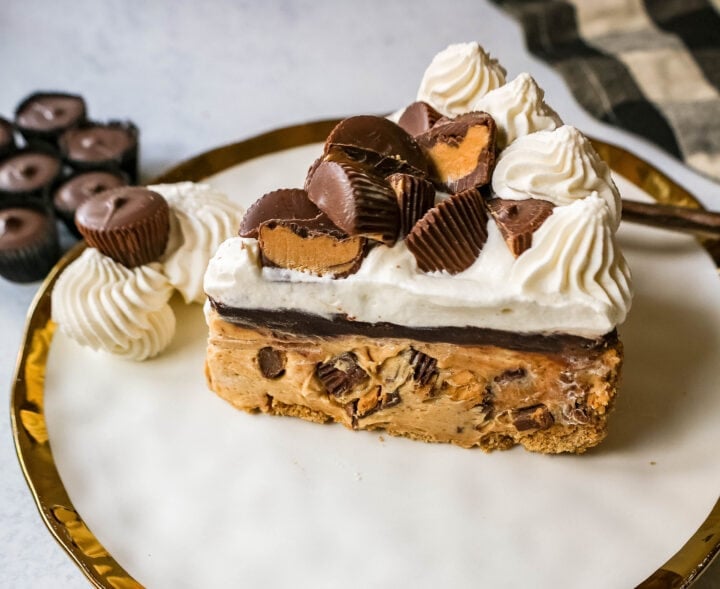 We have a huge Thanksgiving celebration every year. We dedicate an entire large table for just the homemade pies! I love to bring a new, showstopping homemade pie every year and this Thanksgiving, I will be making this No-Bake Chocolate Peanut Butter Pie.
This is for all of my chocolate peanut butter lovers out there!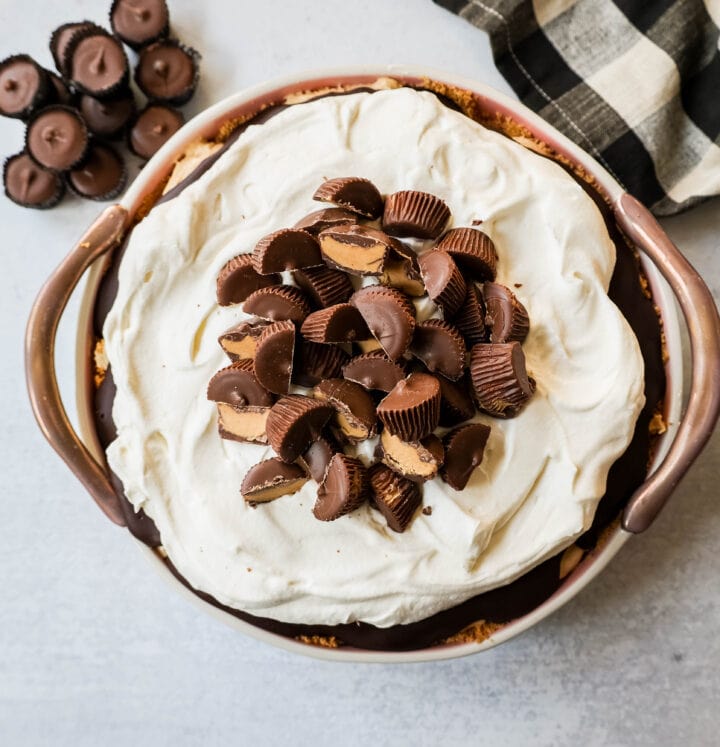 The beauty of this Peanut Butter Pie is that it is no-bake so no oven is needed and that is a big deal on Thanksgiving Day.
It all starts with a homemade graham cracker crust. Then we whip up a light, fluffy peanut butter mousse studded with chocolate peanut butter cups. Then we make a creamy chocolate ganache with chocolate and heavy cream. It is all topped off with sweetened whipped cream and peanut butter cups. This is the most decadent pie!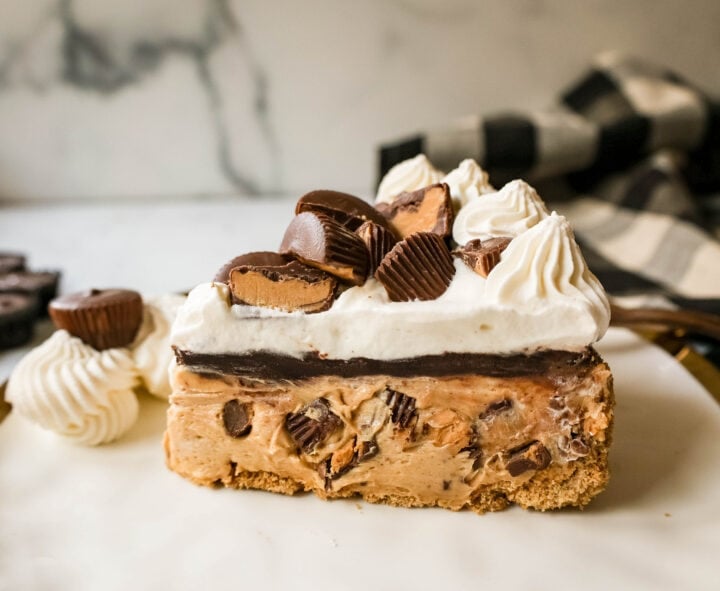 No-Bake Chocolate Peanut Butter Pie Ingredients:
Graham Cracker Crust:
Graham Crackers
Melted Butter
Peanut Butter Mousse Filling:
Creamy Peanut Butter
Cream Cheese -- full-fat cream cheese
Powdered Sugar
Vanilla Extract
Heavy Cream, whipped
Peanut Butter Cups, chopped
Chocolate Ganache:
Semi-Sweet Chocolate
Heavy Cream
Whipped Cream:
Heavy Cream
Powdered Sugar
Garnish: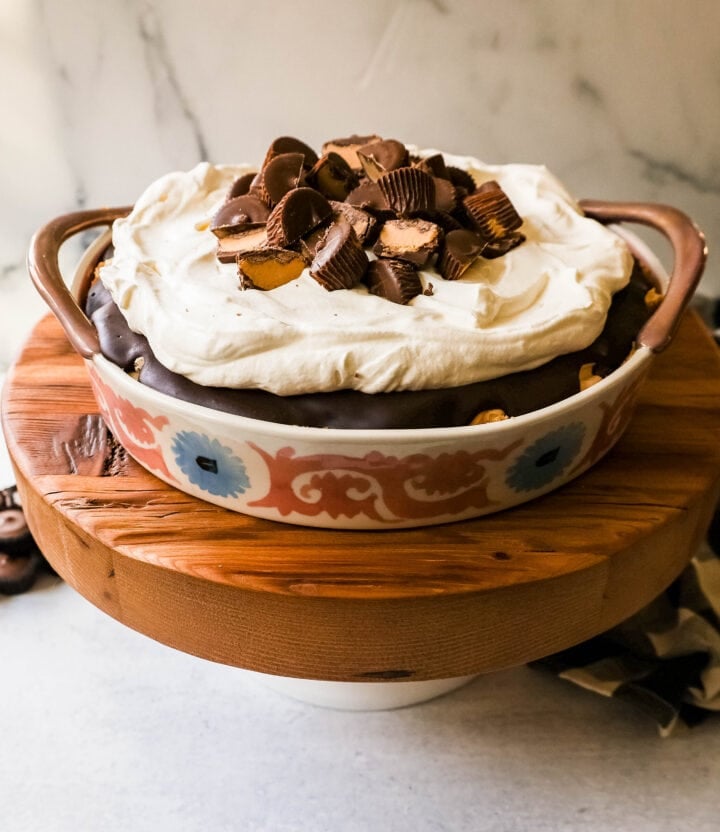 How to make Chocolate Peanut Butter Pie:
Start by making the graham cracker crust by pulsing the graham crackers and melted butter in a food processor. Press into a 9-inch pie plate. This Emile Henry Pie Dish is my favorite. I also love their Ruffled Pie Dish. Place in freezer while you make the filling.
Make the peanut butter filling by whipping together softened cream cheese and creamy peanut butter for 5 minutes until it is fluffy and creamy. Add powdered sugar and vanilla.
In another bowl, whip the heavy cream until stiff peaks form. Once it is whipped, fold or mix into the peanut butter filling, making sure not to overmix and deflate the whipped cream. Fold in chopped peanut butter cups.
Pour into chilled pie crust or place in the freezer to chill for at least 25-30 minutes. It is important to let it harden before pouring the warm chocolate ganache on top.
Make the chocolate ganache by melting chocolate and heavy cream in a microwave-safe bowl. If you want additional peanut butter flavor, swap out some of the chocolate for peanut butter cups to make a chocolate peanut butter ganache.
Pour the ganache over chilled peanut butter filling and place it back in the freezer to allow the ganache to set.
Make the whipped cream for garnishing the pie by whipping heavy cream and powdered sugar until stiff peaks form. When you are ready to serve, spread whipped cream on top of the pie or pipe the whipped cream around edges.
Top with chopped peanut butter cups all over the pie. Keep chilled until ready to serve. Cut into slices.
Keep scrolling down to find the recipe card with more detailed instructions.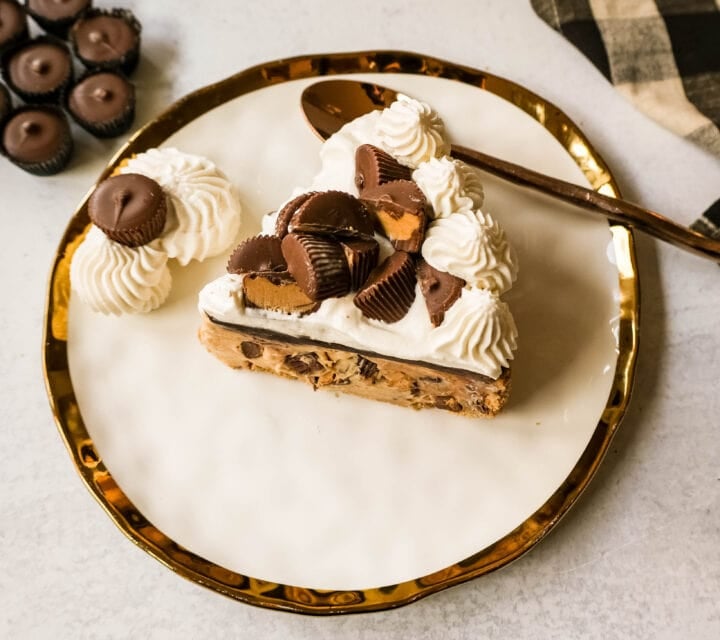 Q & A:
Can I use a Chocolate Oreo Cookie Crust instead of a Graham Cracker Crust?
Absolutely! This pie is so versatile and you can use a chocolate cookie crust, a graham cracker crust, or even an all-butter pie crust.
If you are looking for a chocolate OREO crust recipe, click HERE.
What peanut butter cups should I use in Peanut Butter Pie?
You can use any brand of peanut butter cups but my favorites are Trader Joe's Milk Chocolate Peanut Butter Cups and Reese's.
Can I use low-fat cream cheese in this recipe?
I always suggest using full-fat cream cheese in this recipe because of its creamy texture.
Storage:
You can prepare this pie several days ahead of time. You can keep it covered in the freezer or refrigerator. I like to add the fresh whipped cream the day of so it is fresh.
To store leftover pie, keep it covered in the refrigerator or freezer.
If you love chocolate peanut butter, I also have a Chocolate Peanut Butter Cup Pie with Oreo Cookie Crust.
If you are looking for more pie recipes and Thanksgiving Recipes, click HERE.
I love to hear from you! If you make this recipe, please be sure to leave a comment and give this recipe a rating. If you make any of my recipes, tag me on Instagram @modern_honey so I can see your creations. It's one of my favorite things seeing you make these recipes in your own kitchen. Sign up for my newsletter below so you never miss a recipe. Thank you for following along! I truly do have the greatest readers. FOLLOW ME ON: INSTAGRAM --- FACEBOOK --- PINTEREST