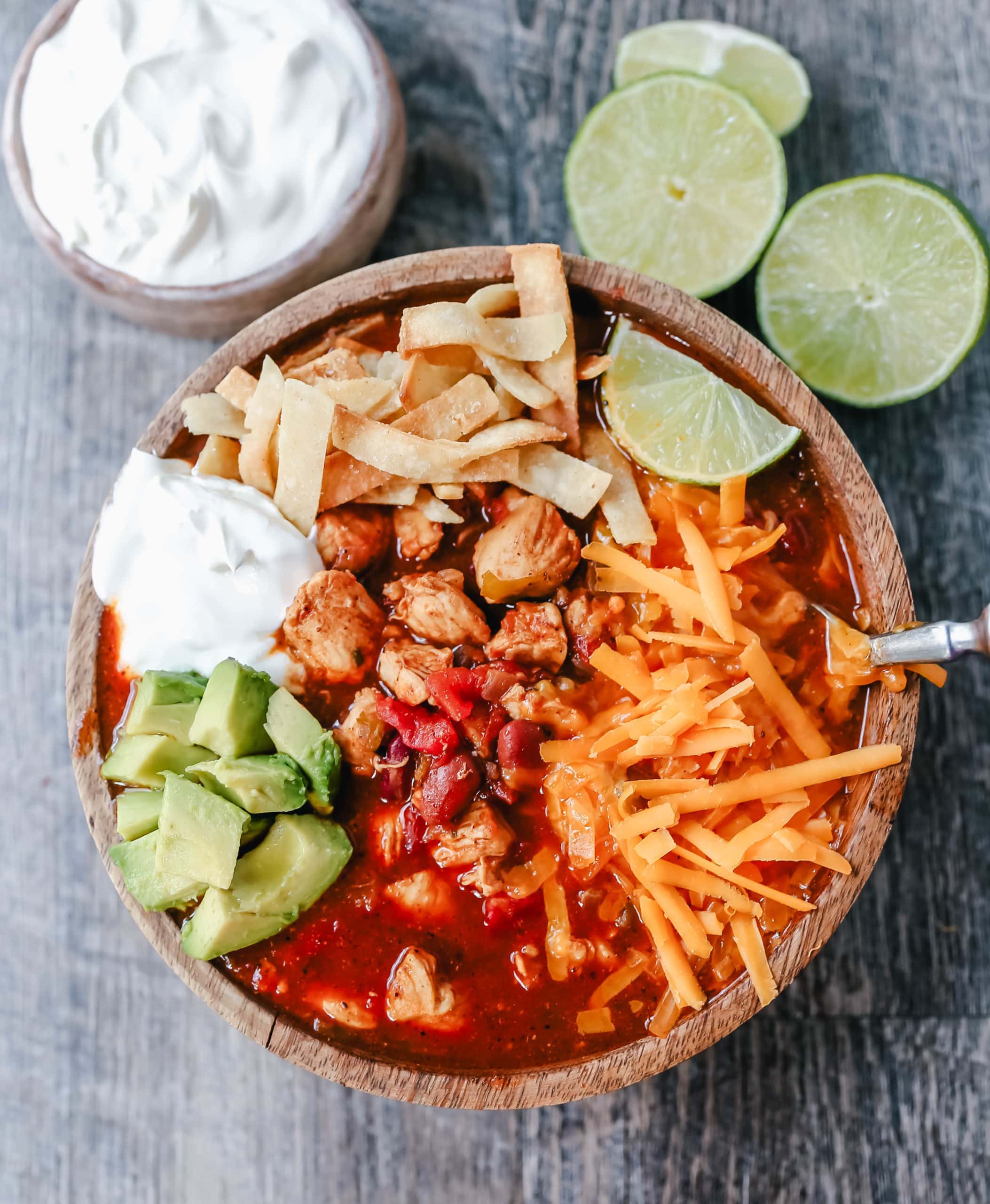 Chicken Chili
Traditional, homemade chicken chili with Mexican spices, green chilies, tomatoes, chili beans, and two secret ingredients to put it over the top!
This is the time of year where it finally starts to cool off in Arizona and there is an actual chill in the air. I literally wore a sweatshirt all day today and I couldn't be happier about it. So when the weather starts to cool down, we eat a lot of chicken chili in our home!
Some of the kids in my family prefer chicken over beef so I wanted to create a recipe that tastes like a beef chili with all of the smoky Mexican seasonings but instead of beef, use chicken. It just tastes a little lighter and my family loves it!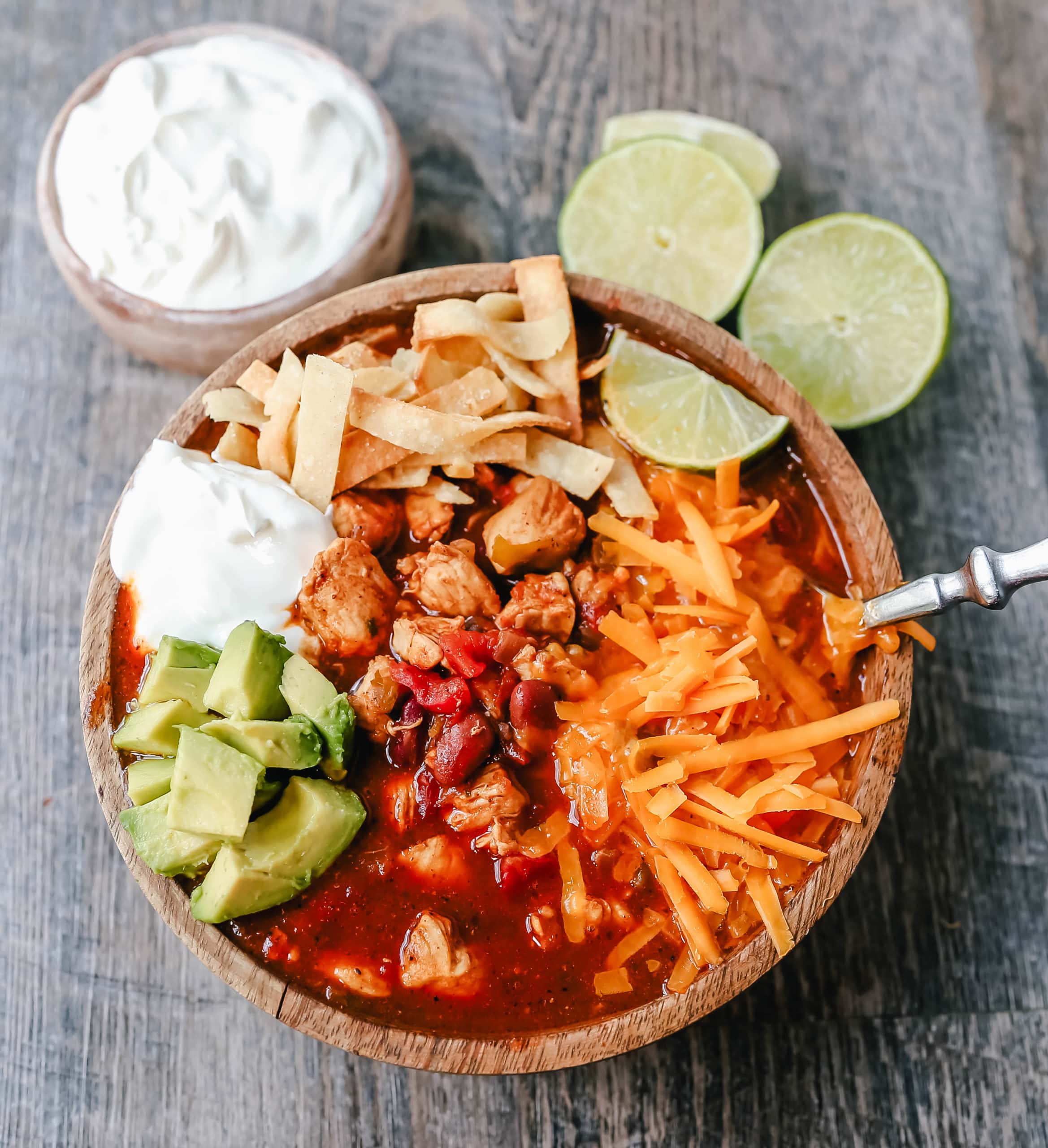 I love my award-winning beef chili recipe so I tweaked that recipe a little by adding green chilies, changing some of the spices, and adding chicken breast. It still has those two secret ingredients that make it extra special.
This Chicken Chili Recipe calls for chicken breast, onion, green chilies, tomato sauce, petite diced tomatoes, Mexican spices, ranch powder, and Dr. Pepper. It is full of unique ingredients that work together brilliantly!
The key to making the best chicken chili is to add a ton of flavor! If you have read my recipes, you know how I feel about layering flavors. I really like to focus on seasoning my food. This isn't just accomplished with salt and pepper! It is about building flavors. Some ways to build flavors are to start off with ingredients such as onions and garlic. I love to use different herbs and spices to accentuate flavors. I love to add a little spice without it being overpowering.
Here's a tip: if you taste a recipe and it is a tad bland -- here are some ideas on how you can boost the flavor. You can add salt, pepper, garlic, fresh herbs, possibly a little citrus like fresh lemon or lime juice to brighten it up, some red chili flakes for some subtle spice, or some sauteed onions.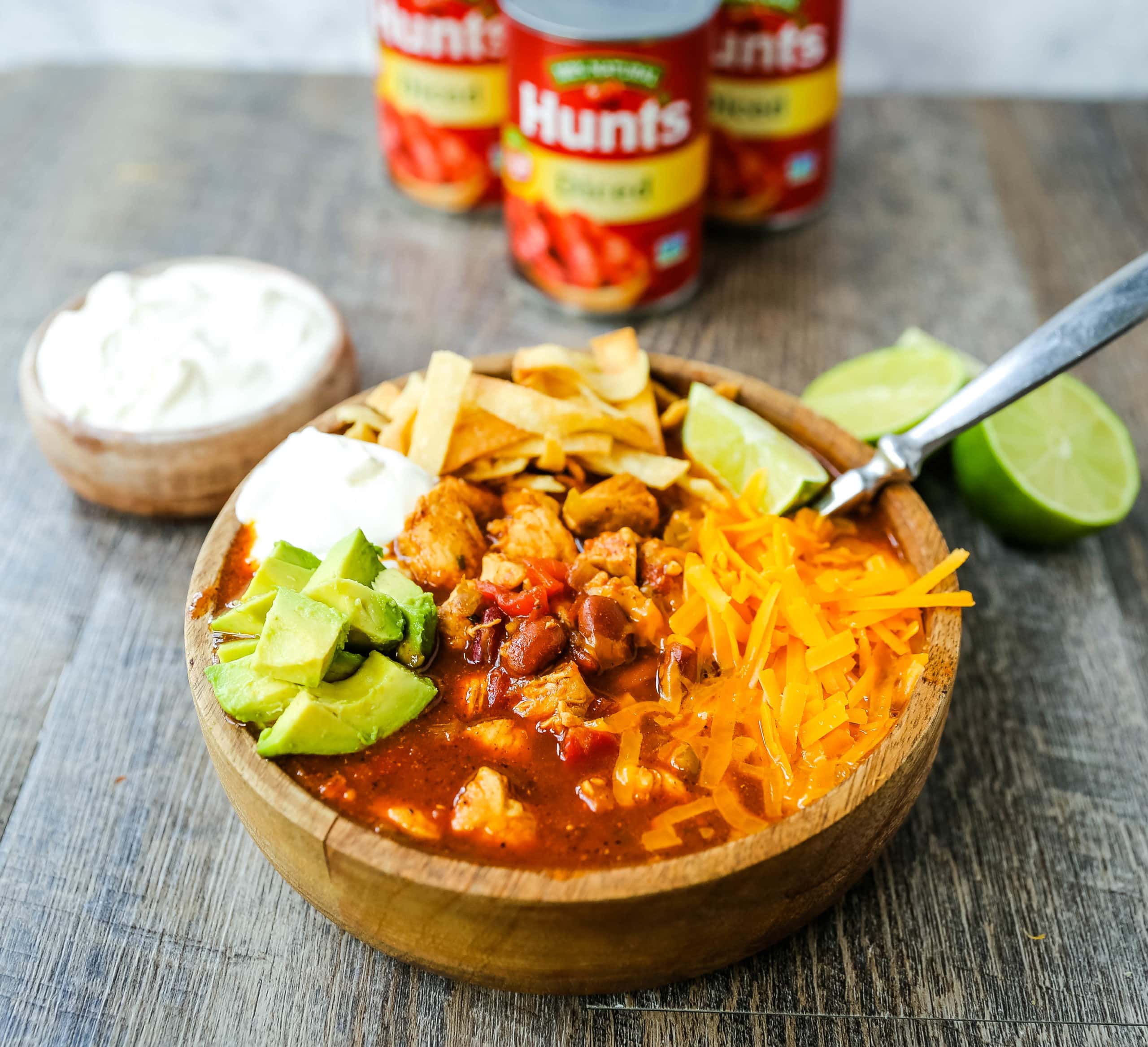 How to make the Best Chicken Chili:
Start by sauteeing onion in a little oil. Once it begins to soften, add the bite-size chicken breast pieces and continue to cook until it is no longer pink. Sprinkle with salt and pepper to season the chicken.
Pour in a can of Dr. Pepper or your favorite dark-colored soda, such as Coke or Root Beer. This is going to help keep the chicken extra tender. I prefer to use petite diced tomatoes so they are smaller in size. Also, I suggest using chili beans since they are full of spices but you can substitute any type of canned beans.
Add your Mexican spices and let it simmer so the flavors begin to develop.
Top it with your favorite toppings -- Mexican cheese, tortilla strips, fresh avocado, sour cream or Mexican crema, cilantro, jalapenos, and fresh lime.