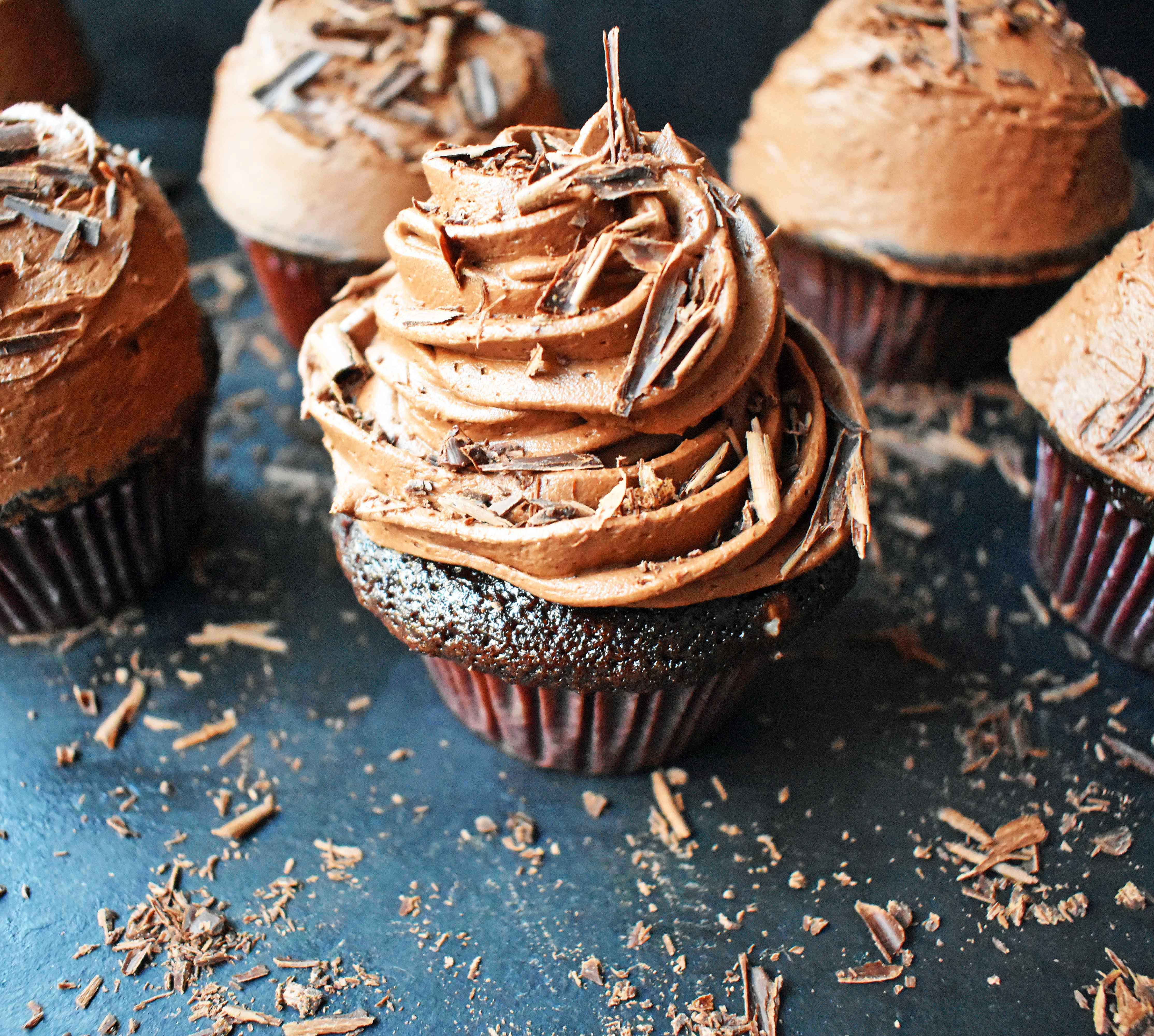 I was that kid who spent her afternoons with an apron on destroying my Mom's kitchen.
Every single time I began to bake, I promised my Mom over and over that I would clean the kitchen until it was spic and span.
But here's what would happen. I would get so excited about getting my cupcakes or cookies in the oven that I would neglect washing the dishes. I would be sitting with a big piece of chocolate cake and a glass of milk at the kitchen table and would put blinders on in an attempt to block out the mixing bowls piled in the sink.
My Mom somehow would let me bake again! So I would say that I have eaten my fair share of chocolate cakes in my years.  I am not sure if that is a good thing or a bad thing but regardless I am definitely a cake snob. 🙂
After much kitchen research, my favorite all-time chocolate cake was born -- The Love at First Sight Chocolate Cake. It's all kinds of chocolate fabulous but sometimes you need an out-of-this-world chocolate cake in cupcake form.
So let me present Chocolate Bombshell Birthday Cupcakes -- rich, tender, and fluffy chocolate cake topped with a heavenly chocolate buttercream frosting. This isn't your average grocery store cupcake! You could even call these Black Velvet Cupcakes because they are everything an amazing chocolate cupcake should be.
For every birthday party I ever had growing up, my request was simple -- bring on the chocolate!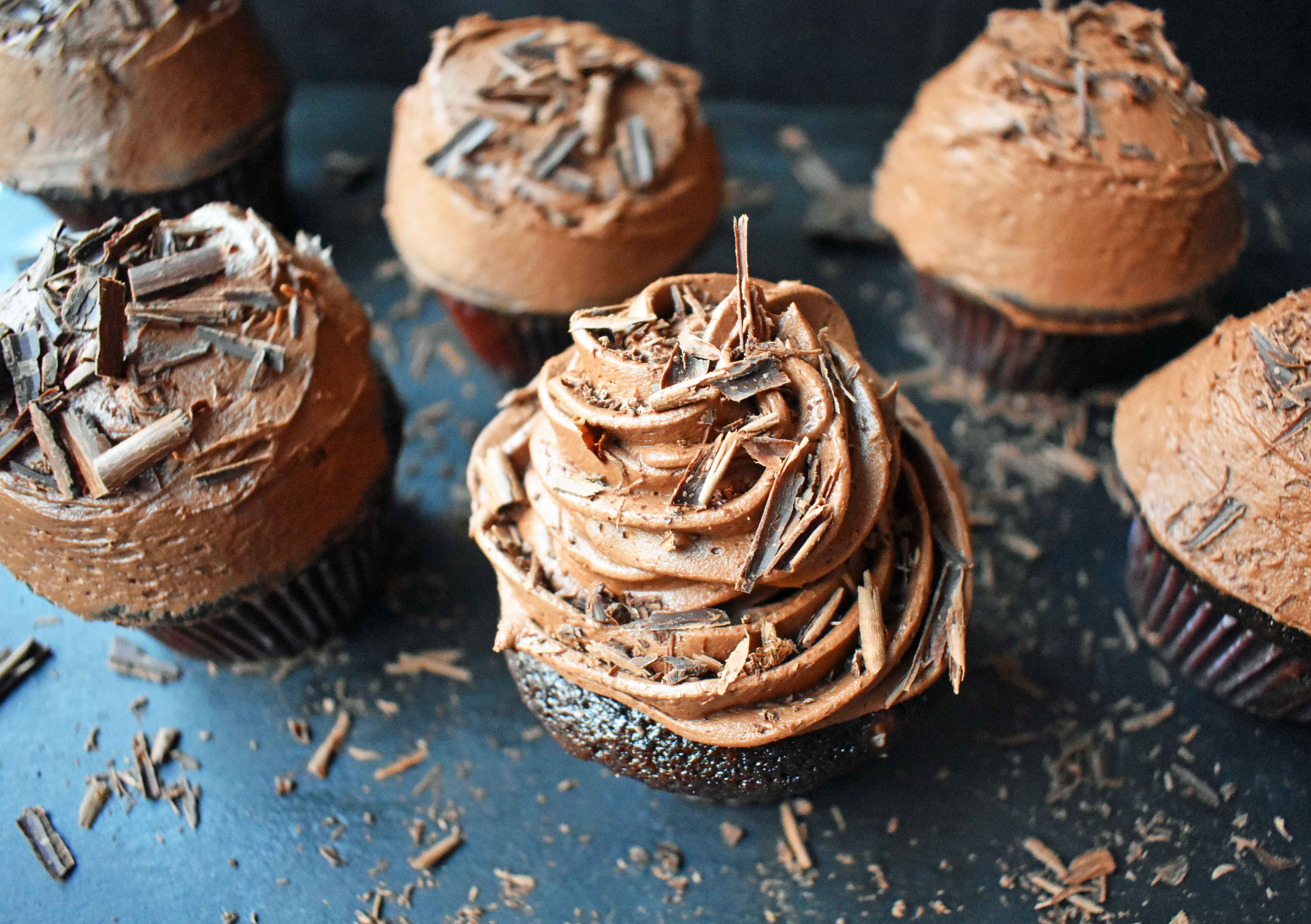 TIPS ON HOW TO MAKE HEAVENLY CHOCOLATE BOMBSHELL BIRTHDAY CUPCAKES:
Cake flour does make a difference in the tender crumb of the cake but you can substitute all-purpose flour.
High-quality cocoa powder can change the depth of chocolate flavor. I use Callebaut Cocoa (which I find in the bulk section at Winco). Ghirardelli and Trader Joe's make good ones as well. Always use unsweetened cocoa powder.
Using both baking soda and baking powder gives it the best rise.
Buttermilk is a must because it gives it the melt-in-your-mouth texture.
Even though I am the biggest butter fan in the world, oil just works best in chocolate cakes (in my humble opinion). I have used both canola and coconut oils and both turn out beautifully. When I use melted coconut oil, there is surprisingly no coconut oil taste in the cake.
Don't overbake your cake. You want that moist, tender crumb so watch it carefully and test it with a cake tester or toothpick.
When making your chocolate buttercream, you may substitute half and half or whole milk for the cream.  If you are using whole milk, use a little less as it is thinner than cream.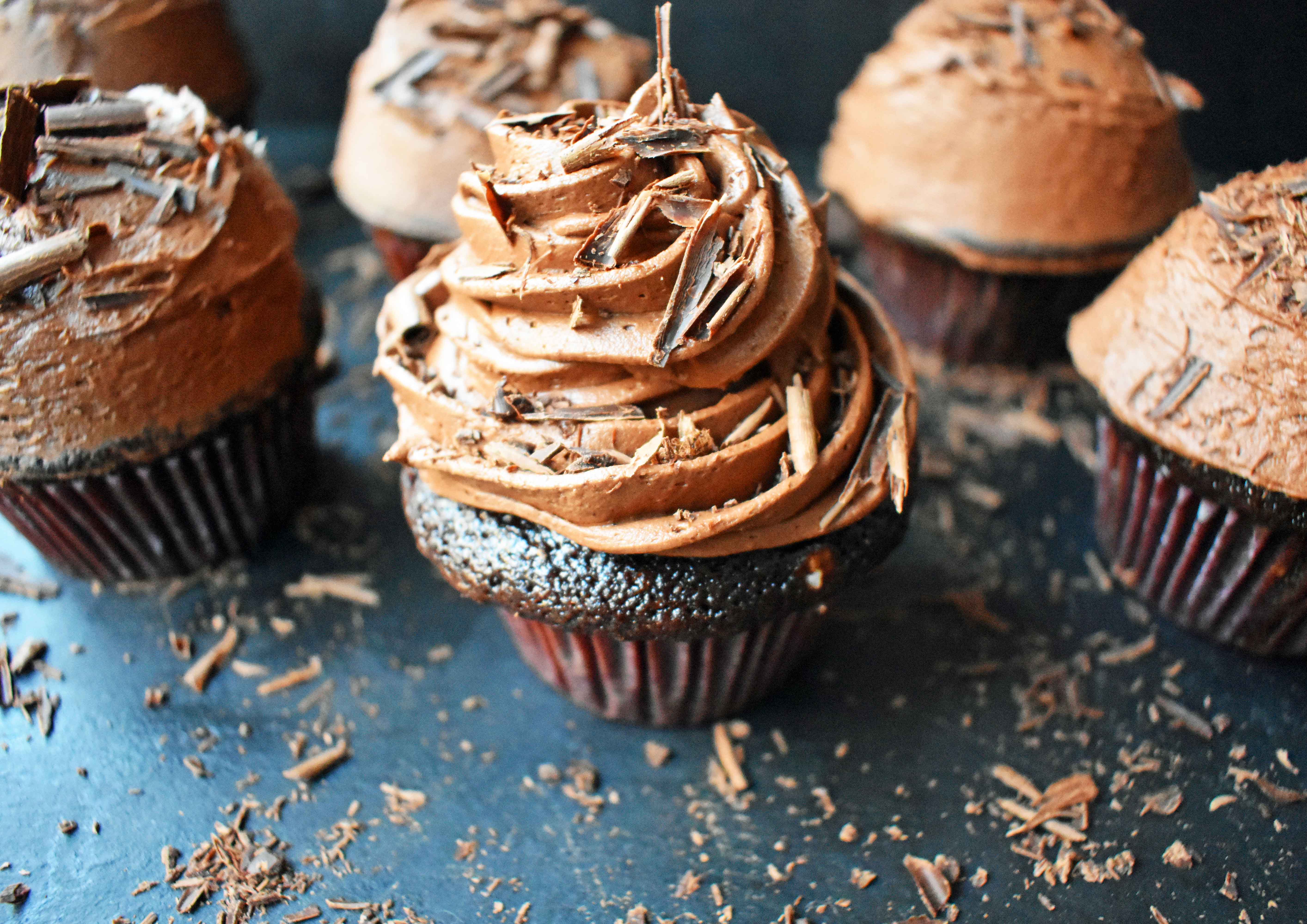 Share the LOVE and PIN this on PINTEREST:

Happy Baking, my friends! xo
For a highly rated Yellow Birthday Cake with Milk Chocolate Frosting -- click HERE.