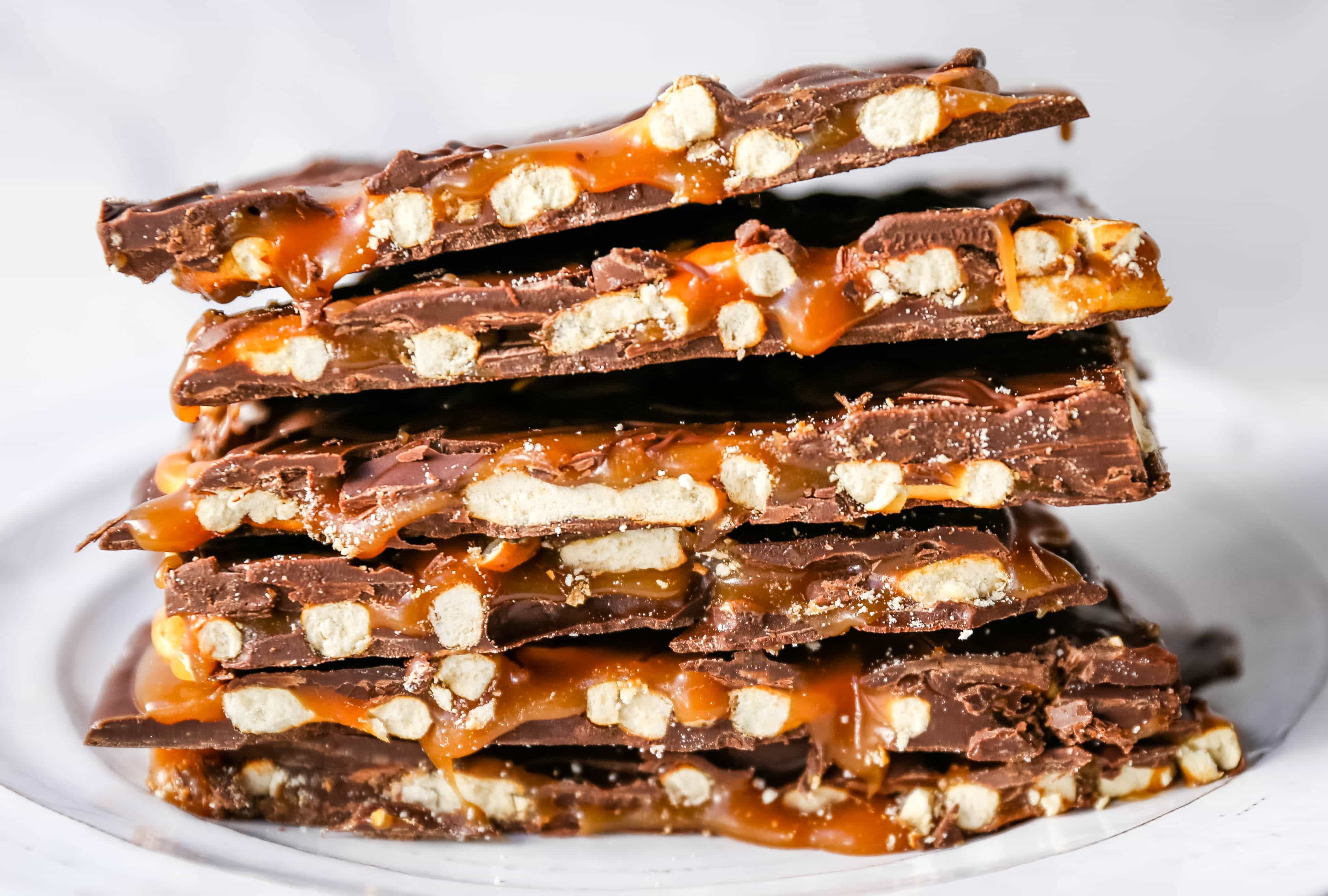 Chocolate Caramel Pretzel Bark
An easy homemade chocolate candy treat made with homemade salted caramel, salty pretzels, and creamy milk and semi-sweet chocolate. The perfect salty sweet combination!
There is good reason that salty sweet treats are so popular! We just arrived home from a trip to Colorado with the family. When we are on vacation, we find dessert places wherever we go. We found a chocolate shop selling chocolate caramel pretzel bark. However it was $5 per piece so I had a bit of sticker shock! As soon as I got home, it was at the top of my list of foods to make in my kitchen for a fraction of the cost.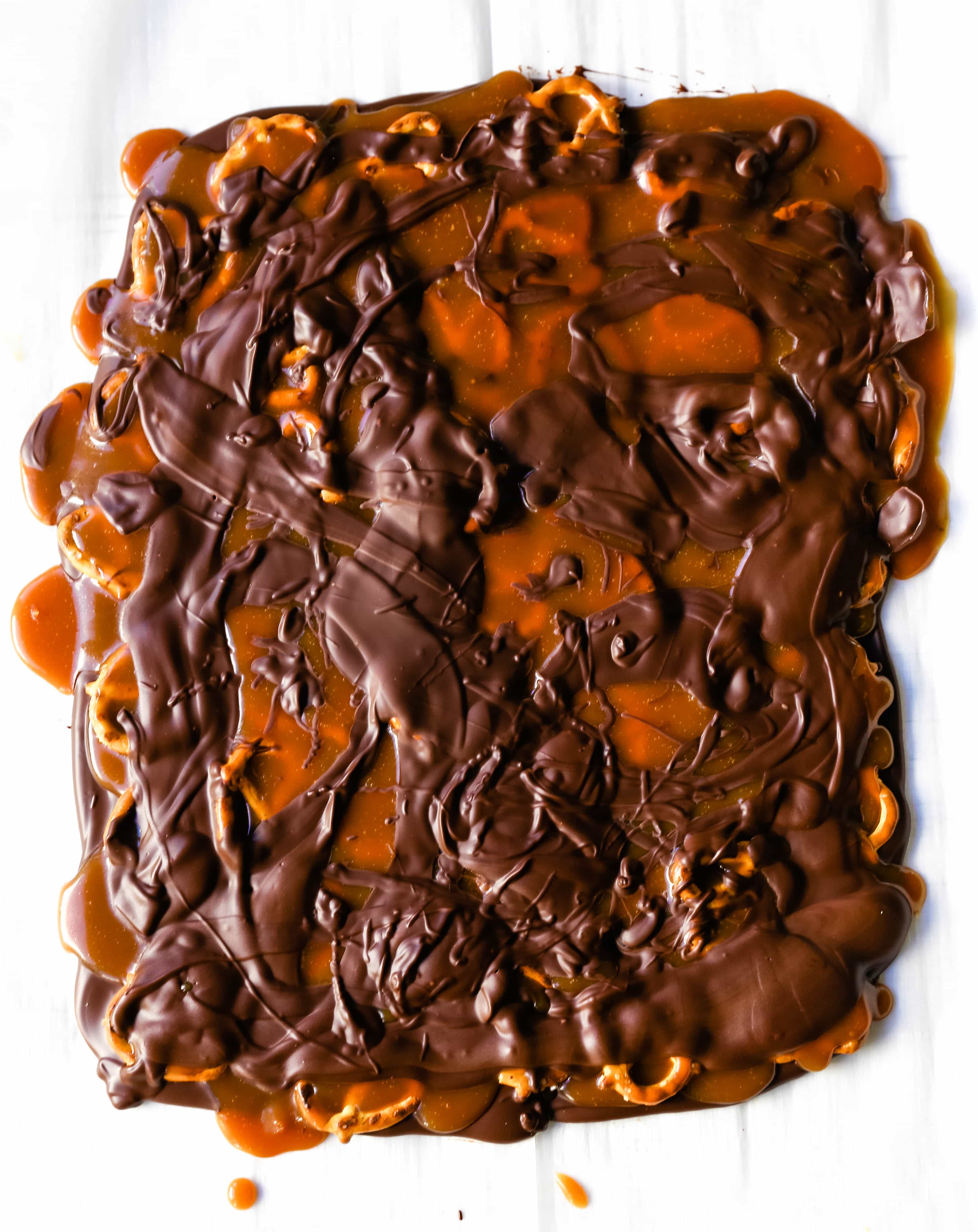 This Homemade Chocolate Caramel Pretzel Bark is made with two types of chocolate -- milk chocolate and semi-sweet chocolate to give it the perfect amount of sweetness. It is paired with buttery caramel and salty pretzels to give it the crunchy, creamy, sweet, and salty elements. Beware...it is beyond addicting!
I love to make my own homemade salted caramel but if you want a quick and easy method, you can use pre-packaged caramels and melt them according to the package instructions. If you want to make salted caramel from scratch, you only need a few ingredients -- sugar, butter, heavy cream, and sea salt. That's it!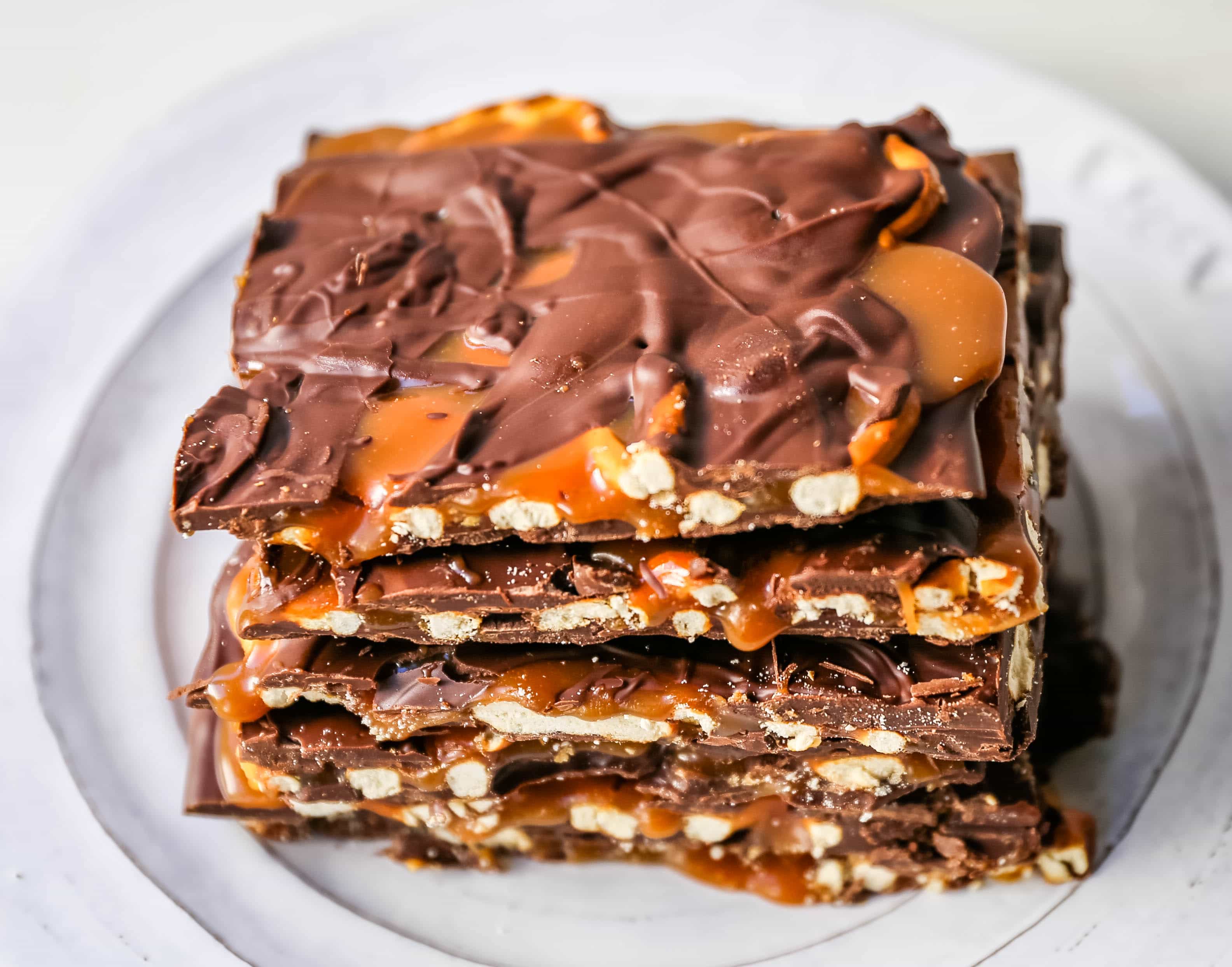 When I am making chocolate pretzel bark, I prefer to use high-quality chocolate since it is the star ingredient. My favorite chocolate brands are Guittard and Ghirardelli.
To melt the chocolate, you can do it in the microwave at 50% less power and melt it in 30-second increments, stirring well. You can also use a double boiler method which melts it perfectly without worrying about the chocolate burning.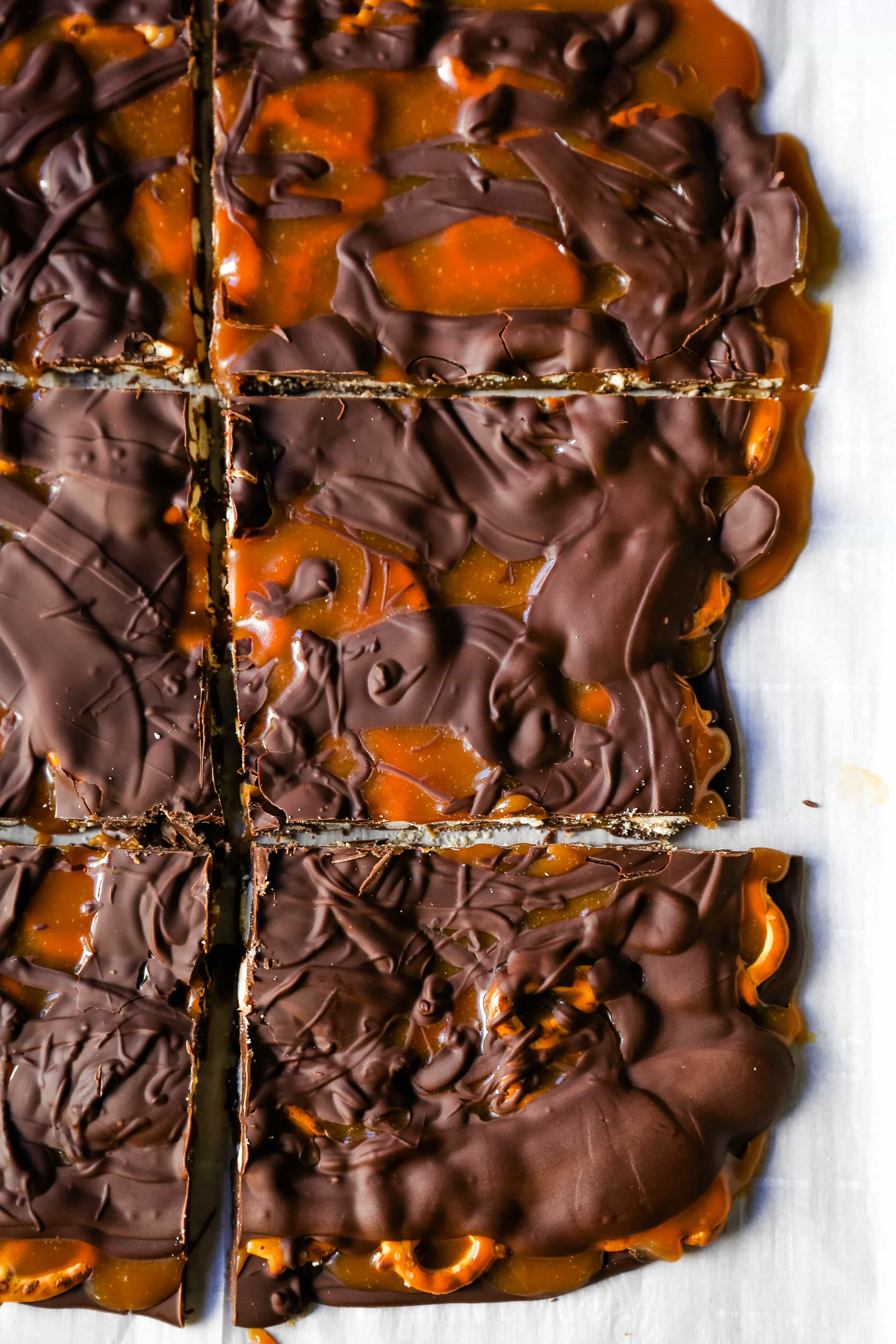 How to make Chocolate Caramel Pretzel Bark:
Begin with a parchment lined baking sheet. You can even lightly spray the parchment or waxed paper to make sure the chocolate bark doesn't stick to it.
Melt the semi-sweet chocolate. This can be done in a double-boiler or in the microwave. If you choose the microwave, start off with a microwave-safe bowl. It is important when melting chocolate to reduce the microwave power to 50%. Cook the chocolate in 30-second increments, stirring well after each increment, until completely melted.
Press the pretzels into the chocolate immediately so the pretzels will adhere to the chocolate as it hardens.
To make the homemade caramel, watch it carefully. It can turn from perfectly golden to bitter very quickly. Once the caramel is done, pour over the pretzels.
If you are using packaged caramels, melt according to the package instructions.
Melt the milk chocolate (see step #2). Use a spoon to pour over the caramel.
Cover and place in the refrigerator to chill for several hours. If you want to speed up the process, it can be placed in the freezer.
Cut into squares and serve.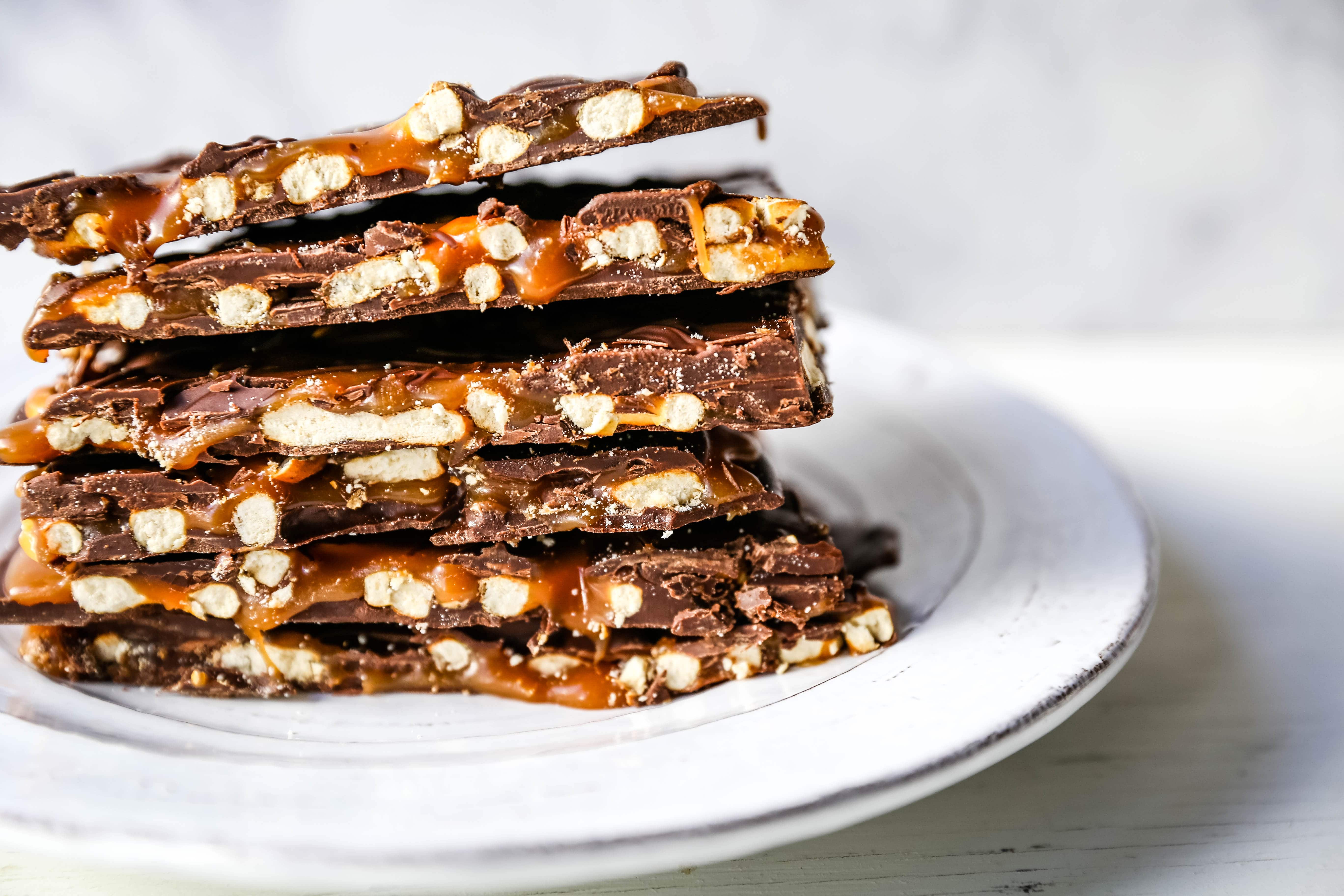 I love to hear from you! If you make this recipe, please be sure to leave a comment and give this recipe a rating. Sign up for my newsletter below so you never miss a recipe. Thank you for following along! I truly do have the greatest readers. FOLLOW ME ON: INSTAGRAM — FACEBOOK— PINTEREST
Here are some of my favorite baking essentials for this recipe:
Light colored Baking Sheets
Parchment Paper Sheets
Double Boiler