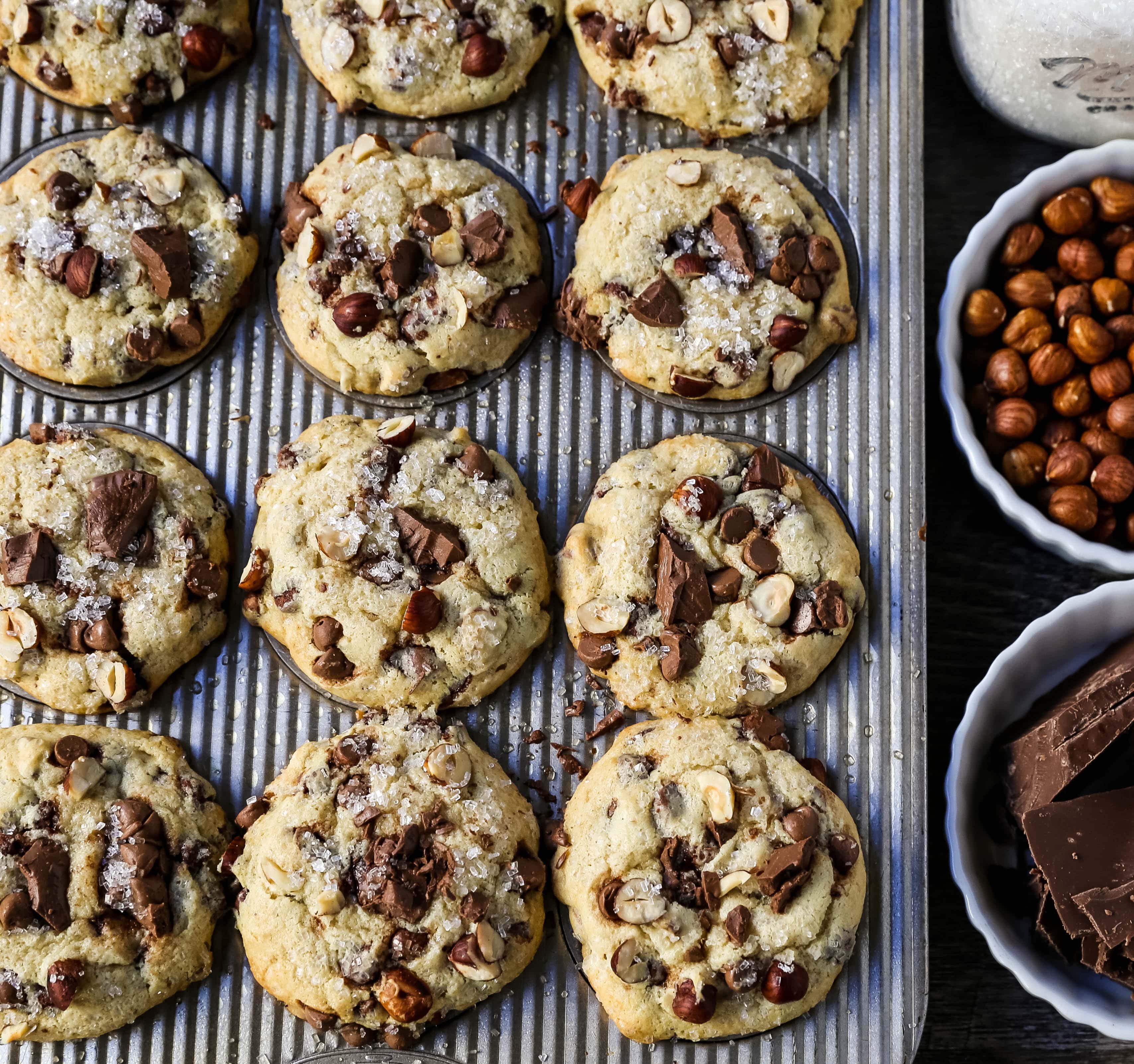 Chocolate Chip Hazelnut Muffins
Sweet homemade chocolate chip muffins with crunchy hazelnuts is the perfect gourmet muffin
It has been quite the summer! My kids are officially back in school and I am trying to get back into a routine. This summer has been so different than typical summers since my Dad suffered a massive stroke the first week of summer. It was so shocking and it has really rocked our world. He spent 6 weeks in the ICU in downtown Phoenix so my life became driving to and from the hospital every single day.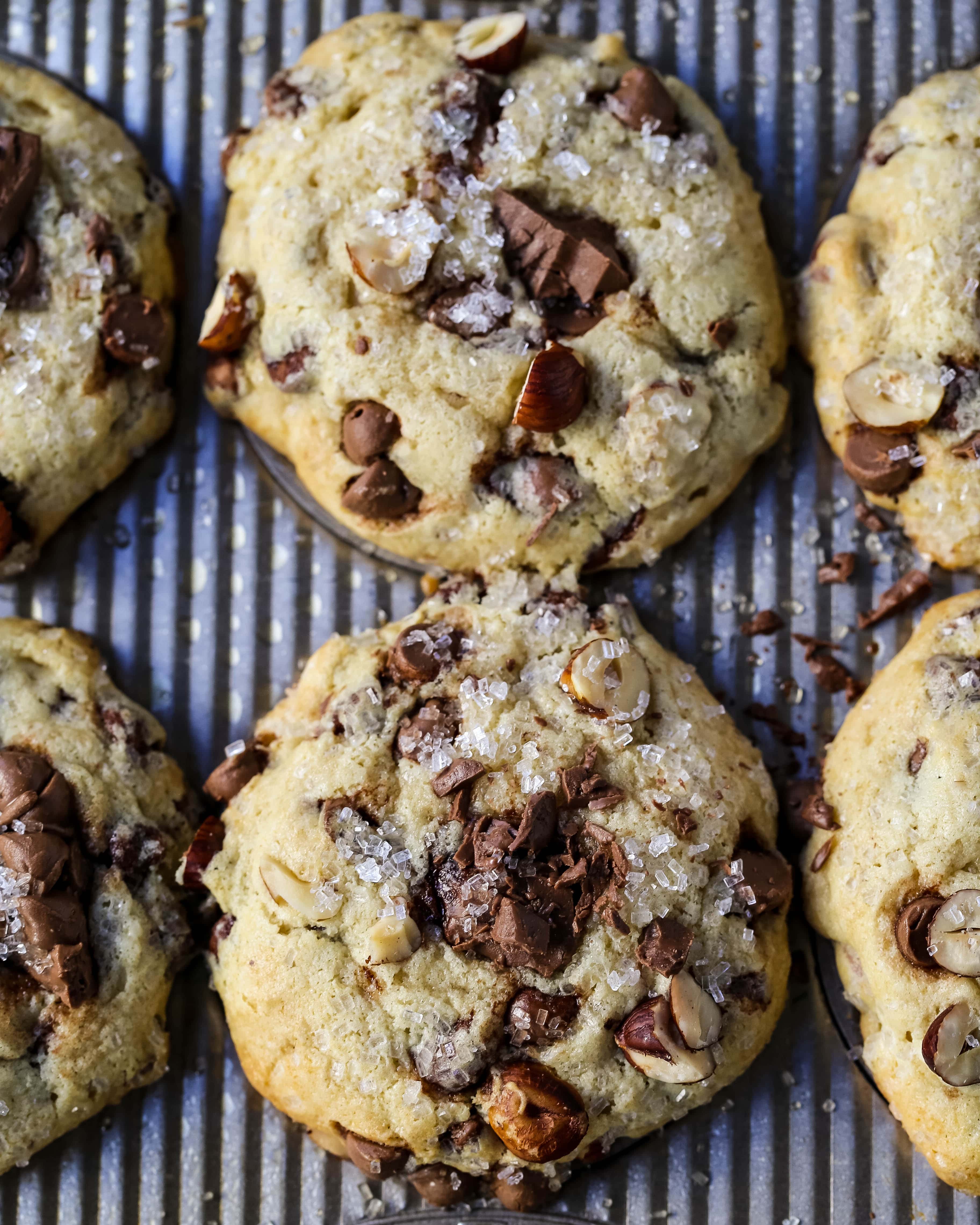 He has been transferred to another hospital and we are grateful that he is making some progress. I had to take some breaks from my posting schedule on Modern Honey to spend time with my Mom and Dad. These are the times when you realize more than ever that there is nothing more important in the world than family.  Family is everything to me. I am super close to all of my brothers and my parents and this experience has brought us even closer together.
So I am slowly but surely getting back into the kitchen and on my computer. We just arrived home from a quick trip to Texas a few days ago. My parents were supposed to go help babysit my brother's kids but since my Dad is in the hospital, we flew out there instead. I have a special place in my heart for Texas! We lived there for three years and even though Arizona is where I will be for life, I still look back at the fun, growing times we made in Texas.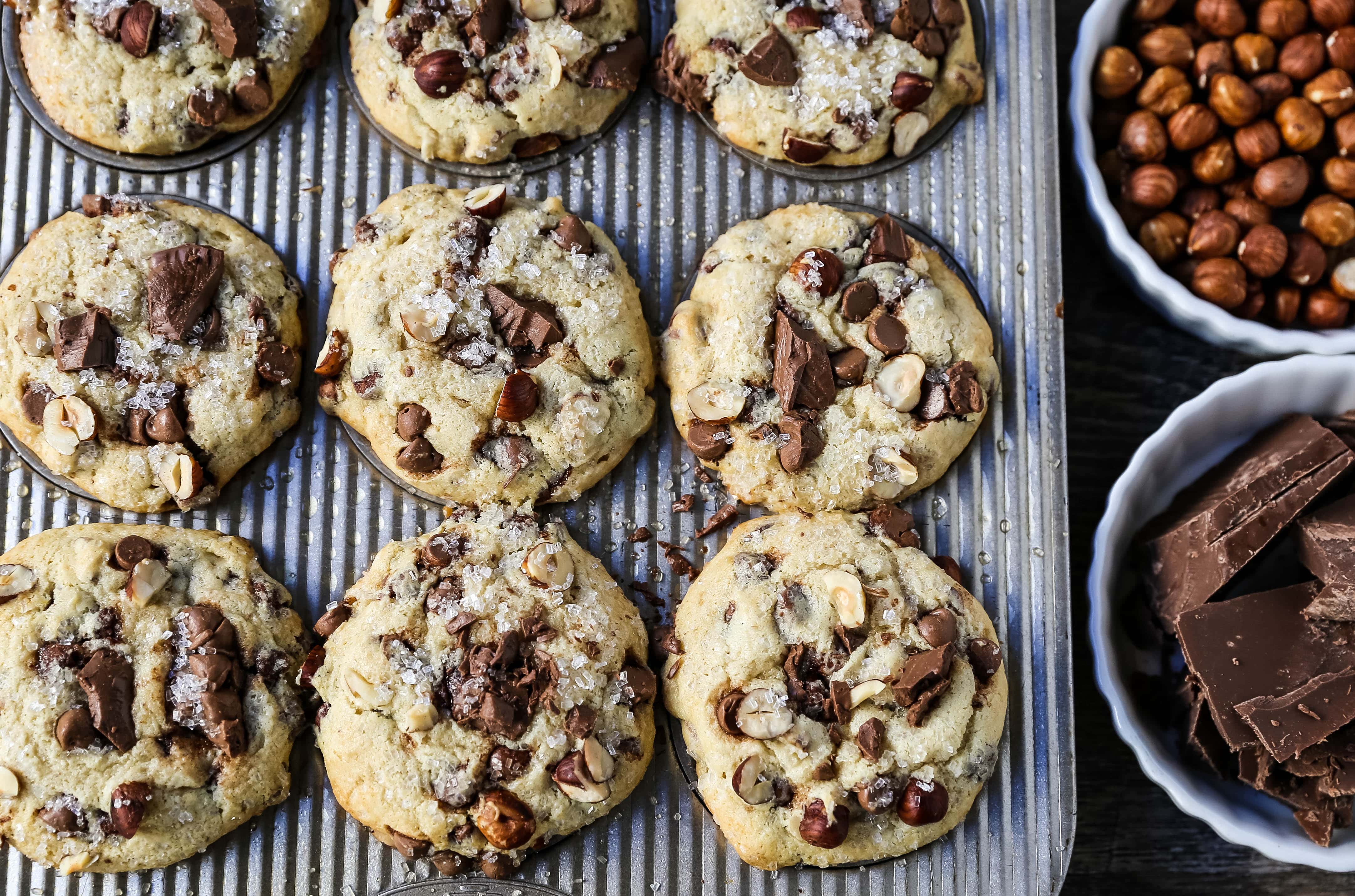 This won't surprise anyone who knows me really well but I love grocery shopping! Like really love it. Now this isn't Walmart grocery shopping…that isn't enjoyable to me AT ALL. I love specialty grocery stores with exceptional bakeries and unique departments. When we lived in Texas, it would be a treat to drive 25 minutes to go to Central Market. It is a foodie's paradise! I made friends with the gelato guy (hi Joe!) and every time I go back and visit, I get a picture with him.
One of my favorite parts of Central Market is their bakery. Of course I am super picky about my baked goods and they have a legit bakery. They are known for their gourmet muffins and I beelined it straight for their chocolate chunk hazelnut muffin. OH MY WORD. It had the perfect balance of a sweet, moist muffin studded with rich chocolate and crunchy hazelnuts with a touch of sparkling sugar on the top. I was hooked!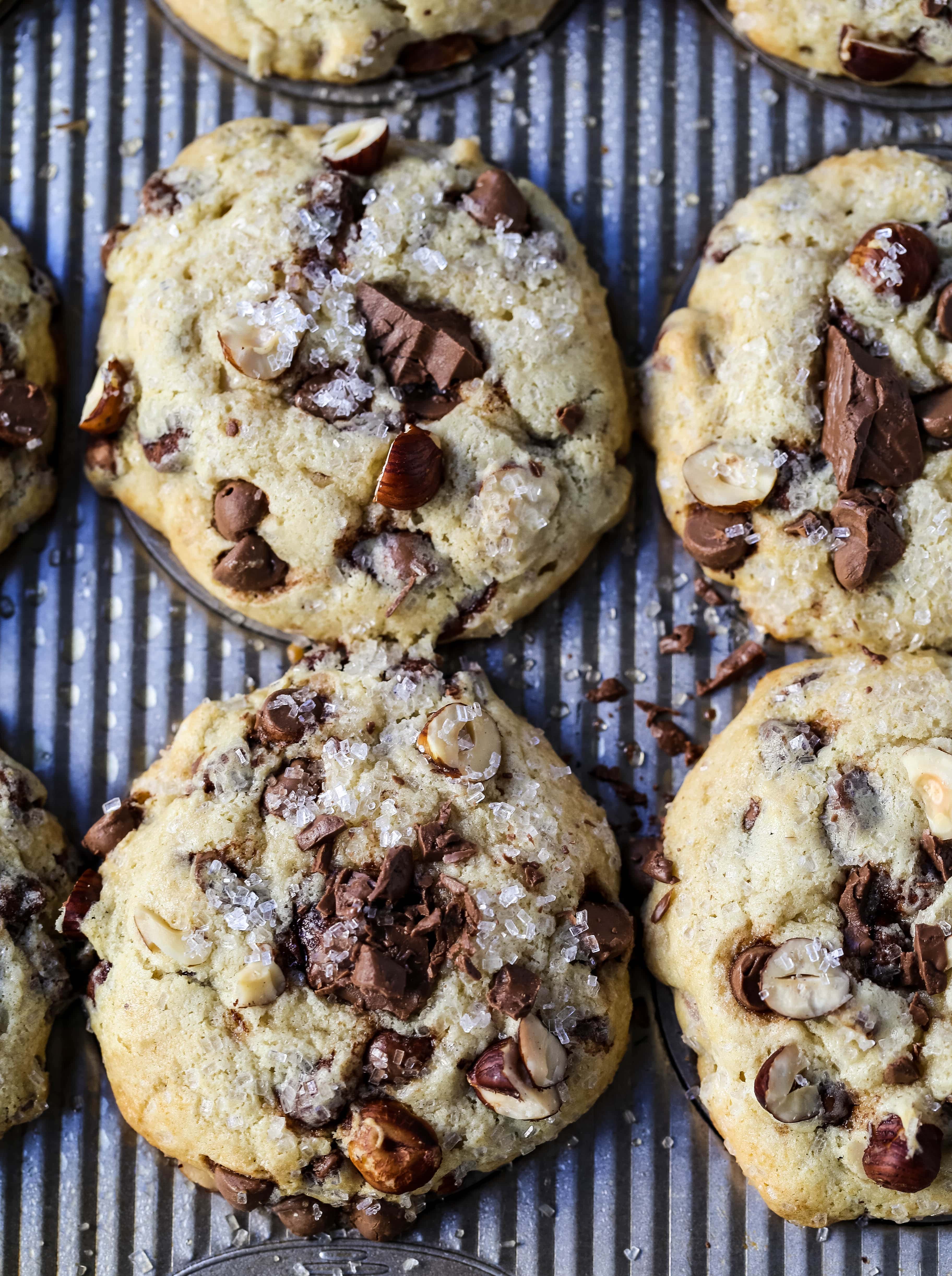 Since they are about $2 each, I needed to recreate their chocolate chunk hazelnut muffin at home. This took some experimenting to get the muffin base just right! I found it took a mix of sweet cream butter and sour cream to get the melt-in-your-mouth texture. Sour cream and buttermilk are game changers in baked goods.
Any type of chocolate works well in these chocolate chip muffins but my kids love milk chocolate. You can use milk chocolate chips, semi-sweet chocolate chips, or any type of chocolate bar, chopped up. I love to use a mix of chips and chunks for variety. If you chop up a chocolate bar, it melts beautifully in these muffins.
I find my hazelnuts in the bulk nut section of my local grocery store. I find them at Winco for a reasonable price and you can also find them at Sprouts. You can also find chopped hazelnuts in the baking section.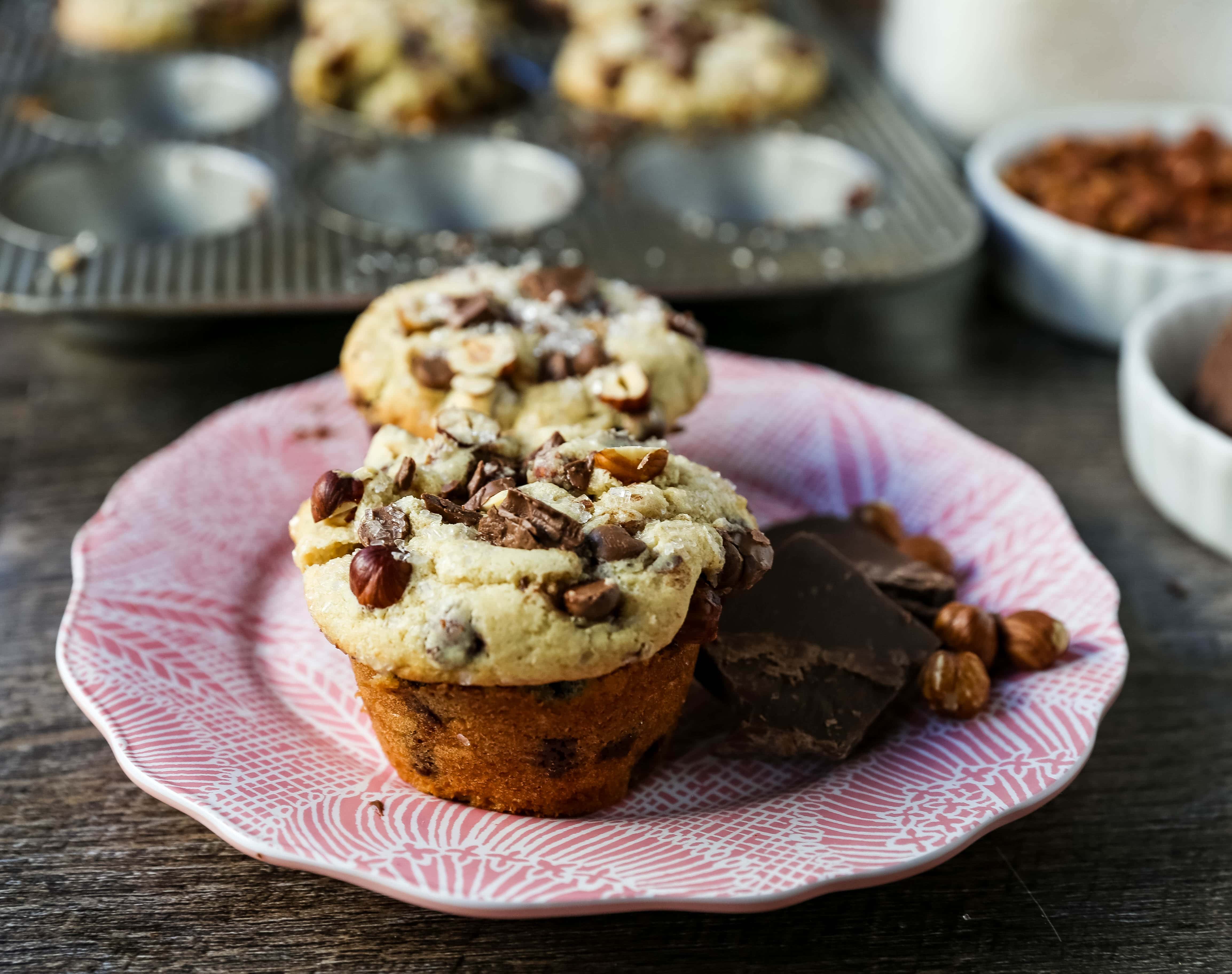 How to make the BEST CHOCOLATE CHIP MUFFINS:
Start by creaming butter and sugar together for 4 minutes until light and fluffy.  This ensures that the sugar wraps around the butter and becomes smooth and creamy.
Add eggs and vanilla and mix for 1 minute longer.
Fold in dry ingredients. Be careful to not overmix the muffin batter once you add the flour as it can create gluten, which can result in tough muffins rather than tender muffins.
Fold in the sour cream into the muffin batter making sure it is completely incorporated.
Stir in chocolate chunks and hazelnuts. Pour into greased or muffin liner lined muffin tins. It is much easier to remove the muffins from the pan if you use muffin liners.
Sprinkle the tops with extra chocolate chips, hazelnuts, and sparkling sugar.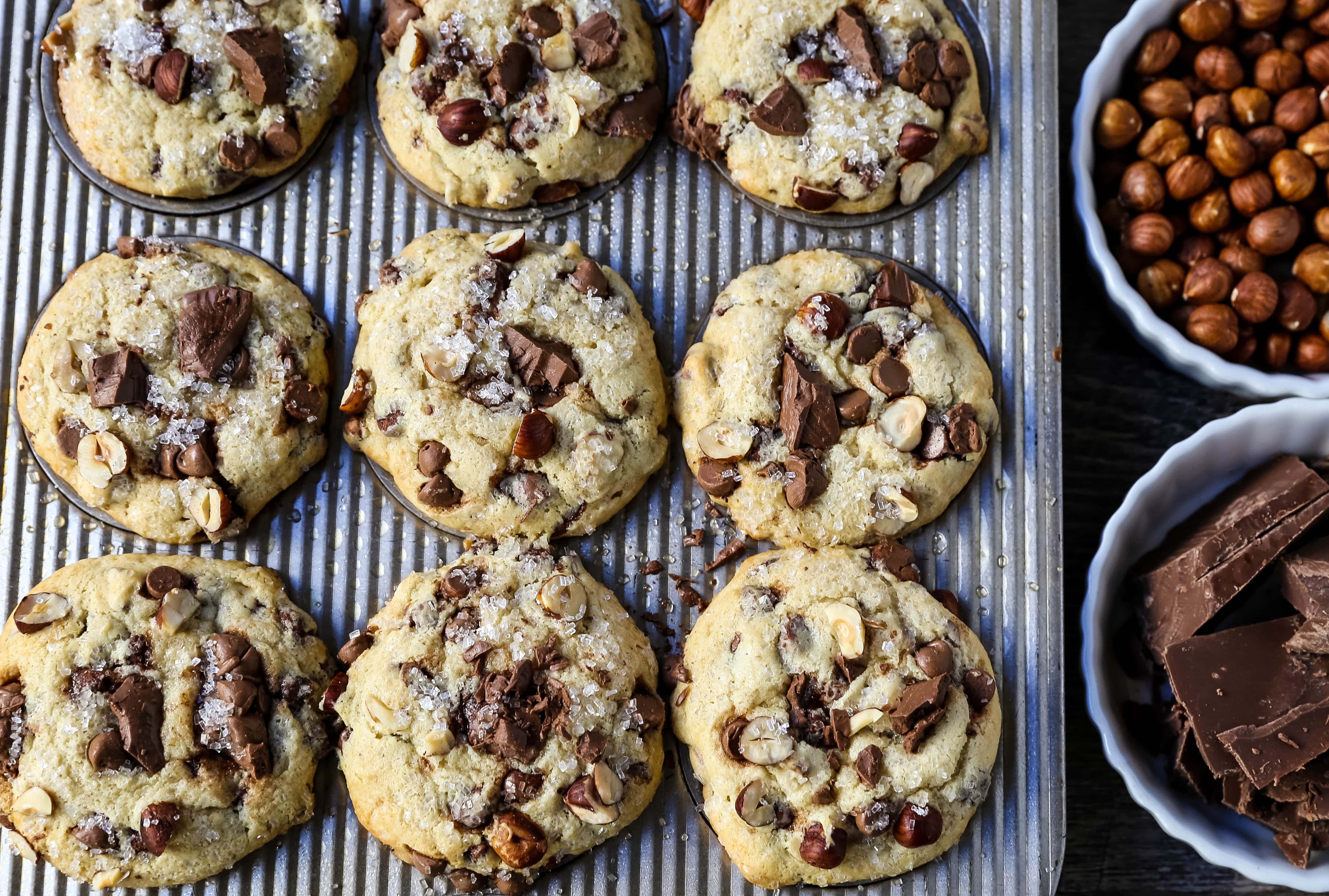 Here are my favorite baking essentials for these Chocolate Chunk Muffins:
USA 12 capacity Muffin Tin
Muffin or Cupcake Parchment Paper Gourmet Tulip Liners
Sparking Sugar
KitchenAid Mixer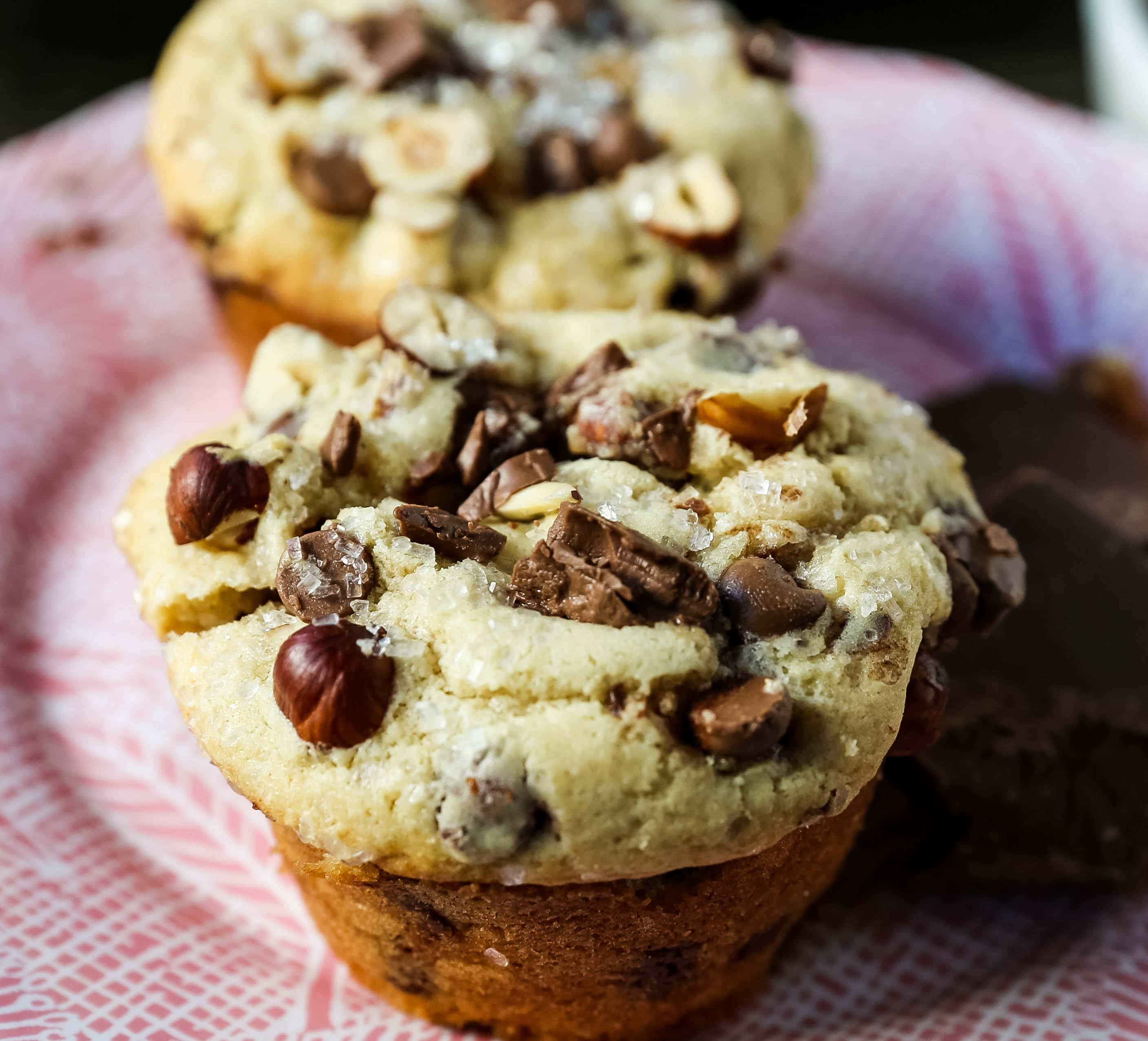 I love to hear from you! If you make this recipe, please be sure to leave a comment and give this recipe a rating. Sign up for my newsletter below so you never miss a recipe. Thank you for following along! I truly do have the greatest readers. FOLLOW ME ON:   INSTAGRAM — FACEBOOK— PINTEREST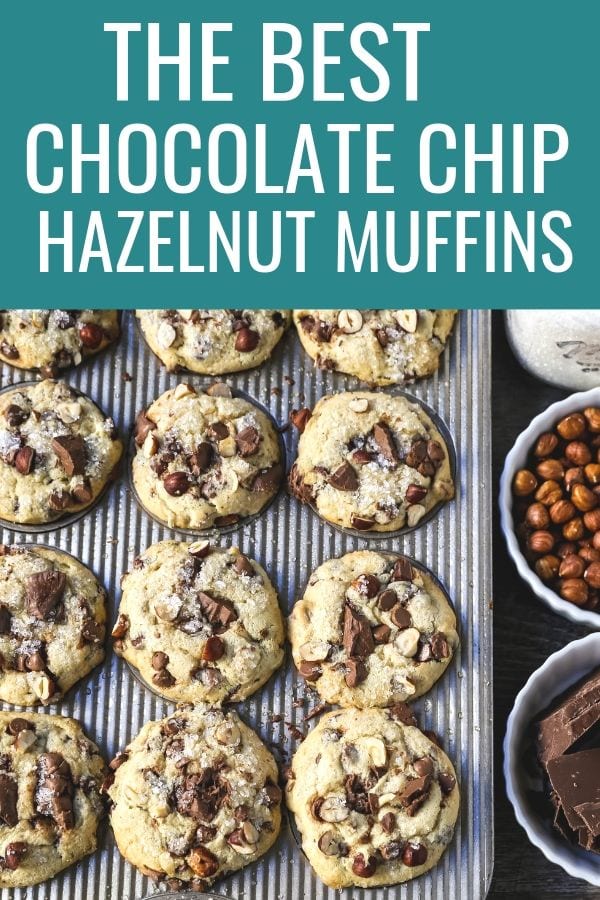 Pin this now to find it later
Pin It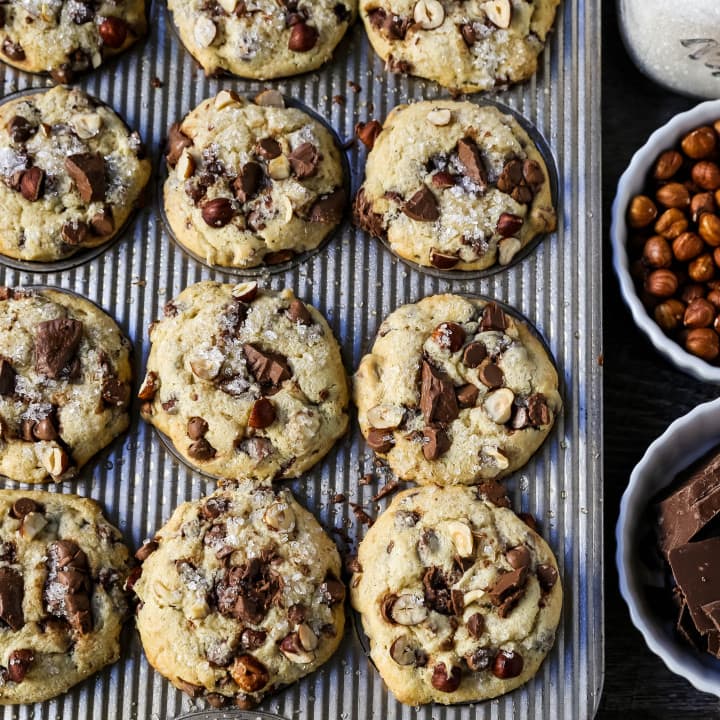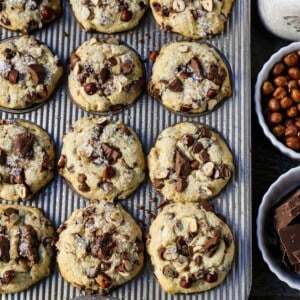 Chocolate Chip Hazelnut Muffins
The Best Chocolate Chip Muffin Recipe!
Ingredients
1/2

cup

Butter

(softened)

3/4

cup

Sugar

2

large

Eggs

2

teaspoons

Vanilla

2

cups

Flour

1 1/2

teaspoons

Baking Powder

1/2

teaspoon

Baking Soda

1/2

teaspoon

Salt

1

cup

Sour Cream

(full-fat)

1 1/2

cups

Chocolate Chips

(may add more for the tops)

3/4

cup

Hazelnuts

(halved)
Instructions
Heat oven to 350 degrees. Spray a 12-cup muffin tin with non-stick cooking spray or line with muffin-tin liners.

In a large mixing bowl, cream butter and sugar together for 4 minutes, or until light and fluffy. Beat in eggs and vanilla.

Stir in flour, baking powder, baking soda, and salt. Mix just until combined. Fold in sour cream.

Carefully fold in chocolate chips, reserving some for the tops and hazelnuts.

Distribute the batter among the muffin cups, filling them about 3/4 full. Sprinkle the center of muffins with remaining chocolate chips and hazelnuts. Sprinkle with sparkling sugar, if desired.

Bake for 15-18 minutes or until the center of toothpick or cake tester comes out clean. Cool for 5-10 minutes before removing from muffin pan. Serve with butter.
Nutrition information is automatically calculated, so should only be used as an approximation.