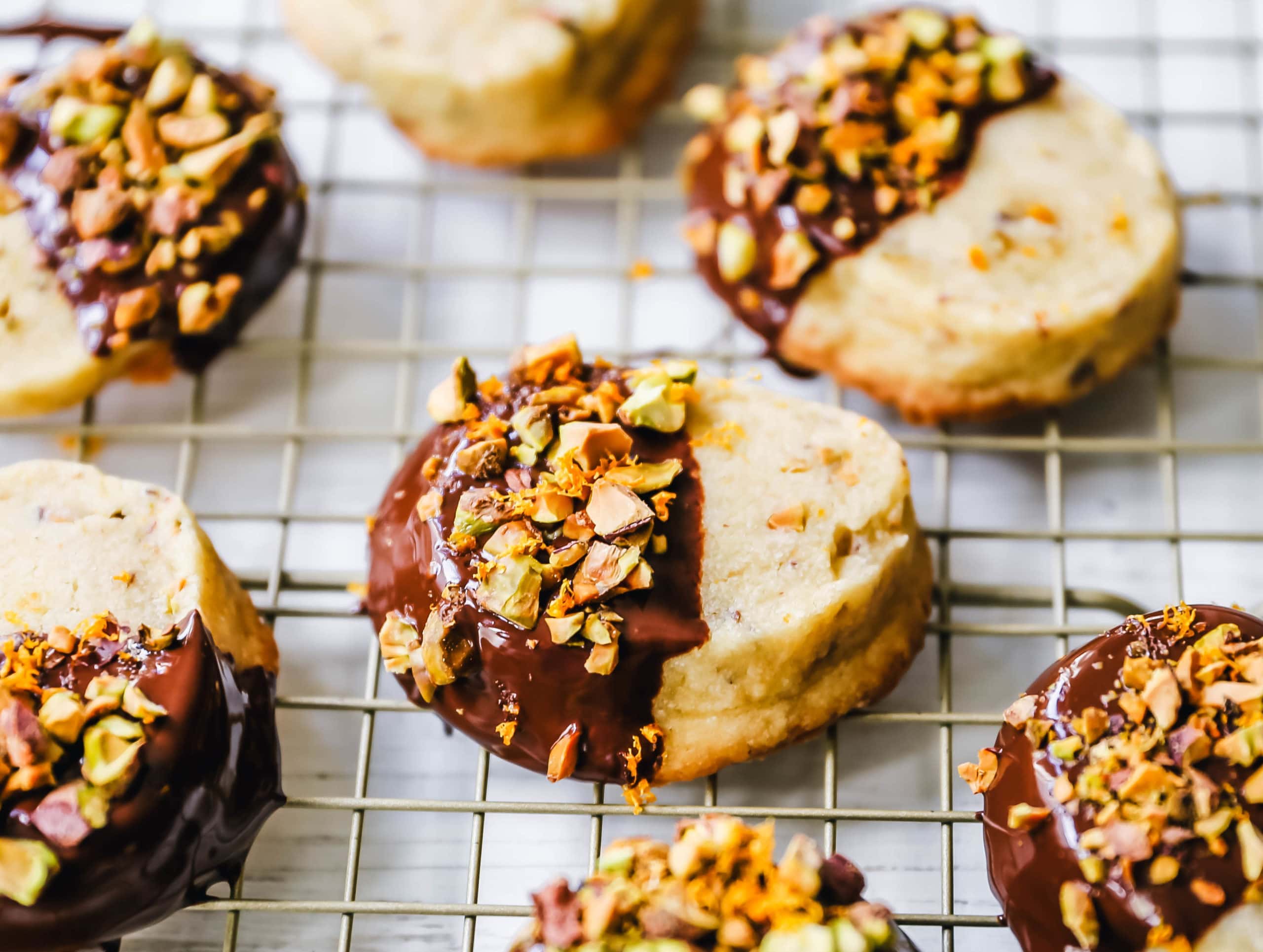 Chocolate-Dipped Pistachio Shortbread Cookies
Rich, buttery shortbread butter cookies with crunchy pistachios and dipped in melted chocolate and sprinkled with fresh orange zest and chopped pistachios. A beautiful and festive Christmas cookie!
A buttery shortbread cookie is definitely underrated. It is a simple cookie made with only a few ingredients and it definitely highlights the star ingredient -- butter.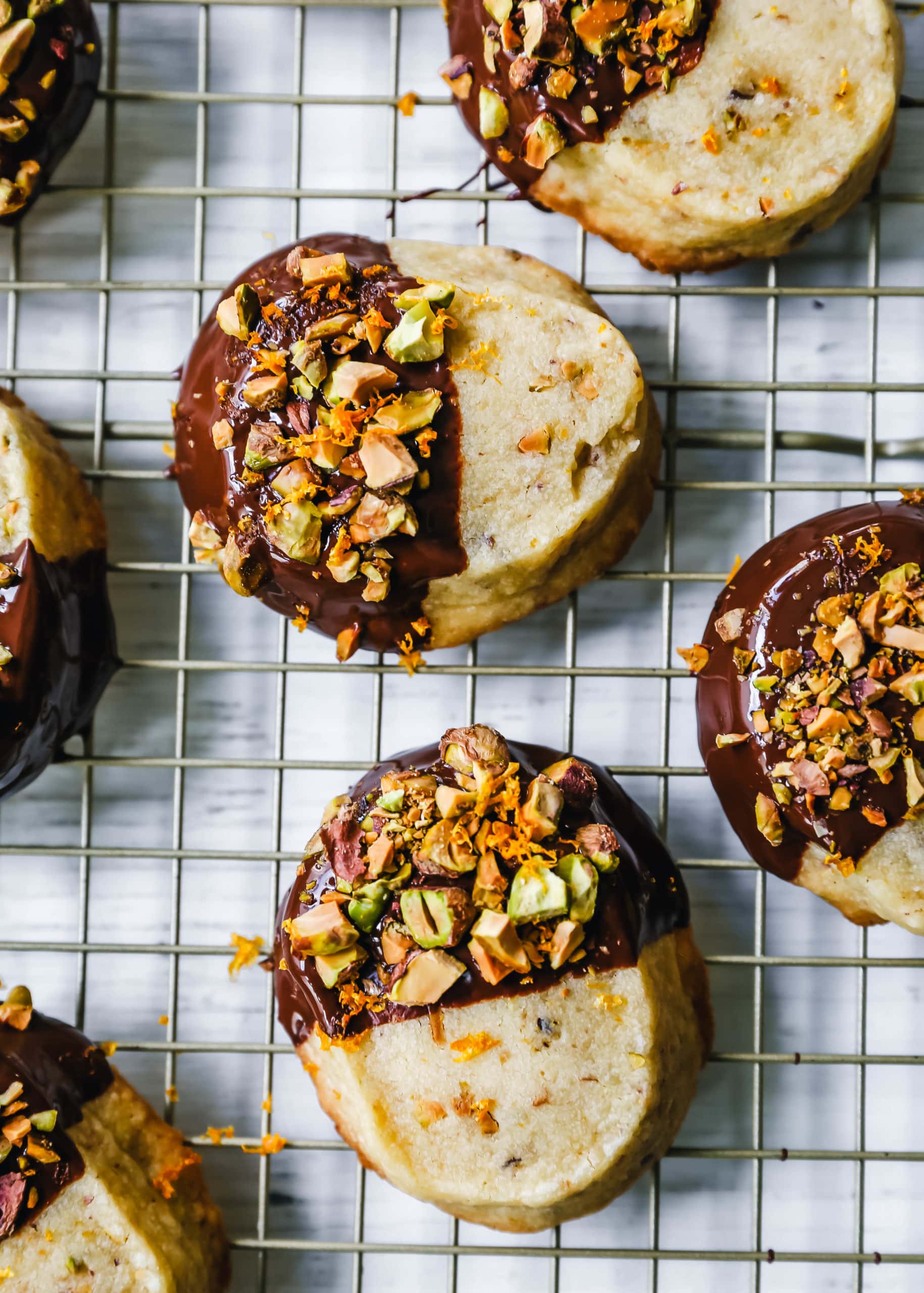 The beauty of a shortbread cookie is that it is basically a blank canvas to add any flavorings and toppings your heart desires.
Since it is Christmas time and we are putting together goodie plates, I wanted to create a festive shortbread cookie with pistachios, dipped in dark chocolate, and sprinkled with fresh orange zest and chopped pistachios. It is the perfect combination of flavors!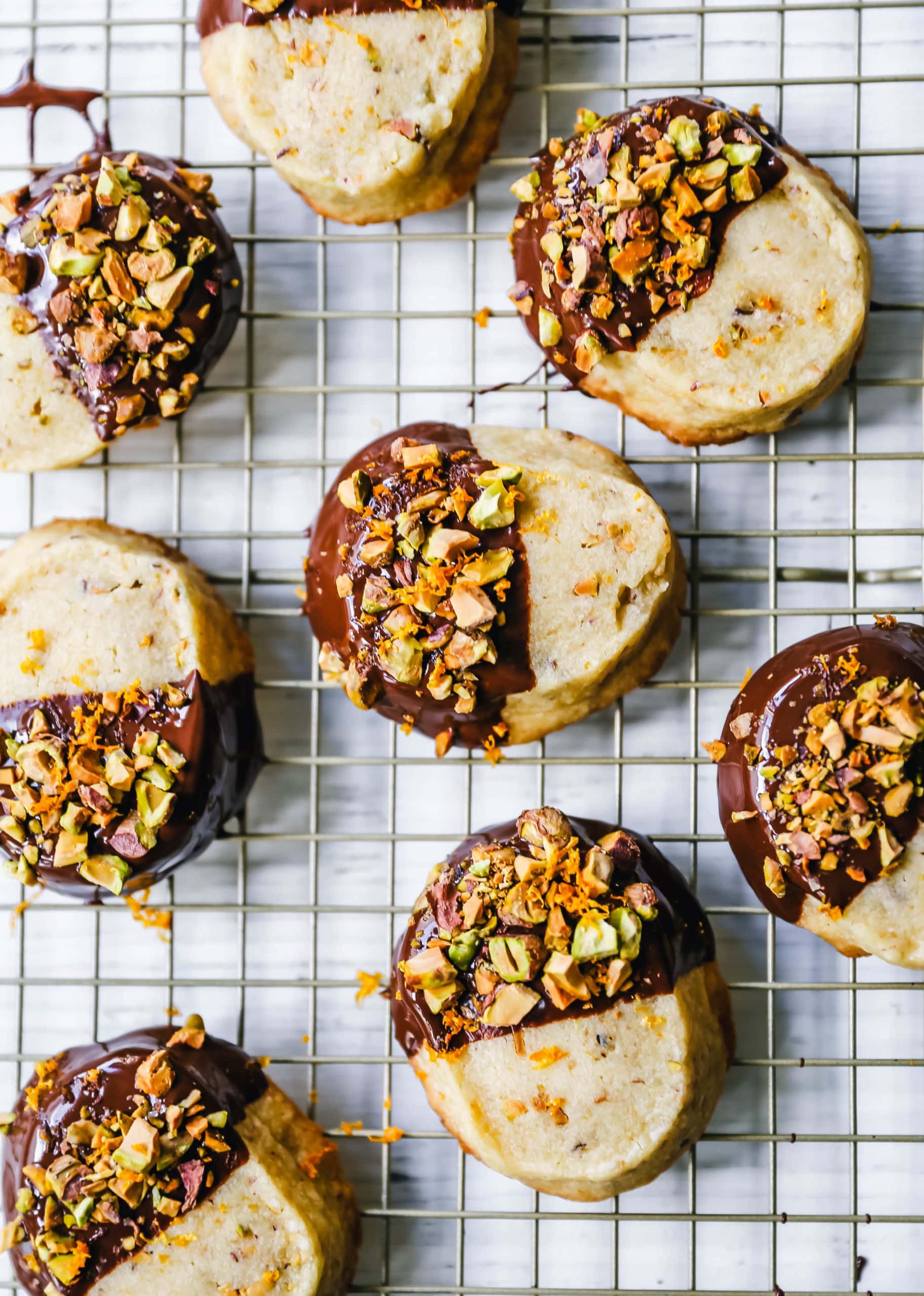 Homemade shortbread cookies are made with only a few ingredients -- butter, powdered sugar, vanilla, flour, and a touch of heavy cream or milk. They are rolled into a log and chilled to firm up to prevent spreading. Then they are cut into slices and baked until the edges start to turn a slight golden color.
How to make Pistachio Shortbread Cookies:
Start by using room temperature salted butter. You want the butter to be soft enough to incorporate into the sugar. Traditionally, shortbread cookie dough is crumbly so you want to make sure the butter is soft enough.
Cream the butter, powdered sugar, and vanilla together until it is crumbly but coming together. You can do this in a stand mixer such as a Kitchenaid, use a hand mixer, or use a food processor. I will tell you that I have tried all three methods and the easiest by far is the food processor. It helps the dough to come together beautifully.
Then add in heavy cream or milk. Start with 1 Tablespoon and add a little more, if still crumbly. The dough will come together as you press it into a log.
If you want to add in any mix-ins, this is the time to do it! Fold in pistachios, almonds, orange zest, or anything your heart desires.
Place the dough onto a floured surface. Roll into a cylinder shape and wrap with plastic wrap. Place in the refrigerator and let chill for at least 30 minutes.
After chilling, remove the plastic wrap, and cut into 1 to 1 ½ inch rounds. Place on a parchment paper-lined baking sheet. Bake at 350 degrees for about 12-15 minutes.
Once cooled, dip in melted chocolate and sprinkle with orange zest and chopped pistachios.
If you want to find more CHRISTMAS COOKIE RECIPES, CLICK HERE.