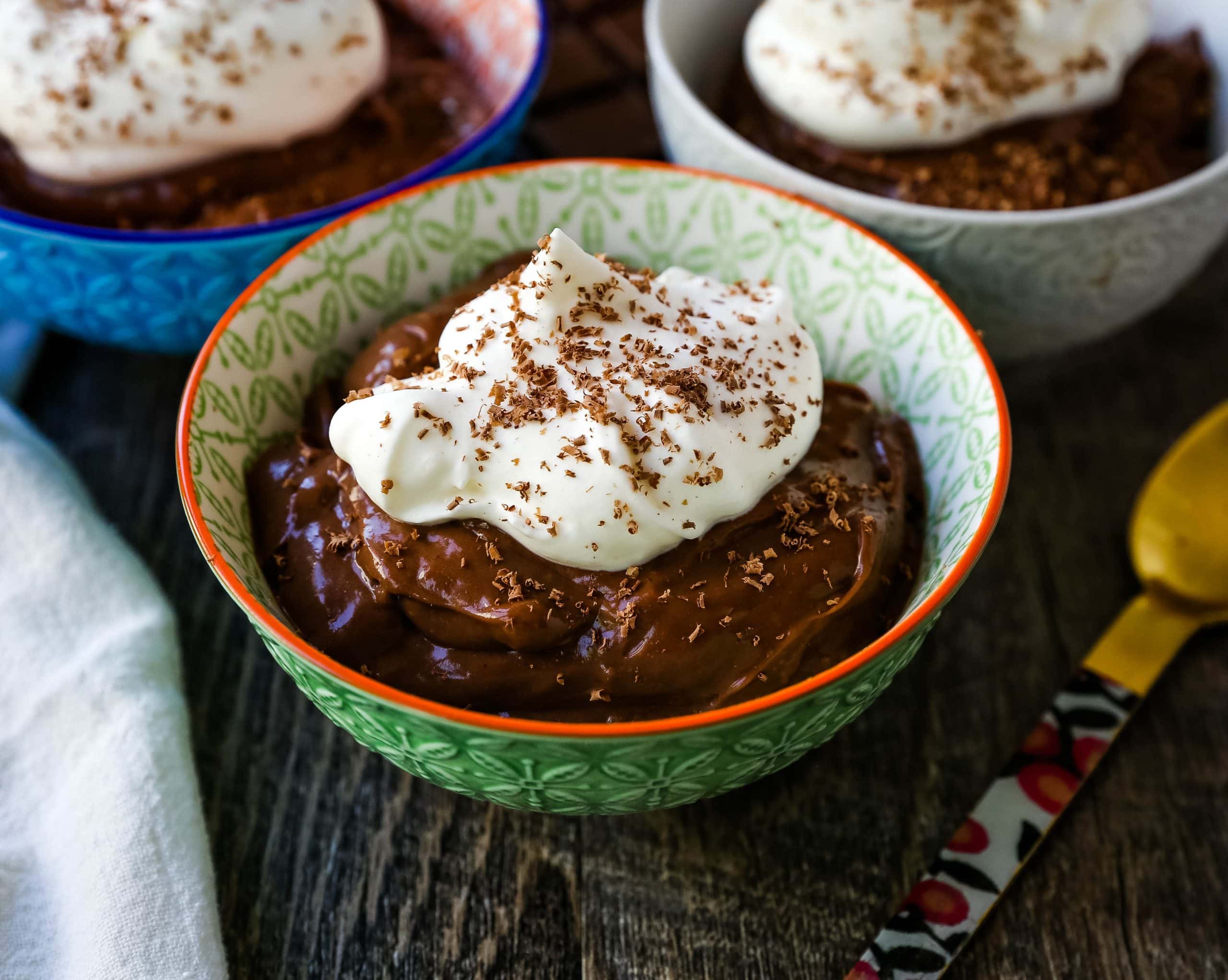 Chocolate Pudding
Rich, decadent homemade chocolate pudding made with only 5 simple ingredients. The best chocolate pudding recipe!
I am eating a hefty dose of chocolate these days. By the time 3:00 rolls around and I have broken up a few fights, managed homeschooling, and attempted to keep a clean house and feed the family, I am ready for some serious chocolate. Anyone else with me? I am loving all of this family time but it definitely comes with its challenges. I am just trying my best to focus on the positive and keep my mind right and look for the silver linings in a difficult situation.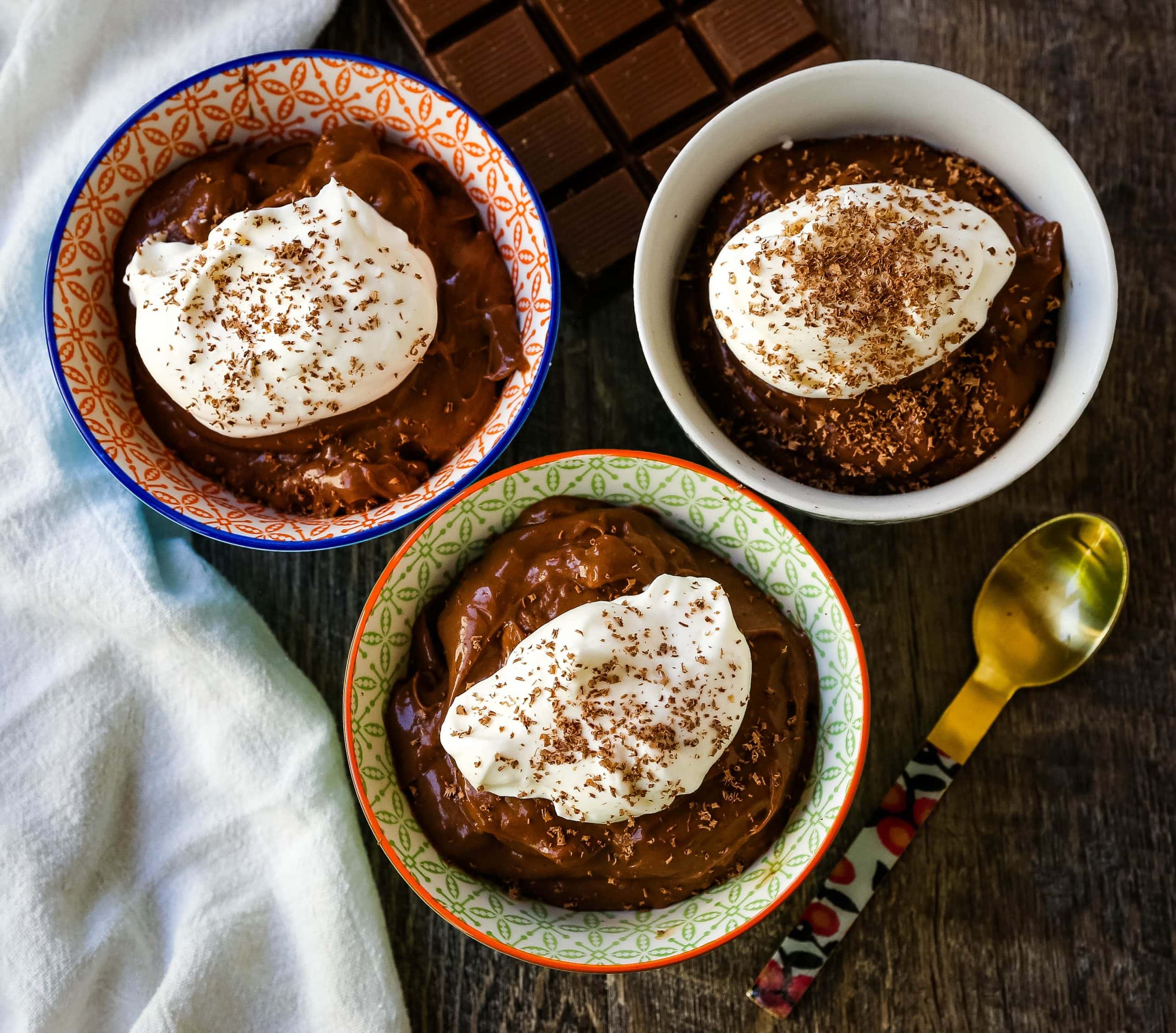 I am a nurturer by nature and one of the ways I definitely show my love is through making food for my loved ones. Since we have been home so much lately, I have been cooking and baking up a storm. I have a ridiculous amount of recipes to share with you but I am definitely trying to strike that working Mom balance while all of my kids are at home. As soon as I whip out my laptop, it takes about two minutes to hear, "MOM!"
One thing I have discovered throughout this time at home with my kids is how much they want to eat. They are like, "what is for dinner, Mom?" My reply is usually something like this..."wait a second...didn't we just eat?!" If they aren't eating a meal, they are most likely snacking on something.
When I was a kid in elementary school, I remember like it was yesterday the chocolate pudding they served in the cafeteria. Unfortunately, it wasn't cold nor was it very good and I pretty much swore off ever eating chocolate pudding again. However, the chocolate lover in me had to give making homemade chocolate pudding for my kids a whirl. And oh boy, is it AMAZING? It is a game-changer and I am so hooked. Now I can say that I LOVE chocolate pudding and this is the best chocolate pudding recipe!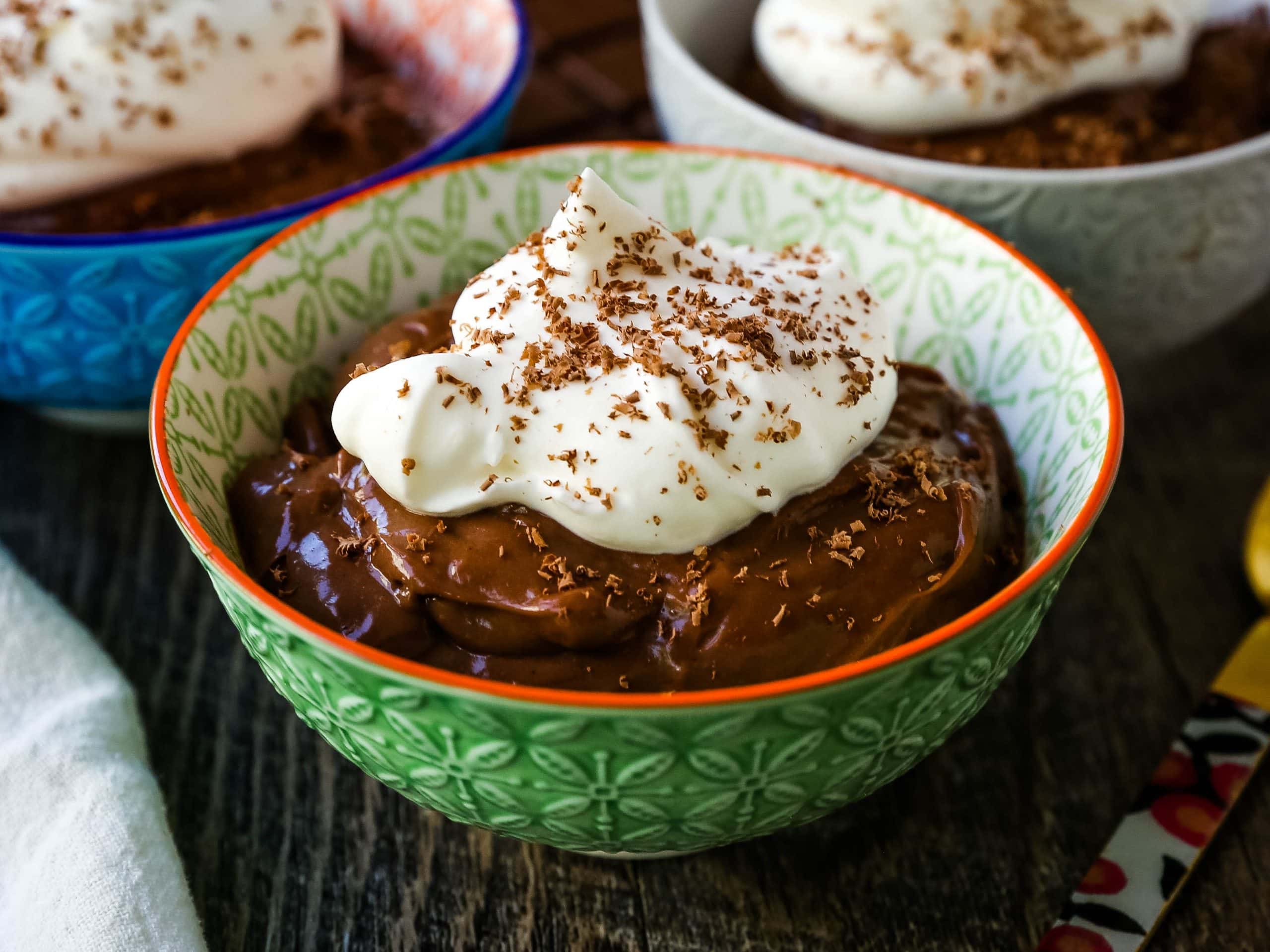 I decided to peek into the ingredients listed for the packaged chocolate pudding and I was shocked to see so many ingredients. There are so many fillers that aren't needed. I am all about using high-quality, simple ingredients that you can pronounce in your food. This chocolate pudding recipe calls for only five ingredients and you can pronounce every single ingredient!
This Best Chocolate Pudding recipe is made with whole milk, sugar, cornstarch, chocolate, and vanilla. That's it! It is smooth, velvety, and will satisfy all of your chocolate cravings!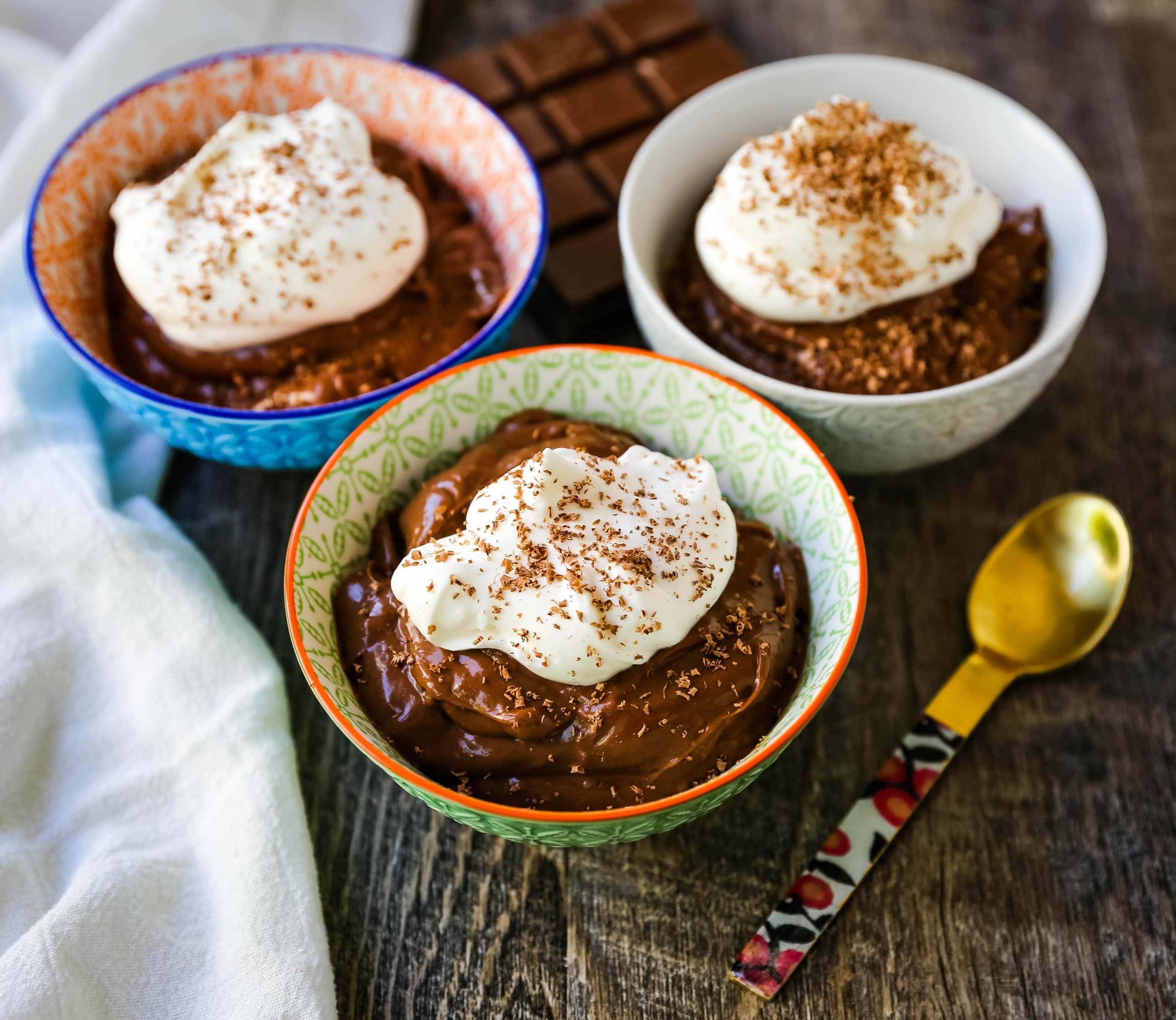 This chocolate pudding recipe can be tailor-made according to your taste preferences. If you love dark chocolate, use only dark or semi-sweet chocolate. If you have a bunch of kids in your home, you may want to use semi-sweet chocolate and some milk chocolate. My kids prefer milk chocolate so I used 4 ounces of semisweet and 2 ounces of milk chocolate and they love it!
Since chocolate is the star ingredient, I love to use a high-quality chocolate bar. If you have been reading my blog for some time, you know how I love the Pound Plus chocolate bars from Trader Joe's. It is legit Belgium chocolate and has incredible chocolate flavor. If you don't have a chocolate bar on hand, chocolate chips work as well!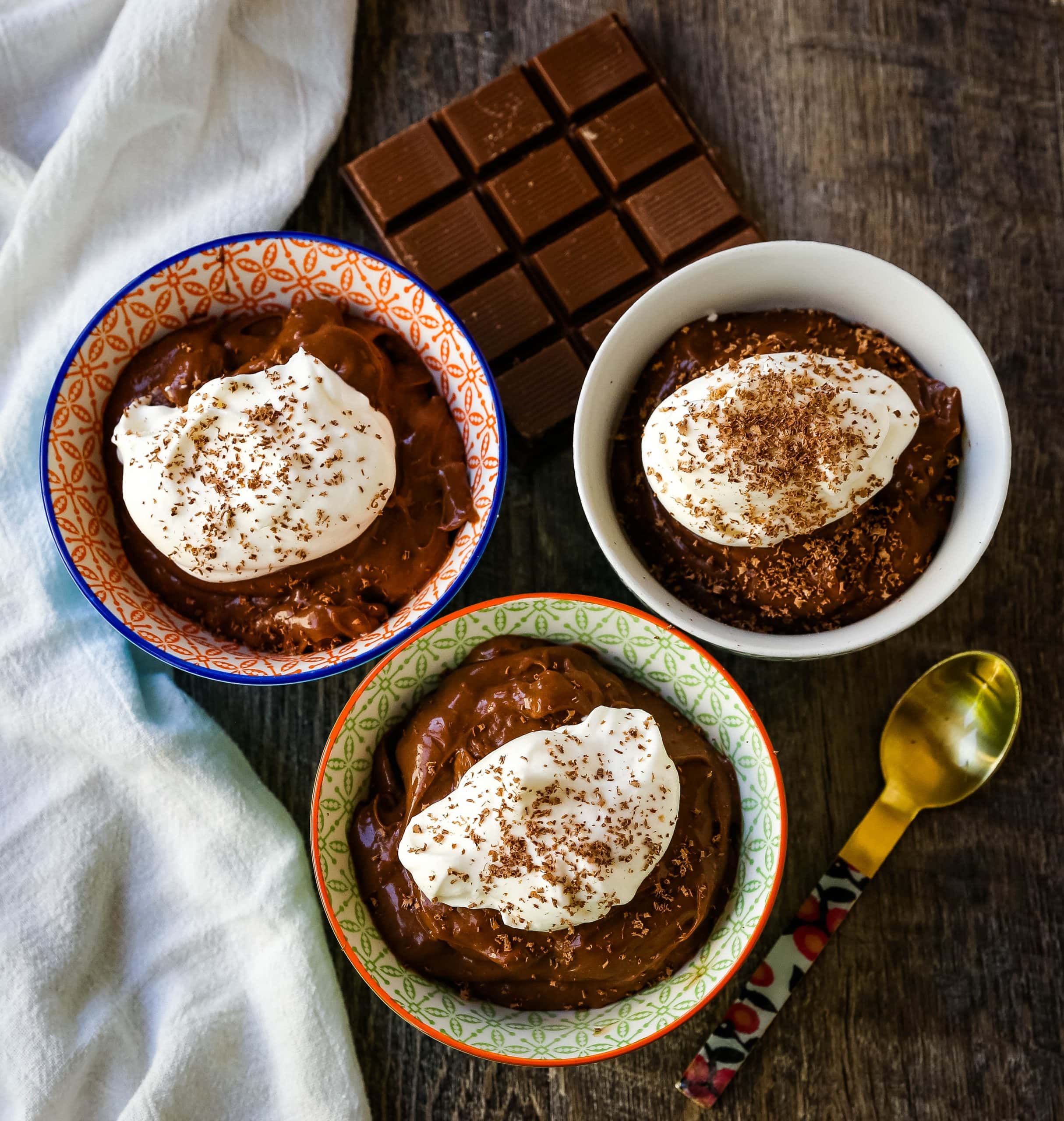 How to make the Best Chocolate Pudding:
If you have a heavy-bottom saucepan, it will work great for this recipe. Heat a pan and add sugar, cornstarch, and a pinch of salt. You want to slowly add the WHOLE milk so that lumps don't form. I love to use a whisk during this process to make sure it is nice and smooth. I suggest using whole milk in this recipe for the extra creaminess it brings to the pudding. You can substitute 2% milk but it won't be as thick and creamy.
Let it cook for at least 10-12 minutes, stirring it often to prevent lumps, and let it begin to thicken and coat the back of a spoon. The cornstarch starts to do its magic and thickens the milk mixture, in preparation for the chocolate.
Use high-quality chocolate, if at all possible. I reach for Belgium chocolate bars in a mix of dark, semi-sweet and milk chocolate. Chop it up and add the chocolate a little bit at a time, whisking as you go.
Let it thicken for several minutes, remove from heat, and add the vanilla extract. Let it chill in the refrigerator, covered for 2-3 hours. To expedite the process, put the bowl in an ice bath. Place the Saran wrap directly over the pudding to keep it from forming a skin over it.
Top it with freshly whipped cream and chocolate shavings.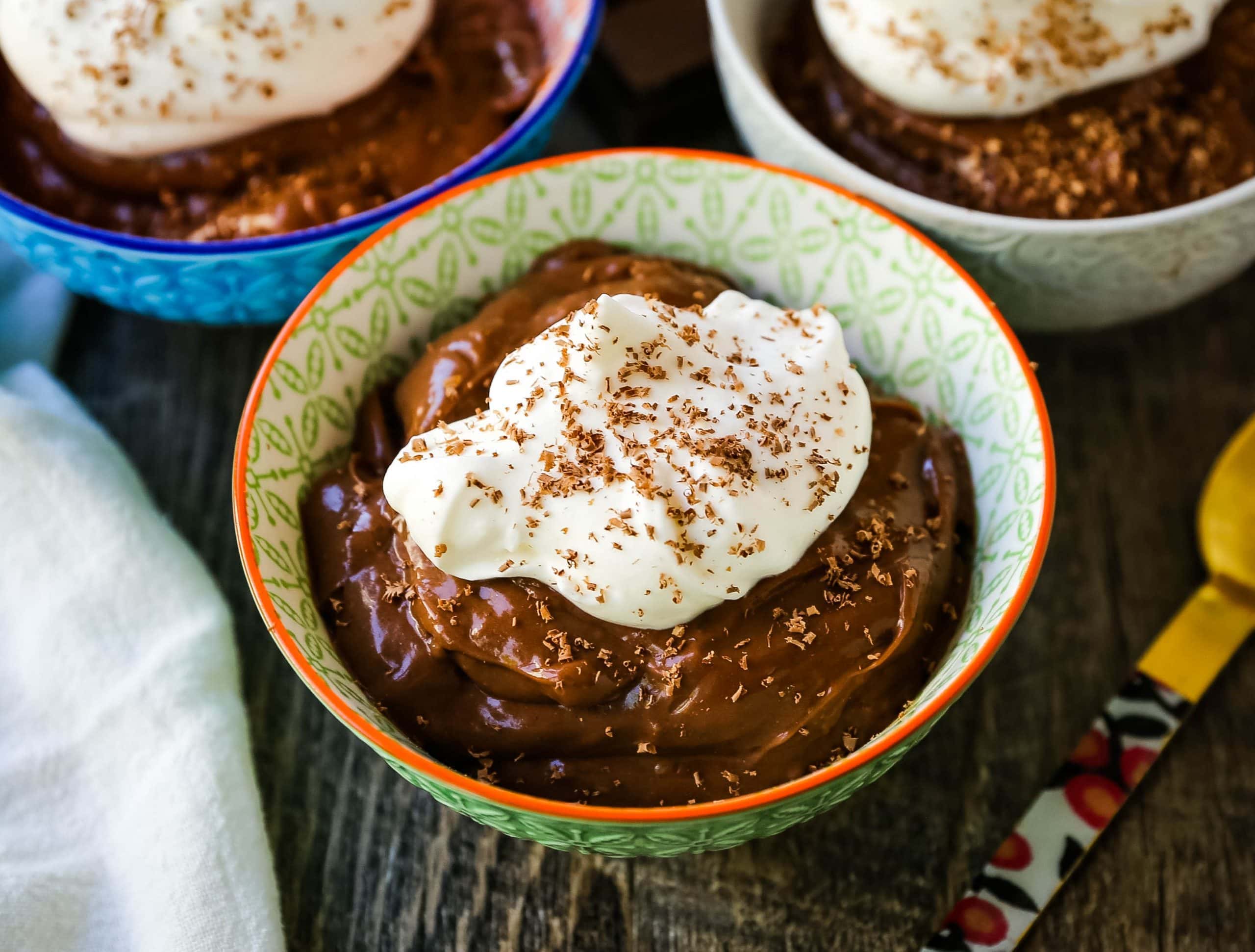 I love to hear from you! If you make this recipe, please be sure to leave a comment and give this recipe a rating. Sign up for my newsletter below so you never miss a recipe. Thank you for following along! I truly do have the greatest readers. FOLLOW ME ON: INSTAGRAM — FACEBOOK— PINTEREST