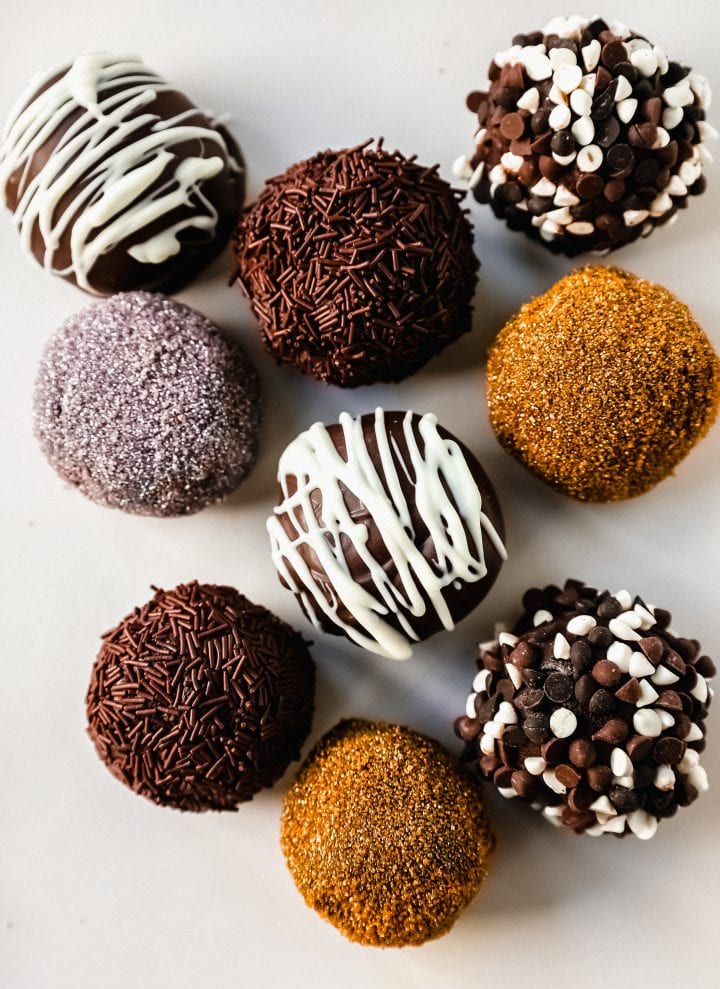 Chocolate Truffles
Rich, creamy, decadent homemade chocolate truffles made with high-quality chocolate, heavy cream, and a touch of butter rolled into your favorite toppings.
Where are my chocolate lovers? I have a confession -- I pretty much eat chocolate every single day of my life and I am happy about it. By the time it hits 3:00, I am wondering where my chocolate is for the day.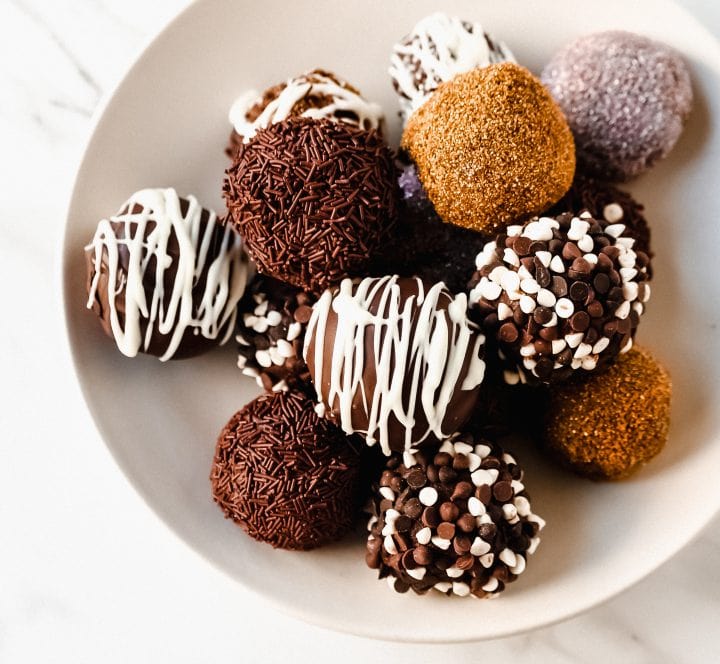 Whenever we travel to another place, I always search for bakeries and chocolate shops. It is so much fun to discover hidden gems. When we visited Seattle, we even took a chocolate tour at Theo Chocolates to see how it is made and it was the epitome of a perfect day for me. Oh, and did I tell you about the unlimited samples?
It is almost Valentine's Day so I want to share how easy it is to make homemade chocolate truffles at home! It is actually shocking how easy it is and they are so decadent.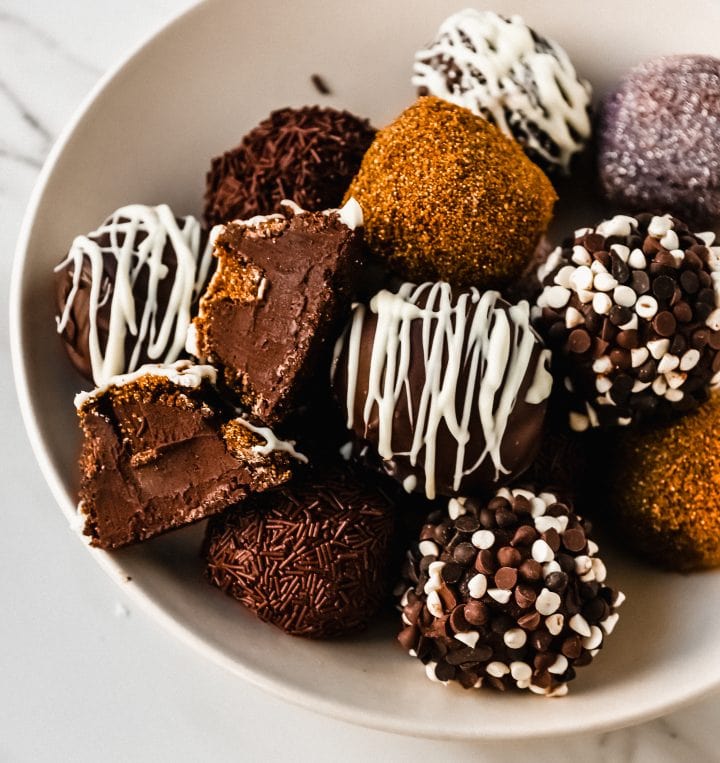 What ingredients do I need to make homemade truffles?
You only need 3 ingredients to make homemade chocolate truffles -- high-quality chocolate, heavy cream, and butter. You may want to add extracts to give extra flavor such as vanilla, strawberry, raspberry, orange, coconut, mint, etc. You can roll them into toppings after they chill in the refrigerator.
Do not substitute anything for the heavy cream. The chocolate truffles will not set up properly without the heavy cream.
What type of chocolate should I use when making Chocolate Truffles?
I suggest using the highest-quality chocolate you can get your hands on. I suggest buying Ghirardelli or Guittard baking bars or Lindt chocolate bars. There are other brands such as Theo Chocolate, Private Selection, and other fine chocolatiers. You can also find Swiss chocolate bars imported from Switzerland. If you want extra luxurious and decadent truffles, reach for semi-sweet or dark chocolate. If you want sweeter truffles, reach for milk chocolate. I prefer to do a mix of the two of them.
Do NOT use chocolate chips as they will not melt smooth enough.
DO NOT use the chocolate melting wafers. This chocolate has added oils to it to add it melting so it will not be firm enough for scooping and rolling chocolate truffles. The chocolate melting wafers are perfect for dipping your chocolate truffles in.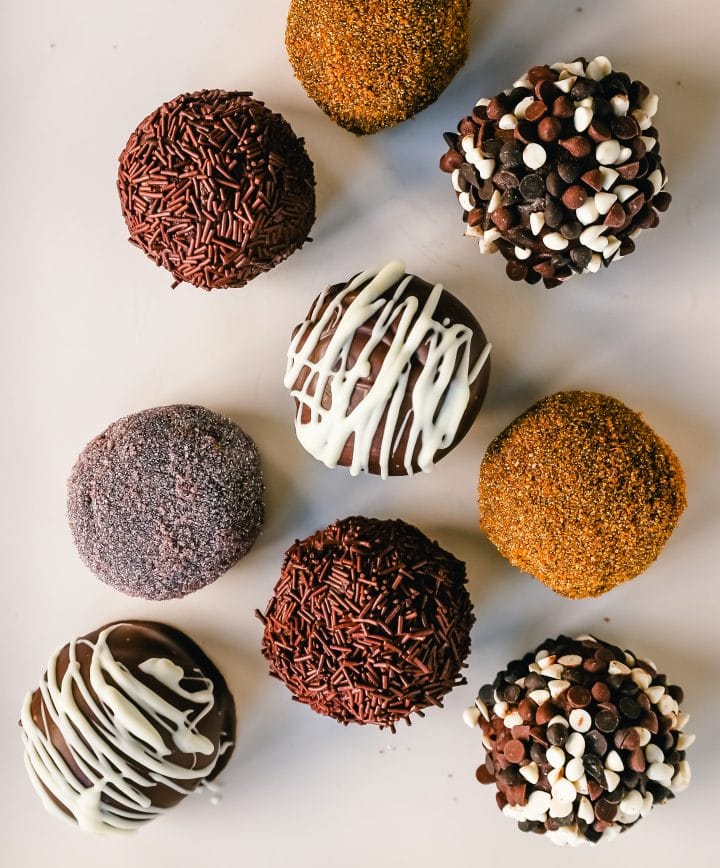 What are some Chocolate Truffle Toppings?
Nuts (Chopped Pecans, Pistachios, Hazelnuts, Almonds, or Walnuts)
Chocolate Jimmies (sprinkles)
Mini Chocolate Chips
Sparkling Sugar (of different colors)
Sprinkles
Dip in melted Dark or Milk Chocolate
Dip in melted White Chocolate
Sweetened Shredded Coconut
Matcha Powder
Cocoa Powder (for spice add a touch of chili or cayenne powder)
What are some chocolate ganache truffle rolling tips?
The most important thing is to ensure that your chocolate truffle mixture has had sufficient time to set up and solidify. I suggest at least 3-4 hours in the refrigerator. You can even put it in the freezer if you need to expedite the process.
The chocolate ganache consistency needs to be firm enough to roll into balls, but soft enough to scoop.
Wear gloves or keep your hands from becoming too warm. As you roll the ganache mixture, your warm hands can melt the chocolate. I suggest placing the chocolate ganache bowl into a larger bowl filled with ice to keep it cold or running an ice cube along your hands or using an icepack on your hands to keep your hands cold.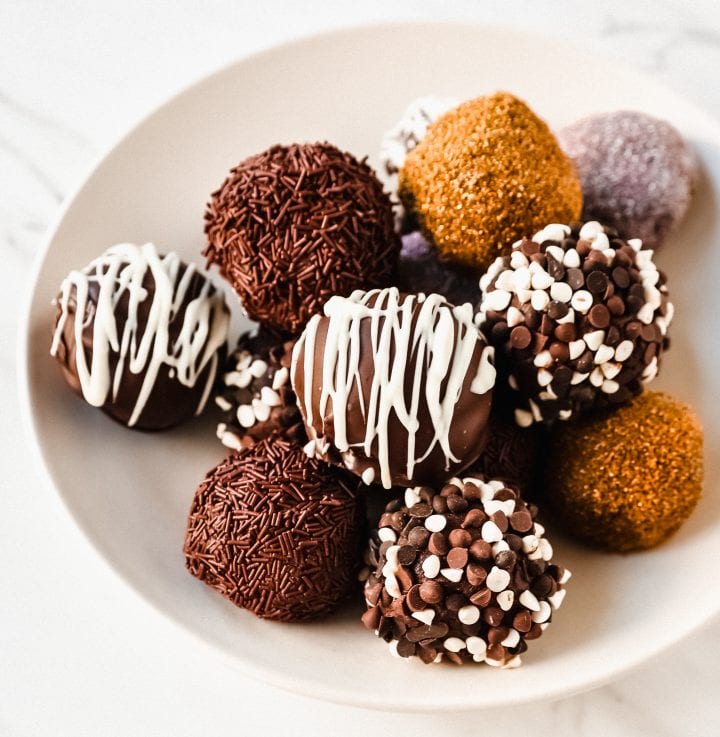 What are the tools I use for chocolate making?