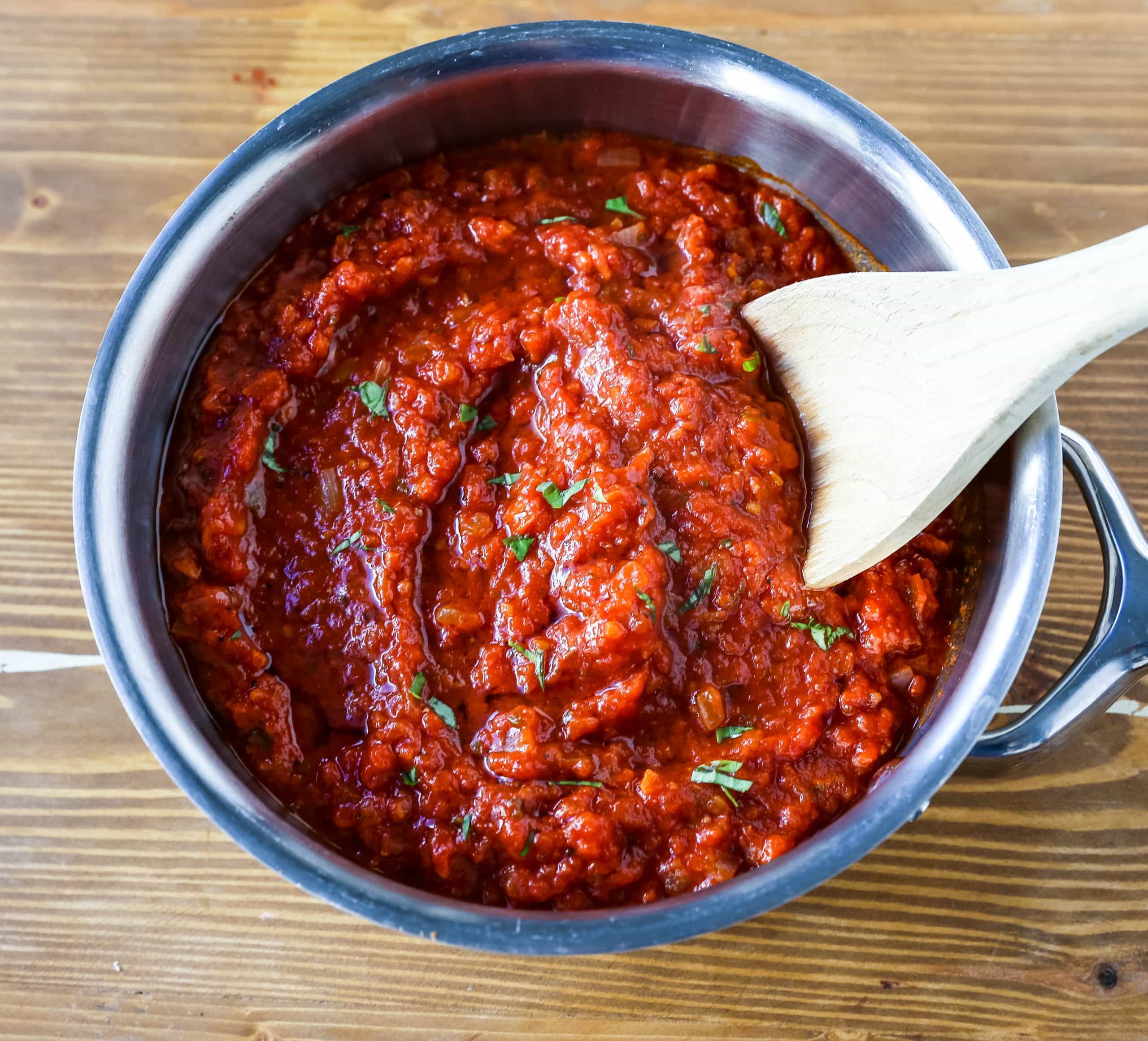 Classic Italian Tomato Sauce
A robust tomato sauce made with olive oil, onion, sweet carrot, garlic, canned San Marzano tomatoes, fresh basil, tomato paste, oregano, and red pepper flakes. A flavorful, homemade tomato sauce to pair perfectly with any type of pasta.
Everyone needs a classic tomato sauce recipe. This marinara sauce is an authentic Italian sauce full of rich tomato goodness and Italian spices. I can eat this by the spoonful! Whenever I make this, I am constantly sneaking in little tastes because it is so rich and flavorful.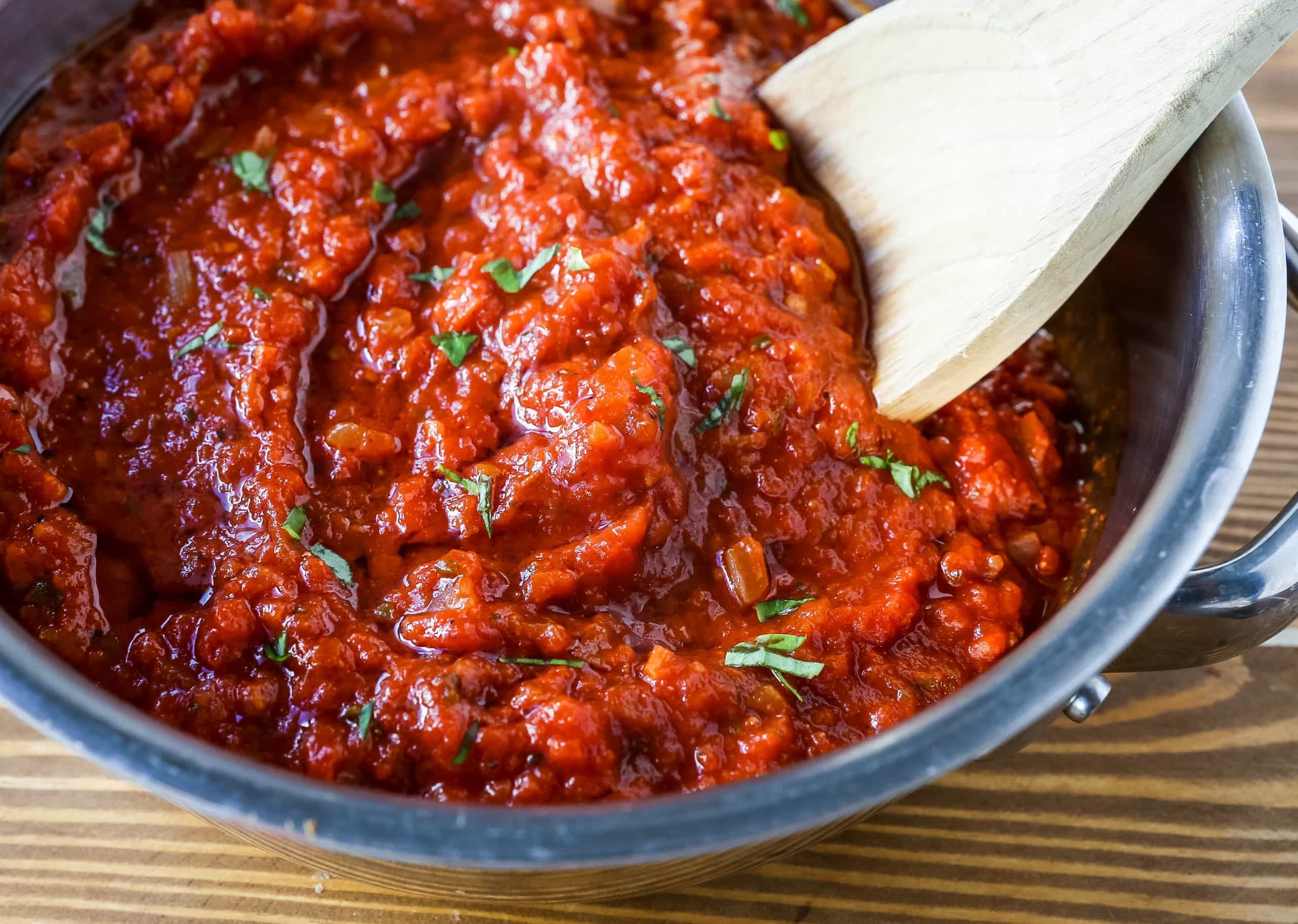 This Italian marinara sauce can be paired with fresh pasta such as spaghetti, angel hair, or rigatoni or on top of chicken parmesan. It can easily be made into a meat sauce by adding Italian sausage or ground beef. It is the most versatile sauce and one you should have in your refrigerator at all times.
The beauty of this sauce is that the base of it calls for canned tomatoes. These are a pantry staple so you can make this classic tomato sauce anytime! I am such a sucker for San Marzano canned tomatoes, which are from an area in Italy famous for their tomatoes.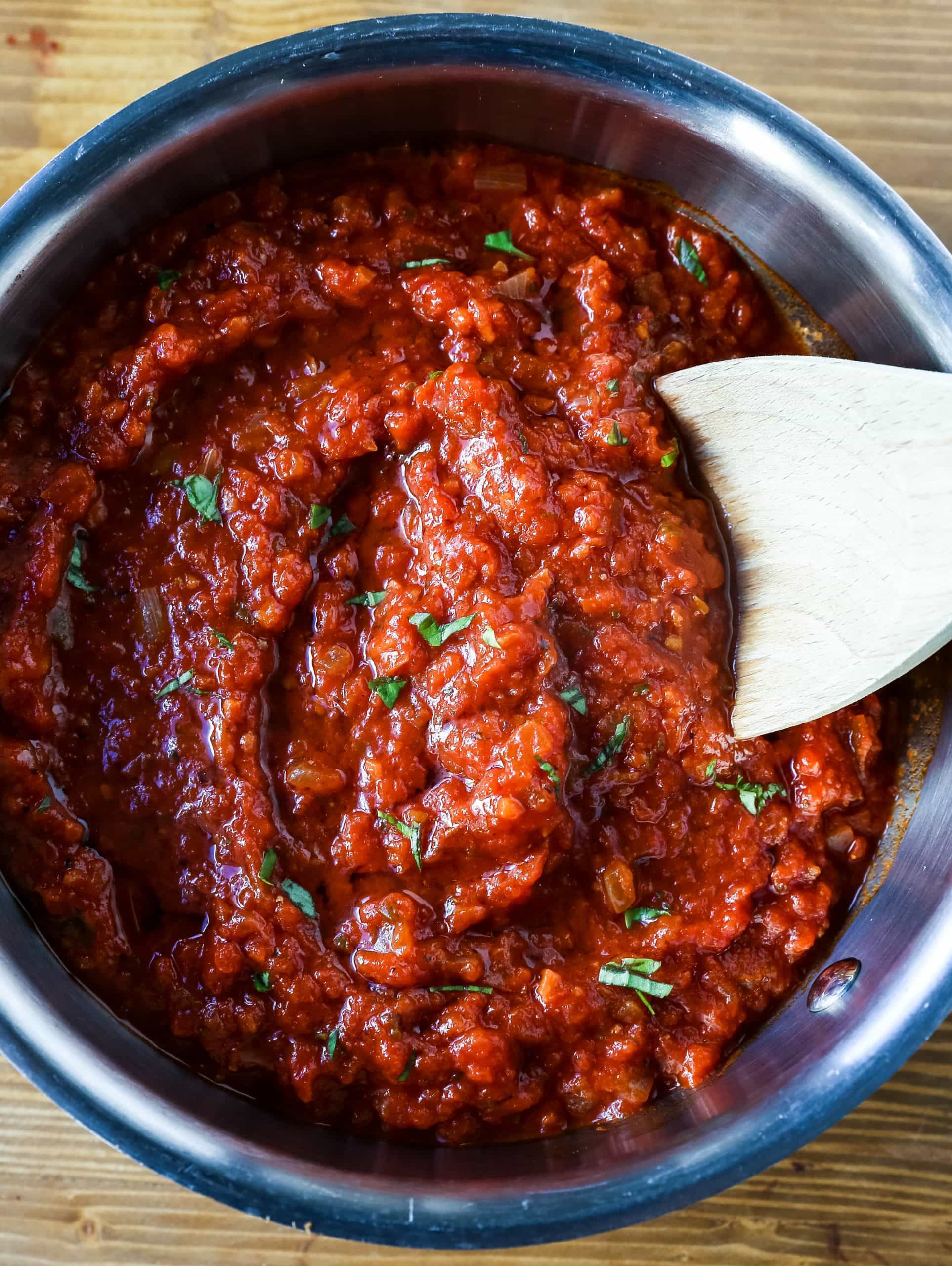 The addition of tomato paste which is a thick paste made by cooking tomatoes for several hours to reduce the water content, straining out the seeds and skins, and cooking the liquid again to reduce the base to a thick, rich paste. It can transform sauces by making them much deeper and richer in flavor.
I love to use fresh basil straight from the garden in this tomato basil sauce but you can also use dried basil. I will include the amounts for both of them! Also, I love to add a touch of oregano for a peppery addition to the sauce. Red pepper flakes bring a bit of spice to the sauce without overpowering it.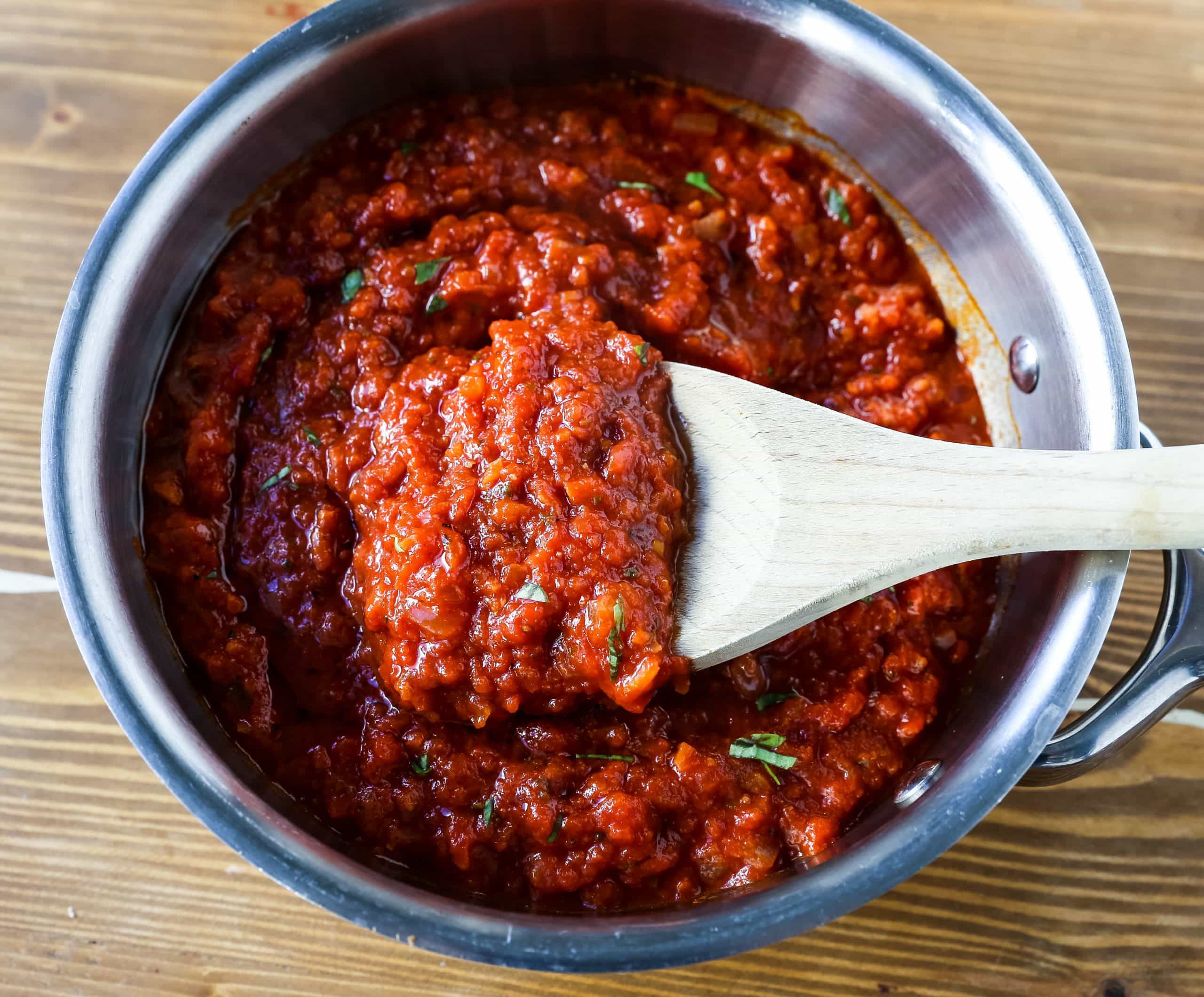 Whenever tomatoes are the star ingredient of a sauce, it can become slightly acidic. A way to offset the acidity of the tomatoes is by adding a little bit of sugar. It perfectly balances out the tomatoes in this classic marinara sauce.
If time is on your side, let this Italian sauce simmer to reduce and become even richer. I love to cook it low and slow and it gives the flavors time to develop. This is the best marinara sauce recipe!
How to Make the Best Classic Italian Tomato Sauce:
Start off by sauteeing onion and carrot in extra-virgin olive oil until softened and translucent. This brings out the sweet flavor of the onions and the carrots add a touch of sweetness to the sauce. Add the garlic and cook for only 1-2 minutes to ensure it doesn't burn.
If using whole peeled tomatoes, such as San Marzano tomatoes, you can quickly puree them in a blender to create a smooth sauce. If you want a smoother sauce, you can add the onions and carrot mixture to the blender as well.
Add tomato paste, fresh basil, oregano, red pepper flakes, sugar, salt, and pepper. Taste and add more salt if needed.
Let it simmer on low and slowly cook down to a thicker sauce. If you have time, let it simmer for a few hours on the stove, stirring once in a while to create a rich, robust sauce.