Cranberry Orange White Chocolate Cookies are made with a sweet citrus dough with cranberries, orange zest, and white chocolate chunks.
Years ago I was working on my Christmas cookie plates. I wanted to create an original cookie and started looking around my kitchen to inspire me. I opened the refrigerator and spotted some leftover fresh cranberries from Thanksgiving. I thought why not experiment with throwing some fresh cranberries in some citrus cookie dough and see how they turn out. These Cranberry Orange White Chocolate Cookies quickly became one of my family's favorite Christmas cookies.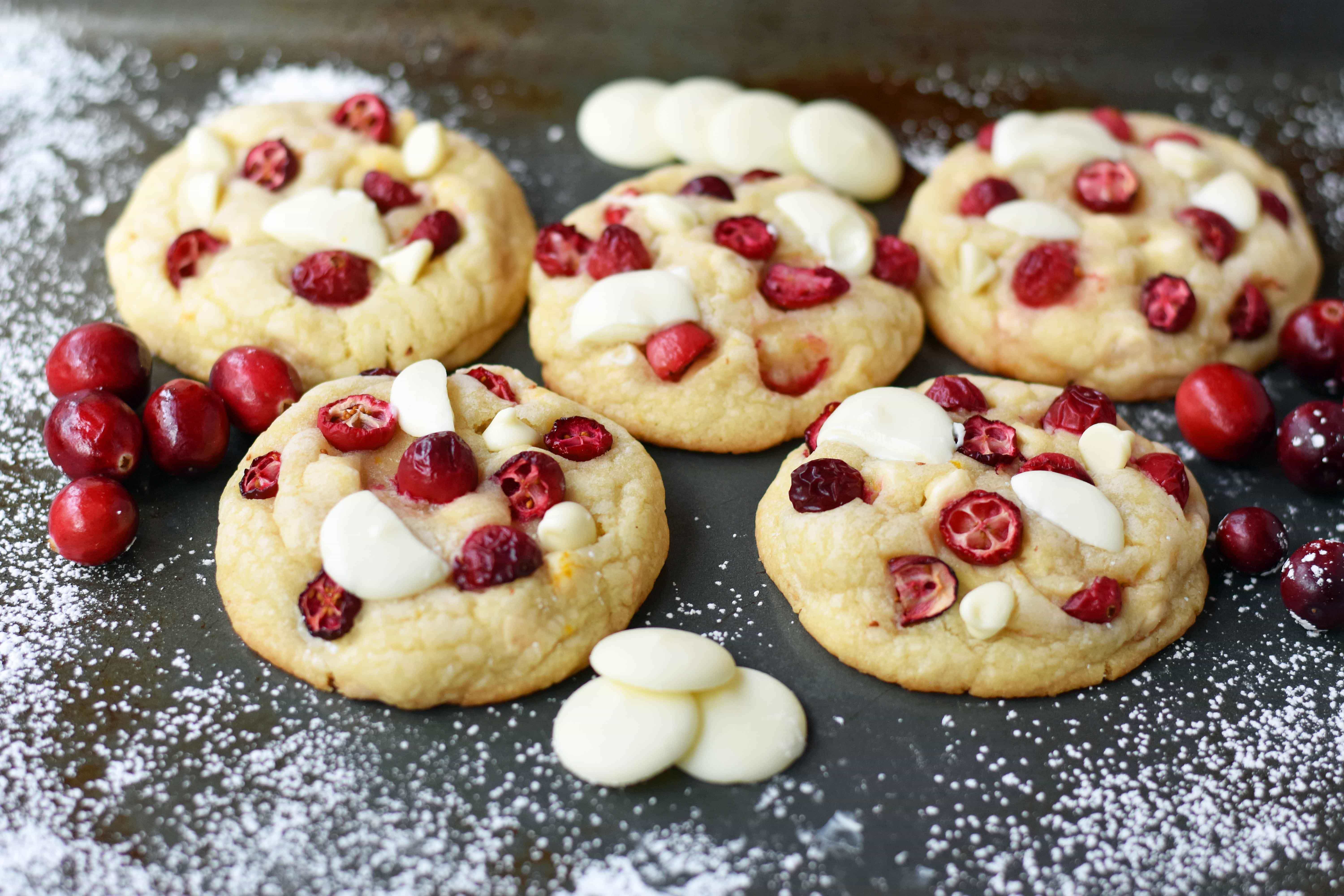 It was interesting because Santa started putting in requests for these particular cookies so they must be good, right? 🙂 This is DAY #2 of the 12 DAYS of COOKIE CHRISTMAS COUNTDOWN.
These Cranberry Orange White Chocolate Cookies start off with a sweet citrus dough studded with fresh orange zest. Freshly cut cranberries and white chocolate chunks are stirred in to make a chewy festive cookie. I love the deep red colors of the cranberries which is a perfect contrast to the bright white from the white chocolate chunks.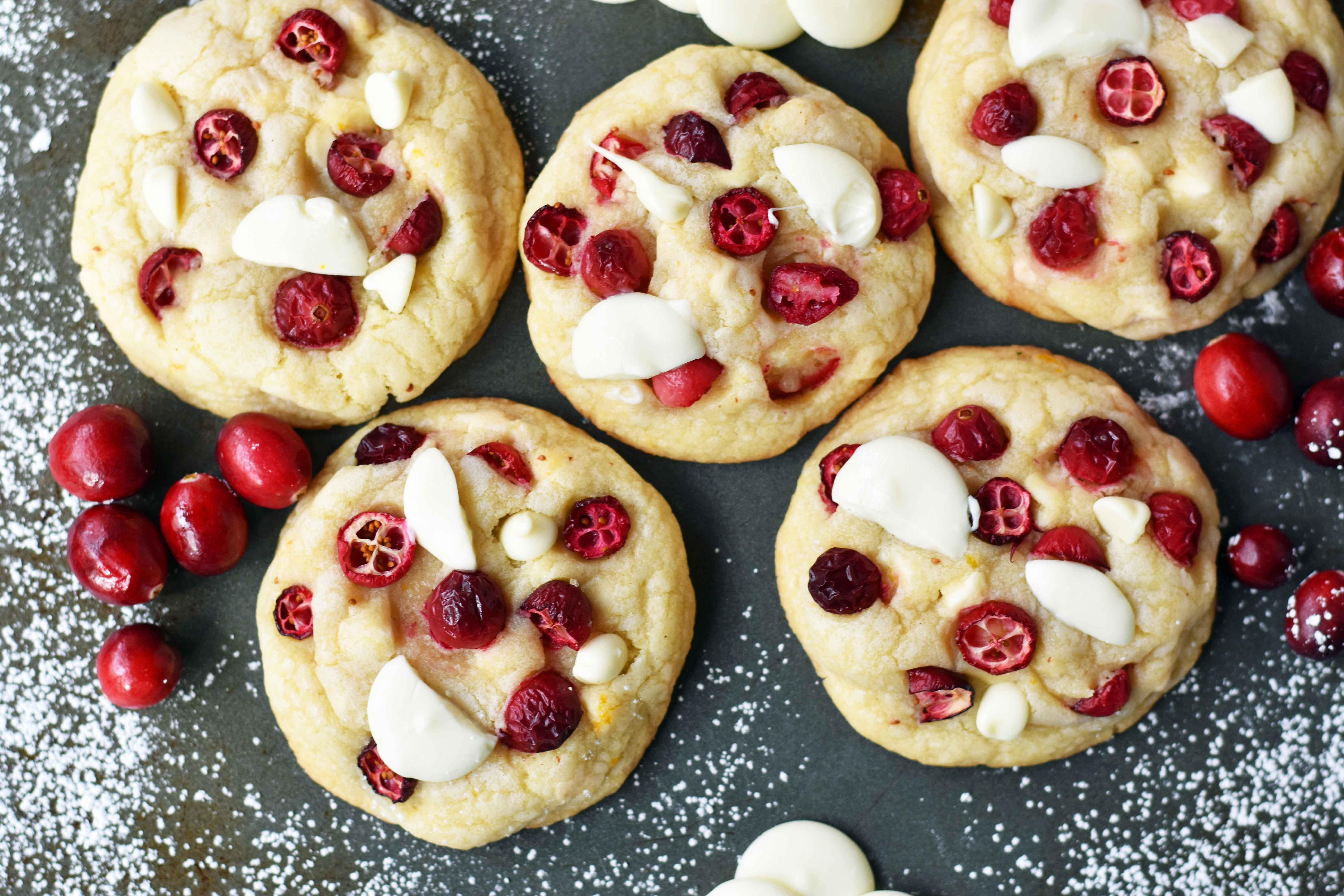 What type of white chocolate to use in these cookies?
White chocolate is one chocolate that I will splurge a little on because there is definitely a difference in the quality from one brand to another. I have tried every single brand and definitely have my favorites. Guittard and Ghirardelli can be found in grocery stores and are my go-to favorites. If you want to really splurge, you can go with Lindt or Lindor white chocolate bars and cut into chunks. I also used the Ghirardelli melting wafers and added a few towards the end of the baking time.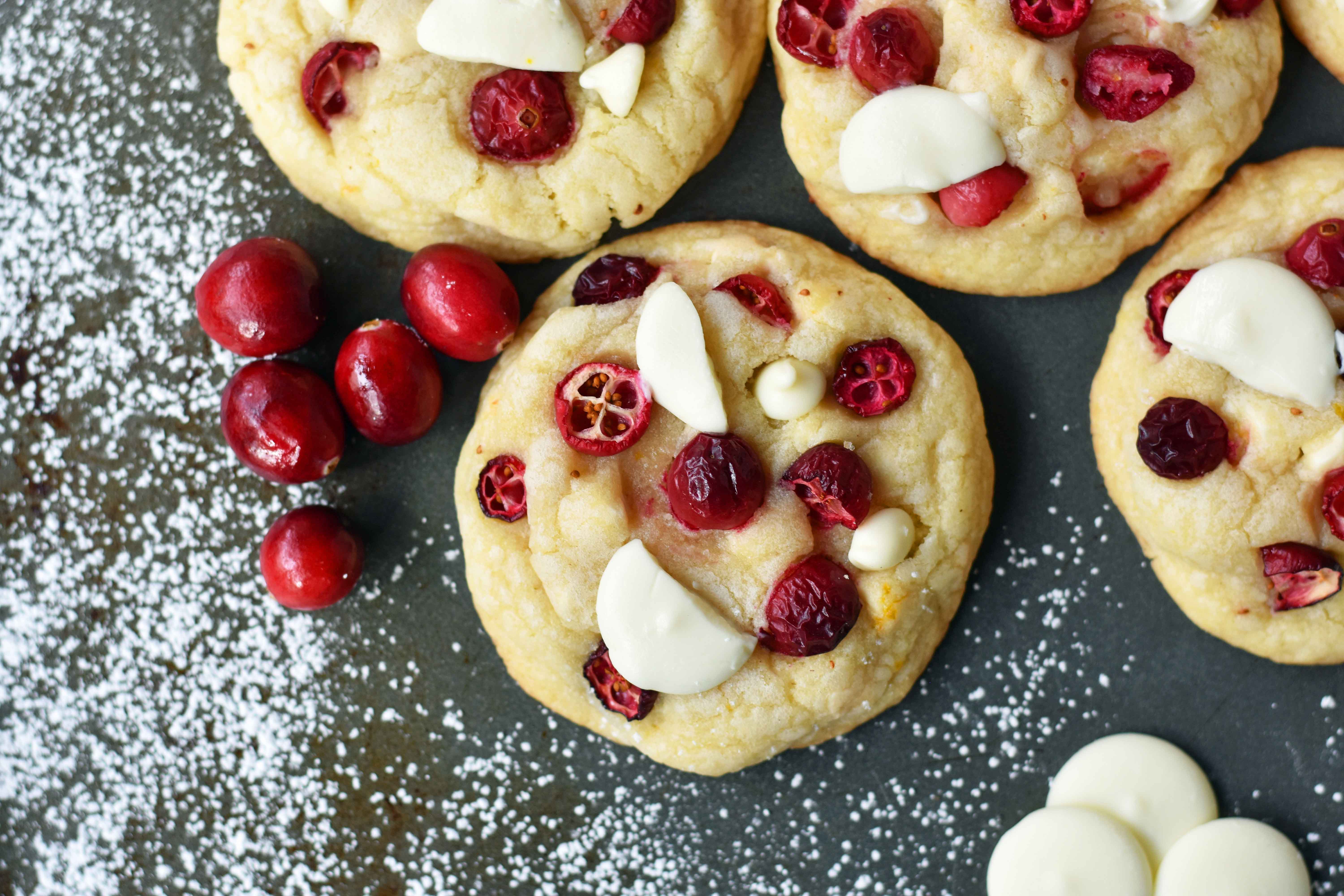 Do I have to use fresh cranberries?
Great question! You can't always get fresh cranberries at the grocery store so you can definitely use dried cranberries. I have tried both and the cookies are delicious both ways. If you are using fresh cranberries, cut the cranberries in half.
How do I get orange zest?
Orange zest is the outer layer of orange skin from a fresh orange. The white part underneath is the most bitter part of the orange so it is important to only get the outer layer of the orange. I am such a fan of using a zester since it doesn't pick up any of the bitter parts of the orange.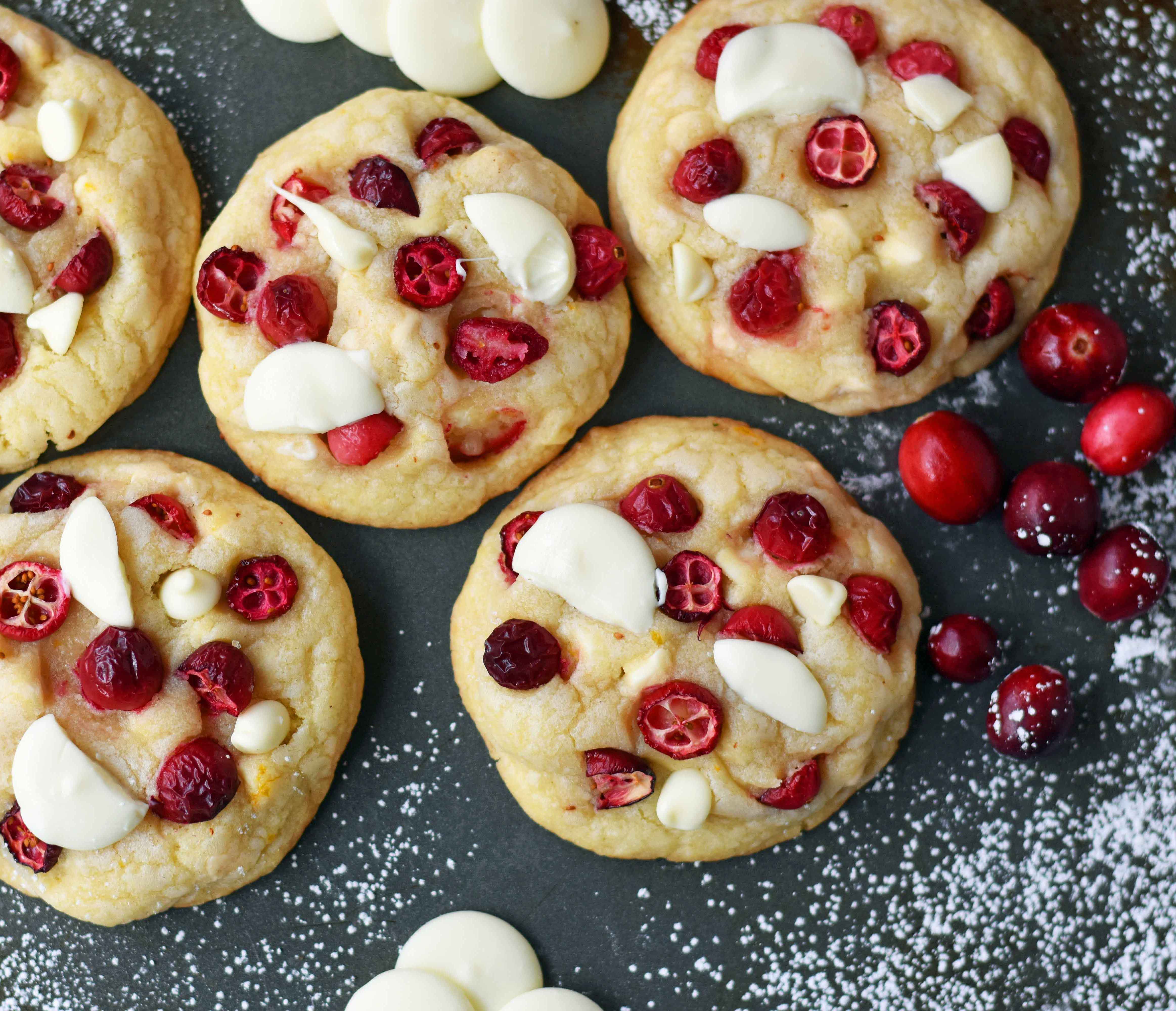 Why is creaming butter and sugars together so important when making cookies?
It helps the sugar begin to dissolve in the butter. The butter wraps around the sugar crystal and helps to create a creamy texture. It also whips air into the cookies which will give them a nice puff in the oven.
How do I store these cookies? Do these cookies freeze well?
Once the cookies cool, I always put them in an air-tight container. These Cranberry Orange White Chocolate Cookies freeze extremely well. These cookies can freeze for up to two weeks, at least.
Do I need an orange glaze on these cookies?
I included a recipe for a Fresh Orange Glaze in case you want to drizzle it on the cookies. It all depends on preference if you want a burst of orange flavor and if you want it to be a frosted cookie or not. It is wonderful both ways. In the photos, there is no orange glaze.
Does Santa Claus like these cookies?
Well, duh. He says a very enthusiastic YES!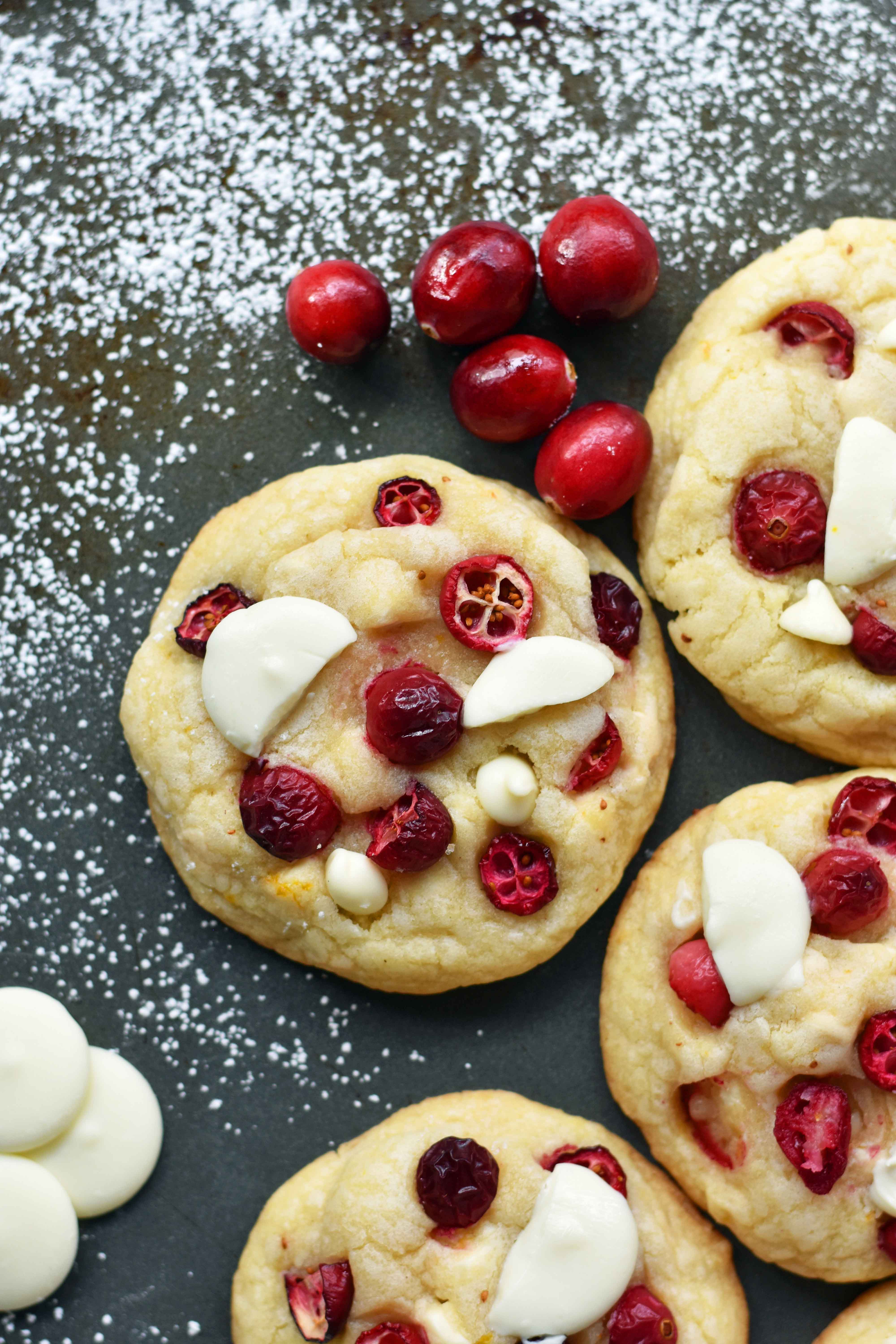 Pin on Pinterest:
Happy Baking, my friends! xo