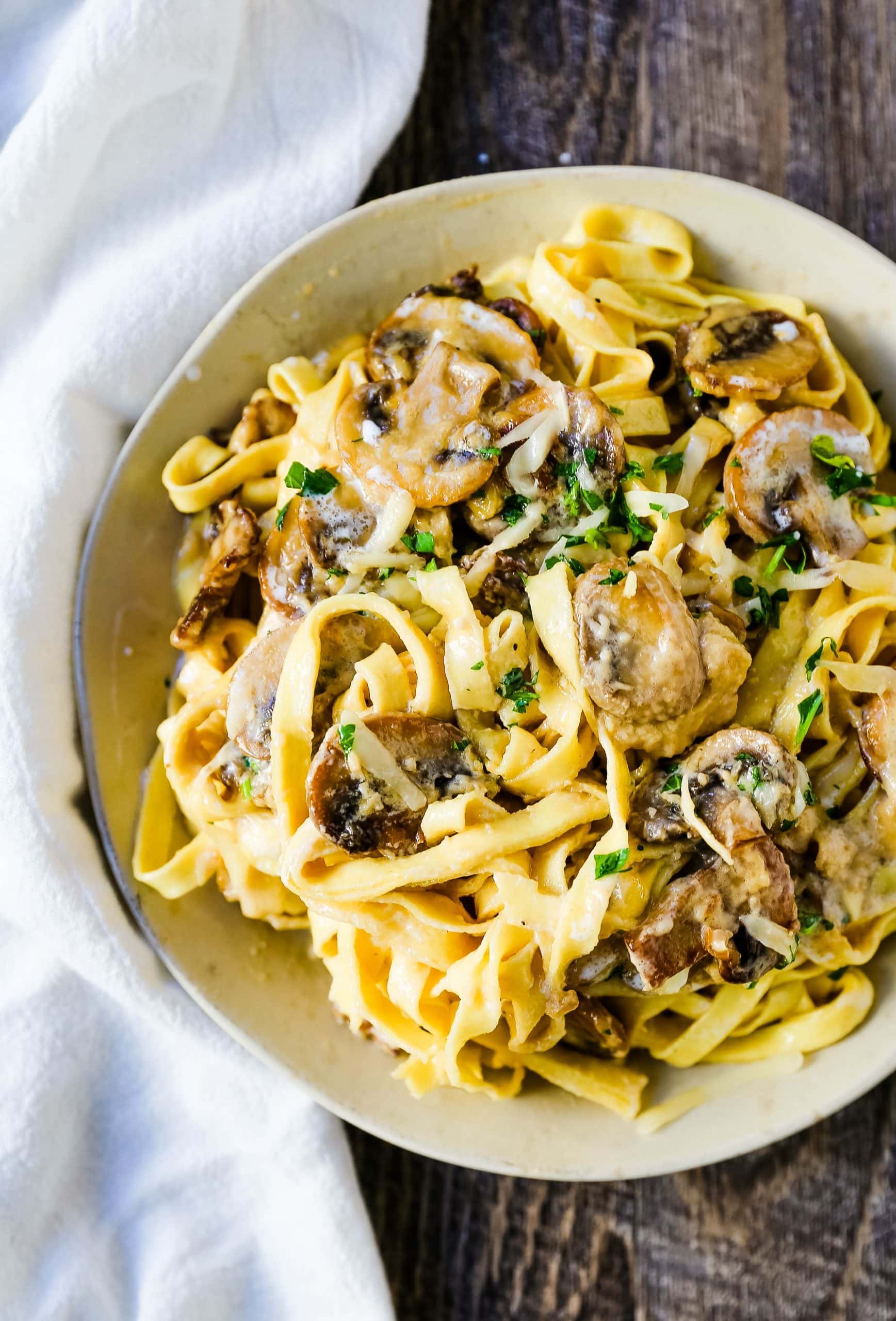 Creamy Mushroom Fettuccine
Sauteed mushrooms in a creamy parmesan cheese alfredo sauce tossed with fettuccine noodles
Oh, how my kids go crazy for fettuccine alfredo in our home. It is such a simple sauce to make from scratch and makes a rich, decadent dinner. Since my husband loves mushrooms, I wanted to create a recipe that would highlight sauteed mushrooms in a creamy parmesan alfredo sauce. It was devoured within minutes and we had a winner on our hands!
This creamy parmesan cheese sauce is made with simple ingredients -- butter, garlic, heavy cream, parmesan cheese, salt, and pepper. You don't get much simpler than that! Forget the jarred stuff with all of the preservatives and make the good, homemade version.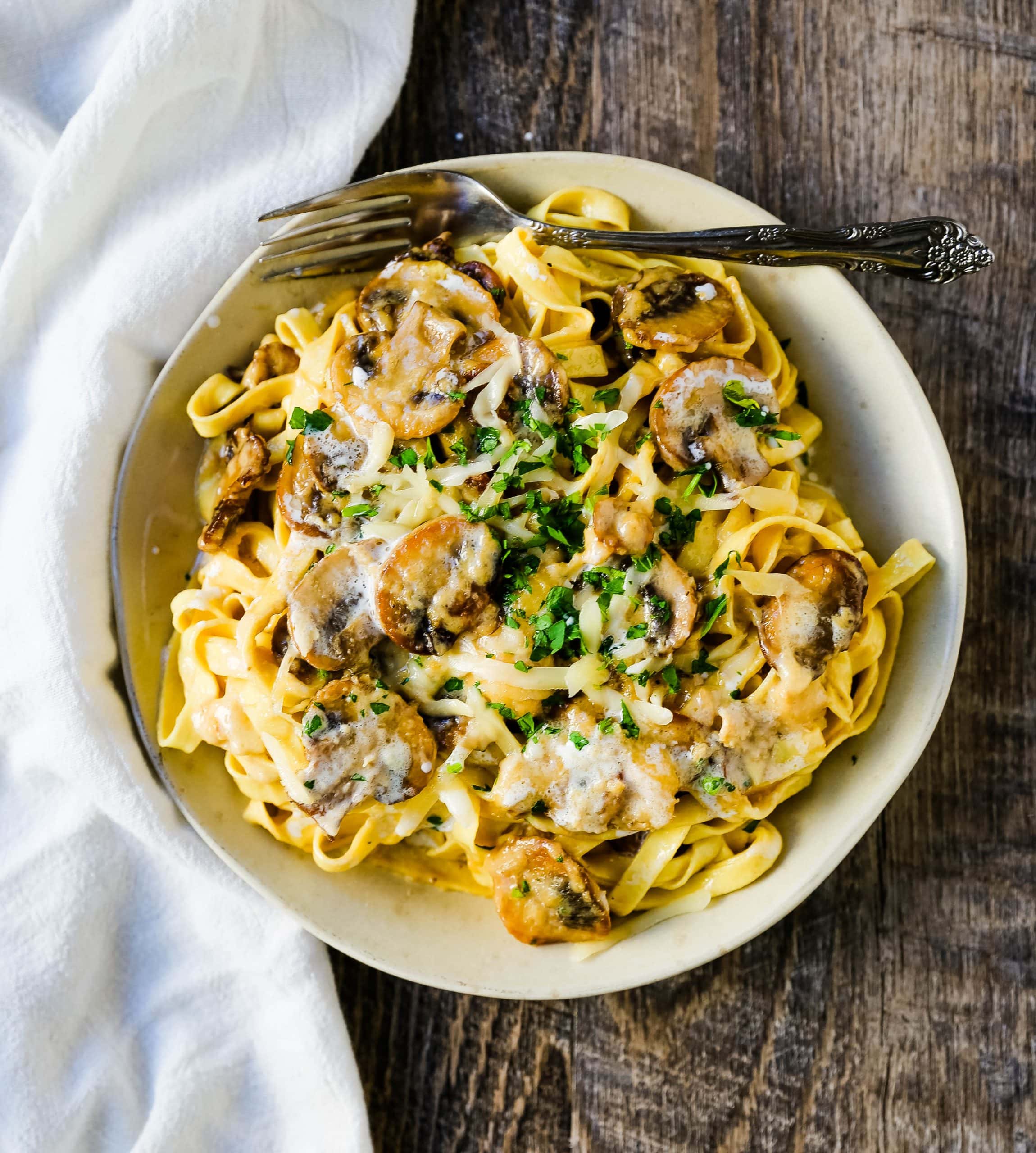 It all begins with fresh sliced mushrooms. You can use any type of mushroom so choose your favorite but I just reach for the classic white mushroom. You may buy them already sliced or slice the fresh mushrooms yourself. Then you saute them in butter because it caramelizes them and brings out their flavor. Add in some garlic at the very end and you will be so tempted to eat all of the mushrooms before you even make the creamy parmesan sauce!
I love to toss the sauce with a fresh fettuccine noodle. If you have ever bought fresh pasta from the store, you understand how it is out-of-this-world good. If you can't find fresh fettuccine, you can use dried fettuccine noodles. You can also use any type of pasta in this dish.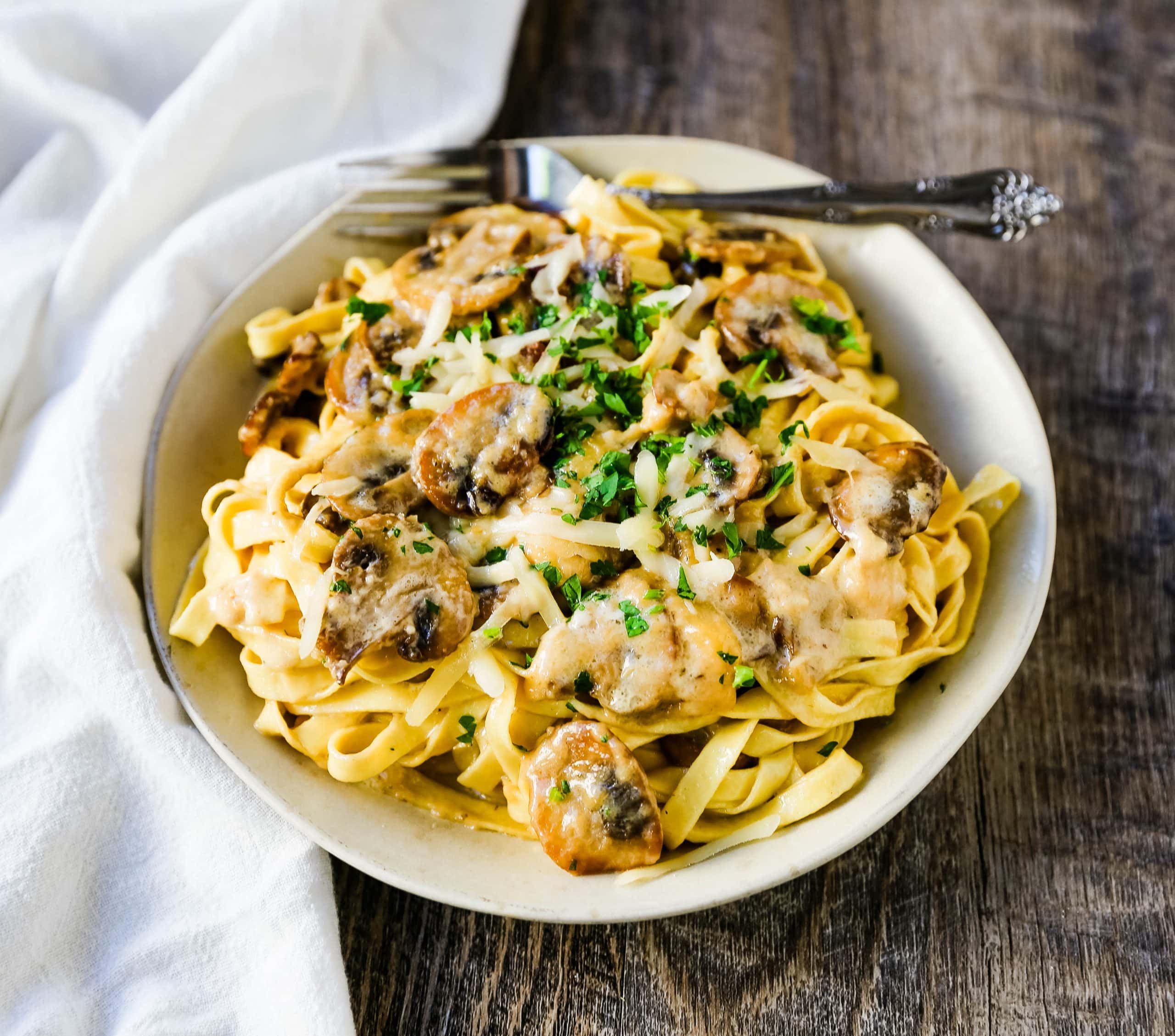 How to make Creamy Mushroom Fettuccine Alfredo:
Start by melting salted butter in a saucepan. Add the mushrooms and cook for 10-12 minutes or until they become a golden brown color with a slight caramelized crisp. Add the garlic and cook for 1-2 minutes longer. Make sure to not cook any longer in the garlic or it may burn and become bitter.
Set mushrooms aside and make the sauce. Melt remaining butter in a saucepan. Add the heavy cream and let it reduce and thicken for about 6 to 8 minutes. Cook the pasta while the sauce is cooking.
Use GOOD-QUALITY, REAL grated parmesan cheese. This is a star ingredient so you want to use the good stuff. Use freshly grated parmesan cheese. Add only HALF of the parmesan cheese to the mixture and use a whisk to make sure it is extra smooth. If you add all of the parmesan cheese at once, it may become clumpy. Whisk until cheese is melted.
Save some of the salted pasta water. The pasta water is full of flavor and can be used to thin out the sauce if you prefer it to be slightly thinner.
Toss with the mushrooms and pour over the cooked fettuccine noodles. Top with fresh parsley or basil and more parmesan cheese, if desired.