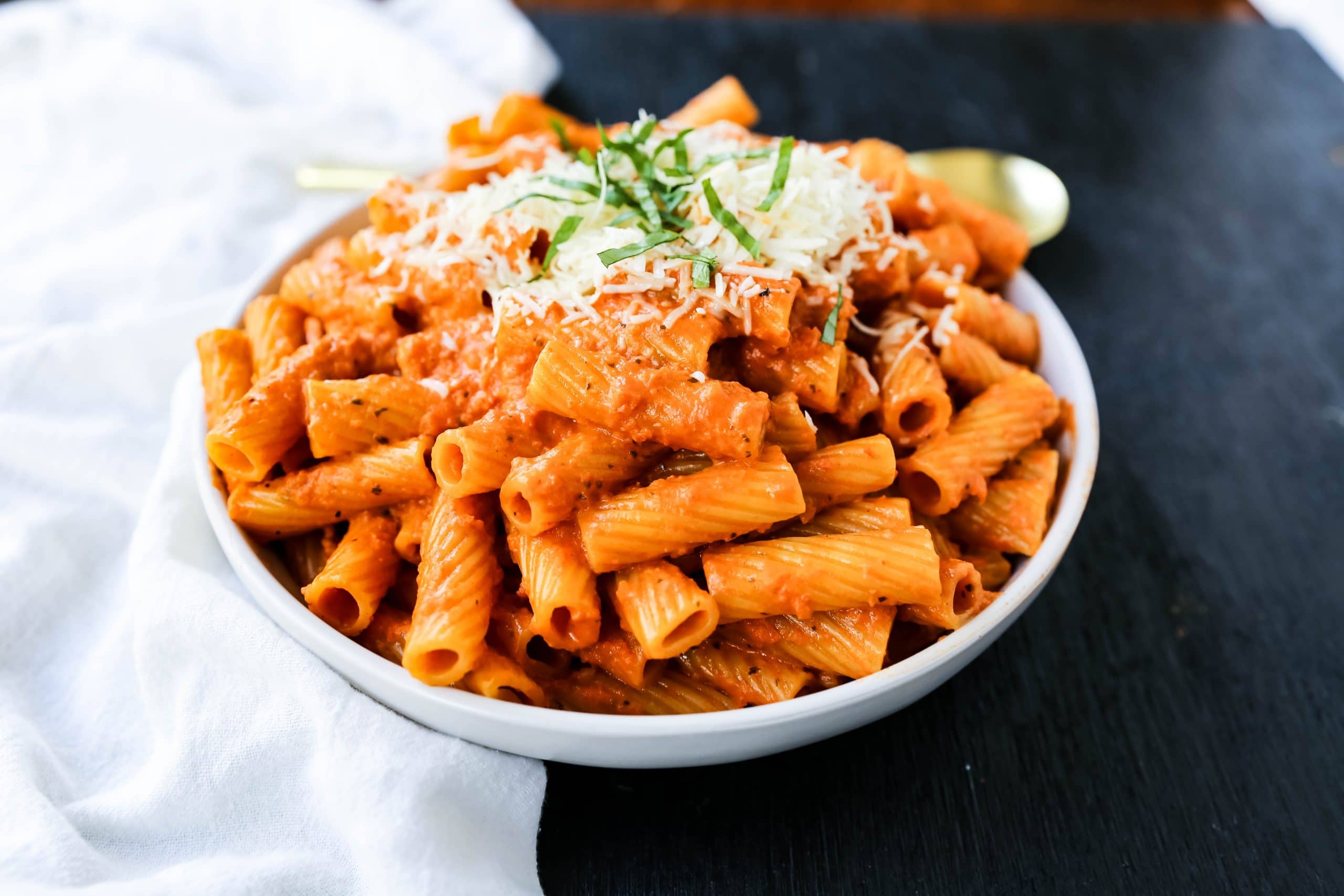 Creamy Roasted Red Pepper Pasta
A creamy roasted red pepper and tomato basil sauce with garlic and heavy cream all tossed together with pasta and topped with parmesan cheese. A flavorful robust pasta dish!
There's red peppers and then there's roasted red peppers. I have said it a million times (okay maybe just 5) on Modern Honey that my favorite way to eat vegetables is to roast them. So when you take an average red pepper and roast it, it becomes a million times better. Maybe just a hundred...but basically, A LOT.
My daughter Sierra has loved peppers since the time she could start eating. She'd beg to eat them every single day and I had green peppers, yellow peppers, and red peppers in my refrigerator at all times. She ate them like apples! She would also walk around the house with a carrot at the age of two all of the time. Since she is home from college for Christmas (SO HAPPY!), I thought I would whip up a home cooked comfort food meal. I decided to use one of her favorite vegetables and create a super flavorful pasta dish.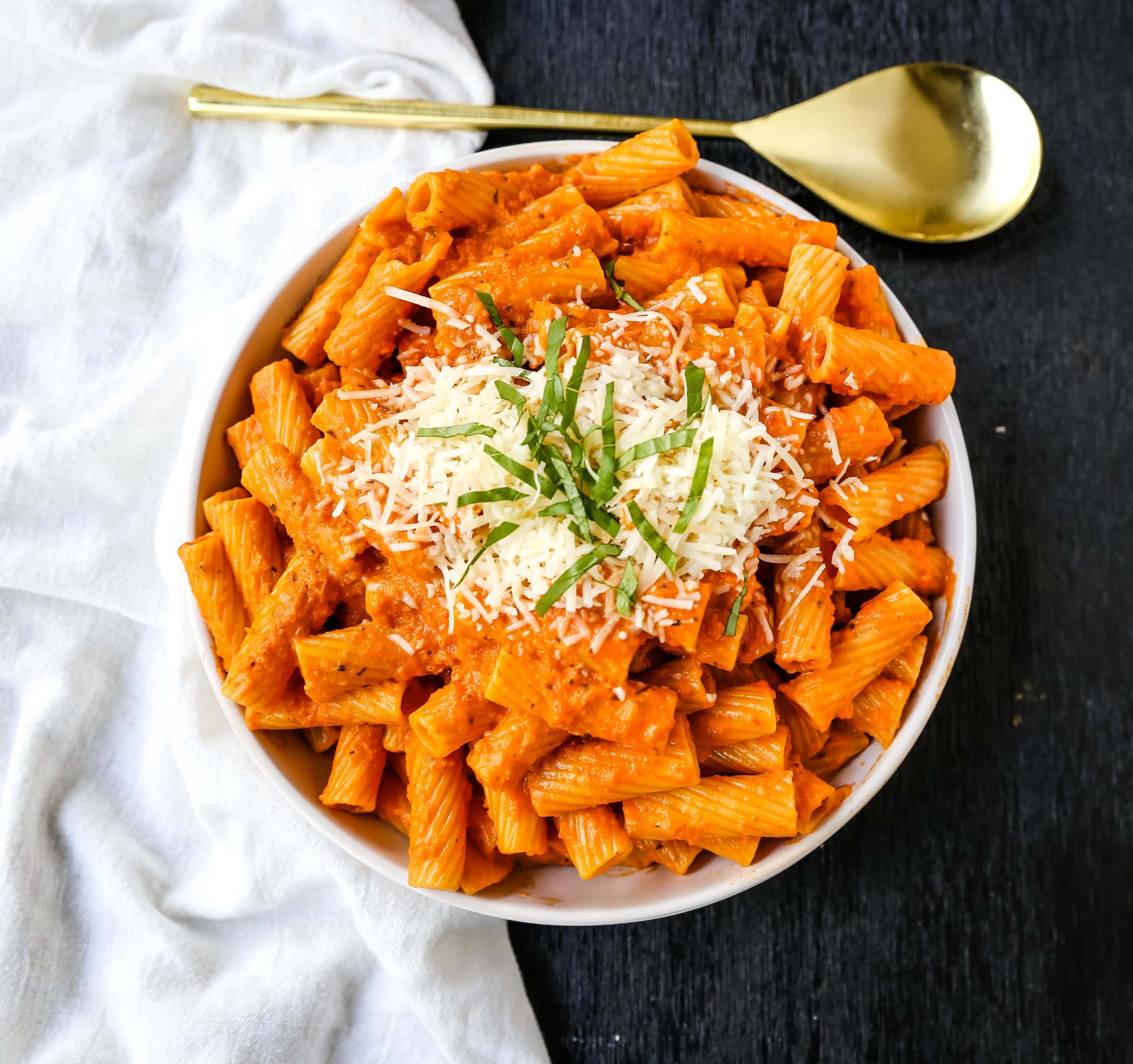 This Creamy Roasted Red Pepper Pasta is made with roasted red peppers, whole peeled tomatoes, fresh basil, garlic, onion, olive oil, a touch of sugar and salt, heavy cream, parmesan cheese, and pasta. The garlic, onion, and basil are the trifecta of Italian seasonings and are huge difference makers in this roasted red pepper cream sauce. I love to use a touch of sugar to offset the acidity of the red peppers and tomatoes. Feel free to add more to taste.
When I am using roasted red peppers, I reach for a jar. The peppers are usually stored in a jar with a water and salt to keep them moist. You don't want to use dried roasted red peppers in this recipe.
You can use your favorite type of pasta with this sauce. I reached for ziti or rigatoni but you can use farfalle, spaghetti, angel hair, etc. The sky is the limit as it will pair perfectly with any type of pasta. You can also add some grilled chicken on top of it or stir in some browned ground beef for some protein.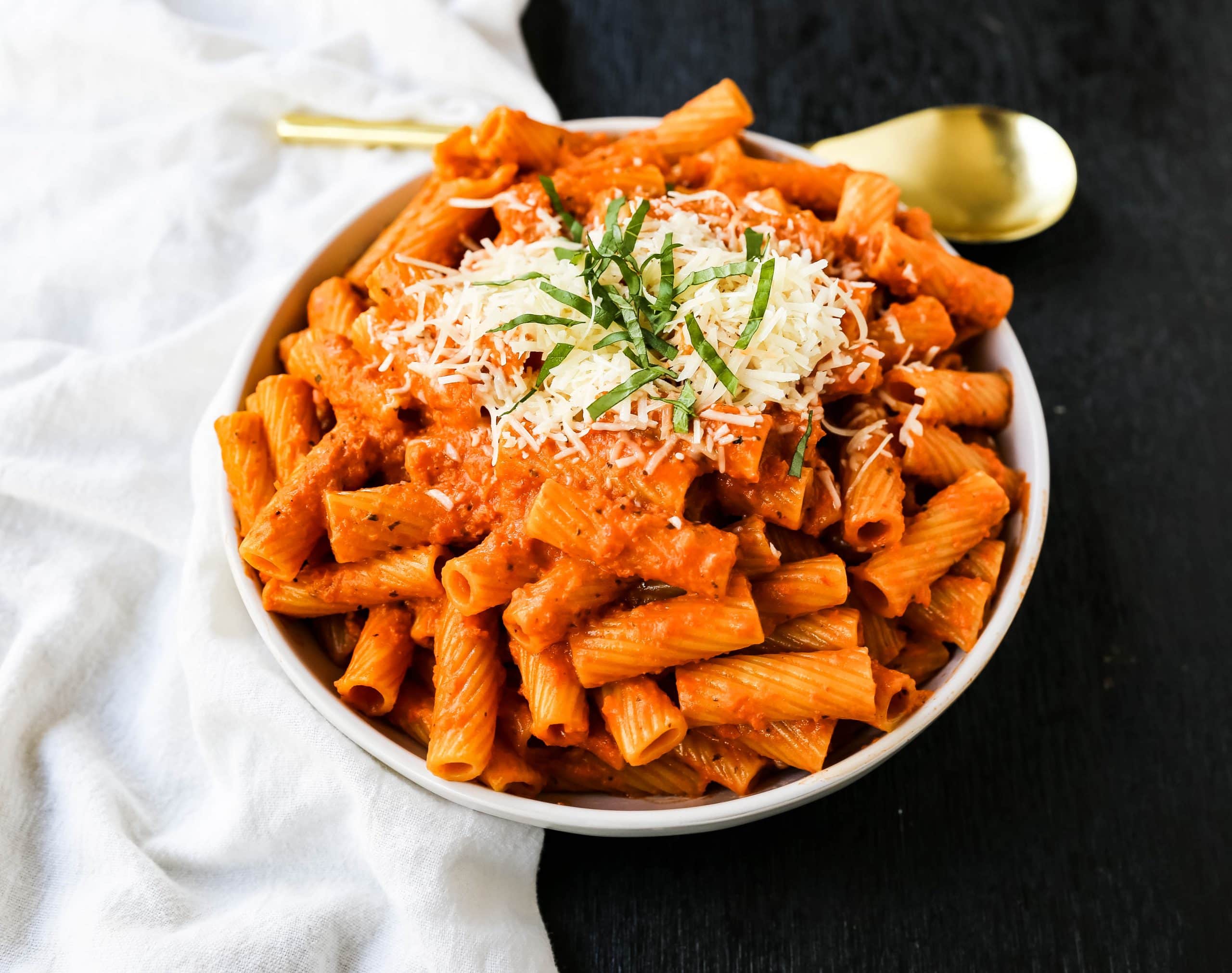 How to make Creamy Roasted Red Pepper Pasta:
Start by sautéing diced onion in olive oil. Let the onion soften and start to become translucent. Add in the garlic and sauté for only about 1 minute. Garlic can become bitter quickly so don't let it burn.
Stir in the roasted red peppers, tomatoes, and basil, and stir together. This is a pureed sauce so carefully pour all of the ingredients into a blender or food processor. Be careful as the mixture will be hot! Puree the mixture until smooth.
Return to the skillet and add salt and sugar. Let the red pepper sauce simmer over medium-low heat for at least 15 minutes. If time is on your side, let it simmer for about 45 minutes, stirring often.
Cook your favorite pasta according to package instructions. Drain.
Add heavy cream and half of the parmesan cheese, reserving the other half to toss on top of the pasta.
Toss the pasta with the sauce. Serve with remaining parmesan cheese.