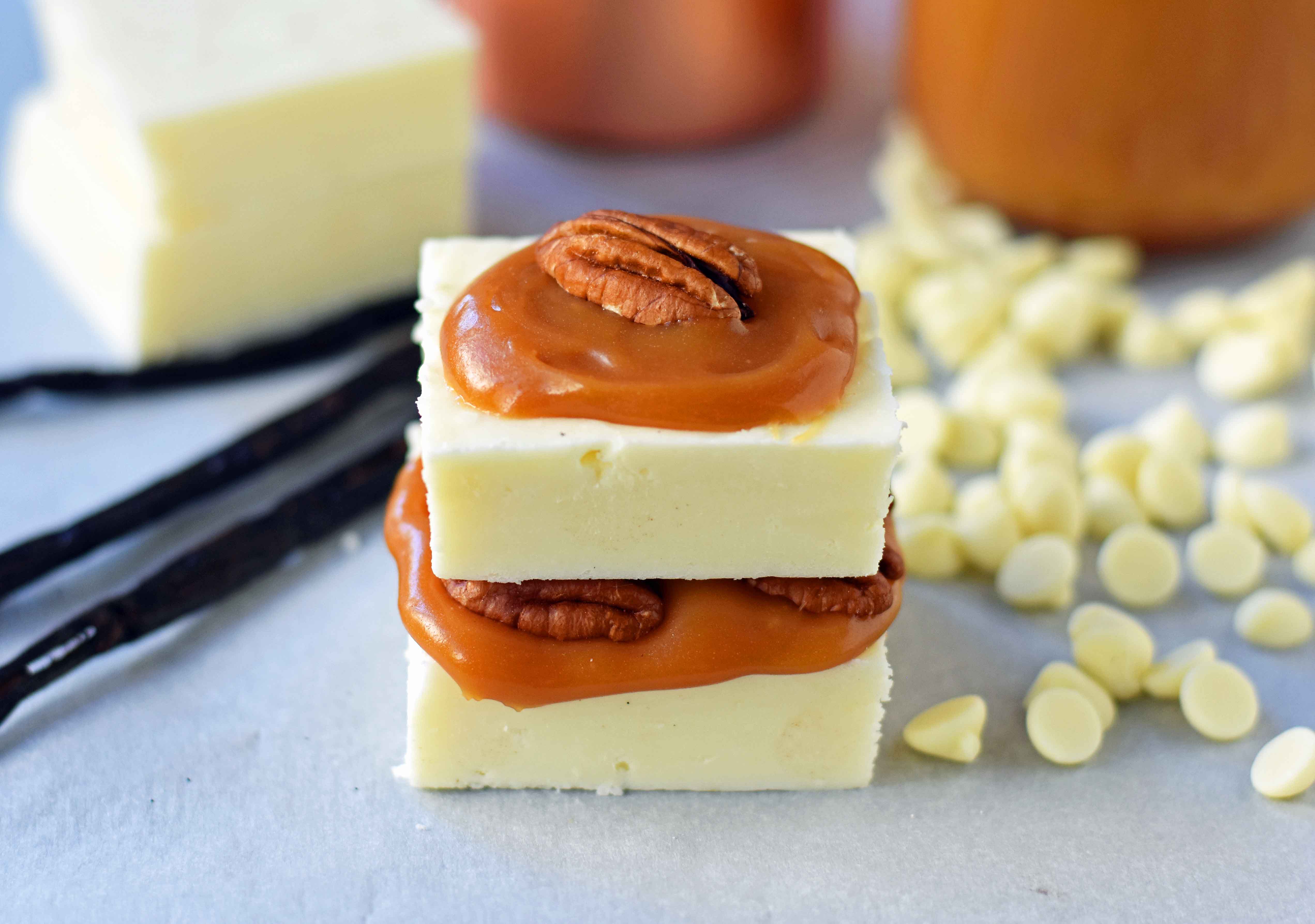 Homemade Creamy White Vanilla Fudge is unbelievably rich, decadent, and so easy to make! There are a few secret ingredients for making perfect vanilla fudge every single time.
For many years, I was afraid of fudge. As a kid, I remember receiving goodie plates during Christmas time and getting so excited about the creamy fudge on the holiday designed plates. Sometimes the fudge would be rich and creamy and melt in my mouth and other times it would be chalky and rock hard. I never knew what I was going to get!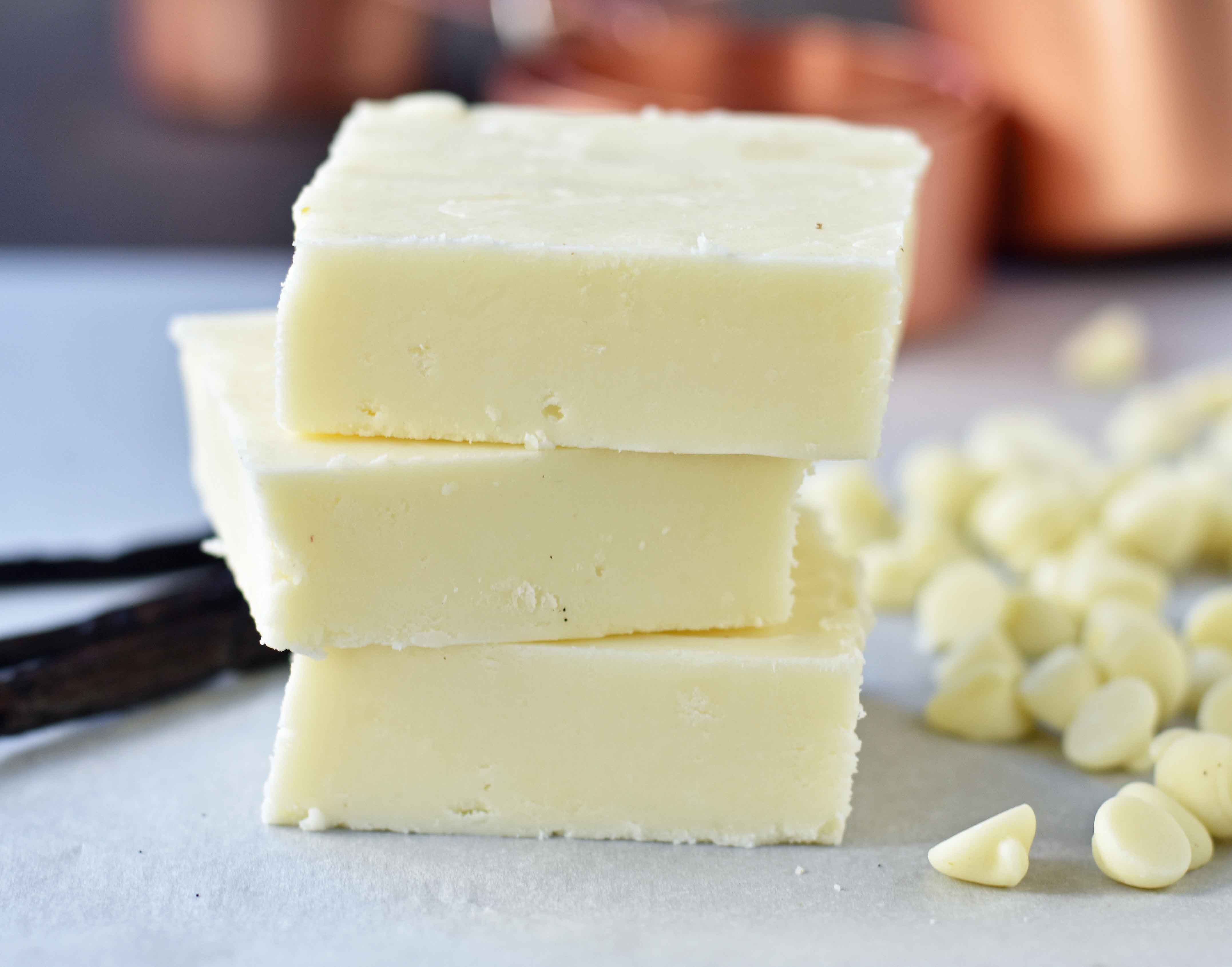 When you make fudge, you want it to be soft and creamy.  When I was going to college, I would save all of my pennies so I could get a small piece of the famous fudge at the bookstore.  It was everything fudge should be and I craved it like no other. I wanted to figure out how to make it just like them.  I am happy to report we have had success in the kitchen!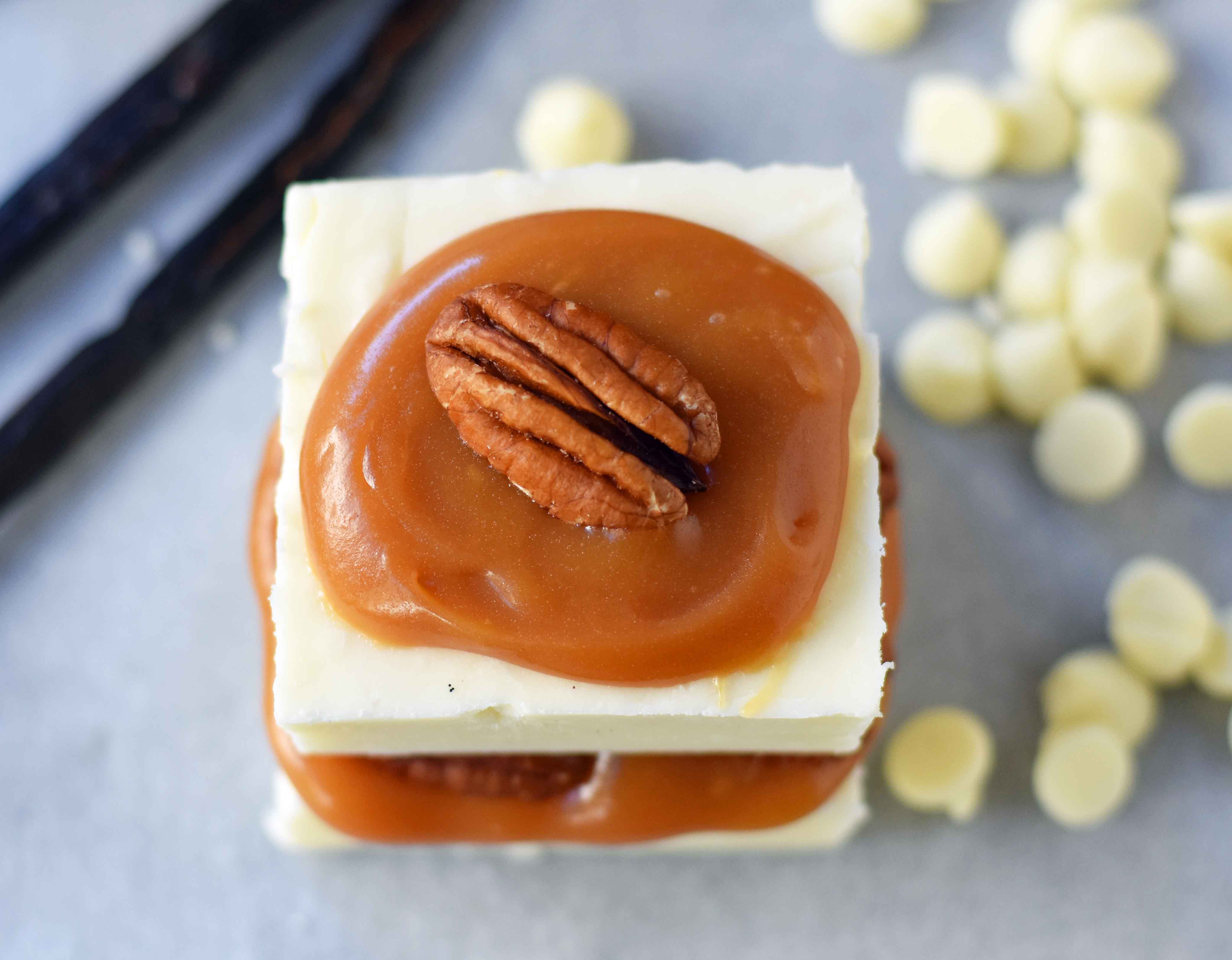 I took an online class on candy making through Craftsy and Elizabeth LaBau and learned so much about the tips and tricks for making perfect Creamhy White Chocolate Vanilla Fudge. I am going to share all of the secrets with you!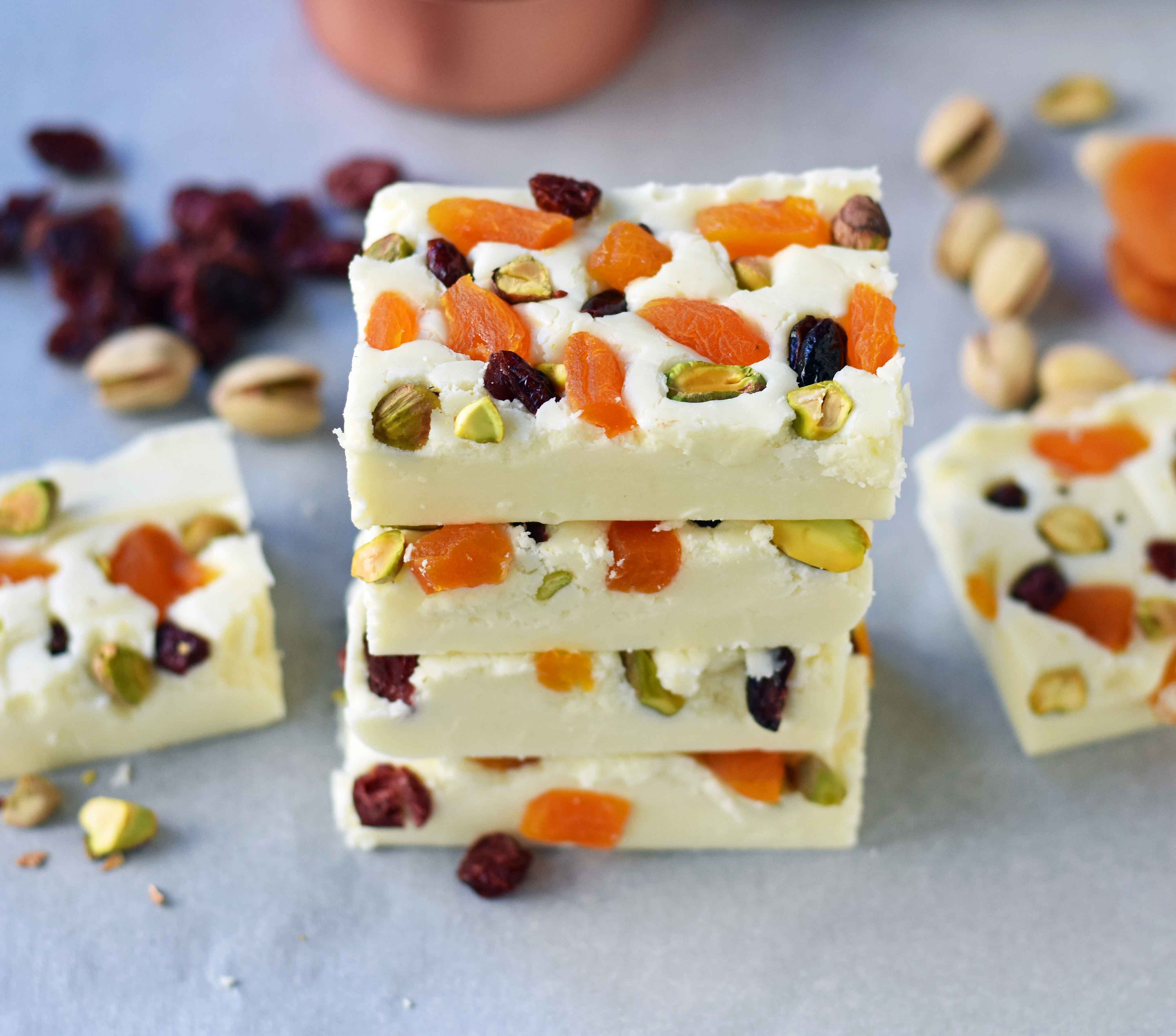 How to make PERFECT CREAMY WHITE VANILLA FUDGE:
 It all starts with BUTTER.  Butter makes everything better so it is only logical to put it into fudge. It helps to create a base for the creamy texture.
Add the SECRET INGREDIENT -- Sour Cream. The beauty of sour cream is that it adds a thick creaminess to the fudge without adding more sweetness.  It is all about balance and the acidity from the sour cream lends itself to making creamy vanilla fudge.
Cook and stir until the SUGAR is completely dissolved.  You don't want grainy fudge! Let it come to a boil so the sugars are completely dissolved.  If you have a candy thermometer, it is highly recommended. Bring the fudge to 235 degrees and then remove from heat. Click HERE to buy a Wilton Candy Thermometer.
Another game-changing ingredient is MARSHMALLOW CREAM.  It is what helps to create a smooth texture and make this fudge so easy to make.
Add high-quality WHITE CHOCOLATE chips. This is what gives it such a sweet, rich flavor.  I use Guittard or Ghirardelli white chocolate.
Use pure VANILLA extract or real vanilla beans.
Stir in your favorite accompaniments -- caramel, nuts, dried fruits, candy canes, etc. Once you have this recipe down, you can make peppermint fudge, candy cane fudge, caramel pecan fudge, OREO fudge, turtle fudge, apricot pistachio fudge, cranberry pistachio fudge, white chocolate fudge, and so many more!
Let fudge set, covered, at room temperature for 2 hours.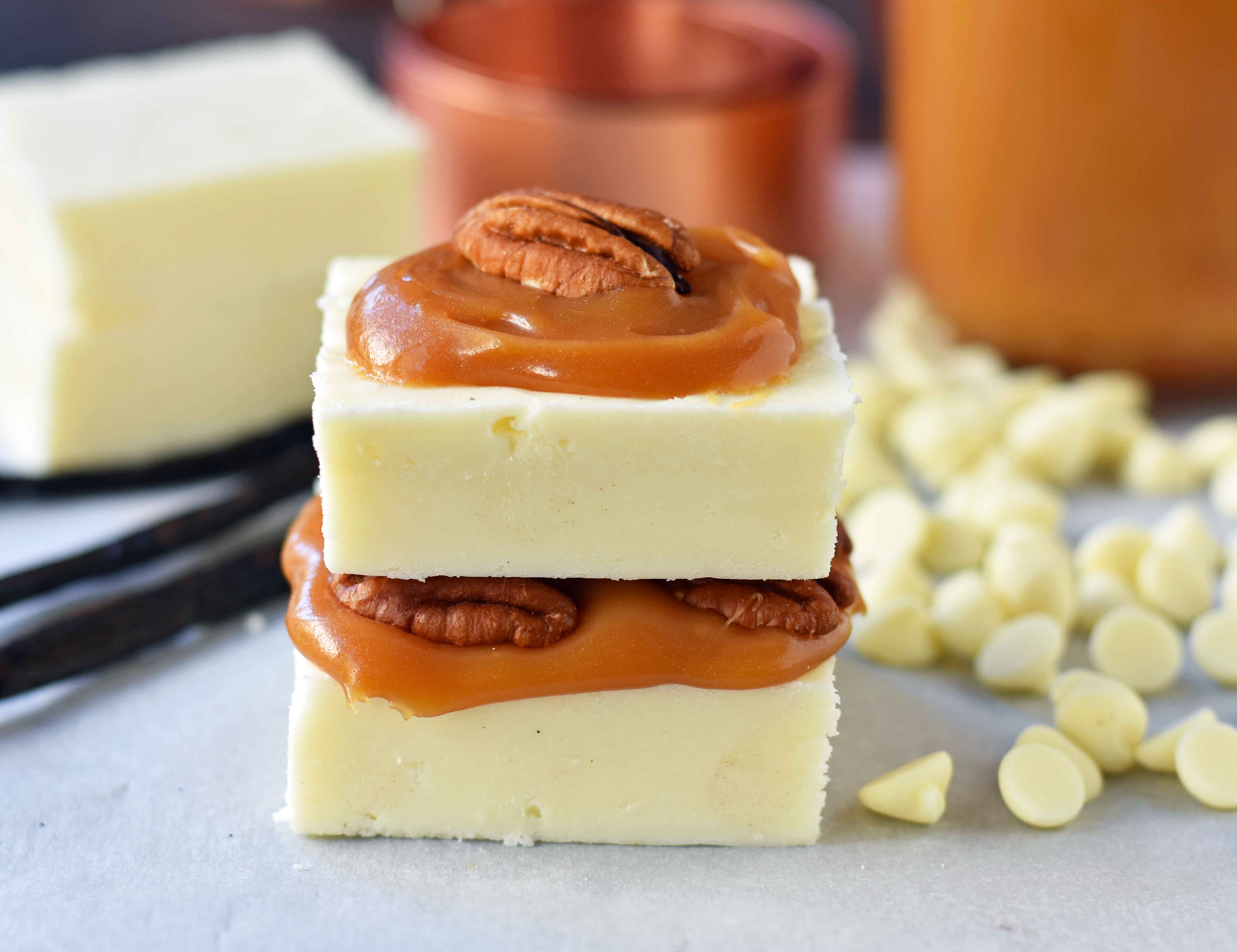 If you want to make Caramel Pecan Fudge, swirl in some homemade or high-quality store-bought caramel into the fudge and top with pecan halves. If the caramel is thick enough, you can place it on top of each piece of fudge with a pecan on top.
If you want to make Cranberry Pistachio Apricot Fudge, stir in a combination of dried fruit and nuts.
To make homemade OREO fudge, stir in 2 cups of crushed OREOS before pouring into pan.
To make Peppermint Candy Cane Fudge, add ¼ - ½  teaspoon of peppermint extract and crushed candy canes.
Here's my favorite pan to use to make fudge -- USA 9 x 9 baking pan.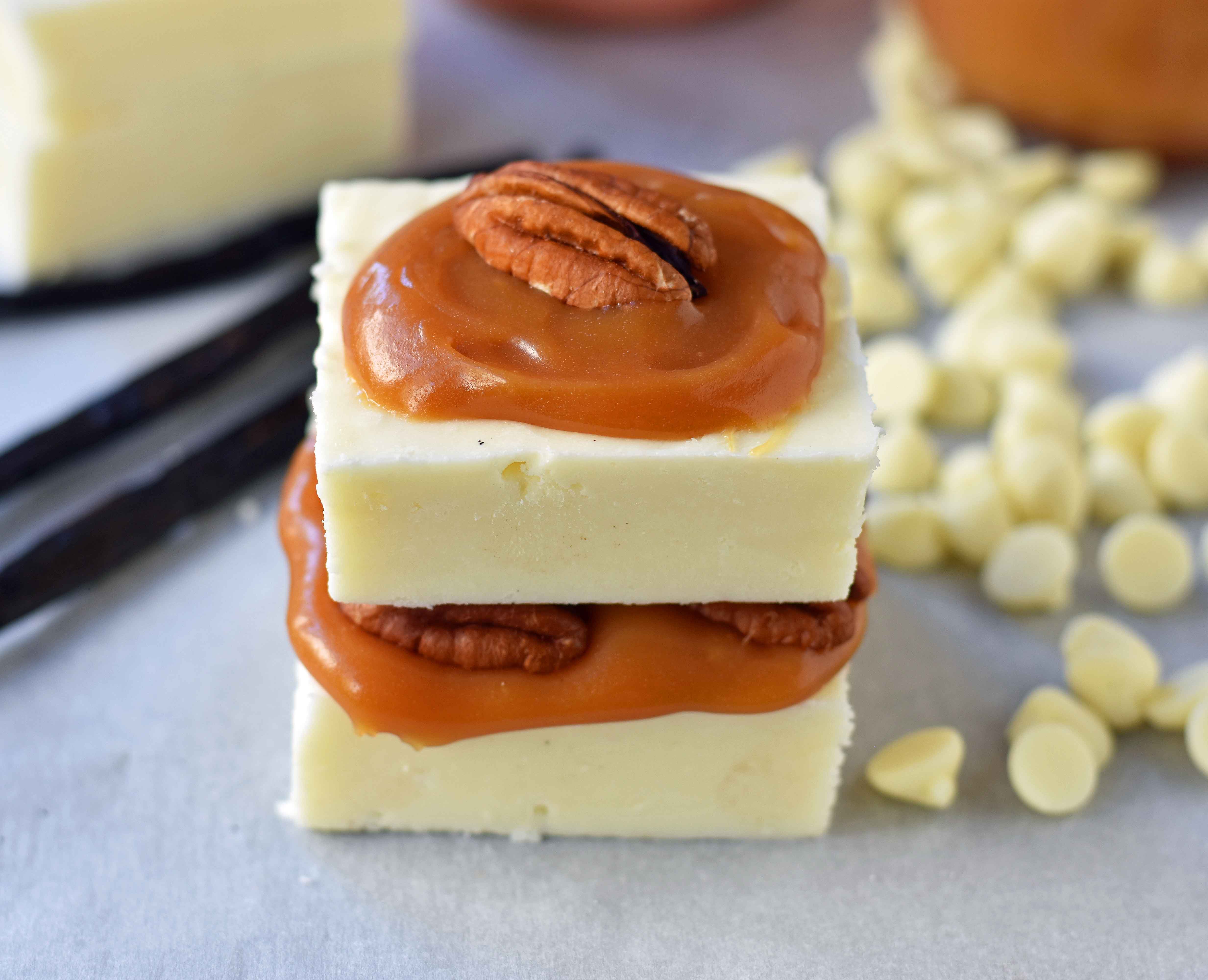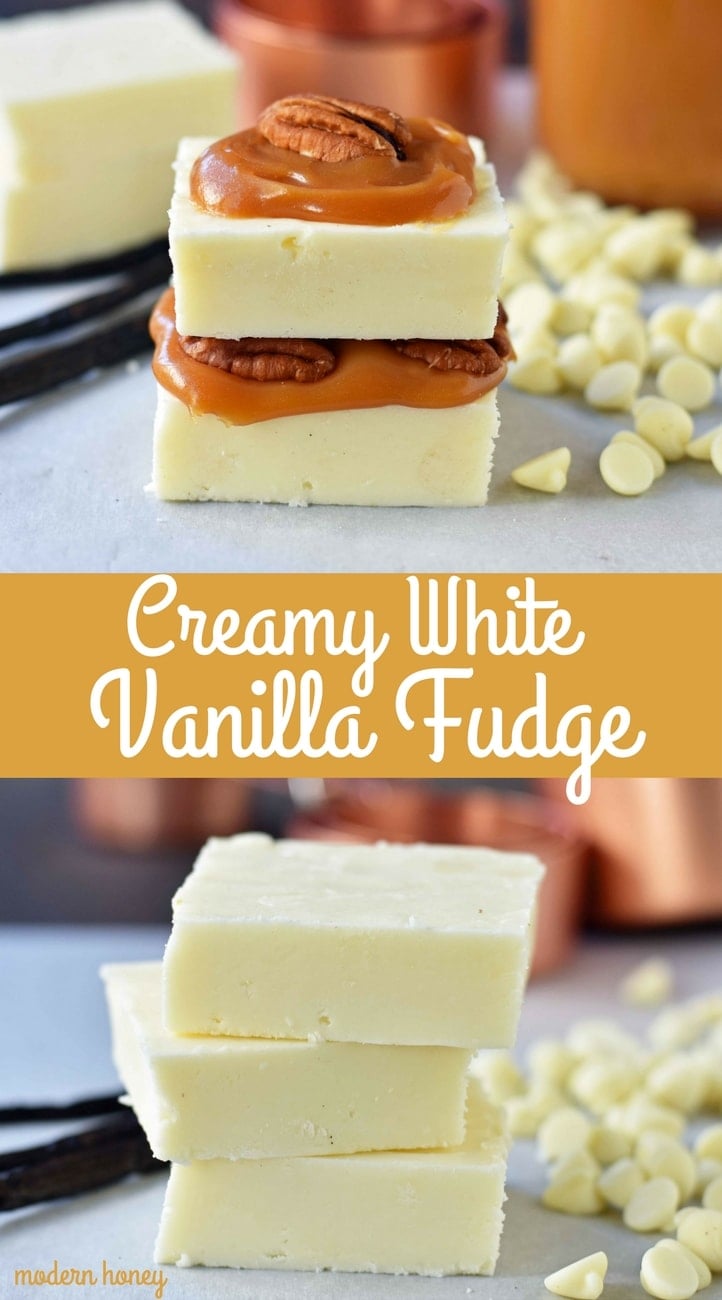 I hope you love this Creamy White Vanilla Fudge. This is so perfect for your Christmas goodie plates and for baking at home during the holiday season. Happy Baking, my friends! xo