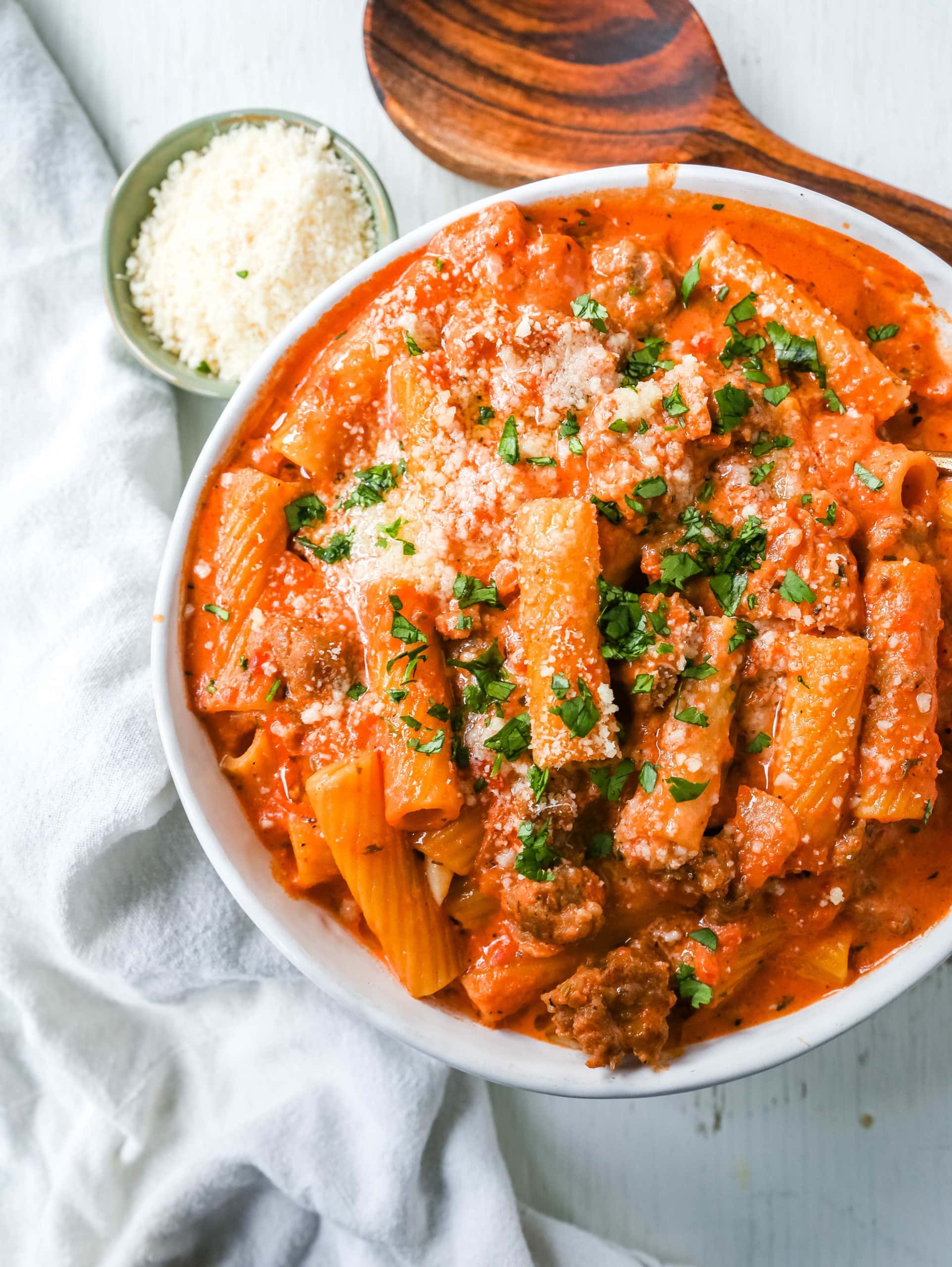 "Date Me" Creamy Sausage Rigatoni Pasta
Homemade rich and creamy tomato cream and sausage sauce tossed with rigatoni and topped with parmesan cheese. The best creamy sausage rigatoni pasta!
My Mom always taught me this simple phrase, "a way to a man's heart is through his stomach."
When I was dating Dean, one of my favorite things to do was to cook a full-course meal and set the table. He would get so excited over a simple home-cooked meal because he basically lived off of ramen and canned Chef Boyardee. He would thank me over and over again for a simple meal and would be so appreciative. I started to realize that what my Mom taught me from a young age was true -- food was the way to a man's heart!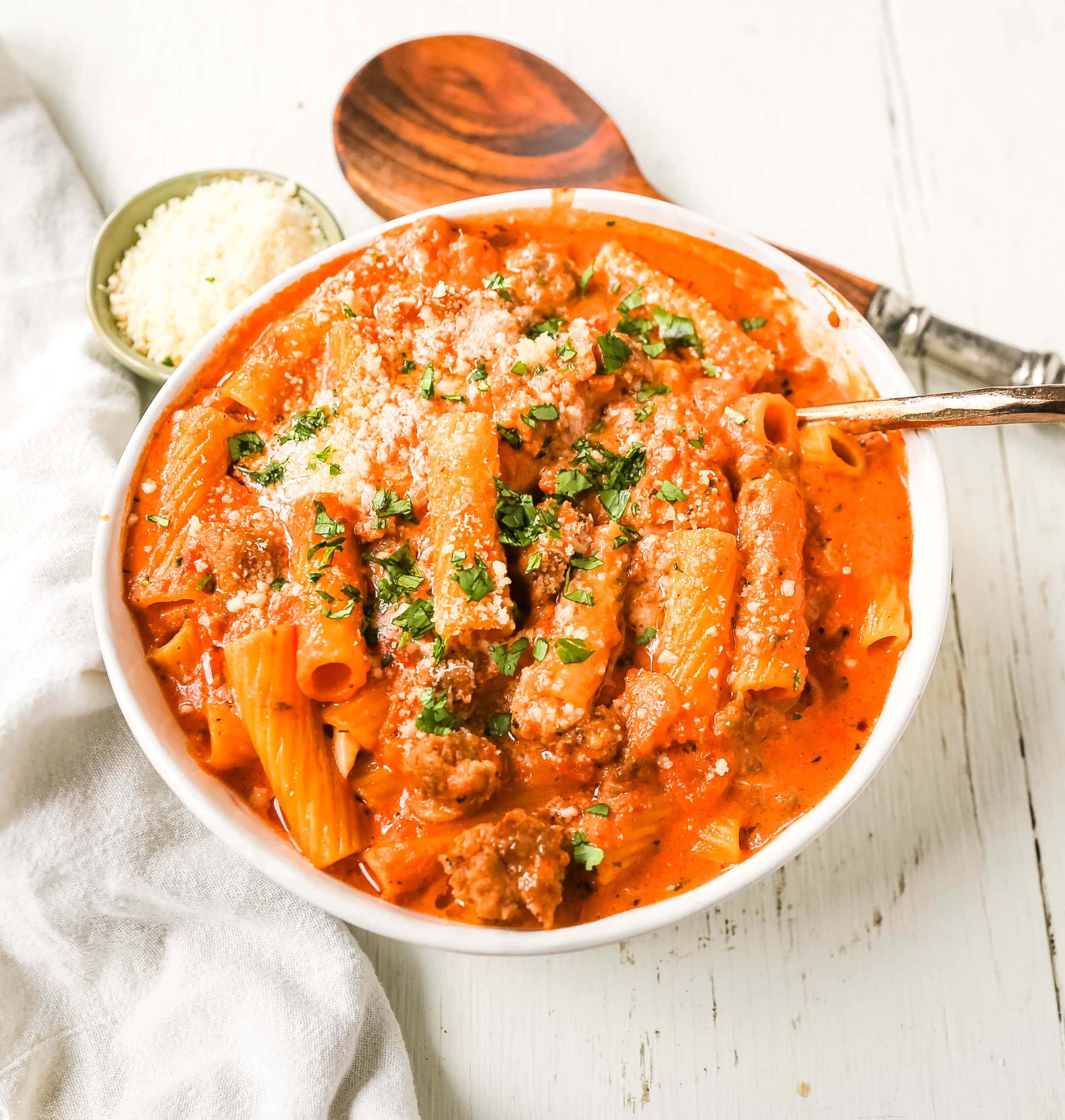 Dean and I will be celebrating our 25th wedding anniversary this year! We have been together for almost 27 years though so I have fed him a lot of meals in our days together. One of his all-time favorite meals is a big bowl of creamy sausage rigatoni pasta with a lot of sauce. The extra sauce is crucial since pasta soaks it up!
This rigatoni pasta recipe makes a lot of pasta and makes the best leftovers. You can feed a lot of mouths for a fraction of the cost of one serving at a restaurant. Plus you are making the sauce from scratch so it always feels good to know what ingredients are going into your dinner!
This "Date Me" Pasta starts off with a robust tomato sauce by sauteing onions and garlic in extra-virgin olive oil. This is the base of the sauce and I always like to take the extra time to soften the onions to bring out their sweetness and get rid of any bitterness. Then you add in the Italian sausage. You can buy any type -- mild, hot, or sweet Italian sausage. Take the time to brown the sausage to bring out the flavor.
Then you add in the canned tomatoes. You can use crushed tomatoes and add them straight to the sauce or if you are using canned whole peeled tomatoes, whip them up in a blender before adding them to the pan. Add in fresh or dried herbs, a generous amount of salt and pepper, and red chili flakes for some subtle heat to keep things interesting.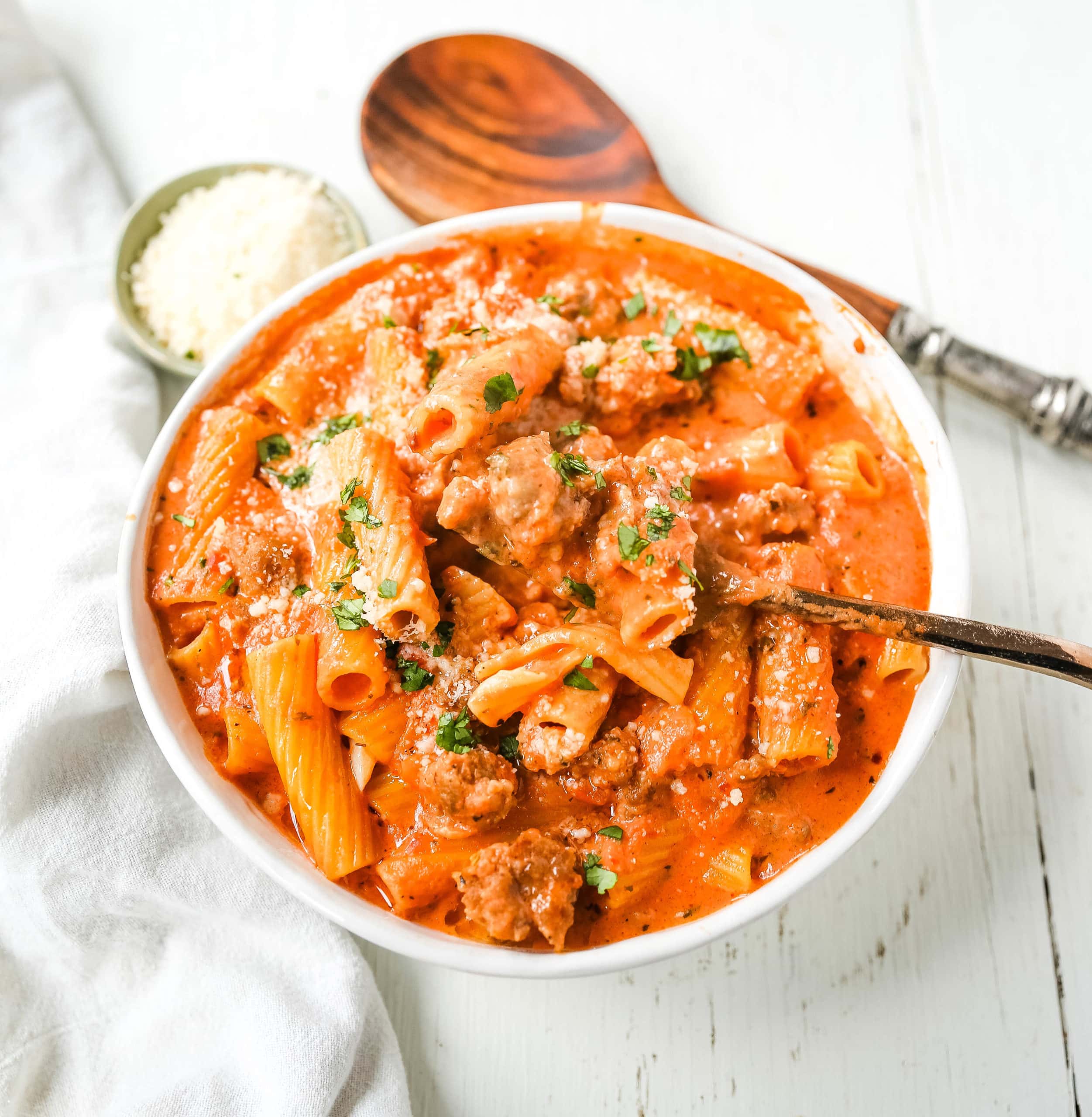 Once the sauce is bubbling and starting to reduce, add in heavy cream and parmesan cheese. This is what adds some creamy richness to the sauce. If time is on your side, let it simmer on low heat to really bring out the flavors of the herbs, onions, garlic, and tomatoes.
While the sauce is simmering, heat a pot of water over high heat until boiling. You want to generously salt the water as this helps to infuse the pasta with flavor. This is one of the most important tips in order for the pasta to have flavor on its own. I suggest using rigatoni pasta since it pairs perfectly with a robust sausage sauce.
Cook according to package instructions. Some of you may like to cook it al dente so it has a little bite and some like their pasta to be on the softer side. My kids prefer it on the softer side so I cook it about 1 minute longer than the package instructions but you do you! 🙂
When ready to serve it, toss the pasta with the sauce. It will be nice and saucy! Don't worry -- the pasta will soak up all of the sauce in no time at all. Serve with extra parm and fresh basil. Watch for your people coming back for seconds! They are going to love this bowl of comfort food. Oh, and by the end of the night, you may just have someone asking for you to "date them" after serving them this pasta. Just go check out my Marry Me Chicken recipe. You won't believe how many proposals have happened because of one chicken dish!