The famous Dominique Ansel Chocolate Chunk Cookie Recipe. How to make Dominique Ansel cookies at home. These chocolate chunk cookies are soft and chewy in the center with crisp edges and are full of melted chocolate.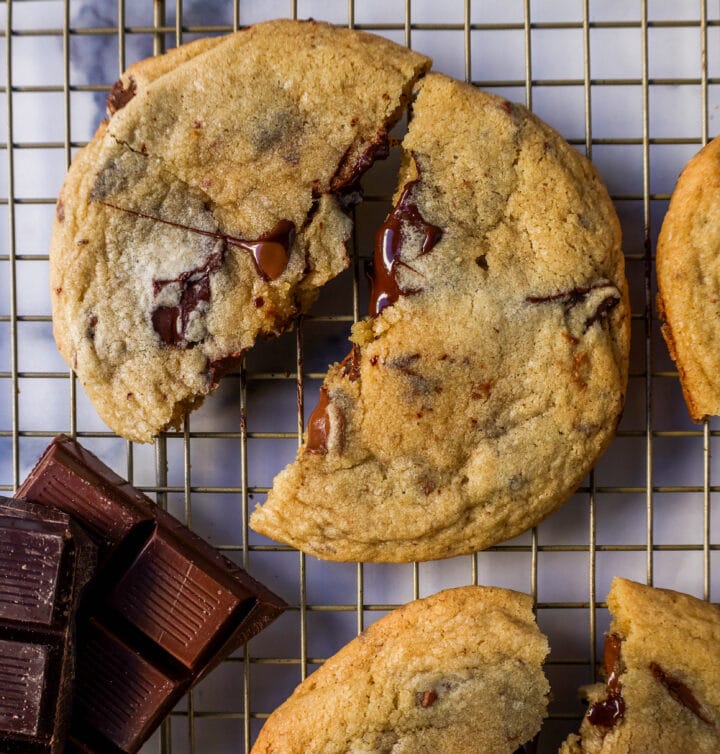 Have you ever visited the famous Dominique Ansel Bakery? He is a famous James Beard Award-Winning Pastry Chef known for his decadent desserts and there is always a line out the door at his New York City bakery.
Whenever we visit NYC, we have to brave the line to try out his delicious desserts.
I was so thrilled to find out that he shared his Dominique Ansel Chocolate Chunk Cookie recipe and I had to try it at home asap. It is beyond easy and everything is made in one bowl. I love one bowl chocolate chip cookies recipes and you can find my original recipe here.
I was able to whip up the cookie dough in less than 10 minutes and with a chill time of 5-10 minutes and baking time of around 10 minutes, I was devouring the famous Dominique Ansel Chocolate Chip Cookies in less than 30 minutes!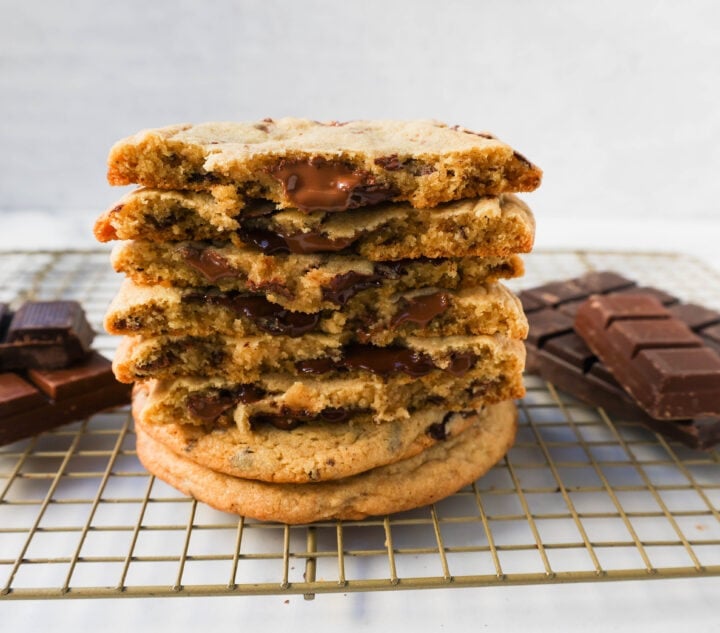 What ingredients are in Dominique Ansel Chocolate Chunk Cookies? He keeps it simple with high-quality ingredients and a mix of both milk chocolate and semi-sweet chocolate chunks, which is the greatest combination of all-time.
Ingredients:
Unsalted Butter -- this should be softened at room temperature so it is pliable enough to incorporate with the brown sugar and sugar.
Light Brown Sugar -- this is what gives the chocolate chunk cookies a chewy texture.
Granulated Sugar -- this is what gives the chocolate chunk cookies the crisp edges.
Eggs -- always use large eggs in baking.
All-Purpose Flour -- this is the universal type of flour used because it has the perfect amount of gluten.
Baking Soda -- this is what gives the cookies the perfect amount of rise.
Salt -- the flavor enhancer and integral in baking.
Semi-Sweet Chocolate Chunks -- I suggest using a high-quality chocolate bar and cut into chunks. I like to use Lindt chocolate bars or Trader Joe's Pound Plus Bars.
Milk Chocolate Chunks -- I suggest using a high-quality milk chocolate bar and cut into chunks.
These are slightly thinner chocolate chunk cookies with chewy centers and crisp edges and layers of chocolate melted throughout.
If you are looking for a thicker bakery-style cookie, check out my Levain Bakery Chocolate Chip Cookie Recipe.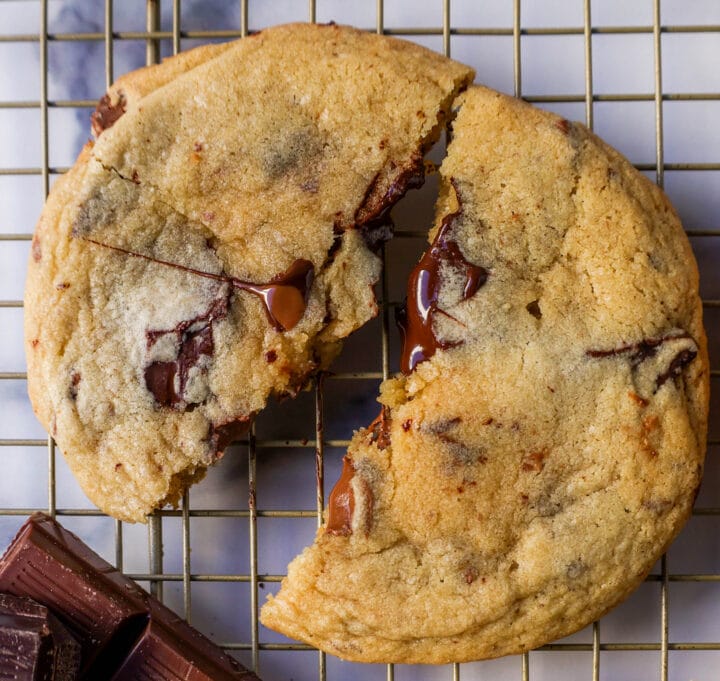 Equipment:
All you need for these Dominique Ansel cookies is a mixing bowl, whisk, spatula, and a baking sheet. I suggest using a food scale for exact accuracy. That's it! Everything is done by hand.
How to make Dominique Ansel Chocolate Chunk Cookies:
Step #1: Preheat oven to 350 degrees and line a light-colored baking sheet with parchment paper.
Step #2: In a large mixing bowl, combine butter, sugar, and brown sugar with a whisk. The butter needs to be soft enough to incorporate into the sugars. Add eggs and whisk until smooth and creamy.
Step #3: Add the flour, baking soda, and salt. Mix until just combined with a spatula. Fold in the chocolate chunks until evenly distributed. Cover and chill the dough in the refrigerator for 5-10 minutes.
Step #4: Shape the chilled dough into balls about 2 ½" in diameter. Place them on baking sheet and gently press down slightly to flatten them into discs.
Step #5: Bake for 9-10 minutes, until the edges are a light golden color and the center is soft and gooey. Let the cookies cool for 5-10 minutes and then enjoy!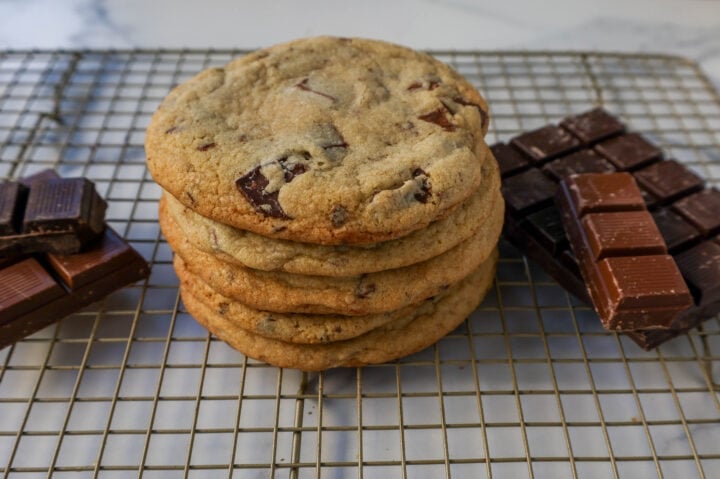 Baking Tools:
Light-colored Baking Sheet -- these thick, aluminum baking sheets are my favorite type of baking sheets as they are heavy which helps the cookies to evenly bake and are light in color to evenly distribute the heat.
Cooking Food Scale -- for exact accuracy, I suggest using a cooking scale to weigh the ingredients.
Parchment Paper Baking Sheets -- help the cookies to keep from sticking to the pan and for easy cleanup.
Whisk -- helps to incorporate the ingredients in less time than if you used a spoon.
Dominique Ansel Cookbook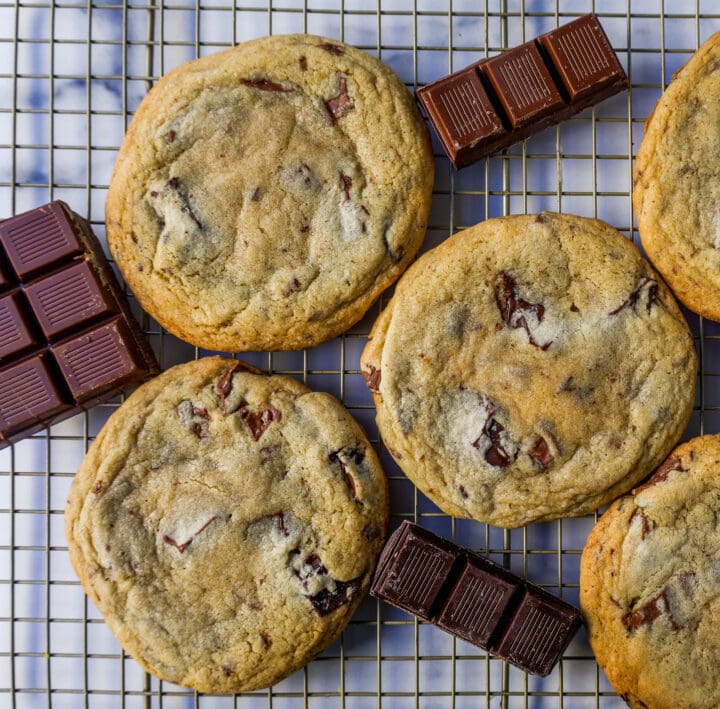 Substitutions:
Would I make any changes to this recipe? If I were to change them up slightly, I would add 2 more Tablespoons of brown sugar and more chocolate chunks. For extra depth of flavor, I would brown the butter and would chill the dough for 24-48 hours.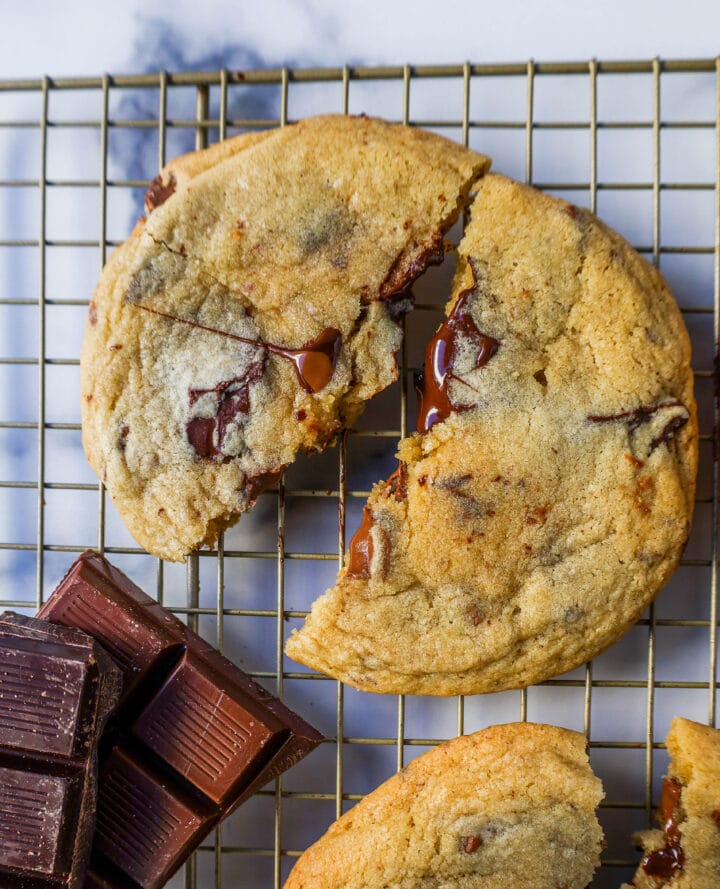 I love to hear from you! If you make this recipe, please be sure to leave a comment and give this recipe a rating. If you make any of my recipes, tag me on Instagram @modern_honey so I can see your creations. It's one of my favorite things to see you make these recipes in your own kitchen. Sign up for my newsletter below so you never miss a recipe. Thank you for following along! I truly do have the greatest readers. FOLLOW ME ON: INSTAGRAM --- FACEBOOK --- PINTEREST