Fruit Pizza with a Sugar Cookie Crust is made with a large, pizza-sized baked sugar cookie and topped with a sweet cream cheese whipped cream and sprinkled with glazed fresh fruit.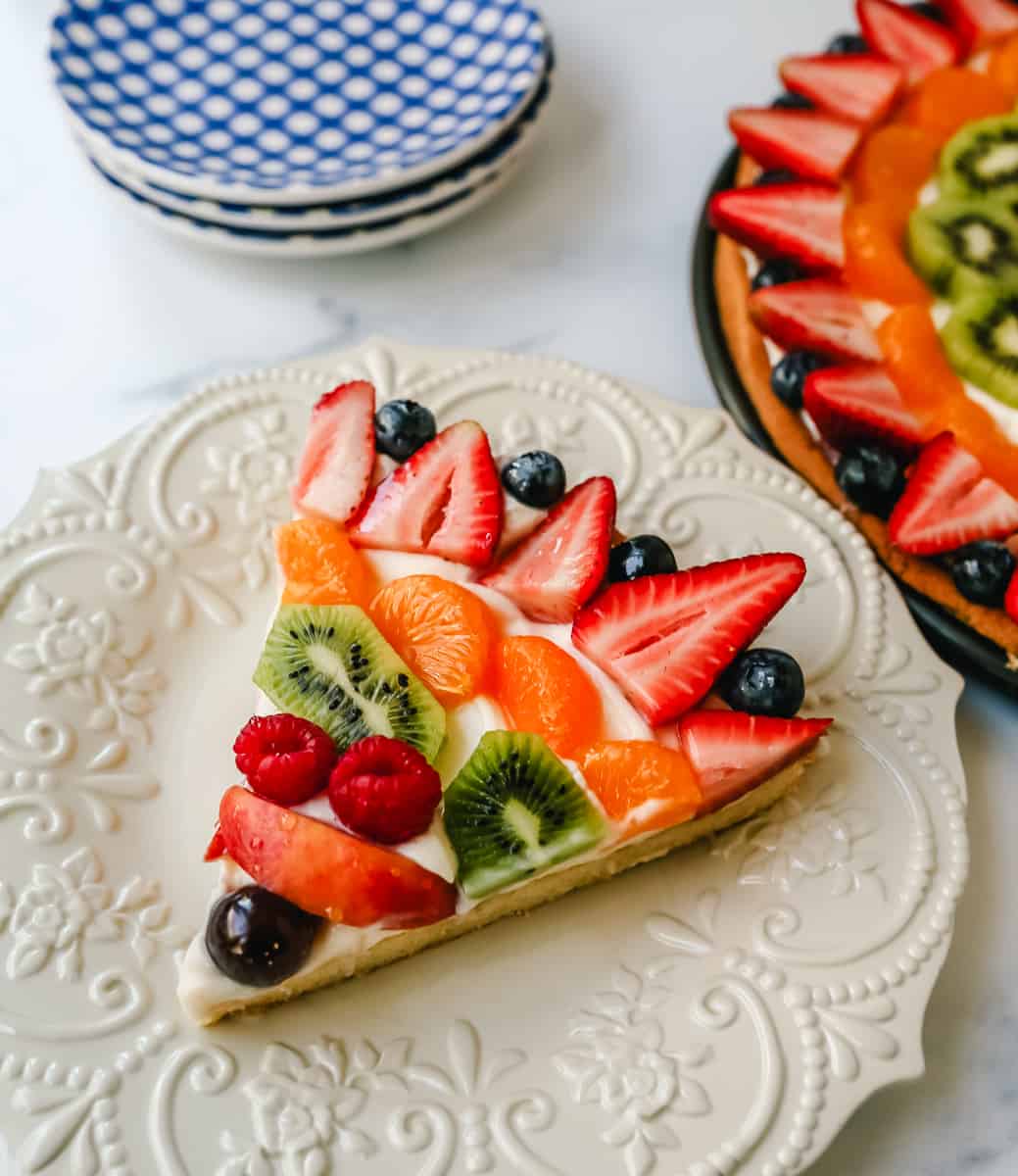 When I was young, I would escape into the kitchen. My five brothers were always playing basketball or wiffle ball in the backyard and I found refuge in the kitchen with my Mom. One of my go-to desserts (besides chocolate chip cookies) was a classic fruit pizza with a sugar cookie crust. I actually have many photos when I was in my awkward stage with braces and huge permed curly hair holding the fruit pizza I made.
So it is about time that I share my fruit pizza recipe with you! This is actually a super easy fruit pizza recipe because the homemade sugar cookie crust has literally 6 ingredients and you just press it in a pan. No rolling and cutting out sugar cookie dough! Then you bake the sugar cookie crust just until it is perfectly soft and chewy. It is topped off with a creamy and decadent vanilla cream cheese frosting. You will want to lick the bowl! It is all topped off with an array of fresh fruits and a jam glaze to make it extra sweet and shiny.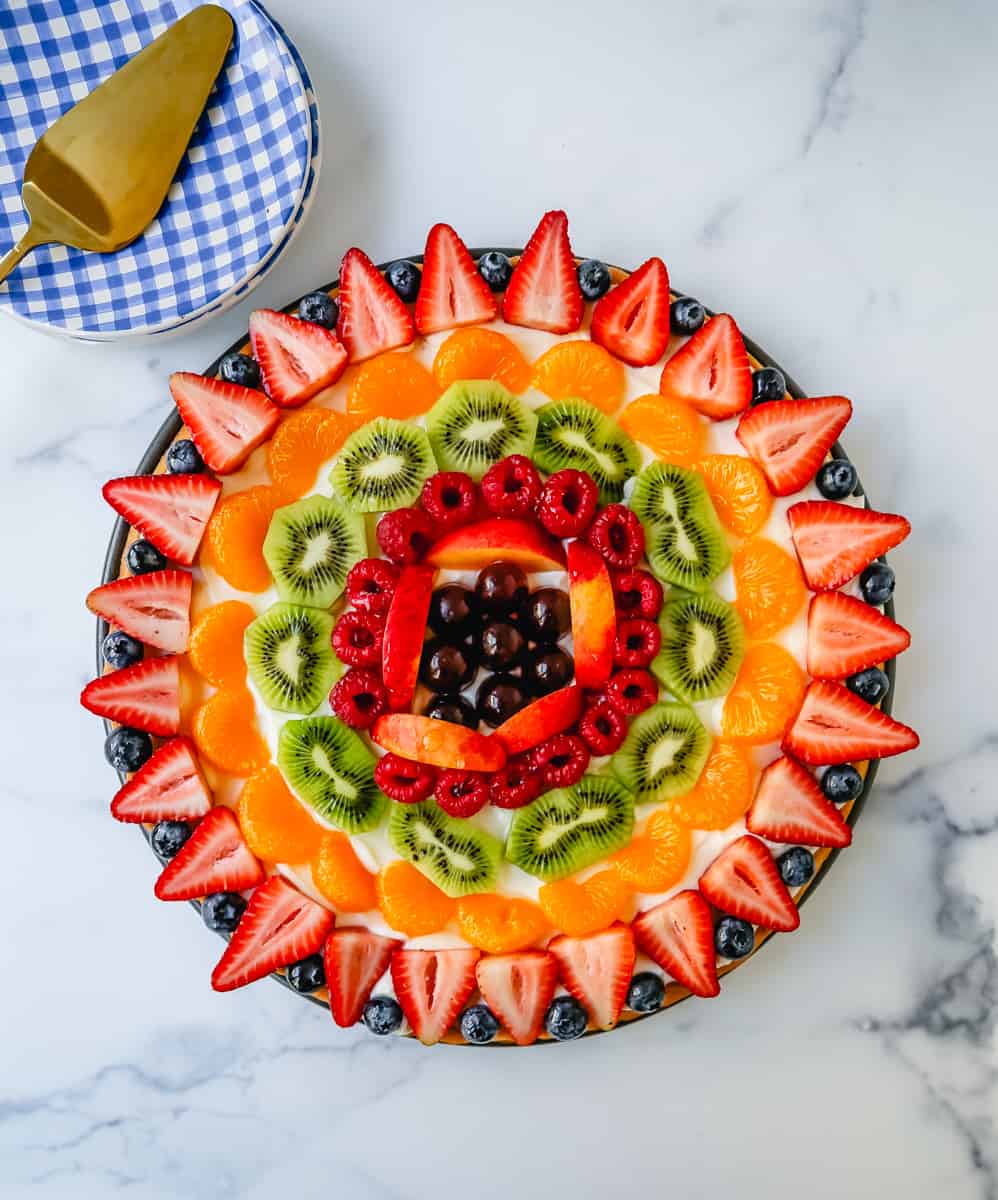 What ingredients are in a Fruit Pizza:
Sugar Cookie Crust:
Butter
Sugar
Eggs
Vanilla
Flour
Baking Powder Salt
Fruit Pizza Frosting:
Cream Cheese
Powdered Sugar
Heavy Cream
Vanilla
Fresh Fruit:
Strawberries
Kiwis
Raspberries
Mandarin Oranges
Blueberries
Peaches
Blackberries
Jam for glaze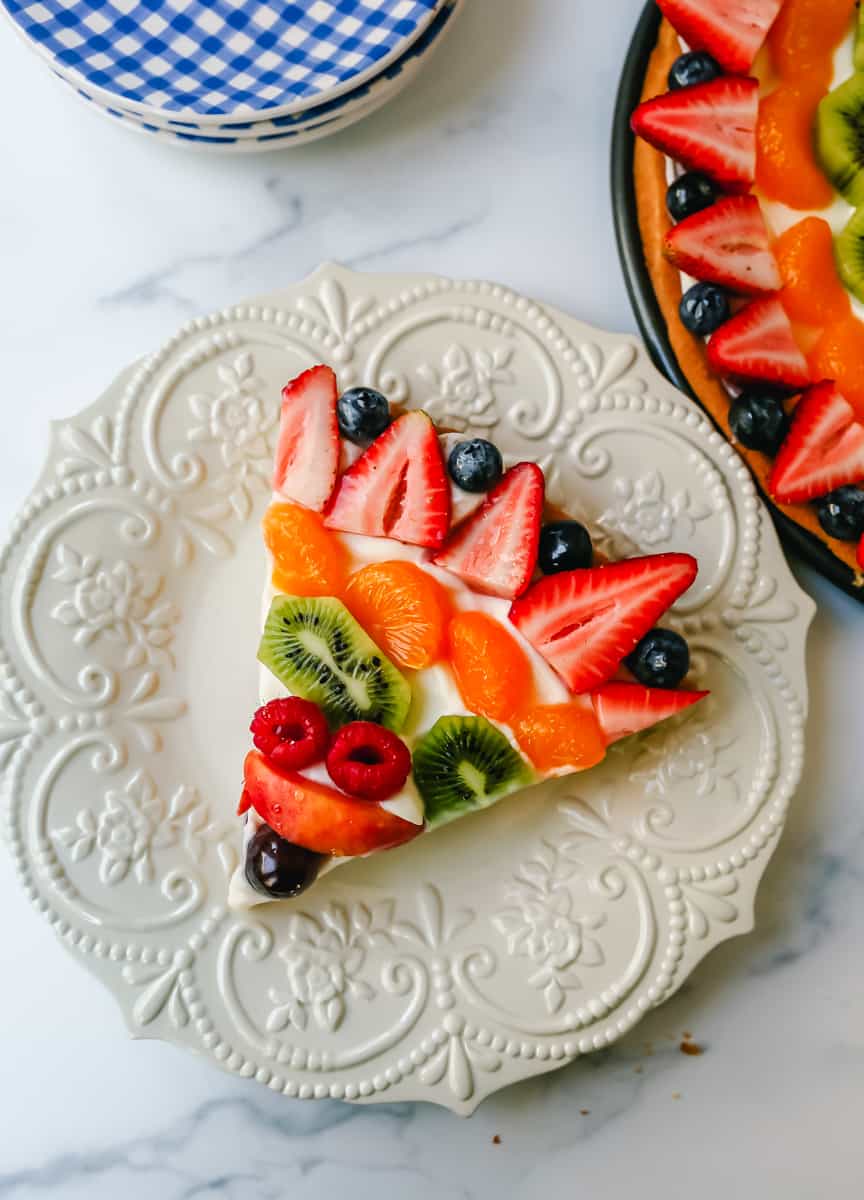 How to make Sugar Cookie Fruit Pizza:
Start off by making homemade sugar cookie dough. Cream together butter and sugar until light and fluffy, to allow the sugar crystals to dissolve and wrap around the butter. Add 1 egg and egg yolk and vanilla. Fold in flour, baking powder, and salt and make sure to not overmix as this creates too much gluten in the cookie dough.
Line a round 12-inch or 14-inch pizza pan with parchment paper or spray with non-stick cooking spray. Using your fingers, press the sugar cookie dough into the pan, pressing up the sides of the pan. Bake until soft and chewy. Let cool.
Make the fruit pizza frosting by creaming softened cream cheese until light and fluffy, about 2 minutes. This whips air into the cream cheese and also makes sure that it is extra creamy.
Add powdered sugar, heavy cream, and vanilla. The heavy cream needs to be cold in order for it to whip up. Mix for about 3 minutes, or until it is thickened and light and fluffy.
Carefully lift up the cookie from the parchment paper and place on serving platter or keep the sugar cookie crust in the pizza pan.
Spread fruit pizza frosting all over the crust.
Slice the fruit. Decorate the fruit pizza with the fresh fruit.
In a microwave-safe bowl, heat jam for about 15-20 seconds. Drizzle the jam over the fresh fruit to add sweetness and shine.
Refrigerate until ready to serve and cut into wedges.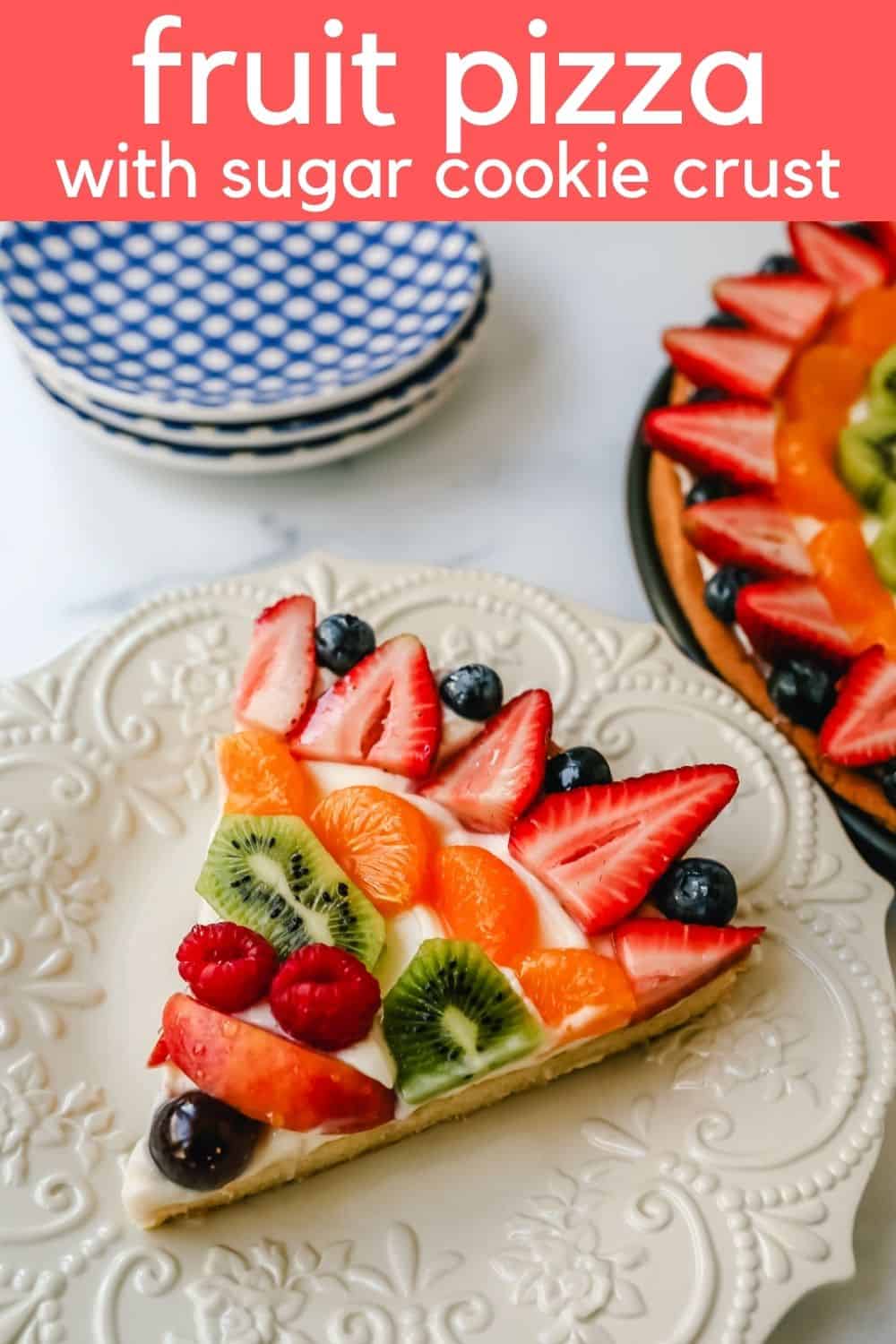 I hope you love this sugar cookie pizza recipe!