Chocolate Chip Cookies get all the glory. They deserve every single accolade they receive but gingerbread is pretty darn amazing as well. My Lady's Chocolate Chip Skillet Cookie is the #2 top recipe on Modern Honey so why not make a gingerbread cookie the same way? This Gingerbread Skillet Cookie is full of holiday flavor and spices. Bring on the vanilla ice cream and caramel sauce to top it off. It's absolutely heavenly!
This Gingerbread Skillet Cookie with Caramel Sauce is made in one skillet. You literally use one pan which makes this seriously simple. This gingerbread cookie is made with butter, sugar, eggs, molasses, cinnamon, ginger, cloves, and even cayenne pepper.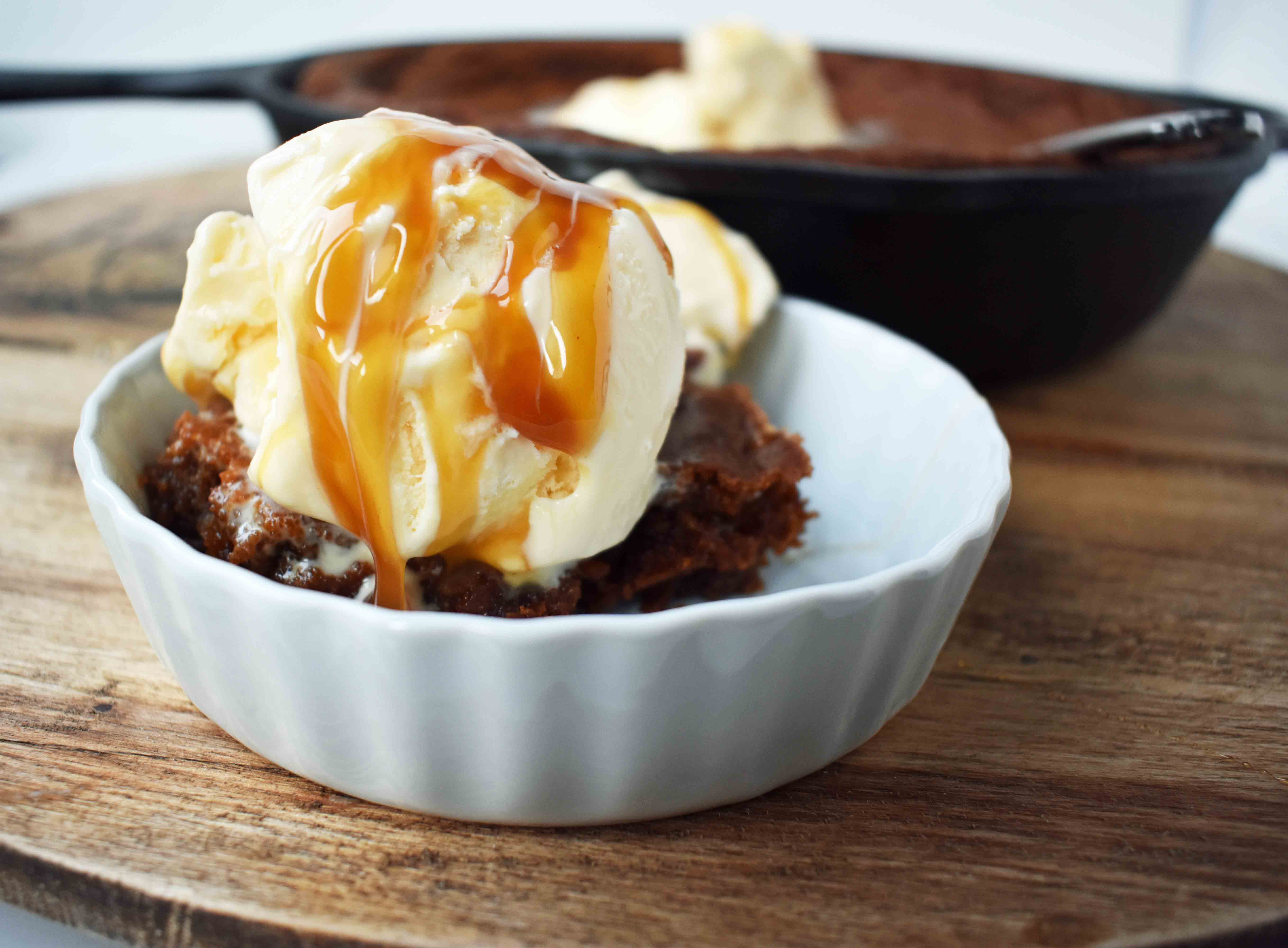 A few tips to ensure Gingerbread Skillet Success:
1. A cast iron skillet works brilliantly with this recipe and only costs about $10-$20. This Lodge Skillet is only $15 bucks and can be used for so many recipes in the kitchen. I am obsessed with cast iron skillets! If you don't have a cast iron skillet, you can substitute an oven safe skillet instead.
2. The key is to let that butter deepen by melting it in the skillet before adding the sugar. Once the sugar is added, it creates a rich toffee flavor that goes perfectly with the spices. Take your time to stir it until it's nice and smooth. It should have a golden gloss to it and look like melted caramel.
3. After adding sugars, chill in refrigerator (place pan on oven mit) for at least 10-15 minutes BEFORE adding eggs. The eggs will scramble if they are added while it's too hot, so get it close to room temperature.
5. The baking time will depend on the depth of your skillet. If you are using a Lodge L8SK3 Cast Iron Skillet, Pre-Seasoned, 10.25-inch, it will cook slightly longer than if you are using a 12 inch skillet.  You want to watch for the sides to become golden brown and start to get crispy. The center will remain slightly gooey because that's what makes a gingerbread skillet pizookie so dang good.
Pin this now to find it later
Pin It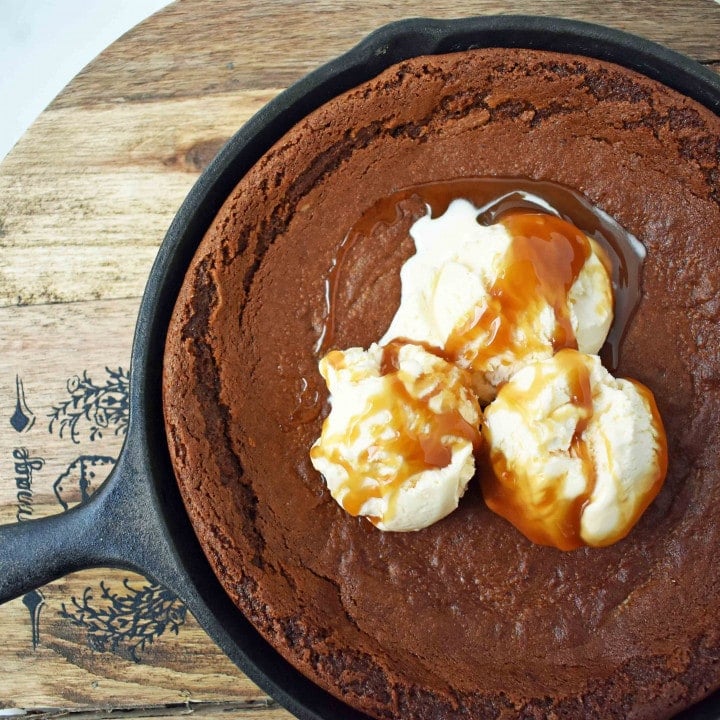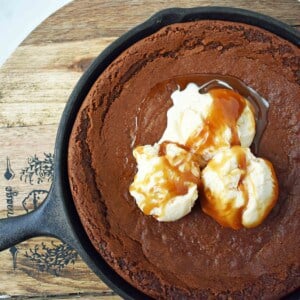 Gingerbread Skillet Cookie with Caramel Sauce
Rich spiced gingerbread skillet cookie topped with vanilla ice cream and caramel sauce.
Ingredients
1

cup

Butter

1 1/3

cup

Sugar

1

Egg

1

Egg Yolk

1/3

cup

Molasses

2 2/3

cups

Flour

1

teaspoon

Baking Soda

1/2

teaspoon

Baking Powder

1/4

teaspoon

Salt

1

teaspoon

Cinnamon

1 1/2

teaspoons

Ginger

1 1/2

teaspoons

Ground Cloves

1/4

teaspoon

Cayenne Pepper

Vanilla Ice Cream

Caramel Sauce
Instructions
Preheat oven to 325 degrees.

In a 10 or 12 inch cast iron skillet, melt butter over medium heat stirring often, until it starts to bubble and is completely melted. Turn heat to low and add sugar, stirring well. Keep stirring until smooth and glossy.

Chill for 10-15 minutes (you don't want to add the eggs now or you will have scrambled eggs).

Remove from refrigerator or freezer and add egg and egg yolk and stir well. Stir in molasses.

Stir in flour, baking soda, baking powder and salt. Stir in cinnamon, ginger, cloves, and cayenne pepper.

Bake at 325 degrees for 26-32 or until the edges are lightly golden brown. The inside will still be slightly gooey and that's the way it's meant to be.

Top with vanilla bean ice cream and caramel sauce. Serve warm.
Nutrition information is automatically calculated, so should only be used as an approximation.
Christmas is only 3 days away and we will be serving this after our Christmas dinner. You can eat this Gingerbread Skillet Cookie straight from the skillet or dish out into individual dishes. We literally dig right in because we can't wait to eat it!
Happy Baking! xo