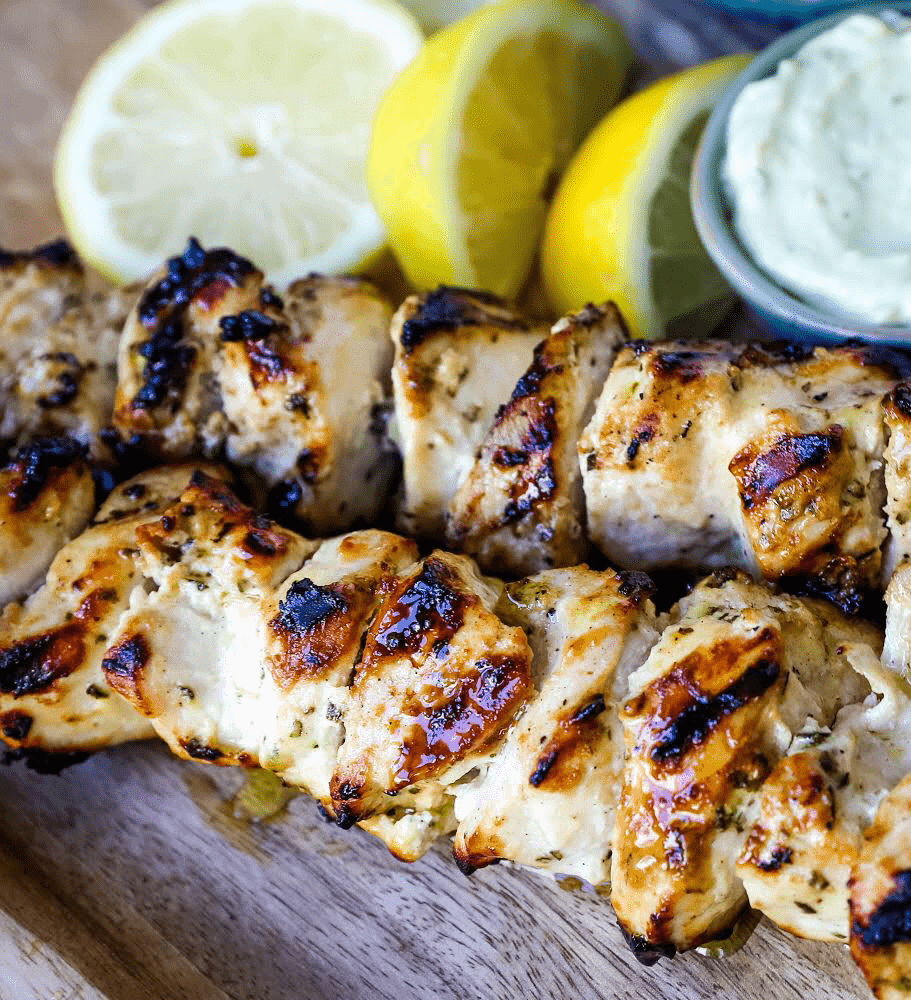 Greek Chicken Kabobs
Yogurt marinated and Greek spiced chicken grilled to perfection and dipped in homemade tzatziki sauce
When I am trying to eat healthy and up my protein intake for the day, I usually look at making chicken kabobs or marinating chicken breast for the grill. These Greek Chicken Kabobs are so juicy and full of flavor. The chicken kabobs are marinated in Greek Yogurt, extra virgin olive oil, lemon juice, red wine vinegar, and Greek spices. The yogurt seeps into make them extra moist and tender while the lemon juice and vinegar give it the right amount of tang.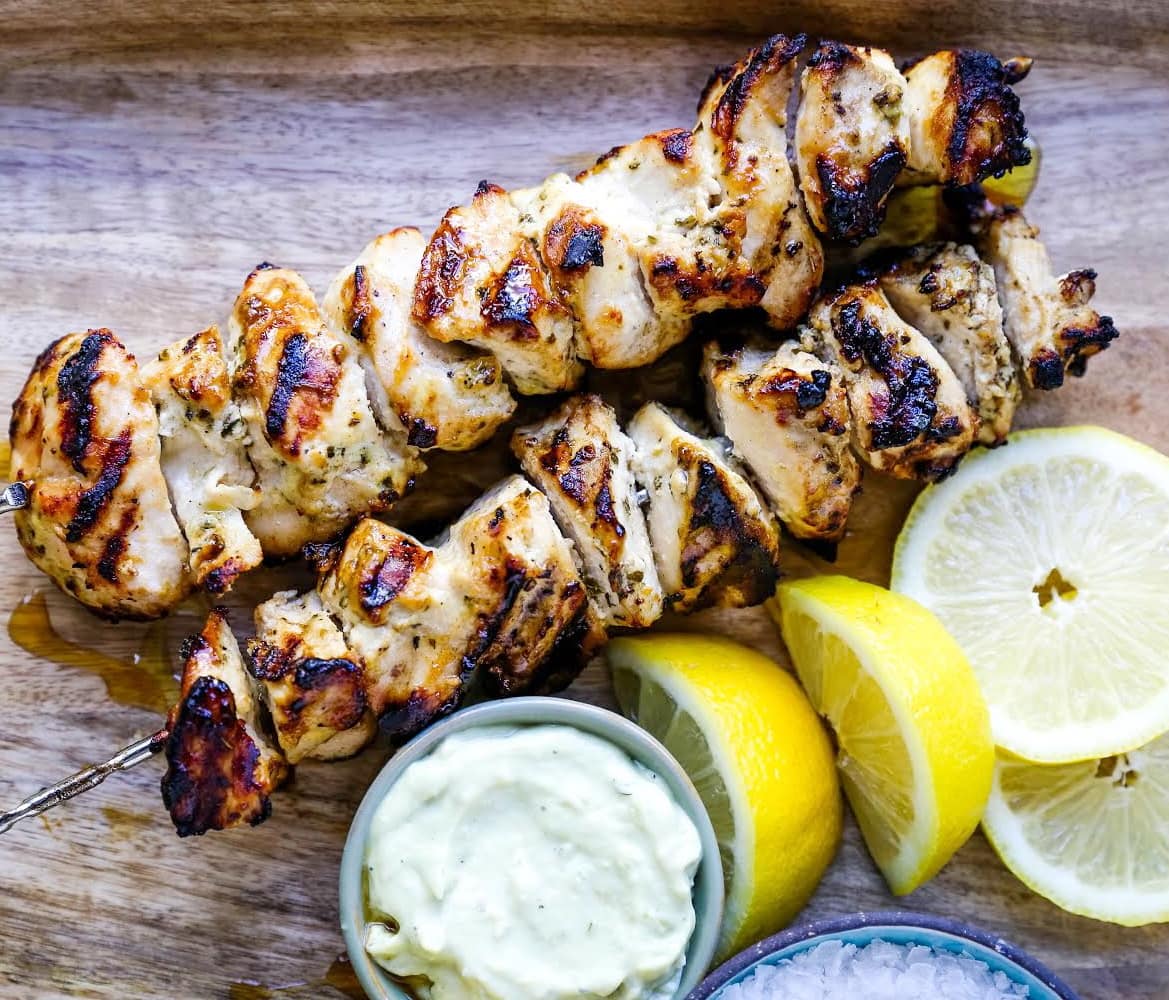 If you are looking for extra health benefits, you can always thread cut peppers and onions in between the chicken pieces.  We love to serve these chicken kabobs with a homemade tzatziki sauce and warmed Naan bread. We keep the tzatziki sauce in our refrigerator at all times to dip fresh veggies in. If you are looking for more Greek recipes, check out my Greek Chicken Gyros with homemade tzatziki sauce recipe.
How to make Greek Chicken Kabobs:
Cut chicken breast into large bite-size pieces.  Make the marinade by mixing Greek Yogurt, olive oil, fresh lemon juice, oregano, spices, and red wine vinegar. Refrigerate and let the chicken marinate for at least 30 minutes - 2 hours.
Once the chicken is marinated, thread the chicken on the skewers. Add peppers and onions, if so desired.
Preheat the grill to a medium- high heat. To ensure the chicken kabobs don't stick to the grill, lightly brush the grill with olive oil. Cook until chicken registers 165 degrees, about 6-10 minutes, turning at least once.
Make a homemade Tzatziki sauce. It is made with Greek Yogurt, olive oil, cucumber, dill, garlic, and lemon juice. The key is to squeeze out as much water from the grated cucumber as possible. I used Fage 2% Greek yogurt but the fat-free version works well too. Taste for seasoning and salt accordingly.
Serve with warmed Naan bread and a Greek Salad.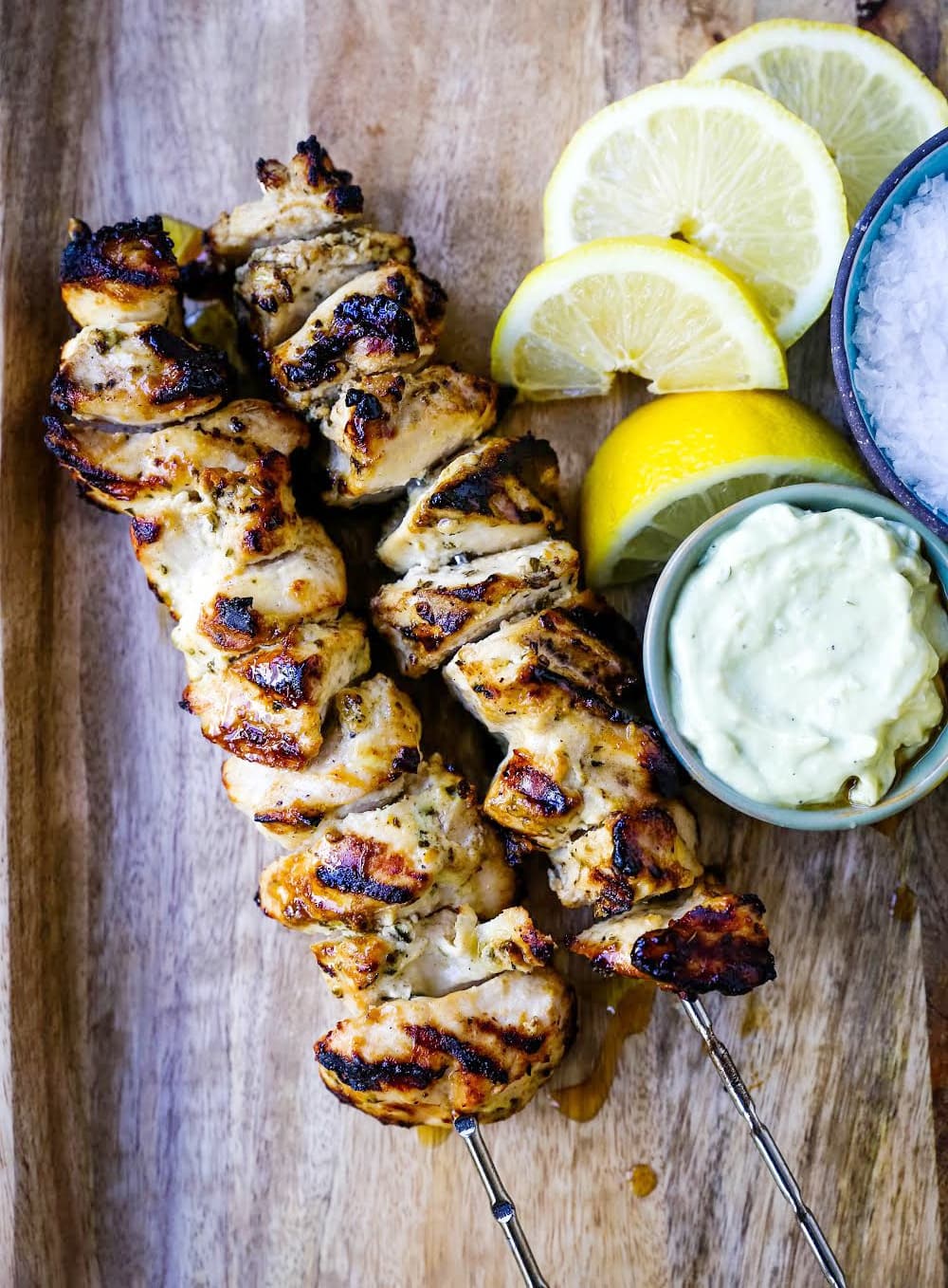 I love to hear from you! If you make this recipe, please be sure to leave a comment and give this recipe a rating. Sign up for my newsletter below so you never miss a recipe. Thank you for following along! I truly do have the greatest readers. FOLLOW ME ON:   INSTAGRAM — FACEBOOK— PINTEREST