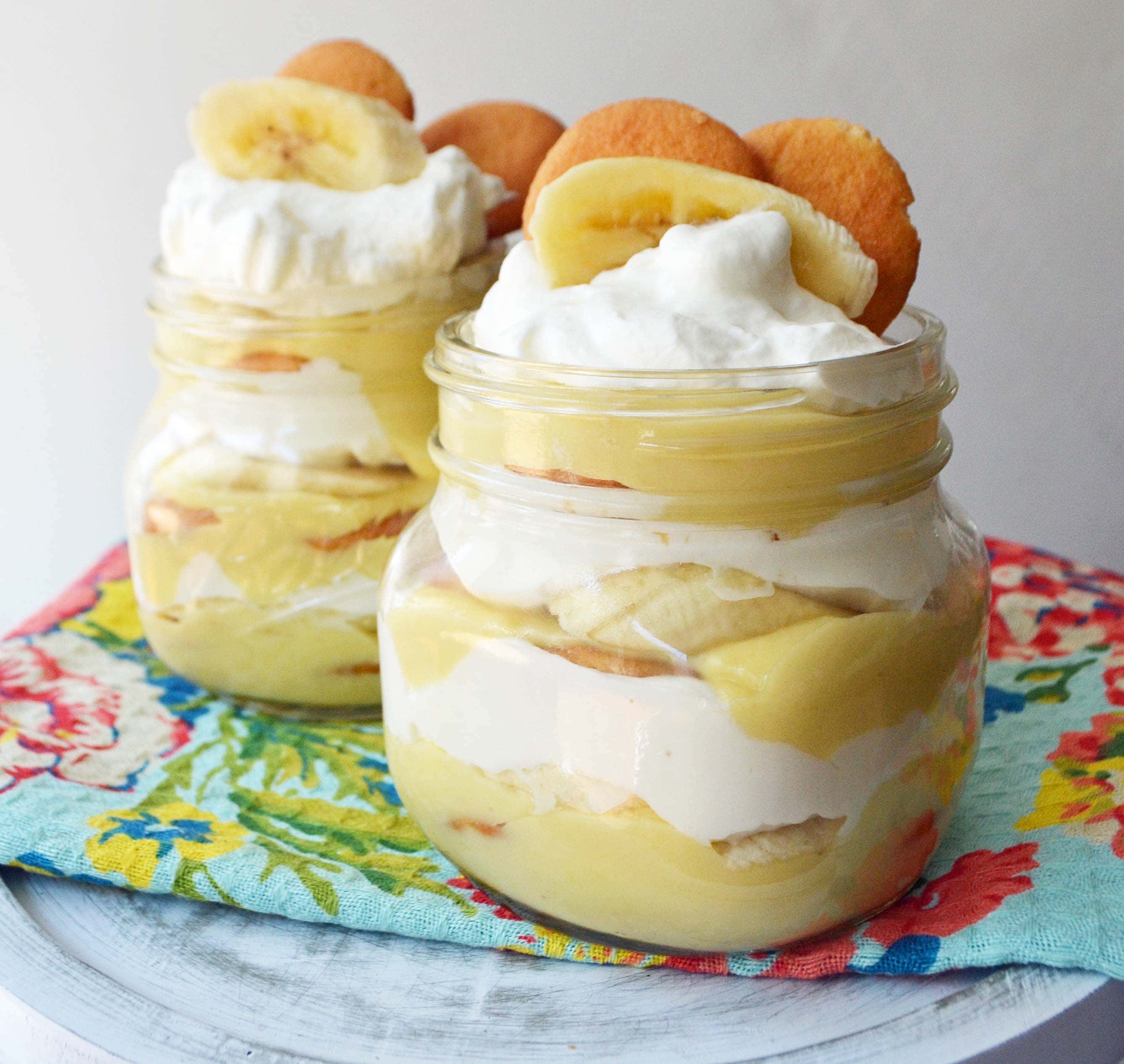 Homemade Banana Pudding Dessert
Layers of homemade vanilla bean custard, freshly whipped cream, and Nilla wafers.
It's National Banana Cream Pie Day so let's celebrate! Basically these food holidays are just an excuse to eat pie. Whoever came up with these holidays is absolutely brilliant.
My brother lived in New York City for over 10 years and would rave to me all about the famous Magnolia Bakery's Banana Pudding. I would seethe with jealousy as I knew he could walk into the bakery every single day and get his banana pudding fix.
Once I finally flew into NYC, we went straight to Magnolia's to see what all the fuss was about. Maybe you don't know this about me but I am super picky about bakeries. Okay, you probably could have gathered that by now!  I did wonder if this would pass the test. My husband and I devoured the banana pudding in about 90 seconds so I would say that was a good sign.
Click here for NYC post — Best Places to Eat and See in NYC
Even though I love their banana pudding dessert, I wanted to create a similar copycat but make the pudding from scratch. It doesn't take that much longer and there's just something about handcrafted pudding, stirred with a wooden spoon, that makes it taste that much better.
This Homemade Banana Pudding Dessert is made by slowly cooking a mixture of whole milk, sugar, cornstarch, egg yolks, butter and vanilla bean until nice and thickened. I could eat an entire bowl of this stuff! It is layered with fresh sliced bananas, Nilla wafers, and homemade fluffy whipped cream.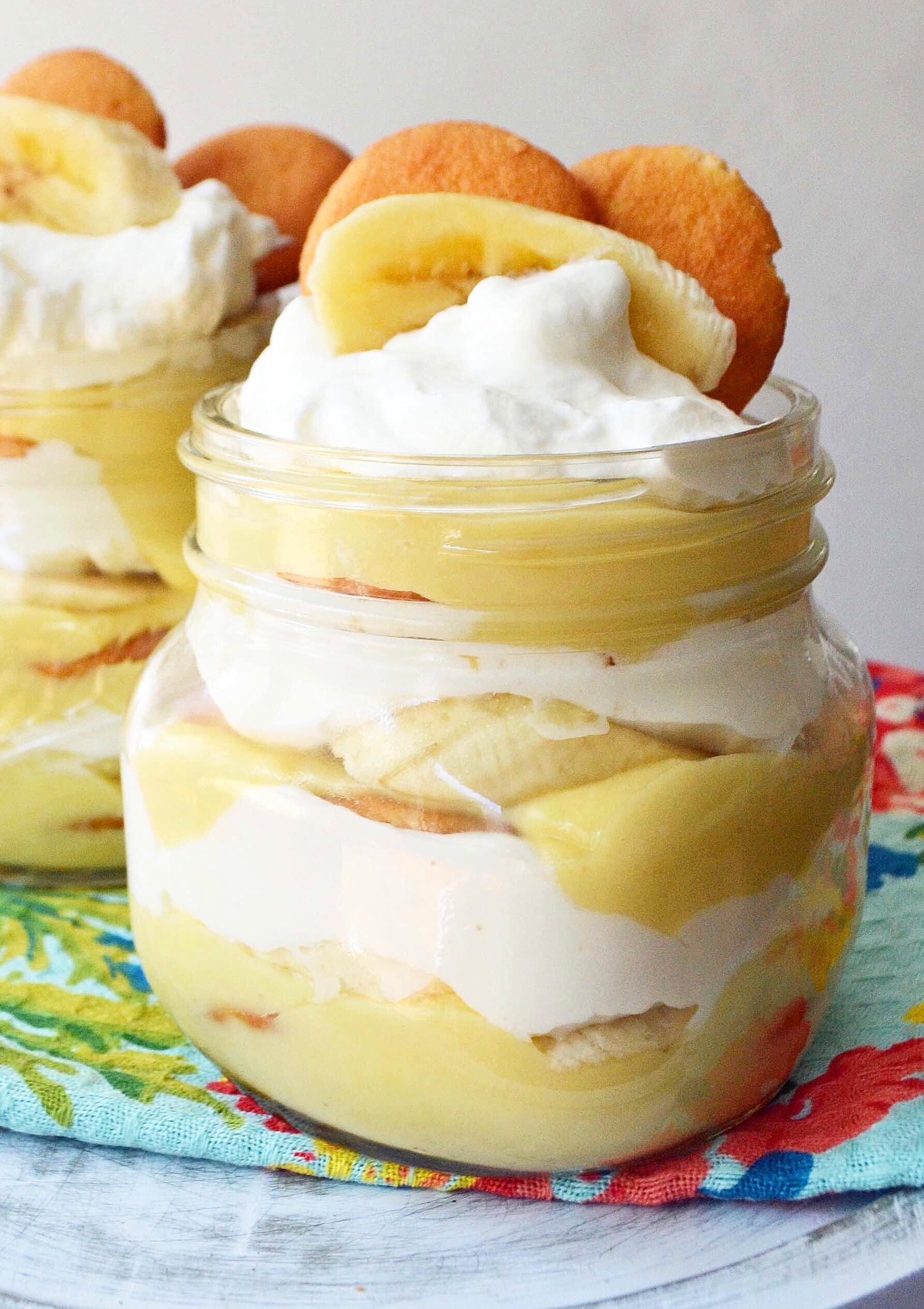 My sister-in-law, Laura, who is a brilliant cook makes this custard every single year at Thanksgiving time. She is the BEST custard maker I know and this is a tried and true recipe. It is a recipe from her Grandma Rappleye that has been passed down through the years.
This can be made in a large trifle dish, a bowl, a glass pan, decorative jars, or even scooped into small bowls. It is such a versatile recipe. I enjoy layering it into a glass trifle dish or my favorite jars.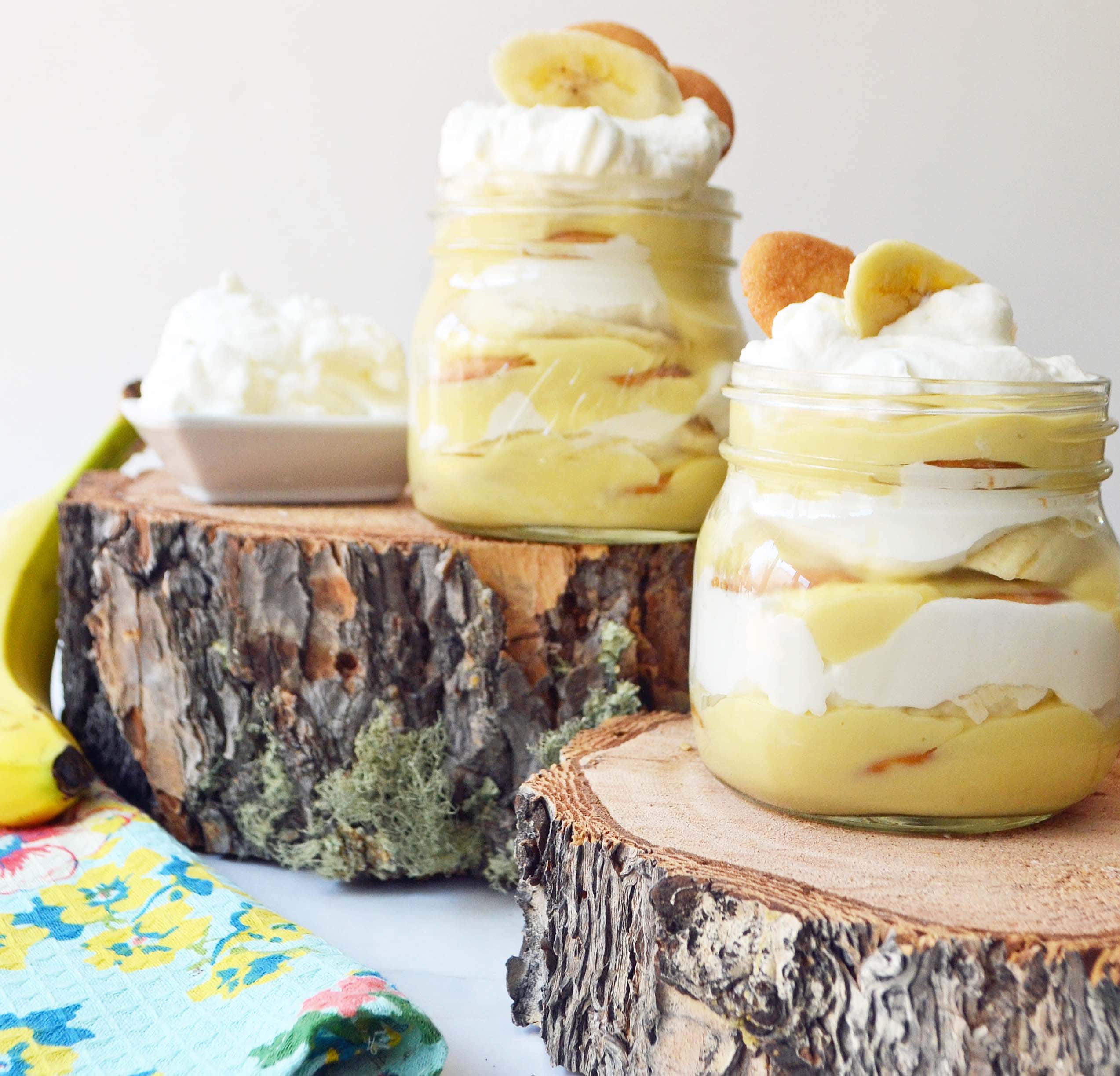 A few tips for making out-of-this-world Homemade Banana Pudding Dessert:
 Make sure you cook the pudding long enough for it to thicken. It needs to coat the back of a spoon. After cooking, let it chill to give it adequate time to set up. You can find my favorite

wooden spoon HERE

.
Temper the egg yolks. Adding a small amount of hot milk to the egg yolks brings them to a higher temperature slowly to prevent the eggs from cooking. After the eggs have been tempered, add them to the pan and continue to cook.
Add vanilla beans or pure vanilla extract after the pudding is removed from heat. If added while still on the heat, the vanilla flavor will be cooked off.
Use COLD heavy whipping cream and beat until soft peaks form. Adding powdered sugar brings out the flavor of the cream.
Bananas turn brown over time (oxidation) when exposed to air. Brush the sliced bananas with lemon juice or sprinkle with fruit fresh.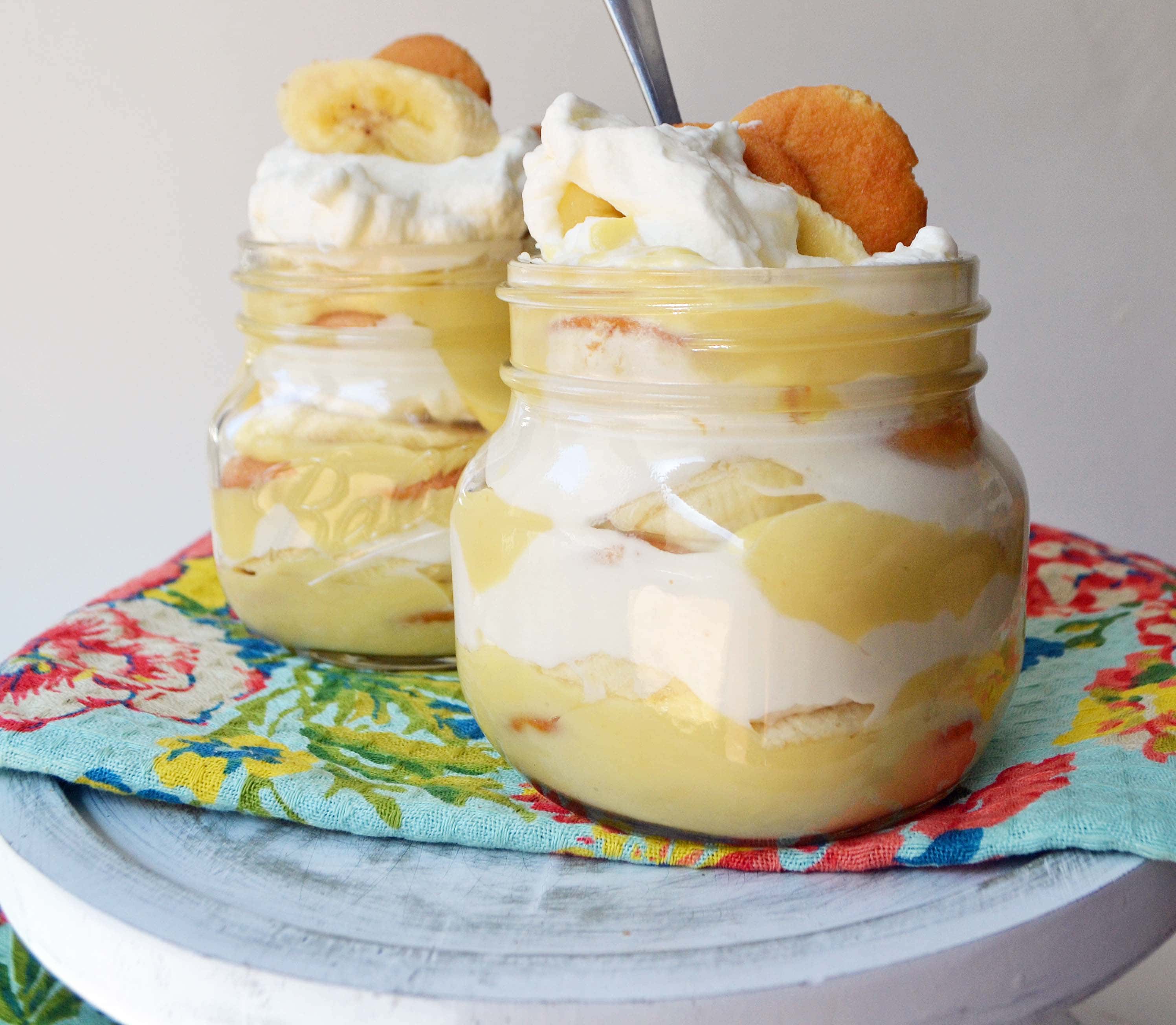 Pin this now to find it later
Pin It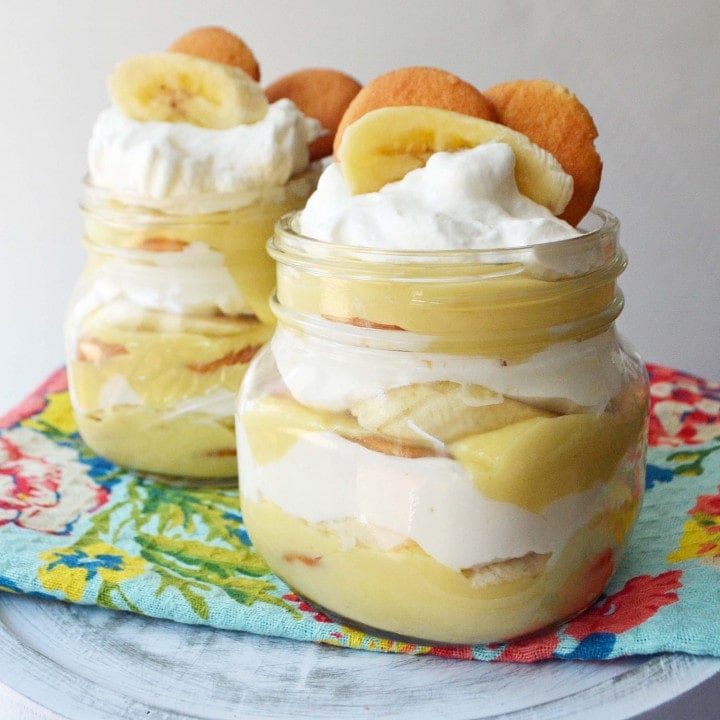 Homemade Banana Pudding Dessert
A homemade Banana Pudding Dessert made with layers of handcrafted custard, freshly sliced bananas, fluffy whipped cream, and Nilla wafers.
Ingredients
Homemade Vanilla Bean Pudding:
3/4

cup

Sugar

3

Tablespoons

Cornstarch

3

Tablespoons

Flour

3/4

teaspoon

Salt

3

cups

Whole Milk

3

Egg Yolks

2

Tablespoons

Butter

2

teaspoons

Vanilla or 1 Vanilla Bean

scraped
Vanilla Whipped Cream:
2

cups

Heavy Cream

1/3

cup

Powdered Sugar

1/2

teaspoon

Vanilla or Vanilla Bean

scraped

4-5

Bananas

sliced

1/2

Box Nilla Wafers
Instructions
In a heavy-bottomed pot, heat sugar, cornstarch, flour, salt, and milk over medium heat. Bring to a slow rolling boil and let thicken. Continue to cook and stir until the mixture coats the back of a spoon.

While the milk mixture is cooking, place egg yolks in small bowl. Temper egg yolks by spooning a small amount of hot milk into a bowl. Keep stirring.

Bring it back to a boil for 1 minute.

Remove from heat and add butter and vanilla.

Let chill in refrigerator and cool completely.

Beat whipping cream until soft peaks form. Add powdered sugar. Stir in vanilla.

Slice bananas and sprinkle with lemon juice or fruit fresh to prevent browning.

Layer banana pudding dessert with pudding, bananas, nilla wafers, and whipped cream.

Let chill in refrigerator to set up.
Nutrition information is automatically calculated, so should only be used as an approximation.