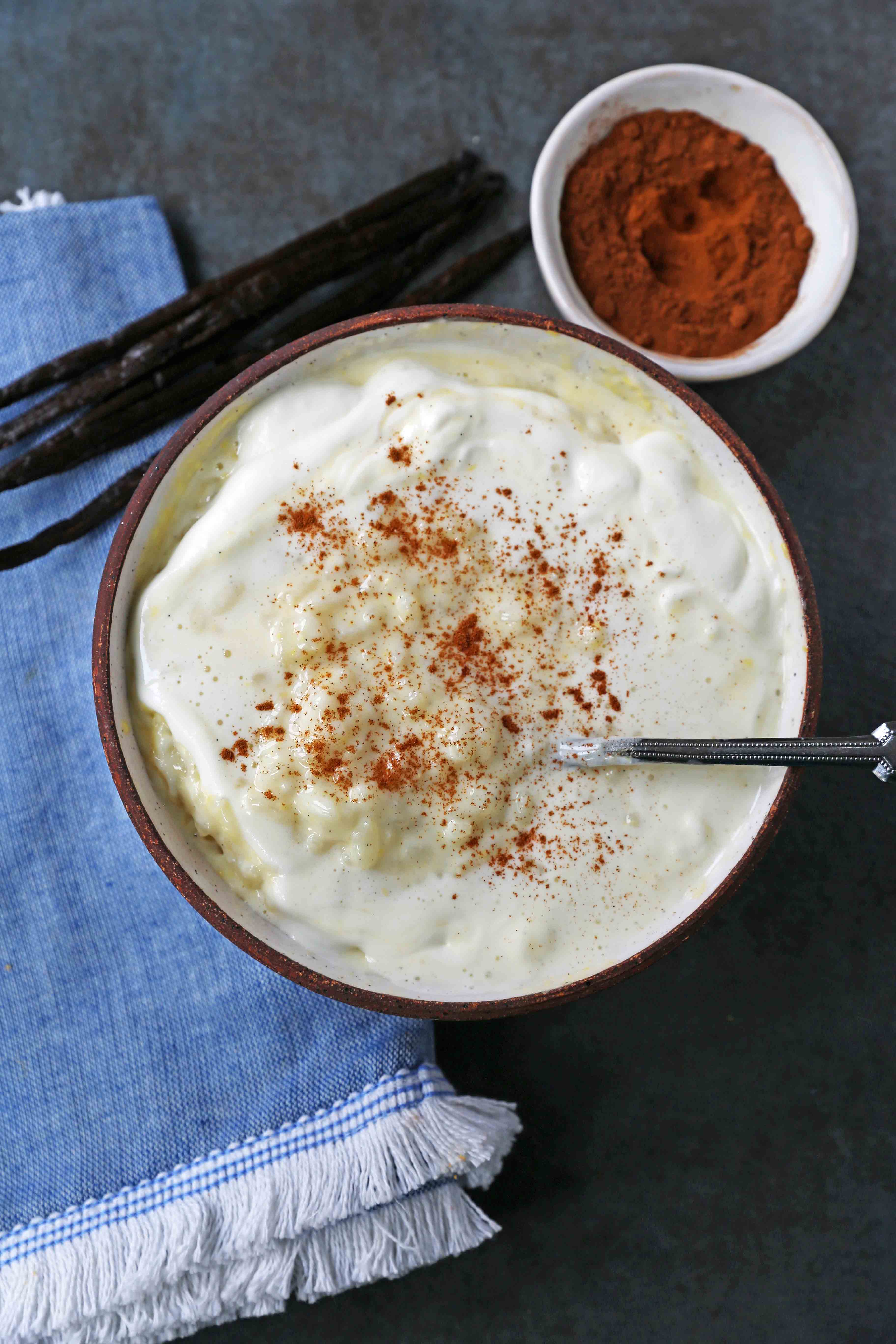 Homemade Rice Pudding
Creamy rice pudding with a homemade creme anglaise sauce and sweetened whipped cream
I have been on the hunt for the perfect homemade rice pudding recipe. Every Christmas Eve, I make a pot of homemade rice pudding for my family. It all started when my brother, Ryan, served a two-year mission to Denmark. He came home and shared some of their treasured Christmas traditions.
One of them is that they hide one almond in a big bowl of rice pudding. As they eat their homemade rice pudding, they hope to find the almond in their bowl because a special present is a prize. When he arrived home, we began that tradition and loved it.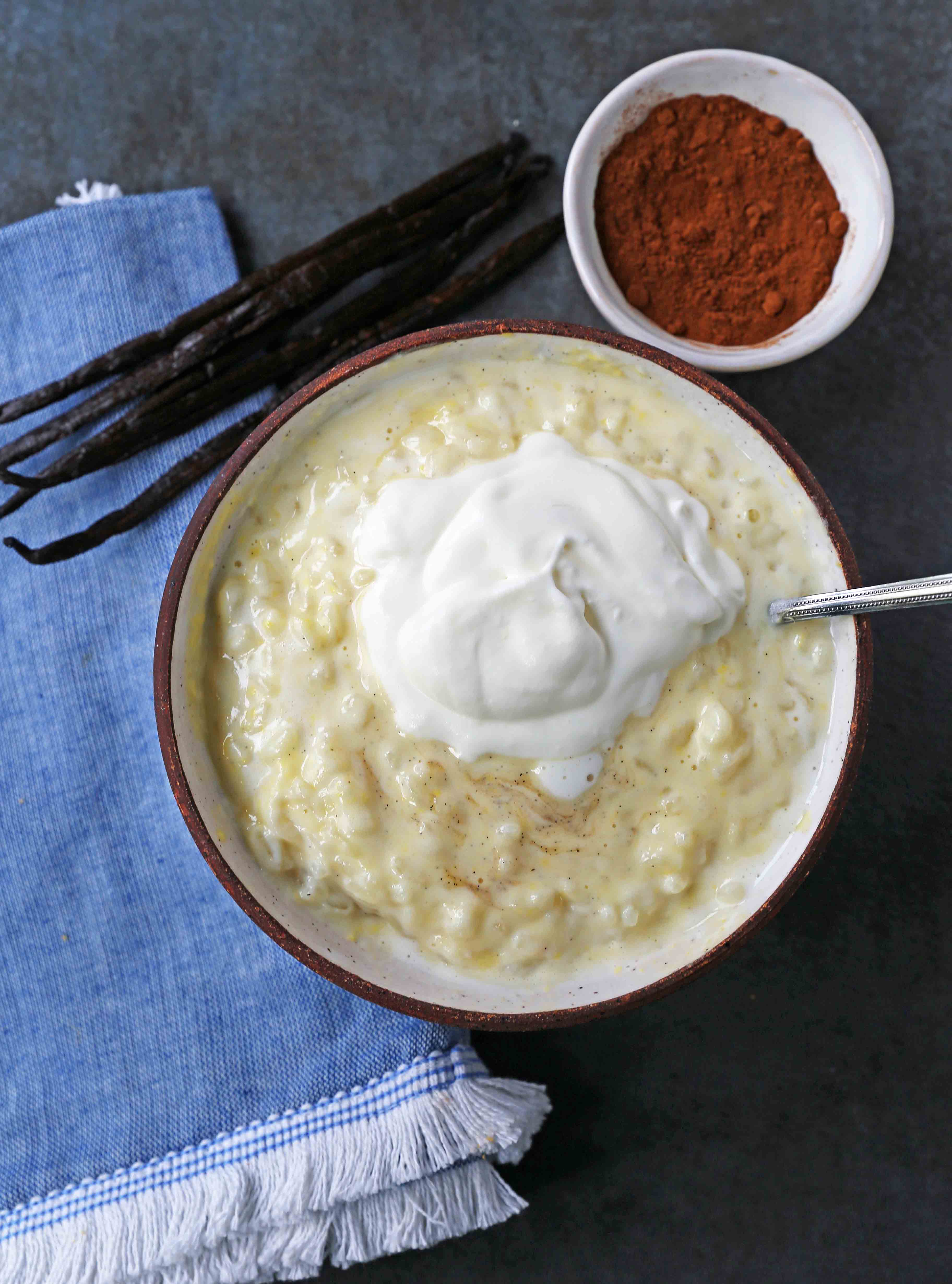 This Homemade Rice Pudding recipe is hands down the best rice pudding on the planet! It is perfectly rich and creamy and the ultimate comfort food.
For the creamiest rice pudding, slowly cook Arborio rice with whole milk, sugar, cinnamon, and vanilla. A handcrafted creme anglaise sauce is folded into the cooked rice pudding and topped with fresh whipped cream. A creme anglaise sauce is a homemade velvety smooth custard. It's insanely good!
I found this recipe in the Dahlia Bakery Cookbook and they are known for their rice pudding.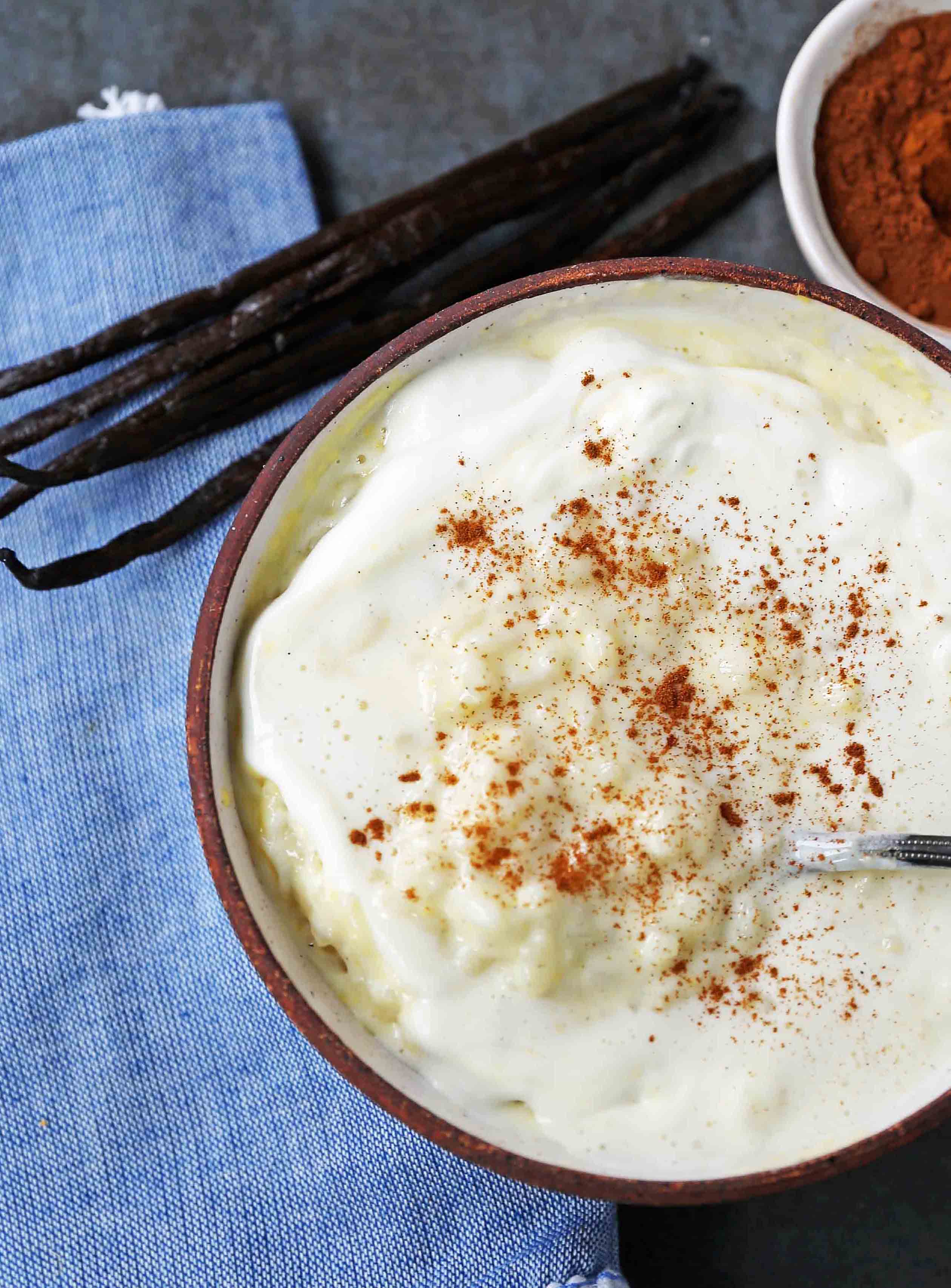 How to make Homemade Creamy Rice Pudding:
 Start by making a homemade creme anglaise (custard) sauce.  This is made with heavy cream, whole milk, sugar, and egg yolks. The key is to use a heavy-bottom saucepan. Heat the cream, milk, and sugar until it almost reaches a boiling point (bubbles should start to form around the surface of the pot).  Add the egg yolks to a bowl and carefully spoon hot cream mixture into the bowl, one teaspoon at a time.  This tempers the egg yolks by heating them little by little so they don't turn into scrambled eggs!
Cook arborio rice with whole milk, sugar, cinnamon, and vanilla until the rice is soft and the mixture is thick, about 35-40 minutes.  Stir the mixture often as it becomes thicker.
Fold in creme anglaise sauce into cooled rice pudding. Whip heavy cream until soft peaks form and fold into the rice pudding, reserving some of the whipped cream for the topping. Sprinkle with cinnamon and serve warm or cold.
I love to hear from you! If you make this recipe, please be sure to leave a comment and give this recipe a rating. If you make any of my recipes, tag me on Instagram @modern_honey so I can see your creations. It's one of my favorite things seeing you make these recipes in your own kitchen. Sign up for my newsletter below so you never miss a recipe. Thank you for following along! I truly do have the greatest readers. FOLLOW ME ON:   INSTAGRAM --- FACEBOOK --- PINTEREST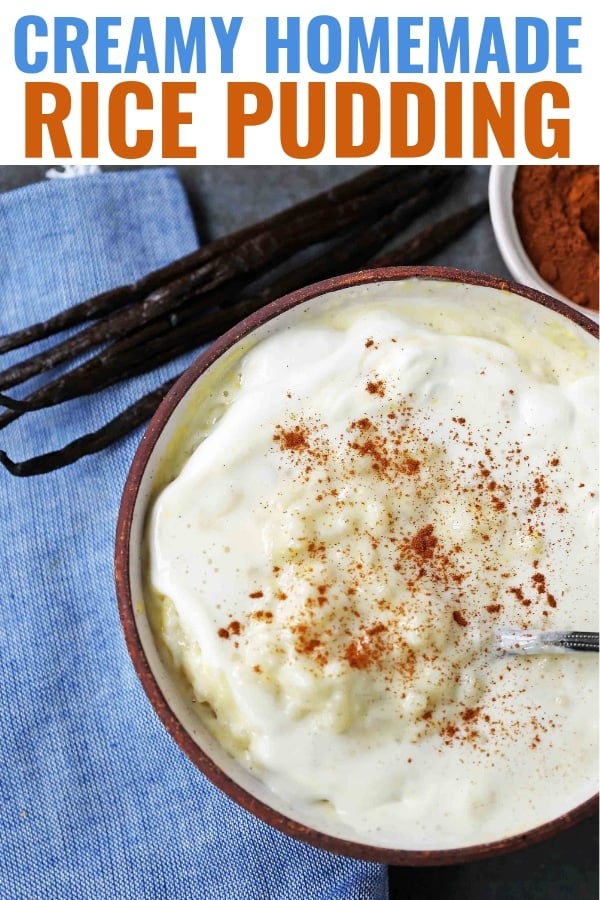 Happy Cooking, my friends!