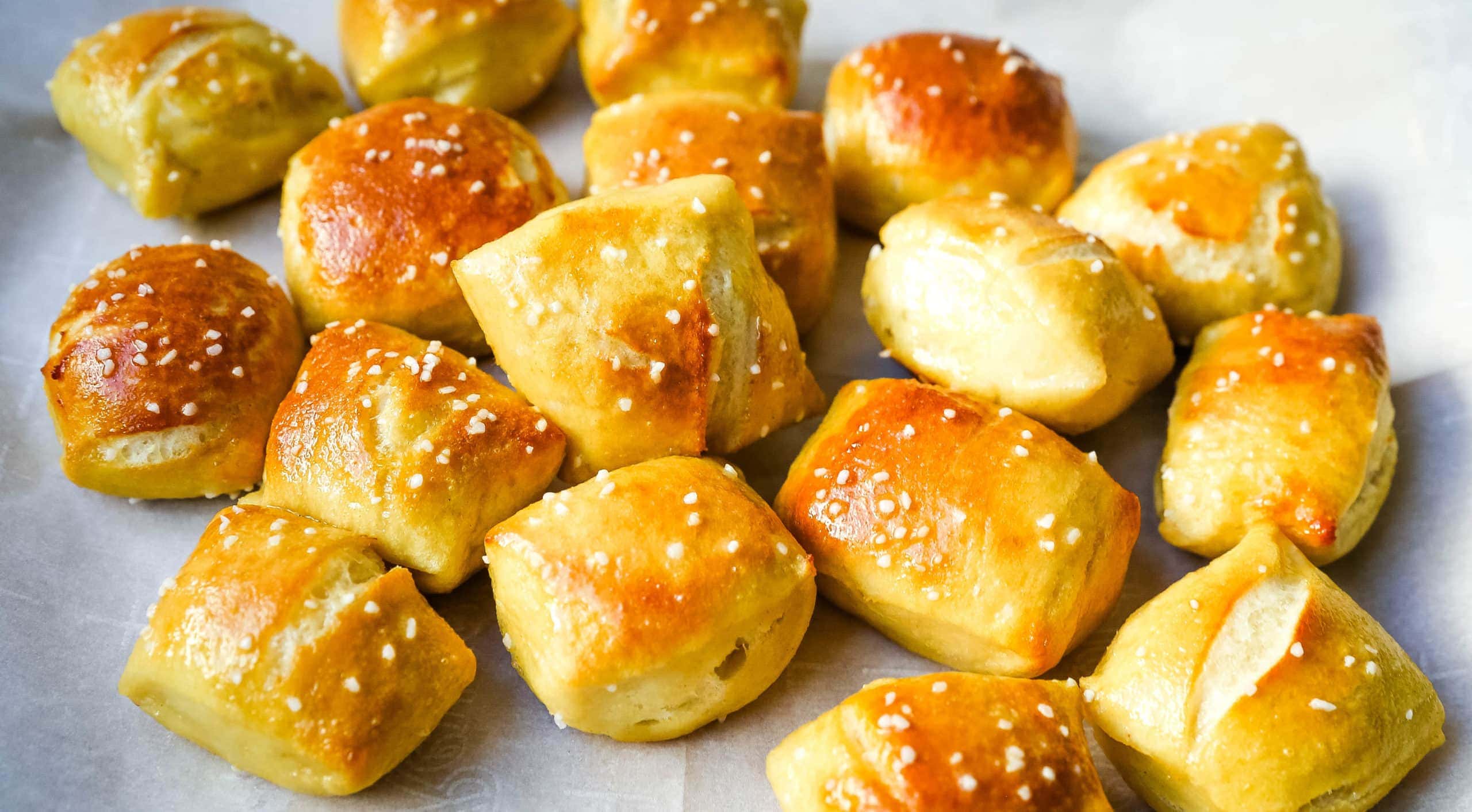 Homemade Soft Pretzel Bites
Soft buttery homemade pretzel bites just like you find in the pretzel stores in the mall but even better! It is so easy to make pretzel bites at home.
My kids used to beg me all of the time to pick up soft salty pretzels at Auntie Ann's or Wetzel Pretzel. Not anymore! We can make homemade pretzel bites that taste even better than the ones you find in the mall. Plus they are so quick and easy to whip up.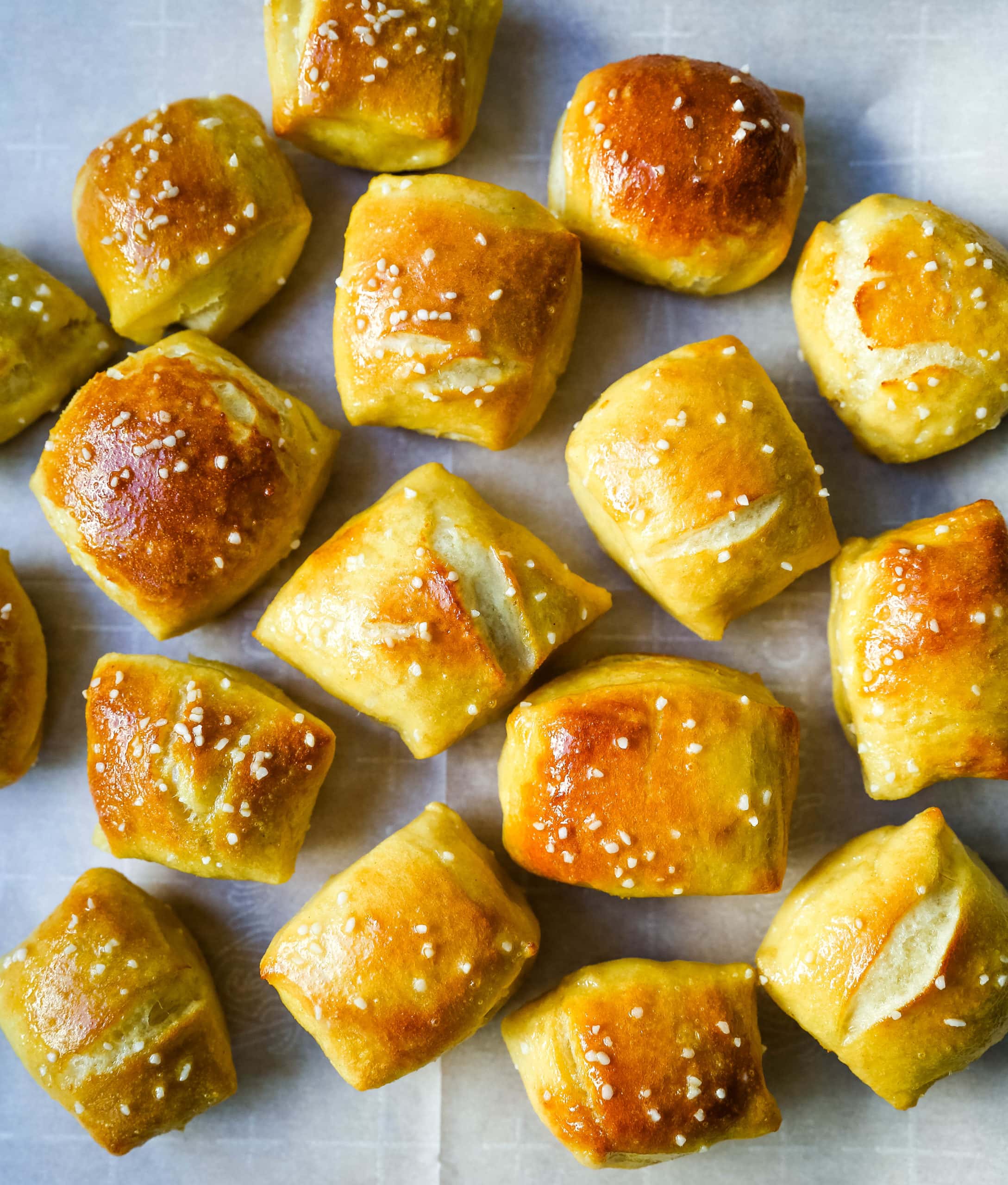 When I eat my carbs, they better be worth my while. I am not going to be tempted by some package apple pie at the local convenience store...but homemade pretzels I will eat all day long. I am pretty much guaranteeing you will love them too.
One of my most popular recipes on Modern Honey is my BUTTERY SOFT PRETZELS RECIPE. So I thought it was time to create a mini pretzel version so you can have both at home.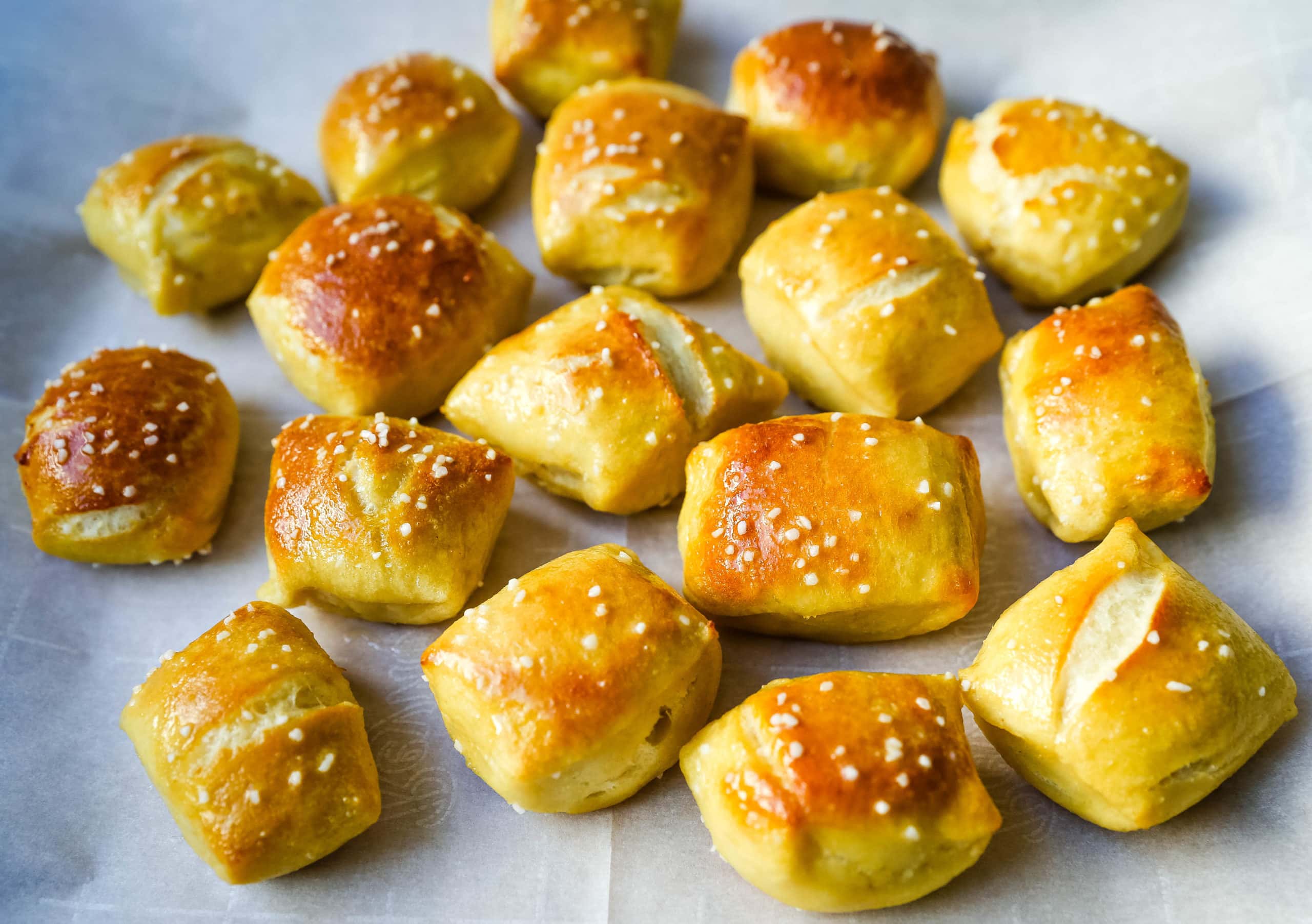 These Homemade Pretzel Bites are even easier than making traditional pretzels. It is as easy as making a homemade dough with only 4 ingredients, letting it rise for 1 hour, rolling it into ropes and cutting into pieces, dipping in boiling baking soda water for 45 seconds, and then baking for about 10 minutes. This is a fun activity for kids, adults, and basically everyone.
My favorite kitchen appliance to use when making any type of bread is my BOSCH MIXER. It does the best job!
After they baked, you brush on melted salted butter and then can sprinkle pretzel salt all over it or dip them into cinnamon-sugar or whatever you please. Then you eat a lot of them because they are small and bite-sized so you just keep on eating.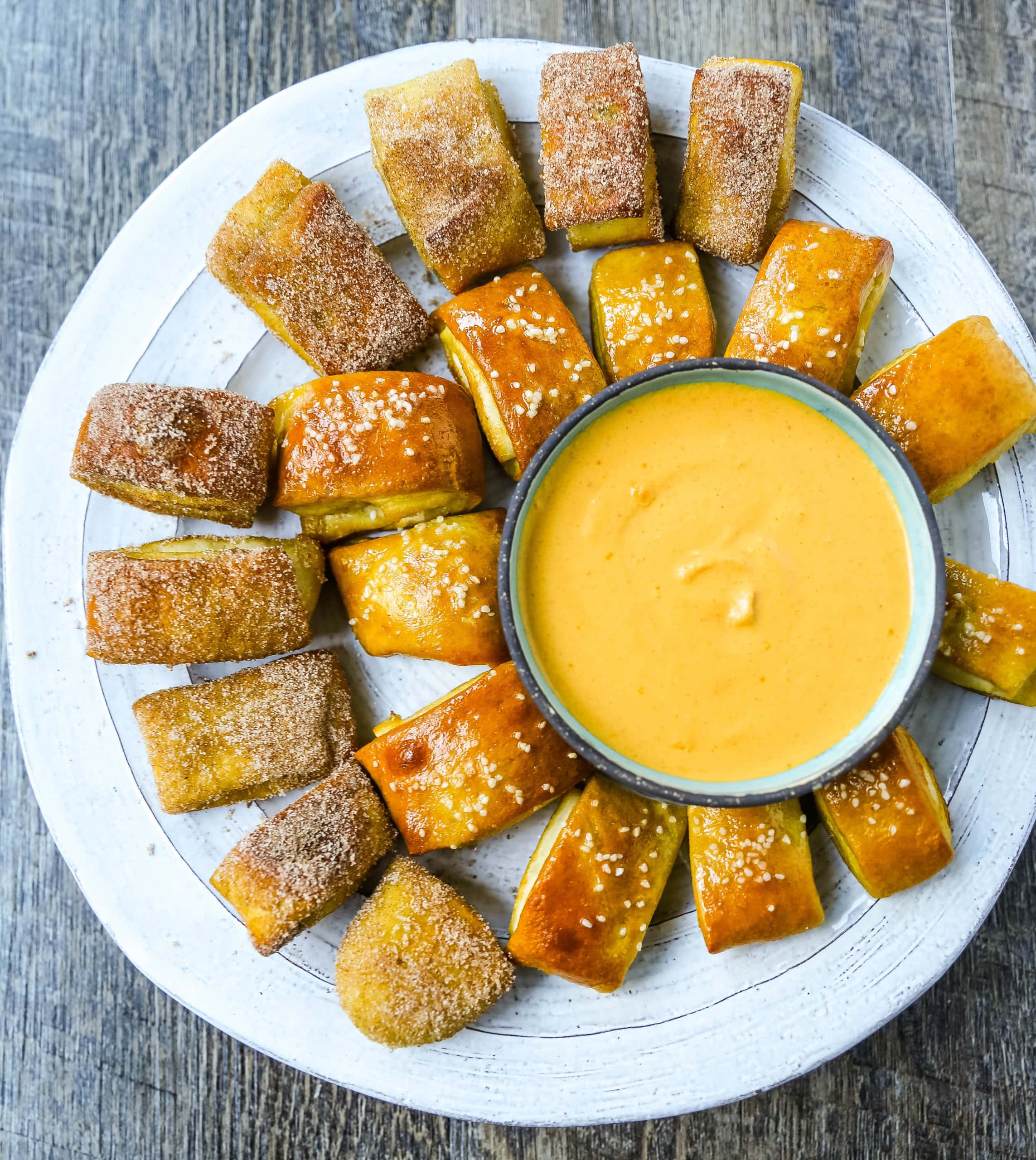 How to make the Best Homemade Soft Pretzel Bites:
Make sure your yeast works. Yeast can be finicky so it's important to let it begin to activate, work, and foam up. Warm water is essential — not too hot or it will kill the yeast and not too cold or it won't allow the yeast to become active. Warm water, around 110 degrees, does the trick. Yeast loves sugar so by adding honey or a touch of sugar to the yeast, it helps to activate it even more.
All-Purpose or Bread Flour? Bread flour has a higher amount of gluten which will produce a chewier pretzel. I have used both all-purpose flour and bread flour in these pretzels and even though both work well, the bread flour is slightly superior.
Dipping the pretzels in boiling water + baking soda helps to create it's texture, flavor, and appearance. It helps to create a chewy texture and golden brown appearance.
An egg wash gives it a shiny crust. It also adds moisture as it bakes at a high temperature.
Baking at high heat helps to keep the pretzel shape and create the coveted golden-brown tops.
Brush both sides with melted butter and sprinkle with coarse salt. You may dip them into cinnamon-sugar or whatever you please! If dipping in cinnamon-sugar, I don't sprinkle coarse salt on the pretzel bites.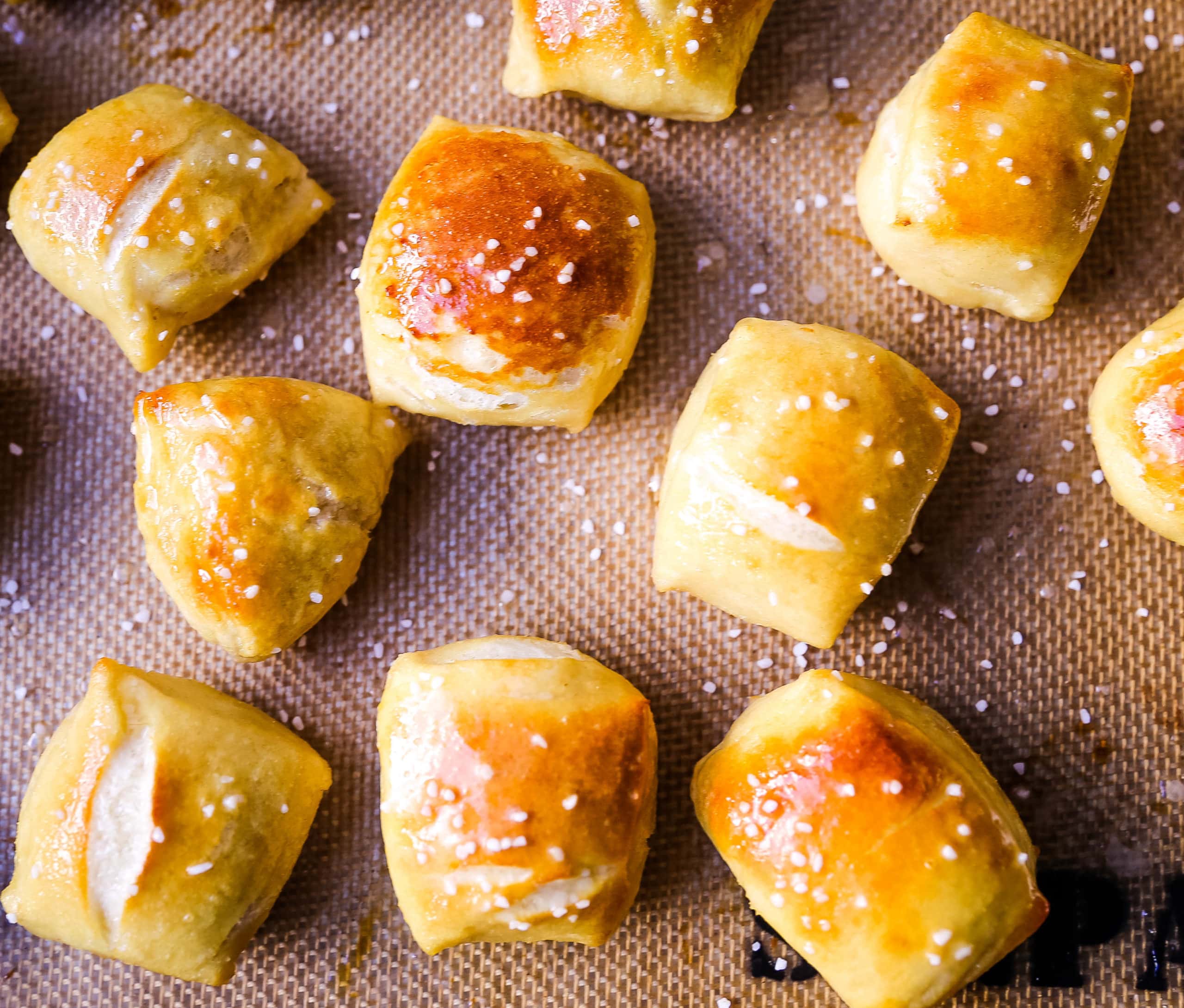 I can't wait to hear all about your success in the kitchen! You can find me on instagram @modern_honey. I always love to hear from you!