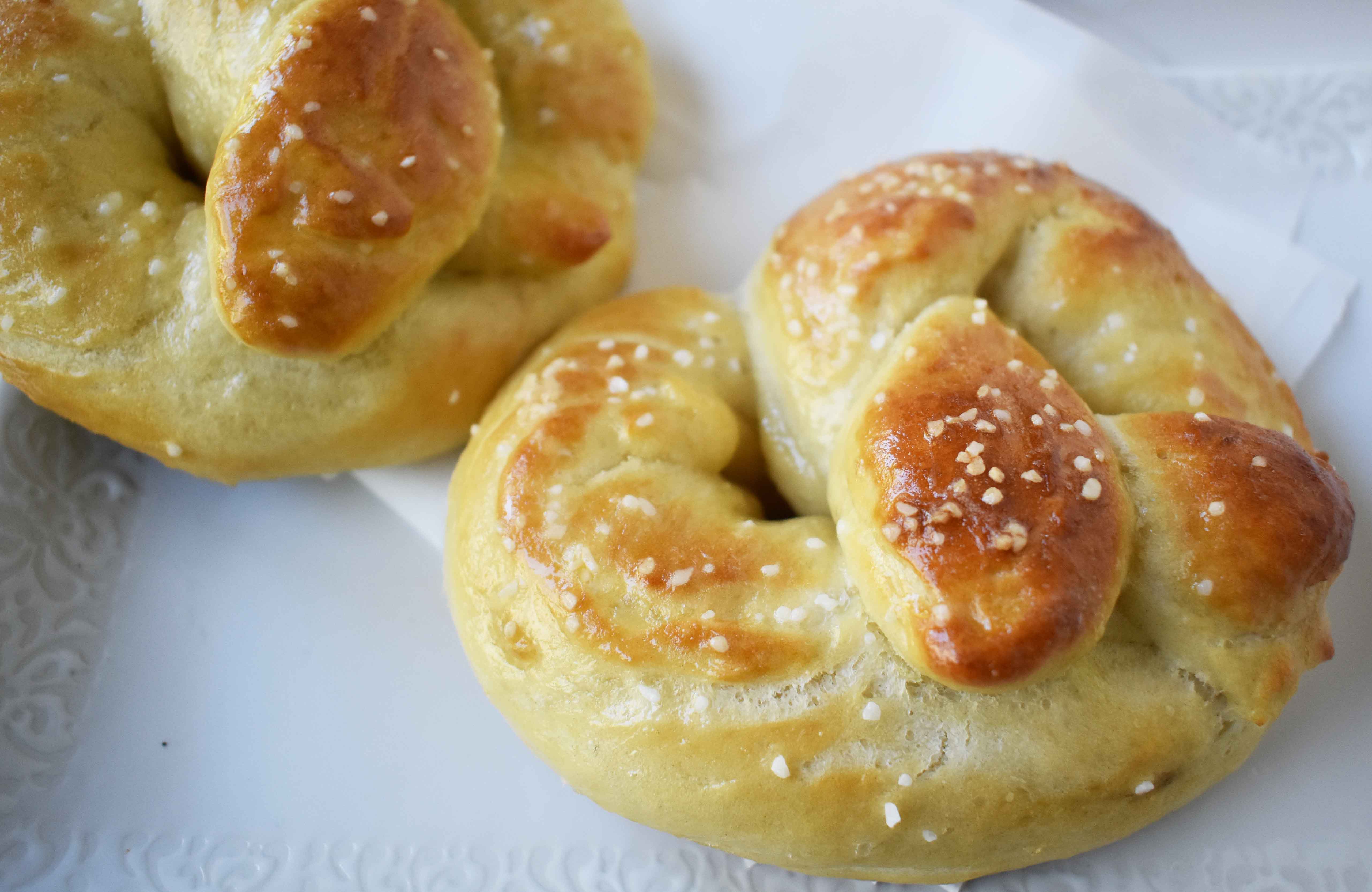 Homemade Pretzels
The best homemade soft buttery pretzels are even better than the pretzels you find at the mall. All of the tips and tricks for making the perfect homemade soft pretzels!
Warm, buttery, soft, and fluffy pretzels are carb heaven.
I used to think that homemade pretzels had to be difficult to master. I had no idea how easy there are to make! I am sharing with you all of the tips and tricks to making buttery, soft pretzels at home. You don't need fancy equipment or a huge list of ingredients but just a few special techniques.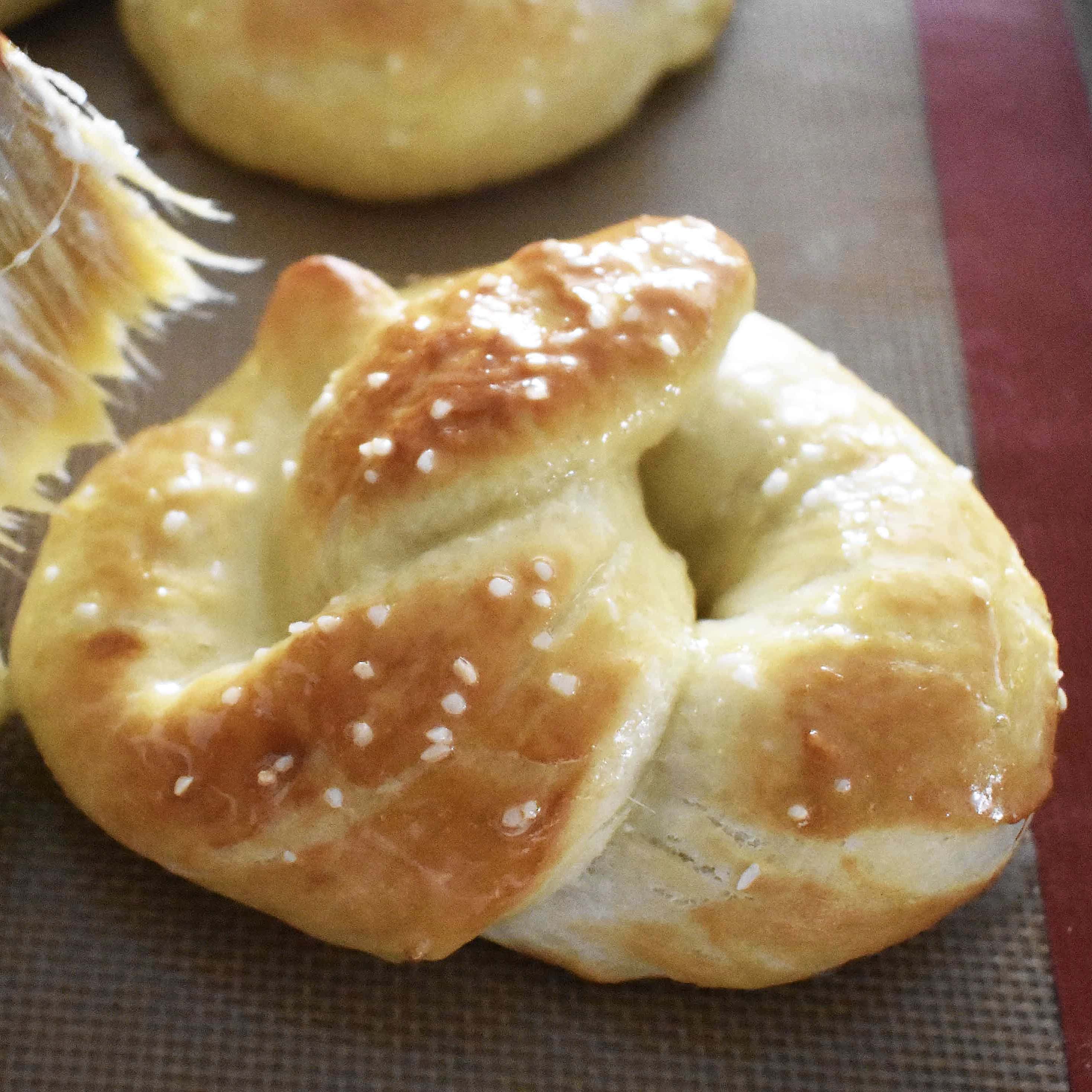 HOW TO MAKE PERFECT BUTTERY, SOFT PRETZELS AT HOME:
Let your yeast work for you. Yeast can be finicky so it's important to let it begin to foam up. Warm water is essential — not too hot or it will kill the yeast and not too cold or it won't get it to work. Warm water, around 110 degrees, does the trick. Yeast loves sugar so by adding honey or a touch of sugar to the yeast, it helps to activate it even more. Do you know what kills yeast? SALT. That is why we add the salt after the yeast has worked for at least 10 minutes.
Bread flour has a higher amount of gluten which will produce a chewier pretzel. I have used both all-purpose flour and bread flour in these pretzels and even though both work well, the bread flour is slightly superior.
Dipping the pretzels in boiling water + baking soda helps to create it's texture, flavor, and appearance. It helps to create the chewy texture and golden brown appearance.
Baking at high heat helps to keep the pretzel shape and create a golden brown masterpiece.
An egg wash gives it a shiny crust.
Coarse salt gives it the salty flavor and melted butter makes it sinfully good.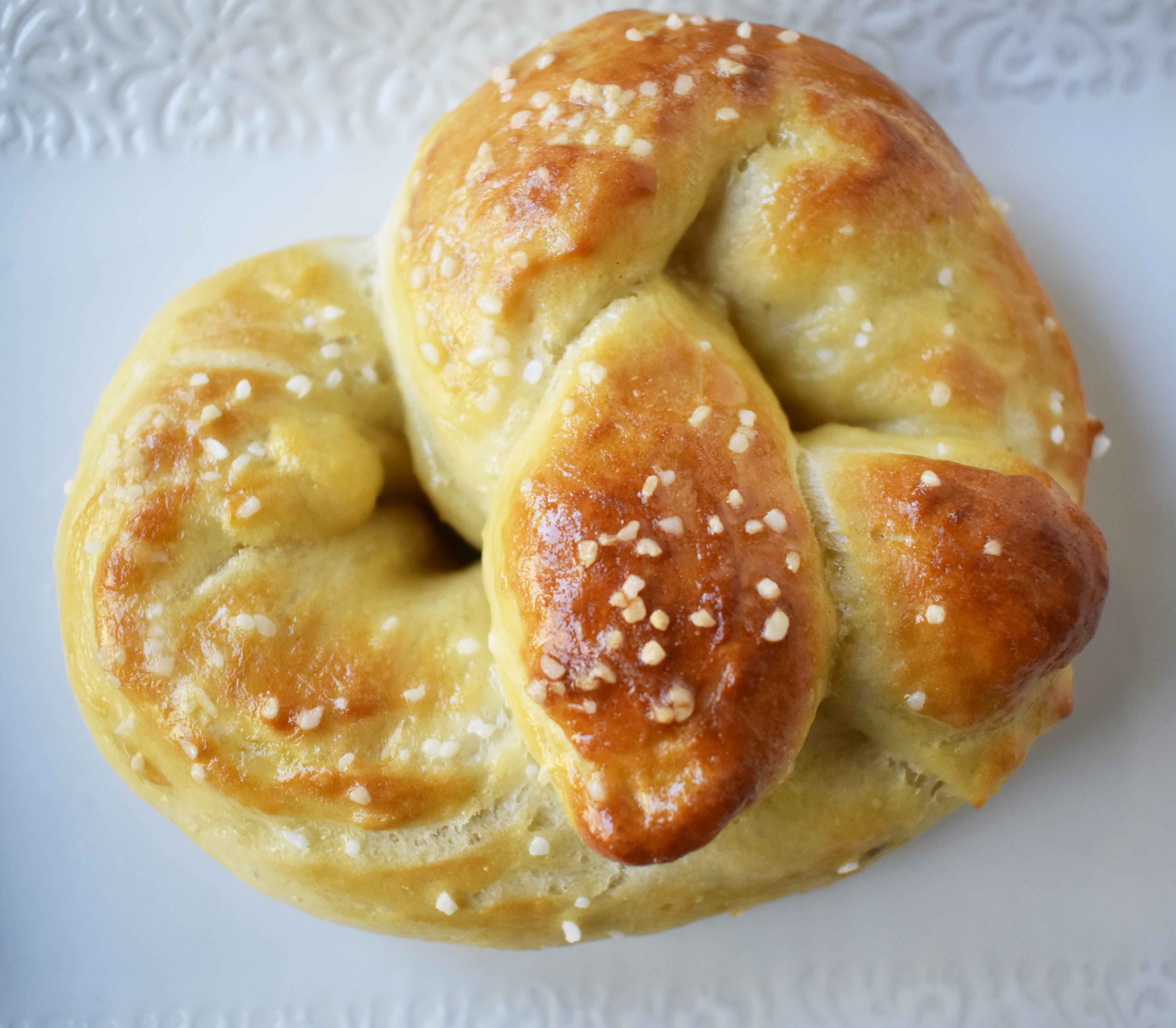 Rolling the pretzels are important. Cut into 6-8 pieces and roll each strip into a 20-inch long rope. Follow the photos below and shape each rope into a pretzel shape.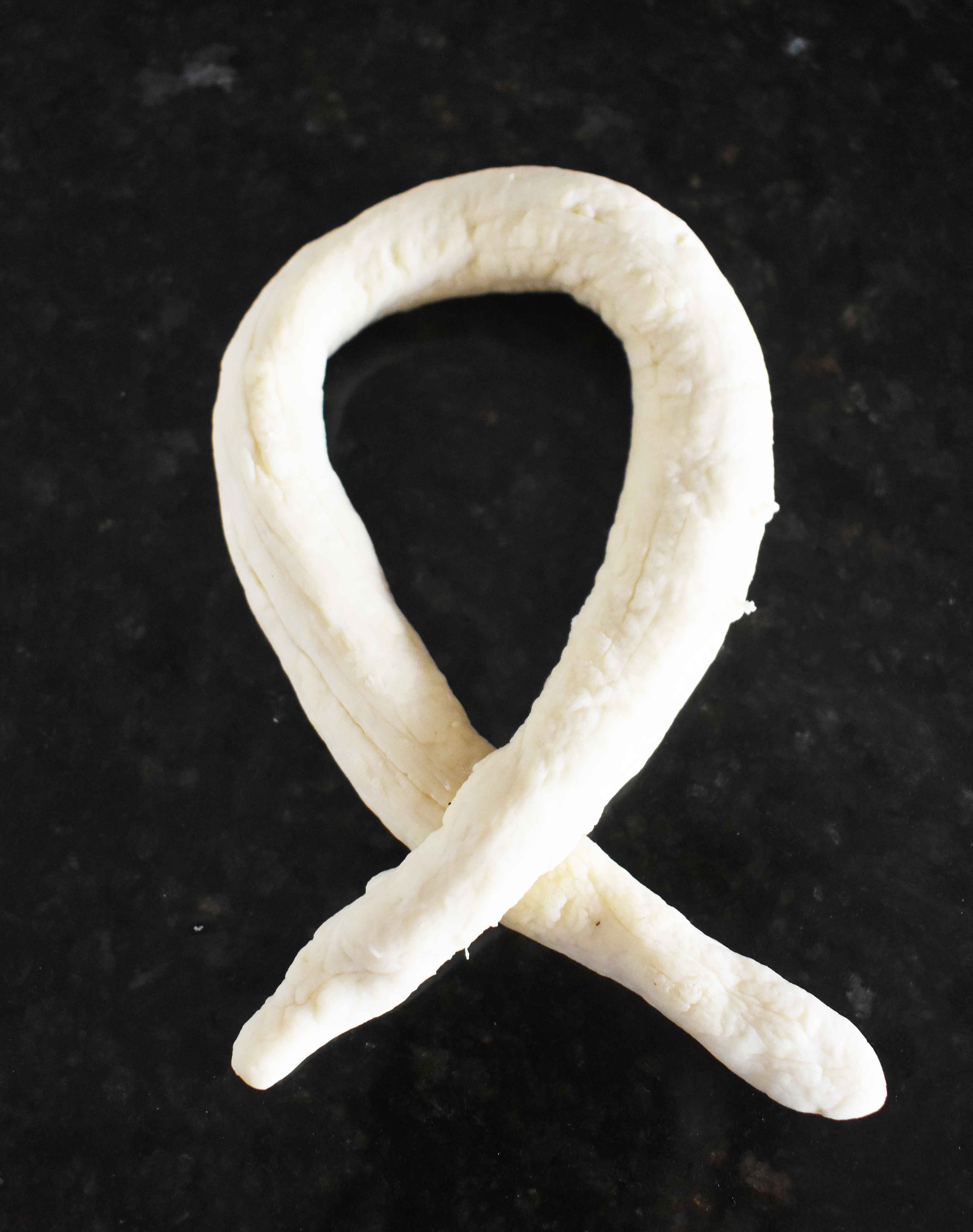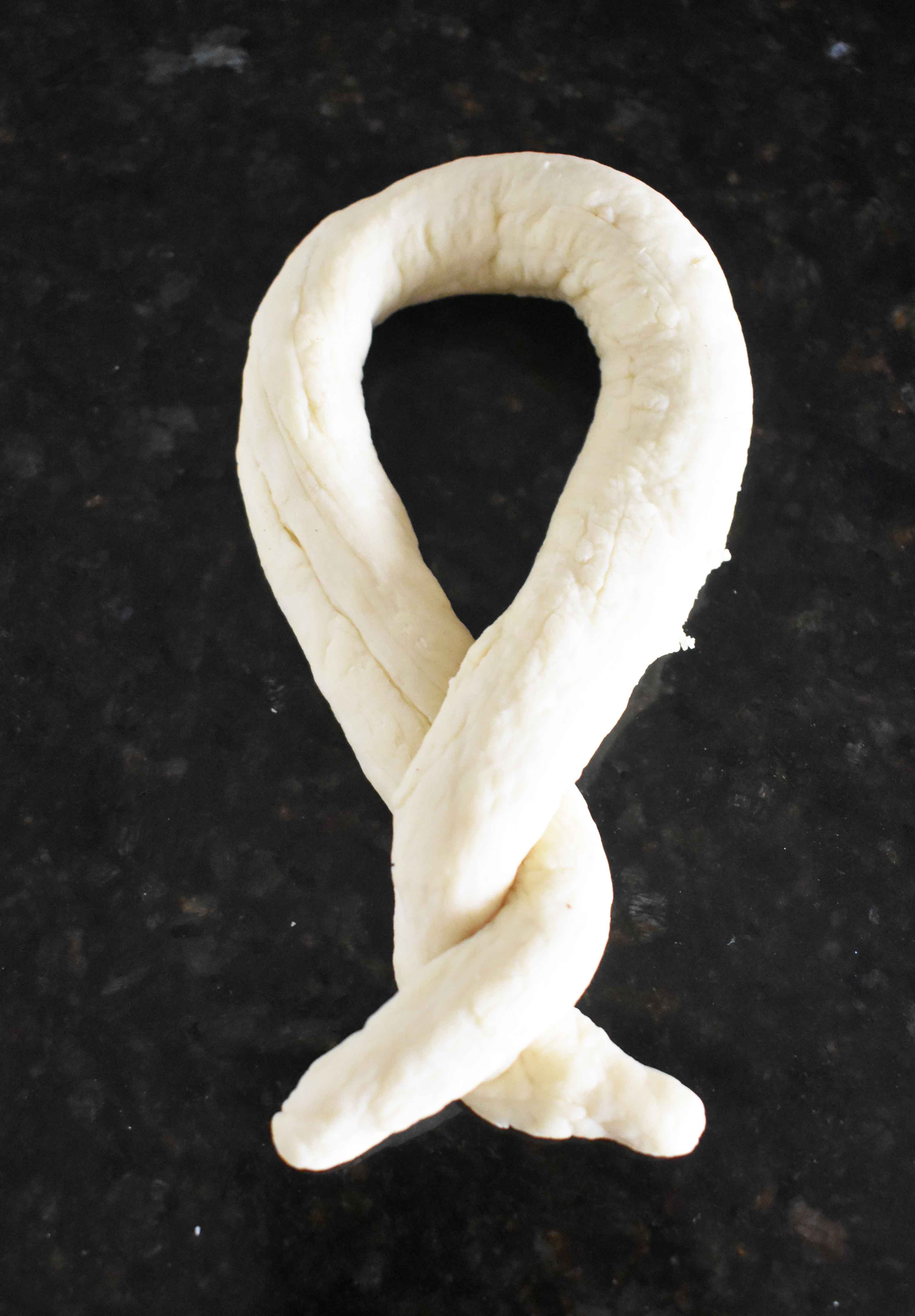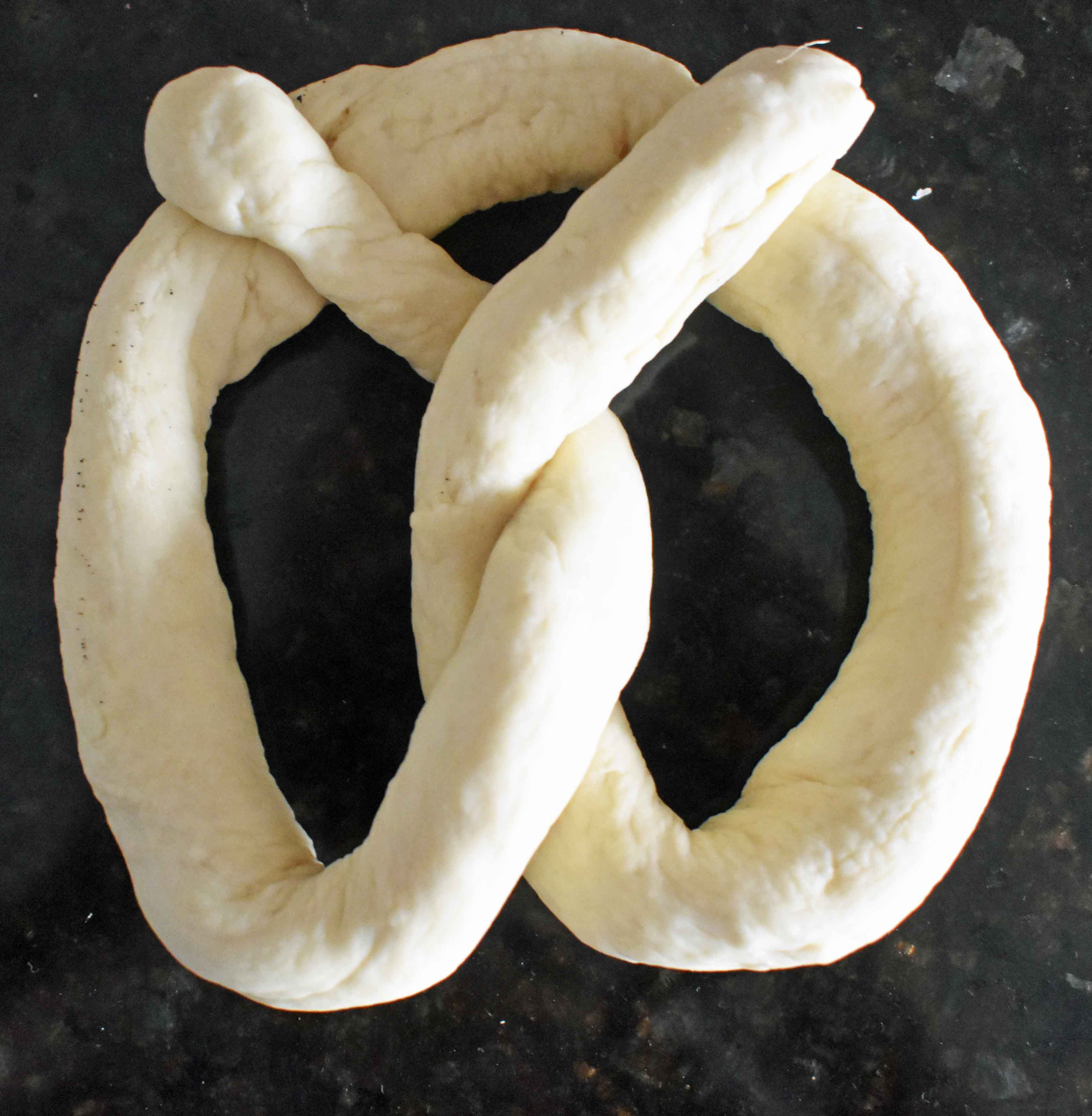 I love my Bosch for making bread and these homemade pretzels are no exception!
BOSCH PACKAGE DISCOUNT DEAL
Y'all know that I love a good deal. I wanted to share with you my experience with Bosch and to give you a GREAT deal. They are offering a limited time offer which includes not only a Bosch mixer but the entire Bakers Package and Ice Cream Maker. Here are all of the details:
Bosch

Summer Essentials Bundle:
Bosch
Universal Plus, Ice Cream Maker, and Bakers Package (includes Bowl Scraper, Cookie Paddles, Cake Paddles, & Metal Whip Drive)
Special Price: $404 (items sold separately costs $510)
Discount: $106 off / 20%+ discount
COUPON CODE: summer-essentials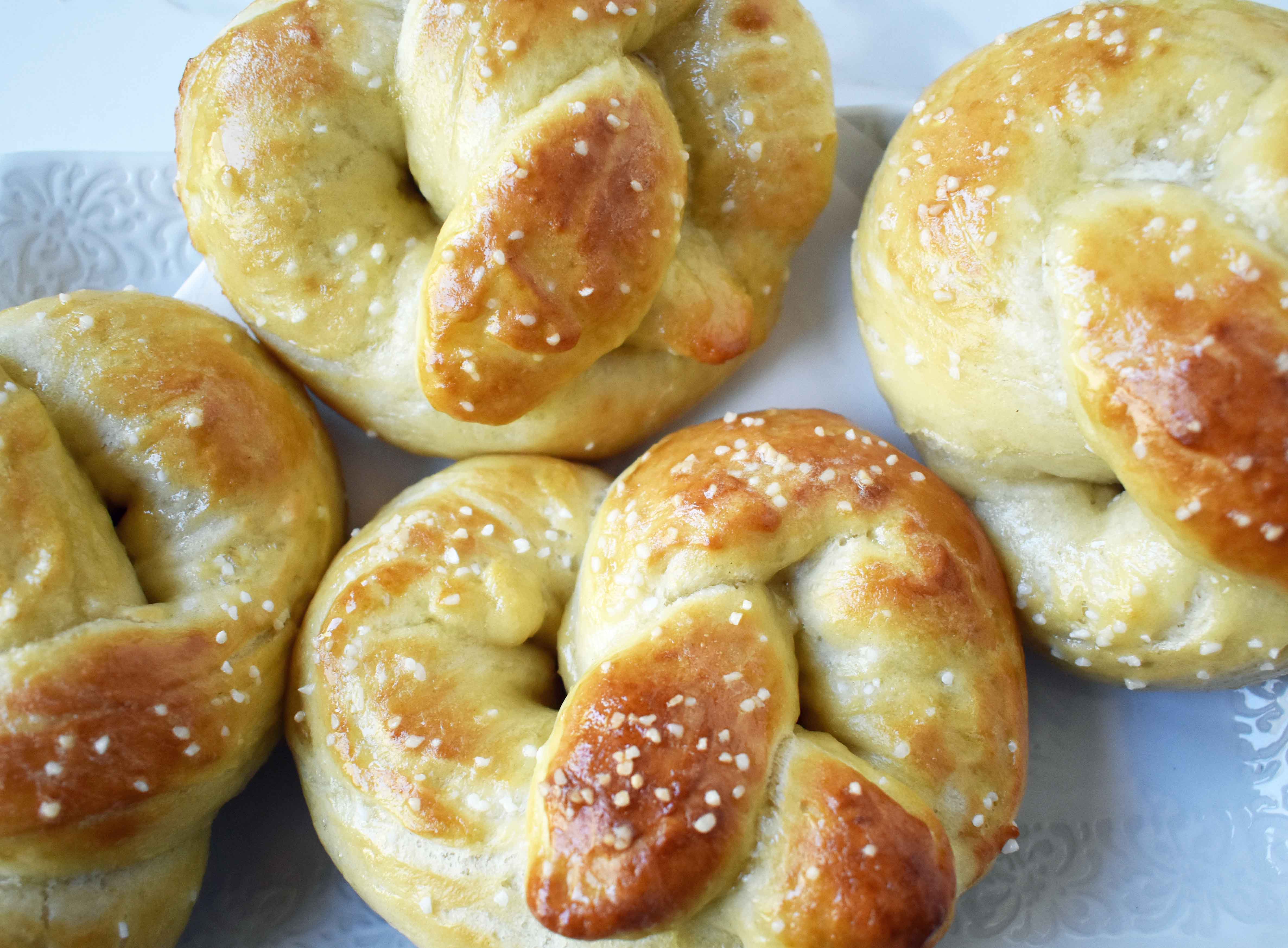 Pin this now to find it later
Pin It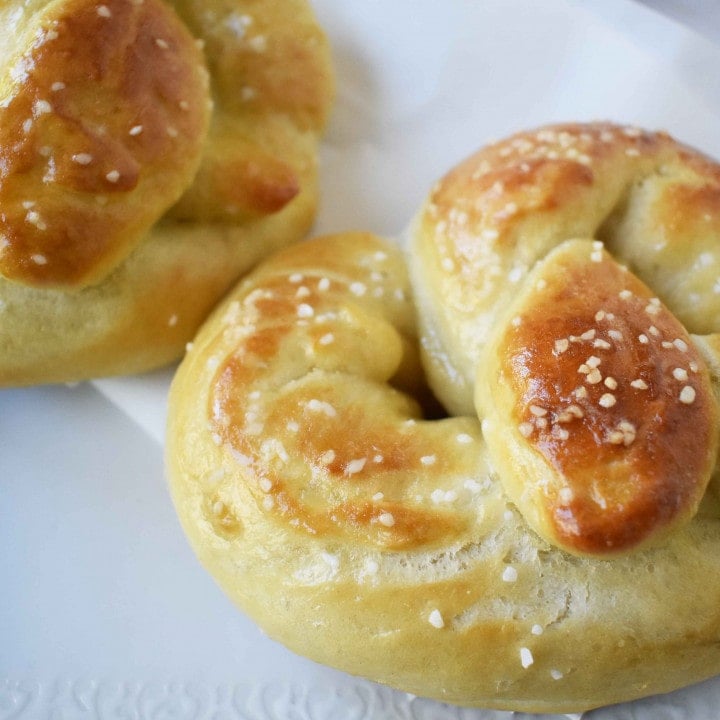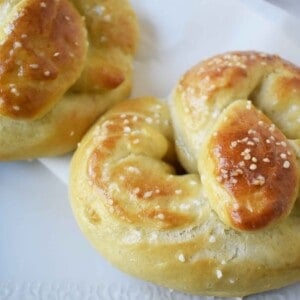 Buttery Soft Pretzels
Buttery, soft, and fluffy homemade pretzels are perfect dipped in melted cheese or mustard.
Ingredients
1

pkg. Active Yeast

2 1/4 teaspoons

1

cup

Warm Water

about 110 degrees

1/4

cup

Honey

3

cups

Bread Flour

1 1/4

teaspoon

Salt

Water

3

Tablespoons

Baking Soda

1

Egg

beaten

6

Tablespoons

Butter

Coarse Salt
Instructions
In a small bowl, mix together yeast and warm water. Let start to work and activate for 10 minutes. Stir in honey.

In a large mixing bowl, add flour and salt. Stir in activated yeast mixture. Using a dough hook, knead for about 5-6 minutes.

Place dough in a lightly oiled large bowl. Cover with plastic wrap and let rise until doubled in size, about 1 1/2 hours. After it has doubled in size, punch the dough and let rise again for 45 minutes.

Heat oven to 450 degrees.

Pour 6 cups of water into the 12-inch skillet and add baking soda. Bring to a boil over high heat.

Divide the dough into 6 or 8 pieces, depending on how large you want your pretzels to be. Roll each piece into a 20-inch long rope. Shape each rope into a pretzel shape.

Using a slotted spoon, gently place the pretzels into the boiling water for 45 seconds.

Remove the pretzels with a slotted spoon and drain well. Place onto the Silpat or parchment paper lined baking sheet.

In a small bowl, beat egg to make an egg wash.

Brush egg wash over pretzels. Sprinkle with coarse salt.

Bake for 11-15 minutes, or until the pretzels are golden brown.

Generously brush with melted butter on all sides.
Nutrition information is automatically calculated, so should only be used as an approximation.

I would LOVE to hear how these Buttery Soft Pretzels turn out for you!
Happy Baking! xo